How to Build a Small Business Website with WordPress
Communication, sales, purchasing, business even negotiations are conducted with the help of the Internet, it has conquered our lives and we significantly depend on it. If you are a modern entrepreneur and do not have a website for the business, it is high time you start creating it and this article will be definitely of help to you!
To have a website of your business is a must-have step while starting up. With it, you can easily present your products and services what is vitally important in any online business. People spend more time online, visit different pages, blogs (sometimes even without a need, automatically) and this is a great opportunity to significantly promote your business and attract new leads who in the future will be your customers.
To figure out how to start a small business website, what you need for it, and how much time (spoiler: less than an hour!) it will take – continue reading this post.
What platform to choose for setting up a website for a small business?
The number of platforms one can select from to build a website is very big, but we would like to focus your attention on WordPress since:
it is free
user-friendly
doesn't require any coding skills
has a huge number of plugins for all purposes
free available website building tutorials made by freelancers and WP products providers
many themes both free and premium for any online project
with this CMS you can create small business website in a breeze
Indeed, so far it is one of the most popular website building platforms worldwide. The number of sites built with WordPress proves that – more than 32% of all Internet pages! And the process of building such a website with the WordPress CMS isn't rocket science, so many people do like it and actively use it every day.
Thus, when the platform to build a website for small businesses is chosen, there is other important information to keep in mind.
To begin with, you need to know that there are some elements (let's call them so), only having which any website can be started:
Domain name
Hosting
WordPress CMS (obviously)
WordPress theme
Content for your website
Additionally come different WordPress plugins for two main purposes:
– to enhance the initial functions of a website that in some cases (depending on business type) can be vitally important, so pay attention to this
or
–to ease the website building experience, with the help of WordPress page builders
And this is pretty much everything you need to create any website for your small business based on WordPress, which will take less than an hour, we assure you!
While starting your site or running your online business, you will unavoidably need to put your online resource in coming soon or maintenance mode for a downtime pause. Setting your site into a maintenance mode with the help of WordPress maintenance mode plugins is an excellent means for advertising, promotion, improving ranking in search engines, and gathering prospective customers list before the site launch.
Domain Name
Domain name is your website address, the link people will copy from the browser. For example our is: 

You must keep in mind that choosing a domain name is a very important step and you have to be serious and thoughtful while doing it since it greatly affects the search results. 
It has to be short, easy to pronounce, unique, without hyphens and double letters and with important for a SEO search keywords (if possible).
There are different variants of possible ending of the domain name (.com in our case). You can type anything, like for example website.templates, wedding.dresses, house.furniture – whatever you want. 
BUT! The classic ending like .com or .dot are the most credible and memorable which will be, for sure, remembered by users. If people type "house.furniture.com" they will be redirected to the absolutely different website. So, keep it in mind and decide what domain name will be the best for you.
Hosting for your Small Busiess Website
Hosting is a kind of an always-online-storage for your data so that your small business website can be reached and seen by people at any time. There is a server (so-called hoster) that is always on the net and showcases your website.
We have very informative and up-to-date article on WordPress hosting providers which explains how to choose the perfect one for your website. Read it and discover everything about hosting types, their pros and cons and interesting features.
To make your choice of a website hosting provider easier, we have our own list of the Recommended Web Hosting that was built based on our experience in the WordPress sphere and feedbacks of our clients. So, be sure that hostings given in that list are the most beloved, used and profitable.
There is also a service that conducts the whole setup process for your online project – WordPress Website Setup & Hosting.
WordPress Installation
Sometimes people get confused while trying to install WordPress. They type WordPress in the Google search and see two options: wordpress.org and wordpress.com. Which one to choose? And how to make a small business website with it?
They may seem identical to someone but, by no means, it isn't so.
wordpress.org is an open-source 100% free platform where one can find any WordPress theme or plugin both free and premium. Users can easily customize their websites, display advertisements, and get money.
wordpress.com is a hosting service that was established by Matt Mullenberg, the co-founder of WordPress. If you have this hosting, you can not place ads on your website and the company, on the contrary, does have this right. Note: this is true for free websites only. To have some premium features and opportunities, you need to buy expensive business plans.
So, we recommend using wordpress.org since it is way more profitable and easier to work with.
To install WordPress for your small business website building will be the best decision, since you do not spend money, can easily edit the site at any time and have all handy plugins and templates free of charge!
Once you install and log in to WordPress, you will have the following dashboard panel.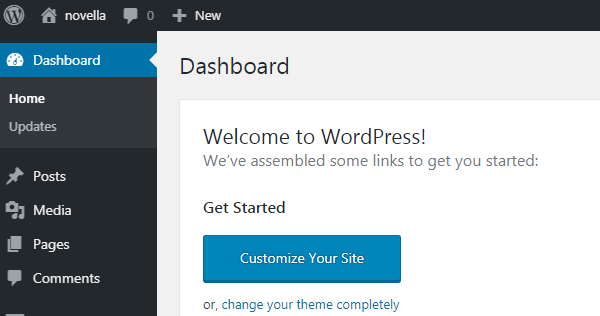 WordPress Theme for Small Business Website
WordPress has some default themes right when you install it. To see them go to Appearance -> Themes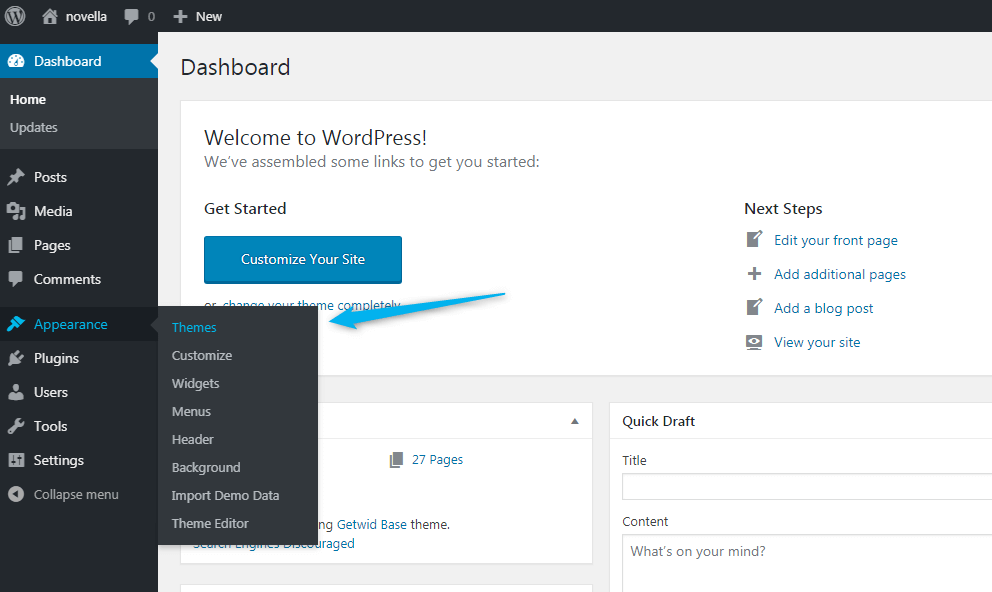 The basic set comprises three themes:

And they can be easily activated by hovering over them and clicking on Activate.
They are pretty decent and suit perfectly for some blog websites, but for deeper customization, you need to either integrate multiple plugins into them or to choose another theme – free or premium which WordPress has for you.
On our blog we have many interesting posts on this topic. Check 50+ Best Premium WordPress Themes 2021 and Best Free WordPress Themes and you will for sure find something for your WordPress small business website.
Also, if you are looking for the best domain name registrars, you may read this guide by Codeless.
The following example contains the main key elements that your business page has to comprise: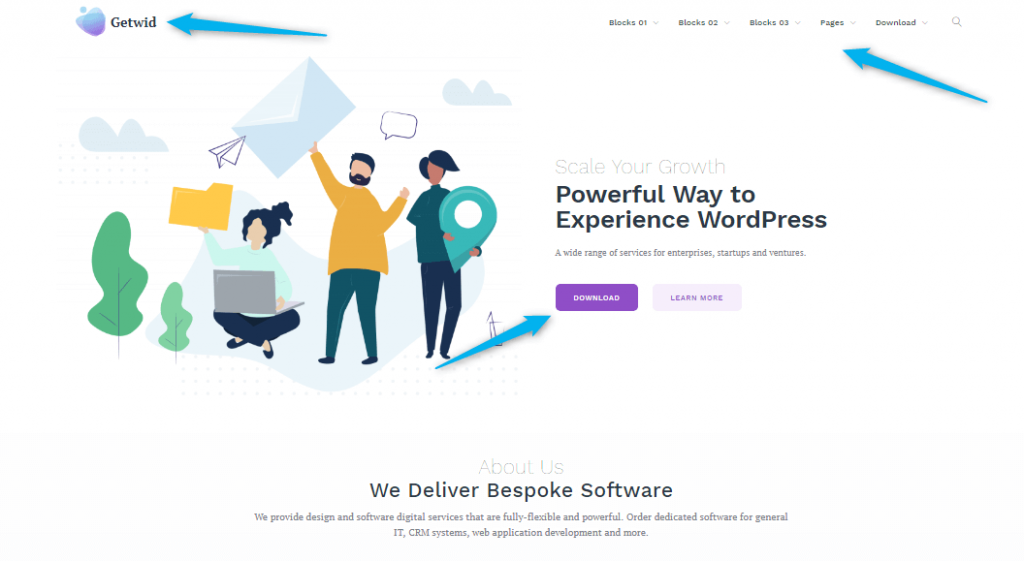 Your own logo
Header menu
CTA buttons
When you have the desired WordPress theme installed, you can start customizing it according to your preferences.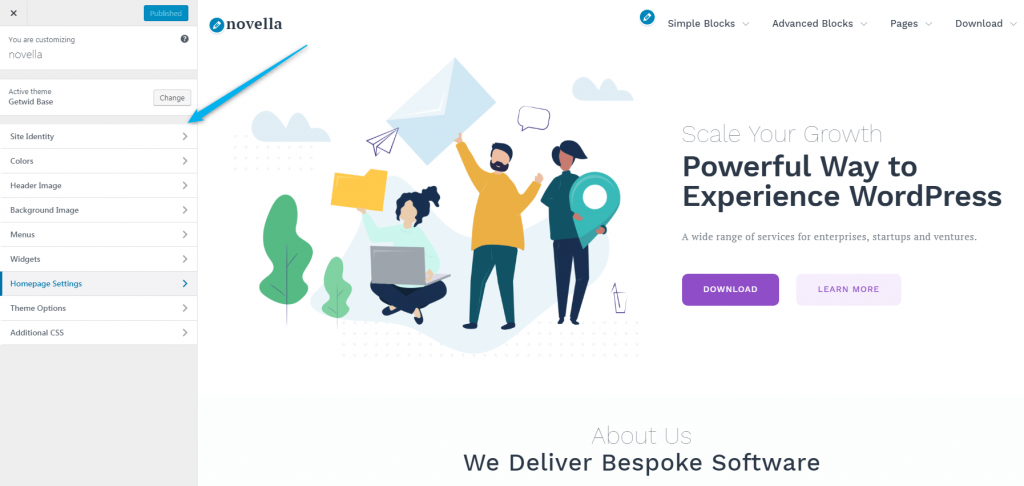 Website Content
The next step in our "How to create a small business site guide" is website content.
As soon as you have a WordPress installed, comes the time for the content. And this is where the magic happens. The decisive factor of any website is content, for sure.
The quality of the text, CTA, keywords strategy, etc are crucial factors that influence your visitor's behavior. To write and display your content in a proper way so that you receive a desirable result, you need to be targeted on a structure, first of all, i.e. how the content is arranged, what pages are shown on the header.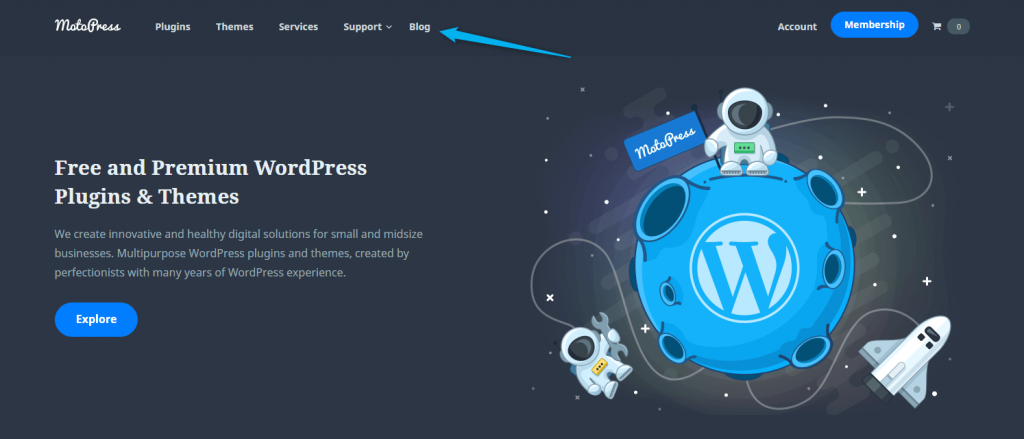 (This is our header on the homepage)
The most common pages that any small business website need to display are:
Homepage – this is the first page visitors see opening your website. As a rule, it contains some welcoming words, short company descriptions and may have the main categories of products or services. But except for detailed description, the main thing here is to attract visitors and to display catchy CTAs.
Products – the page where you showcase the products, services, or whatever you have with the detailed descriptions, images and prices. Will be great if you integrate rates and customers feedbacks under each product. But these functions are available with certain plugins or themes.
About us – on this page is written the general information about the company, when it was founded, what people work in your team, what values you have etc. If you create a very accurate and truthful description, the level of credibility of your website will significantly rise. You may display pictures and awards there as well.
Blog (optional but more and more popular) – this page lists all the posts you have on the website. The topic can be different but has for sure relate to the main products and services you propose.
Why is it profitable to have a blog?
If you write posts with smart SEO search words, people can find one of them by chance on the Internet, read it and check different products you have already on your site. The well-planned SEO strategy greatly increases your chances to appear on the first Google pages.
We have a special service which will provide you with the best well-written and eye-catching content – Website Copywriting and On-page WordPress SEO Optimization for higher ranking and bigger number of visitors and consequently, sales.
Contact us – this is where the contact form is usually placed.
Here you can also add your company phone number, email address, social links – in other words, everything that will help people to get in touch with you.
WordPress Plugins
As it was said before, the WordPress plugins are used for two main purposes:
to add some extra features to the website specification. E.g. you are running a handmade products website and want to sell these products right from the website. To do this you need to have a WooCommence plugin which enables online transactions and offers some gateways your customers can choose from.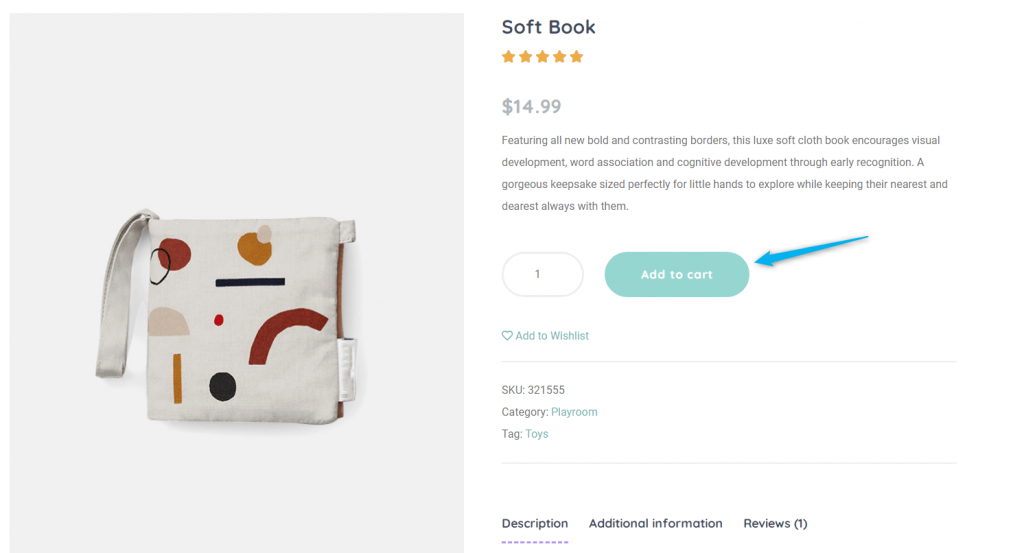 By clicking there, customers can fill in their personal data and complete the purchase.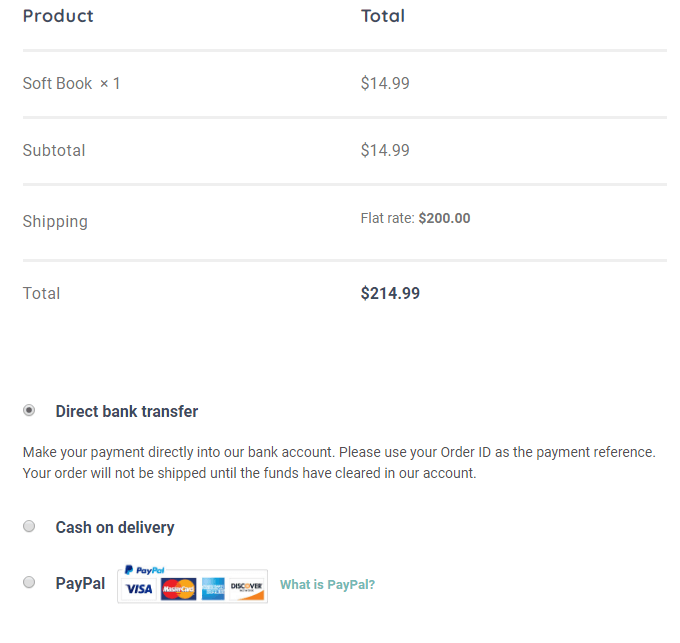 If you don't have this plugin, the purchasing process can be either long and boring or even impossible. Plugins help you display beautiful content in a unique way so that people remember it. There are plugins for everything: beautiful sidebars, contact forms, security, SEO tracking, and many more others.
Watch a video tutorial on how to set up a store with WooCommerce:
to widen the page building experience, i.e. plugins that serve as page builders and come with a bunch of missing features in the original editor.
To make it clear, there are many different page builders for WordPress, the most famous are Elementor, Divi, MotoPress Content Editor that simplifies the process of website building and creates an only positive experience for its users.
But following the latest innovations, addons for Gutenberg become more and more popular. For example Getwid WordPress Blocks has the biggest library of free additional blocks for Gutenberg. Ther is a dedicated playlist on how to use Getwid blocks on MotoPress Youtube channel.
To add any plugin you want, click on Plugins -> Add new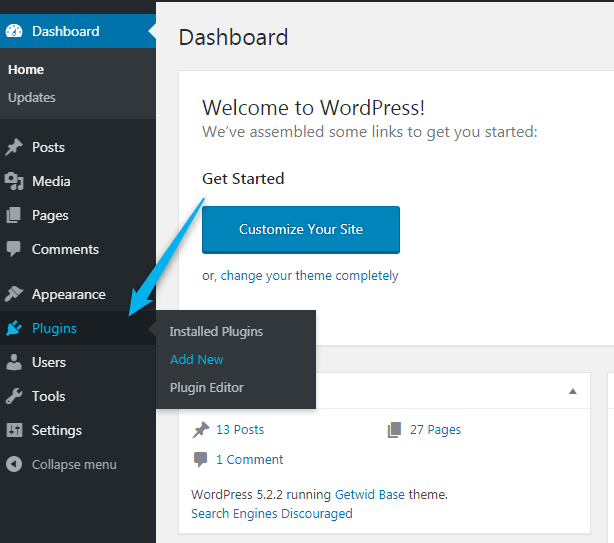 By the way, we have listed the Best WordPress Plugins You Use for Your Small Business Website. Check this post and get to know what plugins you need to build a successful website of any type!
Conclusion
So, to sum up, all the points highlighted in this post, let's view them one time. To build a small business website you need:
Domain name
Hosting
WordPress CMS installed
WordPress theme
Content for your website
WordPress plugins
Providing you have all of the above, you can be sure there is nothing your website is missing.
Themes used in this post:
If you still have questions on how to create a business website or feel like something is unclear, do not hesitate to ask them below! We will answer them with pleasure!
Articles that may be interesting to you: