Free Hotel Registration Form Templates: Download
Are you looking for customizable free hotel registration form templates? Bingo! In this post, you can find a few professionally designed, customizable hotel booking forms that you can brand and use for free with no limits, whether you are the MotoPress Hotel Booking plugin user or not.
These registration form hotel templates are based on various types of standard forms that guests fill in when they arrive at a hotel or any other rental property.
However, since the fields are customizable, you can add, delete or rename the hotel form fields to adjust them to your hotel policies. You can also upload your logo and change colors.
The templates are by default designed in the A4 format, you can customize them in Figma, export as PDFs and print out.
Download these hotel registration forms by the links under each template.
Free Hotel Registration Form #1 – Minimal, hotel policy included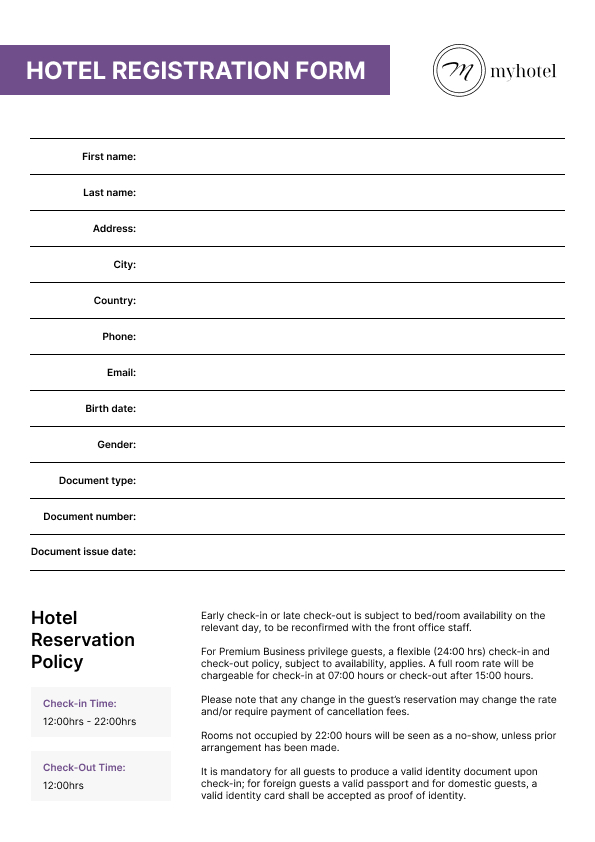 This template is easy to read for a guest, thus, it must be easy to fill in. Fonts, text labels and other parts are customizable. You can edit the logo either using default image instruments or upload your own media file. Basically, it's a printable hotel guest registration form.
Free Hotel Registration Form #2 – Compact, with checkboxes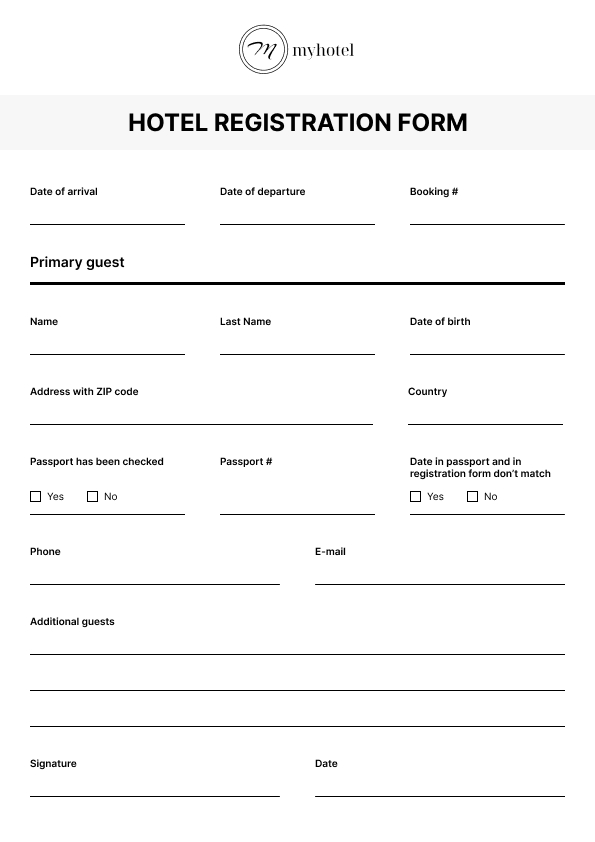 This registration form template is also easy to customize and fill in; it's visually divided into semantic groups, which means guests should find it easy to fill.
Free Hotel Registration Form #3 – Detailed, extra fields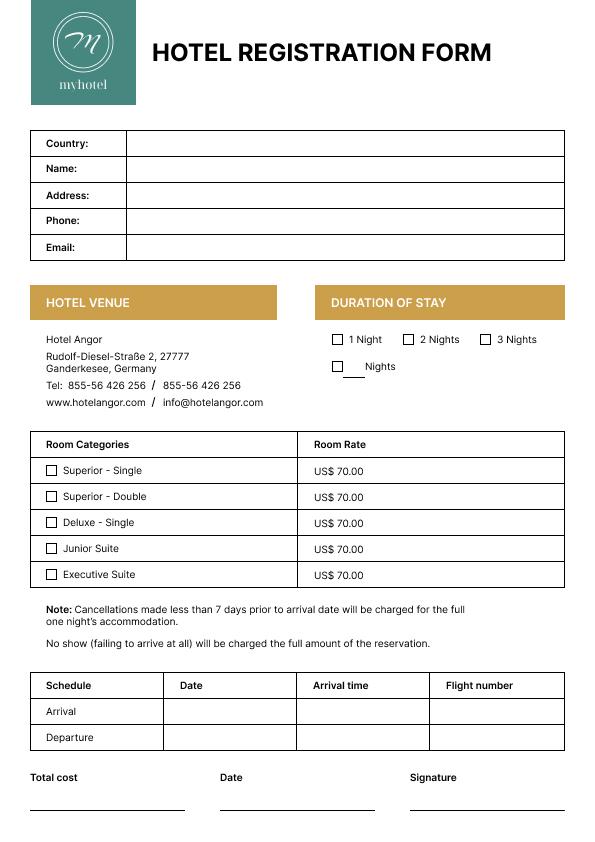 This is a rather detailed free hotel registration form template that gives you a lot of space to add all sorts of fields and require any extra information you might need.
You can download all these free hotel booking templates in Figma!
How to work in Figma on your hotel checking in form
If you're already familiar with Figma, awesome, you just need to follow the link and start working with these templates.
If not, however, here is a quick guide for you. Don't worry, it's free to work in Figma, but at the same time it might take some learning curve.
The basics of working with the design layers are actually quite similar to those in Photoshop.
Create an account with Figma. It's free and if you are okay to use your Google mail account for registration, the process will be really quick. Sign up with Figma.
Follow this link to access our hotel registration form templates.
Important! Duplicate the files to move them to your personal Figma account for further editing.

Find the file in your Figma account, either in the Recent files or in Drafts and click on it to edit.

You are now in the Figma editor! You can edit colors, logotypes, fonts, texts, etc.
Choose the hotel registration form you like and start editing by clicking on every needed element you want to change.
How to edit the hotel registration form title?
Double click on the element and start typing your new title.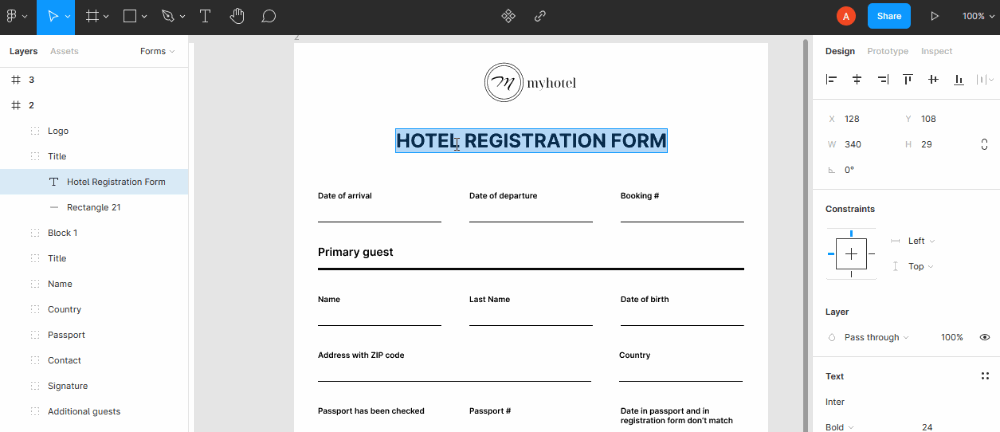 How to edit the background color?
One click on the colored area > Design tab > Selection colors > choose color > paste the color code of the needed color.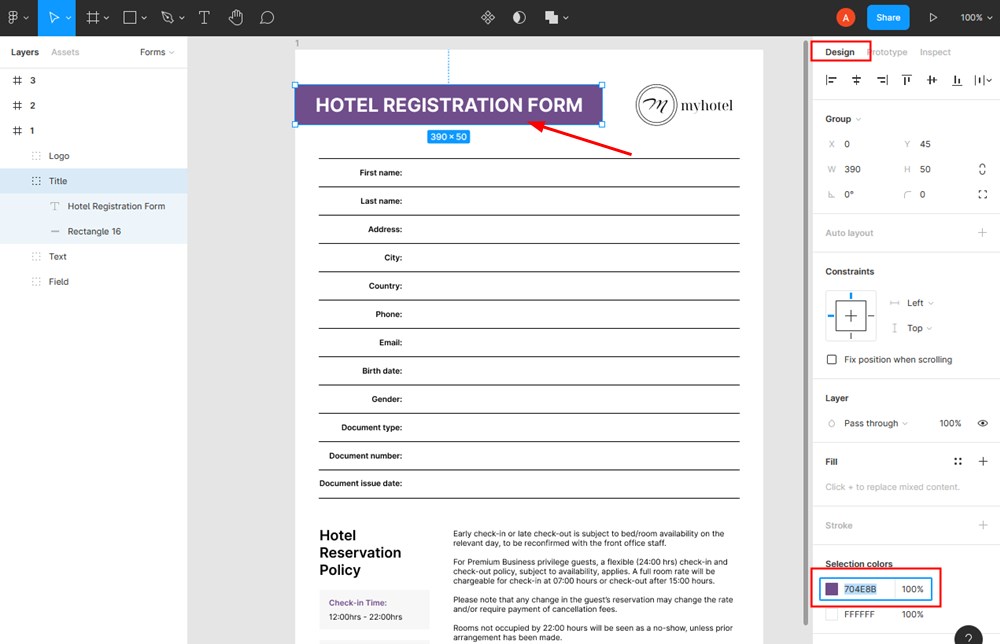 How to change a logo?
You can customize the default logo by changing text and decoration. You can also upload your own image.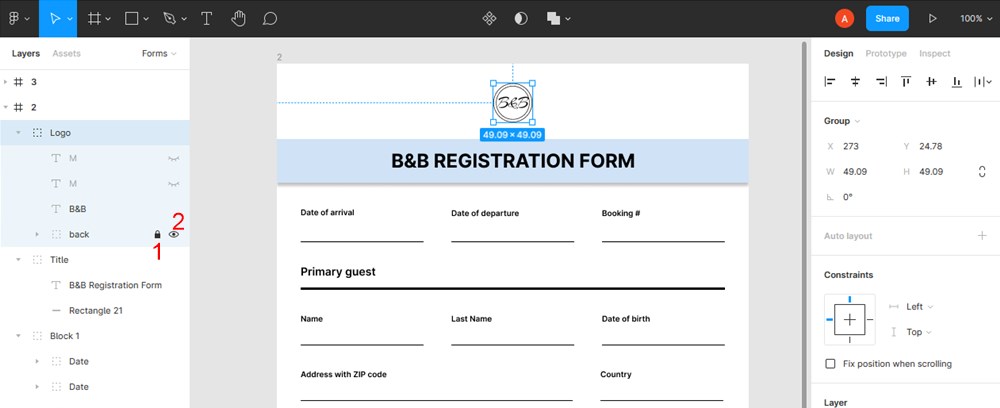 How to change fonts?
Double click on the text > Design > Text area (font).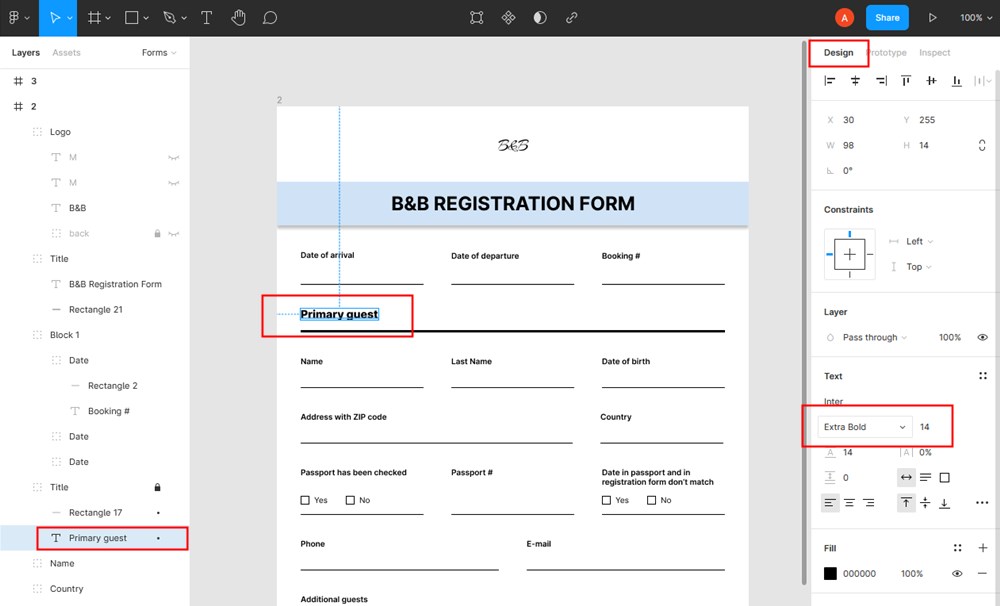 How to change field labels?
Double click on the title – unlock title > type your new label.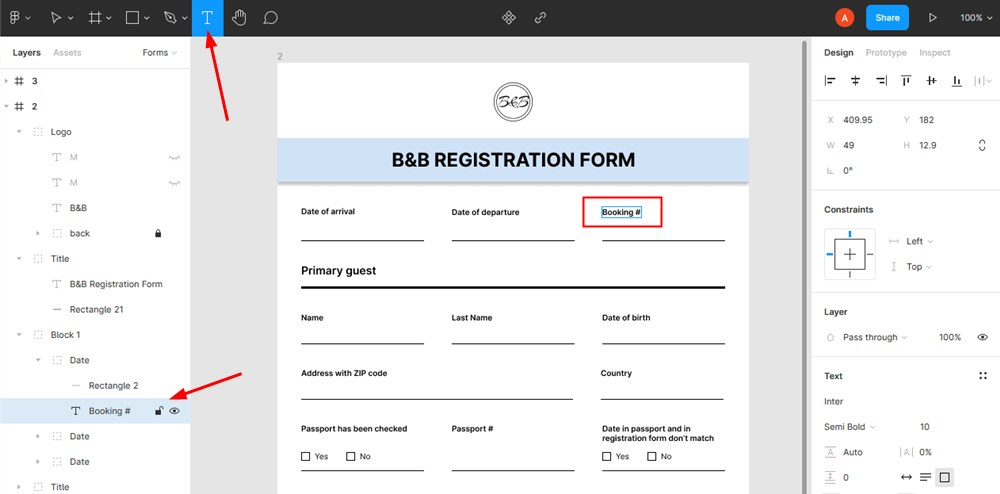 After you are done with the file editing, choose the needed file, click 'Export', and then select 'PDF'. This will allow you to download files in PDF and print them out.


Here is the knowledge base by Figma that can also assist you if you are just starting out: Figma video tutorials
So it's an easy way to create a hotel booking form with a premade template. So which hotel booking registration form you found the most complete and appropriate for your business? Are you probably looking for something different (e.g. hotel registration cards or another type of a registration form template free download for which is possible.)? Let us know in the comments.