Hotel Check-in Processes, Software & Strategies
There is a lot of planning that goes into creating your hotel check-in strategies. And in our time and day, check-in doesn't necessarily translate into arrival, it also includes creating convenient pre-arrival experiences and ensuring modern, flexible ways to check it. Most importantly, these ways should be aimed at alleviating the check-in process from both the guest and the industry perspective.
Flexible online check-in, self-service check-in kiosks, remote check-in, and traditional reception desks – how does your choice of a hotel check-in strategy influence the travel decision-making process of your guests?
What does a travel customer journey look like? How can you recognize travelers' needs and shape your check-in strategies according to them?
These are the questions we'll try to answer in this post. But let's do it step by step.
Traditional stages of the hotel check-in process
Consumer behavior is shaping check-in strategy trends. But before we move on to them, let's stop on the traditional check-in stages expected by a guest:
Welcoming a guest to a property.
Completing formalities by checking booking information and registering a guest.
Providing a guest with their key or keycard.
Introducing a guest to the hotel / B&B amenities, services, activities, directions.
Showing directions to their room.
Traditional hotel check-in front desks still play a big role in forming the first impression of your service, but the cost of staffing an around-the-clock operation is becoming challenging for small and big hotel brands, so many hotels are looking for alternative ways to process all check-ins.
Let's review more ways that can help you make the check-in procedure more efficient for you and your guests.
State your check-in and check-out deadlines
The traditional hotel policy method usually includes having your scheduled check-in and check-out processes.
Your hotel or B&B operations can't fit into each and every travel plan of each guest (especially if they come from around the globe). So make sure to state your check-in and check-out policies in advance – on the website, in the confirmed booking email, in their invoice, etc.
The most important thing is, guests should be aware of these policies before they arrive.
So even if your check-in time is 2 pm and check-out is at noon, guests, however, do want you to do all possible to fit into their schedules and are looking for more check-in flexibility.
Here is what you can do at the pre-arrival stage: offer the flexibility to negotiate the check-in time with guests so that the latter is not obligated to wait too long. You can do that via phone, email, or even by providing an extra field for comments on the booking submission form on your site.
Although you can't take each guest into consideration, at least be aware of the logistics and specifics of different types of travelers who would appreciate the check-in time flexibility:
Business travelers who, for example, booked just one night but need to check in early in the morning
Travelers who ran into any sorts of delays (not to mention you can use this fact to attract potential guests with the targeted ads)
Travelers who change time zones.
What methods can you employ to provide 24-hour access to your property? Here are some of them:
An in-lobby staff that is available 24/7
Lockboxes
A keypad-based safe with a key.
Offering flexible check-in times you can also create a source of ancillary revenue – charge an extra fee for early check-in or even late check-out. Guests are usually aware of the traditional scheduled times so they are okay to pay extra for the flexibility.
You can also opt for offering this flexibility for free, thus, influence the guest's decision-making over other hotels and accommodations that don't provide this option. Flexible check-in times are a great way to motivate a specific type of traveler!
Nailing first pre-vacation guest experiences
When modern travelers search for a hotel or B&B that meets their needs, the stakes are high for you.
Prospects can find you by targeted ads, local keywords, and even on third-party online travel platforms.
If you list your accommodations on OTAs, you can't control the pre-vacation experiences too much; you are in control of your property presentation, though.
But prospects place a lot of trust in the power of OTAs, especially Booking.com and Airbnb, so you also have to find a way to connect them with your site via a channel manager that suits your software.
Furthermore, if you allow direct bookings through your website, you should also think about centralizing all the tools in one place. Those are usually property management systems (PMS) that encompass:
Website design and editor instruments (e.g. in WordPress, we do it with WordPress hotel themes).
Secure online bookings and online payments through your site.
As it was mentioned above, a channel manager to connect third-party travel agents with your website (to sync reservations and avoid overbooking).
Using all these things to the fullest, you'll be able to create a great first impression, streamline and automate the search and booking processes for your guests before they check-in.
Tech‐first and tech‐only check‐in models for hotel check-in: Self-service kiosks and mobile apps
Similar to the airline tech-enabled check-in, you have all chances to transit traditional check-in processes to tech-first or tech-only check-in modes.
Mobile apps for hotel check-in are quite helpful for both you and your customers: it's a great chance to reduce front desk friction and cut down some staffing costs while guests can get the flexibility of online check-in they need.
Travelers increasingly turn to self-service check-in kiosks and mobile apps for check-in, especially when they want to reduce interaction with the staff and check-in earlier.
The main benefits of the self-check-in process
Provide guests with a way to check-in they are more comfortable with
Ameliorate labor needs
Use tools to upsell – offer guests various upgrades and packages right from your check-in terminals
Improve communication between your staff and guests via mobile apps as well as automate the process of sending common notifications to your guests
Get better property reviews.
Hotels and B&Bs are already seeing success with self-service kiosks and in-lobby devices.
Different PMS's, mobile apps, and in-lobby devices perform a lot of functions:
State official check-in and check-out property times
Enable clients to notify/negotiate a different check-in time via mobile apps
Provide your staff with a detailed calendar of check-in and check-out times guests submitted
Process payments and issue invoices
Send email and phone notifications.
Here are just a few good examples of the software and hardware providers that offer online check-in solutions:
Virdee
Virdee provides a different app, kiosk and other appless access solutions for hotels and short-term rentals, including all front desk features, the ability to choose a room, upsells, branded mobile apps, etc.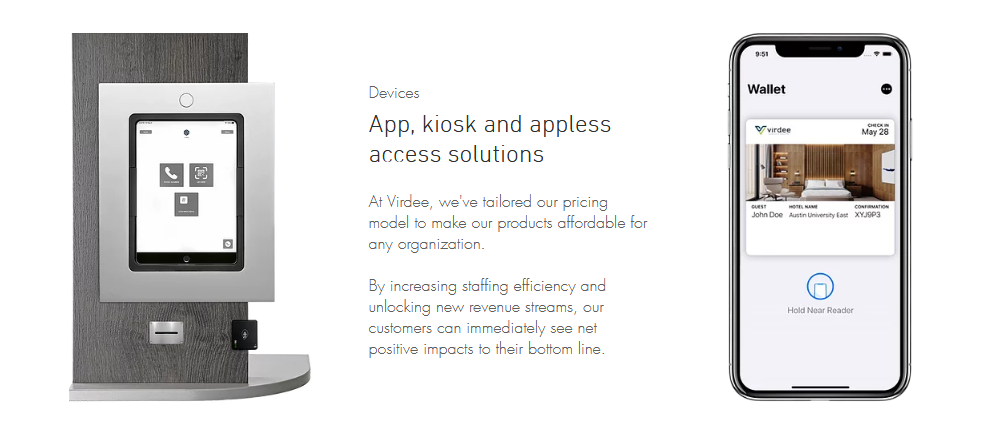 Concierge Mobile App
This tool provides a lot of hotel management tools, including mobile self-check-in.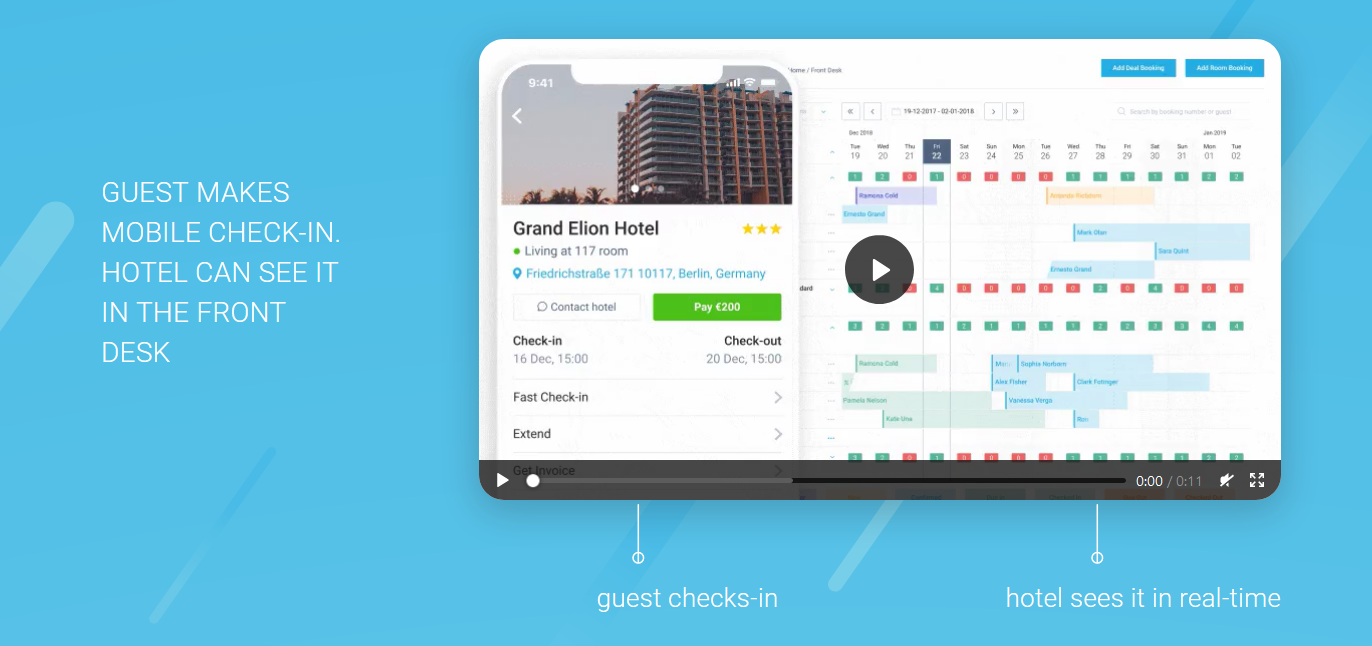 Zest Web
Zest Web allows you to integrate software that will make the mobile check-in and check-out process easy for your guests. The app is advertising the opportunity that will provide your guests with "the freedom to bypass the front desk by using a hotel app". Moreover, it's packed with numerous extra tools for upsells, placing room upgrades and ordering ancillary services.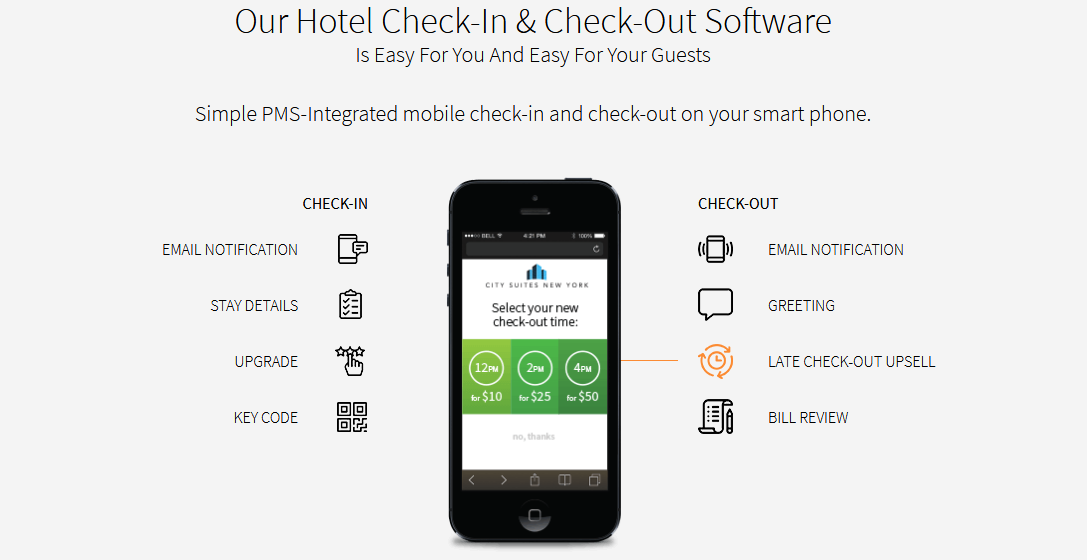 OpenKey
It's a popular service that allows you to enable guests to unlock their rooms with mobile devices. Since it comes with the software solution as well, guests can check in online and enter their room without a need to interact with the staff.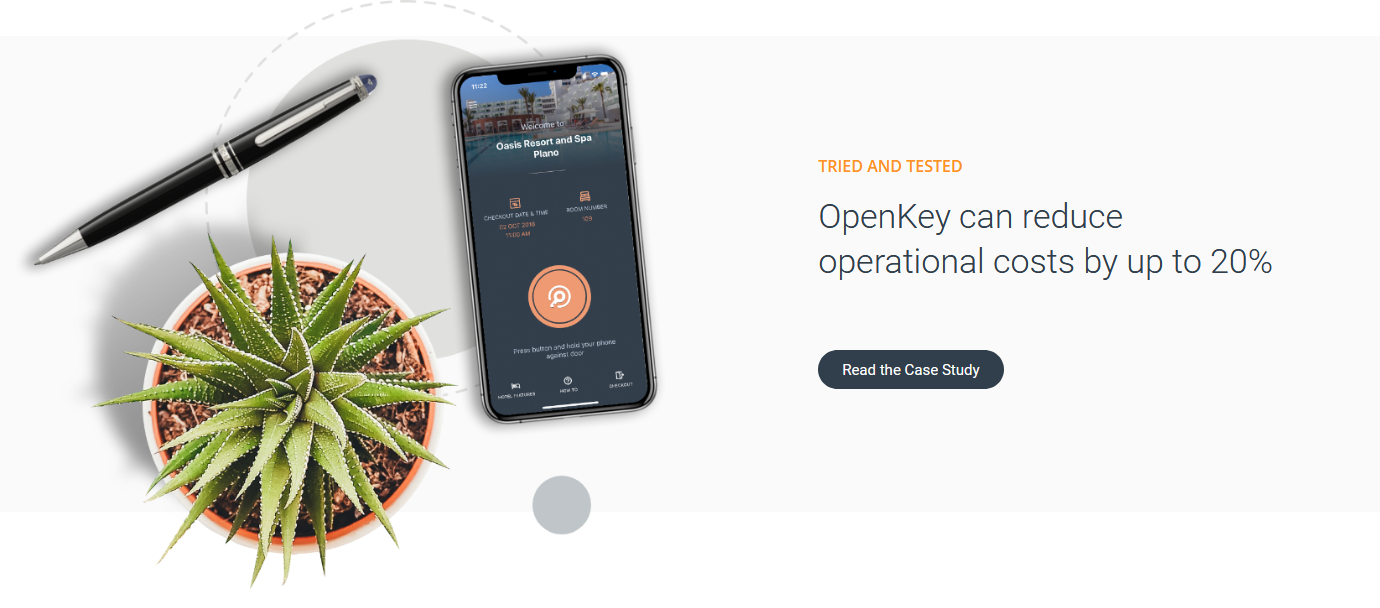 Mobile check-in apps and other tools are born out of the necessity of the modern world and modern travel habits, so businesses have to adjust.
If you want to avoid unpleasant surprises, make sure to provide your guests with a detailed, visualized plan of finding your property and using the self-service kiosks.
Conclusion on the hotel check-in tips & strategies: Be there when they need you
Check-in is one of the travel pain points for guests – and your task is to reduce this pain.
Be there is the main idea – and the way you do it is not of top priority. That may imply you've negotiated some custom check-in time with a specific guest, you offered an around-the-clock check-in desk, you supplied your property with self-service kiosks, etc. Be there but do it your way.
In the post-coronavirus world, travel may look different, so use these tips and strategies for the hotel check-in procedures to shape them according to your business needs. After all, your choice of a check-in strategy must be mutually beneficial for you and your guests.

Which check-in process is better - with or without human interaction?
It really depends – on the type of your common traveler, location, check-in rules, staff scheduling, etc. A combination of self-service devices and humane interaction is probably still a prudent compromise.
What are the traditional stages of the hotel check-in process?
First, you need to welcome your guest to a property. Then ask them to complete formalities by checking booking information and registering a guest. Provide a guest with their key or keycard. Then introduce a guest to the hotel / B&B amenities, services, activities, directions. Show directions to their room.
How does the MotoPress Hotel Booking plugin work for check-in rules?
The plugin comes with many settings for the check-in and check-out rules: you can designate the available times, days and even take individual properties out of booking for some time.