How to Send Automated Emails with the Hotel Booking Notifier Add-on
Sending extra custom emails to would-be guests and guests is a requirement for many hotels, but dull and repetitive don't have to describe your email marketing routine. By installing the new Hotel Booking Notifier add-on for the MotoPress Hotel Booking WordPress plugin, you are free to send any volume of custom automated emails containing information specific to the accommodation type booked.
For example, you may automate notifications that explain where to pick up a room/villa keys, the guide on how to get to your place or where the self-service check-in kiosks are placed, ask to leave a property review, send a list of city attractions, provide more details on dining facilities and extra services, or simply send a custom welcome/see you next time email.
Do you do that? Then our new awesome extension will help you speed up the entire cycle! Let's get into more details with a brief dashboard walkthrough.
How does the Notifier Automated Emails add-on work?
The extension will work for pre-arrival as well as after-departure notifications so you'll be able to create and schedule conditional emails in any number of days before and after the check-in/check-out date.
So far there are only emails but in the future, we plan to include more ways to deliver your messages and notifications, e.g. in SMS and other text messaging solutions for the hospitality business.

The best thing about this add-on is that it allows you to have the same type of notification slightly different depending on the accommodation type booked. You just need to add variables individually for each accommodation type.
For example, you create an "Upgrade your room" letter listing the options and extra services. A Room#1 can contain one type of information while a Room#2 can come with some different options.
In the case described above, you'll have one email template with the Accommodation Notice macro (an email tag). You can create any number of notifications via MotoPress Hotel Booking Bookings > Notifications.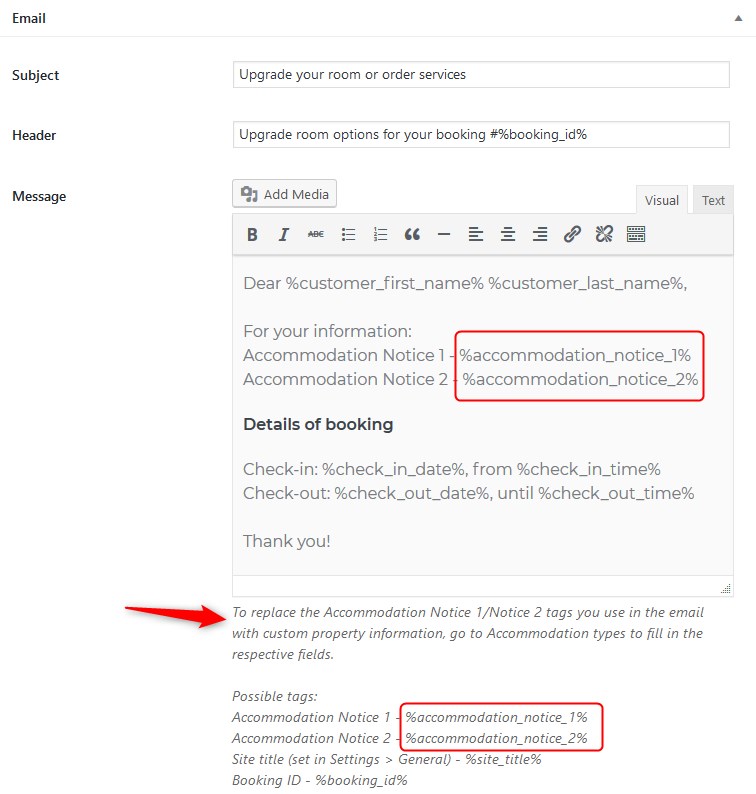 As you can see, it's possible to update the subject and header fields and the email itself as well.
To get this email tag automatically replaced with the specific accommodation information, you'll need to first add that custom piece of information in the respective Accommodation type (via the Accommodation types menu).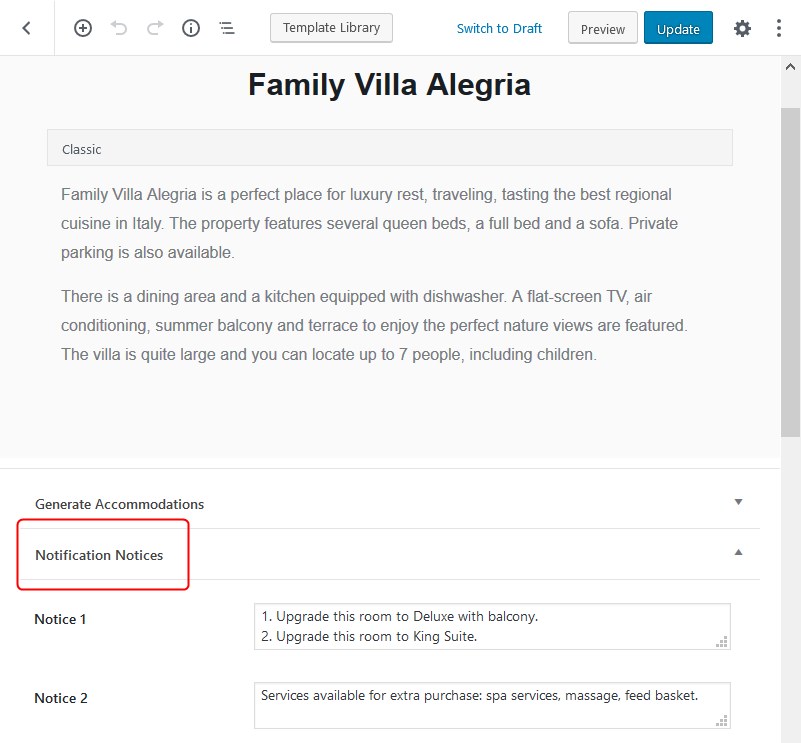 You can have one or two custom accommodation notices. So if you have different custom notices for Room#1 and Room#2, macros will get replaced with that info and guests will get the right notification depending on the accommodation type they've booked.
Please bear in mind: if you don't really need two notices, delete the unused email tag in the email template. Otherwise, guests will see empty strings in the email.
It's worth mentioning that you can opt-out of custom emails (remove Accommodation notices completely) and send an unlimited number of common emails to all bookings.
Compared to many confusing hotel apps, the email inbox is still easily accessible from almost every phone and laptop so you can rest assured that every guest of any age will be capable of using technology they are already familiar with.
Send custom automated emails to multiple recipients
So how do you go about the email scheduling settings? There are a few fairly easy things to configure:
A trigger allows you to designate when a custom email notification must be sent: #days before or after check-in/check-out.
Recipients: you can set the system to send a particular email to the guest's email address, admin, or a list of custom email addresses (a housekeeper, a manager, etc.). You can send an email to all of them at the same time or just particular recipients. That also means if you untick the "customer", all the rest of the chosen recipients will get this email on each booking that meets the trigger settings.
Once the add-on is up and running, you'll always see the real-time report on how many automated emails/notifications were sent and the time the next emails are scheduled for.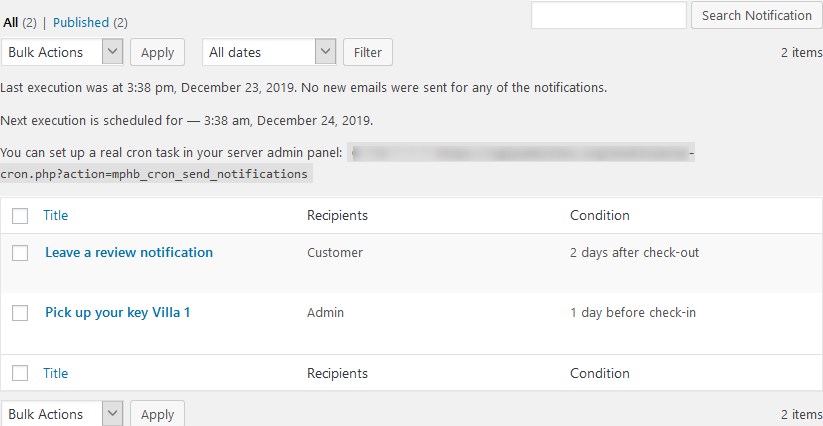 Test automated notifications for random bookings
When you are done with editing the email template for automated emails and all the Accommodation Notices are in place, you may want to test the waters. It's quite easy to do using the "Test Notification Now" menu from the right when you are in the Notification menu.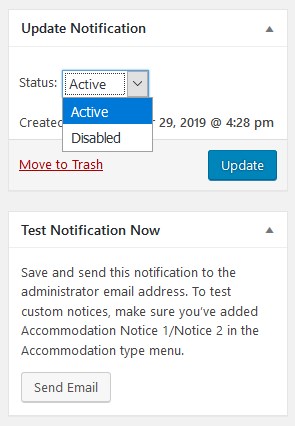 It will send an email notification to the admin's address based on a random booking (you should have at least one in Bookings).
Feel free to manually enable or disable notifications.
Conclusion: Enable event-driven emails to set custom notifications on autopilot
The conditional emails you can automatically send with the Hotel Booking Notifier add-on are a fantastic way to make communication with your guests smoother and automate repetitive tasks like sending common notifications.
The add-on won't only help you improve the routine workflow but will also be beneficial in delivering better results for your email marketing efforts, no matter whether you want to share an insider experience about the city, send offers and promotions, or just need to ask for a review.
We're actively working on expanding the lineup of the Hotel Booking add-ons that would make your hotel management a bit easier. For instance, the Hotel Booking PDF Invoices extension allows guests to receive automated invoices as PDF attachments (for easier printing or download).
What other functionality do you want to have in the Hotel Booking plugin? You are welcome to share your ideas (or feedback) in the comments!
*This premium add-on is free for all MotoPress members.