WordPress Hotel Booking Plugin Updated: PSD2 and SCA Complied
In this article, we'll touch on details on the recent releases: MotoPress Hotel Booking plugin versions 3.6.0 and 3.6.1.
We'll be talking about how you can utilize more possibilities of Stripe, the new EU's payment services directive for dealing with online payments, a quick and painless process to connect your bookings and availability data with Expedia, and more awesome improvements.
Read on to learn why so far you won't find a better WordPress booking plugin for hotels and vacation rentals. No brag, just fact.
PSD2 and the SCA complied
Do you take reservations online through the Hotel Booking plugin? Then keep in mind this date – September 14, 2019.
This is the date when the EU's second payment services directive (PSD2) will be in full force. This new EU regulation will require payment systems to have Strong Customer Authentication (SCA) for many online payments; that means you as an online business (accommodation bookings) need to impose extra purchase verification layers on your customers through different authorization methods.
But don't worry – you don't need to go through it manually. The biggest payment gateway names, such as PayPal and Stripe, have already taken care of this: the new logic and mechanisms will require your customers to authenticate purchases when there's a real need for it. In short, the companies behind payment gateways are working hard to make the compliance process smoother and quicker for you and your clients.
With the new Hotel Booking update (version 3.6.0 and higher), PayPal and Stripe perform in accordance with the new regulations.
Meet more Stripe payment gateways
If Stripe is your primary method for processing booking payments, rejoice! The new release of the plugin includes more payment methods you can enable with a mouse click:
Bancontact
iDEAL
Giropay
SEPA Direct Debit
SOFORT
To make more gateways available at checkout, go to Accommodation > Settings > Payment Gateways > Stripe tab > Payment methods and tick the needed boxes.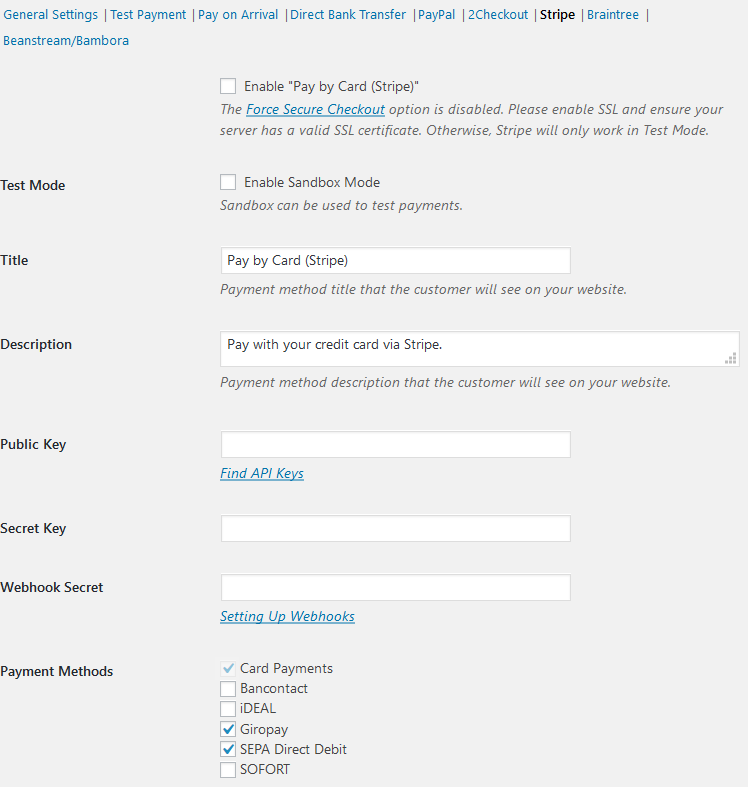 Wire transfer as a new method of confirming a booking
In addition to different payment gateways you can use with the MotoPress Hotel Booking for free, from now on allow your guests to pay directly with a credit card!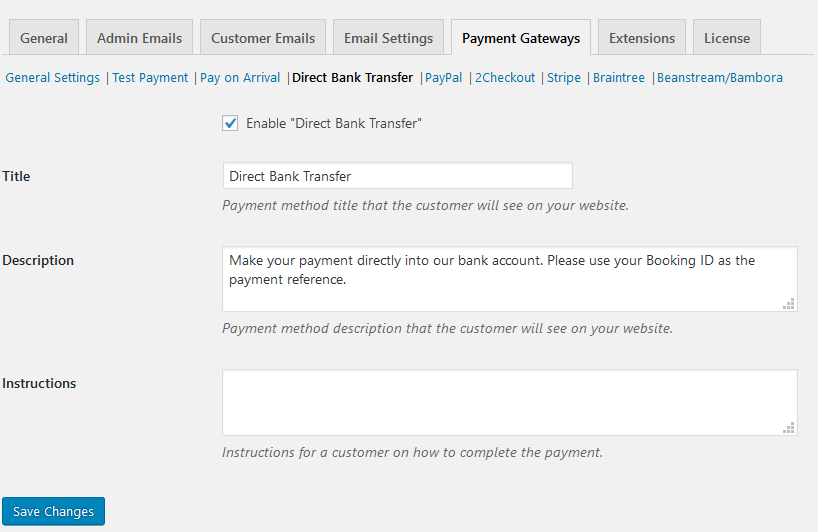 To make it possible, we've added a new booking confirmation method by payment: wire transfer (or bank transfer).
To add this option to checkout, go to Accommodation > Settings > Payment Gateways > Direct Bank Transfer tab. You can include all the needed instructions for guests to follow in order to opt for this method.
Sync bookings to Expedia
Online travel agents (OTAs) that support iCal (an availability management tool) can be connected to your WordPress website to simultaneously sync availability and bookings with each other.
Expedia, one of the top popular OTAs, has recently started to support iCal allowing you to update bookings information from this website automatically as well.
So if you work with the Expedia booking platform, the process of the import/export of availability calendars is the same as with any other travel agency. You can start using it today with the MotoPress Hotel Booking version 3.6.0 or higher.
Here is the step-by-step Expedia guide for your reference:
How to sync Expedia Group calendar with other external calendars
Delete iCal sync logs automatically
Don't want to manage iCal logs manually and overload your server on a regular basis? Run a new automatic logs cleaner within optional intervals up to half a year!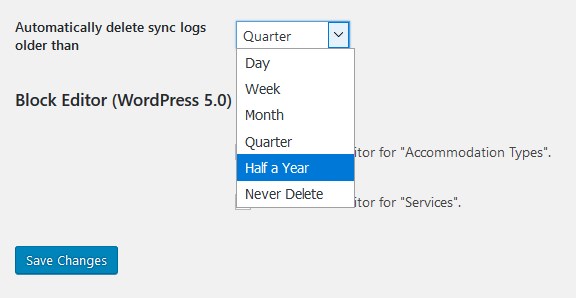 Check new options via Accommodation > Settings > Calendars Synchronization Scheduler > Automatically delete sync logs older than.
Sync bookings via iCal more often
The new plugin version gives you a chance to completely avoid or significantly minimize double bookings!
We've reduced the available time intervals for automatic bookings and availability synchronization across travel platforms and your website to "Quarter an Hour" and "Half an Hour".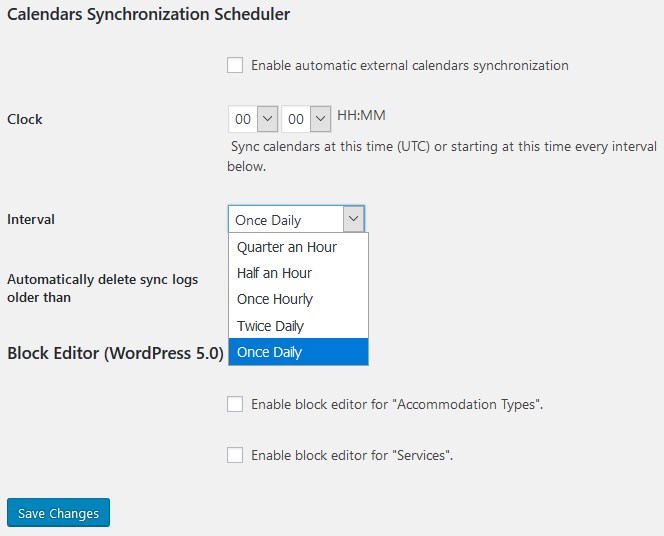 You can set new intervals via Accommodation > Settings > Calendars Synchronization Scheduler > Interval.
Add bookings from the dashboard in a few clicks
If you regularly add bookings manually to the dashboard using the "New booking" button, the process is going to be much quicker for you since it's no longer required to type in customer details when you add a booking.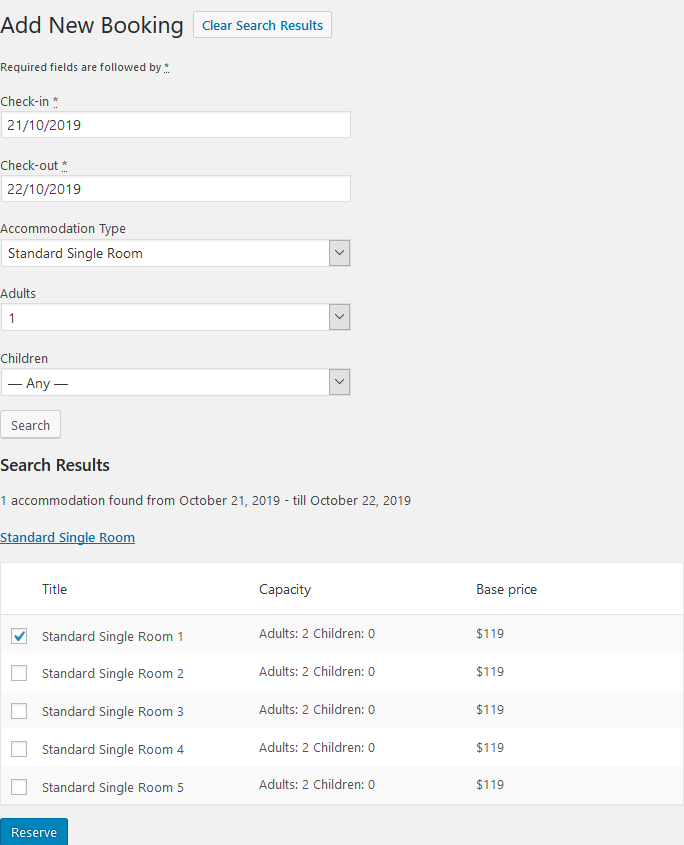 So after you've selected such crucial criteria as check-in / check-out dates and the room type, you can reserve the accommodation for a guest right away. The rest of the details can be added later.
More effective email templates
Email notifications on bookings can now be widened with more extra tags (macros) that allow you to send more detailed, personalized emails to your customers!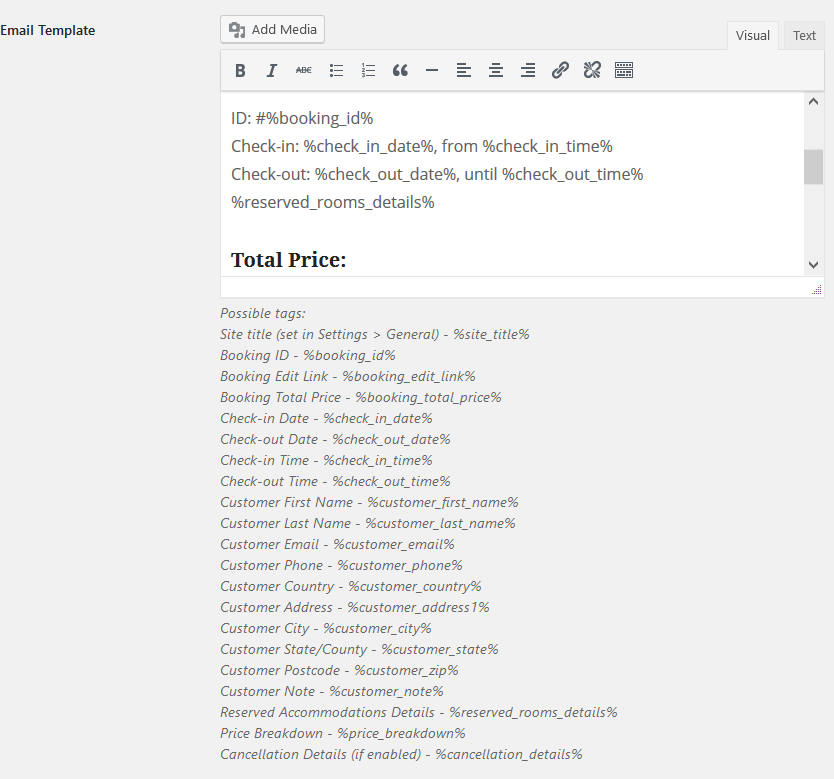 For example, you can let guests see details of each fee or tax charge and billing details they filled in at checkout.
Thanks to a bigger choice of macros (they automatically output client data), you can "copy" as much information as required. The new tags for email notification templates include:
Price Breakdown
Country, State, City
Postcode, Address
Full Guest Name.
Go to Accommodation > Settings > Customer Email Templates to update this information.
More flexibility of the Rates system
If you manage a lot of rates for different properties, most likely you use the "Duplicate" option to create new rates quicker and easier.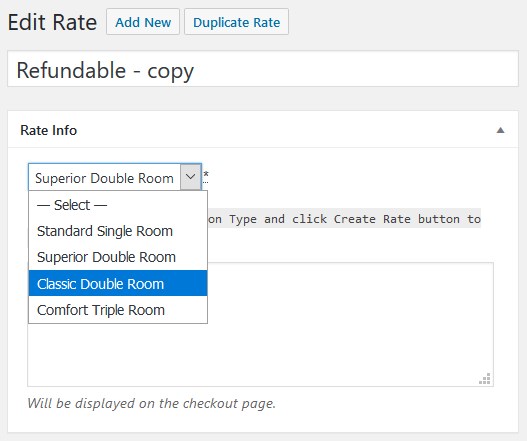 Starting from the plugin version 3.6.0, you can facilitate this process even more by choosing a property from the drop-down list after the rate was duplicated.
We hope these updates will really improve the overall experience of managing your WordPress website powered by the MotoPress Hotel Booking plugin. We would love your feedback.
More awesome news on the way, so keep an eye on updates!