WordPress Hotel Booking News: Reports, Better Rate Management and More
If you haven't got time to go through the last three MotoPress Hotel Booking releases (the latest version is 3.5.1 as of the time of writing this), we are going to help you do that quickly with this brief overview of the major improvements in hotel booking reports and management sections.
Since some of the recent updates were focused on minor fixes and improvements, we didn't have enough reasons to introduce them to you. Now we have loads of things to share and boast about!
Also read:
Hotel Booking 3.2.0 highlights
Hotel Booking Gutenberg Blocks
So the major enhancements include:
Export booking and client details in the CSV format
The new Hotel Booking 'Reports' menu allows you to export bookings data in the CSV format (a spreadsheet document).
You may include all or individual booking details before importing hotel booking reports. Go the Bookings > Reports to see how it works. It's easy to apply filters in order to import booking selectively:
by Accommodation Type
by the booking status
by the certain time frames
To exclude unnecessary client and booking details, simply untick the appropriate boxes (click on the 'Select columns to import'), e.g. postcode, coupons, etc. Then click 'Generate CSV' and you are done! It'll automatically generate a file that can be opened with any program that supports this format.
Did you know that guests may also generate the file with the details of their confirmed booking? Our newly-released Hotel Booking PDF Invoices addon lets you send automatic PDF invoices of their bookings – even for the unpaid ones.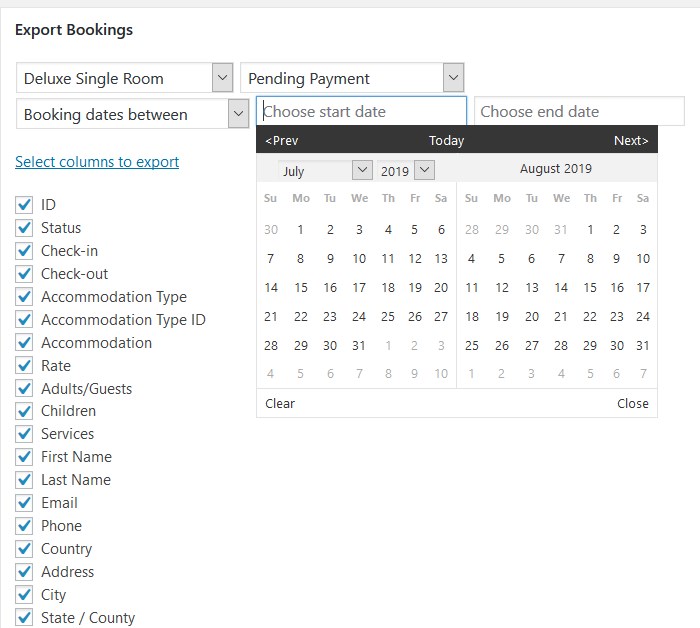 Please note that your selected column preferences will be automatically saved for further exports, so make sure to go through them again if you want to change anything.
There is one more improvement related to this release. If you want to see/hide all imported bookings in the main Bookings table (bookings list under 'All Bookings' menu), you should simply tick/untick the 'Display imported bookings' box.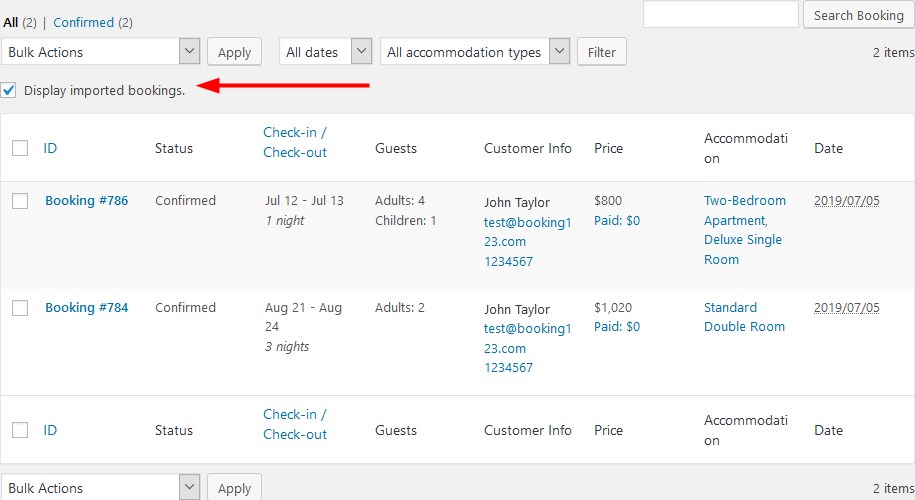 Please notice that we've also added the ability to sort bookings in the list by the check-in and check-out dates (ascending/descending).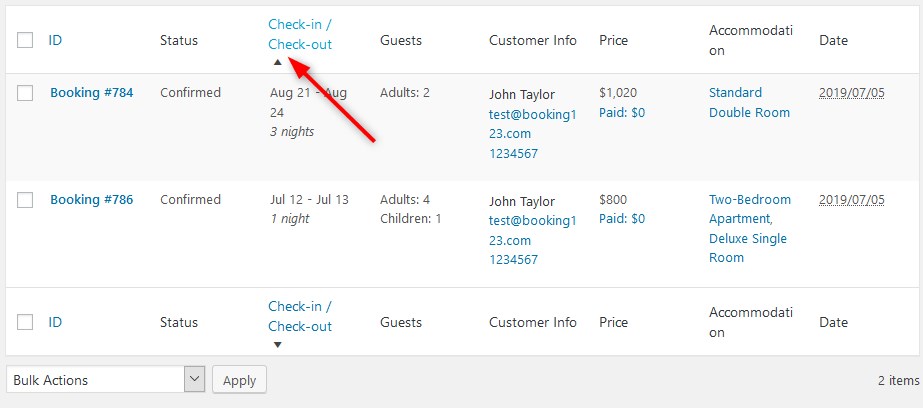 Watch a detailed video guide on how to export booking data:

Set a default Attribute value
Does the property search form you use include extra search filters added via the Attributes menu? If so, you can now make it work and look better for your guests by optionally setting the first Attributes value as default to appear in the drop-down menu.
This will instantly hint your guests at the purpose of the field and sometimes even accelerate the search process.
To set this, make sure to go to the needed Attribute and set the first value for the 'Default text'.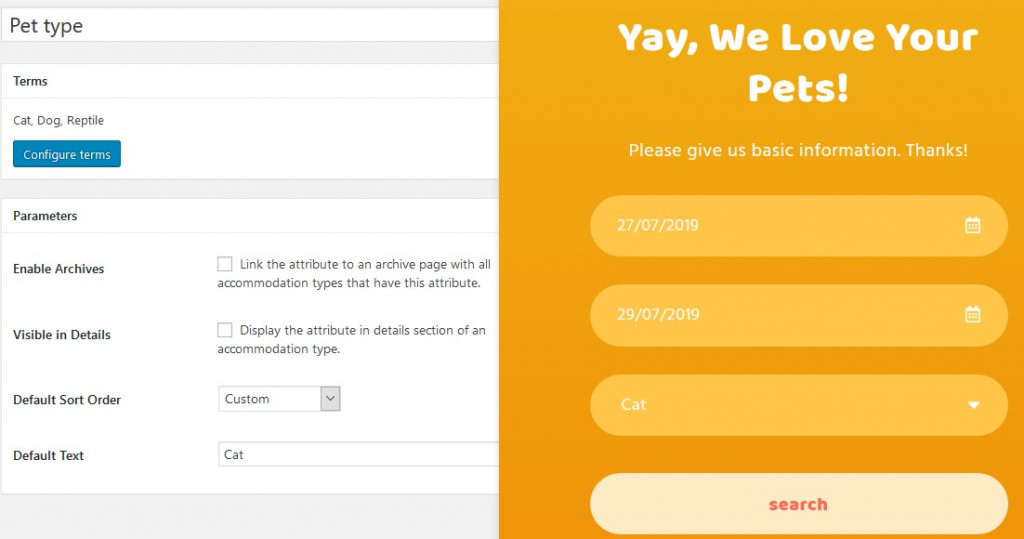 Easier management of variable pricing
If you benefit from the flexible rates system, you can rejoice since it's even more agile now! After the 'Variable pricing' is enabled, you can firstly add multiple rates based on the length of stay and after that set the prices and correct them as you go.
Go to Rates > Edit Rates to test the waters.
For developers
If you don't want your clients to see the list of extensions under Bookings > Extensions, it's easy to hide them with the "mphb_show_extension_links" filter.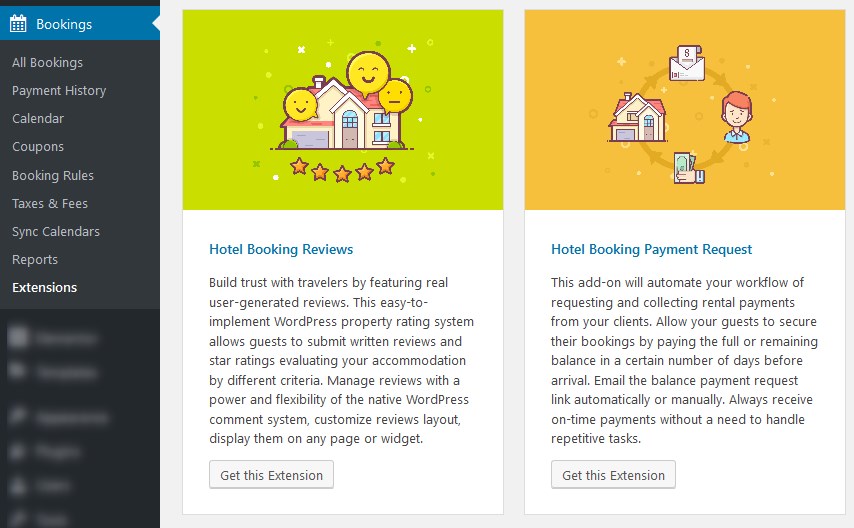 New CSS classes for the Price Breakdown table.
Bug fixes and improvements (Attributes search, compatibility improvements with PHP 7.3., MySQL 8, WPML, more currencies for PayPal, and more.)
As you can see, we are tireless in making MotoPress Hotel Booking one of the best and the most powerful WordPress booking plugins for hotels and rental properties of all types. And your feedback is our driving force, so if you have any ideas or questions so far, don't hesitate to share them.