Meet Hotel Booking 3.0: Add Extra Fields to the Search Availability Form and More
The most expected version of the MotoPress Hotel Booking plugin, your favorite WordPress booking system, has finally arrived! It's now available with a whole bunch of new options and bug fixes to enrich and improve your work with the WordPress reservation plugin.
Without any further ado, let's revise feature enhancements.
Attributes – add more sorting options to the search availability form
If you head to the Accommodation menu on your WordPress dashboard, you'll find the new Attributes menu.
It's developed to provide you with more flexibility over the sorting fields you may set for the search availability form as well as for property listing details. For example, you can supply your accommodation types with extra attributes like location, type, price range and let visitors sort the search results using a wide range of attributes.
Basically, attributes serve two main functions: help you add an unlimited number of extra info to the property details and add extra advanced search fields to the search availability form.
How does grouping accommodations by attributes work?
First of all, you should add all attribute categories and assign tags to them – you are not limited to the number of items you can add.
Let's illustrate it with an example. I want my potential guests to be able to sort the accommodation types (in addition to standard arrival/departure dates and adults/children number) by location and room type. So I'm adding room type and location attributes with their own tags. Here is a quick guide:
Add the main Attribute category (e.g. Location).
Set the preferable parameters:
Enable Archives implies that by clicking on this attribute the visitor will be able to search across this category and see all accommodation types with this attribute assigned.
Visible in Details adds the attribute information to the whole list of the room type details: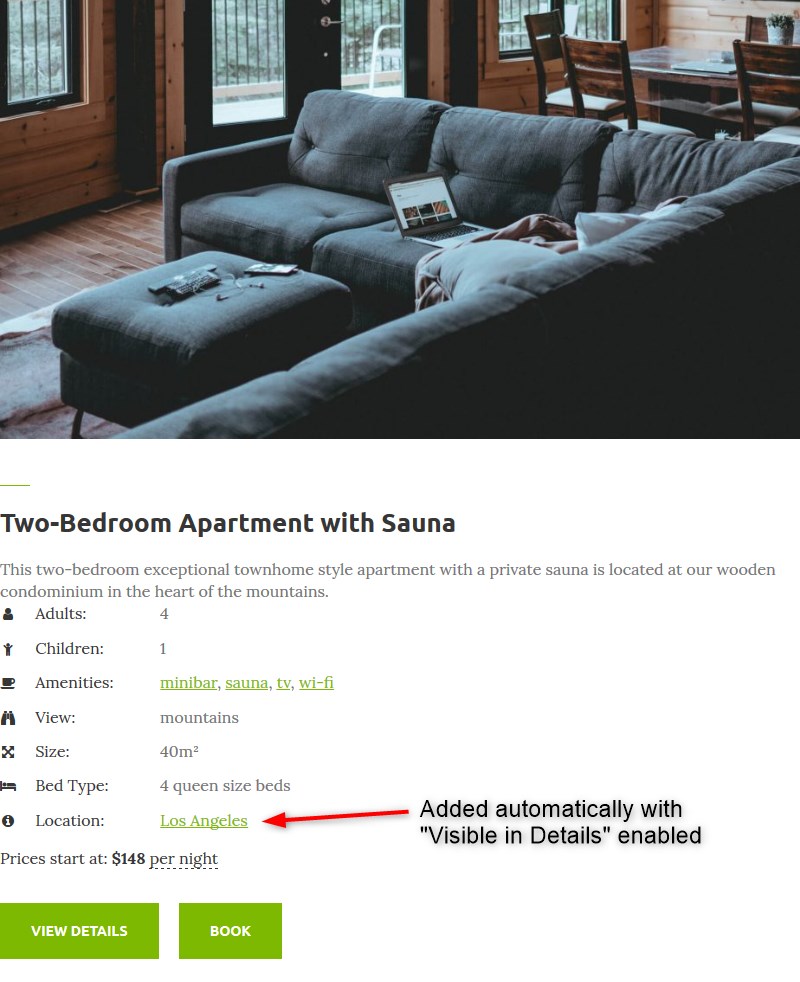 Here is another example of the property details generated by Attributes and displayed in the directory (in our new Campterra camping WordPress theme). The amenities you can see in the details are added via Attributes menu:

Select a preferable default sort order. Choose "Name" for sorting the items alphabetically. If you are going to use numbers (e.g. to add "Sleeps" attribute and use numbers), you should set "Name (numeric)" order as it's relevant for number values. Opting for "Custom" ordering, you can set the order by dragging and dropping the tags inside the attribute.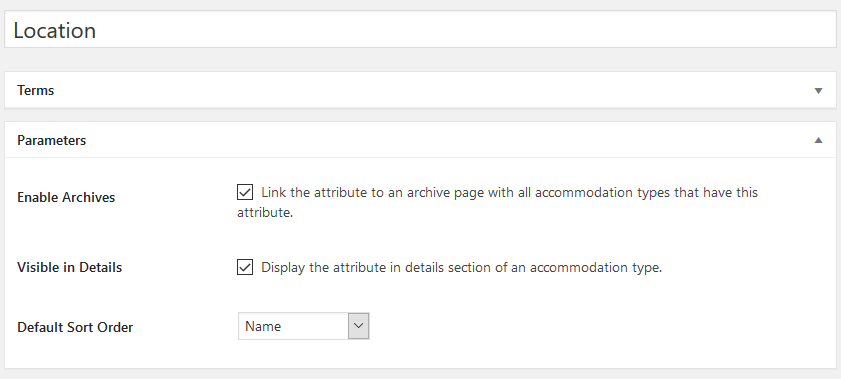 Publish the attribute.
Add attribute values by clicking on the "Configure terms" button (e.g. all specific locations). So, the main attribute is "Location" whereas its values are all specific locations: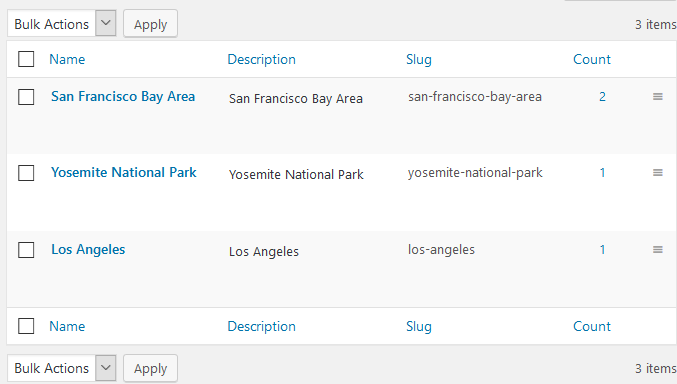 Add as many attributes with any number of values as required!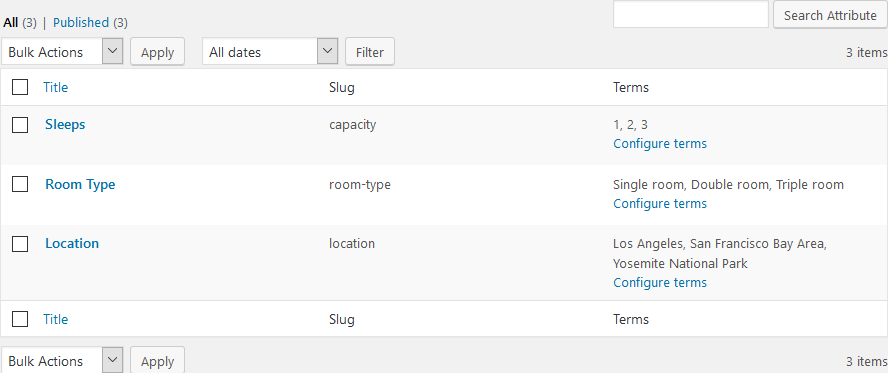 Now you have to assign all appropriate attributes to the specific Accommodation types > just tick all needed boxes in the Attributes menu of the needed Accommodation type (from the right Accommodation type menu).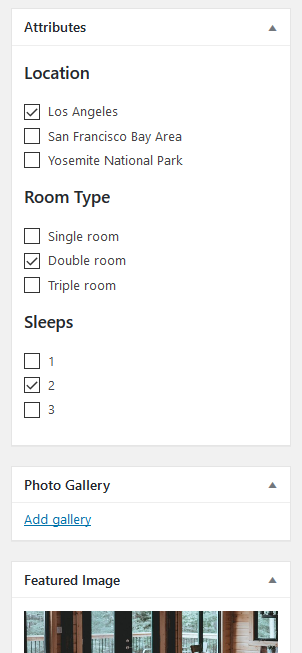 To display new sorting options (attributes) in the search availability form on the live site, you should customize the search availability shortcode (extend it with extra search fields). To add attributes, copy and add their slugs separated by comma: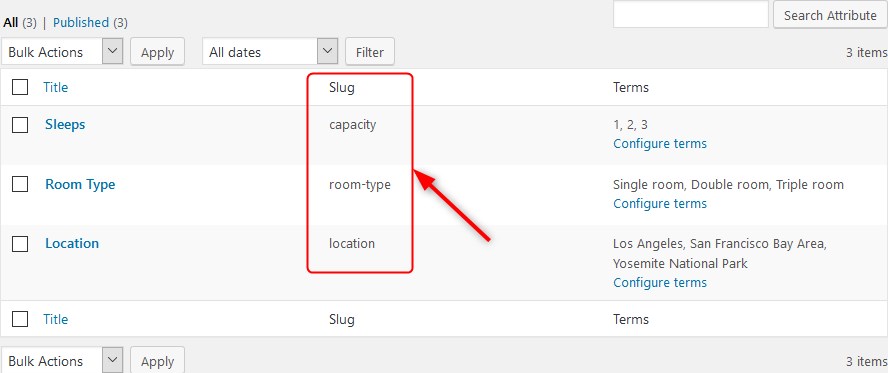 … to the shortcode: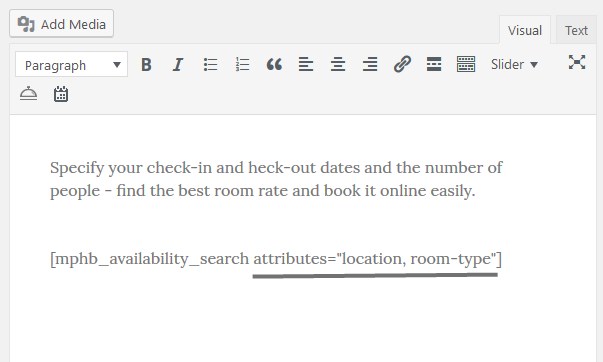 Add as many attributes as needed. They will appear in the order set in the shortcode, so feel free to change it. Once added, all new sorting fields should appear in the search availability form. I've added Location and Room type as you may see from the shortcode above – now my search availability form comes with two extra advanced search fields: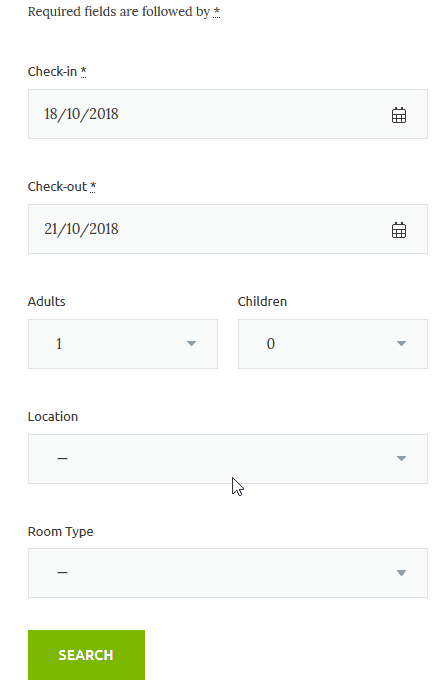 The number of new fields will depend on how many attribute slugs you include in the search availability shortcode. You can create a really advanced search form with multiple search parameters of different types! You should give it a try and share your feedback with us.
New payment method – pay on arrival
If you want your guests to choose a Pay on the arrival payment method (or offer it as the only one available, for example), make sure to go to Settings > Payment Gateways > Pay on Arrival tab > enable this method and customize its labels that will be visible on the frontend.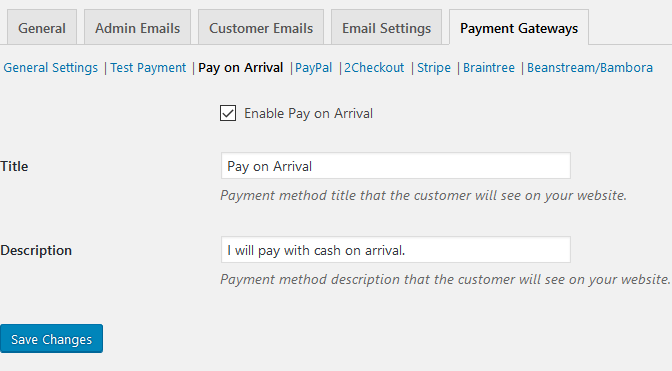 The guest will see all payment methods you turned on: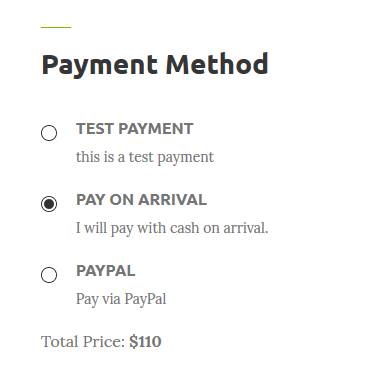 Make sure that "Confirmation upon payment" mode is turned on via Settings > Booking Confirmation:

Now filing the payment history of each booking is easier!
Coupon codes with the monetary value
In the newest release, we've added an option to set a fixed amount of a discount coupon code in addition to a percentage type. Navigate to Bookings > Coupons > Edit the needed coupon and select the preferable coupon type:
Percentage
Fixed per accommodation per day (new)
Fixed per accommodation per stay (new)
If you are creating coupons for the first time, make sure that the use of coupons is allowed via Settings > General tab > Enable the use of coupons.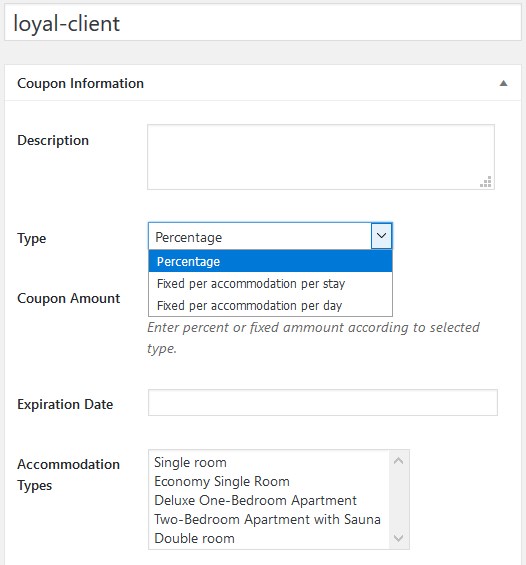 We hope that this update will help you create any type of promo campaign without limitations.
Add more admin email recipients
It shouldn't be a problem to notify different staff members about new bookings simultaneously – with the updated WordPress reservation plugin you can do that effortlessly without extra turnarounds.
To add multiple recipients of admin emails, go to Settings > Admin emails > Update "Recipient" field with a needed number of admin emails. You can do this for all types of admin emails – each has its own field.

Enjoy a better level of automation on email notifications!
Set a default country on the checkout page
If you are sure that the vast majority of your guests are residents of your country, improve their user experience by filling in the booking form: in the admin settings, select the country that will be displayed as a default one in the billing details form on the checkout page.
Set it via Settings > General tab > scroll down to Default Country on checkout:

This doesn't mean the travelers won't be able to change it! If their country of residence is different from the one you predefined in settings, they can change it in clicks.
Minor fixes and improvements in WordPress reservation plugin
What's more?
The availability calendars of all properties should now do a better job at displaying your booking rules (for example, not-stay in days are properly marked as unavailable).
If you run into the issue with the Braintree enabled in several plugins, we've fixed that problem! Now there should not be any conflicts.
How do you like the new release? Let us know if there are any other features you'd be happy to see in the WordPress reservation plugin!
---
Looking for the best WordPress themes for rental properties? Check out our collection!