HomeAway vs Airbnb: Where to List your Rental Property?
More and more hotel owners decide both on listing their properties on popular OTAs and having their own WordPress hotel website with online reservations at the same time. And since cross-linking of all the booking calendars has become fully automated with plugins like Hotel Booking by MotoPress, managing multiple channels of bookings for your hospitality business is now easier and more efficient than ever.
(If in doubt which option – OTAs or independent website – is better for your business, check this substantial comparison to gain some insights.)
Popular rental marketplaces allow getting bookings straight away without any marketing preps, so the desire of property owners not to miss the chance is completely understandable.
That is why in this article we decided to focus on two giants of property listing – HomeAway and Airbnb – and describe them from the host's point of view.
Find out which benefits and pitfalls bring you adding your lodgings to HomeAway or Airbnb directories and learn more about the functionality and regulations of the two rental platforms to be able to make a well-informed choice.
Further reading: Airbnb clone site for WordPress
1. TYPES OF RENTALS
First of all, let's state the main types of properties the two famous platforms are focused on.
HomeAway allows listing of self-containing rentals only, so the guests won't be sharing their living space with the property owner or other travelers. Therefore, among the units featured on HomeAway mostly are private apartments, vacation houses, villas, cottages, condos, bungalows, cabins, and similar.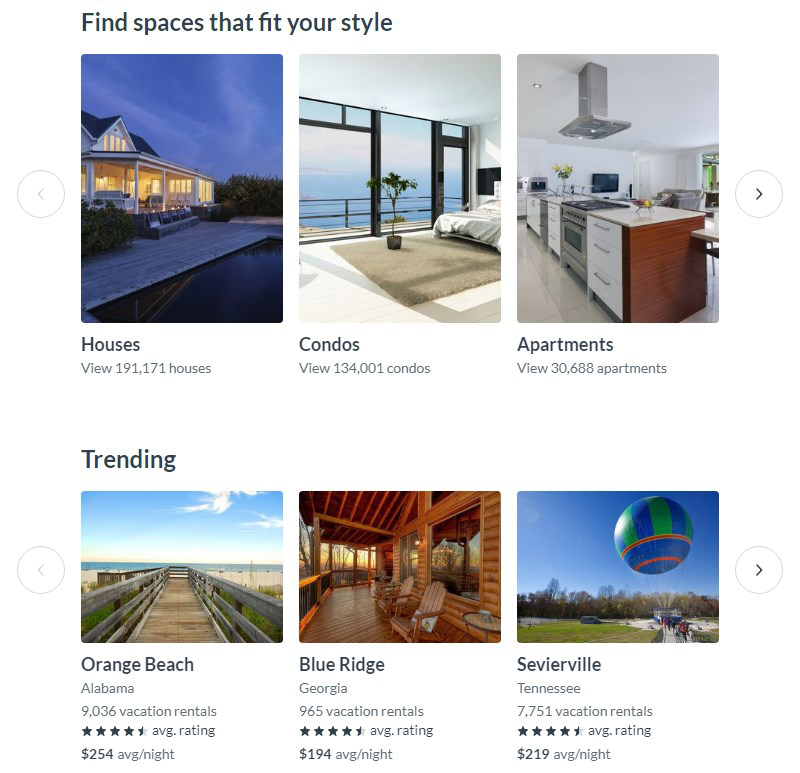 Airbnb has a more broad focus. Its rules state that both standalone rentals and shared accommodations or rooms are allowed. Properties that are often listed on this platform are private and shared rooms, hotel accommodations, vacation houses, apartments, huts, cabins, lofts, and other short term rentals.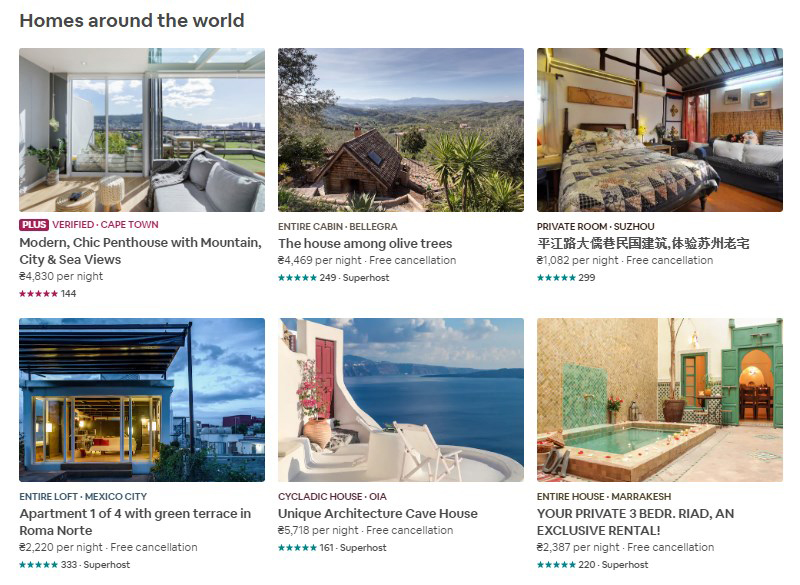 2. HOST FEES
Airbnb. The fee for hosting on Airbnb is referred to as Airbnb service fee. In the majority of cases, it amounts 3% and is deducted from the total booking price.
Note that the charge may be increased for hosts in Italy and hosts with a Super Strict cancellation policy.
HomeAway fees are a bit more diversified – the platform offers a wider choice of ways to pay for its services.
The first option is by purchasing an annual subscription ($499 as for now) – in this case, you won't be charged for each booking.
If you, however, would like to pay on a per-booking basis (this method is good in case bookings of your rentals are infrequent), you will be charged the HomeAway service fee amounting 8 – 10% of the total booking price. This fee consists of the following components:
5% – general service fee
3% – commissions for credit card processing
2% (optional) – fee for processing non-US credit cards
Both. VAT is charged on both platforms in case if your country's legislation obliges this type of taxation to be applied.
3. PRICING & RATES FOR YOUR LISTINGS
Let's take a closer look at how and to which extent you will be able to set and customize your booking prices.
Airbnb. First things first, you will have to define a regular nightly rate that will be applied unless other conditions are set. Use a Custom price option to change your base rate for specific dates or periods.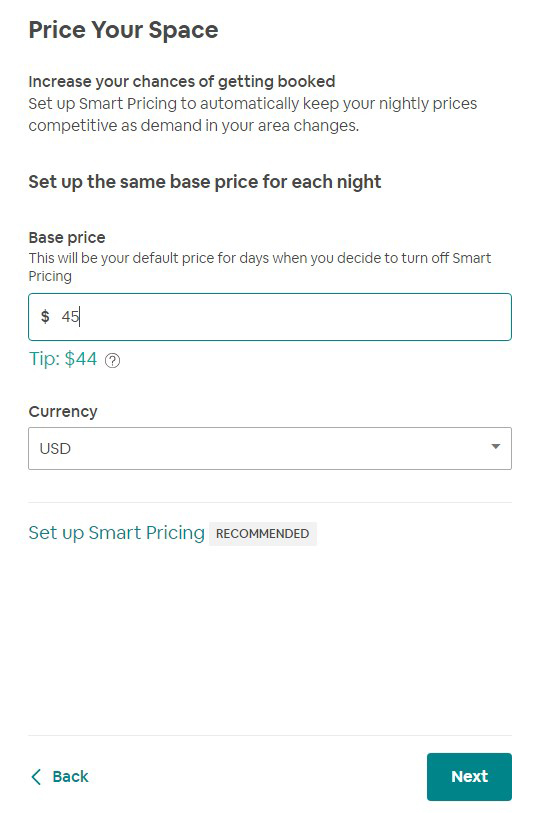 At the same time, you can opt for the Smart Pricing tool and have the price automatically updated in accordance with the demand for the rentals of your type, location of your lodgings, season, and other important factors. Set min and max possible rates and let the price be automatically varied within the limit.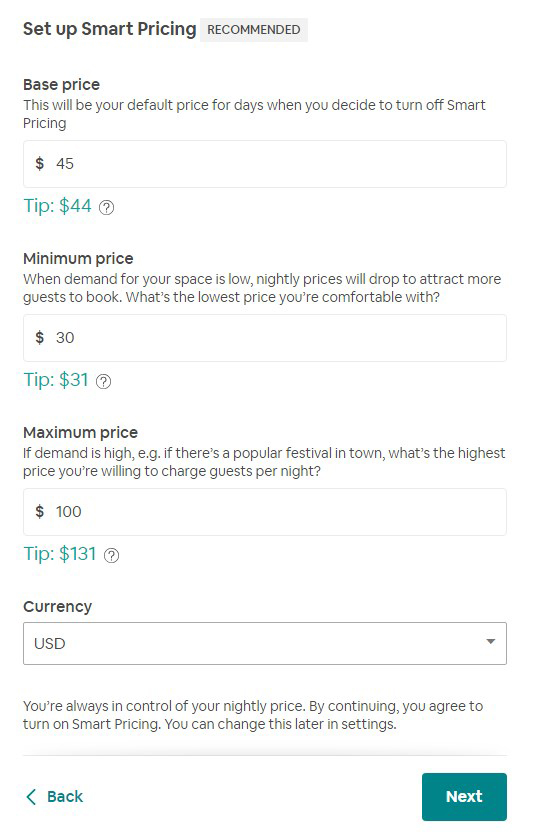 HomeAway. The very same concept of a base rate overridden by custom ones whenever necessary is applied to HomeAway listings as well, but what actually differs is the way of how the settings can be tuned: the platform offers a handy calendar interface that is convenient for diversifying prices for particular dates or short periods.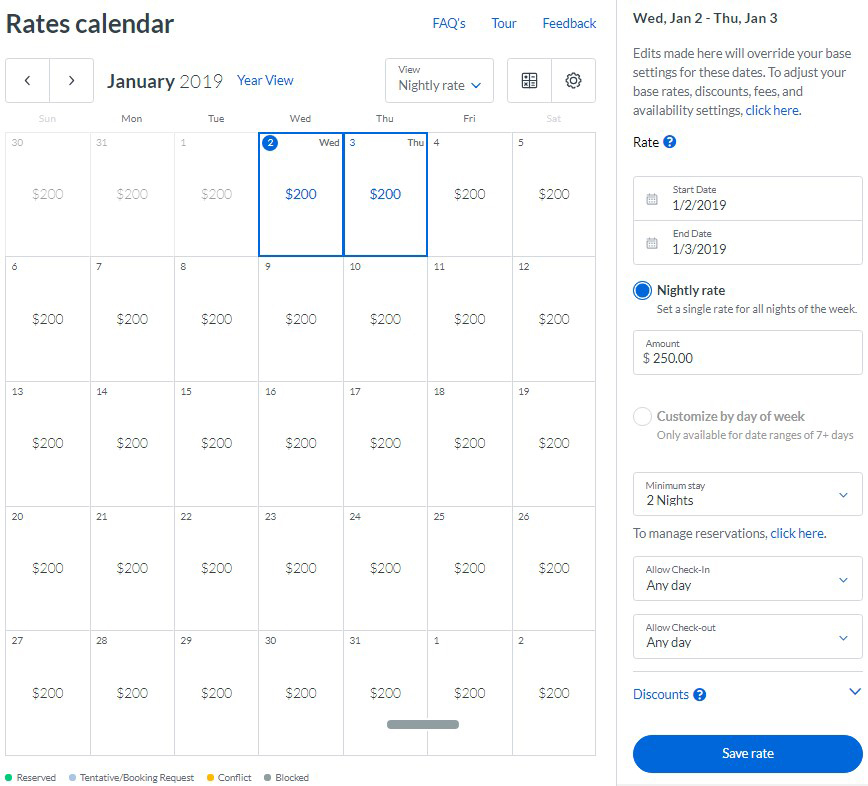 Both. You can as well charge your guest for the services or certain amenities you provide by adding various types of fees to the total booking bill – both platforms support the option.
4. PROPERTY DAMAGE INSURANCE
HomeAway hosts can enable Refundable Damage Deposits for their rentals and collect them as a part of the total booking price. In case the guest doesn't do any damage to your properties, the deposit will be returned back.
Airbnb security deposits aren't charged in advance: having required a damage deposit for their listings, the host will be able to request charging only in case the damages have been actually done. The request for damage deposit charging can be sent within 14 days after the guest checks out.
5. REVIEWS
Both Airbnb and HomeAway have a two-way review and star rating system for both hosts and guests to be able to share their feedback. Reviews can be added exceptionally by the guests who have actually stayed at the property. The review process can be started after the guest's checkout only.
The main difference lies in the procedure of review submissions.
HomeAway offers:
one year to start the two-sided review process and submit your review
14 days to write a response in case the guest was the first one to start the review procedure and has already reviewed your property.
Please note that no review editing is allowed. You can, however, contact the HomeAway support team to ask for the removal of the review you've written.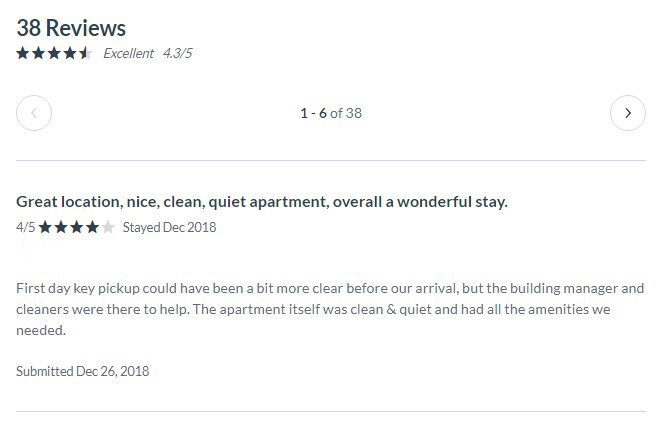 Airbnb offers:
14 days for both parties to initiate the review process
30 days to respond to the review you've received
48 hours to edit the submitted review.
By contrast to HomeAway, Airbnb allows review editing but prohibits review deletion: once published reviews can't be removed.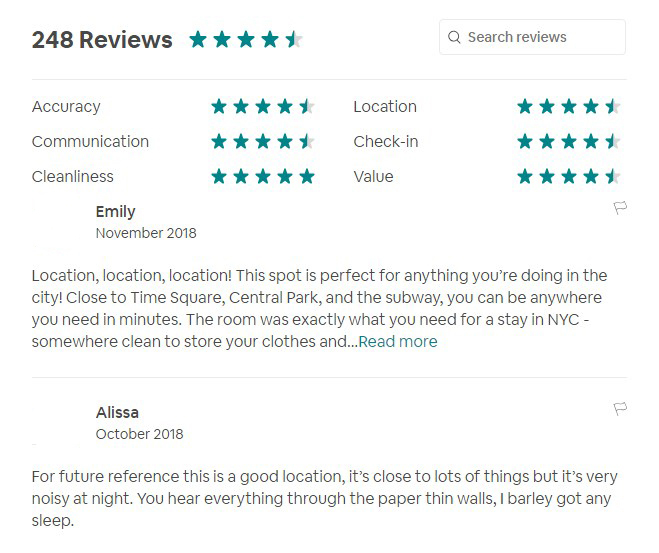 6. HOST PAYMENT METHODS
Let's briefly list out available methods of host payouts you will be able to receive your earnings with.
Airbnb:
Bank transfer or international wire
PayPal
Payoneer Prepaid Debit Card
Western Union
ACH / Direct deposit
HomeAway:
HomeAway Payments powered by VacationRentPayment
HomeAway Payments powered by Payoneer with two options available: Bank Transfers or Payoneer Prepaid Card
HomeAway becomes your payment provider if none of the above gateways is available.
7. CUSTOMER SERVICE
HomeAway provides chat, email and 24/7 phone support.
Airbnb offers 24/7 phone support as well, however, the support line generally deals with emergency matters only. In order to get access to the customer service number, you'll have to answer a series of questions for the support representatives to make sure your issue is relevant. Support via email and the official Airbnb Help Twitter page is available as well.
8. ADDITIONAL SERVICES
Airbnb enables its users to take advantage of two extra functions: Experiences and Events.
Experiences is a generic term for various classes and workshops, tours, excursions, and other services or activities that may be listed by hosts and booked by travelers just as the actual rentals.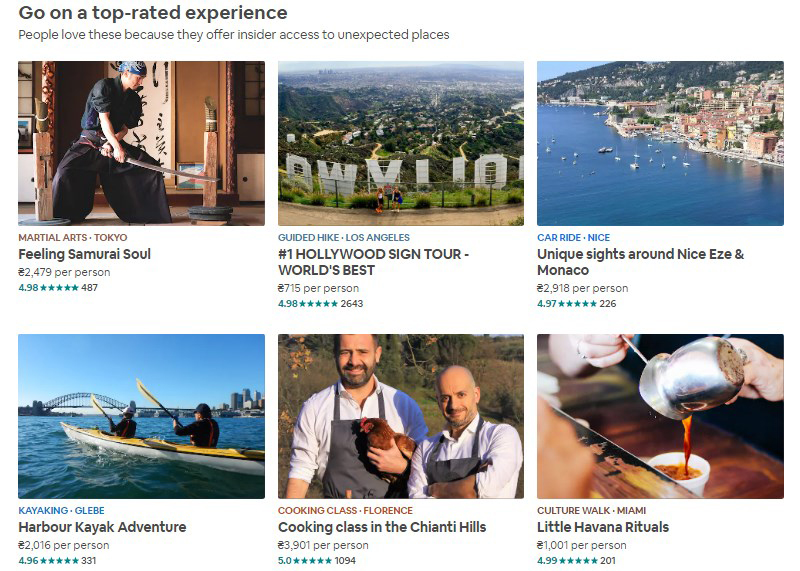 You can as well make use of the new free Airbnb Events feature and create Airbnb-based landing pages for the events you hold. Plus, an interactive widget showcasing all the available Airbnb rentals near your event's location will be generated to be added to your own website.
HomeAway doesn't provide extra options directly on its platform. However, it consolidates under one brand more than 20 other online marketplaces (VRBO, VacationRentals.com, Stayz, etc.) These platforms are aimed at particular types of properties, countries, or specific services like car rental or tours so you'll be able to choose the one suiting your business best.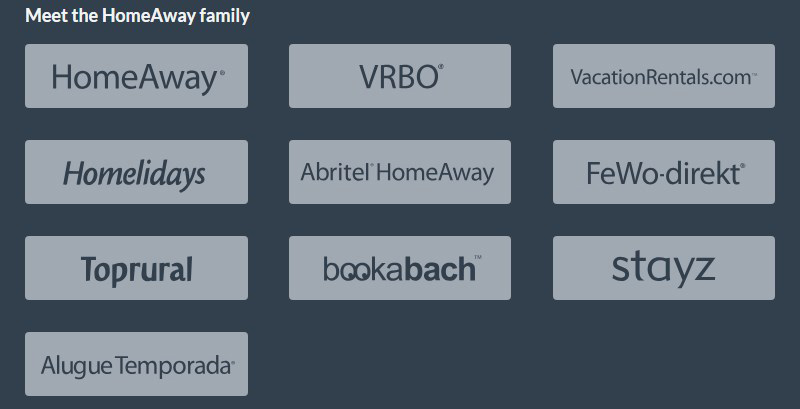 CONCLUSIONS
This post was not meant to be an actual comparison of the two platforms but an attempt to briefly outline their features, essential rules and regulations that should be taken into account by hosts willing to list their properties there.
In fact, a direct comparison of HomeAway vs Airbnb would be, to a certain extent, inappropriate since the focus and target audience of the two marketplaces differ.
Therefore, while picking a platform to showcase your lodgings on, you should clearly state your own hosting expectations and objectives, define to which type of rentals your property belongs, and then check if the intended OTA is relevant to your needs.
To save you some trouble, we are listing the essential differences between HomeAway and Airbnb to consider while making a decision.
HomeAway:
Features rentals of more high price tier (since it allows listing of self-contained accommodations only)
Mostly aimed at resort rentals and vacation properties
Has older user audience
Airbnb:
Features rentals of various price categories
Mostly oriented at rentals located in urban or rural areas
Has younger user audience
P.S. The choice is truly difficult, but no matter which of the OTAs you choose (or in case you decide to go with both of them or even stick to any of Airbnb or HomeAway competitors), you'll be always able to combine your account on a rental portal with an independent WordPress website for your hospitality establishment and easily keep all of your bookings in sync.
But how can this be turned into reality? Easily!
Once you've picked a proper marketplace to add your rentals too, set up the booking logs there to be synchronized with the ones from your WordPress website. WordPress booking plugins dedicated specifically to hospitality niche (as in the case of Hotel Booking by MotoPress) offer automatic synchronization of booking calendars and let you define time and interval of it. As a result, you'll be able to consolidate, manage and control your reservations from all the channels in one place.
Read how the the availability calendar on your WordPress website can be synchronized with the ones from:
using the example of MotoPress Hotel Booking plugin.