How to Build Vacation Rentals Websites in WordPress?
Looking for a doable way of creating vacation rentals websites with a fully functional WordPress reservation system? Of course, you are not just rambling here! Jackpot!
This is the most affordable WordPress solution you've seen for your website!
And we must add – a safe, feature-rich, and reliable solution. No matter if you are operating a small hotel, renting out a b&b, apartment, holiday rental or just building the best site for a client, this guide will come in handy!
WordPress is the best vacation rental website builder in terms of cost-effectiveness and user experience. No doubts, you'll be able to find ANY possible solution to build a website with a reservation system, be it a hotel, apartment, vacation rental, villa, in, or guest house.
Property Rental WordPress Theme – Villagio
And today we are going to direct you through the process of creating a website with our fresh Property Rental WordPress theme – Villagio. This theme lets you feature several (unlimited, actually) accommodations in different locations and turn on instant bookings for all of them.
Alternatively, with Villagio, you can rent out a single accommodation (bookable as one item or bookable by the room). But if you do need a solution for single accommodation, I'd recommend taking a look at our Aquentro, AlpenHouse, or Mountainview rental property WordPress themes – they are much more suitable for this purpose from the design perspective. One more fresh theme similar to Villagio in terms of purpose and functionality but with a much more modern look is Booklium.
Note: Villagio premium theme is free for MotoPress club members.
Where to start
Assuming that you might have not even created a WordPress site yet and want this guide to start from there… No, sorry! That's another detailed article for WordPress beginners and you can find it here: Beginner's guide to creating a WordPress site.
So, if you are a WordPress beginner, start there and get back to this post as a second step.
But let's get back to our new Villagio holiday rental WordPress theme and the guide to creating vacation rentals websites. Villagio has already included in some awesome collections of the best WordPress hotel booking themes, so you are in good hands!
Villagio Vacation Rental Website Design
The vacation rentals websites design of Villagio is quite simple!
I know you probably love all those toys – a background video, Parallax defects, animations, twenty different content modules on the front page to feature all the most important things, etc.
But. Villagio won't let you spoil your site and destroy SEO ranking! The theme features only those content pieces that are the most useful for your travelers and effective for your business:
– Widget area, which is by default a slider with your chosen accommodations (if you are not a fan of this marketing tool, just free your imagination and choose any from the available widgets) :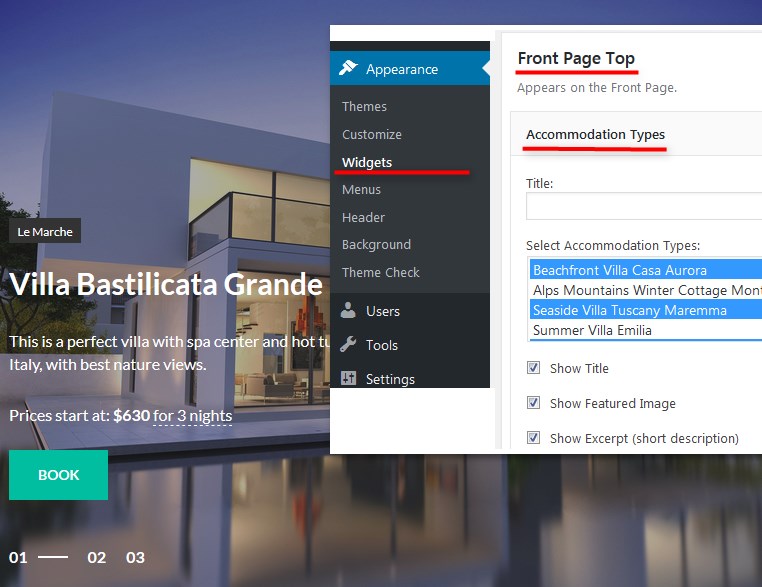 – Real-time search availability form (you know, check-in, check-out..). It's driven by the plugin and we'll talk about that later: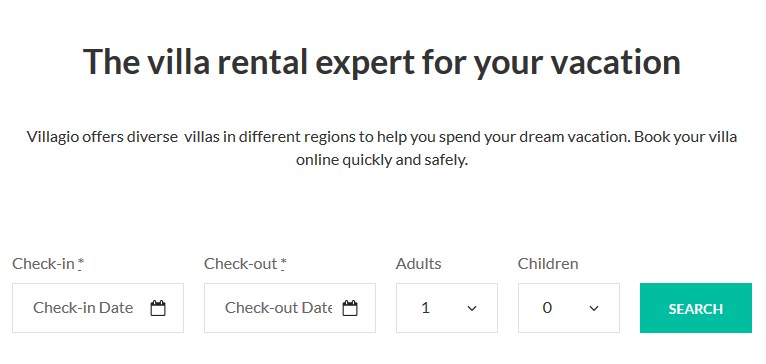 – The listing of your accommodations (powered by the same plugin) :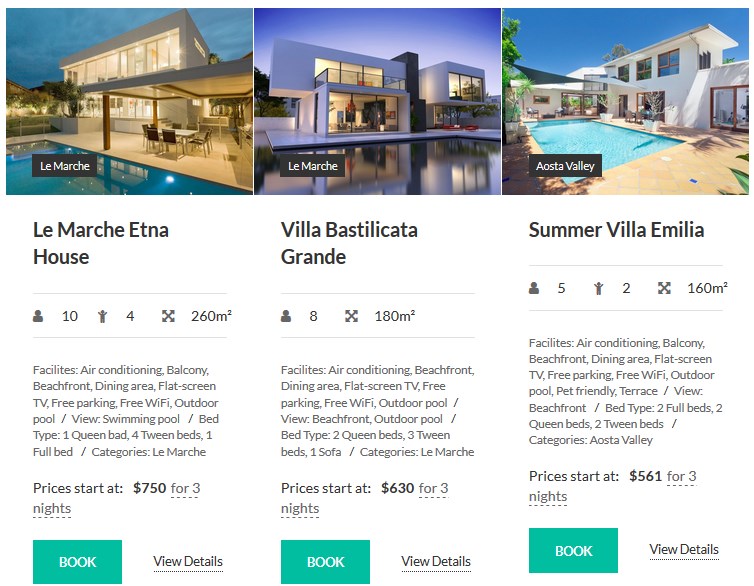 – Gust reviews powered by the Jetpack plugin (as it's optional, you may delete or replace them):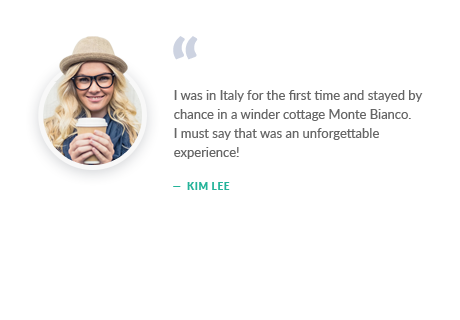 – Customizable footer and header with 4 menu locations.
Grid and full-width layouts will serve in creating different types of pages.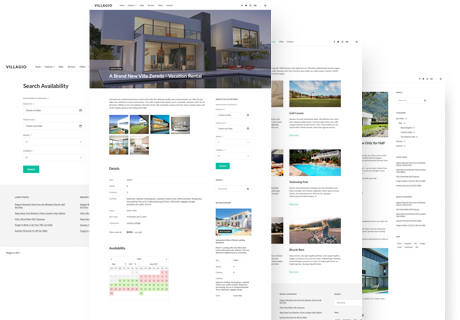 Overall, the theme is very WordPress native with the design/functionality strategy siding with you:
+ WordPress Booking system by MotoPress is responsible for accommodations listing and everything connected with live bookings (the premium booking system is included for free into Villagio!);
+Jetpack plugin powers the Testimonials (and some other things you may switch on);
+and the site design lives its own life (as it should) – it's a separate thing that you may change if needed (switch the theme) and not lose your content, which is created with the plugins.
Pretty good deal, agree?
Start building vacation rentals websites – add properties and enable instant bookings
For your future short term rental website to look like the default Villagio theme, you should start with adding your accommodations. You'll need to work with our premium MotoPress Hotel Booking plugin built into the WordPress apartment booking theme for free (no extra cost for the Hotel Booking plugin).
If you are building the site from scratch, namely, it doesn't contain any custom content, you may import sample data to the theme – it will make your editing faster and easier.
Here is the instruction on how to import sample data to the Villagio property rental WordPress theme (import sample data paragraph)
Firstly, make sure that the plugin is activated and pay attention to the Accommodation and Booking menus on your WordPress dashboard.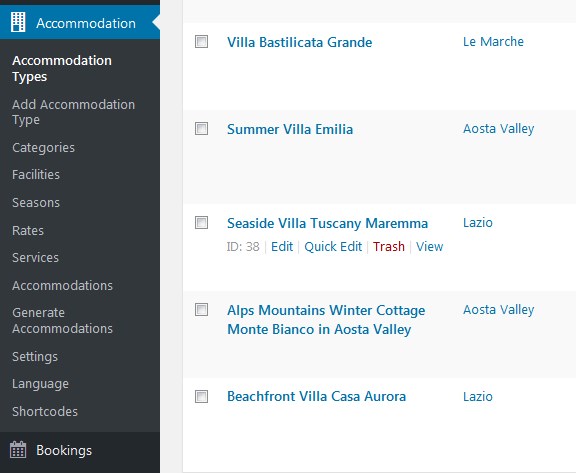 To set up the plugin, start with adding Seasons: Accommodation > Seasons.
Season is a specific period of time that can come with different pricing for your rentals (for example, Summer, 2018; April 2018, weekends). You should not set the prices at this stage, just specify the periods when the price will more likely differ: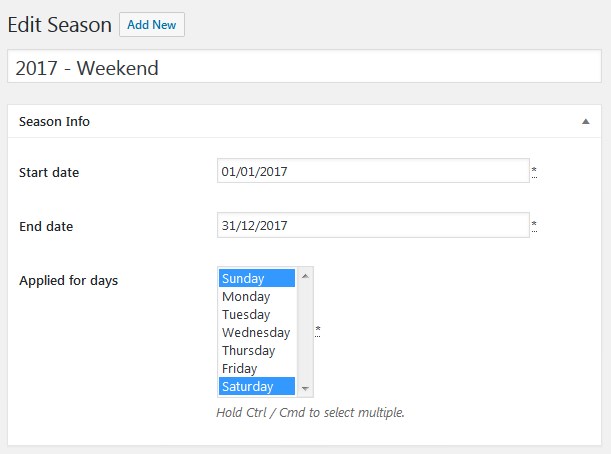 2) Add any services via Accommodation > Services (e.g. transfer, meal catering, surfing lessons)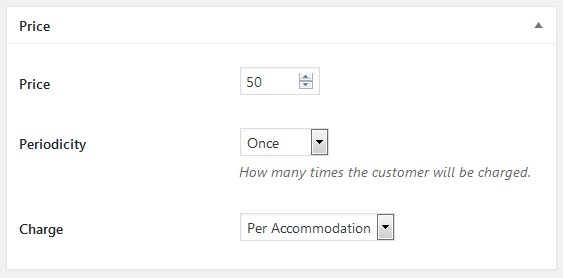 3) If you want to list your rentals in different locations, you should add the locations via Categories: Accommodation > Categories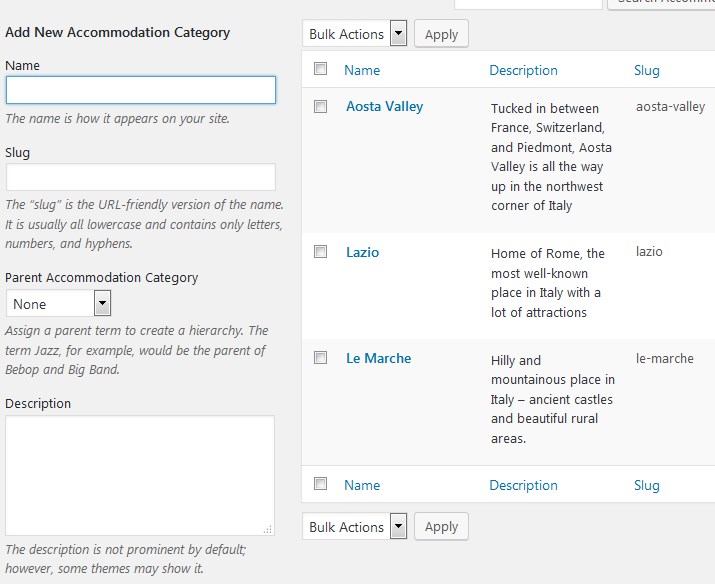 They will be showcased right on the preview image of your properties so if the guest clicks on it, all the properties in this region will be shown: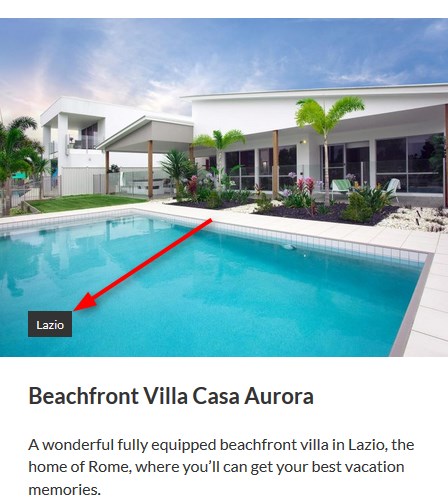 Alternatively, you may create a separate menu based on these categories, like we did in Villagio labeling it "Villa by region":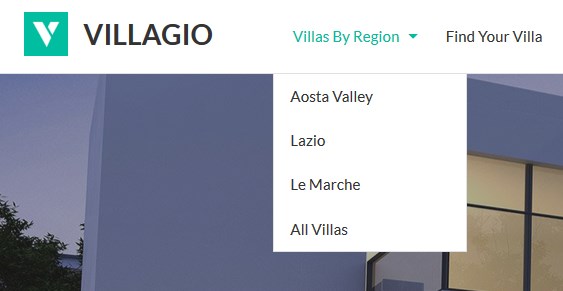 4) Add your rentals with all details: descriptions, photos, amenities (e.g. air conditioning, slippers), occupancy, bed types, view, and additional services/packages available and publish them: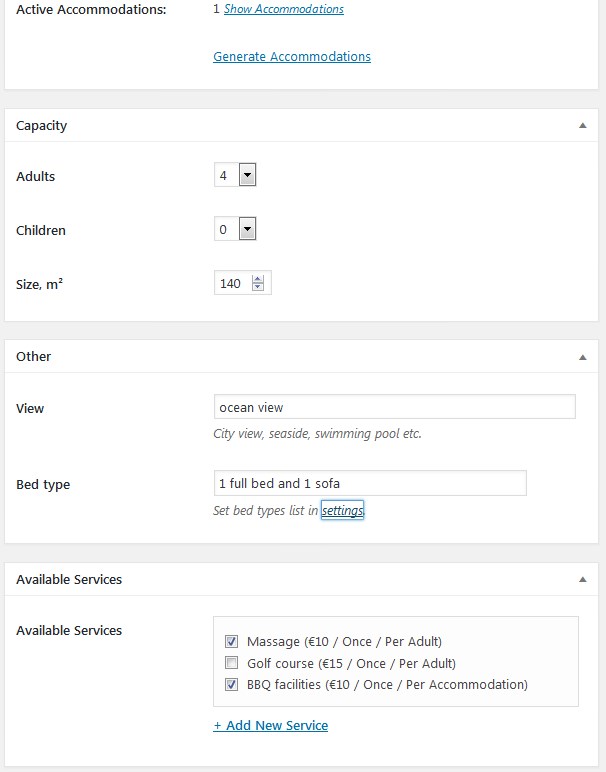 Update: If you'd like to let your customers share feedback and rate the rentals you showcase, use the dedicated addon – Reviews and Rating for Hotel Booking.
5) Time for setting the pricing! Add Rates to present the same accommodations with different conditions (e.g. refundable versus non-refundable). Your guests will be able to choose rates when booking a property (they are also attached to Seasons).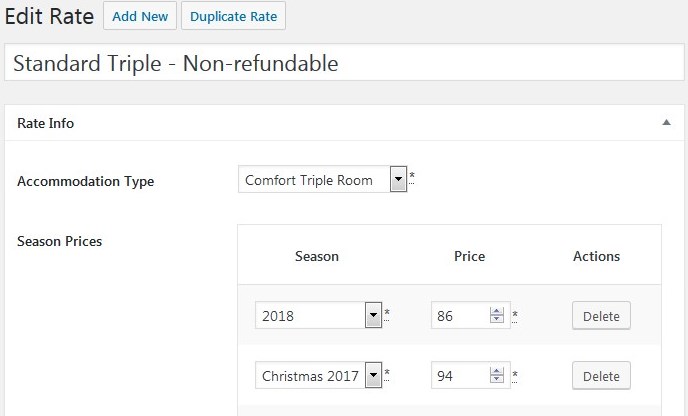 6) Create all needed system pages, so the travelers are redirected properly after each action (when installing the WordPress property rental theme, you should be offered to install these pages automatically): Search Results, Search Availability, Complete Booking, Booking Confirmation, Booking Cancellation pages with appropriate shortcodes and messages.
In practice, that means you should add the pages with needed shortcodes (if the pages were not installed automatically): for example, create a page "Search Availability", go to Shortcodes and find [mphb_availability_search], copy and paste it to the created page. Let's show it on the front page: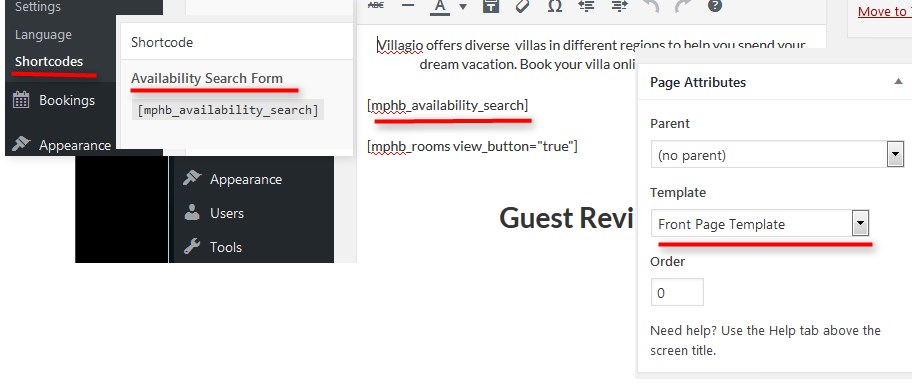 And here it is:

Do the same thing to set up all other pages
7) Configure general plugin Settings and Payments.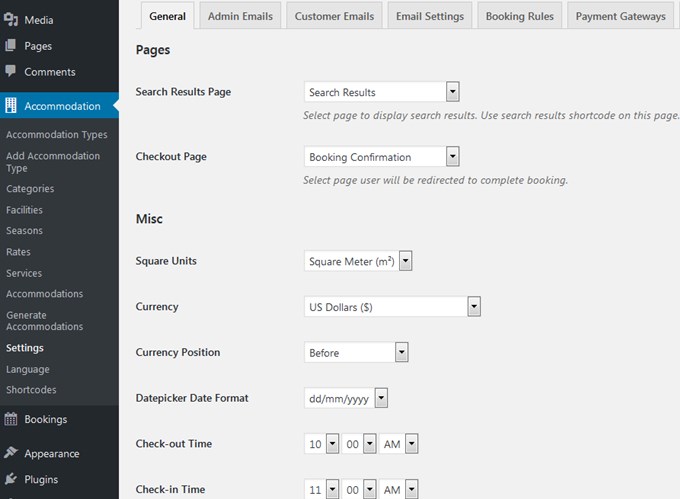 The main ones are:
Square units for the capacity
ANY currency
Currency position
Date format
Check-in and check-out time
Bed types
The lowest price display
Terms and conditions
Enable/disable booking
Define Booking confirmation mode: customer via email, admin manually, or confirmation upon payment
Select Confirmation page (it should be added beforehand with the appropriate shortcode)
Set up required fields for the user to submit
Define booking cancellation options
Set up Search options: set max adults and children the traveler is able to set in the Search Availability Form
Turn on/off lightbox for the images (to preview images in full size)
Choose a theme for the Search Availability Calendar
Edit admin and customer emails
Configure email settings
Set booking rules: minimum and maximum days to stay, or custom rules (block dates when needed)
Set up payment gateways:
General settings (full or deposit amount to pay, deposit type, deposit amount, default payment gateway, pending payment time, enable SSL for secure payments)
Enable/disable and set up any/all of the following available payment gateways: PayPal, 2Checkout, Stripe, Braintree, Beanstream/Bambora. If you need to enable any local payment method, you'll need to integrate a WooCommerce addon.
You may view and edit all bookings via the Bookings menu.
Moreover, if you'll need to create a discount for any of your clients, you may do that via the Bookings > Coupons menu: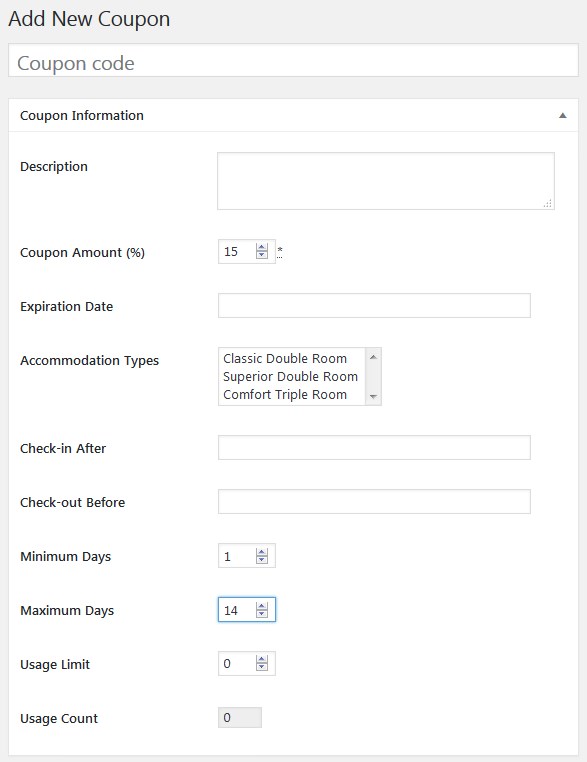 New feature: synchronize your vacation rental' bookings across other online channels like Airbnb via iCal! Read how to do it in this post.
Looks like you've done the biggest piece of the job!
Customize the front page
The front page is easy to customize visually via WordPress Customizer: Appearance > Customize.
There you can replace/delete content modules we've mentioned at the beginning of the article, change colors, upload the logo, etc. More details guide on the customization is in the docs, but the process is pretty handy and most likely you'll be doing fine even without them: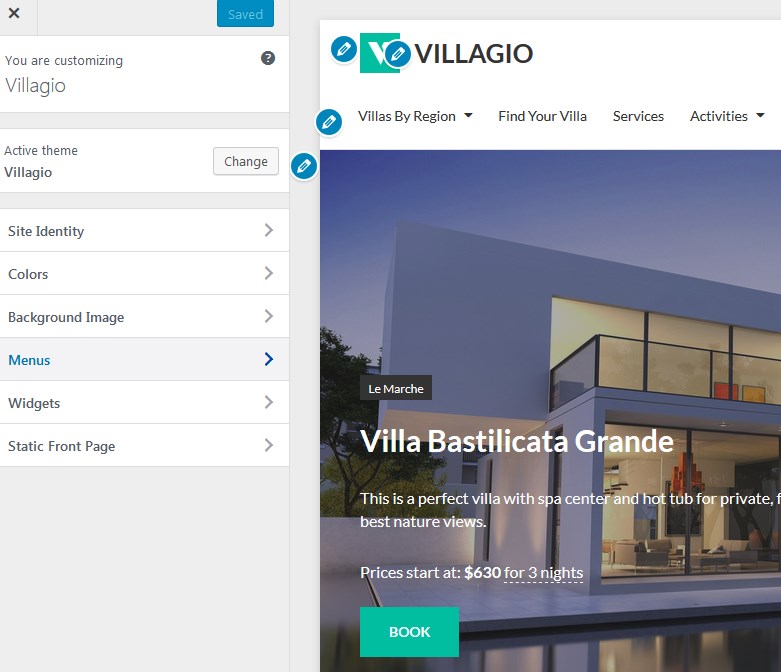 If you want your front page to be static with all content added, go to Settings  → Reading: set "Front page displays" to Static Page.
If you want to edit testimonials that are powered by the Jetpack plugin, you should first add the content of the testimonial via WordPress dashboard > Testimonials and use the shortcode [testimonials] to display them on the site. Then, go to the needed page or post (e.g. home page) and add the shortcode with your custom parameters (more shortcode attributes for modifying Testimonials layout can be found here.)
That's all pretty quick, isn't it?
If you love the Villagio rental property WordPress theme and how it works, get it packaged and fully integrated with the MotoPress Hotel Booking plugin, support, and documentation:
View more about the Villagio Property Rental WordPress theme.
Check out real-life websites powered by the WordPress booking plugin
How to build a property rental website with WordPress – video

Make sure to check our vacation rental WordPress website optimization checklist!
Add an appointment booking WordPress widget if you plan to accept appointments.
Hope you found one or more vacation rentals websites to your liking! Let us know if you have any questions.