Meet New Addon to Integrate MotoPress Hotel Booking Plugin with WooCommerce Gateways
Are you using MotoPress Hotel Booking plugin for WordPress and missing any important payment gateways?
It's not a problem anymore! With the new Hotel Booking WooCommerce integration add-on you can extend the number of payment gateways available in WooCommerce, with no tech skills or extra developer's help.
The process is quite simple, you just need to install the add-on, add free or premium WooCommerce payment gateways and configure some settings.
Let's create a quick guide to make the process of integration clear.
How it works
Install MotoPress Hotel Booking WooCommerce Payments addon and activate it.
Go to WooCommerce on your WP dashboard and create one product that will be used for all bookings (its price will be generated according to the guest's charge).
Now go to MotoPress Hotel Booking plugin settings > Payment Gateways tab > activate WooCommerce.
Input the title and description for this payment method – remember that it will be displayed on the frontend, so make it clear for your guests. For example, most likely, you'll need to use the names of WooCommerce payment gateways you are integrating (e.g. your title may sound like Pay with FirstData gateway).
In the drop-down menu select that WooCommerce product you created for reservations (see #2) and save changes.
Here is an example of the checkout page with Hotel Booking WooCommerce Payments integration enabled: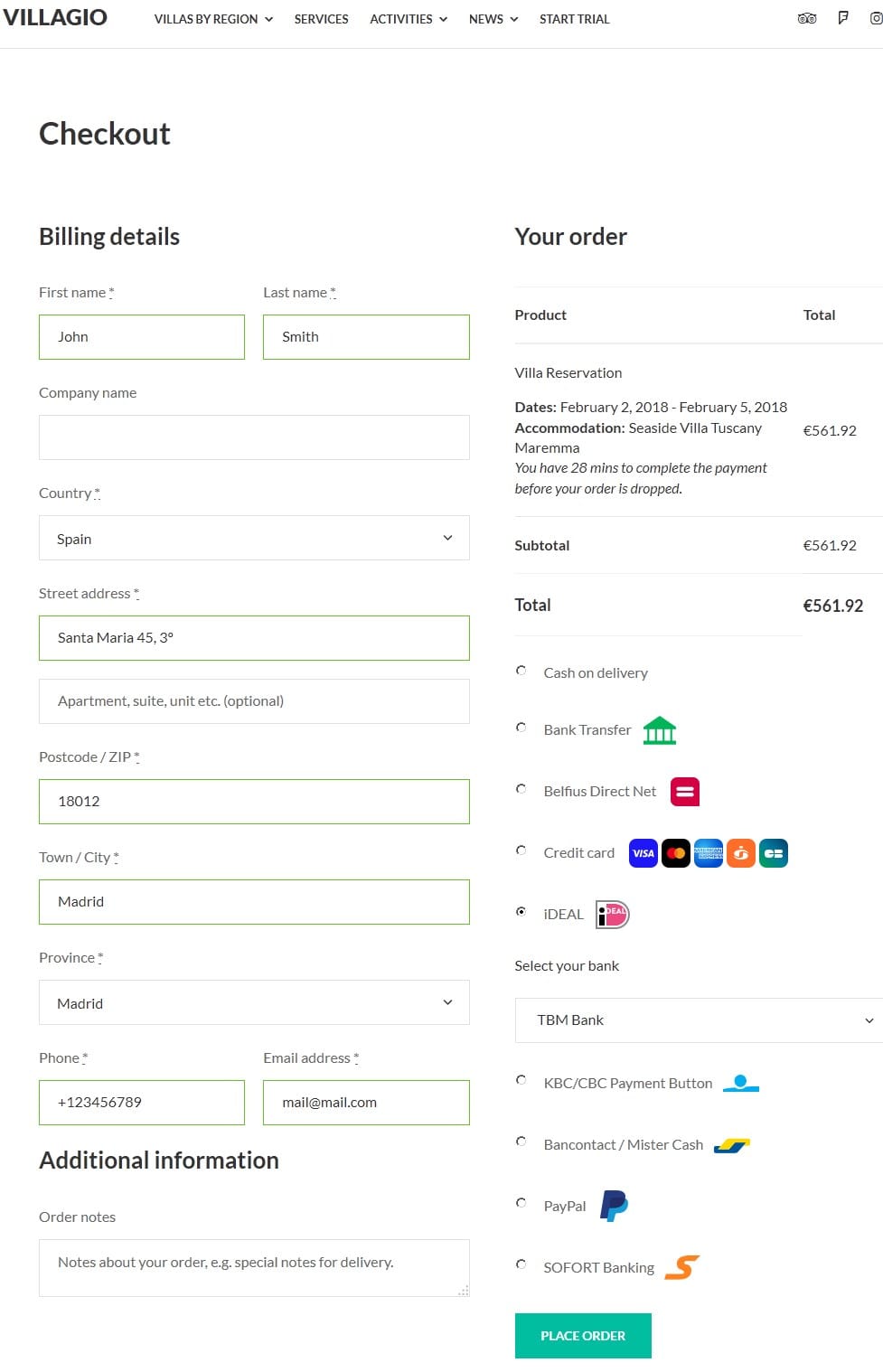 What's important, you are absolutely free to enable MotoPress payment gateways and WooCommerce ones at the same time. That means you can enable only those WooCommerce payment gateways that are not offered in the Hotel Booking plugin.
Additionally, you may sell any other products on your property rental WordPress site with WooCommerce – so just add them along with your "Reservation" product. However, guests will need to purchase products and "bookings" (as a product) separately. You may find more answers to your specific questions in FAQ section of Hotel Booking WooCommerce Payments extension page.
If you want to see how the extension works on the backend, register a free trial with Villagio theme.
Video Guide: the Hotel Booking WooCommerce Integration addon in action
https://www.youtube.com/watch?v=9R0Jkf2-aww&feature=emb_logo
Hotel Booking WooCommerce Integration Pricing
The addon's price for a single site is $89 and $199 for unlimited sites. There are around 95 payment gateways available in WooCommerce, some of them are free and others are premium, so keep those potential expenses in mind as well.
To sum up
We hope that this awesome addon will remove the limitations you might have experienced with the MotoPress Hotel Booking plugin for WordPress. As usual, your priceless feedback helps make the plugin a truly ultimate WordPress reservation system for property rental business. If you have any ideas to share on this, don't hesitate to contact us.
You may be interested in other Hotel Booking Addons for enhancing MotoPress Hotel booking plugin with additional features for custom purposes.