WordPress Airbnb Integration: How to Sync Availability Calendars?
So you've chosen Airbnb, the king of the jungle, to list your vacation rental or bnb on. But you also want to start receiving or improving direct bookings with an independent WordPress website. Or, you probably simply want to display available and unavailable days of your Airbnb listing/s in a real-time calendar on your WordPress website. How do you synchronize your Airbnb availability calendar with your WordPress website and get a steady revenue from both channels, without overbooking? Is there any Airbnb WordPress plugin?
The short answer is yes.
There are two different scenarios for new and established websites, so let's revise each one by one.
Before we start, you should know that we are not going to talk about proprietary software for channel managers. Those are generally expensive subscription-based software providers and they are not optimized specifically for WordPress. Instead, we'll be looking at WordPress dedicated solutions for Airbnb integration.
If you are looking for an availability calendar for appointments, check out WordPress Appointment Booking.
In the case of Airbnb WordPress integration, you have to options to start from:
1. Add Up WordPress Airbnb Integration To Existing Website
If you already built a WordPress website for your vacation rental or B&B, you can integrate it with Airbnb via iCalendar with a help of standalone plugins.
That is, if you added information about your property via a standard WordPress post or page, you can use popular plugins like VR Calendar Sync Pro or WP iCal availability to generate availability calendars and sync them to Airbnb. Each of these plugins has a free limited version, the former allows to connect three iCalendars, while the latter – just one. Also, a free version is applicable only for a single property (one listing).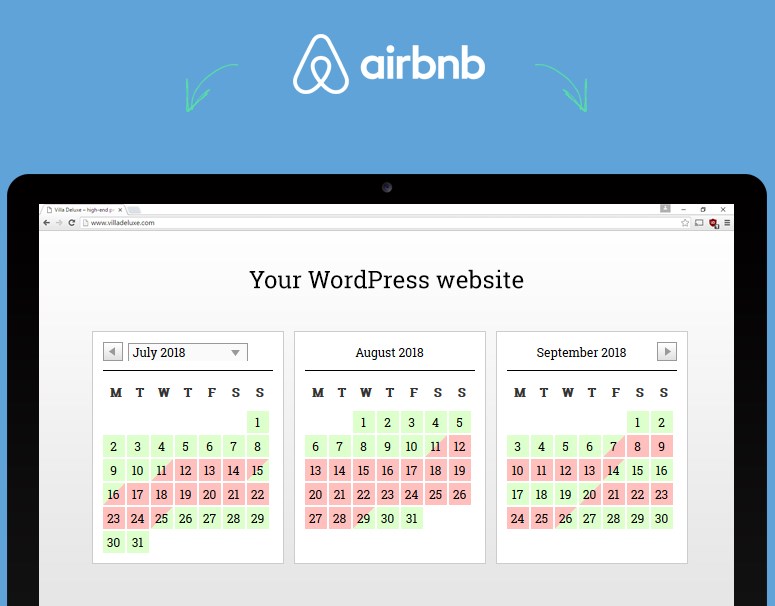 Let's briefly illustrate the sync process with VR Calendar Sync Pro plugin as it looks like a more attractive solution thanks to multiple real-world examples and the booking feature you can optionally enable to allow guests to book directly through your website – and then sync these bookings with OTAs (online travel agencies, like Airbnb or HomeAway).
So, how do you sync an external availability Airbnb calendar to your own WordPress vacation rental website? Here is a quick guide:
Install and activate the VR Calendar Sync Pro plugin.
Add a new calendar – paste your Airbnb iCal link / links. Here is the Airbnb guide of how to export and import calendars.
For a two-way sync, export plugin calendars from your website to Airbnb (each calendar has a unique iCal URL that you can copy and paste back into Airbnb – Airbnb link).
Generate a calendar shortcode. Optionally customize its appearance like colors, the number of rows and columns, etc.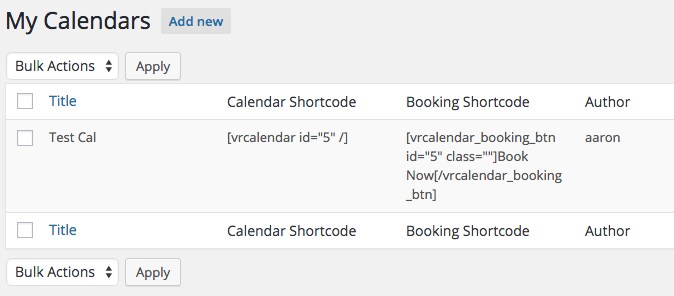 5. In Settings, configure how often the calendars should be automatically synced and then click "Sync".
6. Paste an Availability calendar shortcode to the needed post or page (where your holiday rental or bnb is described).
7. Optionally turn on the booking option if you want to enable guests to book directly (PayPal and Stripe options are available). If you don't do this, the availability calendar will be simply displaying available and unavailable days in real-time.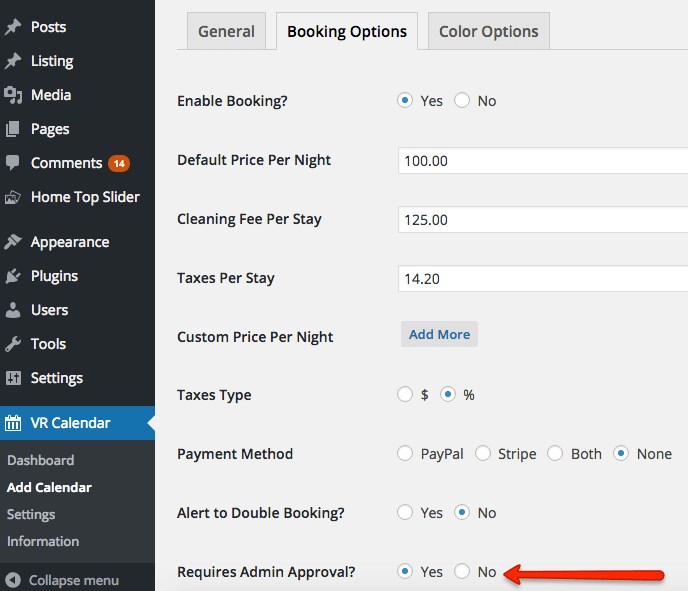 Here is the example of the calendar you'll get (the calendar under "Click to book now"):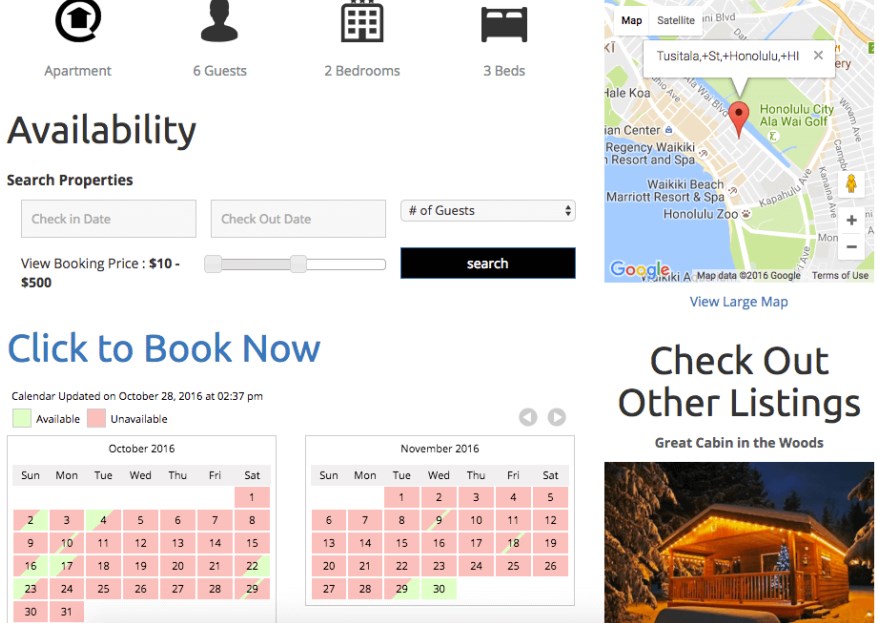 If your rental website is created with a more complex WordPress reservation plugin where the rentals and the built-in payment gateways are tied up together to process online bookings, you can still use the VR Calendar Sync Pro plugin with the booking option disabled (you'll just need to add booking calendar shortcodes). In this case, it will be a mere real-time property availability calendar that can be synced to Airbnb and other channels. That's it!
Let's uncover the second scenario for the Airbnb calendar sync.
2. Create A Vacation Rental WordPress Website From Scratch
Such being the case, things are much easier. If you haven't installed the website yet, not sure what WordPress theme and plugin to choose, you can start with a ready-made solution without the hassle of trying to get different things connected.
If you already found a great WordPress theme, you'll need to install MotoPress Hotel Booking – WordPress Booking plugin with iCal support (that's our plugin that powers hundreds of property rental websites). This Airbnb API WordPress solution works with ANY type of website meaning it will even be a great fit for a WooCommerce template.
If you haven't chosen a theme yet, you can go with any hotel or property rental WordPress theme with the premium WordPress booking plugin integrated for free (Pro tip: purchasing an Airbnb WordPress theme and plugin in a suite saves you a pretty good sum of money).
Any of these cases implies that you are able to add all your properties, enable online payments and integrate a two-way iCal sync with Airbnb from one place and within one Hotel Booking plugin, no matter the theme. All rentals are also added via the plugin.
So how does WordPress Airbnb integration work in this case?
The process is even easier since you don't need to connect and manage extra plugins. You can watch a video tutorial on how to sync your WordPress website with Airbnb and other channels:
Or, get an idea of the process from the following guide:
Install and activate MotoPress Hotel Booking plugin.
Add your rentals with all amenities and other details easily with a categorized system.
Configure booking and other plugin settings.
Connecting to Airbnb calendar availability via iCal is pretty similar – you also need to import/export calendars and exchange availability data between Airbnb and your WordPress website. Follow Airbnb guide to import calendars to your WordPress site. Copy unique iCal URLs to export to Airbnb. Then add the calendars for each relative accommodation. You can add unlimited calendars.
To set synchronization on autopilot, you can enable automatic synchronization. The shortest interval for autosync you can set is once hourly. Airbnb (and other external channels you might connect your website to) will download bookings from your website according to their own schedules and will make the booked dates in their calendars unavailable accordingly.
If you want to sync only specific accommodations manually, you can click "Sync external calendars". After the data is processed, you can see whether there are any bookings in logs (the source of the booking is also specified).
If the property is booked through any of the channels, it will be displayed in the property availability calendar on the website. You don't need to add a calendar to each property manually (however, you can do that with a shortcode if you want). It's generated automatically.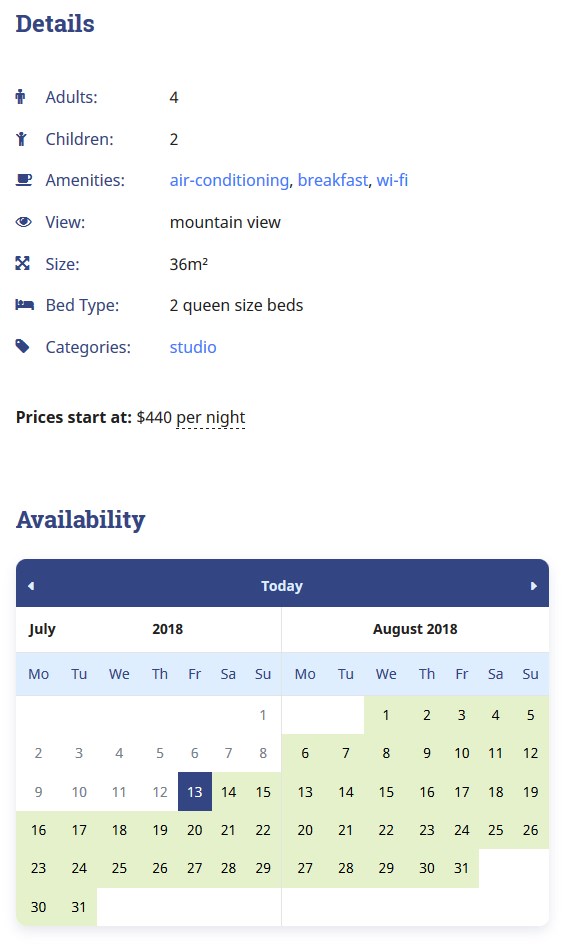 Availability calendar in AlpenHouse theme
And this is how the actual available/unavailable dates look in the plug in calendar for WordPress: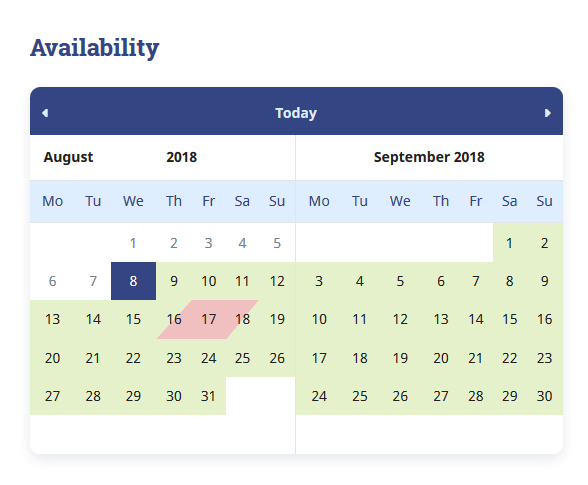 Your Airbnb calendar widget will be synced to the Hotel Booking dashboard, so the availability calendar will show up-to-date information.
For those of you looking for an Airbnb clone WordPress theme, Hotel Booking and the Booklium theme will do the job.
Sync Airbnb Calendar With Preferred Airbnb WordPress Plugin
Airbnb integrations are easy! Add your rentals, optionally connect payment gateways, import/export the calendars, and your website is set up. Overall, Hotel Booking plugin itself is a comprehensive system that consolidates a property management system, a bookings system, and a channel manager for OTAs like Airbnb (availability calendars for websites).
It's worth mentioning that apart from Airbnb on WordPress, with any of these solutions you can also sync to other OTAs such as HomeAway, VRBO, and other platforms that support iCal synchronization. It will work in just the same way.
Now you know that getting availability calendars for websites on WordPress is not that hard with iCal plugins. Hopefully, we've managed to tell you how the WordPress Airbnb plugin works in different scenarios. In both cases, WordPress Airbnb integration is a two-way, near real-time sync that you can set up and manage without extra help. Any questions? Do let us know in the comments.
Hotel Booking and Airbnb FAQ