Mountainview Review: Vacation Rental WordPress Theme with Lightweight Design
Mountainview Vacation Rental WordPress theme is well suited for cabins, guest houses, hotels, bed & breakfasts, chalets, and other types of rental property. This is a WordPress hotel theme that comes with a perfect combo of the stylish design aesthetic and an off-the-shelf reservation system to help you build your vacation rental brand and stay ahead of the curve.
Mountanview is one more incredible solution in the product line of MotoPress' property rental & hotel WordPress themes powered by WP Hotel Booking plugin. The theme is packaged with a plenty of customization options which are not overwhelming and, to a greater degree, are integrated with native WordPress functionality.
With Mountainview, you can rent out your cabin or guest house as a whole or the rooms/apartments individually.
Let's dive into the theme essentials to see whether this is the best WordPress theme for your holiday home!
The most loved highlights about Mountainview Vacation Rental WordPress theme:
Slick, simple and minimal responsive design to take a good care of your website performance.
Premium MotoPress WordPress Hotel Booking plugin included for free (it helps you add rentals with all categorized details, accept and manage bookings, sell extra offers, etc.).
Multiple layout alternatives.
Jetpack plugin to power testimonials, awesome image galleries and an optional contact form.
1-click sample data import to sort out the customization things faster and easier.
Make sure to check our vacation rental WordPress website optimization checklist!
Front page design
Space is king. Mountainview is absolutely clutter-free, with a perfect visual hierarchy for the best user experience (modern travelers will love it!).
Mountainview doesn't use any specific WordPress page builders. On the one hand, it allows you to own a truly lightweight WordPress theme that loads in a blink of an eye since it's not bloated by excessive CSS and JS files.
On the other hand, you need to customize it with a standard WordPress functionality – use standard pages and posts, shortcodes and widgets. Of course, if you prefer a page builder, you can install it and use it without any problems. But if you want to set up Mountainview with a default customization toolkit, you'll see that it's also a no-brainer with a bit of dive-in.
Let's prove it with a quick front page walk-through:
You can use the front page with or without sidebar. The default one features a sidebar where you can put different widgets to provide helpful, instantly accessible information to the website visitors. For example, the search availability form for booking a unit directly, weather forecast widget, photo gallery, video or whatever you consider suitable.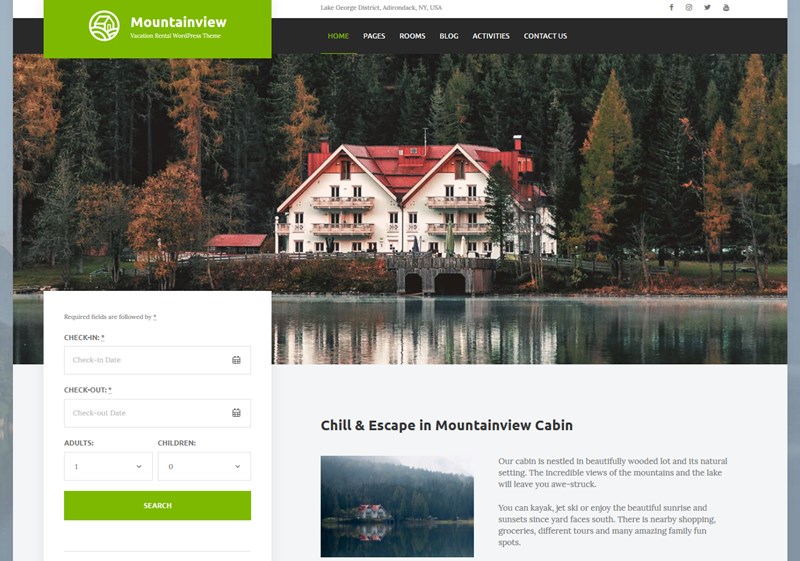 Consider it a huge call-to-action section!
If you want a more minimalist appearance and the sidebar looks too heavy for your eye, simply hide it by setting "Front page no sidebar" template for the front page. Just one click and you get rid of the sidebar: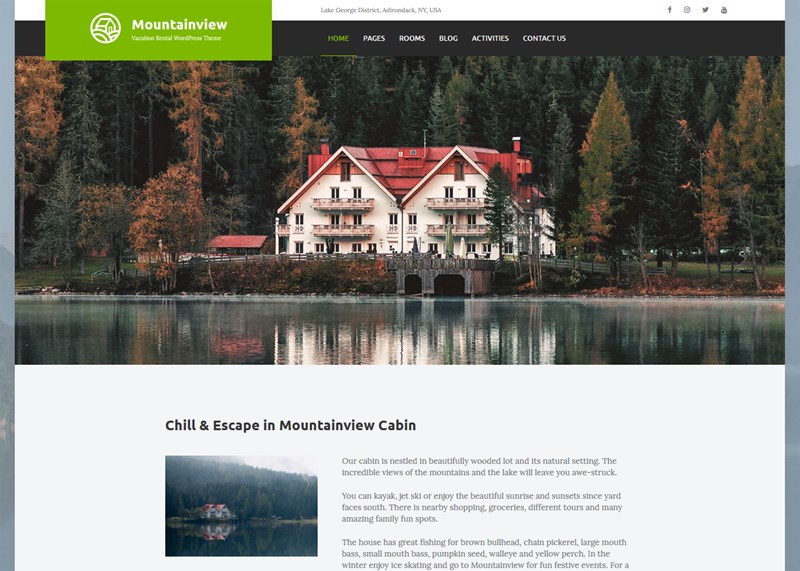 By the way, the front page sidebar is different from the blog sidebar. Use both independently!
Featured pages gallery. This is a minimalist gallery created with native WordPress functionality – WordPress child and parent pages hierarchy. No need to connect any third-party plugins and tinker with them. The images you see in the gallery are simple featured images of the parent pages.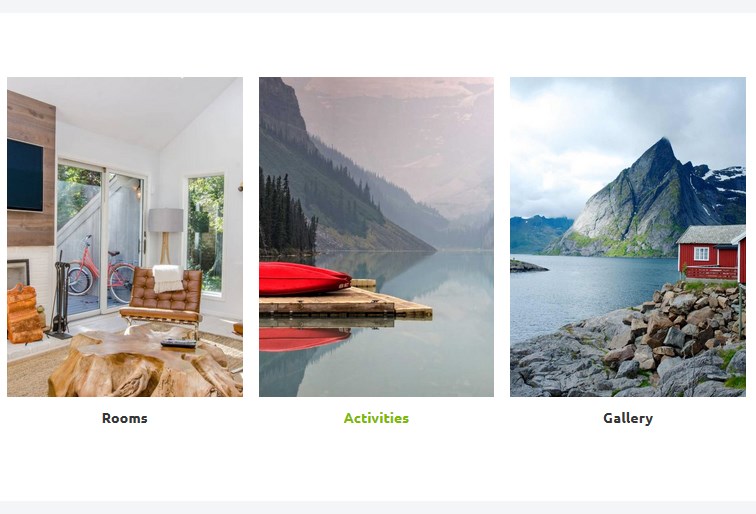 Such a gallery with quick links to the website pages will help you feature the key points of your vacation rental and guide travelers directly to the pages they are interested in.
Testimonials gallery to win your prospective tenants with the social proof. This widget is powered by the Jetpack plugin – it doesn't collect authentic reviews, so you need to add them via the admin dashboard and then simply paste "testimonials" shortcode into the 'Text' widget (either via WordPress customizer or via Widgets menu).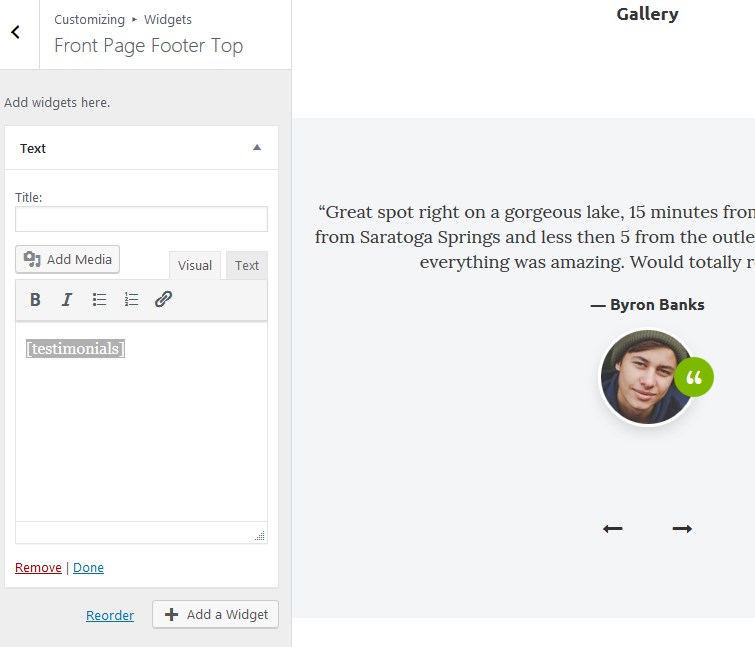 All added testimonials will appear in a front page slider.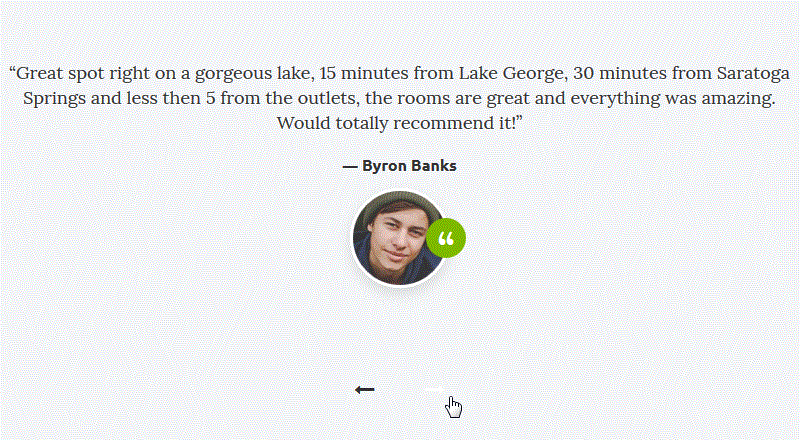 Two extra widget areas to add any type of content: the vacation rental overview, house rules, a gallery, a search availability form or even list your accommodations with the WordPrss Hotel Booking shortcodes. Your choice of available widgets is really nice: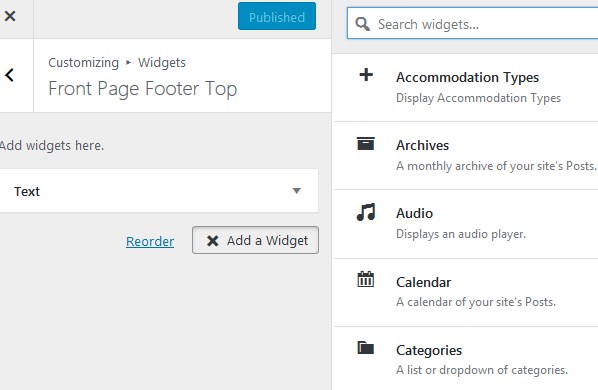 Customizable website identity with WordPress Customizer. Upload your logo, change the website tagline, customize colors of the logo background.
You can also upload a background image that suits your website concept or live perfectly without it.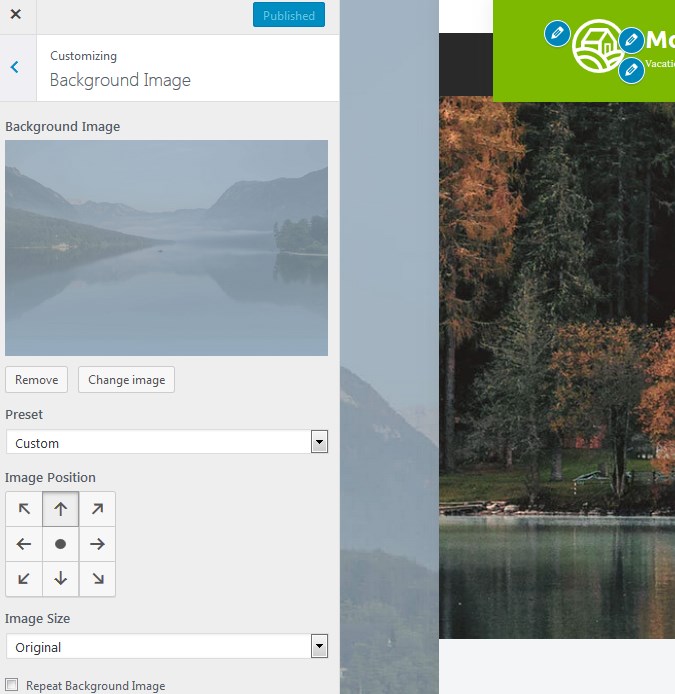 With or without sidebar on the front page, the theme will look really beautiful and easy for modern travelers to explore.
For prominent contact details like address or phone number, you can use footer and header menus or any of four footer widgets. All menus and footer/header widgets can be changed in either WordPress customizer in real-time or under "Appearance" > "Widgets". All links to social media accounts are also added easily.
This minimalist WordPress theme is that simple you can fully set it up overnight. The most time-consuming task is adding your rentals!
Page templates
Though the theme is very simple and fantastically lightweight, you can still carve out a distinct identity with a variety of layouts and custom content.
In Mountanview, you can apply the following page layouts:
The page with the sidebar from the left (like the front page).
Front page with / without sidebar.
Grid without sidebar (e.g. to feature things to do, services or whatever)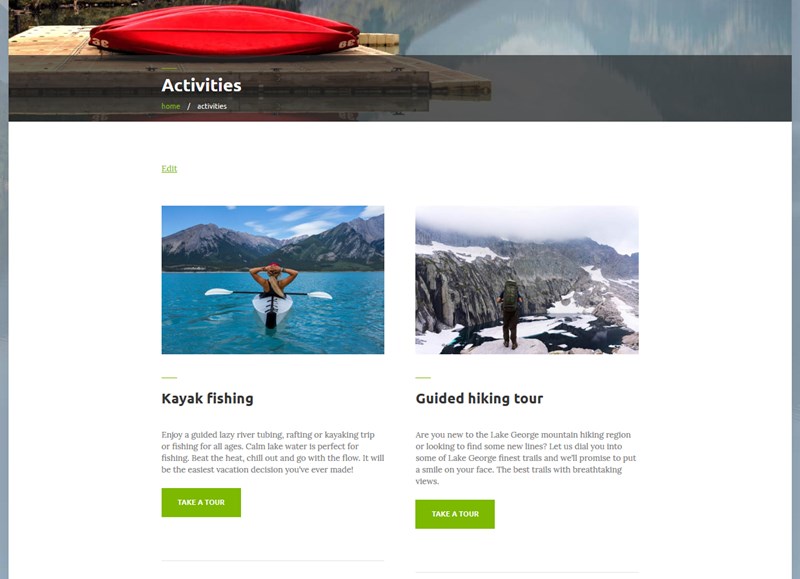 4. Grid with sidebar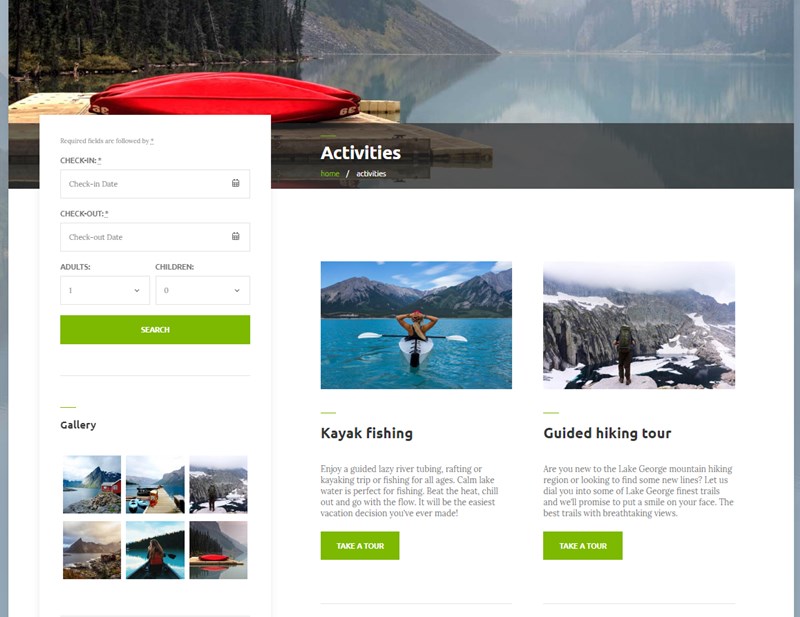 5. Full width or full width with left sidebar.
Blog layouts
As for the blog layouts, the blog page comes with a sidebar by default.
But for a single post, you can choose either with or without sidebar layout: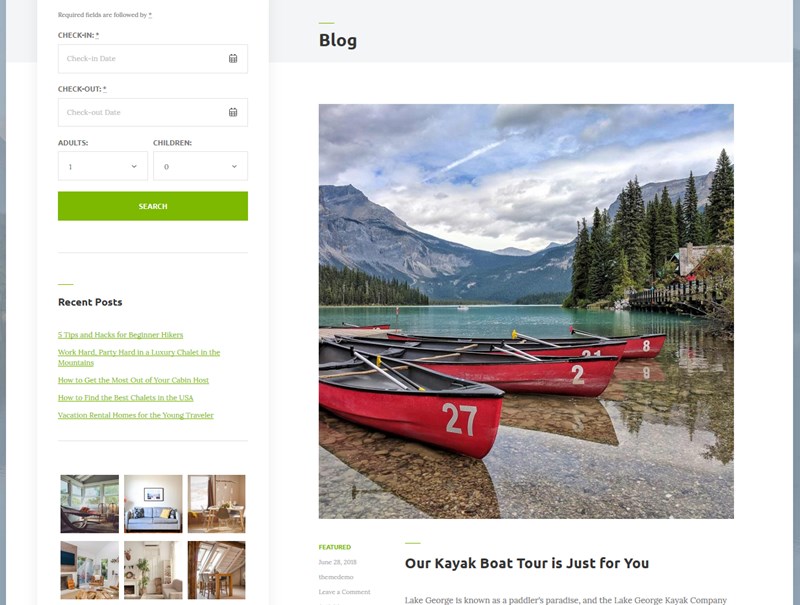 With the Jetpack plugin connected, you are free to add beautiful image galleries inside your posts. You can also make your posts more SEO-friendly by outputting more post meta data in the WordPress Customizer. To stress it one more time, the blog sidebar isn't connected to the front page sidebar.
Property layouts
Depending on the number and nature (one vacation rental home or multiple rooms) of your vacation rental establishment, you are free to list properties using any of three available layouts:
Standard (a list of properties with a sidebar)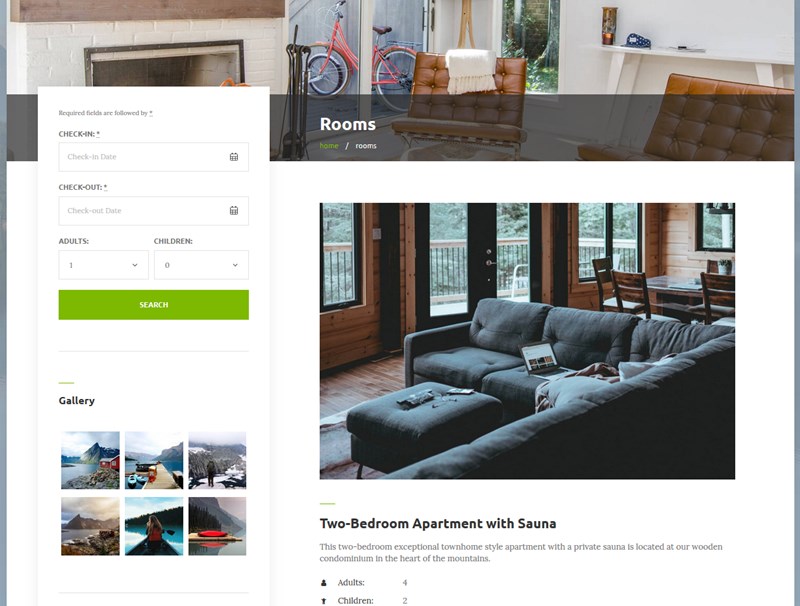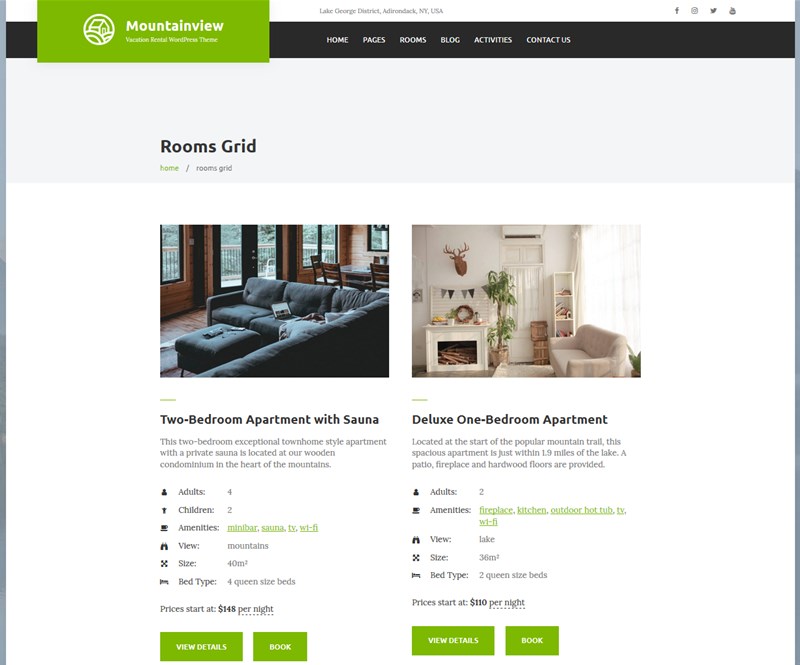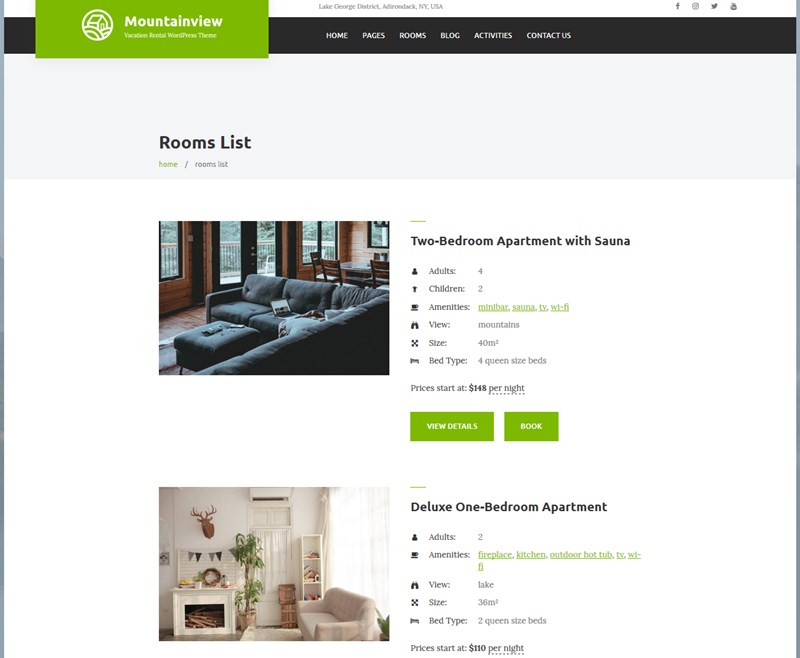 You can test the most optimal layouts in a WordPress Customizer – change the layout in "Booking options" and preview the changes instantly.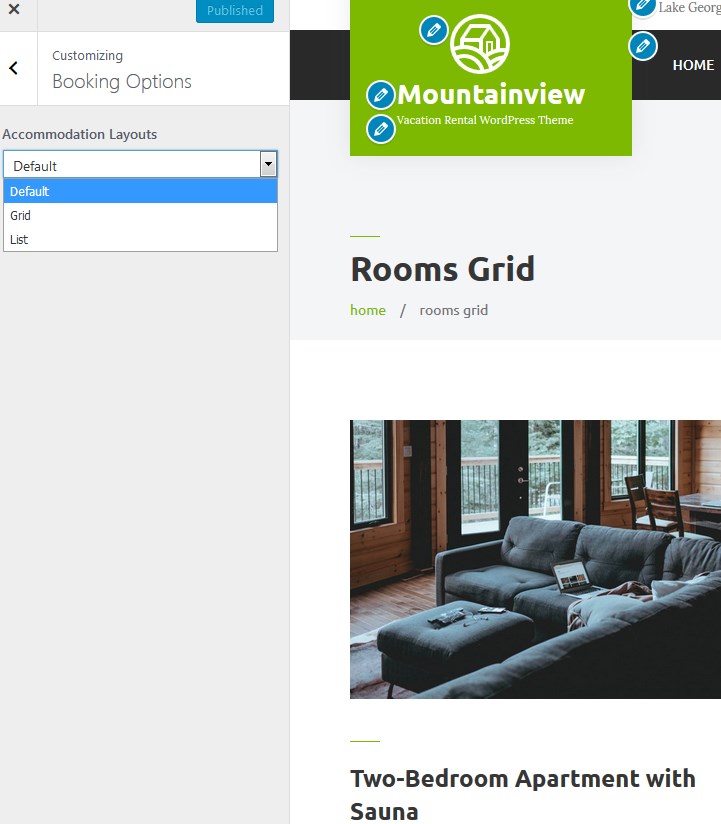 Contact us page
It's pretty simple, too – add your texts and images. As for the contact form, it's powered by the Jetpack plugin. The form is fairly simple, with just the right set of features for the form aimed at general inquires. However, you can install any other WordPress form builder to suit your needs. If you need to embed a Google map, you can also use any third-party embedder or plugin.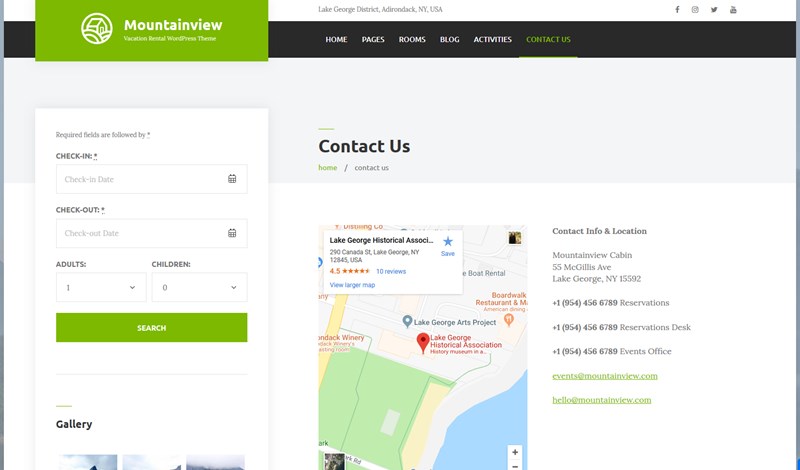 WordPress booking system for vacation rentals
I've already mentioned it, but let's stress it one more time MotoPress Hotel Booking plugin, a premium WordPress reservation plugin for vacation rentals & hotels is built into the theme for free (saving you at least $69!)
The booking plugin is chock-full of useful features in alignment with real vacation rental business – a truly flexible pricing system, lots of integrated payment gateways, automatic synchronization with travel agencies (if you list your property through them as well), safe and easy curation of bookings for extended stays and more.
New plugin features are released monthly, so if there is something you lack, there are odds MotoPress devs will hear your feedback. To be more precise, if there is any on-demand feature requested by many vacation rental owners, it can be put into the development roadmap pretty quickly.
So, what level of flexibility are you provided with the WordPress Hotel booking plugin? Let's focus on the most needed features you are probably looking for in the WordPress booking system for vacation rentals:
The plugin is translated into more than 14 languages! If you run your WordPress installation on the language other than English, the plugin will automatically switch to your language.
You are not limited to the number of rentals – rent out entire holiday homes or properties bookable by the room.
A real-time search availability shortcode – travelers always see the real number of available accommodations. You can sip your coffee while the rentals are booked automatically.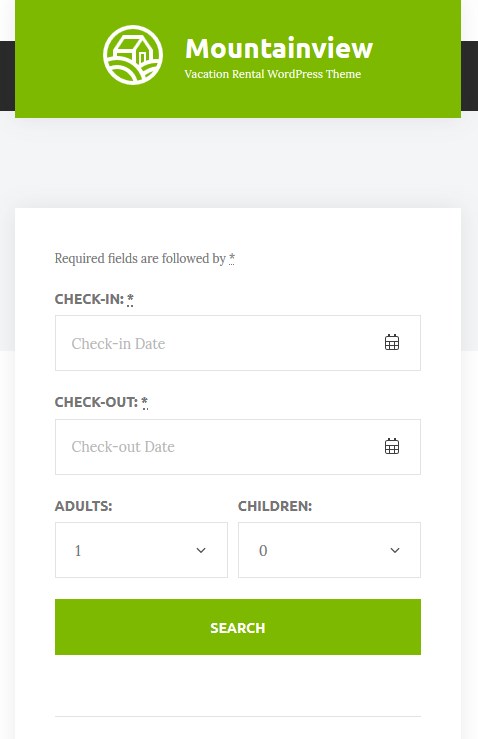 Availability calendar to enable guests to check availability of individual rooms and instantly see available nights (very handy if you have just several rooms).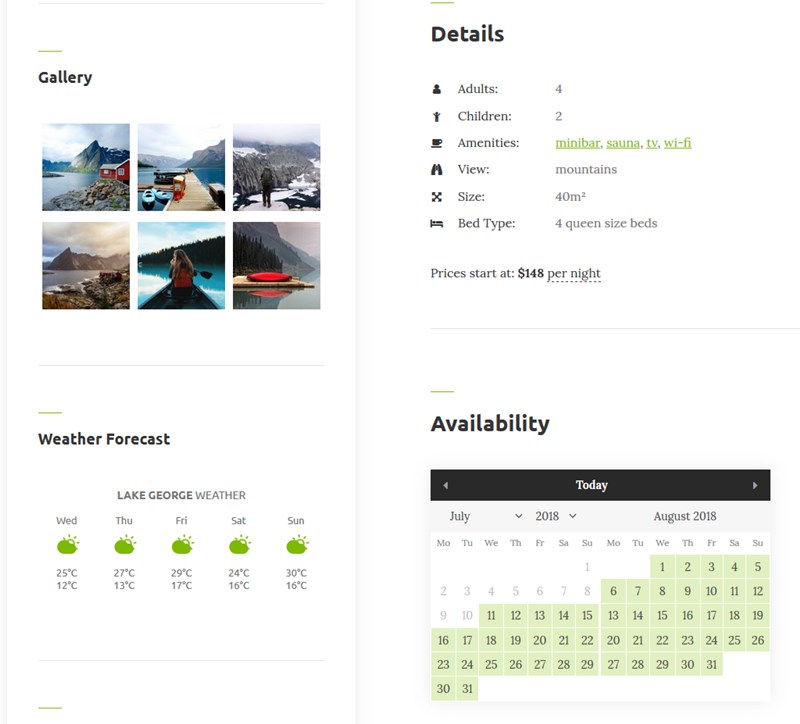 A very flexible pricing system – designate different pricing points based on the season (low, high or any custom one), length of stay (apply automatic discounts for extended stay), the number of guests (set different prices if the number of travelers is different from the base accommodation capacity), conditions (with or without breakfast).
Block specific accommodations for a certain period of time with "no stay-in" rules. Set the min and max number of nights for individual properties.
Additionally sell services or tour packages (charge per person or per accommodation).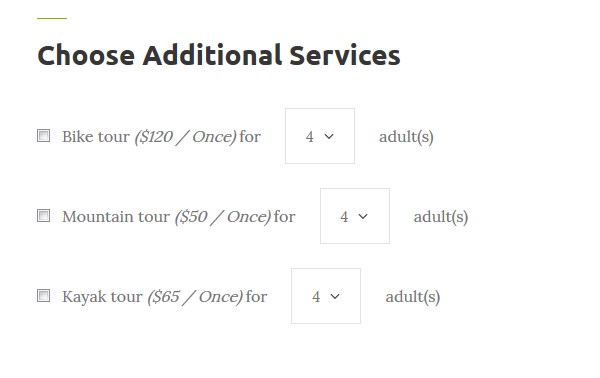 PayPal, 2Checkout, Stripe, Braintree, and Beanstream/Bambora payment gateways for processing online bookings work out of the box. However, if you need to add and use any other gateway, you can do that in several clicks by connecting our custom WooCommerce Payments plugin.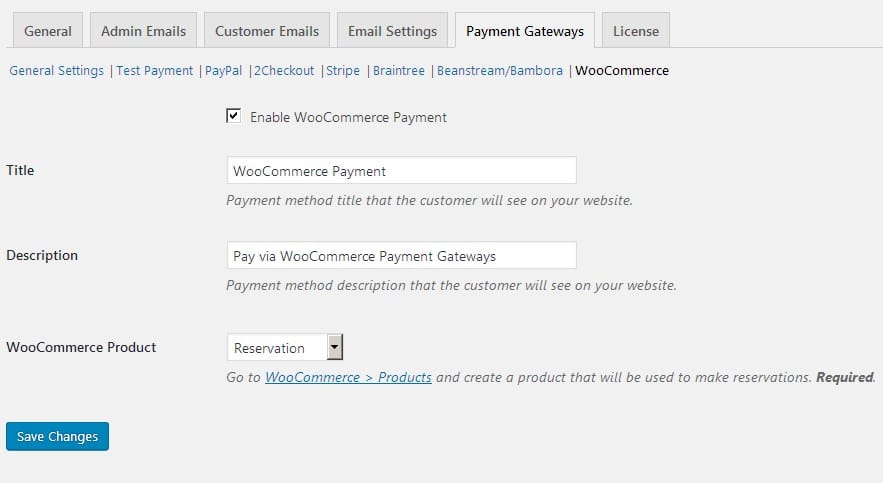 Ability to collect mandatory taxes and fees (collected and filed automatically).
Personalized discount coupons for loyal guests.
Synchronization with external travel agents like HomeAway via iCalendar.
Set the system to confirm the bookings upon a payment, without a payment or add bookings manually from the backend if guests book over the phone.
You are free to experience how the plugin works in action by registering a free backend tria account.
Final thoughts
What makes Mountainview different from other MotoPress rental property themes is that it's optimized for better performance and features a vibrant minimalist design. No excessive plugins and heavy decorations.
Thanks to the dozens of booking software features and incredible design, this is just a perfect vacation rental WordPress theme to help you create a professional website and improve your visibility in the local vacation rental market.
Note: this premium theme is free for MotoPress club members.