15 Popular WordPress Apartment Rental Themes
You are probably confused by a bewildering array of WordPress apartment rental themes. No worries! We've curated this post to help you understand what to look for in an apartment website template.
In general, rental property themes are rather multipurpose, so apartment booking is usually just one of the offered choices.
Before we go any further, to narrow down your choice, we've come up with the following checklist that includes hand-picked theme examples from our collection below:
The selection of demo sites. All demos are optimized for different rental property realities. A few examples: single property-oriented demos are offered by Aquentro, Kastell, Dinso and Hemma. Multi-property directories are offered by Booklium, WP Rentals, and Hoteller.
WordPress booking & property management plugins. If you are looking for an apartment website template that supports automated bookings and property channel manager out of the box, jump to Aquentro, Booklium, Albatross, WP Rentals, Bellevue, Hotel Master or Mountainview.
But this list is not enough if you want to know more details! Let's get down to them right away.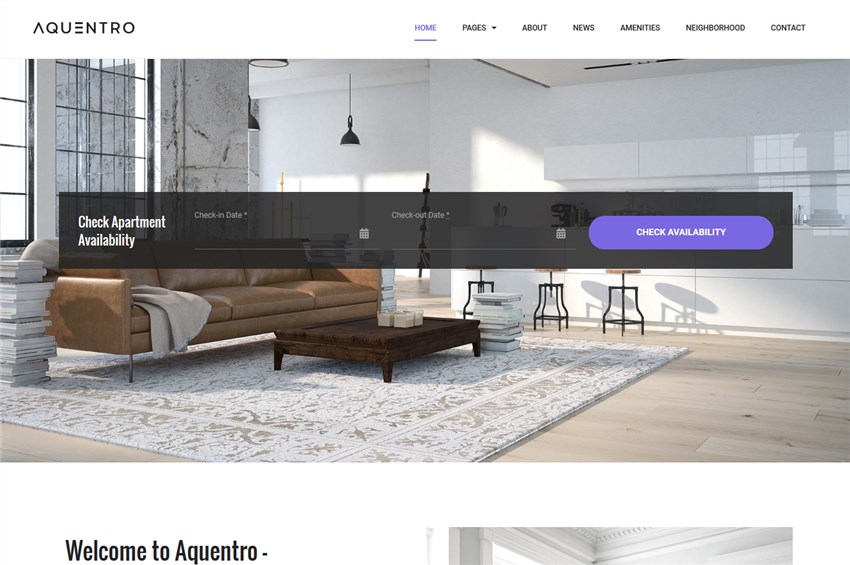 Aquentro is powered by the rental property management system that can handle multiple apartments for rent, but its default design and settings are optimized for a single serviced rental apartment.
This optimization is realized through the availability calendar set for just one property, i.e. guests must choose only dates, because, obviously, they have already learned about the home details from your site (capacity, amenities, location, etc.). Aquentro gives a lot of space for you to describe these details!
You, however, with a few button clicks can add numerous accommodations that can feature any other type of property: an inn, hotel, holiday home, bed and breakfast, hostel, and the like.
Aquentro gives you access to all premium tools of the integrated MotoPress Hotel Booking plugin – it's responsible for adding properties, managing bookings, and even synching your bookings to external travel marketplaces, such Airbnb or Booking.com.
Aquentro is optimized for smooth customization with Elementor and its addons.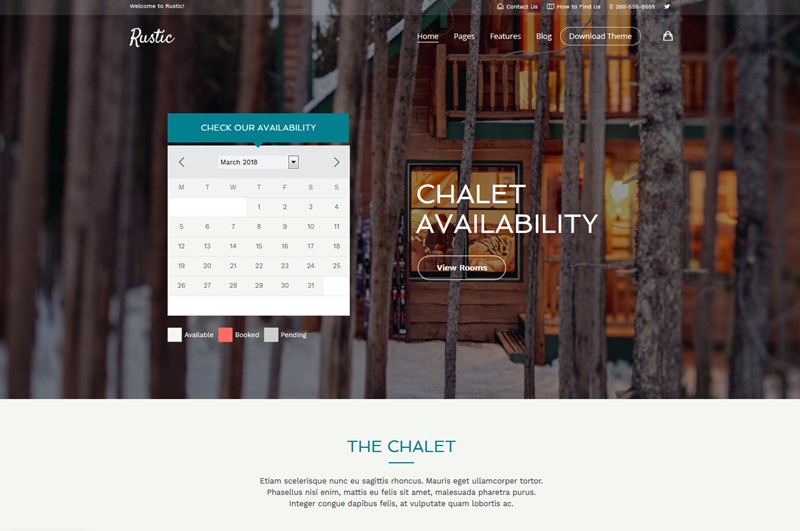 Bellevue is a popular multipurpose WordPress booking calendar theme that comes bundled with different types of demos (starter sites you can pick to use as your design), including apartments, beachfront resorts, chalets, and cabins, and the like. That means you can easily use it for accommodation booking needs!
The booking and scheduling system behind the theme will help you build an awesome listing for any property type, add a global or individual search availability form, offer different pricing rates and discounts, including taxes and fees into the charge, and even turn on any online payment gateway.
All these features are provided by the family of the built-in MotoPress plugins: Hotel Booking & WooCommerce Payments that come at no cost with the theme ($138 value).
To help you create truly custom landing and inner pages, the theme is bundled with numerous premium plugins, including Slider Revolution, Groovy Mega Menu, MasterSlider and more. You'll unlikely have problems with creativity!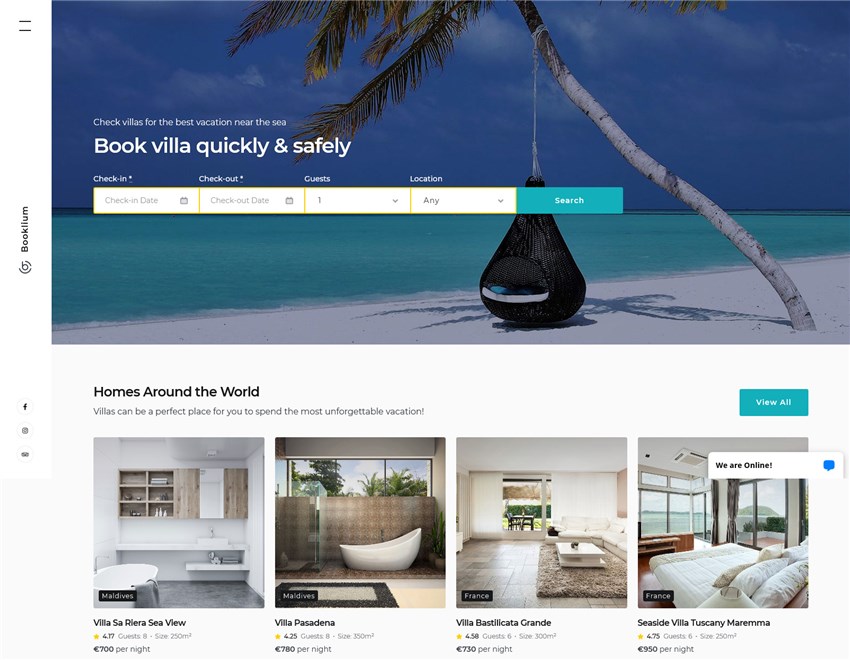 If you take a look at the Booklium demo, you'll notice five real-life apartment for rent templates, apartment booking, and bnb (Airbnb clone) among them. They will suit your needs best if you want to rent out single properties.
For numerous apartments, there is a dedicated Multiple villas demo that will help you professionally showcase your directory of listings with images, amenities, reviews, etc. To help prospects quickly search through the directory, you can add the real-time search form and extend it with your own search filters. It will find the needed property according to the number of guests and departure/arrival dates.
Since the theme is also powered by the most reputable MotoPress Hotel Booking plugin, you get all the benefits provided by this solution, including the admin channel manager for OTAs, popular payment gateways, fully tweakable seasonal pricing and rates, and many more tools.
With the one-click demo import tool Booklim provides, you'll get 12+ pre-made pages (Services, Amenities, Activities, About Us, Testimonials, etc.) you can start filling with your content right away, without needing to know any tech skills.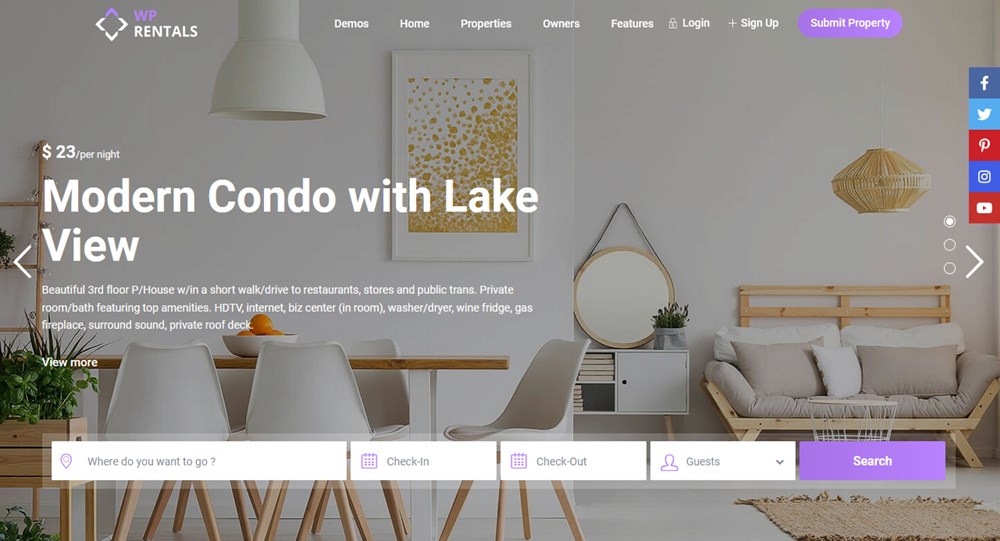 WP Rentals is one of the most chosen item rental WordPress themes, including apartment booking WordPress themes that can be actually used for almost any type of rental property. To my eye, it's best suited to a marketplace of rental properties with all its business-fueled functionalities.
Since it also supports frontend property submission, you can use this theme as a multiple-vendor real estate platform, where sellers can submit their properties. There are also a few demos optimized for boat rental and gear rental needs, which also makes the theme a rather multipurpose solution.
This WordPress rental theme outperforms its competitors at multiple aspects: the variety of demos, the option to rent out items per hour (traditionally, the per-night scenario is supported in other themes), the custom booking system with many unique options, geolocation and location autocomplete features, open-street map, numerous property page design variations, different layouts for individual property cards, to name just a few fantastic tools.
The WP Rentals Booking Accommodation theme is super flexible when it comes to setting seasonal pricing, booking rules for individual properties, and more.
You can offer PayPal, Stripe, and Wire Transfer as online payment methods on your site out of the box; you can even sell membership packages if you use the theme as a marketplace.
Don't want to fuss with the theme installation and hosting configuration? Entrust this to experts!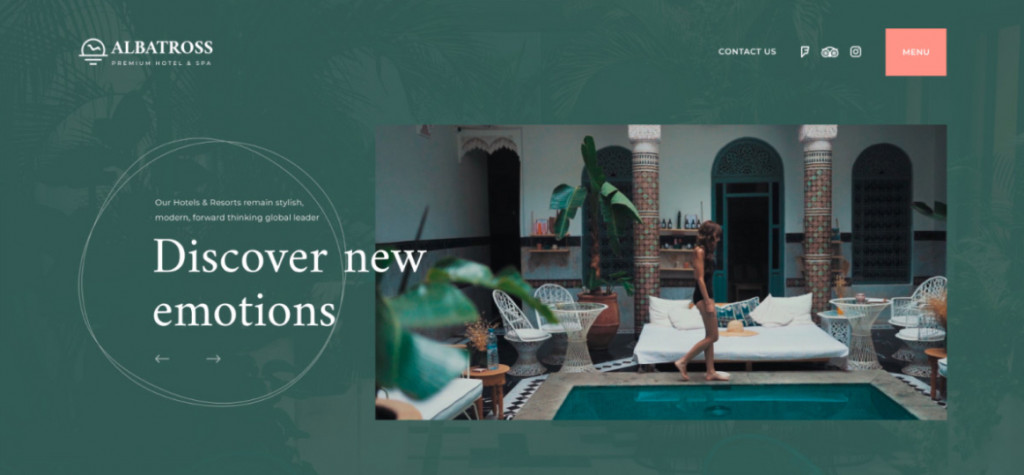 Need a reliable FREE Elementor theme with great design and a ready-to-go hotel booking plugin? We offer you to try Albatross – the Elementor-based free template developed by MotoPress.
Who would like Albatross? If you own any type of rental theme (also, the apartment rental service), this Hotel Booking WordPress template will be a perfect match. The theme's universality has to do with 2 aspects: the minimalistic sleek design, and the universal Hotel Booking engine.
It's important to note that Albatross includes the free version of the MotoPress booking plugin only. The Hotel Booking LITE plugin gives you the most important booking features, but luckily, you may easily access the full HB functionality.
Last but not least, Albatross comes with pre-installed Stratum Elementor Addons – a collection of 20+ advanced widgets created to expand the default Elementor functionality. The theme already features such Stratum elements as Lottie Animations, Google Maps, Image Hotspots, etc.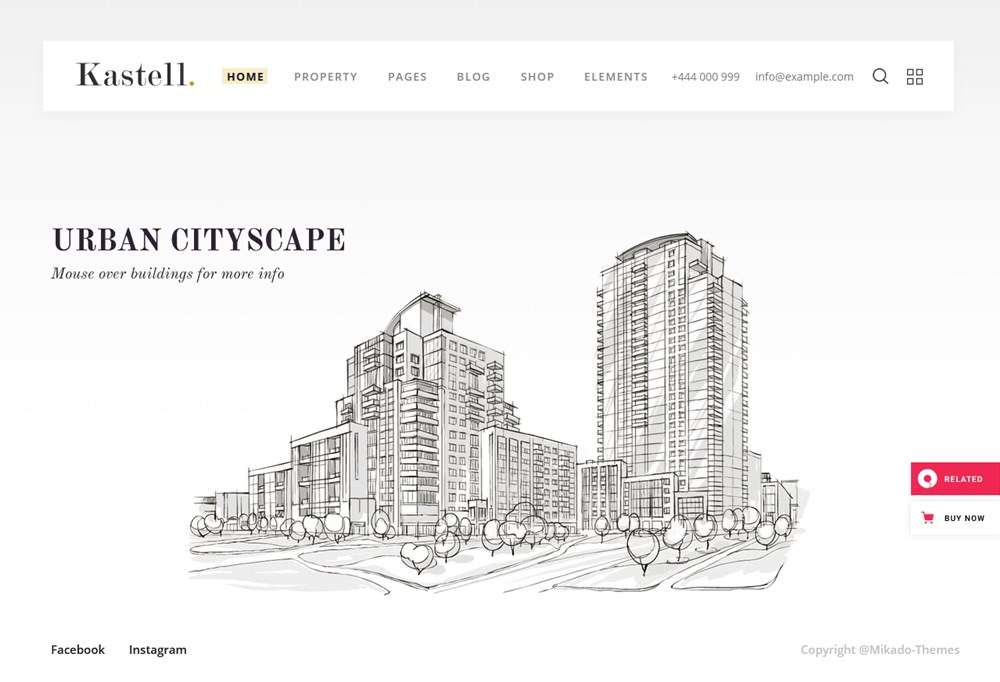 Kastell is completely dedicated to apartments and single properties for rent. It ships with an elegant, rather classical design, smooth animation effects, and imagery-focused galleries.
The theme will also catch your eye with immersive property carousels, outstanding vertical navigation menus, and collections of inner pages for different needs.
Kastell relies on the WPBakery plugin for customization allowing you to alter headers, footers, menus, and inner pages visually. The theme allows you to feature a video and 360 degrees tour along with images.
Kastell uses different shortcodes for property listings, but it doesn't provide any booking functionality by default, so guests will need to contact you by email.
On the other hand, this means you have the flexibility to choose an accommodation reservation engine for direct bookings – if you need one.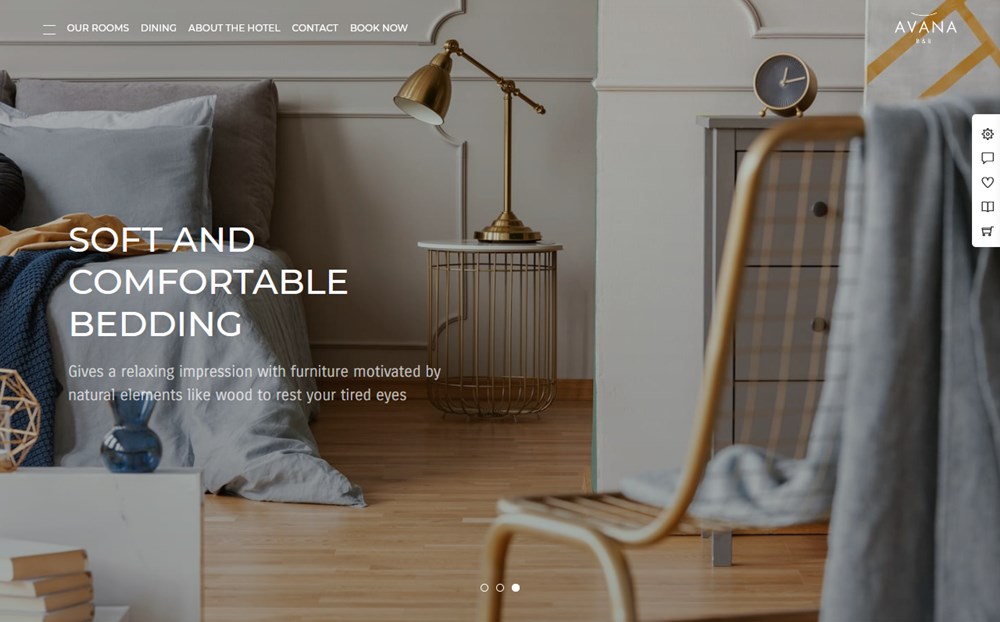 Hoteller is one of those top popular WordPress hotel booking themes you can rely on with any rental unit. It has ready-made sites for luxury hotels, vacation rentals, single properties, cabins and cottages, beaches, bungalows, and other fully tunable designs.
Such a rent WordPress theme deserves special praise for its lightweight, smooth, and unique design solutions – the theme creators take special care of each page and starter site.
With the Elementor page builder integrated, you can take those designs even further with 50+ pre-made templates, 100+ Elementor widgets, and create footers and headers of your choice.
The theme is powered by the Hotel Booking plugin that delivers all the essentials you need to run a successful business online: availability calendars and search forms, international payment gateways for direct bookings without any fees, custom fields for advanced search, and more.
The installation process is super quick and easy allowing you to fully launch your site in a few days.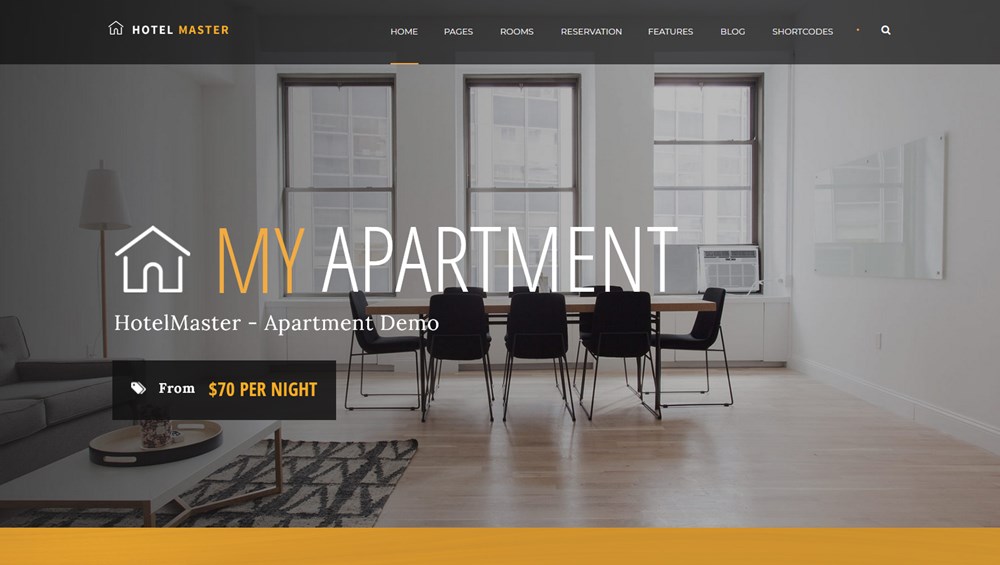 Hotel Master is one of the leading WordPress rental property templates for all things lodging business, and a bestseller for hotel-oriented businesses.
It powers 6K+ websites and is considered to be one of the most comprehensive rental WordPress themes, so if you need to create a website like right now, download this theme without hesitation. Fresh theme demos include apartment and bnb templates.
Opting for Hotel Master, you'll create a holistic apartment rental website that supports ready-to-go designs, PMS, online bookings, payments via global payment gateways, full inventory control, media-rich listings, real-time availability calendars, taxes and fees control, pricing rates and many more tools developed specifically for your type of business.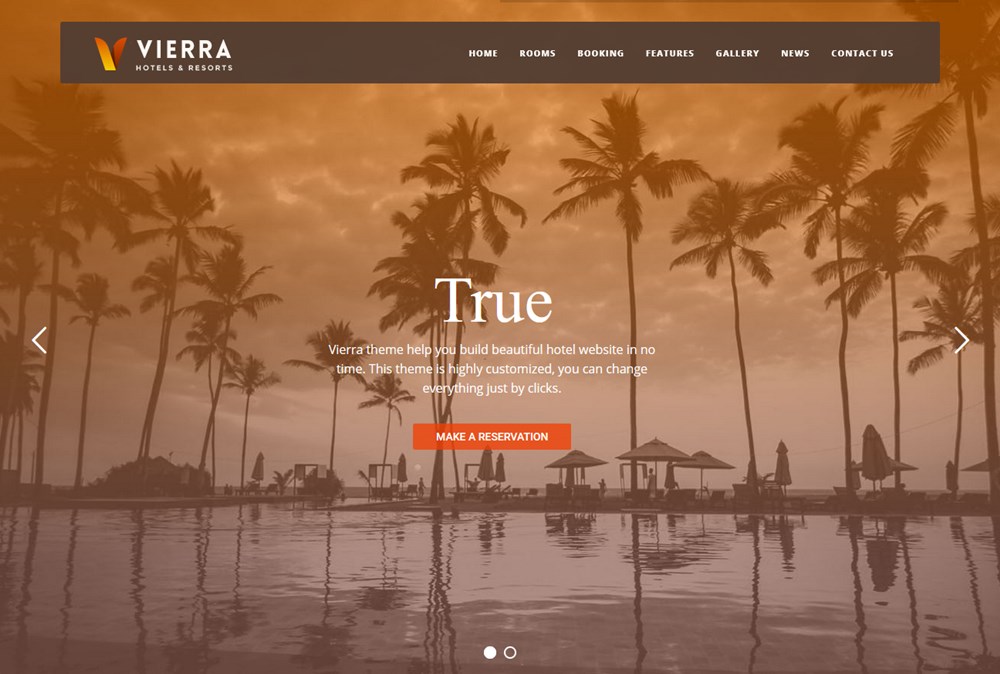 Vierra is an old standby among multipurpose rental WordPress themes for hotels and apartments. It provides a rather classic design and industry-standard features you can use to customize your site layouts.
Out of the box, Vierra Hotel provides you with six grid room layouts to create a directory of listings with a different number of columns.
The booking process is not automatic – the site visitors will leave a booking request via a contact form, which means you'll need to handle those requests manually. But it shouldn't be a problem to integrate the needed functionality if you're looking to automate reservations and probably sync them to online travel agents.
It makes a special focus on the multilingual aspect providing support for English, Italian, German, France, Spanish, Russian and more.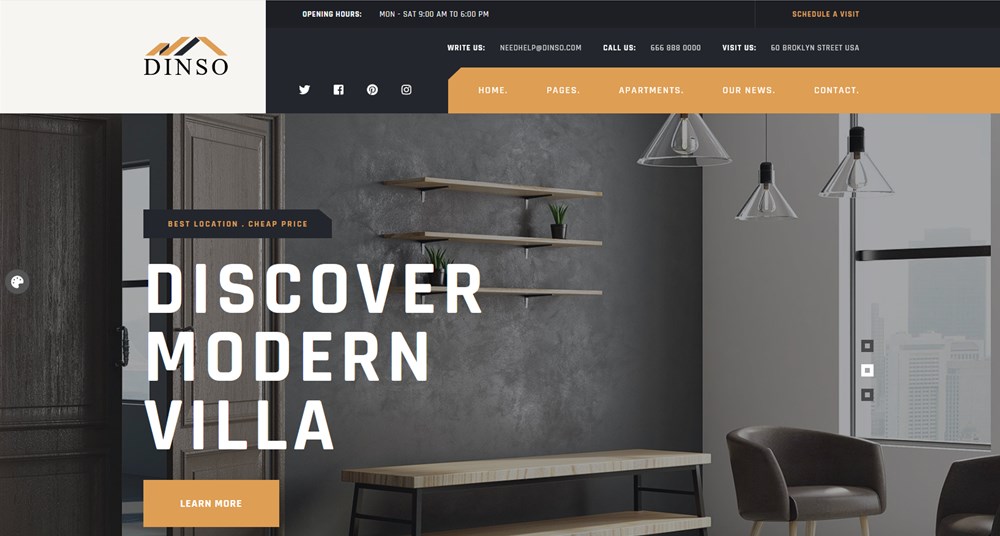 Dinso is a fresh, comprehensive WordPress apartment website template for real estate agencies and single properties for rent. It offers several layouts for single and multiple apartments.
Thanks to seven homepage layouts, you can focus on your properties with a slider, gallery, or stats. The theme allows you to add floor plans, videos, maps, etc. For the customization needs, you can use the default WordPress block editor or combine it with Elementor for more custom styling adjustments.
Visitors can get in touch via a contact form so if you need something plain simple to present your property, without all those bells and whistles, this is a great solution.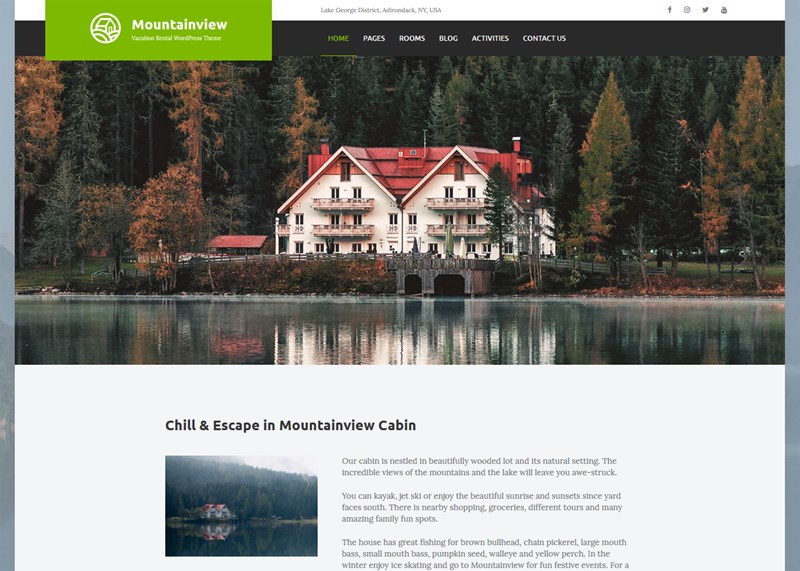 Mountainview is a great example of a vacation rental WordPress theme with all the functionalities for automated bookings and seamless synchronization with popular online travel agents with minimum risk of overbooking. You just need to replace images and text to turn it into an apartment rental WordPress theme – there is no tangible difference in the functionality.
There are tons of settings you can adjust to the realities of your business: set min and max stay periods, offer different rates for peak and low seasons, confirm bookings by payment or manually, upsell extras, and integrate any needed functionality with the required extension. These tools are provided by the MotoPress Hotel Booking plugin.
This property rental WordPress theme offers list, grid, and sidebar-based layouts (you can always have an availability search form visible if you use a sidebar). All the money can go straight to your accounts if you use built-in PayPal, 2Checkout, Stripe, Braintree, Beanstream/Bambora gateways available by default.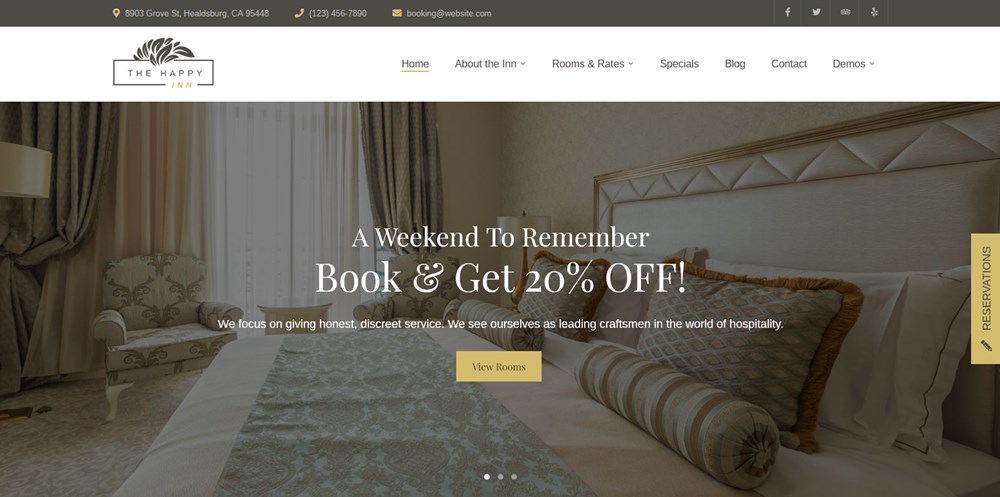 This Apartment Rental website template is foremost suitable for a hotel or single property. Since it doesn't use any specific booking engines, you can list accommodation, extras, rates, and any other offerings that can be ordered by leaving a booking request.
Built with Elementor widgets, the overall theme design is very eye-pleasing, elegant, and flexible. The default design features animated counters, image galleries, Instagram gallery, MegaMenu, sticky headers, and more essentials you can customize.
Although guests can't pay online, you can display pricing and rates along with each room, which should simplify the process of leaving booking requests for your guests.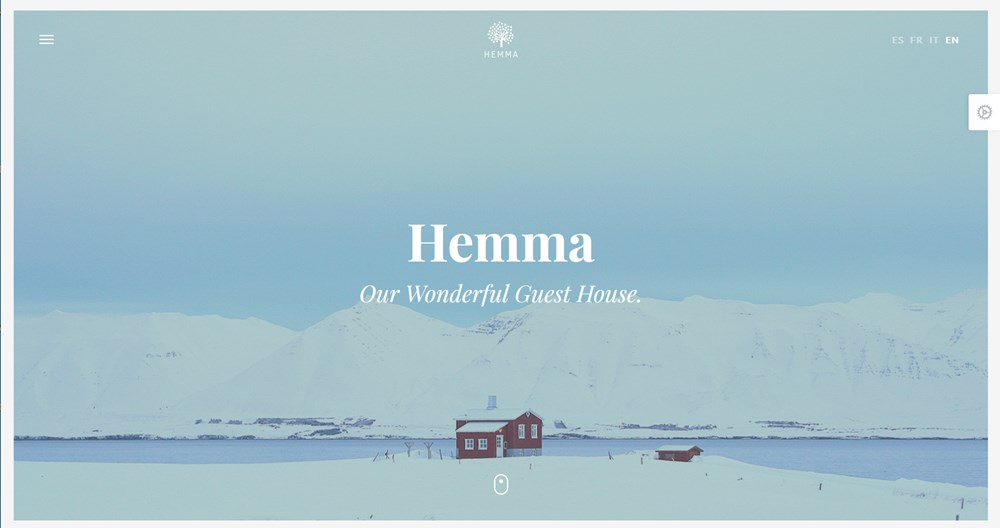 The Hemma apartment website template will help you present your rental property business in the best way. So if you're looking for a business brochure sort of website, a design solution by Hemma is a rare case of a lightweight and impressive design.
Hemma should be a great starting point for bed and breakfast establishments, apartments, and guest houses. You'll notice widescreen, bold images that put different services, rooms, or offerings in the spotlight.
The 'book' and 'search availability' buttons in the default design redirect to the external travel platforms (e.g. Booking.com), which means you can use your WordPress site as a middleman between direct booking requests and those you receive on external platforms.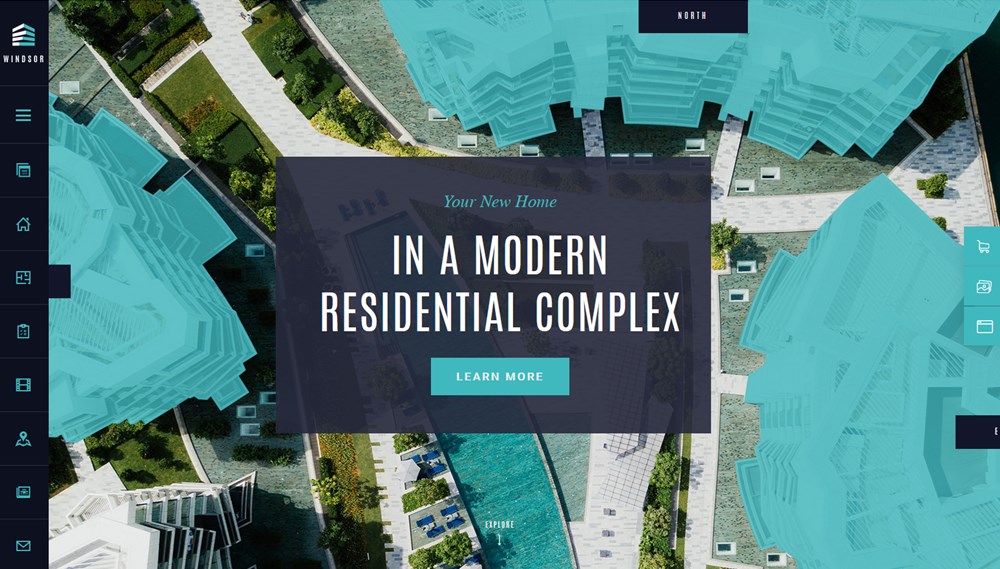 The modern, urban-style design of Windsor will help you build a sustainable real estate business, condos, or hotels thanks to the top-notch tools it delivers.
To enable online reservations, Windsor relies on WooCommerce, which means you'll never experience any limitations with payment gateways or dedicated extensions for bookings, events, sales, etc.
To simplify your customization work, the theme is packed with premium plugins from WPBakery (for visual content and design edits), Revolution slider (for creating a wow effect in property showcase), and numerous ThemeRex add-ons for integrating extra functionality.
If you have apartments for sale or rent, this apartment rental template has it all for your business.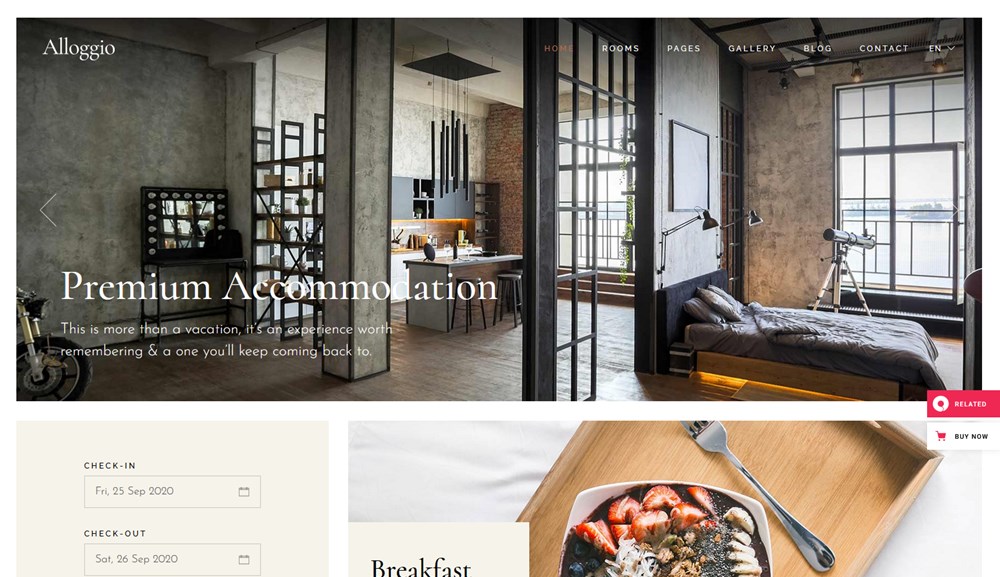 This WordPress apartment rental website template is equipped with a powerful toolchain to run a vacation rental or apartment booking site on WordPress. The choice of designs is really big so feel free to go with something rather minimalist or sophisticated.
The theme gives you space to list room layouts, display details, and the check-in form. It's backed by the powerful, fully automated booking system that accepts online payments, allows you to manage coupons, reservations and users. There are tons of additional shortcodes for working hours, pricing tables, reservations and more.
You can edit this property management website template with Elementor, power it up with WooCommerce, customize headers and footers, and literally change every aspect of the WordPress property rental theme. The Alloggio apartment website template has it all for bookings and customization. If you are a rental property owner, you are good to go with Alloggio.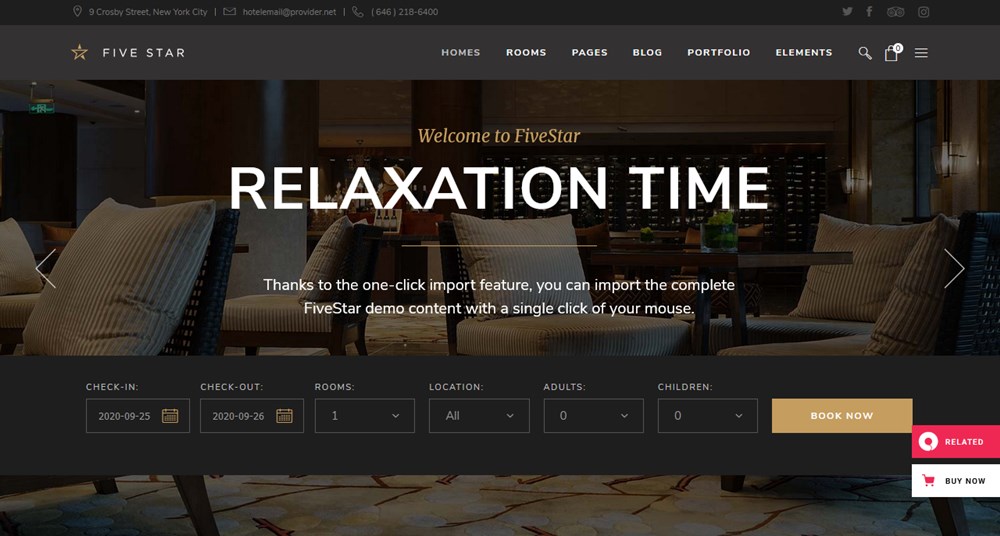 The FiveStar Hotel Booking theme can serve as a condominium website template, apartment rental website template or the like – it's perfect for any type of hospitality industry. The demo even offers such rare design solutions as a ski resort and city tour.
Although the property or tour booking form can be used with different custom filters, the booking process is not automatic – guests can tailor their search, but in the end, they'll leave a booking request via email.
The theme will be a breeze to customize even for beginners thanks to the WPBakery and Slider Revolution plugins included with the rental property WordPress theme.
Do you think this post was helpful in your search? Share your favorite WordPress rental property website template with us.

What is the best apartment rental WordPress theme?
It all depends on your design and booking functionality preferences. For example, single property-oriented demos are offered by Aquentro, Kastell, Dinso, and Hemma. If you need to feature and rent out multiple properties, such templates as Booklium, WP Rentals, and Hoteller are best optimized for this purpose. Also, make sure to check the features of each booking engine to see whether it will meet your needs.
Do all these themes support MotoPress Hotel Booking?
Hotel Booking works with all WordPress property management themes, but it doesn't ship with all the themes listed in this collection. As a packed plugin, Hotel Booking comes only with Aquentro, Booklium, Albatross, and Mountainview.
Which of these apartment rental WP themes are built with Elementor?
Such themes as Aquentro, Alloggio, Hoteller, Dinso and Happy Inn are built or support Elementor as a base editor. Remember that Elementor is responsible for the design, not bookings.