How to Sync HomeAway Calendars with WordPress Vacation Rentals
If you use WordPress to take vacation rentals bookings (or just plan to), congrats! You've chosen a really cost-effective and scalable content management system to run a rental property business website on.
At the same time, WordPress PMS and property booking plugins don't generally charge pay-per-booking fees, pay-per-listing commission, percent per each transaction or what have you using proprietary reservation software.
However, to generate more exposure to global audiences, you can't ignore popular travel platforms. Luckily, operating a brand property WordPress website and taking online reservations through it doesn't mean ditching OTAs, including HomeAway.
So how do you set up WordPress HomeAway integration?
To make this real, you need to synchronize individual availability calendars on your website to those on the external platforms: HomeAway or its sister marketplace VRBO in our case.
WordPress HomeAway plugin?
In order to hook up your WordPress website to HomeAway and use both without overbooking, you need to enable automatic WordPress HomeAway synchronization using iCal.
First of all, what's iCal?
iCalendar is basically a data exchange file format for exchanging and storing scheduling information such as events and free/busy slots. To translate it into the world of lodging business, the iCal supporting software can exchange bookings data across platforms to display booked and available dates.
Fortunately, the vast majority of popular OTAs, including HomeAway and VRBO, allow iCal synchronization for keeping availability calendars up-to-date and tracking bookings through multiple channels simultaneously. WordPress offers iCal support through specialist plugins.
Moreover, iCal won't only allow you to sync bookings across the platforms, you may also connect your Google Calendar or Apple Calendar, which support this format, to create one more handy source for keeping track of reservations.
In reality, you'll need to generate iCal links through your WordPress website as well as in your HomeAway (or VRBO) account and import / export them across these "channels". So if a traveller booked dates of a particular room or property through HomeAway, the same dates for the same property will be blocked automatically on your WordPress website. And vise versa.
There are several options to set up this connection (choose one that suits your case) –
For fresh installations. If you haven't created a dedicated property page / pages on your WordPress website yet, the best way to go is to add it / them via the MotoPress WordPress Hotel Booking plugin. It comes with an automatic iCal synchronization out of the box, including dozens of other tools for building and managing a vacation rental dedicated website.
For up-and-running websites. You can "attach" sync-ready availability calendars via a WordPress plugin to the listings you already have on your WordPress website. In this case, a specialist tool will be required: VR Calendar Sync Pro or WP iCal availability plugins can provide frictionless integration.
For fresh websites that look for a cloud channel manager. If you have a budget to spend on non-WordPress cloud-based tool, look for channel managers like IRoomi. It will do the sync work for you almost hands-free, but it has a cost (monthly cost that increases in direct proportion to the number of rental units). Moreover, it offers only PayPal and Stripe gateways for accepting bookings. You'll need to add and manage all rentals via this system (can be connected to WordPress).
Despite we wanted to let you know about this opportunity, we won't elaborate on the third way since it's not a native WordPress integration and you might need to search for the best cloud solution.
Now, let's take a closer look at the first two approaches.
Fresh installation
Let's clarify one thing first: MotoPress Hotel Booking plugin is not just about iCal calendars sync, it's only one feature among others this plugin has to offer. In general, the plugin consolidates all range of features for creating and managing your WordPress website. It'll allow you to add rentals (with all images, amenities, services, rates, etc.), manage availabilities, set up invoices, take booking payments through a variety of payment gateways and more.
It has evolved a lot since its advent and is now offering all range of tools required for efficient website management from A to Z.
And of course, the plugin supports iCal to sync bookings with HomeAway. If you prefer to watch a video guide, there is quite a detailed one:
Or, follow these steps:
Install and activate the MotoPress Hotel Booking plugin with all its required utilities. If you are installing a theme with this plugin (like Ciestra or Booklium), the process will be even easier since that theme may come with demo data.
Add and configure rental units with all supportive features like property search form, system pages, availability calendars, etc.
Set up pricing rates, taxes and fees, min and max days to stay, booking confirmation modes, available gateways and configure other plugin settings.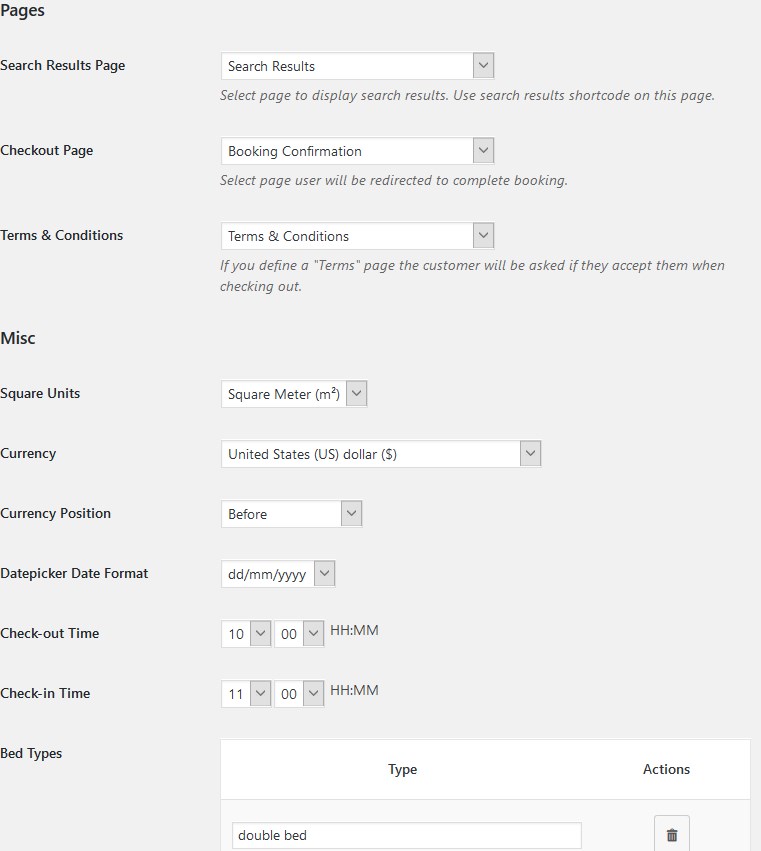 Go to Bookings > Calendar to copy iCal URLs of individual rooms to export to HomeAway / VRBO: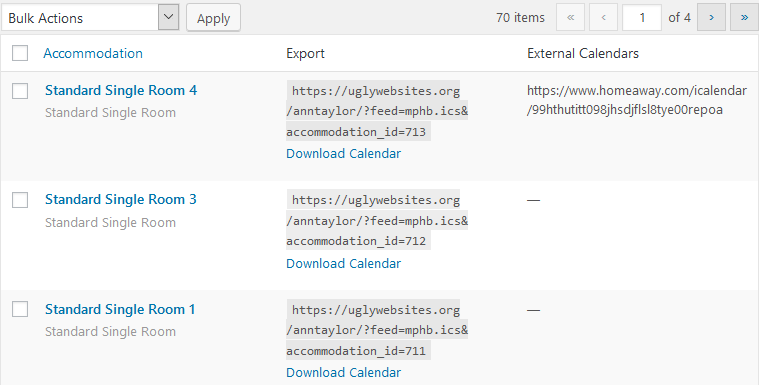 Log into your HomeAway account to add the iCal link:
5.1 Log into your Owner account and select a property.
5.2 Go to Calendars and then Reservations.
5.3 Find the "Import/export Calendar" arrows icon from the top right.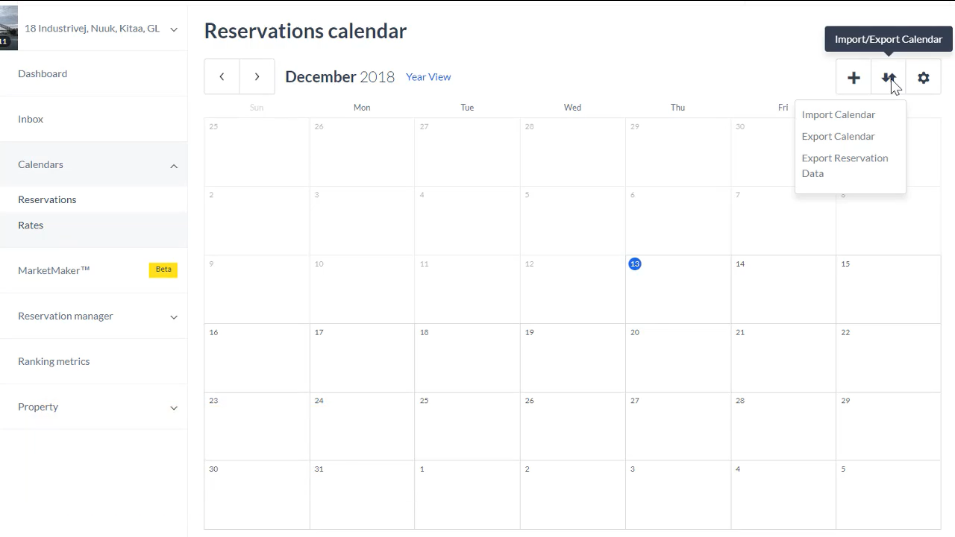 5.4 Choose "Import" then add its name and insert a link.
5.5 Opt for "Show this calendar to travellers".
To import iCal link to your WordPress website, copy it in the respective HomeAway's menu and insert into the appropriate field in the WordPress website:

You can add as many calendars of different OTAs as needed – just make sure they (travel agencies) support iCal.
Modify general iCal sync settings. The shortest interval for auto-sync is once hourly. HomeAway will download bookings from your website according to its own schedules.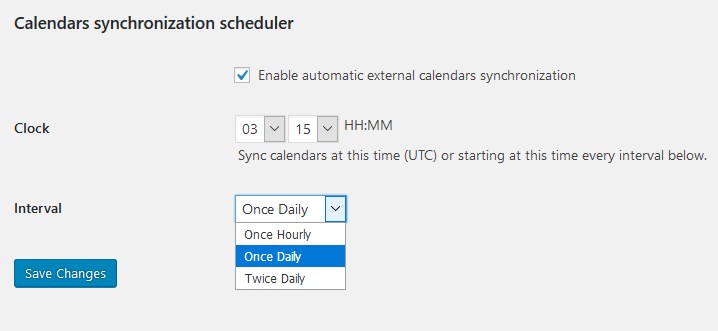 In addition, you can sync calendars anytime manually: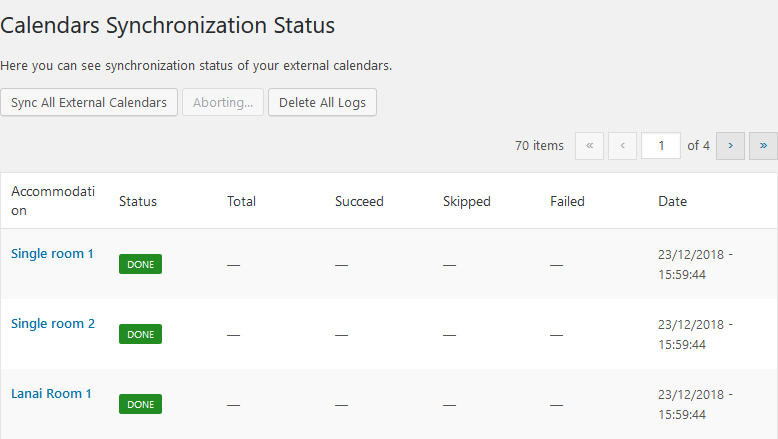 The automatic two-way sync is set up! The property availability calendars on your website will show available dates according to this synchronization.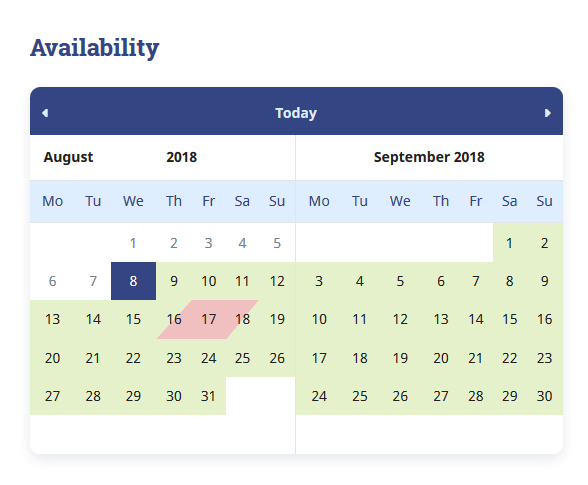 If you want to test how it works in the wild, it'll be really helpful to register a free backend demo with this plugin.
You can also go with a design of your choice and, moreover, save at least $49, if you opt for a rental property or hotel WordPress theme with the MotoPress Hotel Booking plugin bundled for free.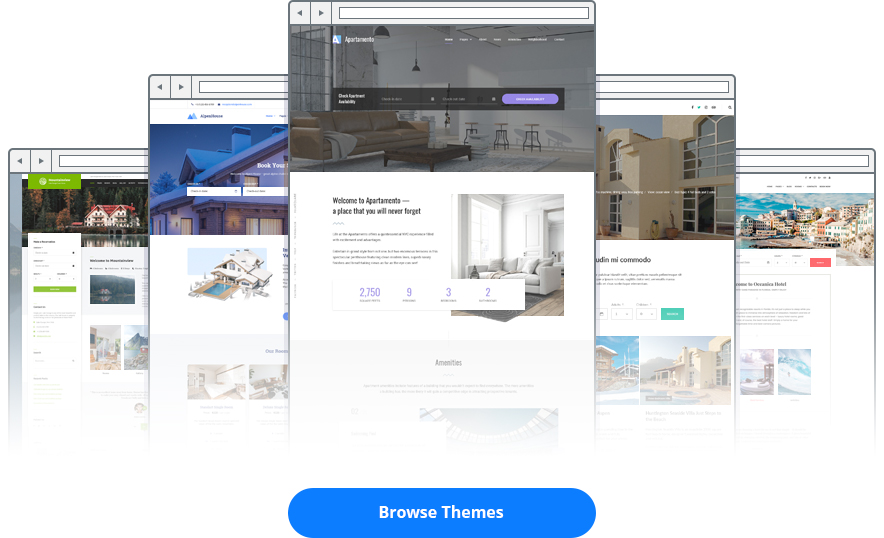 Up-and-running websites
For the established websites, we'd recommend using VR Calendar Sync Pro to add availability calendars to individual properties. Using this plugin, you can display the available / unavailable days and optionally take online reservations.
So even if you create a listing with a standard WordPress functionality and then add calendars generated with this plugin, it all can function as a holistic booking system (with bookings enabled, of course).
The guide of importing and exporting iCal URLs is very similar. Let's revise the main steps:
Install and activate VR Calendar Sync Pro as a regular plugin.
Go to "My calendars" and add a new calendar. You can also make optional modifications to its appearance (set the size, number of columns, etc.)
Make an export / import iCal URLs exchange between your website and HomeAway account as we described earlier in this article. Here is the HomeAway guide to help you.
Generate a calendar shortcode.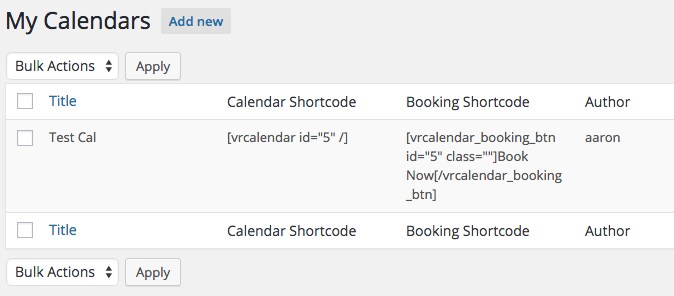 Go to Settings to designate how often the calendars must be synchronized.
Copy and paste the calendar shortcode on the appropriate property page.
If you want to accept online bookings via this calendar plugin, enable bookings and set up the major settings like pricing, connect payment gateways, add a minimum number of nights to stay, include taxes and fees, etc.).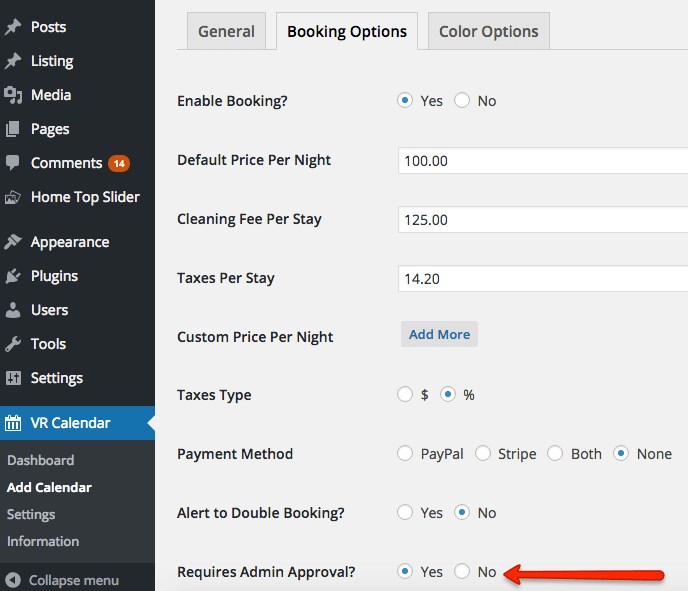 You can locate the booking form on the different page than the calendar. You can also manually block dates to make them unavailable. Overall, the plugin offers lots of features to enable automatic bookings and sync them to external OTAs.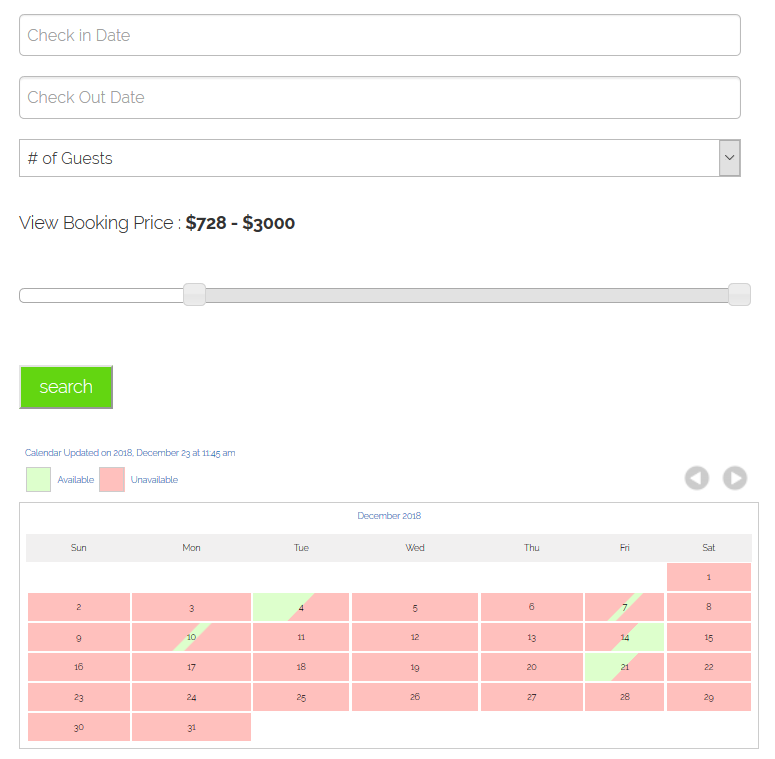 This is just a brief guide. You might need to contact a plugin provider to get your questions answered.
Final word
As you see, HomeAway and WordPress vacation rentals integration is quite easy. To ensure that all your availability calendars are up-to-date across all channels, you just need to sync (import / export) iCal URLs and designate the frequency of automatic sync.
All WordPress HomeAway plugin solutions we offered in this article are packaged with a broad bundle of features and options to not just sync availability calendars via iCal, but also enable WordPress bookings and property management to the fullest. Any thoughts or questions? Feel free to leave a comment.
FAQ
Can we just show the availability without the booking options?
Yes, using the MotoPress Hotel Booking plugin you can opt for simply displaying an availability calendar which sources the availability data from HomeAway.
Can I automatically sync bookings from WordPress to HomeAway?
The syncing procedure is a near real-time process on both sides, so most likely it takes from 15 minutes to several hours to sync bookings and the availability data.
I already have properties listed on my WordPress site, how to sync them to HomeAway?
In order to 'add' availability calendars to the properties already displayed on your WP site, use the VR Calendar Sync Pro plugin.