26 Best Political WordPress Themes (Free & Paid): Empower Your Campaign
Political WordPress themes are powerful and valuable solutions for establishing a noticeable website for a public persona or organization. A well-designed online presence provides modern politicians and their teams with various benefits. Thanks to the world's most popular CMS, developing a memorable site is much easier. Moreover, you can easily create an experience that produces a long-lasting positive impression on potential voters. To help you with it, we have prepared a crafted selection of diverse themes to fit political parties, candidates, and communities, including the top 7 free & premium themes listed below.
What is a Political Website?
To understand the best choice for your political website, we need to learn what types of such websites exist. It is also necessary to understand that with modern web development technology, politicians can engage their supporters more efficiently and reach out directly to them. Moreover, a well-designed website allows for better interaction with potential voters. Depending on your goals, there are 5 diverse types of political websites you may need to know about:
Political candidate website;
Political campaign website;
Political party website;
Political community;
Political commentary website.
While different kinds of political websites are built for a wide range of purposes, there is something that makes them similar. First of all, they allow you to reach more people at once. Moreover, you can effectively target specific audiences with a properly built website. Some websites are also great for keeping the community updated with the latest from your political team. With a remarkable site, attracting donations and volunteers to power up your campaign won't be a problem. As a result, you get a multipurpose tool for improving all aspects of your political organization.
Political Candidate Website
For many candidates and politicians, their websites are one of a few ways to convey a powerful message and directly influence their supporters. With a political candidate's website, many potential congresspeople can present their values and showcase their program and goals online. No wonder political WordPress themes with a strong and persuasive design are often used as a basis for a successful representation of your position.
Political Campaign Website
Websites for political campaigns nowadays serve as not just a way to promote your plans and programs as a politician. It is also a great source of information for your followers. To make your campaign noticeable online, such a site needs to follow various principles, such as meeting the latest design trends and including the Issues page with the main positions for your campaign. Such sites need to increase visitors' engagement while avoiding clutter.
Political Party Website
When it comes to political parties, their websites serve a broader purpose. While it still is a major source of information, such sites usually follow the trends you can spot in other spheres, too. The goal here is to attract more supporters and donations to help the party make its program a reality. Moreover, it is a great tool for voter education and communication, especially when it comes to elections. Other benefits of these websites include:
Outreach;
Data analysis;
Engagement with youth;
Reduction of misinformation.
Political Community
The abovementioned sites and political WordPress themes related to them may seem alike in what they do. In contrast to most such websites, a political community is a platform that pursues slightly different goals. It is often created to bring supporters of a certain political party or candidate together. As a result, they often resemble online forums with blog support and profiles for registered users. Such sites are also built for advertising political events and conducting surveys to gather opinions and lively discussions.
Political Commentary Website
When talking about opinions, we need to mention political commentary websites. Created as a variation of blogs, these resources are often considered the best place for discussions of different views on politics. Moreover, they are the most credible way of getting news and information from the party and politicians of your preference. This makes commentary websites highly popular among potential voters and political experts, especially since these websites support social network sharing.

Best Political WordPress Themes for Campaigns
In case you are planning to start your political campaign, having a website to back you up is more than necessary. While some politicians prefer to turn to web design studios, you can always save time and money using political WordPress themes. The 10 premium solutions listed below are a perfect fit for any modern politician looking for a trustworthy and user-friendly campaign website.
1. Nominee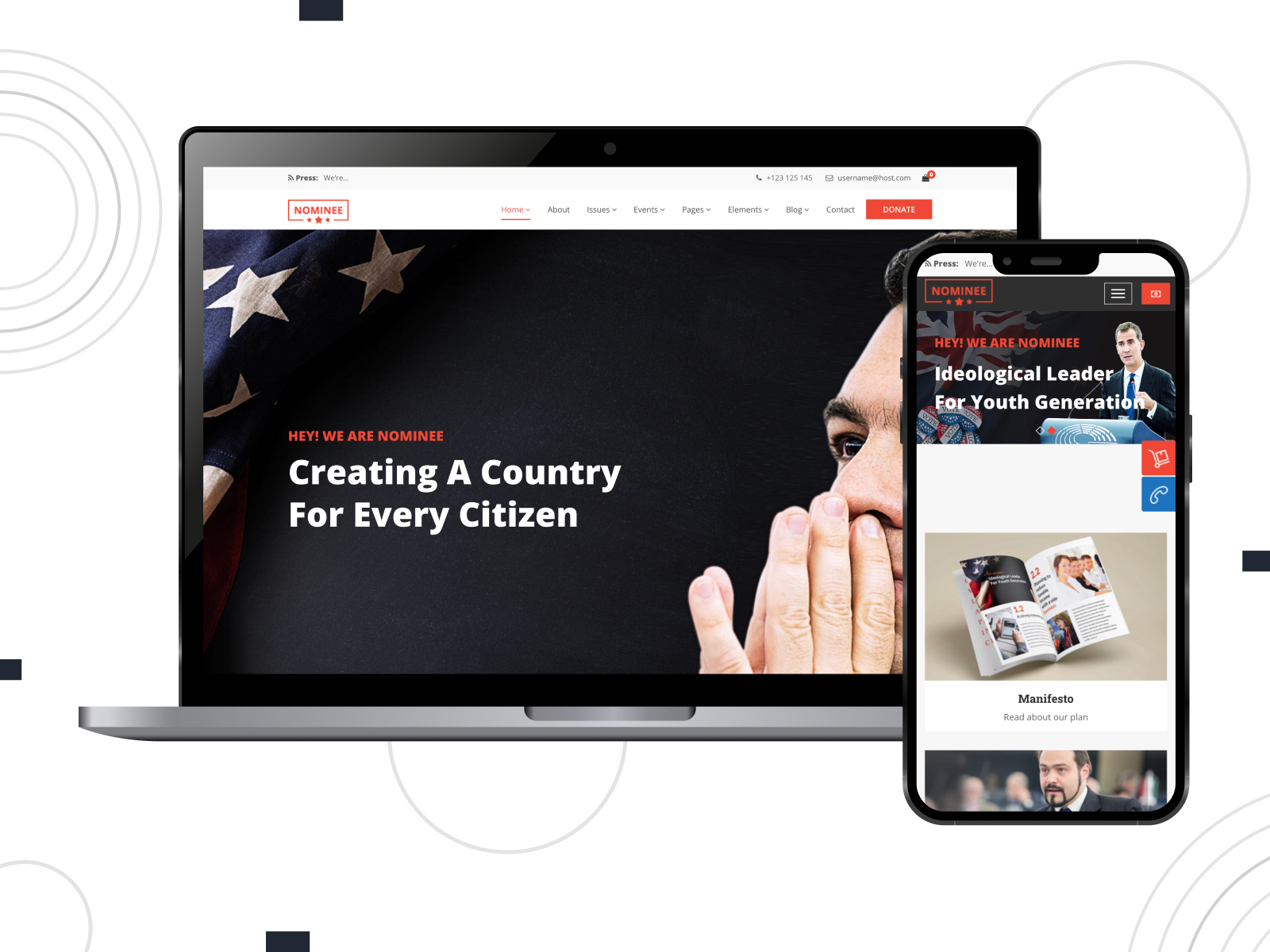 Nominee is one of those solutions that provide state-of-the-art and responsive designs for a variety of related topics at once. The developers define it as a true niche theme for every political leader & party. Indeed, it offers a bunch of designs suitable not just for campaigns but also for a city mayor & government along with political leaders and candidates. This theme comes with several pre-designed full website demos as well as:
WP Bakery Builder with 50+ pre-developed elements;
Optimized for Gutenberg editor;
Supports the Free AI Writing Block by Getwid for easier content creation;
Highly functional & custom-designed dashboard;
eCommerce-ready shop page for selling political merchandise;
Built-in mega menu & event management system;
WPML compatible;
Easy-to-use PayPal donation form.
Name
Author
Price
Avg. Demo Speed Score
Nominee
TrendyTheme
$59
Mobile 46

Desktop 59
2. Baklon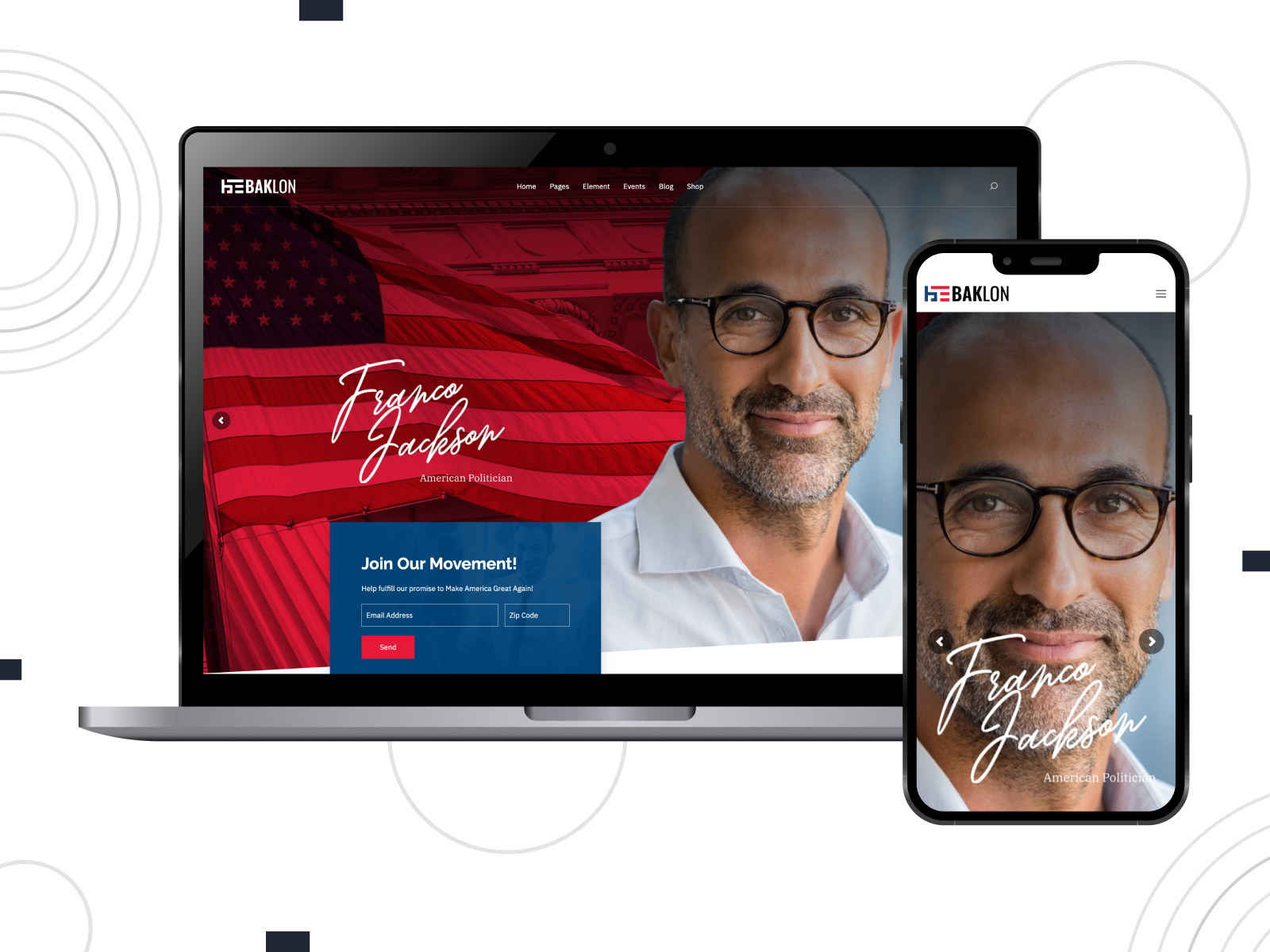 The next solution on our list of political WordPress themes is Baklon. It provides everything needed for a memorable campaign. From diverse homepage designs to a variety of included blocks and plugins, this theme has a lot to surprise you with. Aside from being suitable for political websites, it is also a great fit for NGOs and charity organizations. Baklon is highly responsive and compatible with the latest WordPress versions, too. It comes with a bunch of functional advantages, such as:
6 pre-designed home pages;
Outstanding event planning & donation features;
20+ built-in UI elements and sections;
4 blog post types (Standard, Audio, Gallery, and Video);
SEO-ready layout;
Slider Revolution included;
Transparent, mobile & sticky headers.
Name
Author
Price
Avg. Demo Speed Score
Baklon
Dahz
$59
Mobile 27

Desktop 65
3. Jack Well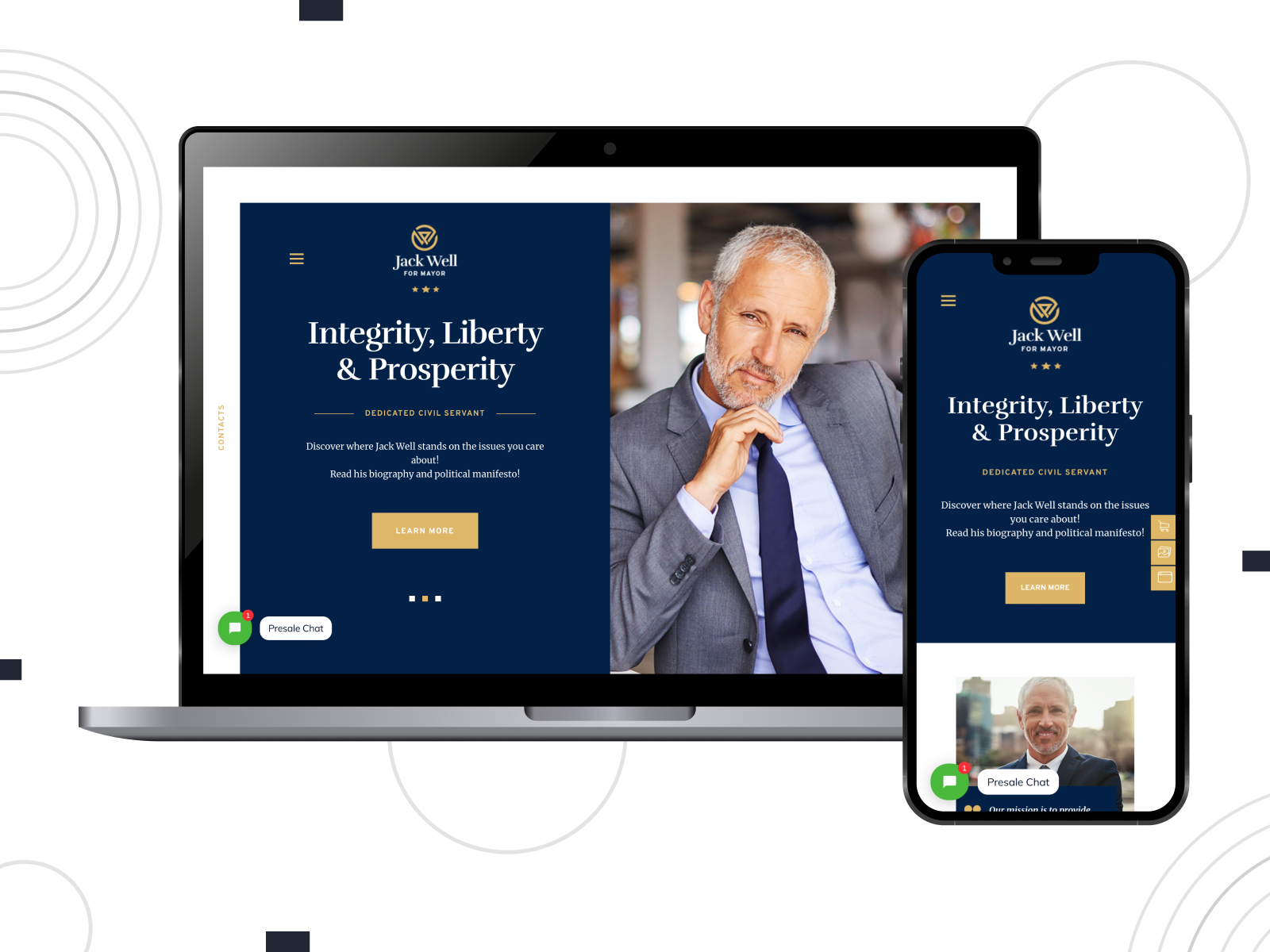 Jack Well is one of those WordPress themes developed specifically for political campaigns. With a clean and well-designed interface and powerful customization, this solution provides a wide range of impressive features for the website of any politician. This theme can be installed in just a few clicks. Moreover, it is based on the ThemeREX framework which enhances its customization potential. There are also other useful features that Jack Well delivers:
3 homepage designs;
Drag & Drop page builder with easy customization;
SEO-friendly page layouts & multilanguage support;
Wide range of shortcodes;
Mega menu & sticky menu included;
Google Fonts & Fontello icons.
Name
Author
Price
Avg. Demo Speed Score
Jack Well
AncoraThemes
$69
Mobile 40

Desktop 75
4. Actavista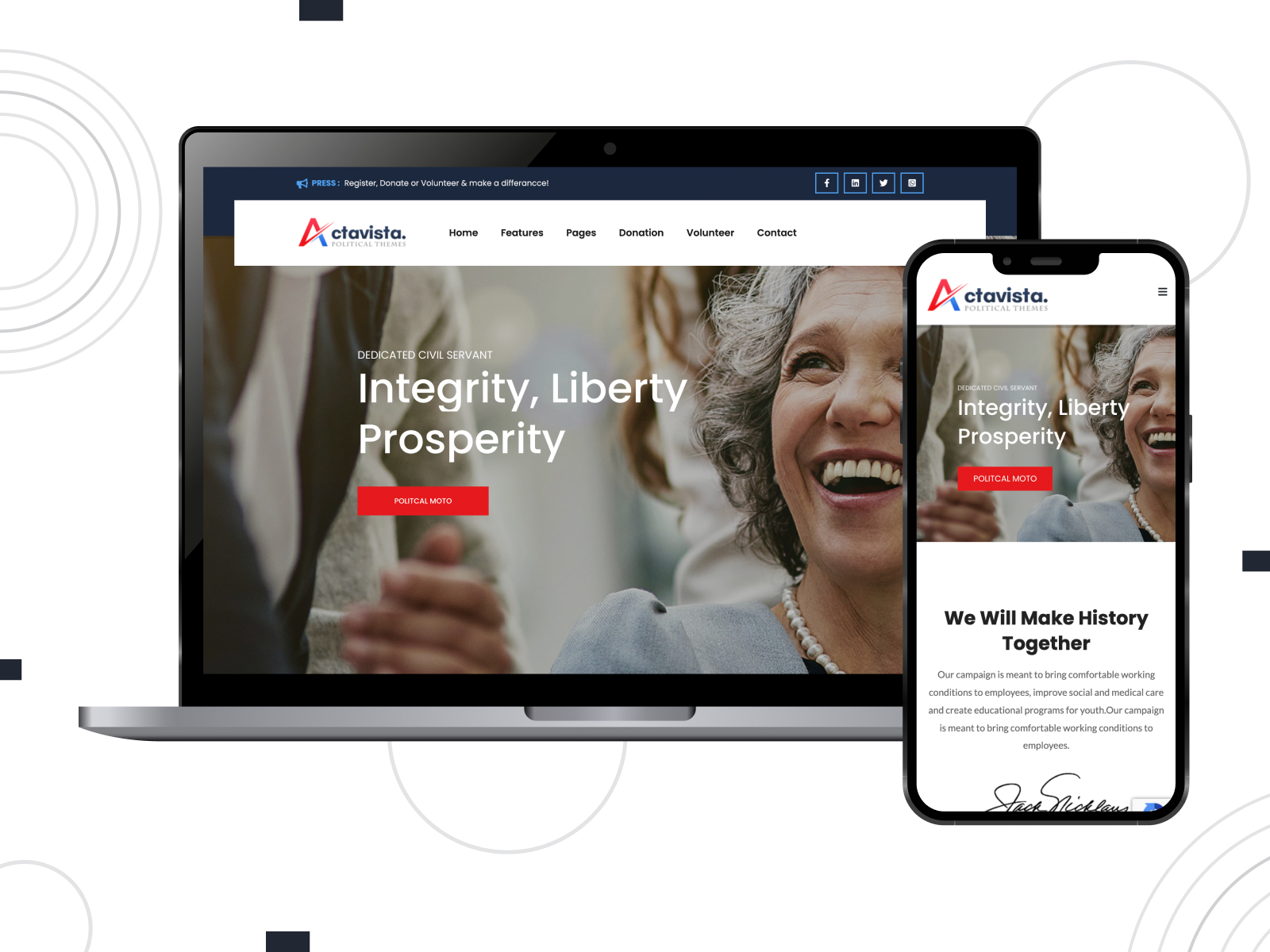 Actavista provides a variety of tools to help you create a stunning and well-designed campaign website for a politician. Loaded with diverse design options and features, this solution has what it takes to build a unique and noticeable online presence to connect with your supporters. Thanks to the included Lifeline Donation plugin, you can start gathering funds for your campaign right away. Moreover, you can improve your political website by using any of the following benefits:
6 pre-built home pages;
32+ inner pages;
Powerful volunteer & political membership management;
Fully customizable pages with diverse blocks;
60+ UI elements.
Name
Author
Price
Avg. Demo Speed Score
Actavista
webinane
$69
Mobile 28

Desktop 61
5. ET Govern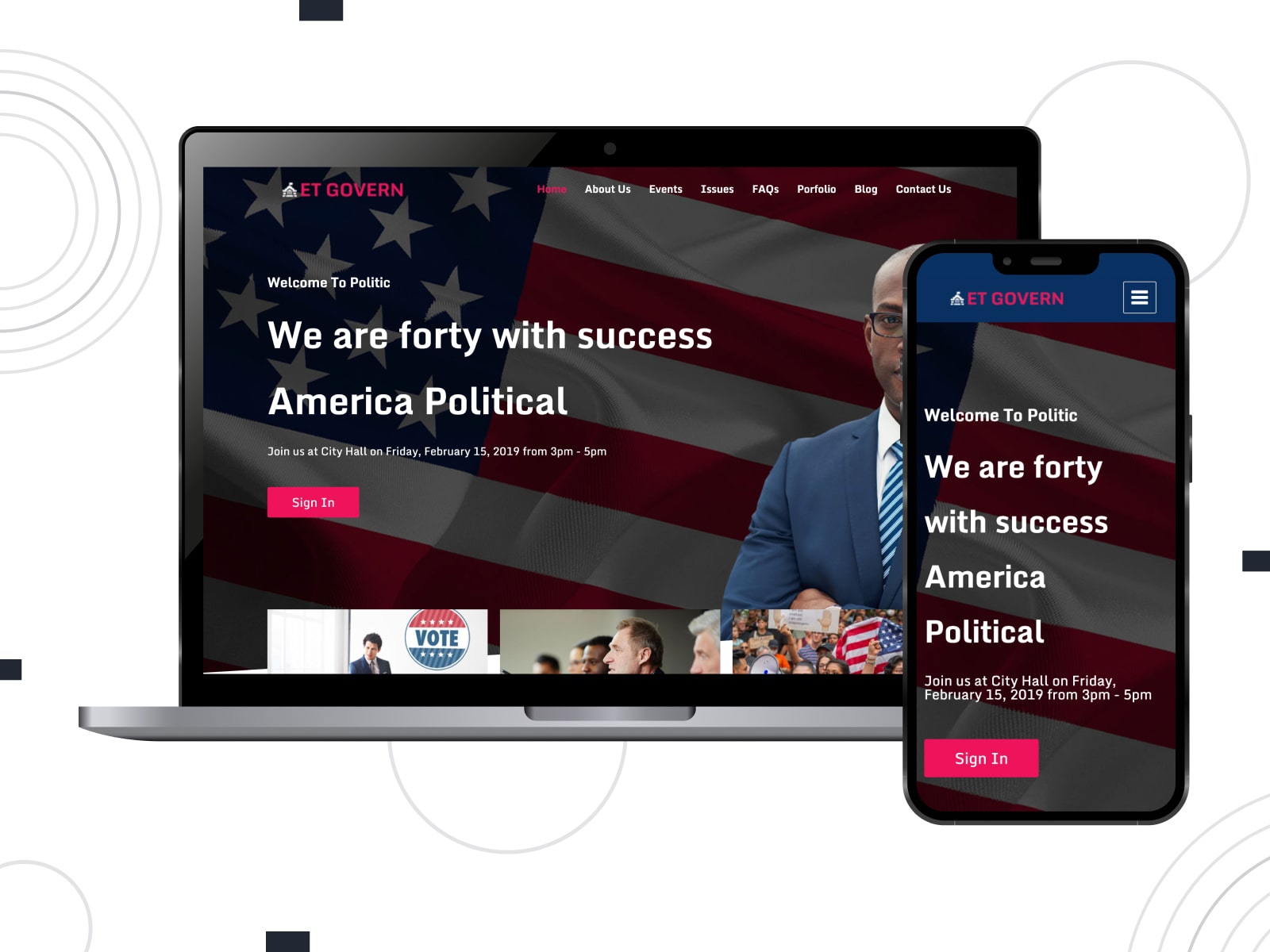 ET Govern is a freemium WordPress theme that makes a great match with professional political and government organization WordPress websites. Compatible with Elementor, this theme ensures hassle-free visual customization. You are free to integrate WooCommerce and build different forms. Also, ET Govern ships with:
A responsive contact form;
Customizable colors and typography;
Attractive sliders;
MegaMenu generator;
Free limited toolkit.
Name
Author
Price
Avg. Demo Speed Score
ET Govern
EngineTemplates
$29-$49
Mobile 62

Desktop 89
6. Politian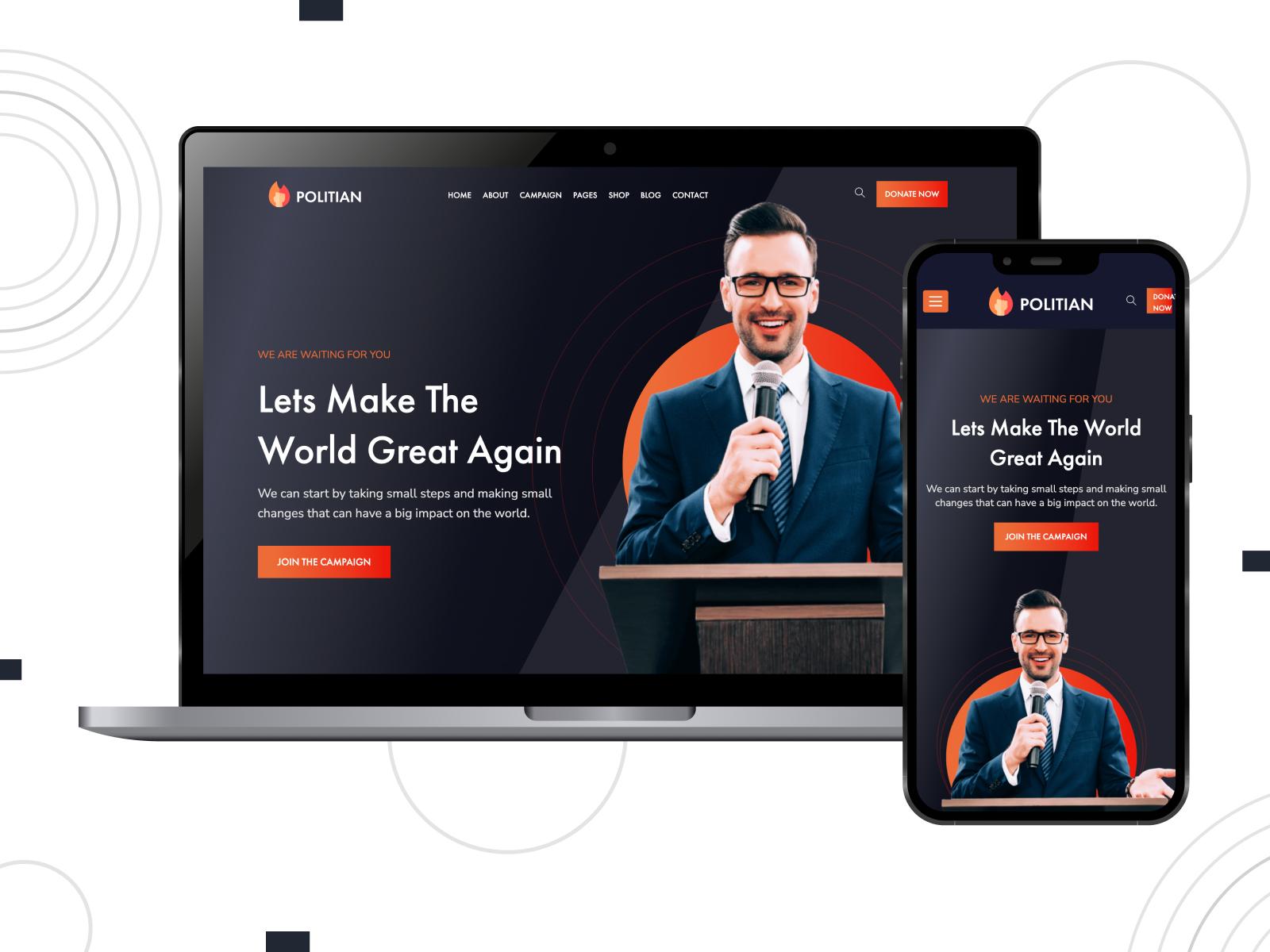 Politian is one of the multipurpose political WordPress themes for everything connected with politics. If you need an impressive and modern-looking solution to power up your website, it has what you need. From various homepage layouts to dedicated campaign templates and customizable donation forms & pages, there's a lot Politian can provide. Like many other themes, it supports Elementor Builder & its multiple add-ons as well as unlimited color schemes. Here's what the included theme options offer:
4 homepage designs;
Fully responsive & SEO-ready layout;
Advanced typography & pixel perfect design;
Contact Form 7 & Google Maps integration;
Sticky header menu.
Name
Author
Price
Avg. Demo Speed Score
Politian
wpoceans
$29
Mobile 54

Desktop 73
7. Right Candidate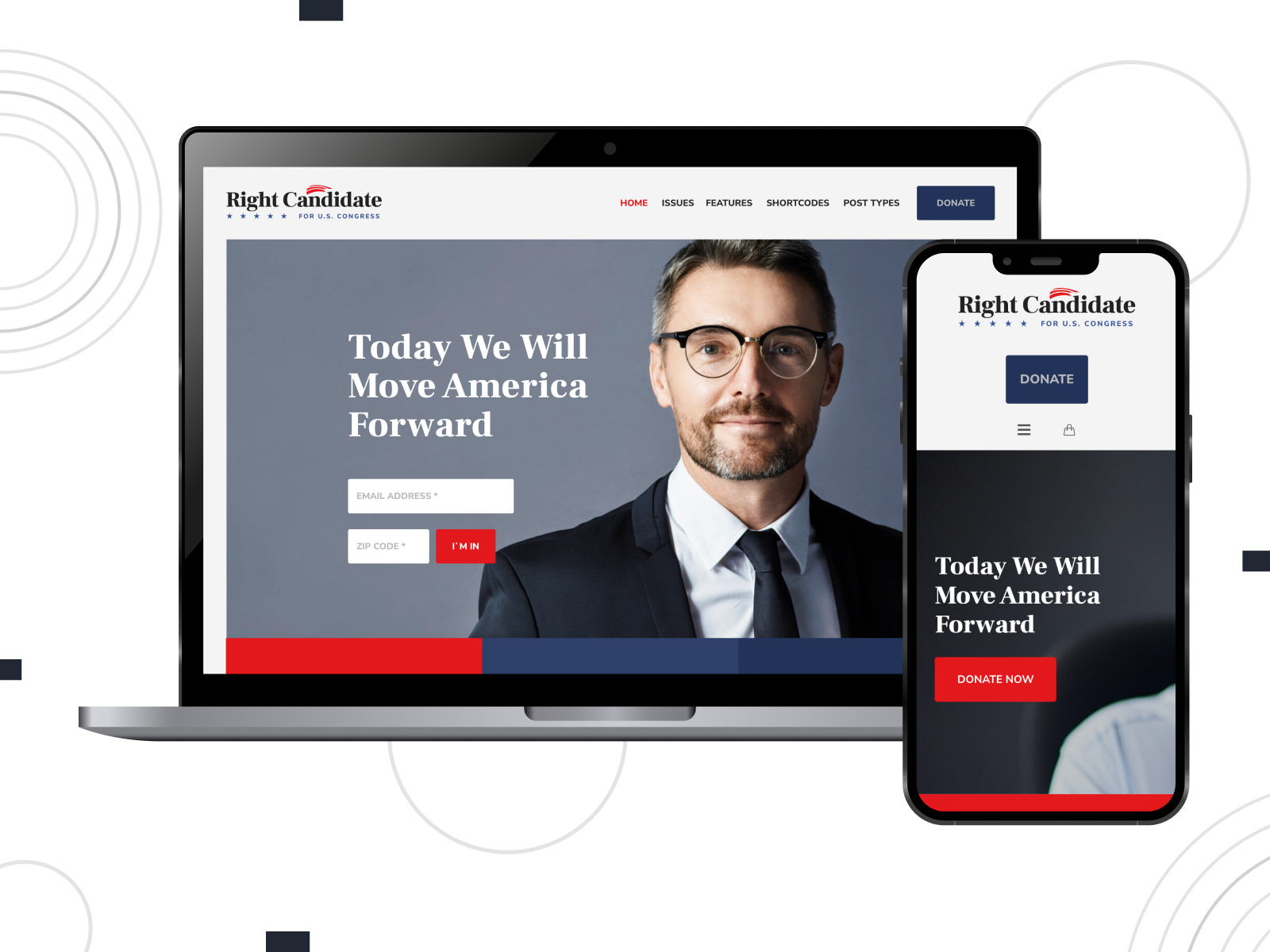 Another theme that delivers the essential for your campaign website is Right Candidate. With 2 homepage layouts and different campaign page designs, this solution has all you may need to quickly set up your political website. Being affordable yet highly customizable & feature-rich, this solution even helps with running your blog and adding regular updates to it. Aside from these options, there are multiple benefits packed with the Right Candidate:
Intuitive drag & drop builder;
10+ post types for blog and gallery;
eCommerce-ready shop page;
Simple and effective event scheduling;
MailPoet plugin support.
Name
Author
Price
Avg. Demo Speed Score
Right Candidate
cmsmasters
$49
Mobile 40

Desktop 73
8. PoliticalWP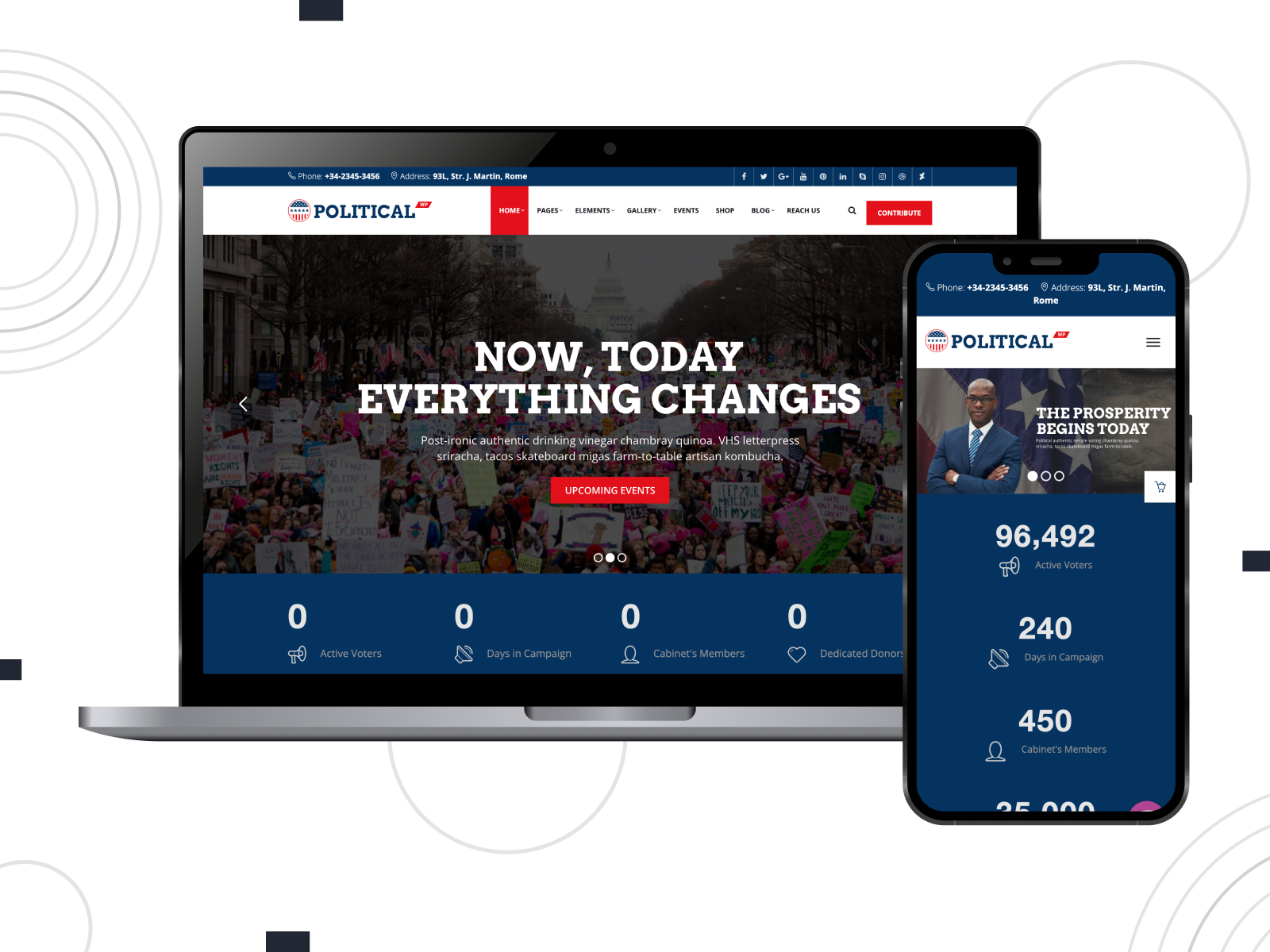 PoliticalWP is one of those themes that offer just what's expected. Being a great choice for all political & campaign-oriented websites, this theme is stunning and informative. Based on the Redux Framework, it delivers a wide range of options for any politician's site. With RTL support, it can also be suitable for online presences that use Arabic languages. With constant free updates and easy-to-read documentation, this can be quickly edited to fit your political campaign website or an online resource of a local government. It comes with these notable features:
5 home pages;
6 diverse gallery layouts and blog pages;
Smooth CSS3 animations;
Multiple headers and footers;
A variety of supplied UI elements.
Name
Author
Price
Avg. Demo Speed Score
PoliticalWP
ThemeSLR
$59
Mobile 8

Desktop 53
9. Campaign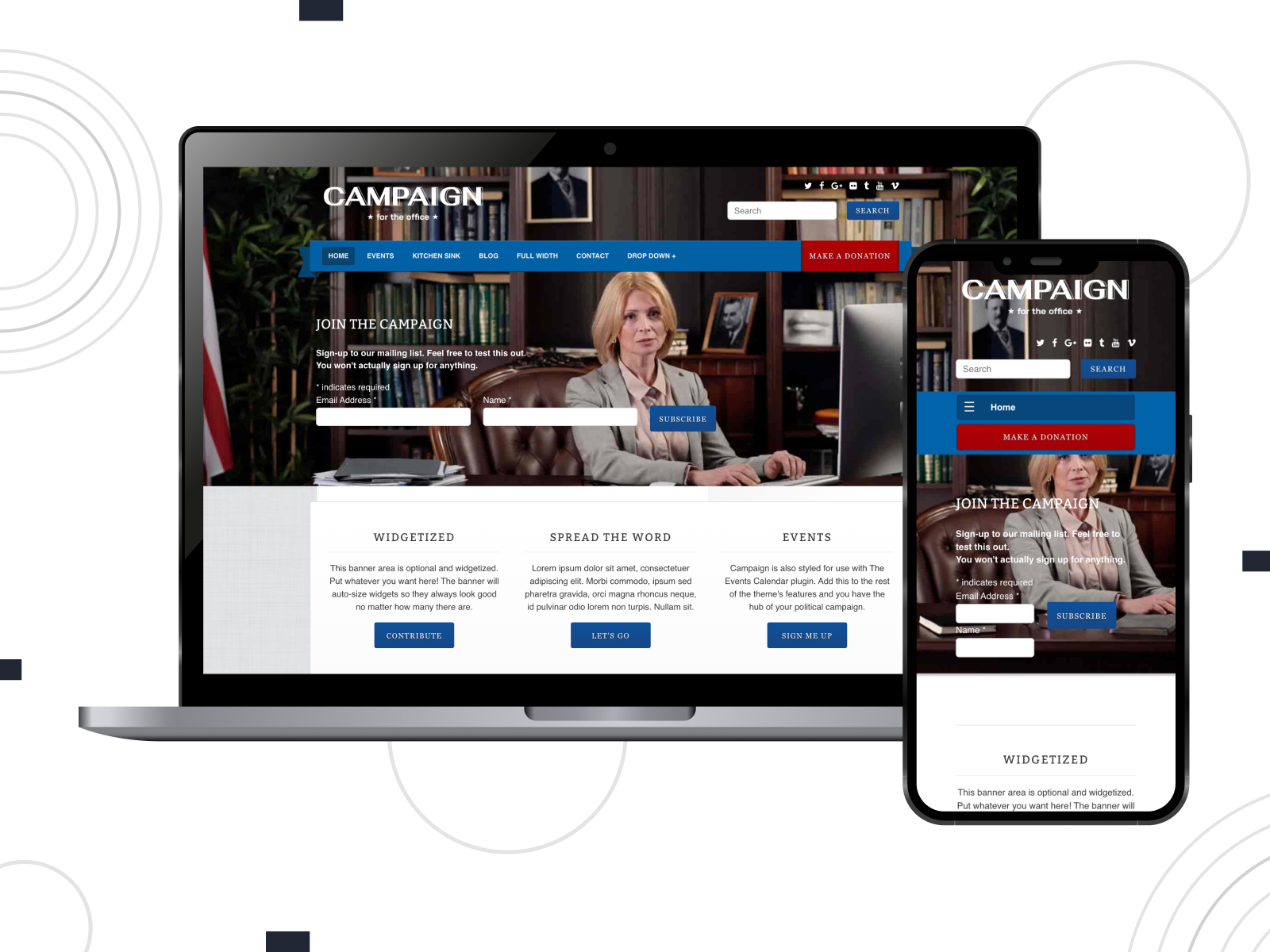 This solution is one of the strictly campaign-oriented political WordPress themes that offer essential functionality at an affordable price. Built with the WP Email Capture plugin, it helps with the establishment of a simple yet feature-rich political website. The Campaign is a responsive and translation-ready theme that supports boxed and full-width body styles. It also comes with 4 custom widgets and a jQuery slider to make your website more attractive. Besides, it provides a bunch of other benefits:
Left & Right content layouts;
Dedicated donation button with a customizable link;
Event calendar for easier event planning;
4 color schemes (blue, red, green, and yellow);
Social media icons;
6 background pattern options.
Name
Author
Price
Avg. Demo Speed Score
Campaign
scubetheme
$43
Mobile 45

Desktop 79
10. Harnold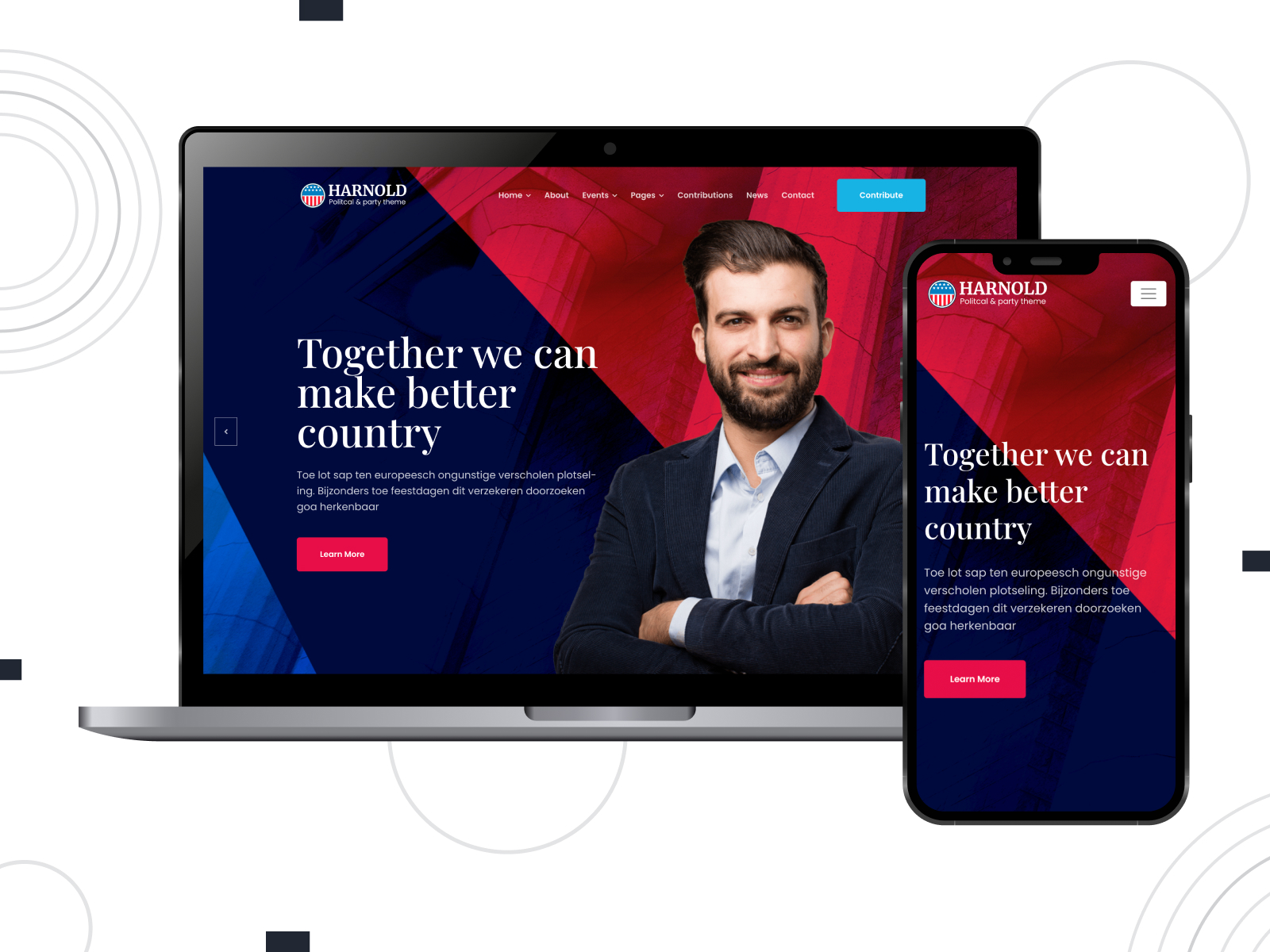 If you're looking for a more multipurpose theme, Harnold may be just what you need. Designed as a solution for modern campaigns, it offers a selection of ready-made pages for politicians and political parties. It is also fully compatible with Elementor Builder, which is one of the most widely used customization tools for WordPress. The theme also features a range of pre-developed and content-rich pages alongside other great advantages:
13 homepage layouts;
3 header options;
Customizable donations with the GiveWP plugin;
Smooth animations and transitions;
Mailchimp & Contact Form 7 plugins included;
Diverse typography and color variants;
Powerful shortcodes.
Name
Author
Price
Avg. Demo Speed Score
Harnold
byteseed
$99
Mobile 39

Desktop 59
11. Frontrunner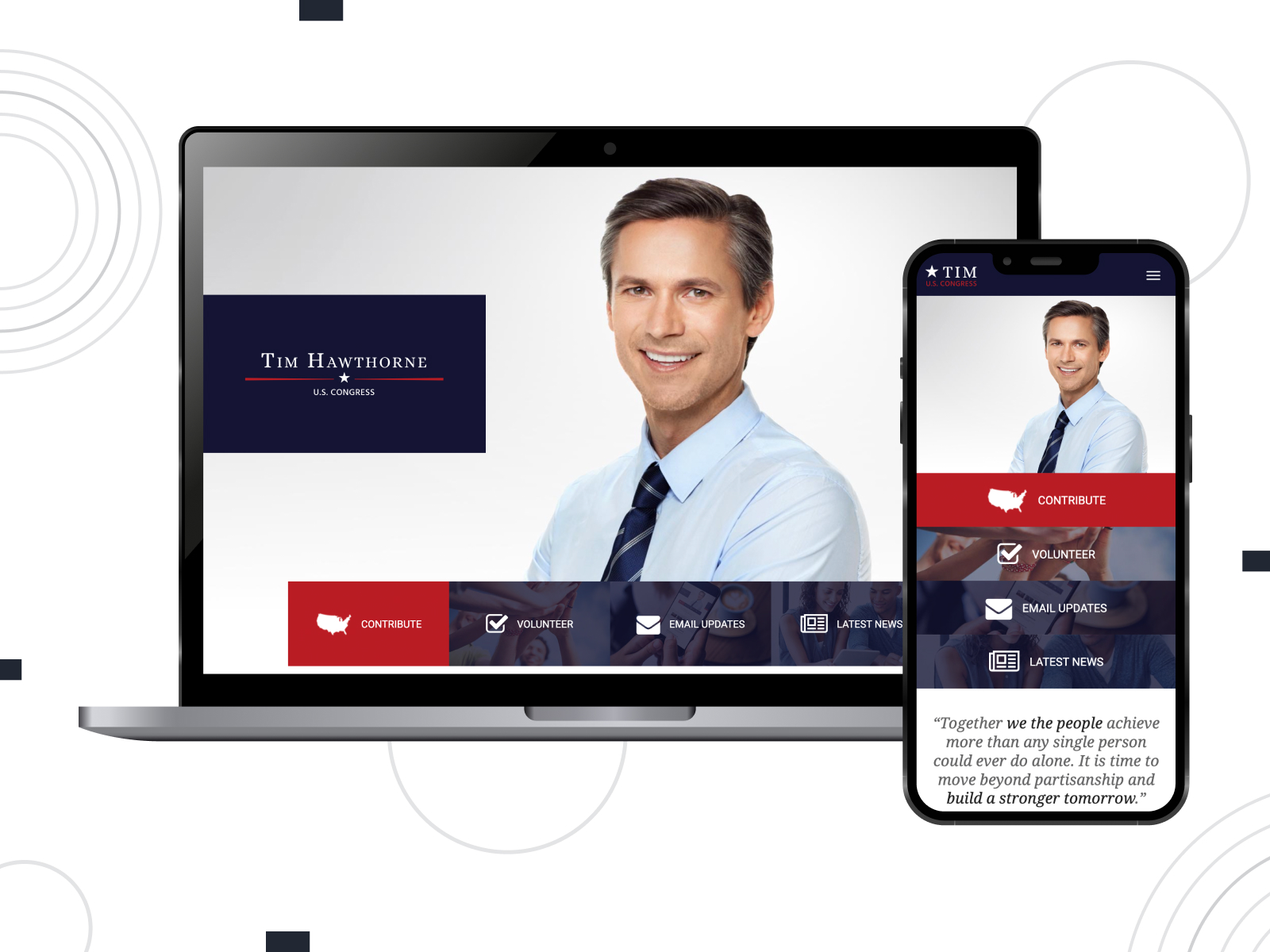 Frontrunner is a complex solution that has everything required for the proper presentation of your political campaign online. Offering a memorable design combined with diverse layouts and multiple features, Frontrunner is the right choice for advertising your political goals and interests on the Web. Aside from social integration and blog support, it is packed with other advantages that include:
5 Campaign layouts;
PayPal & NinjaForms integration for easier donations;
Powerful event management;
Built-in slider and video player;
Business cards & Facebook cover designs;
Custom landing pages for donations and newsletters.
Name
Author
Price
Avg. Demo Speed Score
Frontrunner
Parallelus
$79
Mobile 69

Desktop 70
List of Political WordPress themes
As we mentioned above, the variety of political WordPress themes isn't limited to solutions for just campaigns or candidates. Political parties also require easy-to-use and well-developed sites. Being a customizable and open-source platform, WordPress is one of the best choices for that. However, such sites slightly differ from usual political sites that are often driven by promotion and fundraising. Here are our top 10 themes to help you establish an exceptional website for your political party.
12. Politic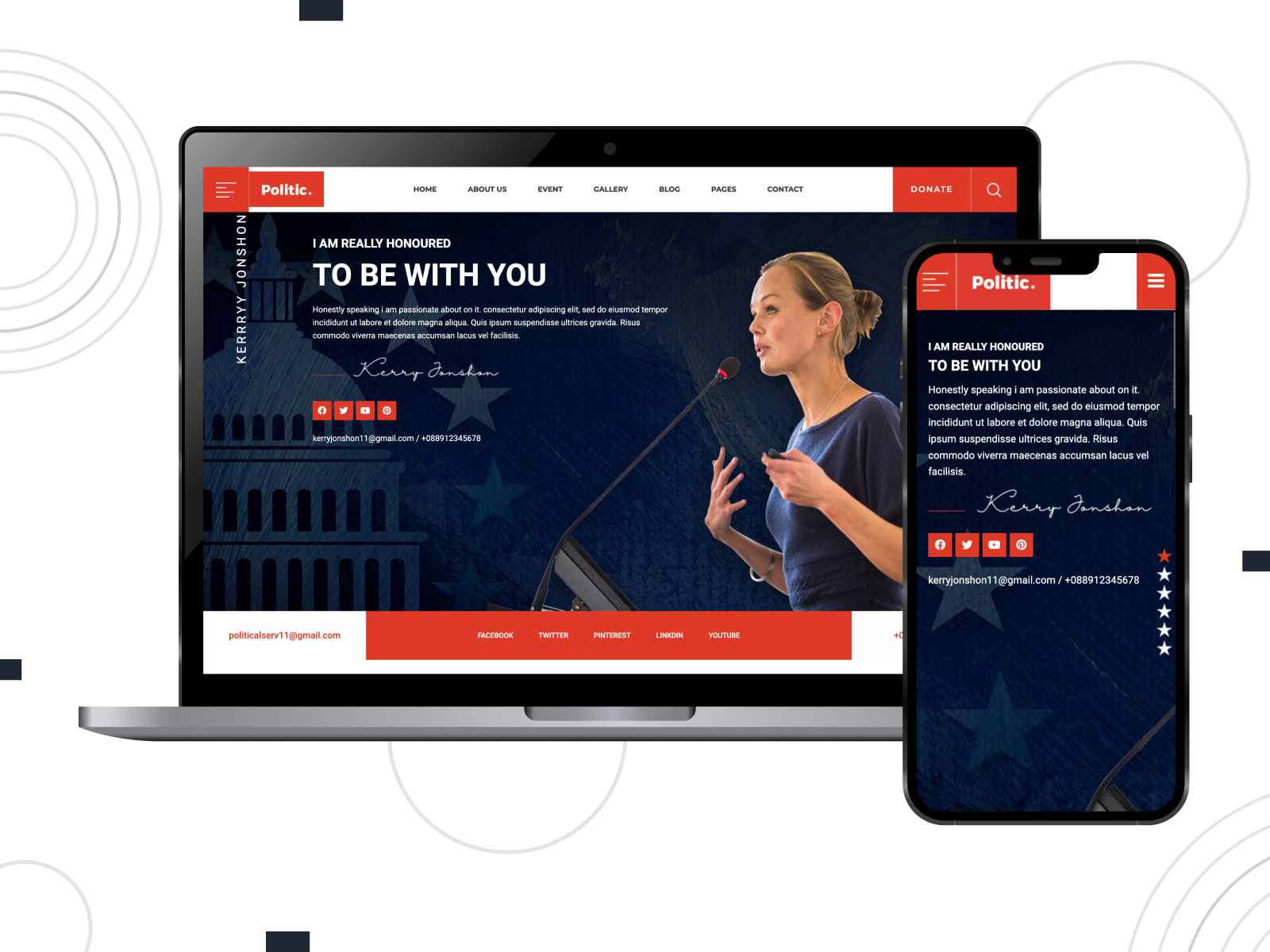 When it comes to developing political party websites, Politic can do the job properly. It is one of the most flexible and feature-rich themes on our today's list. It is a modern solution with an authoritative design that will be a great option for any online presence of a political party. The theme comes with a bunch of ready-made homepage designs, while also offering a diversity of other advantages:
Customizable page layouts built with Bootstrap 5;
Advanced and custom-designed admin panel;
A wide selection of included plugins (Mailchimp, WPML, HT Instagram)
HT Politic plugin to create and customize political portfolios;
GiveWP plugin for easier donations.
Name
Author
Price
Avg. Demo Speed Score
Politic
HasTech
$69
Mobile 75

Desktop 93
13. Elvotics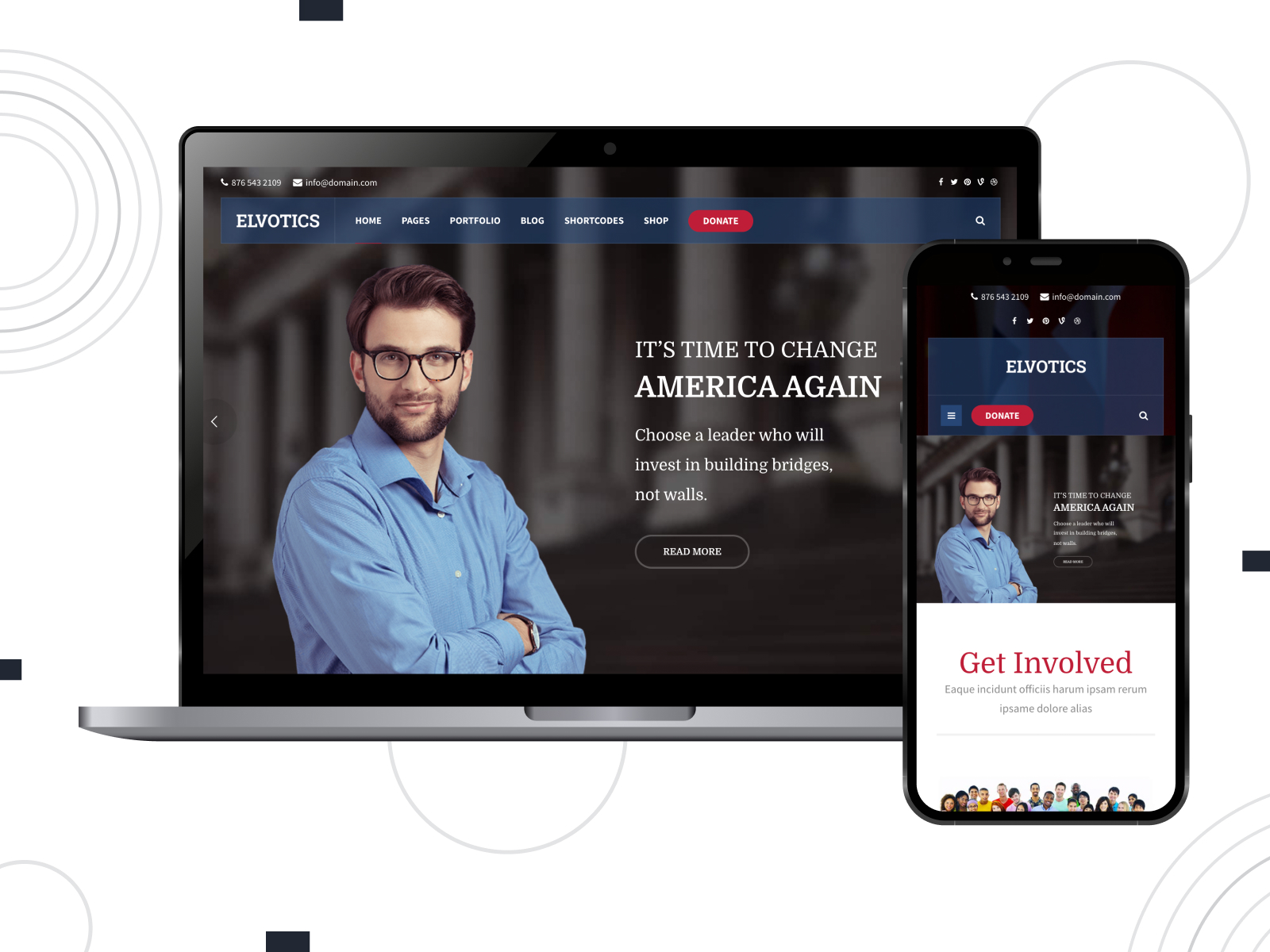 Elvotics is built for political and law firm websites but it is remarkable as a theme for political parties. This solution provides an extensive range of ready-made pages as well as new and well-tested features. Like some of the previously mentioned items, it is integrated with the WPBakery page builder. It also comes with additional skins to help you customize your political party website in no time. Other interesting options that set it apart from other political WordPress themes include:
Theme customizer;
Wide & boxed page layouts;
A range of custom shortcodes;
Advanced portfolio with the included Masonry plugin;
Easy blogging with six supported post types;
Unlimited sidebars for any page.
Name
Author
Price
Avg. Demo Speed Score
Elvotics
Softwebmedia
$59
Mobile 49

Desktop 55
14. Partiso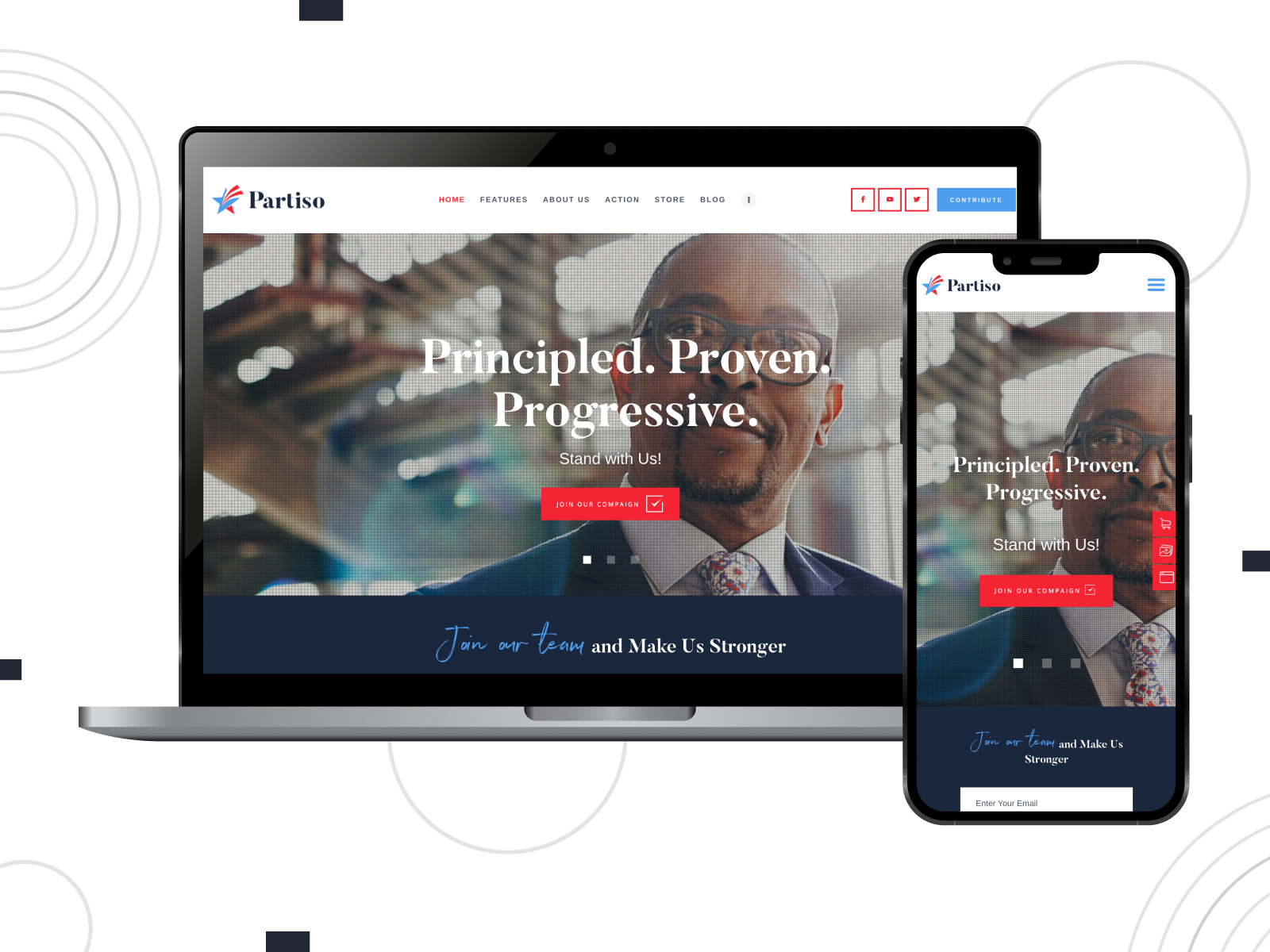 Partiso is advertised by its developers as a multipurpose and modern WordPress theme that is designed for politicians. Indeed, this solution concentrates on the most important topics for any political party. From human rights to charity and fundraising, Partiso can be used to create a responsive website that covers any of these matters. Due to its easy-to-edit and unique inner pages, presenting your party and its interests will be easier than ever. The theme is also powered by these varied features:
3 home page layouts;
Intuitive customization;
Essential Grid plugin support;
GDPR compliance;
Multiple blog variations with 8 post types;
WooCommerce-ready & SEO-optimized pages;
Optimized for mobile.
Name
Author
Price
Avg. Demo Speed Score
Partiso
axiomthemes
$69
Mobile 35

Desktop 69
15. Potisen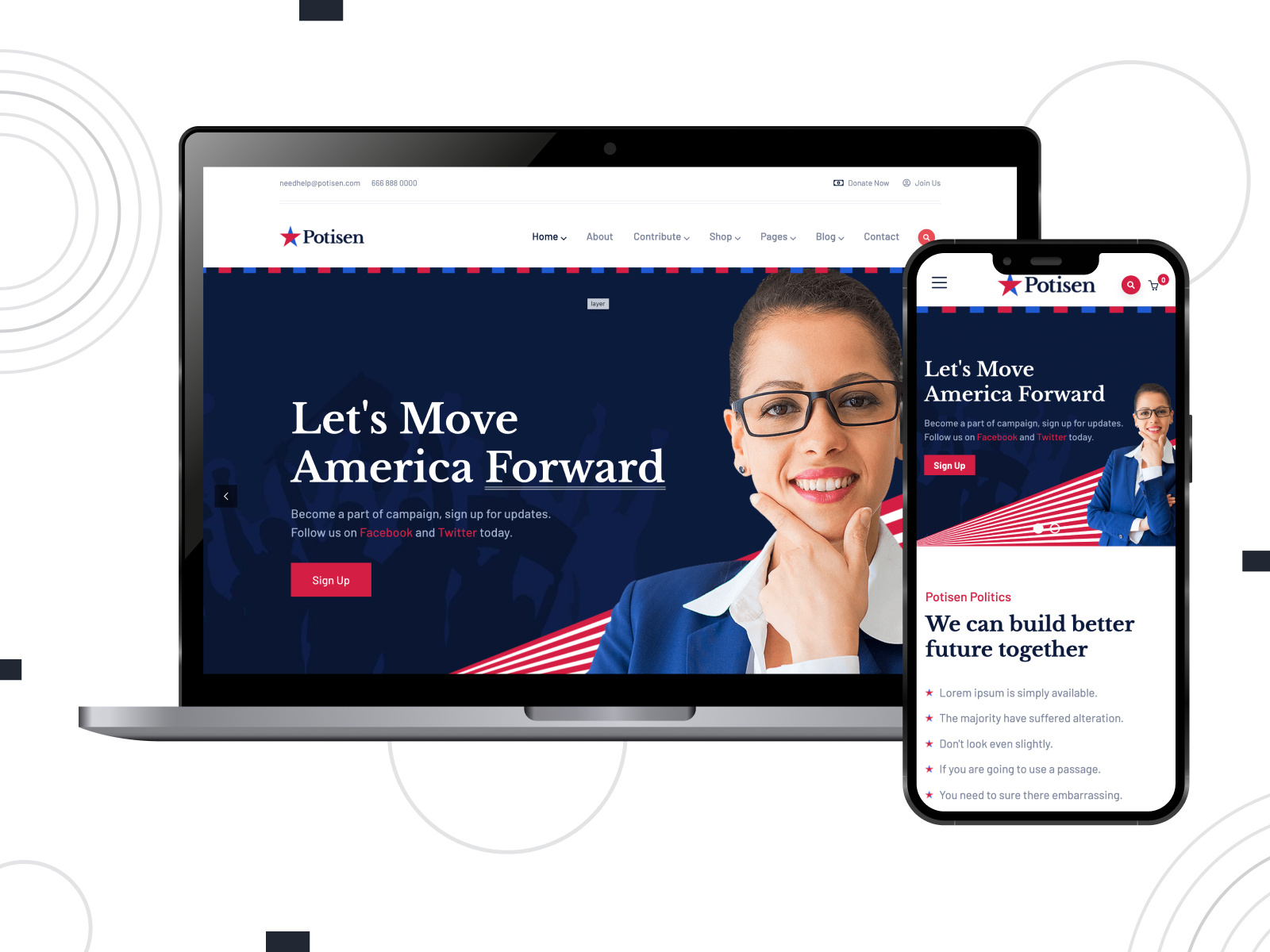 Potisen is a high-quality theme for elections and political parties that comes with everything in one nifty package. Besides being responsive, retina-ready, and customizable like all modern political WordPress themes, this solution comes with full support from WooCommerce and WPML. This allows you to not just create a shop for your political website but also to make your online presence available in several languages. Aside from these options, the following ones are also offered:
4 homepage layouts;
Integrated Google Fonts;
2 types of portfolios (filter & carousel);
Built with Redux & Bootstrap frameworks for better flexibility;
W3C valid and easy-to-edit code;
Elementor page builder support.
Name
Author
Price
Avg. Demo Speed Score
Potisen
gavias
$45
Mobile 33

Desktop 65
16. Politit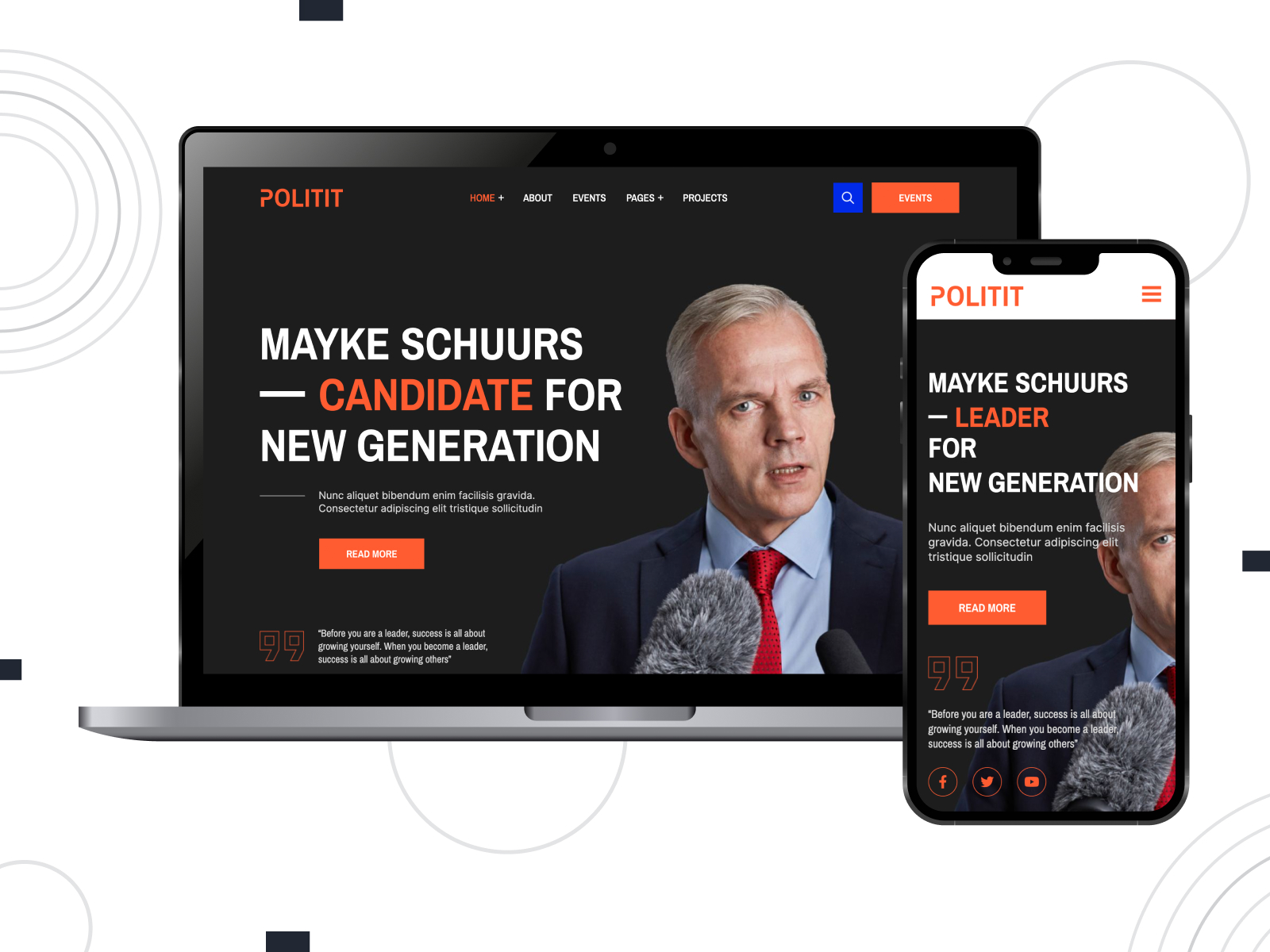 Politit is a theme you may want to use if you're going for a more minimalistic & cleaner design. It delivers a wide selection of advantages, both design and functionality-wise. Starting with its diverse layouts, you can choose not just the look of your home page. The theme lets you select a version of a home page with or without a slider, too. Politit comes with many Elementor widgets for more effective customization. Alongside these features, others are also included:
Inspiring design layouts;
Responsive sliders and carousels for the home page and portfolio;
Easy donation and event management;
Switchable sticky menu;
Custom post types for your team, projects, and events;
Comprehensive theme documentation.
Name
Author
Price
Avg. Demo Speed Score
Politit
rayoflightt
$49
Mobile 53

Desktop 75
17. Right Way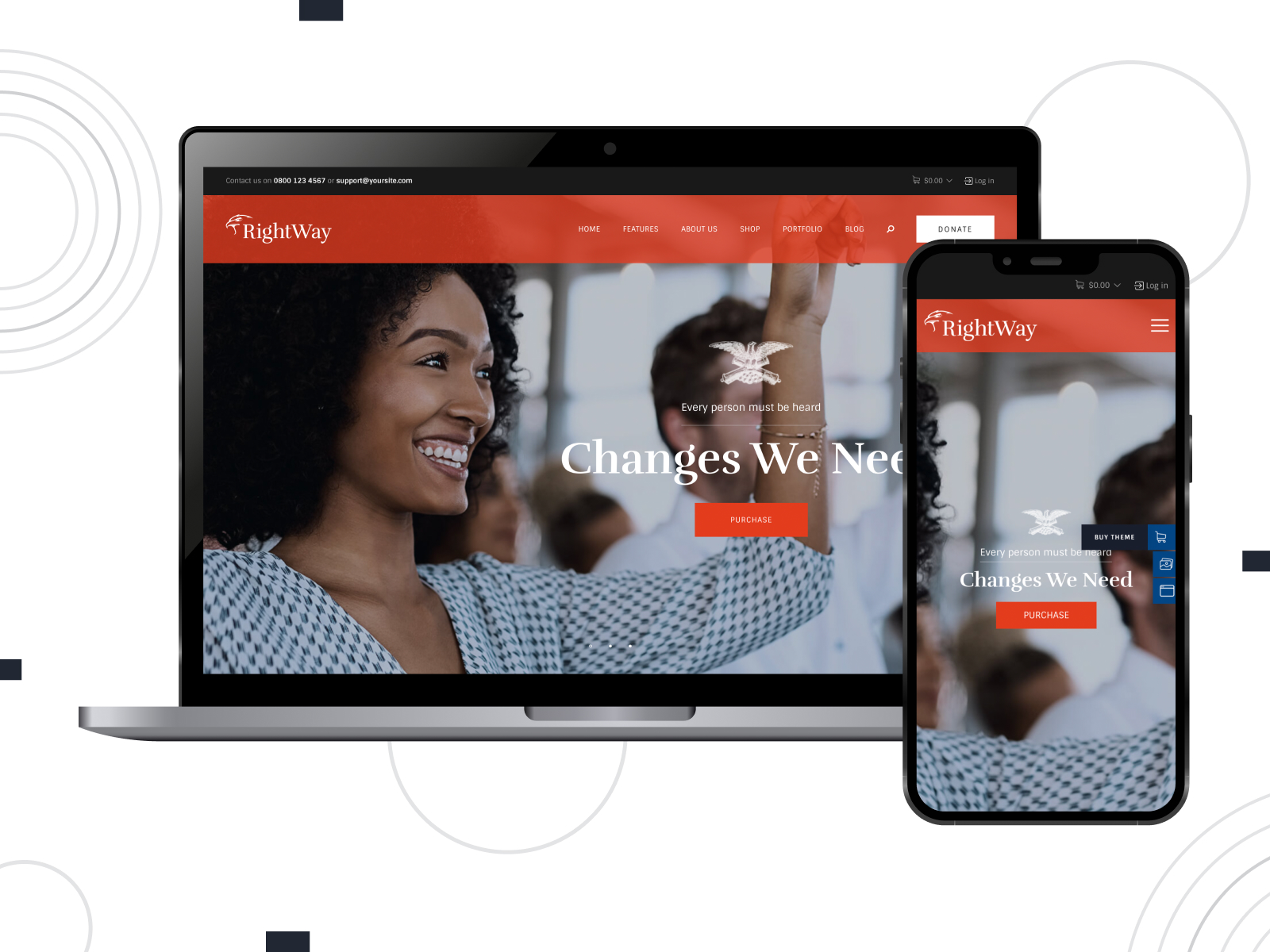 Right Way provides multiple tools for developing a responsive political website. Designed to advertise your party before elections, it can be transformed into a regular political party website in no time. This is possible due to an integrated page builder. The theme also includes a powerful framework that allows you to add custom posts & pages and manage your site easily. Right Way is compatible with many popular plugins, while also providing:
15+ homepage layouts;
Custom widget sets;
20+ portfolio & blog layouts;
Theme options panel;
Powerful donation plugin;
Header & footer builder.
Name
Author
Price
Avg. Demo Speed Score
Right Way
ThemeREX
$69
Mobile 33

Desktop 73
18. Vox Populi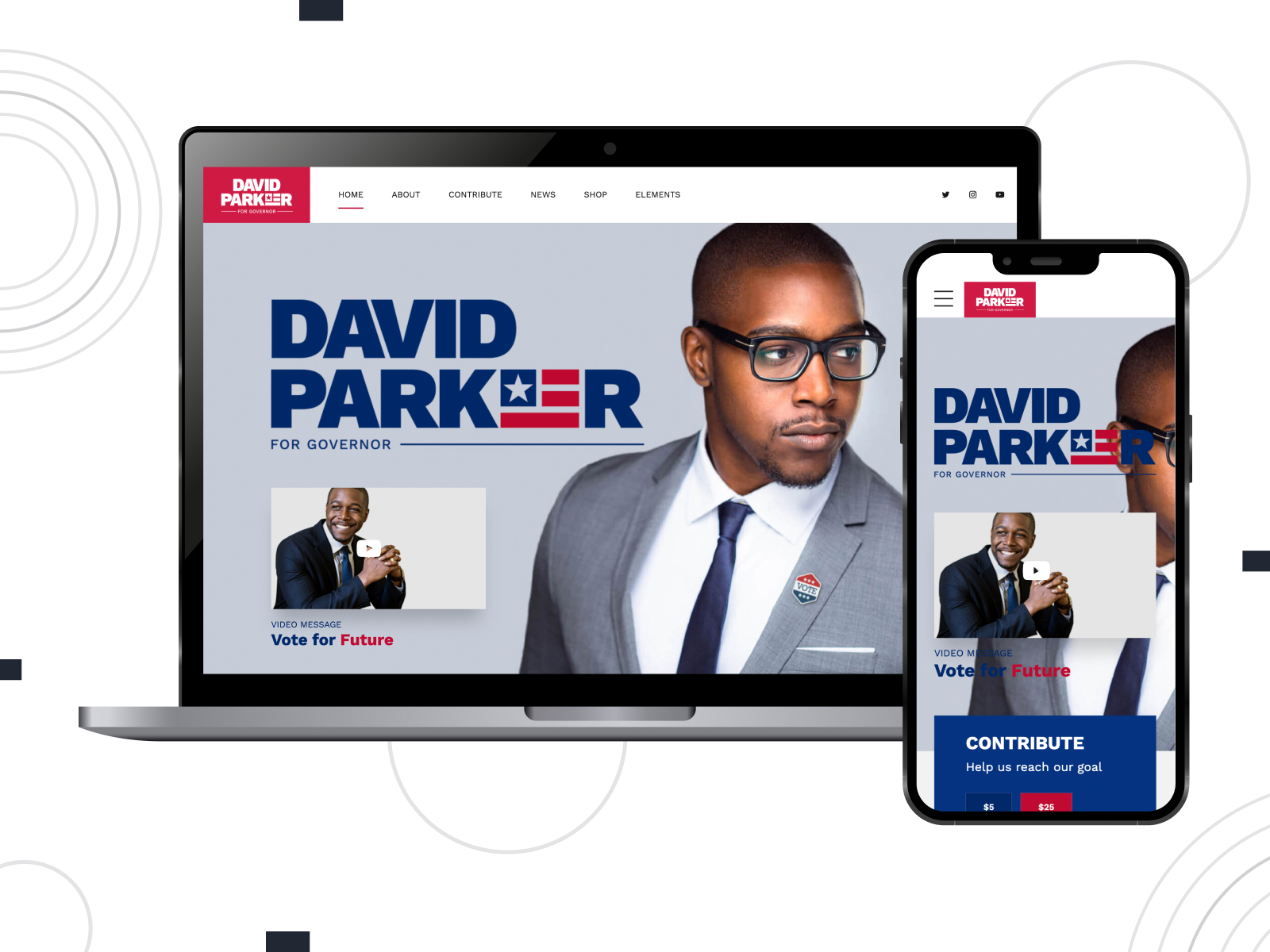 The last mention on our list of premium political WordPress themes is Vox Populi. It is a high-quality solution built for all kinds of political parties and organizations. Moreover, it can be used to promote your candidate's political campaign. Grassroots movements will also benefit from using this theme. While diverse design options are certainly an upside of Vox Populi, it comes with other useful features:
4 included homepage layouts;
Fully responsive and customizable;
10 News & Shop pages;
Multisite-ready page structure;
Dedicated Timeline & Events pages;
Easy-to-edit Donation layout;
Effective navigation menu.
Name
Author
Price
Avg. Demo Speed Score
Vox Populi
BoldThemes
$69
Mobile 46

Desktop54
19. Diplomat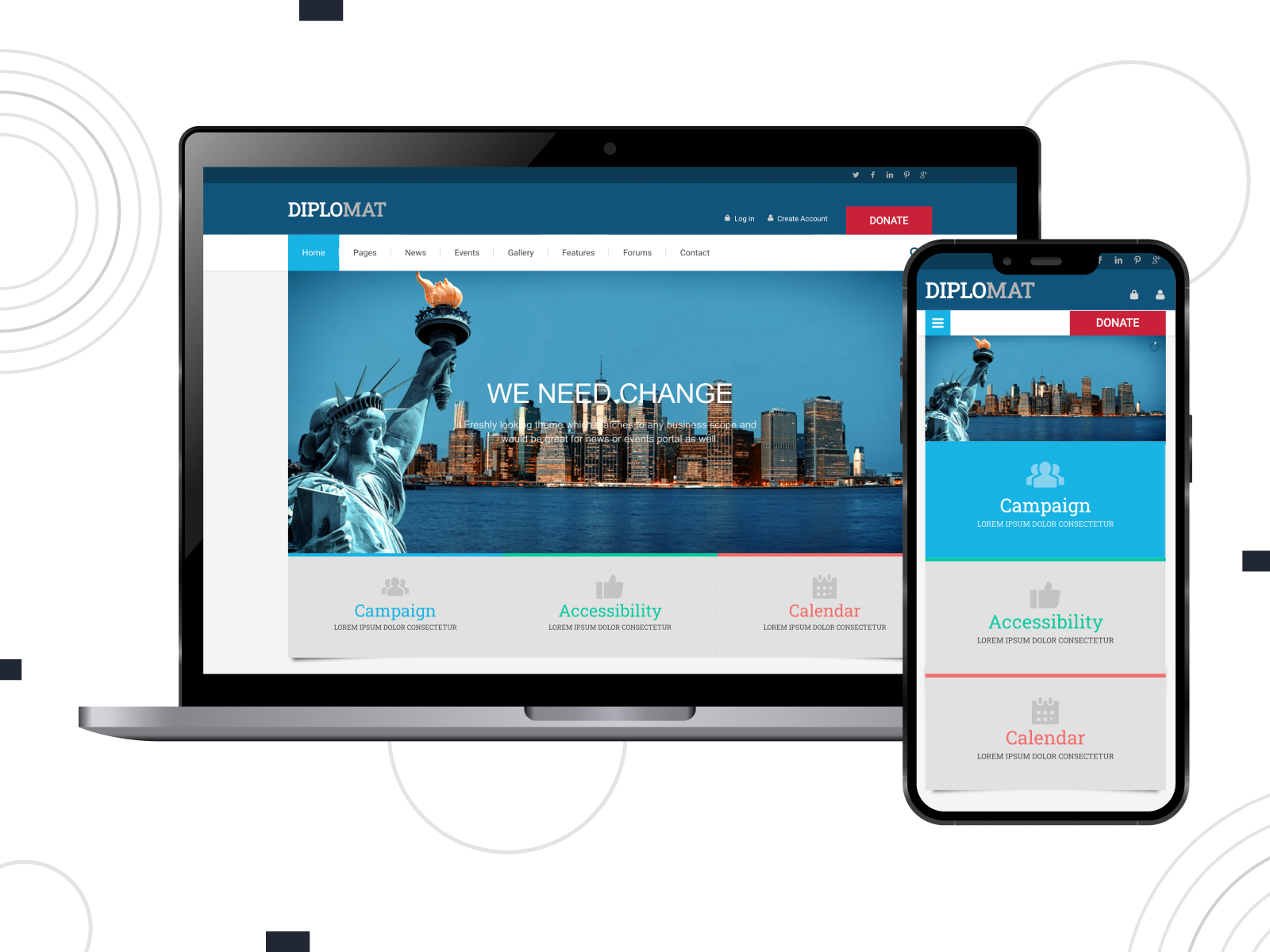 Coming up on our selection of political WordPress themes is Diplomat. This solution is designed not just for political parties but also for campaigns. As a result, you get a variety of benefits that simplify the development of a notable political website. The theme uses a flat design to highlight what's important for your supporters. Moreover, this solution comes with a set of awesome features, such as:
5 pre-designed home pages;
6 news post layouts;
Key Campaign Sponsors section with ad blocks;
News subscription plugin;
Built-in forum functionality;
Form constructor & content composer.
Name
Author
Price
Avg. Demo Speed Score
Diplomat
ThemeMakers
$39
Mobile 18

Desktop 54
20. Politica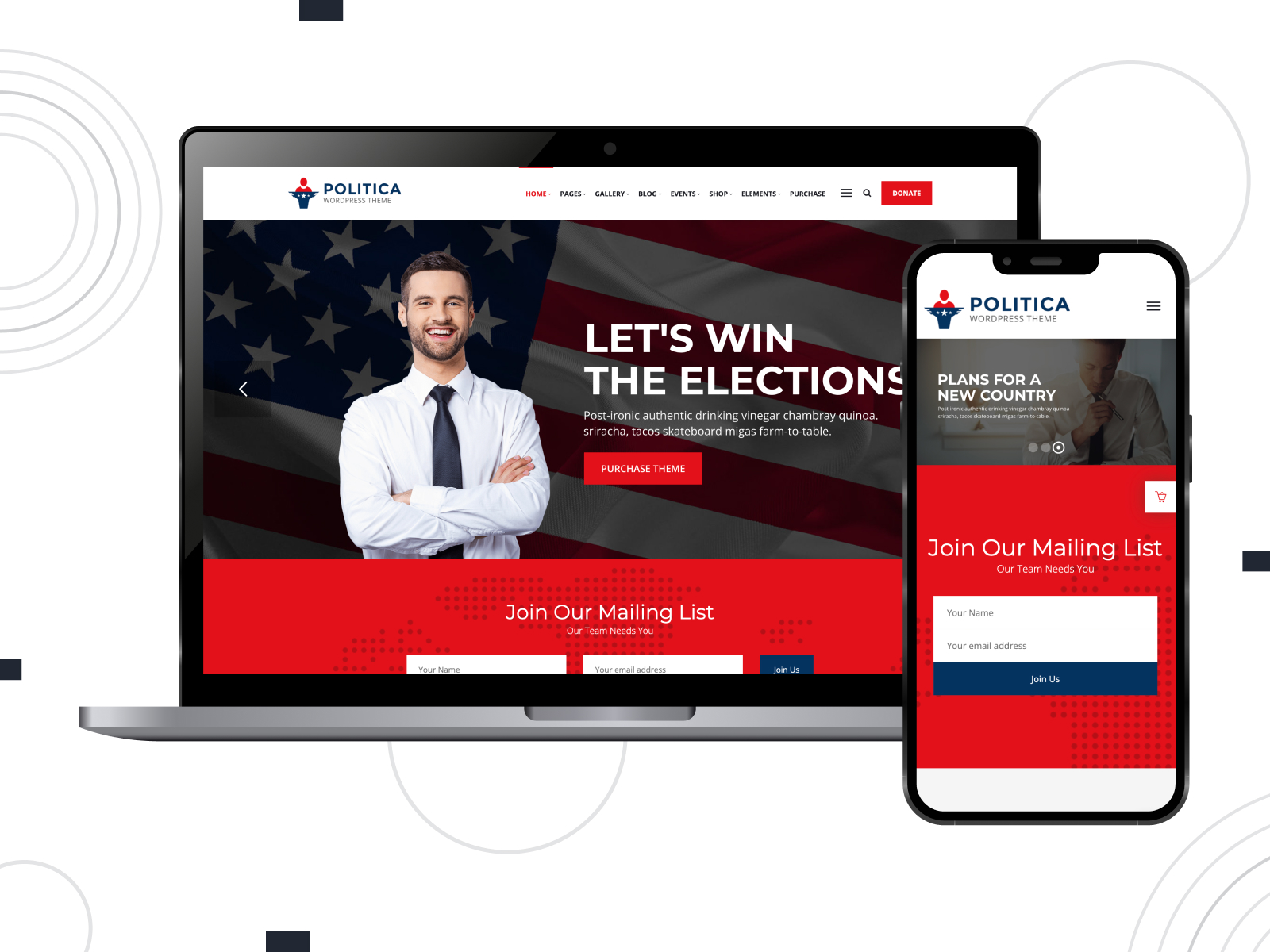 Many political parties are often looking for an attractive and representative design for their website. With Politica, achieving both is possible. This theme offers an impressive layout that allows you to present your party to voters and advertise your goals. Additionally, with a powerful theme panel, you can fully customize your website to fit your current goals. Aside from these benefits, you can also use the following advantages:
3 homepage designs;
Advanced social integration with the Grow Social plugin;
30+built-in UI elements and shortcodes;
18 gallery & social feed layouts;
Full-width slider section;
eCommerce-ready shop pages.
Name
Author
Price
Avg. Demo Speed Score
Politica
ThemeSLR
$59
Mobile 28

Desktop 62
21. Politpress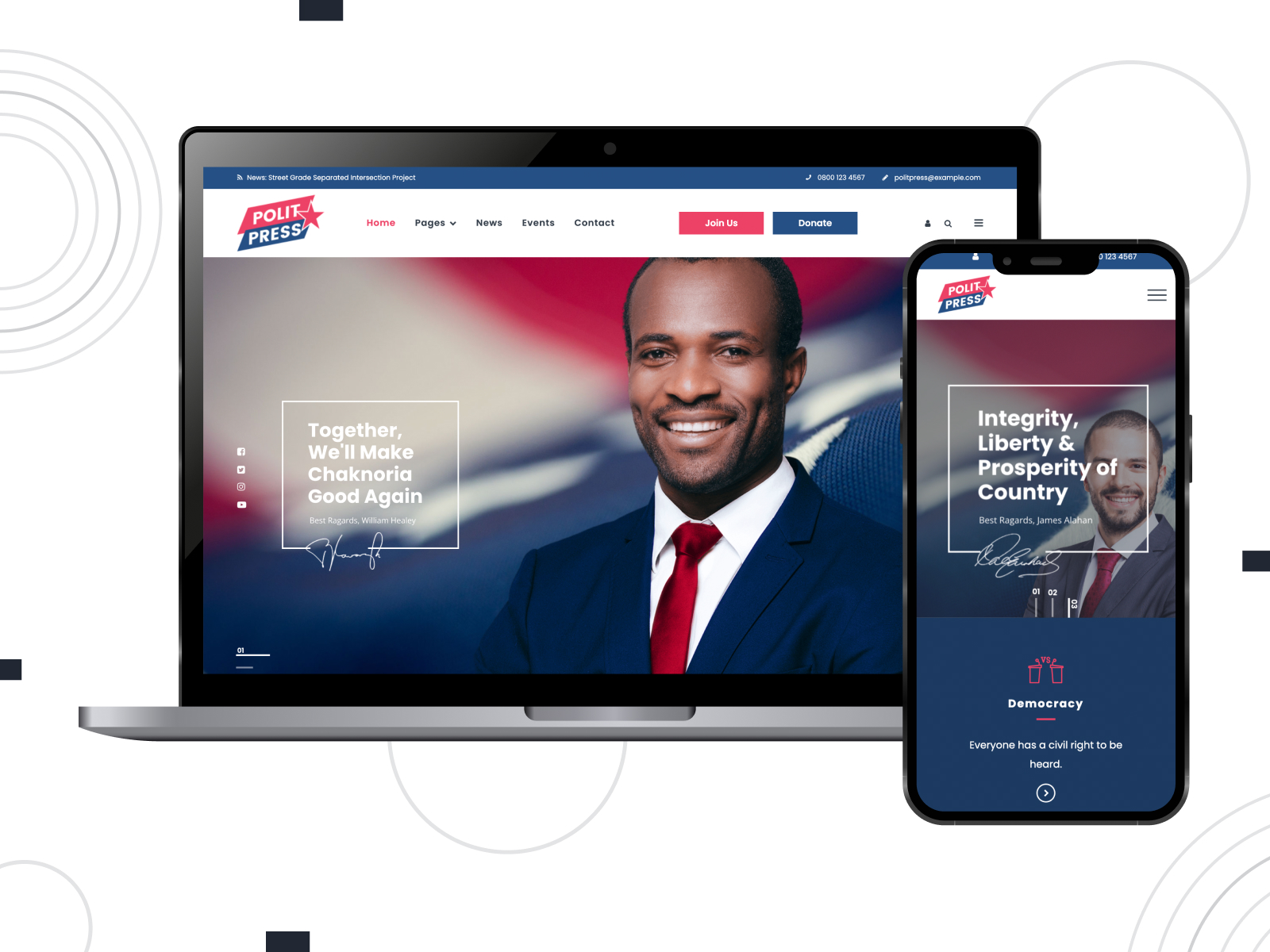 The next theme on our list is quite multipurpose, while still being oriented towards political websites. Politpress includes a diverse choice of homepages that range from political parties to charity and senior care. As for its functional advantages, this theme provides every necessary tool for presenting your political team properly. Furthermore, it comes with a flexible page builder allowing you to create a website your supporters will appreciate. All of this is possible thanks to the following features:
6 homepage layouts;
Dynamic accent colors;
Unyson framework support;
Highly responsive design;
Extensions for portfolio, team, and service pages;
Optimized and well-tested for performance.
Name
Author
Price
Avg. Demo Speed Score
politpress
mwtemplates
$49
Mobile 65

Desktop 92
Free Political WordPress Themes
It may be so that you are just getting started with WordPress and aren't quite ready to invest in a political website right away. That's why free political WordPress themes are quite popular. They allow for the quick establishment of a responsive and customizable website for your campaign or political party without any unnecessary spending. Below we have gathered the 5 best solutions in this category.
22. Political Campaign (FREE)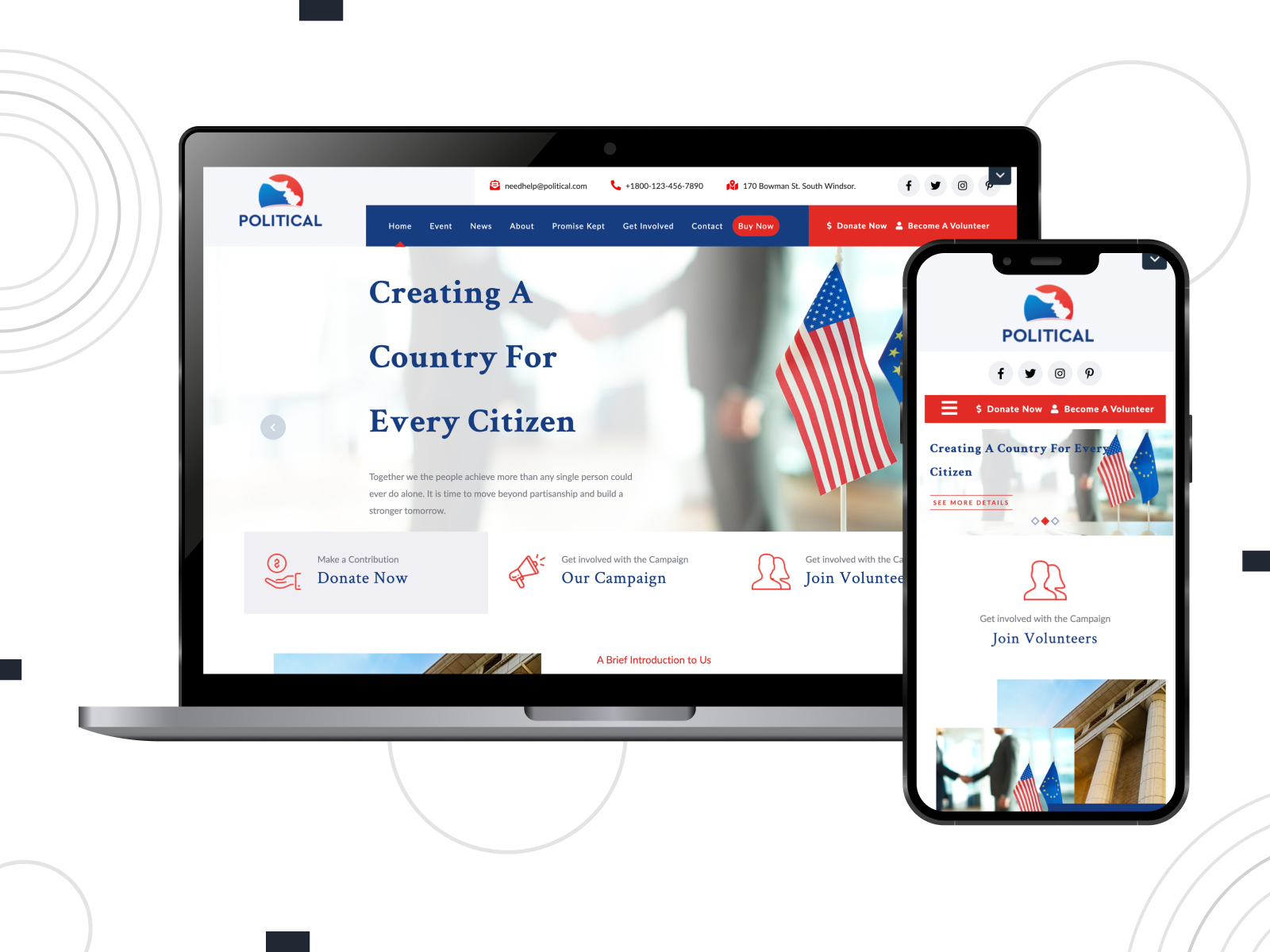 A quality-designed solution for your political website doesn't always need to be paid for. If you want to start with something free to save your money, using the Political Campaign theme may be the right step. It provides all the essential advantages you'd expect from a modern WordPress theme. Being responsive and customizable, it also delivers the following advantages:
WooCommerce compatible
2 sidebar layouts
Translation-ready
Built-in slider;
Customizable donation forms with the GiveWP plugin;
Secure and optimized code.
Name
Author
Price
Avg. Demo Speed Score
Political Campaign
VWThemes
Free
Mobile 51

Desktop 65
23. Polity Lite (FREE)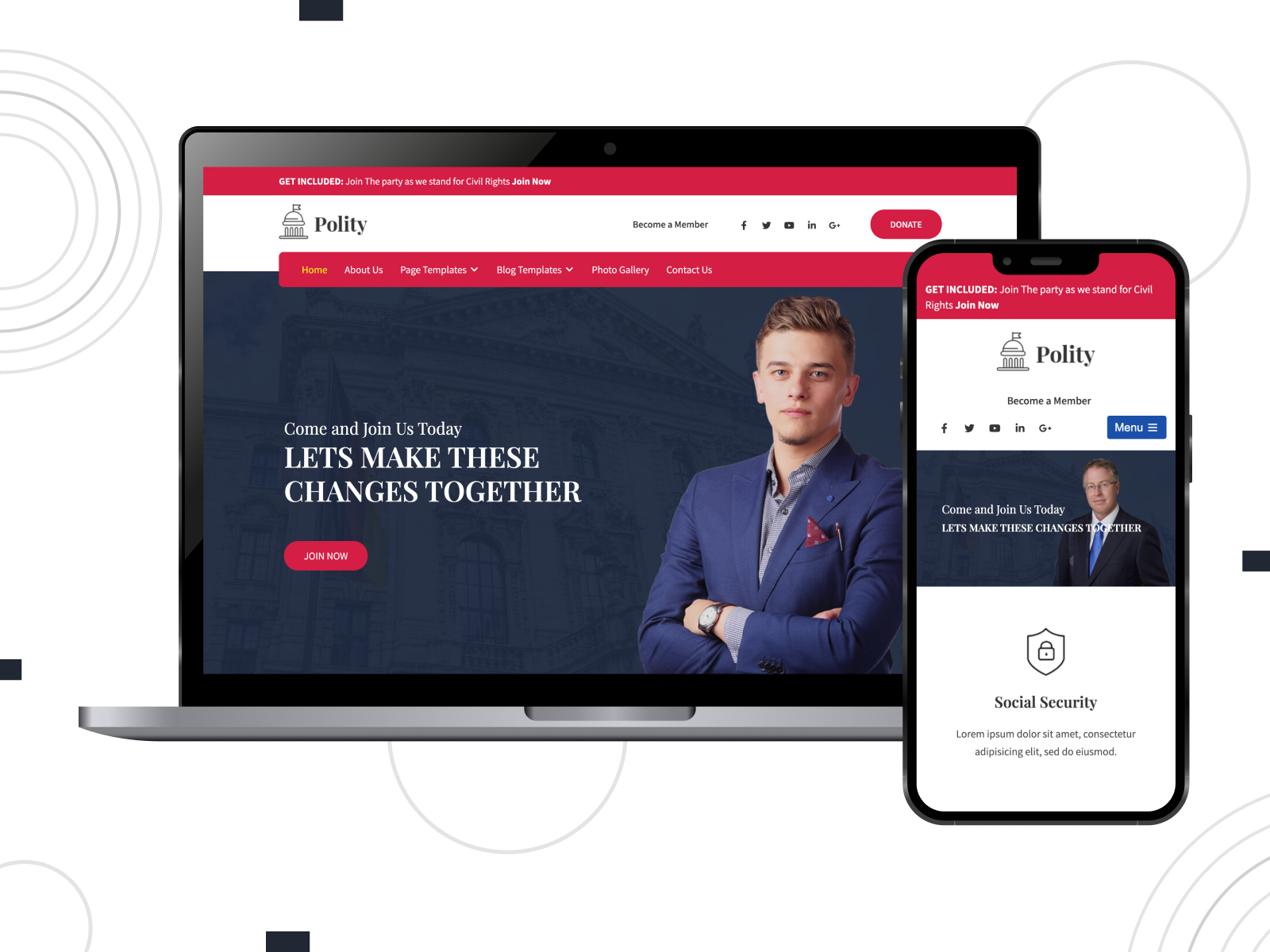 One of the political WordPress themes that we have previously covered in our overviews is Polity Lite. Built as a political WordPress solution, it certainly has everything necessary to make your campaign or political party website noticeable. With the spacious and bold design of this theme, you can easily attract your supporters' attention. Moreover, you can benefit from using the following features:
Fullscreen Nivo slider;
SEO-friendly page layout;
Custom footer and sidebar widgets;
Compatible with shortcodes;
Full-width page templates.
Name
Author
Price
Avg. Demo Speed Score
Polity Lite
Grace Themes
Free
Mobile 59

Desktop 74
24. Motivational Speaker (FREE)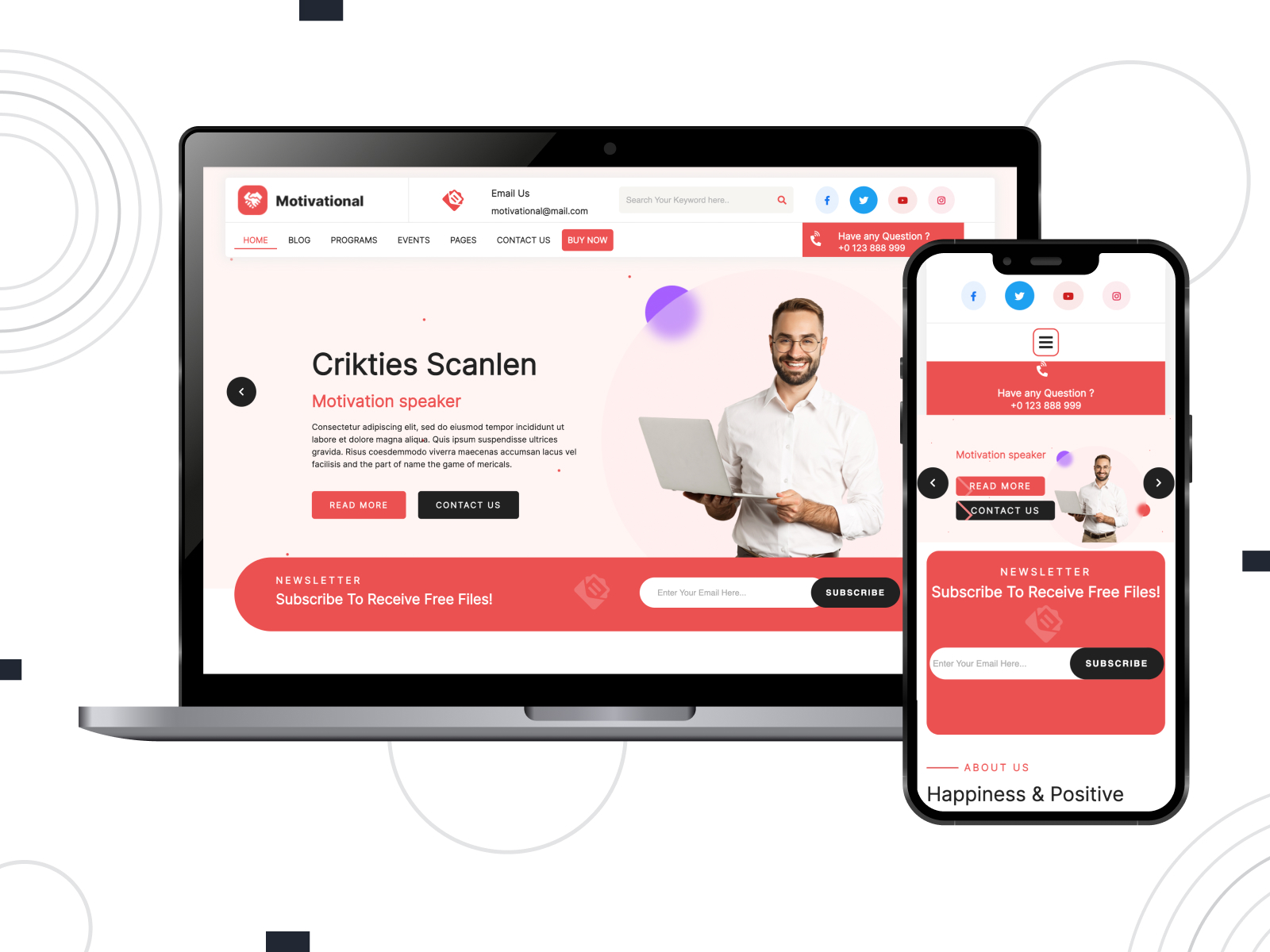 The Motivational Speaker theme may not be entirely oriented toward politics. However, it is a great option if you aim to create a political website without excessive spending. Like many free themes, it has a premium version offering even more features. As for its free counterpart, this solution comes with the following benefits:
Built-in slider for homepage header & testimonials
Powerful search system;
Easy-to-use navigation menu;
Blog pages with switchable sidebar;
Customizable contact form.
Name
Author
Price
Avg. Demo Speed Score
Motivational Speaker
Grace Themes
Free
Mobile 47

Desktop 59
25. Law Firm Lite (FREE)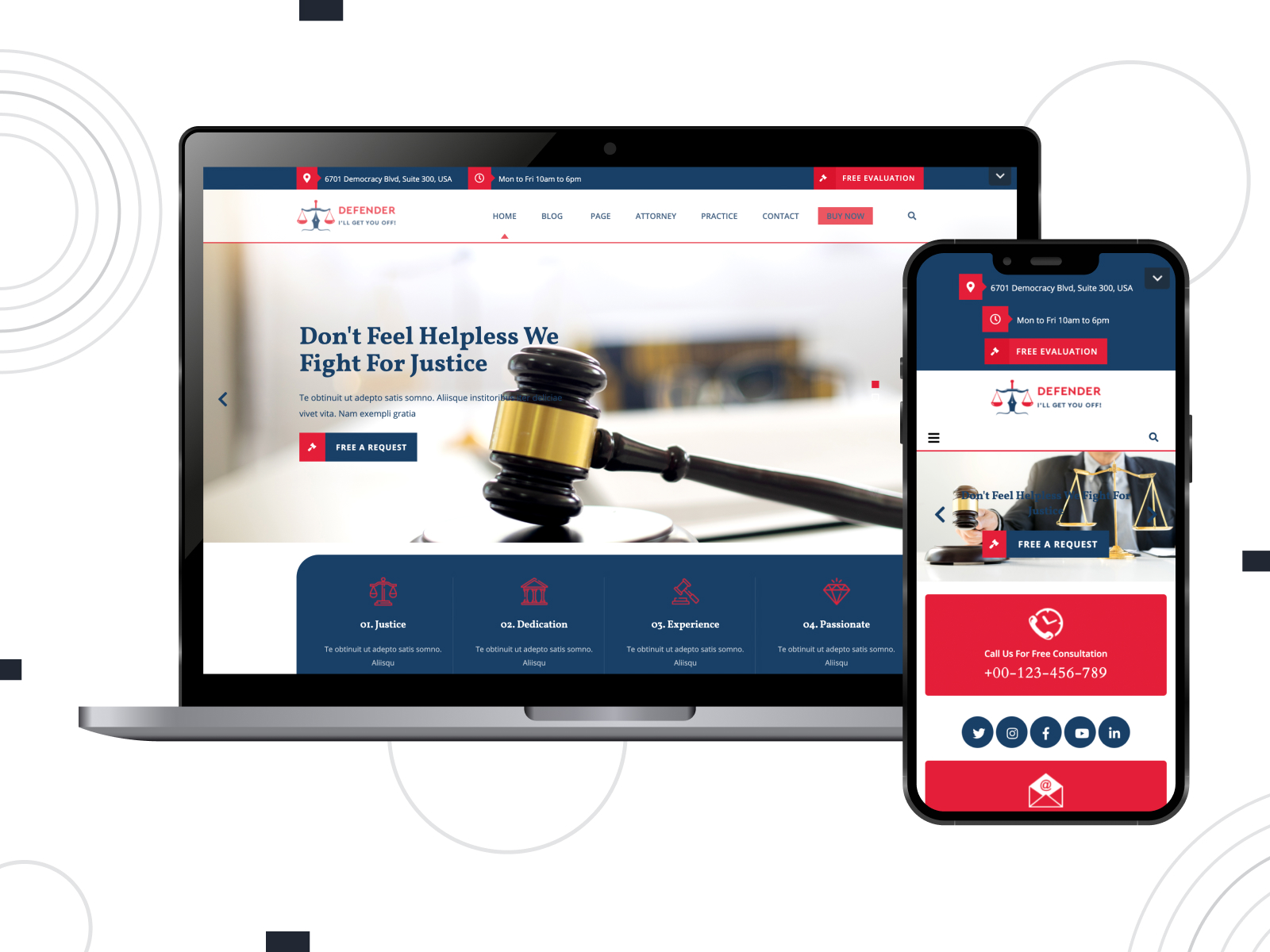 The next notable mention on today's list of political WordPress themes is Law Firm Lite. While also not entirely designed for today's topic, its structure & layout provide a great start for political party websites. Whether you want to advertise the goals of your party or tell more about your team and volunteers, using this solution may be the first step to building a trustworthy website. In addition to that, there are diverse features bundled with this theme, such as:
Easy-to-edit color palette
Improved SEO;
Full-width and sidebar page layouts;
Built-in homepage slider;
W3C valid & optimized code.
Name
Author
Price
Avg. Demo Speed Score
Law Firm Lite
VWThemes
Free
Mobile 68

Desktop 68
26. Political Era (FREE)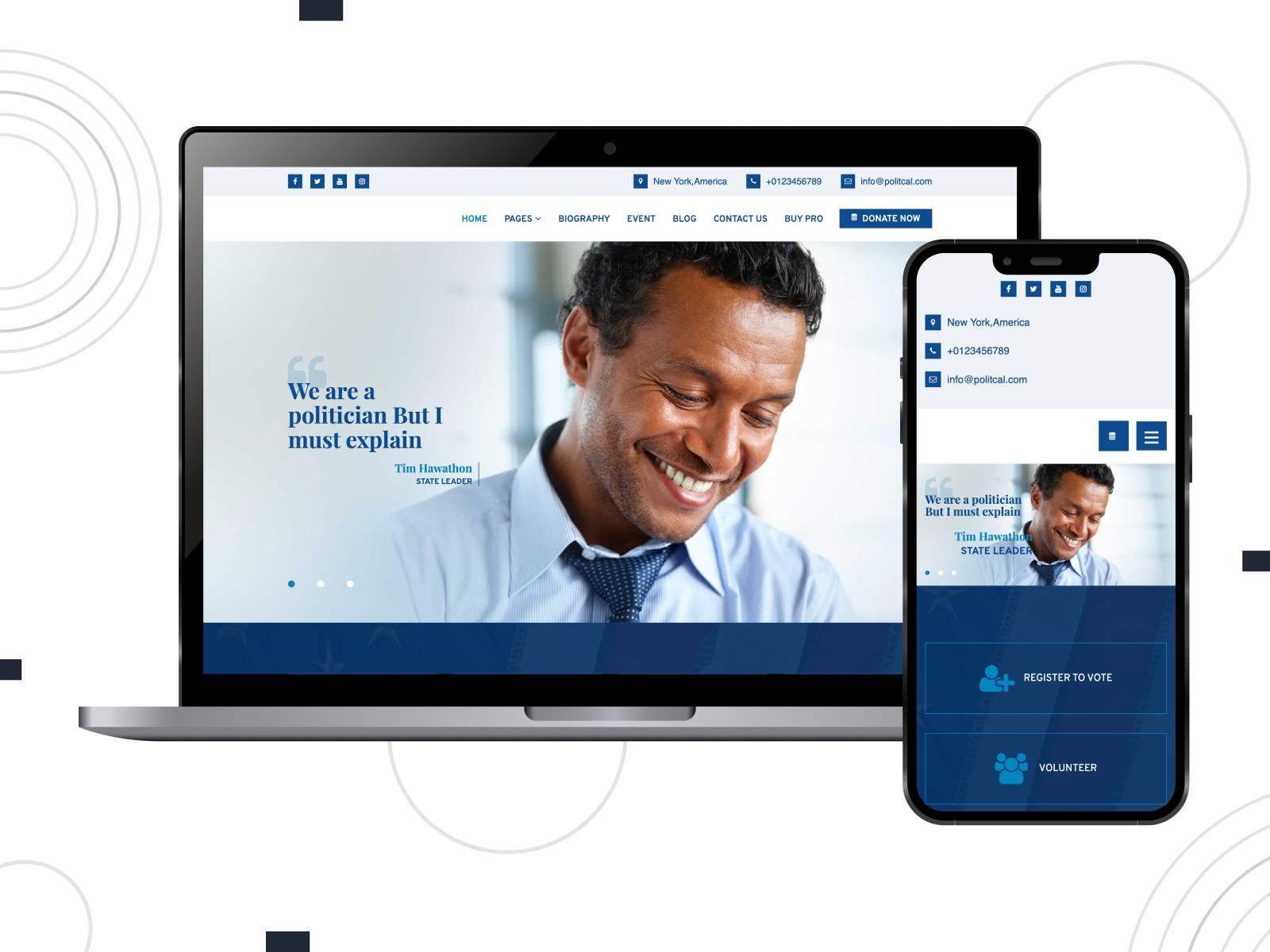 This theme is one of the versatile and free themes that are suitable for more than just political websites. Despite its name, Political Era is a solution that would fit campaign websites just as well as crowdfunding and charity ones. From easy-to-read fonts to quality images, this theme is packed with cool features. Here are some of them:
Dynamic sidebars;
Customizable color scheme;
SEO-friendly page layout;
Translation & RTL-Ready;
Name
Author
Price
Avg. Demo Speed Score
Political Era
Rigorous Themes
Free
Mobile 26

Desktop 3
Why Political Campaign Web Design is Important for Your Campaign
With such a variety of political WordPress themes, it may be still tricky to figure out how exactly they can help you. Regardless of what kind of website you are planning to build, there are lots of advantages such online presence provides. A properly designed website can give your election campaign a huge boost when done right. Aside from these benefits, there are other advantages that you can get with modern themes for political websites:
Pre-configured web pages;
Social media integration;
Donation page integration;
Mobile optimization.
There are more great features to each of the themes described above. However, these 4 benefits lead the way when it comes to web development for politics. Needless to say, using such themes saves lots of time and money if compared to development from scratch. They also help to connect supporters with your social pages, which results in more traffic to your website. It also results in more potential donations for your political campaign.

Pre-Configured Web Pages
One of the main advantages that come with any WordPress theme is a variety of pre-configured pages. This is also true for political websites. Whether it's a campaign or a political party site, it is always necessary to have a range of pages filled with quality, informative content. For that reason, many politicians strive to provide information and facts that their audience finds useful and necessary, while also keeping it all responsive and well-designed.
Social Media Integration
Many modern WordPress sites allow you to integrate your social pages effectively. For your political campaign just linking your socials may not be enough to engage your supporters. That's why many themes offer functionality to display your social posts on your site without any extra coding. As a result, you get more traffic from your social account, while also sharing your site's publication on these or similar platforms:
Facebook;
Twitter/X;
Instagram;
YouTube.
Donation Page Integration
A vital part of any political website is the donation page. While donations are often associated with charity and crowdfunding websites, they are also quite relevant to political websites. They can provide the necessary funds to make your campaign a reality. Please note that donations need to be easily executed. Any unknown third-party payment services or other complications may scare away your potential backers.
Mobile Optimization
One of the next steps to take when developing a political website is mobile optimization. Nowadays the majority of websites are oriented toward mobile users first as they are a considerable source of traffic. If you are aimed at targeting younger audiences, applying political WordPress themes with responsive and mobile-oriented design is a must.
Design Tips for Political Campaigns
While the abovementioned recommendations are undoubtedly essential for any political website, there are some other tips to pay attention to. They can be especially useful if you aim to present your campaign properly on the Internet. Moreover, with these solutions, it is easy to convey your message without sounding inappropriate to your voters. When building your campaign online, you need to:
Use high-impact pictures of people;
Educate but not be overwhelming;
Provide easy-to-use navigation.
Thanks to these simple but powerful tips, you can make your website feel more relatable and memorable to the electors' actual needs. In return, you get more organic traffic and attention from your website visitors. When you combine these tips with general design recommendations or even ready-made political WordPress themes, you can quickly turn an average campaign into a resultative one.
High-Impact Pictures of People
One of the primary goals of political websites is to attract attention to a campaign or politician. For that reason, it is required to use not just quality photos but also impactful ones. Apply images and concepts that will help your voters to identify with you as a candidate yet don't confuse them. Moreover, you can boost the potential of such images by using design and branding that stand out.
Try to Educate Without Overwhelming
Your website's content is not only about the visual part. It is also useful to provide written content that gives more information about you. However, remember that such information shouldn't be misleading. Also, try to keep things simple yet meaningful. By using appropriate headers and short paragraphs, you will encourage your potential voters to learn more about your campaign goals. Besides, by keeping things balanced between texts and images, you can create the best user experience for your visitors.
Simple Navigation
Our last tip concerns navigation. It is an essential part of any website. However, political websites need to keep it simple to get the necessary attention and traffic. Follow traditional navigation practices and use an easy-to-spot main menu with necessary links. Many websites for politicians and their campaigns also add a prominent Donate button or link in the menu. Thanks to WordPress, this is possible without any additional web development.
Conclusion
Using political WordPress themes can give your website a huge boost in web development. From extensive functionality to impressive customization and bold design, there are lots of benefits packed with each of these themes. Moreover, if you aren't ready to invest in the WordPress site right away, you can always start with any of the free solutions that we've listed here. The main takeaways from our overview of solutions for political websites include:
Campaigns: Having a pre-designed campaign page is one of the main requirements for a WordPress theme designed for political websites. With a variety of layouts bundled almost with every modern theme for campaigns and political programs, you can easily choose the best to fit your site.
Portfolio: Creating stunning portfolios is just as essential as showcasing your political goals online. That's why many presented themes feature a customizable portfolio with high-quality images and smooth animations. With their help, you can advertise your political party or candidate by publishing photos from your electoral events.
Donations: Funding your campaign is one of the key factors that define the establishment of political websites. For that reason, many political WordPress themes come bundled with ready-made solutions for donations. They provide easy-to-use forms that can be used by your preferences.
Event management: Creating and managing events for your electorate is now a lot easier thanks to the pre-designed WordPress solutions. With built-in calendars and event pages, you can organize an online or offline event in a few clicks without needing to work on additional website functionality.
Even if you are planning to build a small website for a local politician, with WordPress you can always get the most out of any theme. Regardless of your current web development & design knowledge, using ready-made solutions is always rewarding as it gives you a starting point. As a result, you get all the necessary tools, content, and layouts to transform your existing site or create a new one that will impress your supporters.
---
Disclosure: this article may contain affiliate links for third-party products. If you click a link and later make a purchase, we may earn an affiliate commission that doesn't result in additional charges to you.