20 Best Elementor Blog Templates
Elementor is the bee's knees of plugins for WordPress, allowing you to tailor web pages to your liking without having to write a single line of code. It's as easy as pie —  just drag-and-drop pre-made templates, widgets, and other design elements onto your page. The tool also has some top-notch features, like customizable CSS and responsive design, ensuring your site looks fantastic, no matter what device it's viewed on.

If you're on the hunt for the best Elementor blog templates that function smoothly, then you've hit the jackpot! We've already explored this wonderful plugin in our previous posts. Today, we're going to dive into some of the best templates made specifically for Elementor.

After checking out their designs, prices, and the speed of their demo pages (using PageSpeed Insights), we can say that we've done our homework. But wait, there's a catch: we based most of our findings on the demo pages provided by the marketplace. If you use these themes on your hosting account, the performance might actually be better. Now, without further ado, let's dive into the list.
By the way, we have also recorded a video for you on Elementor AI to help you better work on your blog:
Here are the top 5 templates you don't want to miss, neatly laid out in a user-friendly table:
| Name | Installations | Rating | Link |
| --- | --- | --- | --- |
| Albatross | 17,051 | 5,0 | More Details |
| Kicker | 2,200 | 4,76 | More Details |
| Anymag | 1,398 | 4,77 | More Details |
| TinySalt | 2,023 | 4,89 | More Details |
| Blogar | 1,018 | 4,72 | More Details |
5 Best Free Elementor Blog Templates
In this section, you will learn about several options from our list of the best Elementor blog templates that won't cost you a penny. Some of them surpass paid alternatives in terms of the number of useful functionalities, proving that free does not always mean lower quality. Special attention should be paid to the first example, namely Albatross.
1. Albatross — Free Hotel Blog Elementor Theme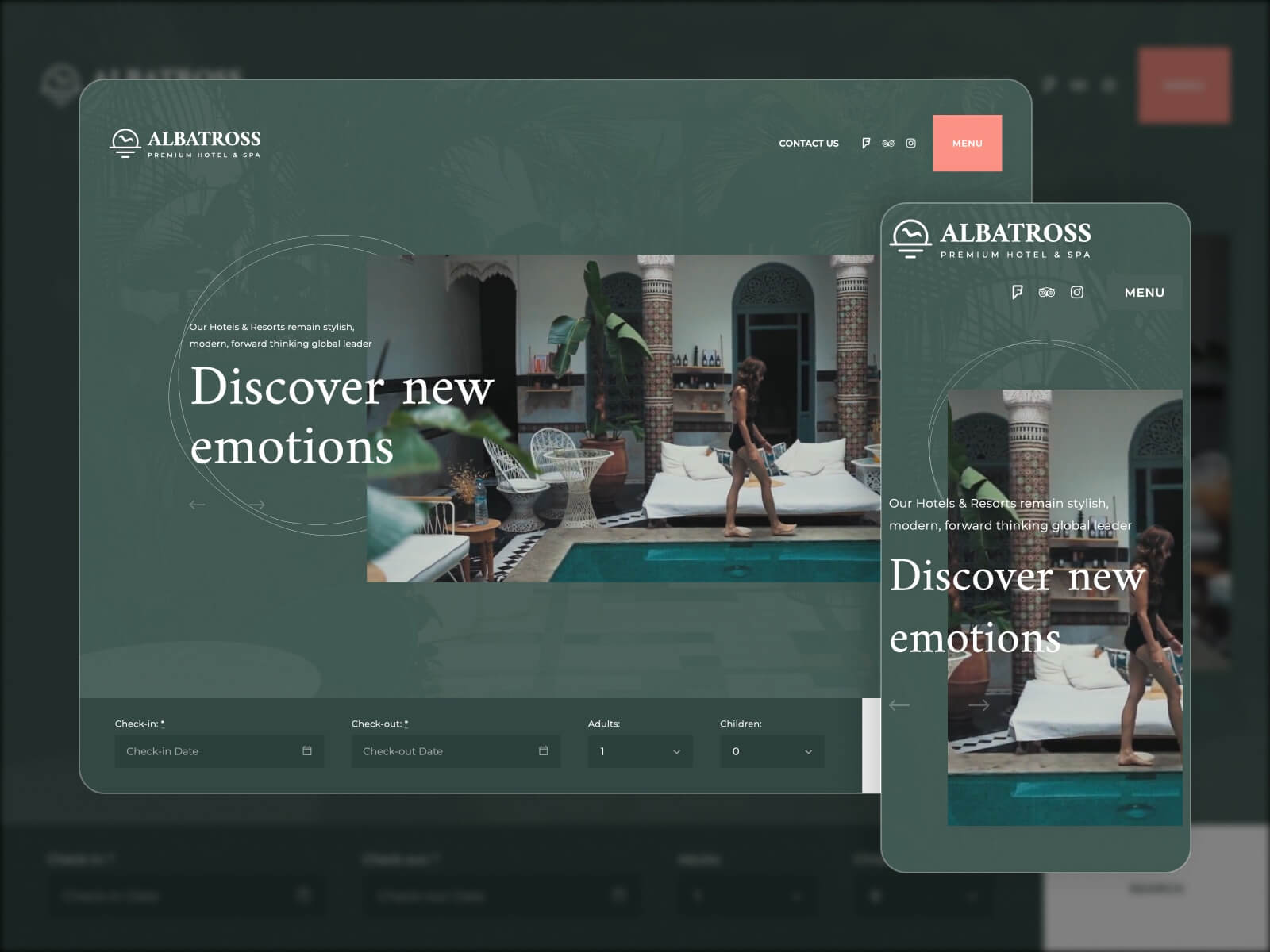 Name
Author
Price
Avg. Demo Speed Score
Albatross
MotoPress
Free
Mobile 45
Desktop 93
The Albatross is one of the best Elementor templates that can add a touch of elegance to your vacation rental website. It's a versatile theme that works well for various accommodations, from big hotels with numerous rooms to small and cozy cabins tucked away in the woods. It's an impeccable choice for your vacation rental enterprise blog.
This piece of WordPress software has got your back with a powerful duo of plugins: MotoPress Hotel Booking and Elementor. The first can help you streamline your hotel business by providing online booking, property search, availability calendars, and property management, while the second offers seamless visual customization for your website.
2. News Blog — Fast & Furious in the World of Blogs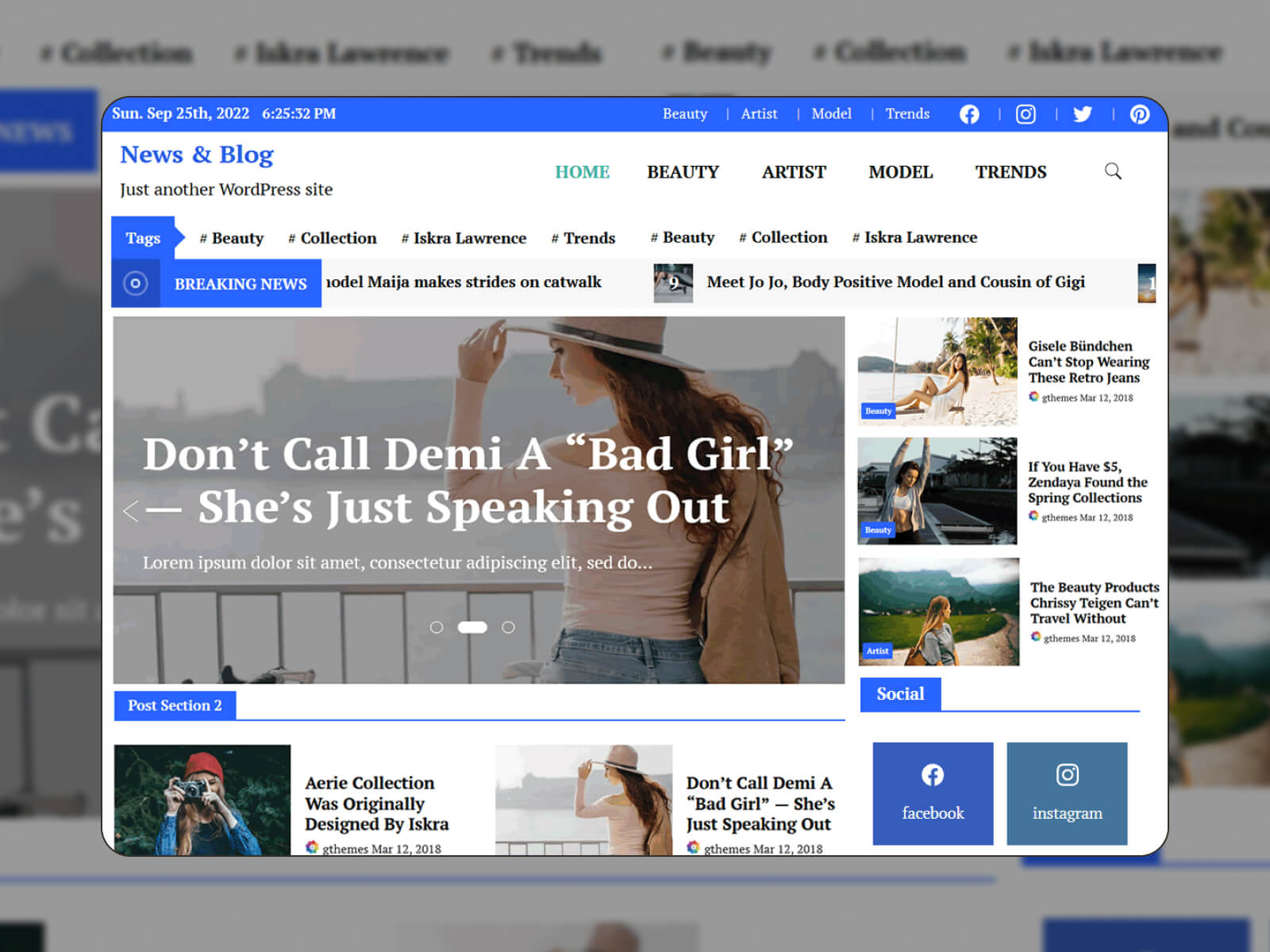 Name
Author
Price
Avg. Demo Speed Score
News Blog
Gradient Themes
Free
Mobile 94
Desktop 90
This theme has a design that's speedy like a bolt of lightning, polished like a mirror, and as modern as a spaceship. It's the ultimate option for those who crave a theme that's responsive and versatile. Furthermore, the front-page customizer is already integrated, allowing you to produce a website that's genuinely one-of-a-kind.
News Blog doesn't just stop at its impressive design — it also comes with an arsenal of built-in product widgets such as social media, post grids, post sliders, and a plethora of others. Also, it is an excellent pick for online stores as it's fully compatible with popular plugins related to WooCommerce.
3. Royal Elementor Kit — Royal Collection of Designs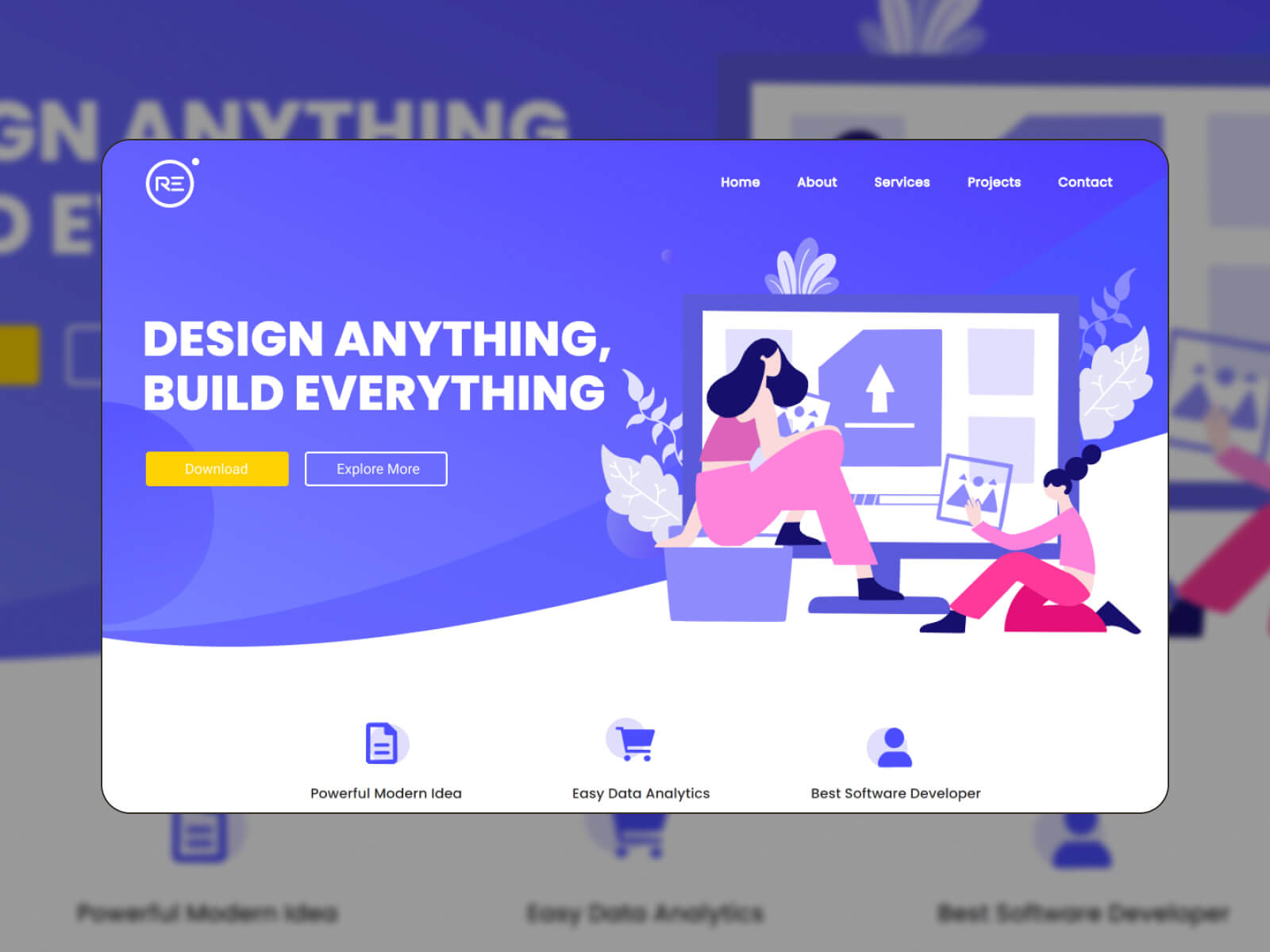 Name
Author
Price
Avg. Demo Speed Score
Royal Elementor Kit
WP Royal
Free
Mobile 100
Desktop 100
It's a one-stop shop for all Elementor lovers, brimming with an array of features and tools. With over 30 unique templates, 50+ expert widgets, a theme builder, and pre-made blocks, Royal Elementor Kit is a true gem. Furthermore, it has several delightful add-ons such as sticky headers, particle effects, and parallax backgrounds that add to its allure.
You have a wealth of industry-specific templates at your fingertips, which can be overwhelming when deciding. These templates span a vast array of sectors, such as cuisine, travel, portfolios, NFTs, cybersecurity, digital currencies, beauty, healthcare, technology companies, real estate, restaurants, and many others.
4. PressBook Grid Blogs — Grid Layout Masterpiece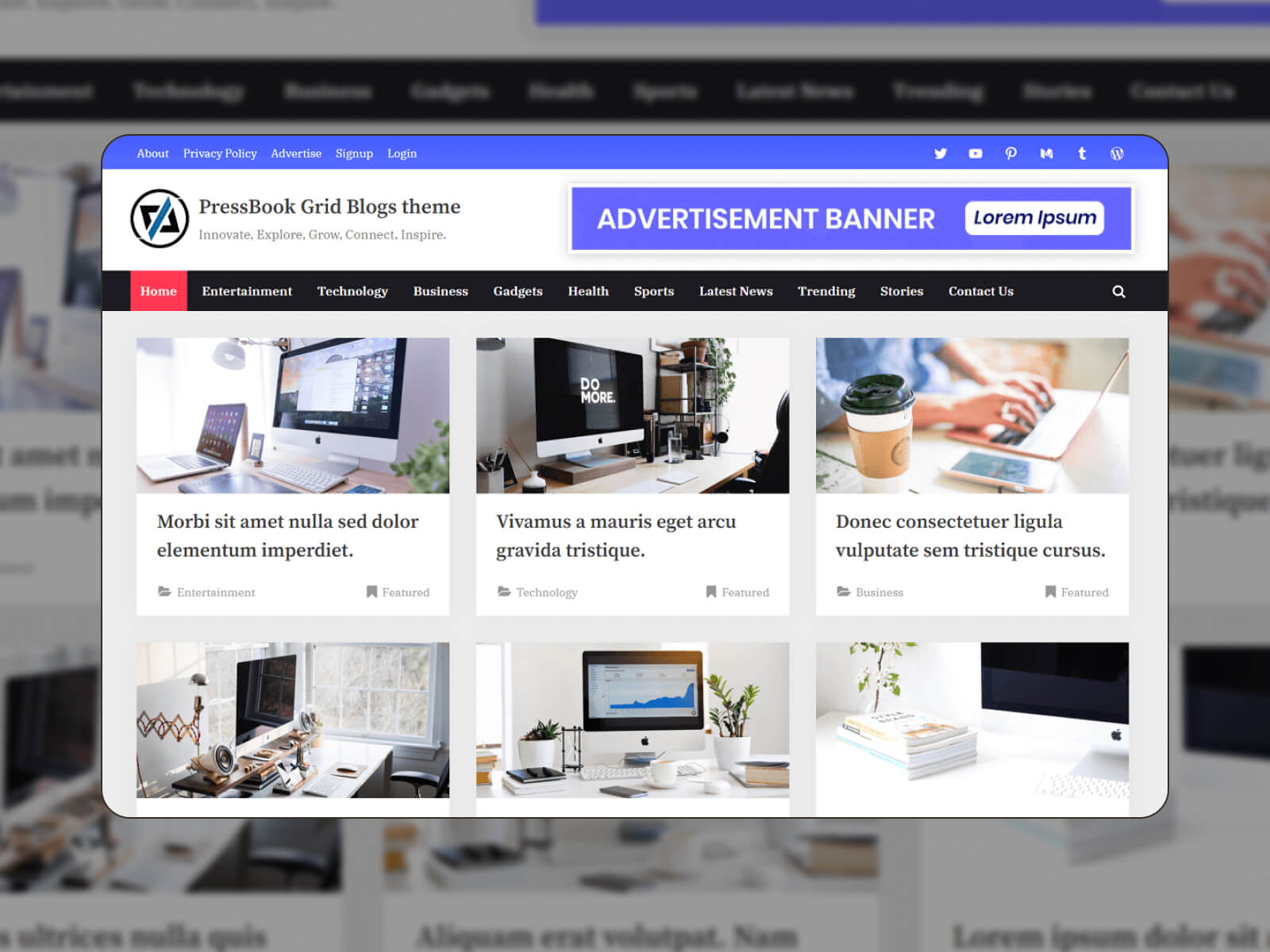 Name
Author
Price
Avg. Demo Speed Score
PressBook Grid Blogs
ScriptsTown
Free
Mobile 85
Desktop 79
In the list of best Elementor blog templates, this one stands out with its sleek and lightweight design, making it a perfect fit for websites with a grid layout. It can adapt to any screen size and grants plenty of room for tweaking with options like dual/single sidebars, page templates, customized ads, diverse block widgets, and anchored sidebars.
This design is equipped with block sections that give you the freedom to include your personalized content in the header or footer. It's built specifically for bloggers, freelancers, and educational sites. The font is easy on the eyes and the colors are visually pleasing. Moreover, it has few dependencies, making sure your website loads in the blink of an eye.
5. Formula — Multipurpose Tool for Bloggers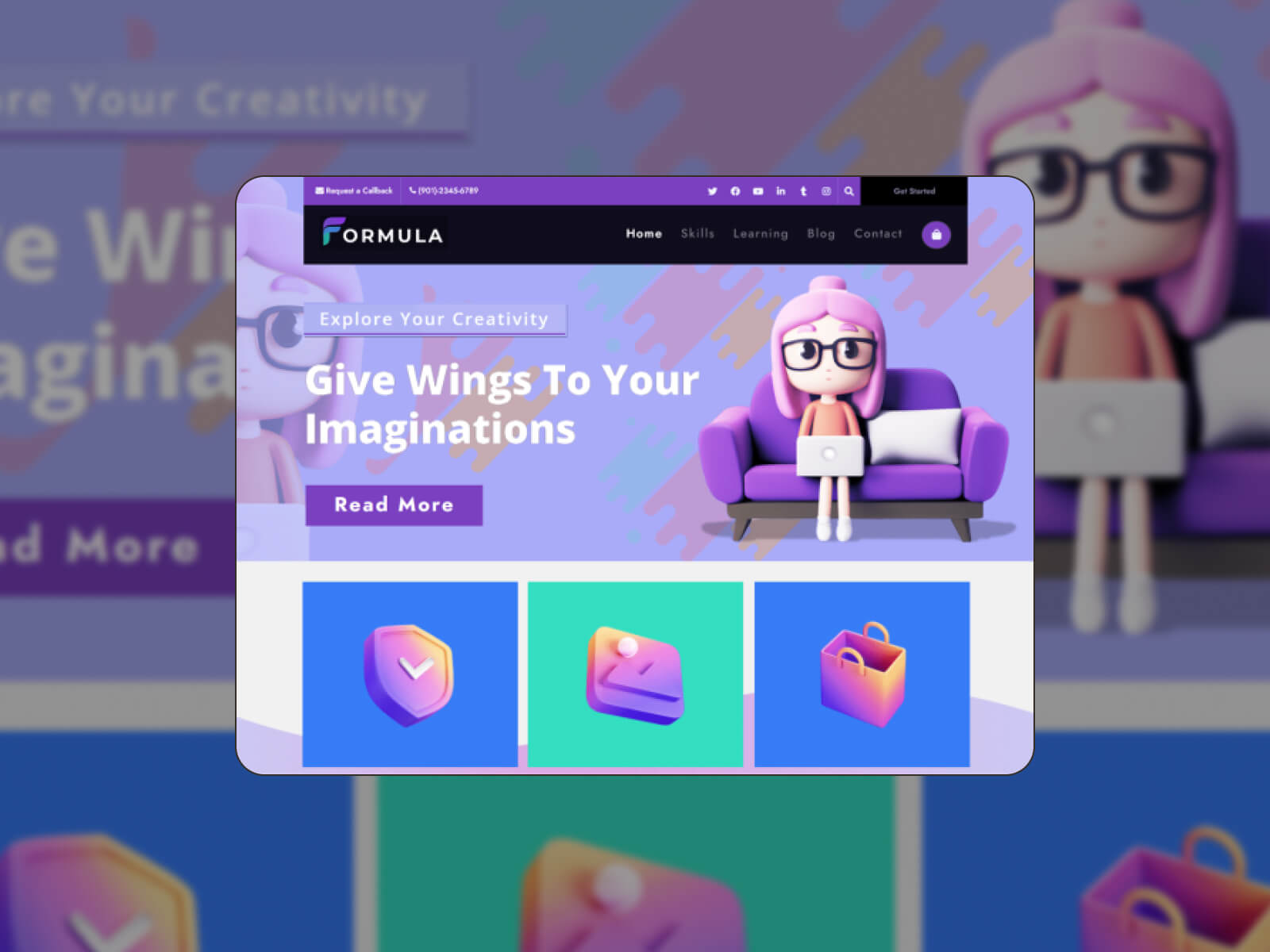 Name
Author
Price
Avg. Demo Speed Score
Formula
A WP Life
Free
Mobile 77
Desktop 96
Formula gives you the freedom to create a multitude of various blogs with ease and speed. Its admin panel is so intuitive that even tech novices can customize it without a hitch. Besides, this theme is featherweight and perfect for shaping a vast array of online projects.
It is fully compatible with trendy plugins such as Elementor, Slider, Beaver Builder, Brizy, Gutenberg, and more. It's engineered for lightning-fast speed and an uninterrupted user experience, making it the go-to choice for businesses of all magnitudes. Whether you run a legal practice, travel agency, or yoga studio, Formula is the perfect fit for you.
15 Best Premium (Paid) Elementor Blog Templates
Here, you will be introduced to some of the most polished designs that come with an extensive list of benefits such as support service, comprehensive documentation, and built-in supplementary plugins that provide extra functionality. The cost of these examples is reasonable, considering the opportunities described above. So, if you trust premium products more, let's proceed further.
6. Kicker — Multipurpose Blog Magazine WordPress Theme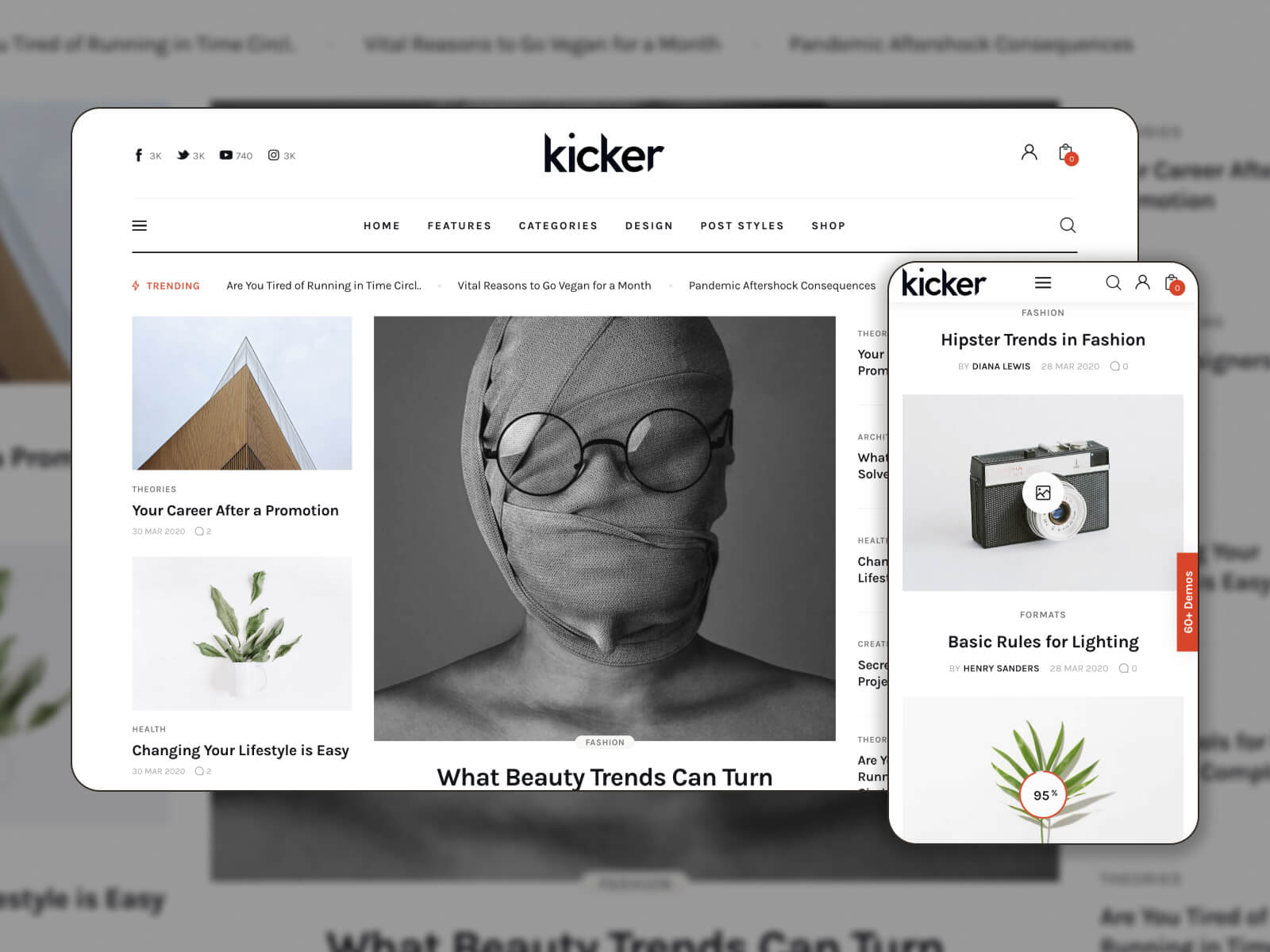 Name
Author
Price
Avg. Demo Speed Score
Kicker
AxiomThemes
$59
Mobile 39
Desktop 69
It's a shapeshifter, able to adjust its form to suit the unique demands of diverse websites — from the chatty blogs of trendy lifestyle influencers to the serious, analytical pages of finance mavens. This theme can transform itself to accommodate the interests of tech geeks, health gurus, parents, and travel aficionados.
Kicker doesn't just cater to niche blogs, but also to entrepreneurship and investing blogs, gaming reviews, NFT and cryptocurrency blogs, science magazines, and more. It can be easily customized thanks to its compatibility with Elementor and Kadence Blocks. Plus, it works well with Powerkit and WooCommerce.
7. Anymag — Magazine Style WordPress Blog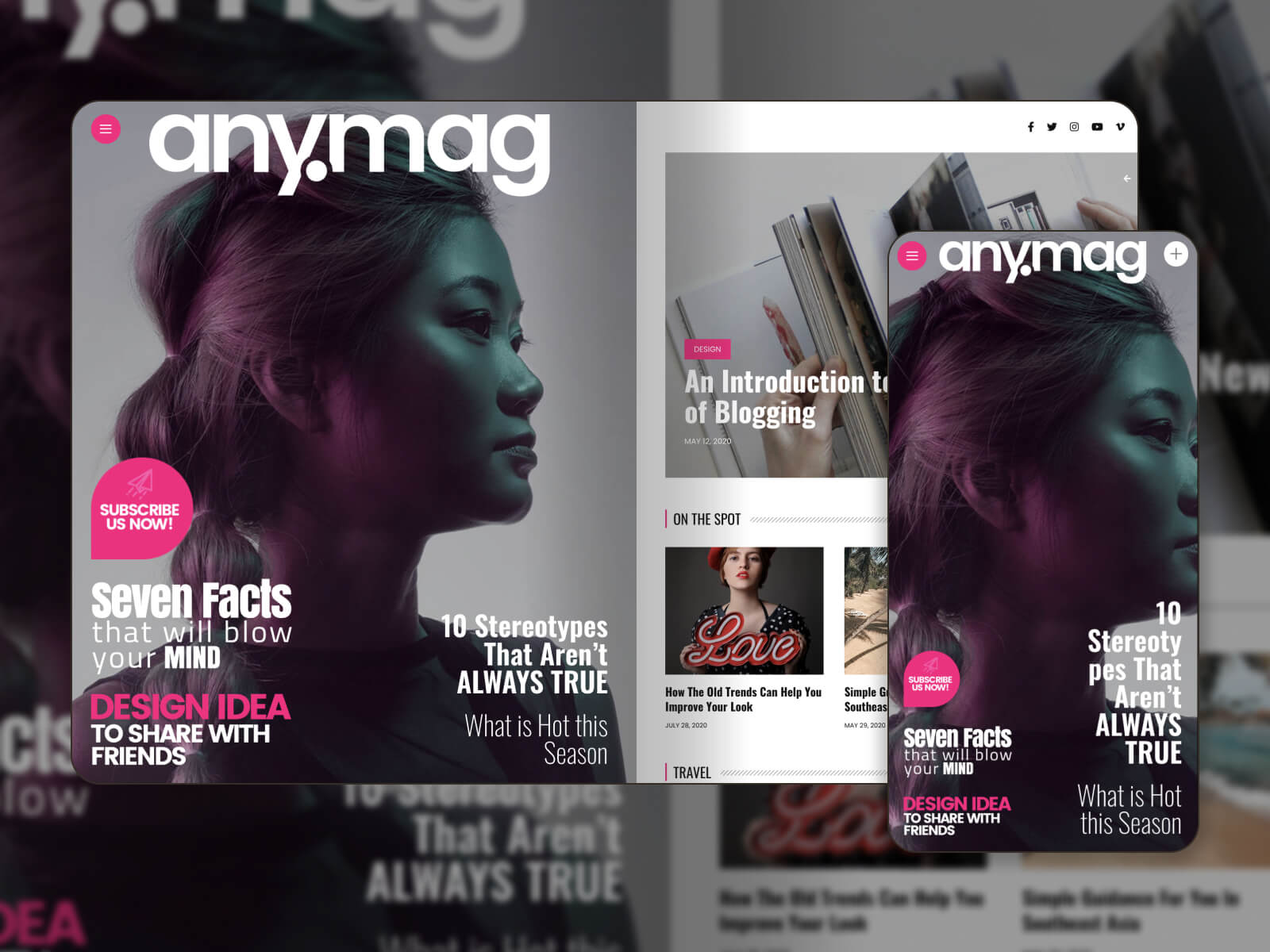 Name
Author
Price
Avg. Demo Speed Score
Anymag
3-Styler
$39
Mobile 67
Desktop 95
Your resource can be easily transformed into a magazine by one of the best Elementor blog templates. It's perfect for blogs of any kind —  whether it's about lifestyle, business, travel, fashion, or sports. There are countless pre-designed templates that can give your blog a distinctive edge. Additionally, you'll have access to advanced typography with 900 sensational Google fonts.
This theme is a color lover's dream, with a vast array of hues to choose from for your online project. It's fully compatible with WooCommerce and mobile-friendly, making it accessible to everyone. Its hidden sidebar, Elementor support, image overlay, and unlimited color schemes are just a few of its remarkable features.
8. TinySalt — Personal Food Blog WordPress Theme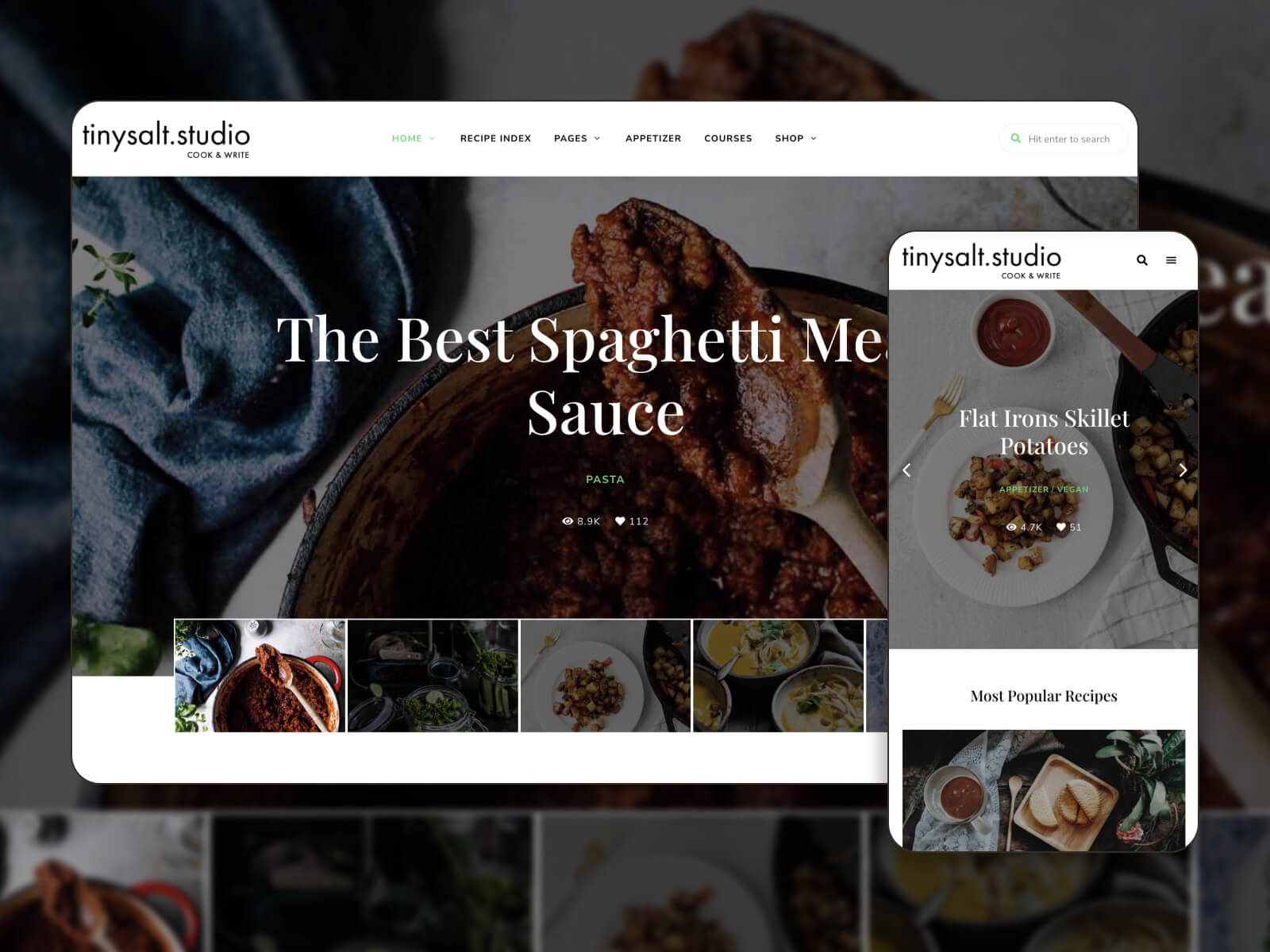 Name
Author
Price
Avg. Demo Speed Score
TinySalt
LoftOcean
$64
Mobile 43
Desktop 84
If you happen to be a food blogger or own a petite food enterprise, this blog theme will leave your taste buds tingling. It is crafted with sophistication, providing you with exquisite blog designs and arrangements that elevate your content, no matter your proficiency. Adjusting its look is a piece of cake with WordPress Customizer, where you can switch colors and fonts in the blink of an eye.
This theme provides 12 pre-designed demos that can be easily imported to your website with a simple click. You're free to mix and match layouts from different demos to create a unique appearance for your site. Powered by WP Recipe Maker, the most popular free recipe plugin with over 30,000 active users, TinySalt lets you present your recipes step-by-step with photos and all the necessary recipe metadata.
9. Blogar — Blog Magazine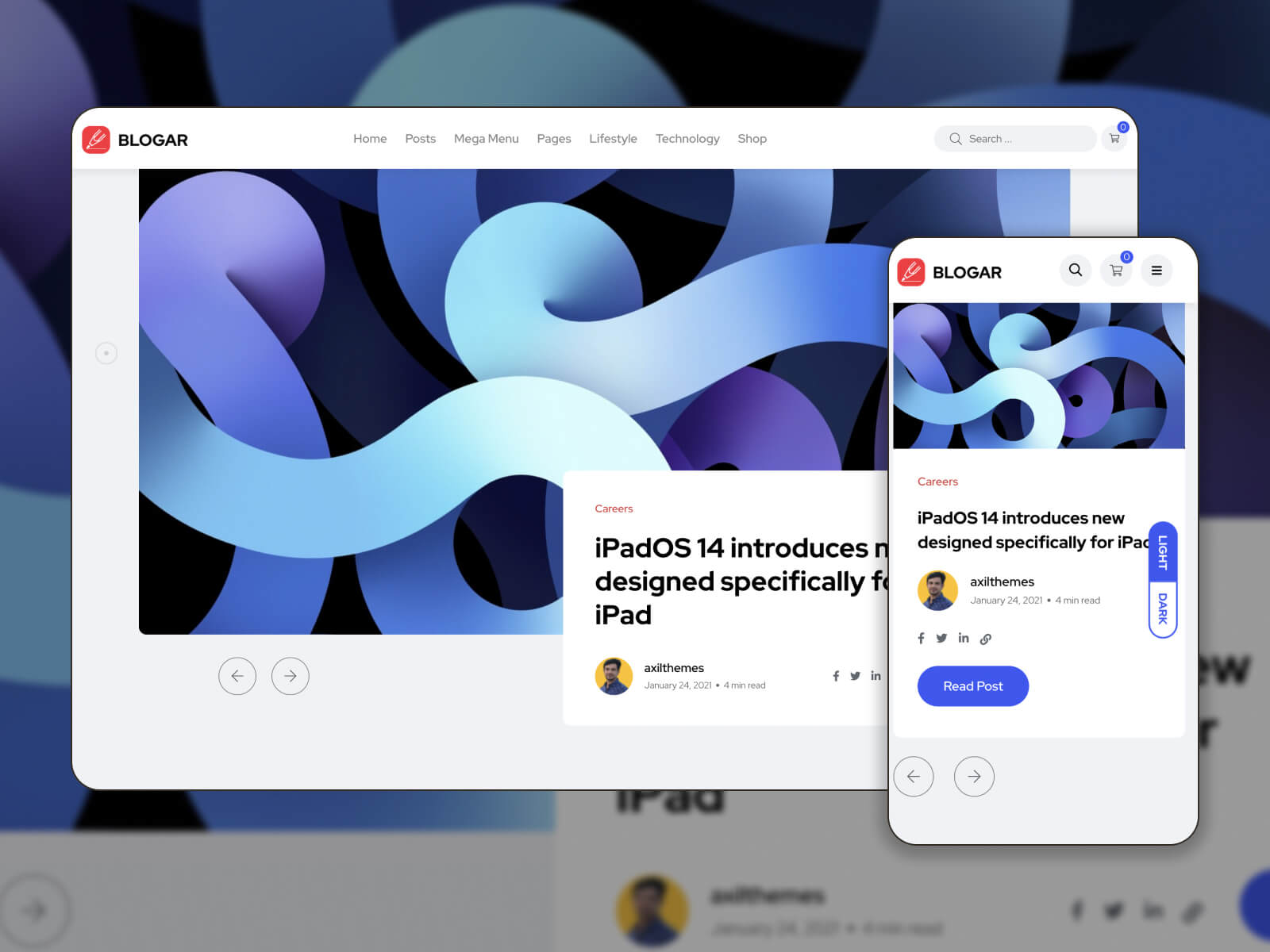 Name
Author
Price
Avg. Demo Speed Score
Blogar
AxilThemes
$39
Mobile 35
Desktop 90
From creative blogs to tech, lifestyle, or SEO online journals, this theme has got you covered. It can benefit news agencies, travel and tour agencies, business magazines, and technology news websites. Additionally, its responsiveness makes it a shape-shifter among themes, adjusting to any device, whether it's a laptop, mobile, or tablet.
Integrated with Elementor, it empowers you to add elements to your website with drag-and-drop ease, even if you lack programming knowledge. Moreover, a speedy setup of new pages is enabled by the predefined demos tailored to specific industries.
10. Kayleen — Blog & Magazine Theme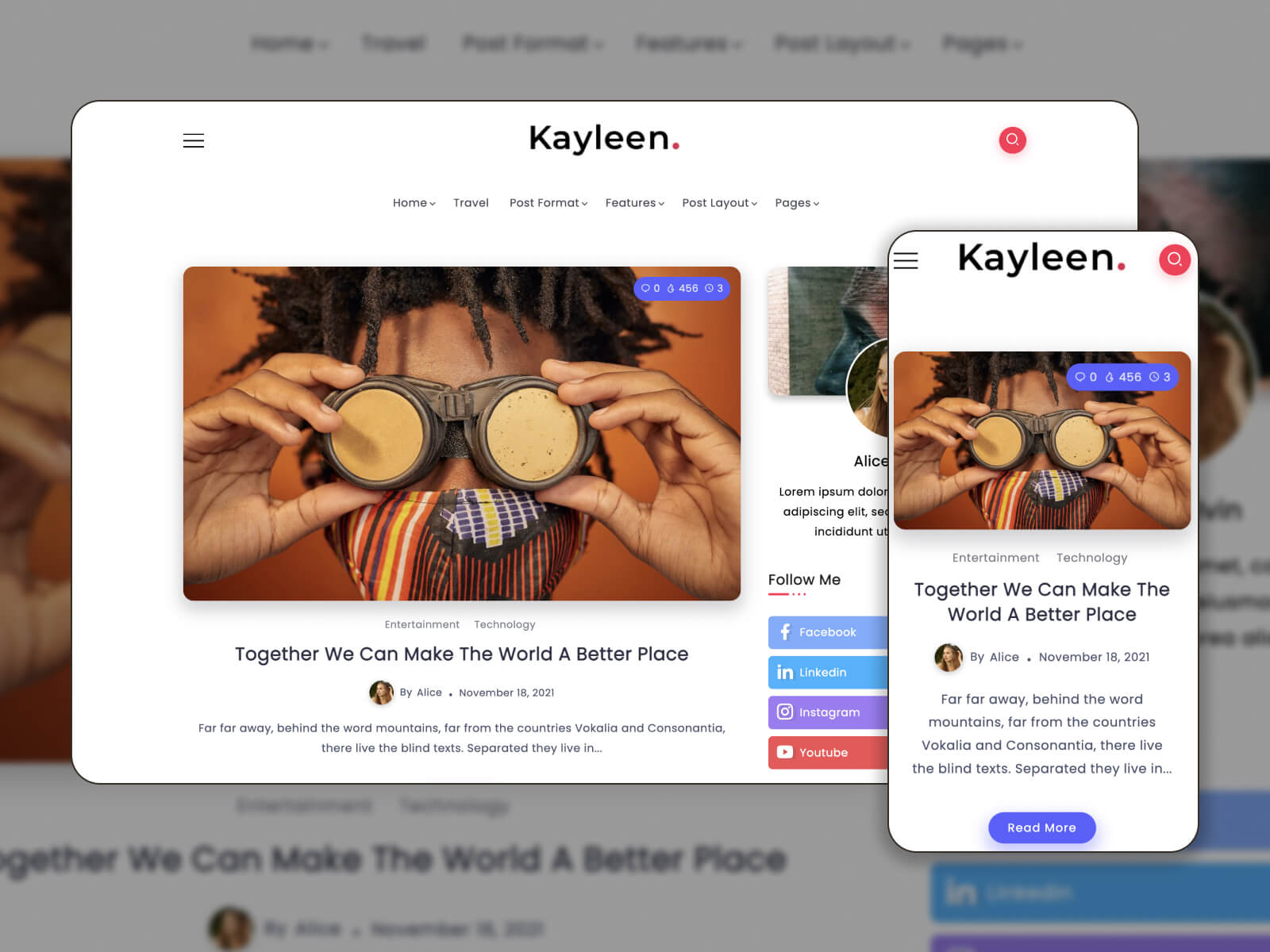 Name
Author
Price
Avg. Demo Speed Score
Kayleen
RivaxStudio
$29
Mobile 47
Desktop 88
Kayleen is a solution that prioritizes content and user experience, designed with a sleek, sophisticated, and imaginative style that's ideal for bloggers and magazine websites across different niches like personal blogs, photography, travel, and food. What's more, it's packed with SEO optimization features.
Kayleen is seamlessly integrated with Elementor. It offers an easy-to-use experience with its variety of customizable widgets and a robust options panel. By using the drag-and-drop feature, designing and customizing websites becomes effortless and enjoyable.
11. Fribbo — Freebies Blog WordPress Theme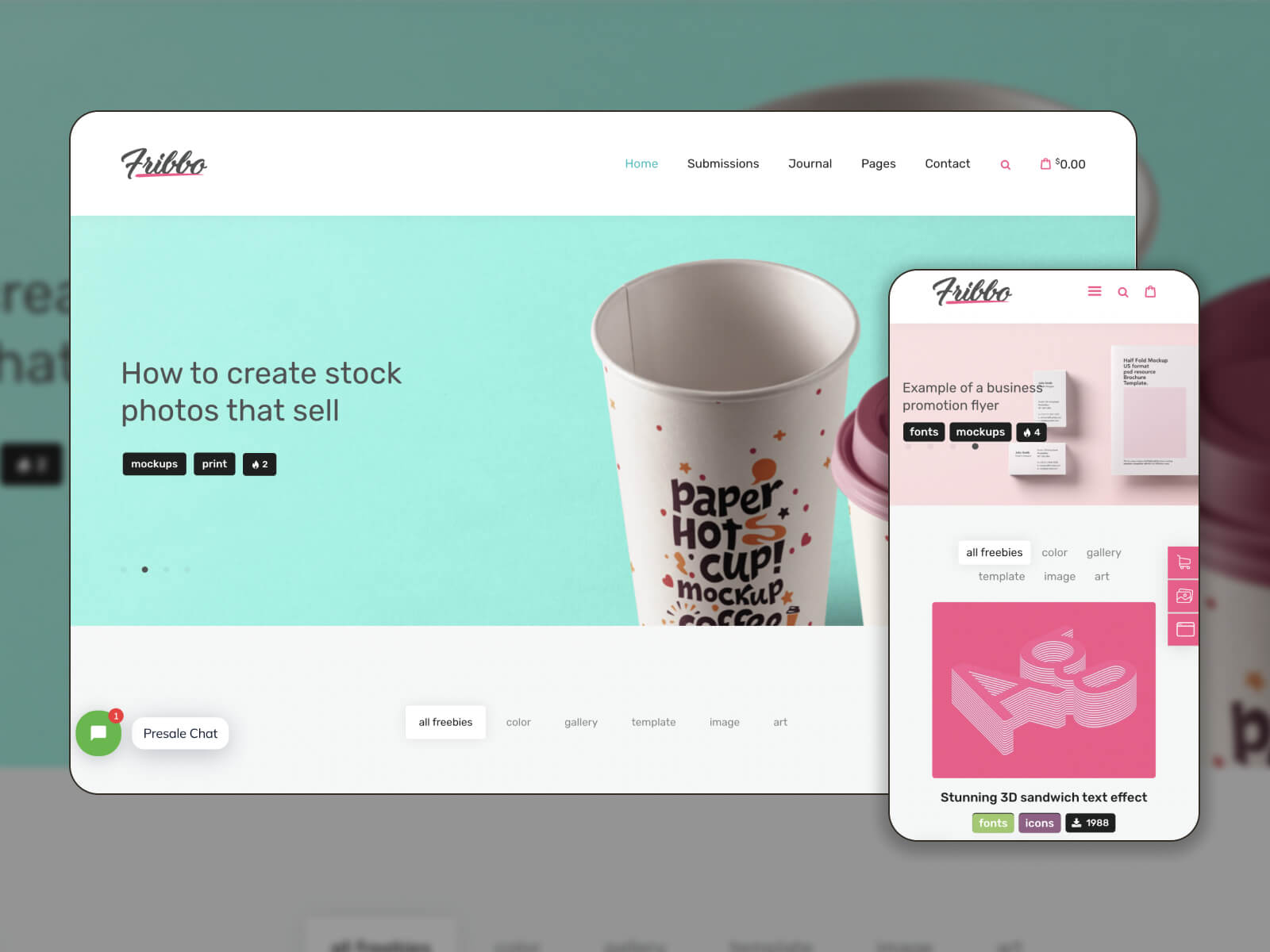 Name
Author
Price
Avg. Demo Speed Score
Fribbo
AncoraThemes
$69
Mobile 50
Desktop 90
This representative of our list of the best Elementor blog templates is perfect for projects focusing on freebies, guides, giveaways, magazines, and even crypto. With six demos and numerous homepage layouts, the possibilities are endless. You can add new blocks and layouts to your site with ease thanks to custom widgets and shortcodes.
Fribbo makes website setup and customization a breeze with its easy one-click installation and compatibility with popular plugins like MailChimp for WP and ThemeREX Addons. Furthermore, Elementor Page Builder support can be utilized by users to create a truly personalized site.
12. Becipe — Recipe Blogging WordPress Theme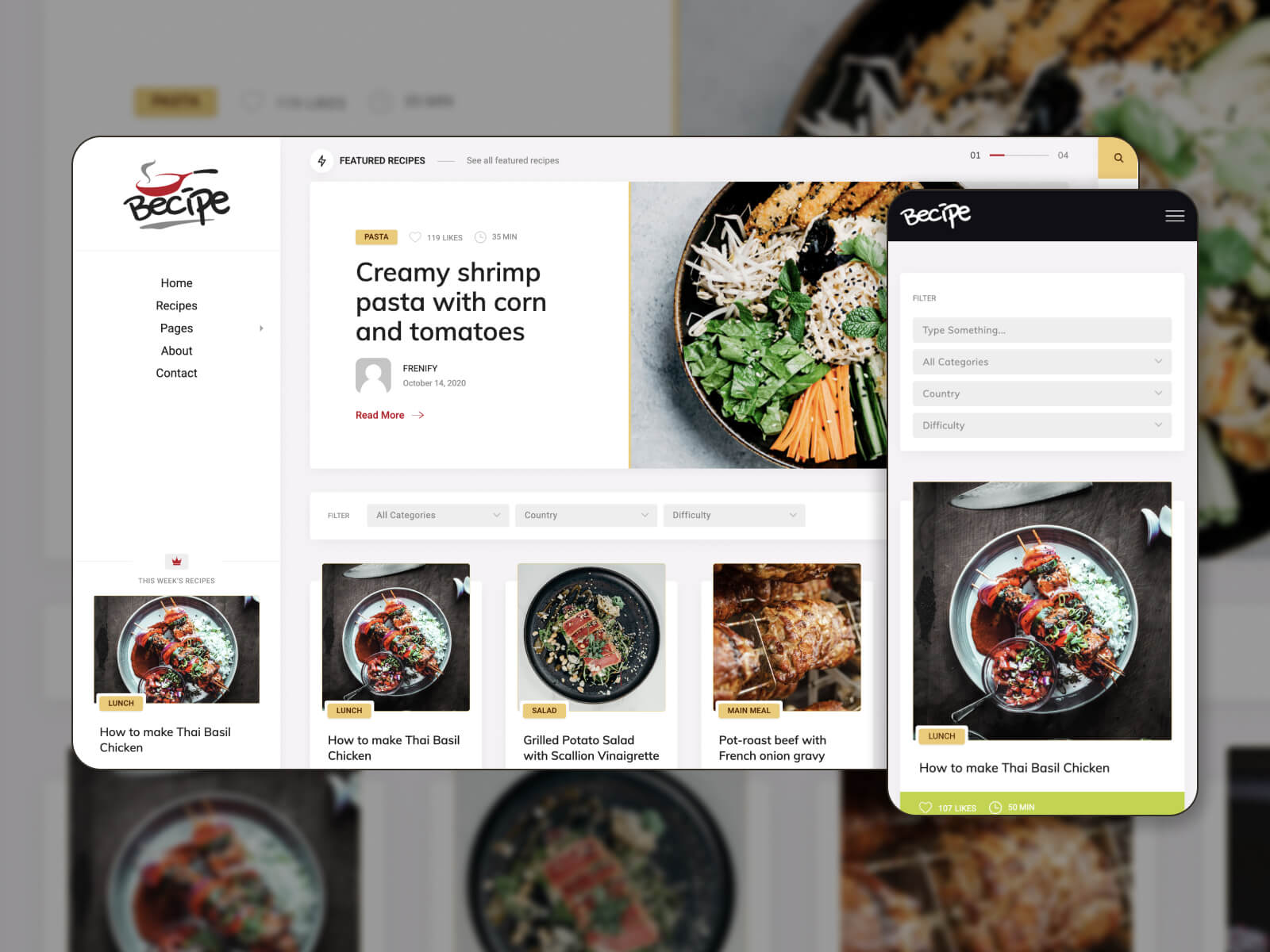 Name
Author
Price
Avg. Demo Speed Score
Becipe
Frenify
$59
Mobile 49
Desktop 81
The Becipe WordPress theme is a gem for bloggers. Its elegant and subtle design makes it a perfect fit for food and recipe websites. Loaded with vital features, it's a prime option for those in the industry. Irrespective of the device employed to access it, be it a computer, tablet, or smartphone, the presentation is aesthetically pleasing.
This theme is not your mediocre option. It goes above and beyond by offering you the freedom to customize your blog to your liking with ease. Thanks to its seamless integration with Elementor, you can modify every aspect of your site without having to be a coding whiz.
13. Lemon & Limes — Personal Food Blog WordPress Theme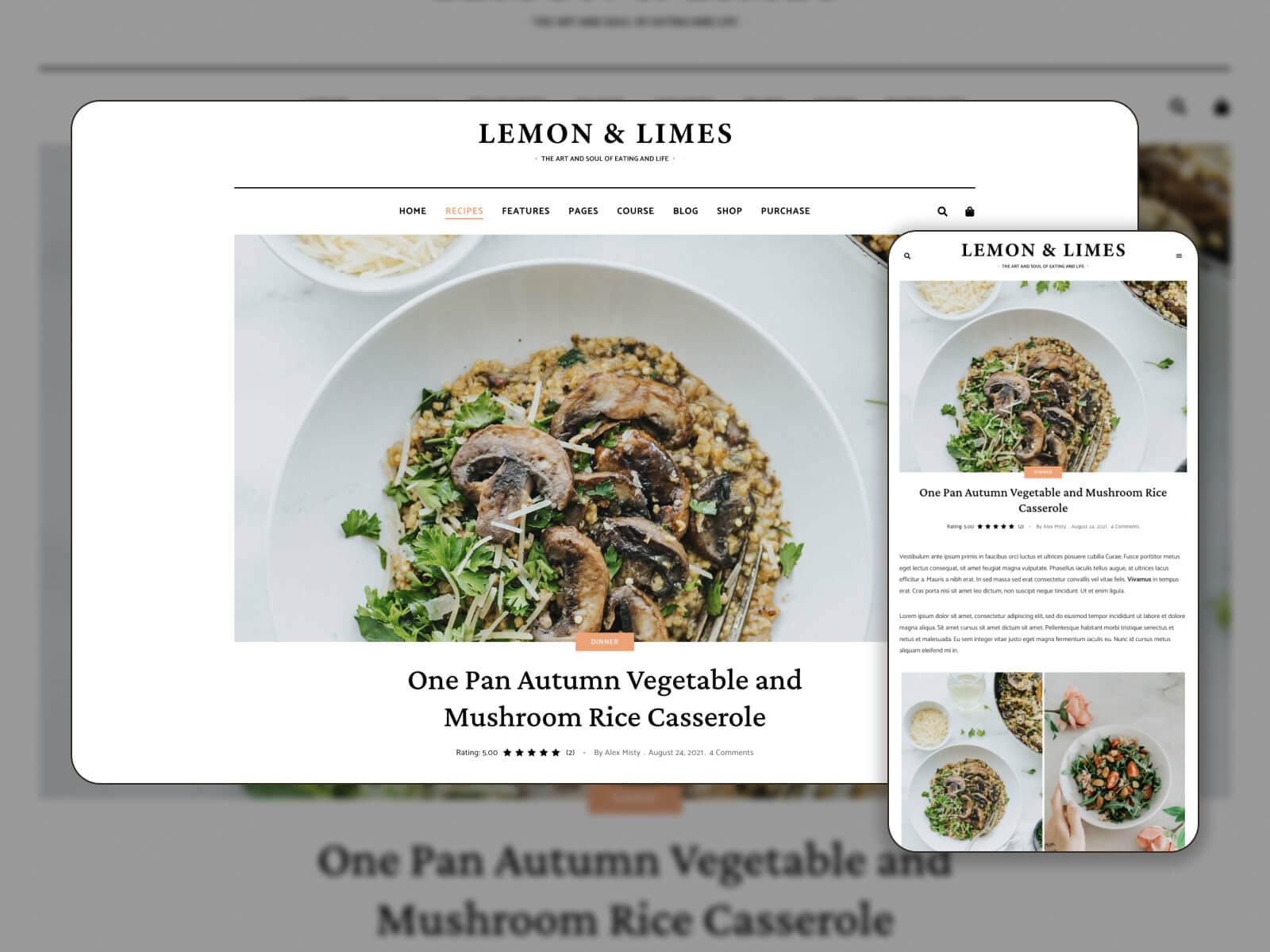 Name
Author
Price
Avg. Demo Speed Score
Lemon & Limes
LoftOcean
$59
Mobile 50
Desktop 81
Calling all food enthusiasts! This theme is a culinary masterpiece, a heavenly experience for both your eyes and your stomach. Crafted with the passionate foodie in mind, it's the ultimate choice for those obsessed with all things gastronomic. The chic and modern design is an exceptional canvas to flaunt your mouth-watering delicacies.
Managing and arranging your recipes on this particular theme is as easy as pie. The trusty partner accompanying you throughout the process is none other than the WordPress Customizer. With this tool, customizing colors, fonts, and other theme elements is a breeze. Furthermore, integrating any of the twelve pre-built demos into your website can be done in a snap with just a click of a button.
14. Codate — Modern Magazine and Blog Theme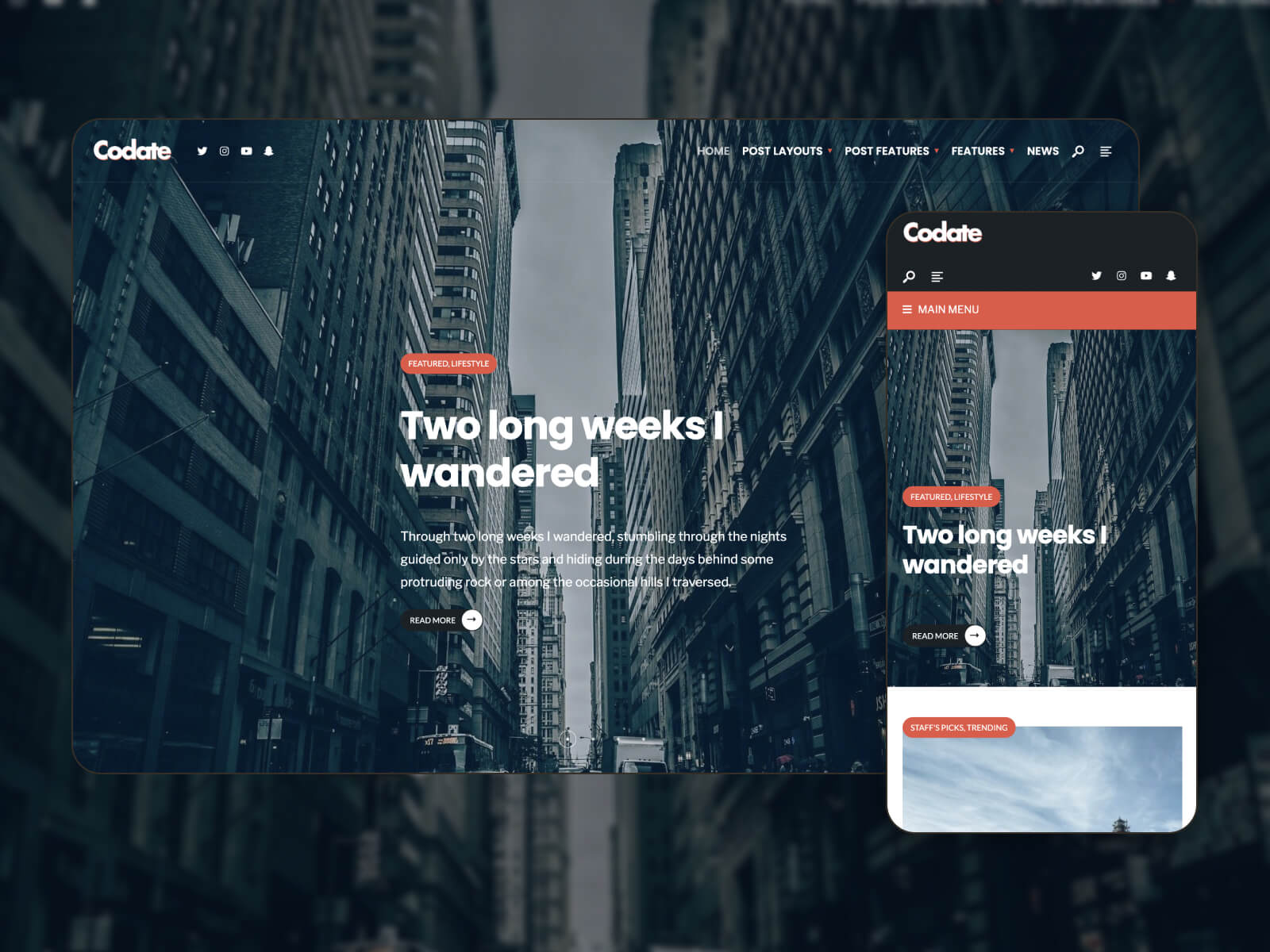 Name
Author
Price
Avg. Demo Speed Score
Codate
Vergo
$49
Mobile 58
Desktop 90
Exceptionally user-friendly and versatile WordPress theme that's tailor-made for bloggers. Its tasteful design and modular approach offer a variety of magazine and blog layouts that are both adaptable and responsive. With complete control over the homepage, you have the power to fashion a website that genuinely embodies your unique style.
In addition to being easy to use, Codate also comes equipped with Elementor Page Builder, the most advanced front-end drag-and-drop page builder available. This allows you to create high-end, pixel-perfect websites quickly and easily, no matter your level of technical expertise.
15. Melady — Creative Blog Theme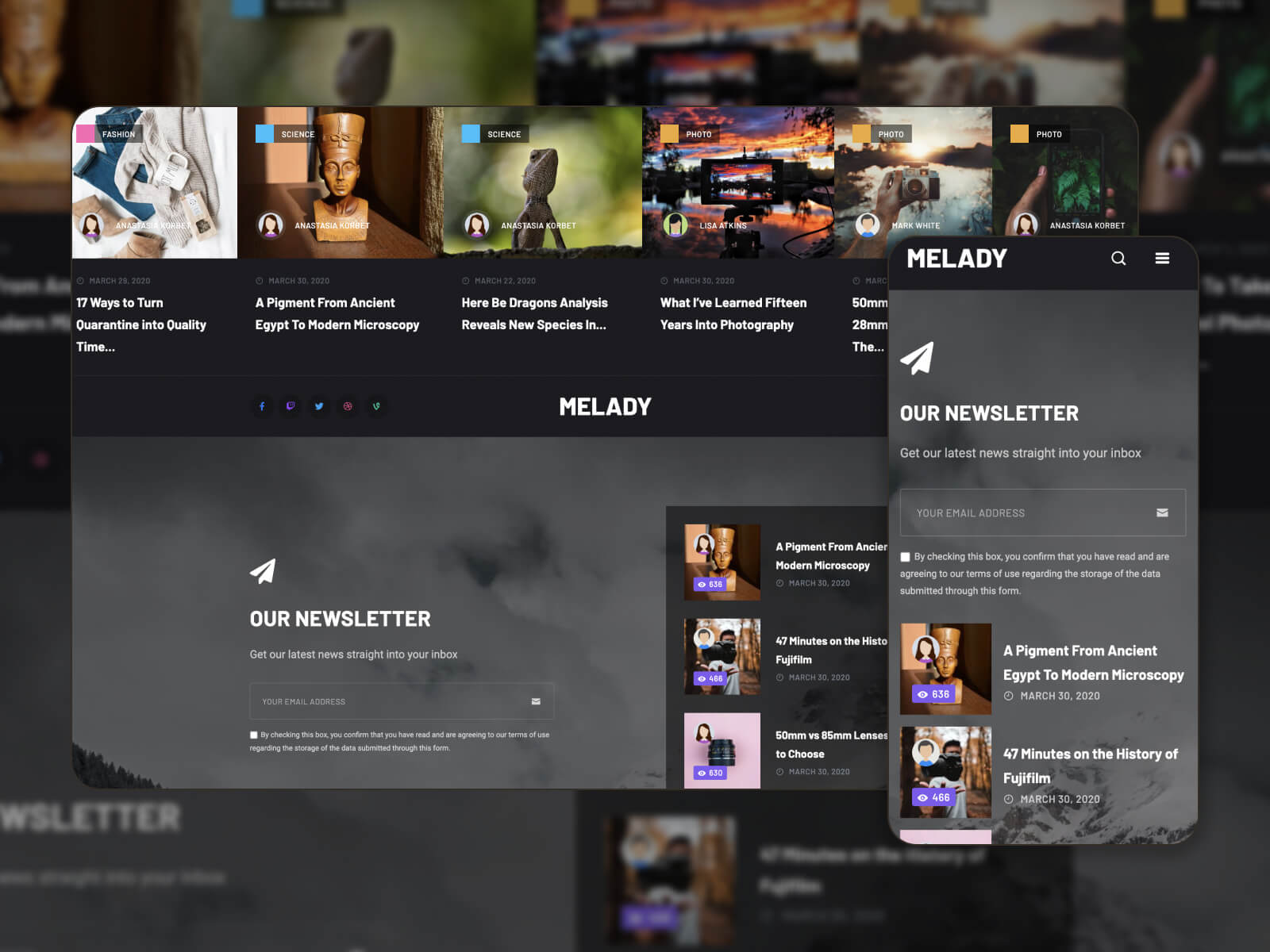 Name
Author
Price
Avg. Demo Speed Score
Melady
KnightleyStudio
$29
Mobile 37
Desktop 82
Melady hands you the keys to an enchanting blog kingdom. Its top-notch demos, crafted with Elementor, transport you to a whole new world of possibilities, where you can explore an array of captivating topics, from health and science to fashion, lifestyle, and photography. Melady equips you with all the vital elements to create an awe-inspiring online space.
You don't need coding skills to modify and adjust all the elements from the header to the footer of your website with Melady. Customize everything you want, and enjoy flexible functionality that allows you to write posts directly in the Elementor Editor. This means you can insert anything you want into your post without having to use a classic editor.
16. YourWay — Multi-Concept Blog WordPress Theme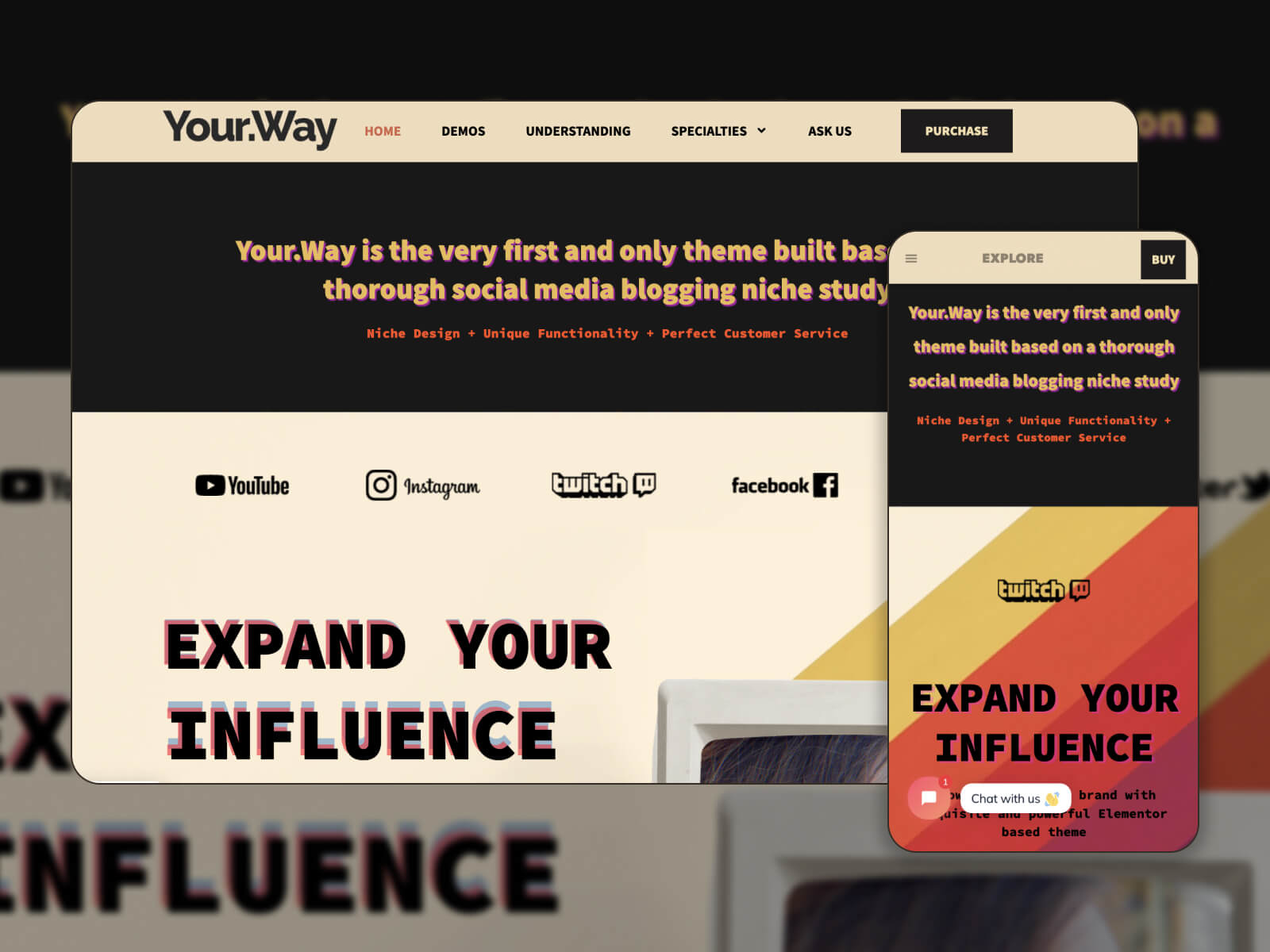 Name
Author
Price
Avg. Demo Speed Score
YourWay
CmsMasters
$59
Mobile 36
Desktop 68
Bloggers can really stand out and shine using this theme by carving out their own special place and breaking the mold. They have the chance to flaunt their individuality and leave a lasting impression. This is an ideal opportunity to draw in fans, promote their social media presence, showcase their wares, and cultivate their own personal identity.
This theme takes social media connectivity to the next level, providing a centralized hub for all accounts, coupled with a top-notch design. What's more, it comes with a personalized premium CMSMasters Elementor add-on, boasting impressive capabilities without the need for extra expenses or recurring charges.
17. Ofelia — Travel Personal WordPress Blog Theme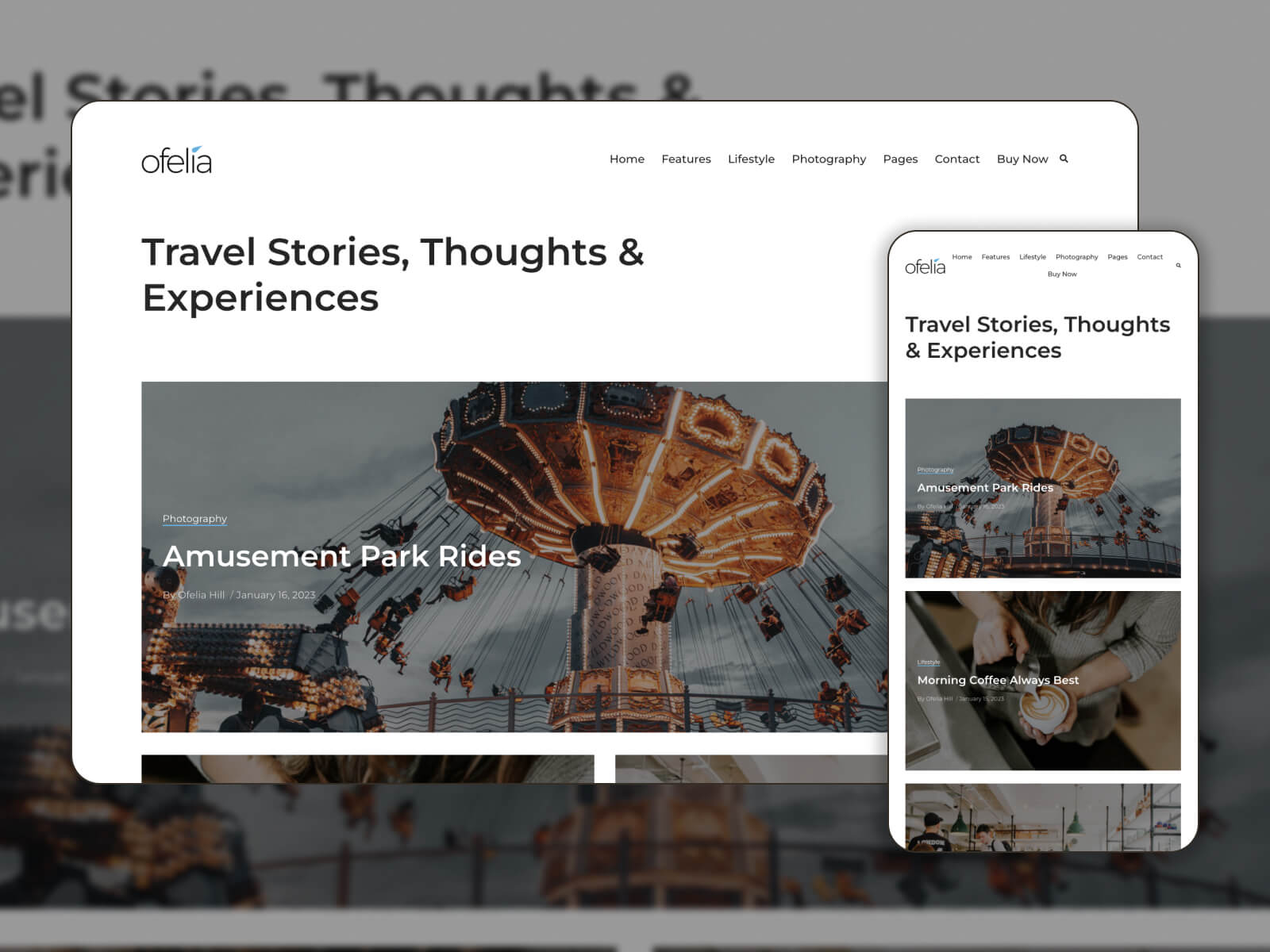 Name
Author
Price
Avg. Demo Speed Score
Ofelia
MatchThemes
$29
Mobile 52
Desktop 83
Ofelia is a top-of-the-line WordPress theme that's tailor-made for recounting travel escapades and spellbinding narratives. Nevertheless, it's not restricted to that specific category; it's the ideal pick for any blogging niche, whether it's personal, lifestyle, gastronomic, fashion, or photographic.
One of the best Elementor blog templates offers an abundance of customizable options that cater to every user's unique preferences. With an array of layout choices, headers that exude individuality, a footer that can be customized with widgets, and various theme customizer selections, including color options, typography, logo uploads, and article layouts, users can easily tailor their website to their liking.
18. LaFeminite — Lifestyle Blog For Every Woman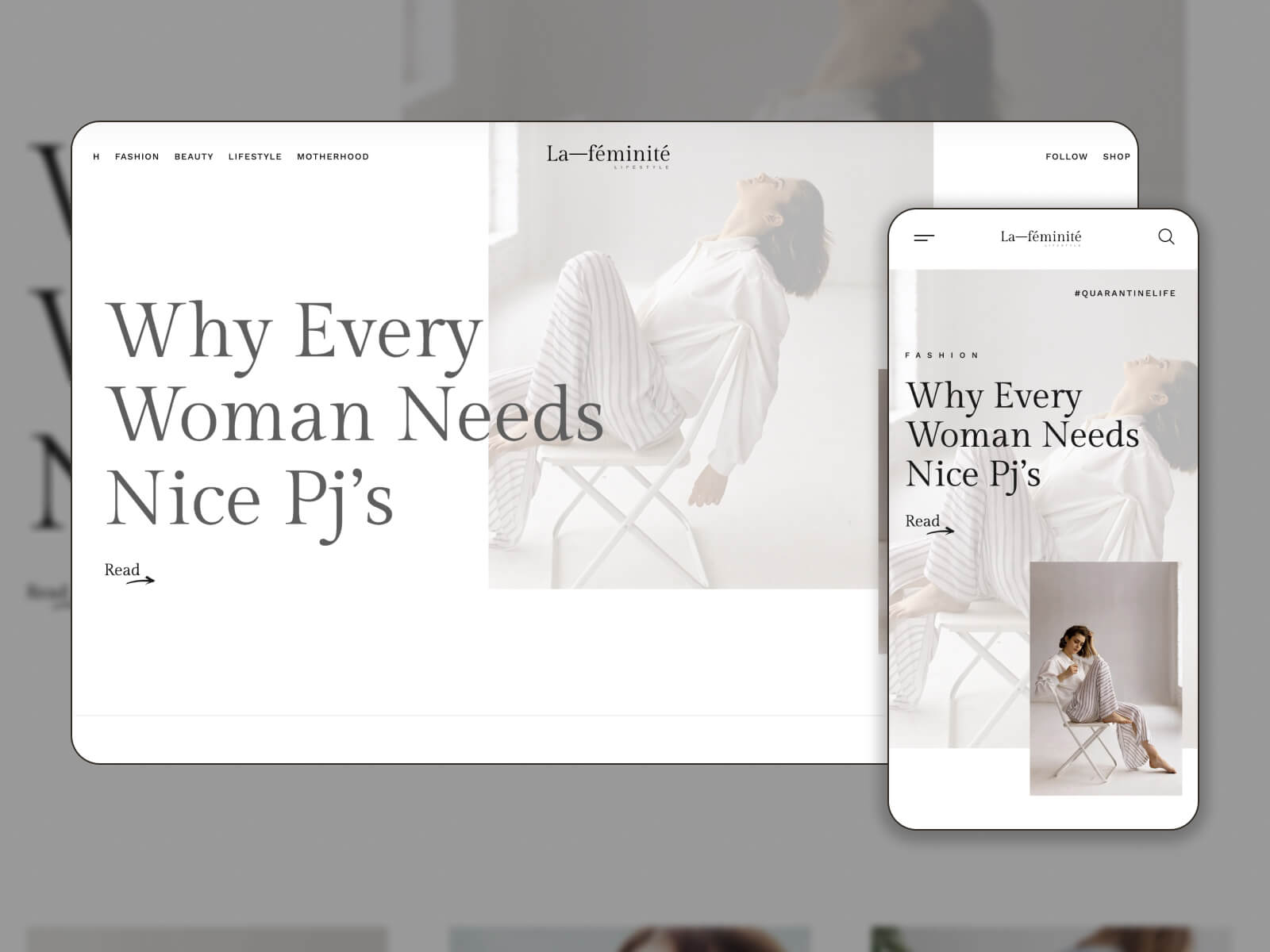 Name
Author
Price
Avg. Demo Speed Score
LaFeminite
Vamtam
$89
Mobile 55
Desktop 92
This theme has you covered no matter your interests, be it fashion, travel, or lifestyle. Its captivating design and numerous blog, shop, and page arrangements will leave you spoilt for choice. Blogging becomes effortless thanks to its adaptable characteristics and simple interface.
LaFeminite works like a charm with Elementor and Elementor Pro, meshing effortlessly with these well-liked page builders. You'll be delighted to know that the theme offers a complimentary bundle of Getty Images worth $290, which includes all the images showcased on the demo website.
19. Sayville — WordPress Blog Theme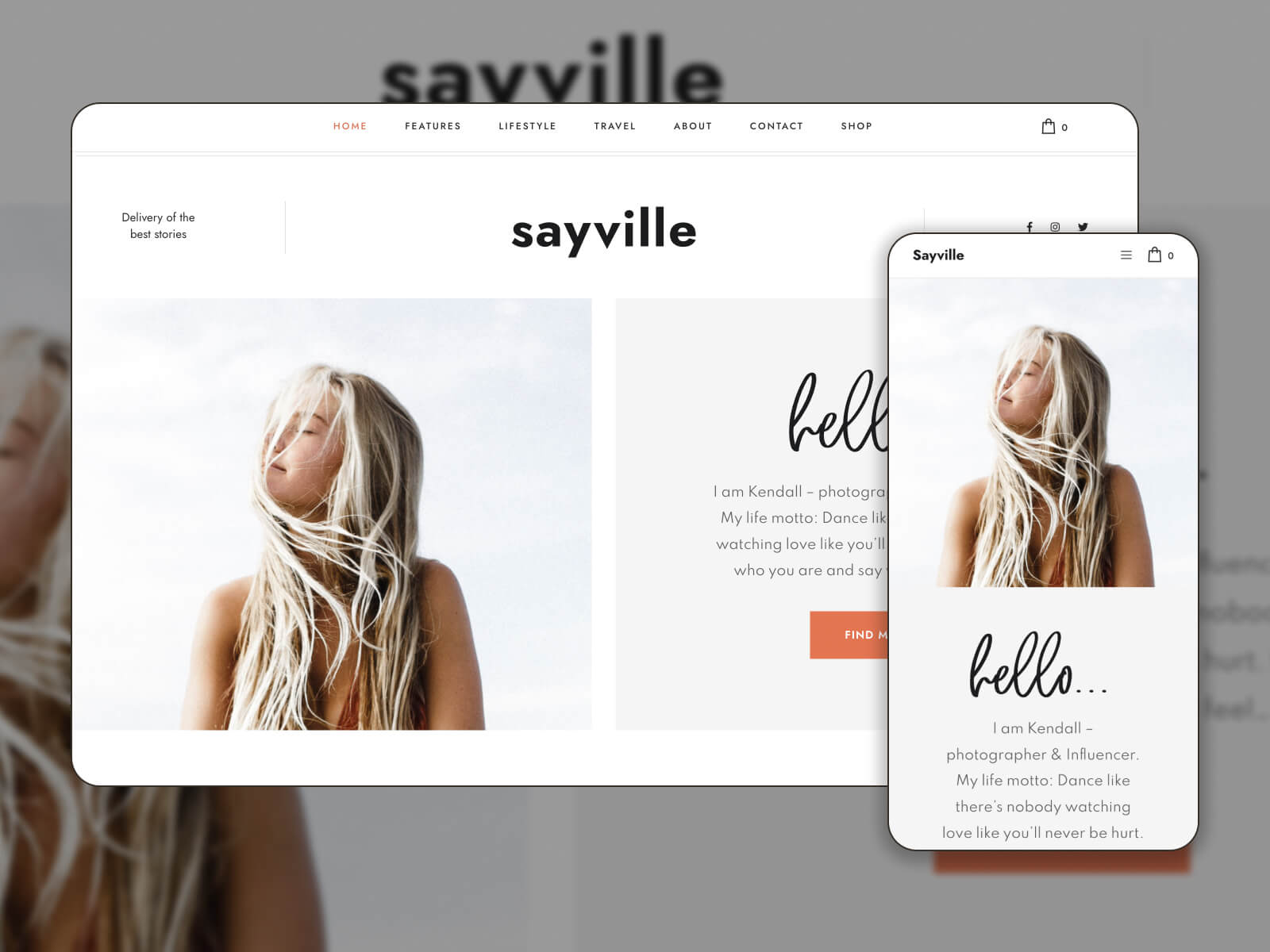 Name
Author
Price
Avg. Demo Speed Score
Sayville
ArtstudioWorks
$29
Mobile 50
Desktop 80
Sayville is a theme for personal blogs that immerses readers in a delightful browsing experience. A balanced blend of beauty and functionality is offered by its exquisitely designed pages, making it an ideal pick for bloggers aiming to create a sleek and sophisticated online presence. Whether your online resource is about food, fashion, travel, or any other topic, Sayville has got you covered.
The beauty of this template lies in its compatibility with Elementor, which is one of the most potent builders out there in WordPress land. Not only that, but Sayville is ready to roll with the latest version of WP and is crafted to make blogging a cinch for everyone, without sacrificing fun or functionality.
20. Behold — Personal Blog WordPress Theme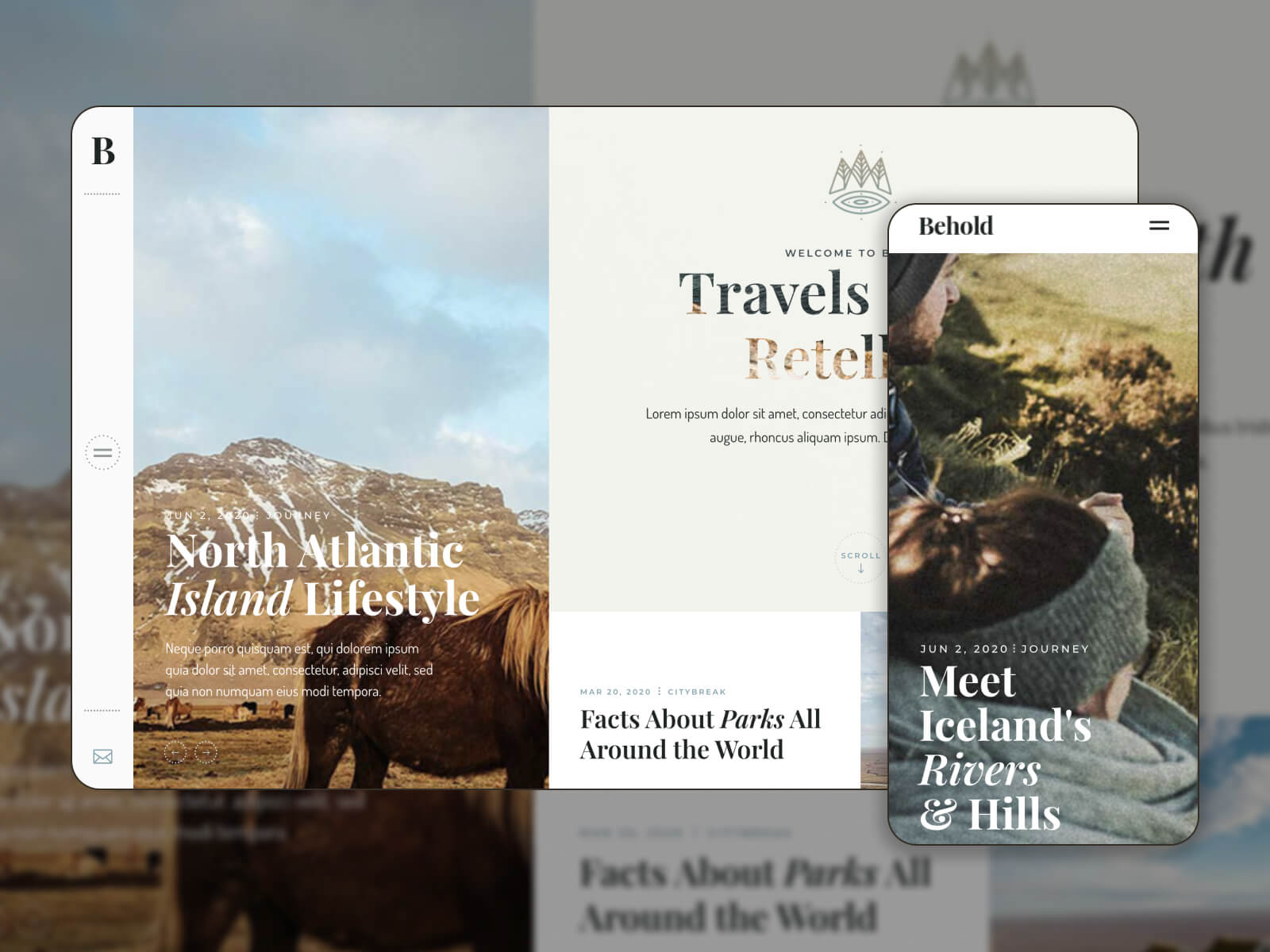 Name
Author
Price
Avg. Demo Speed Score
Behold
Edge-Themes
$85
Mobile 38
Desktop 75
Behold is a WordPress theme that caters to the needs of bloggers who seek to divulge their exciting journeys and explorations. Its vast collection of templates and layouts makes it a suitable choice for those who yearn to narrate their stories with a contemporary and visually-appealing blog.
Behold provides aid to those who require assistance with the theme. A help center is accessible where support team members are available to address any queries. Furthermore, video tutorials are at your disposal to furnish you with a detailed and gradual understanding of how to personalize the theme to accomplish your desired website.
Final Thoughts
You've been given a selection of the 20 best Elementor blog templates to choose from. These templates will undoubtedly boost your blogging game and help you establish a dominant online presence. Here are the main things to remember:
With Elementor, you can unleash your creativity and design stunning web pages that stand out, all without having to write a single line of code.
From food to travel, lifestyle to business, there's a theme for everyone. And if you need additional features, feel free to use some plugins to expand the functionality of your blog.
We've handpicked these templates based on their design, the highest rating, and reasonable pricing — so you can rest assured that you're getting the best.
Opting for any of these templates can not only spruce up the aesthetics and functionality of your blog but also save you a great deal of time and energy.
---
Disclosure: this article may contain affiliate links for third-party products. If you click a link and later make a purchase, we may earn an affiliate commission that doesn't result in additional charges to you.
FAQ
Is Elementor good for blogging?
It's an excellent tool for the construction and design of blogs. The drag-and-drop interface is a user-friendly attribute that allows you to craft customized layouts, establish distinctive post templates, and augment your online resource with an array of elements like images, videos, and widgets, all with ease.
How do I create a blog template in Elementor?
Crafting a blog template requires a few simple steps. Firstly, start by generating a fresh page and proceed to modify it using Elementor. Once in Elementor, you can unleash your creativity by utilizing the wide array of widgets and design components available to customize your template.
Moreover, the Theme Builder feature empowers you to generate a bespoke template that can be used across all of your posts. By using this approach, you can easily establish an impressive and distinctive online resource that stands out from the crowd.
What is the best template for a blog?
The best template for a blog depends on your specific needs and preferences. However, there are several themes that are designed specifically for these types of online presence, such as Blogar, Anymag, and TinySalt. You can also customize these themes to create a unique look and feel for your internet resource.
Do you need Elementor Pro for a blog?
While Elementor Pro offers additional features, you do not necessarily need it to create a blog. The free version provides enough tools to customize your online resource. However, if you want advanced features such as custom post types, dynamic content, and WooCommerce integration, you may want to consider upgrading to Elementor Pro.