Discover the Top 33 Non-Profit & Charity WordPress Themes for 2023: Free and Paid Options
As with any other type of organization, the most popular CMS in the world offers a lot of specifically focused templates for philanthropic initiatives. And this article is dedicated exactly to the overview of the best non-profit charity WordPress themes. So, if you're involved in any community-based activity that isn't profit-driven and you want to establish an online presence for it, you're in the right place.
Why is WordPress specifically recommended for this case? Of course, the primary reason is that WP is free and was crafted by a passionate community of enthusiasts. From its inception, it was designed as a CMS for people's convenience, not with profit in mind, but rather as a testament to contributing to the public good.
WordPress is distributed under the terms of the GNU General Public License, which means that the software is created for free usage and modification. The official domain name for this project is wp.org. The ".org" suffix suggests that it represents an organization run not for profit, in contrast to ".com", for example. So, why should anyone involved in philanthropic activity consider anything other than WordPress, which perfectly embodies the values of such types of initiatives?
In the following paragraphs, you will discover additional reasons why WP is the best choice for this niche. But for now, we present the cream of the crop from our selection: the top 10 templates for your immediate consideration:
Best premium non-profit WordPress themes
We've noted that the foundational concept of the world's most popular CMS is its free availability to the community. However, the overarching architecture of this ecosystem accommodates addons, plugins, and templates that come with a price tag. Clearly, to produce quality products, developer teams require incentives. While a plethora of free options exist, we'll delve deeper into this topic in subsequent sections. For now, we're showcasing the best non-profit charity WordPress themes that are available for purchase.
1. Gutenix — Adoptix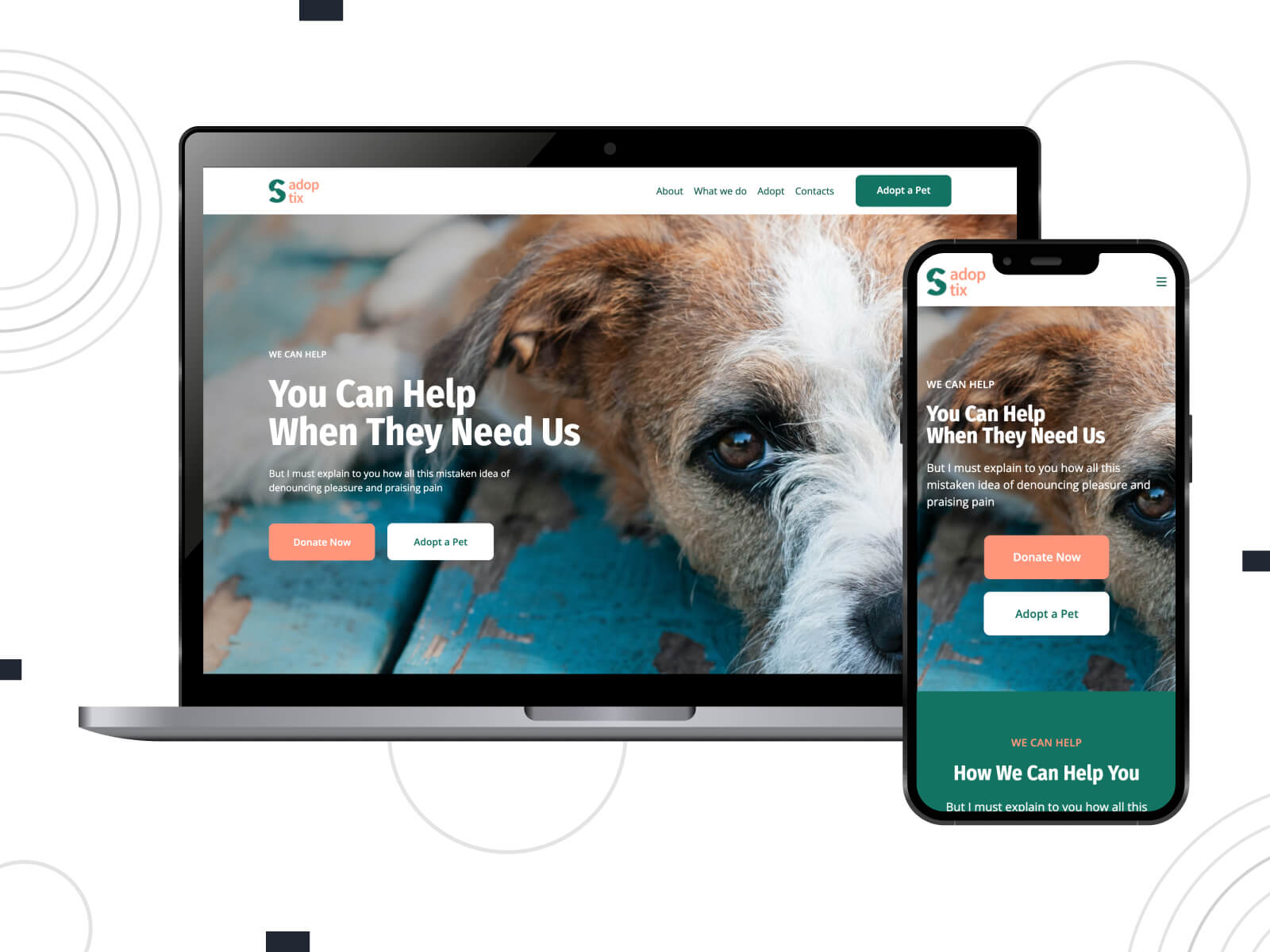 Author
Rating
Avg. Demo Speed Score
MotoPress
5
Mobile 93
Desktop 99
Being a part of the multipurpose Gutenix theme, which includes almost 50 starter demo sites, the Adoptix default skin serves as one of the best non-profit charity WordPress themes designed for initiatives focused on helping animals. However, with the multitude of tools and customization options that come out of the box with the general Gutenix template, you can create a site dedicated to anything you want in the realm of charity and nonprofit projects.
By default, Gutenix is available for free, while the paid version offers these additional features in the form of a package of pre-designed layouts and more than twenty additional Gutenberg blocks. Additionally, the template is compatible with Elementor and Brizy page editors, along with popular plugins such as Contact Form 7, Jetpack, WooCommerce, and Yoast SEO, which further enhance your website's functionality and optimization capabilities.
2. Sterling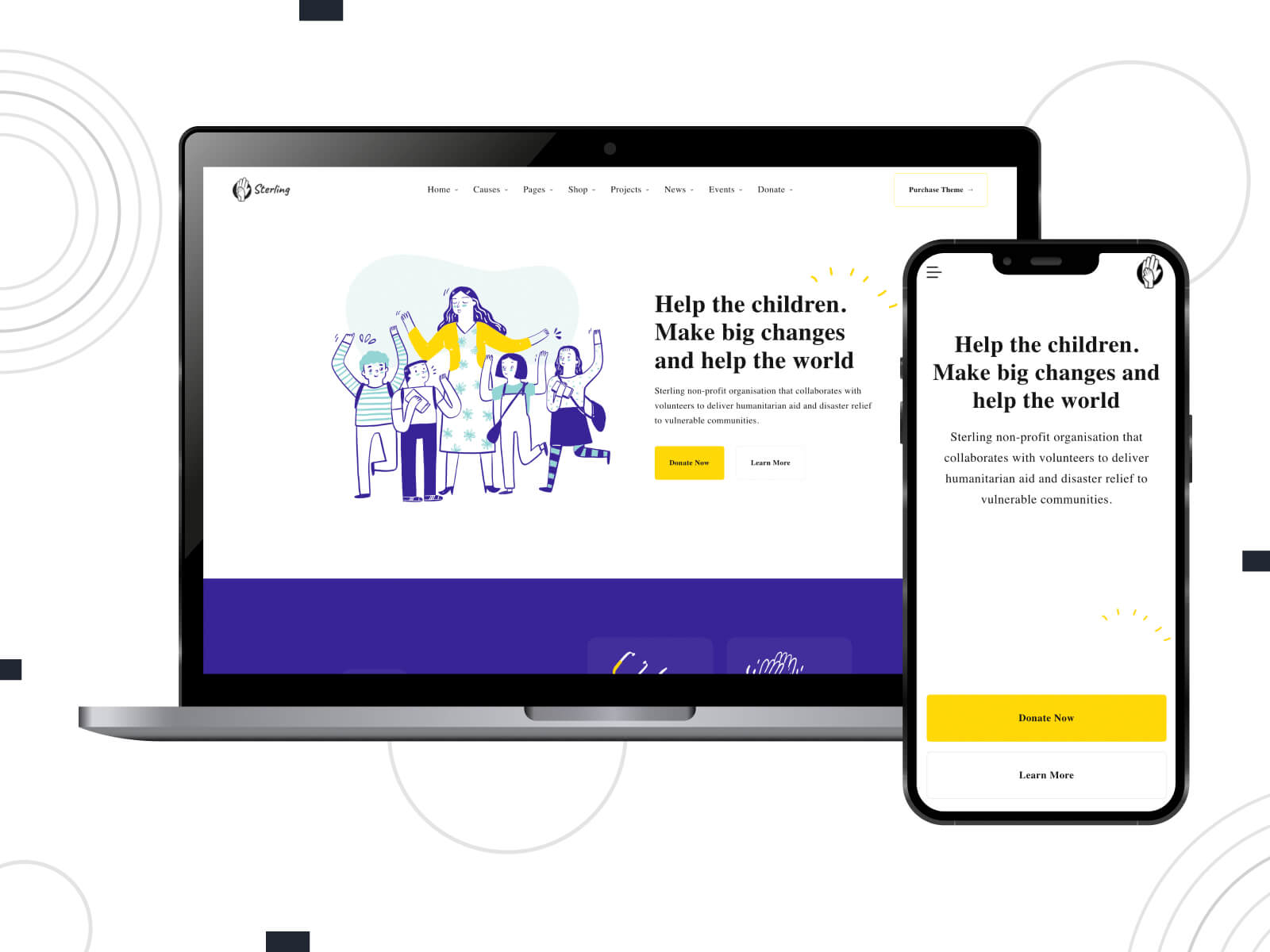 Author
Rating
Avg. Demo Speed Score
TrueThemes
4.54
Mobile 58
Desktop 51
This entry from our list of the best non-profit charity WordPress themes has the richest history among the others. More than 9,000 downloads serve as a testament to the versatility and quality of this template. Such popularity should not be surprising, given that it comes with over 20 pre-designed homepage layouts by default, along with more than 75 inner-page variations and 250 custom blocks.
Some examples of projects that can be created using this multifunctional, nonprofit-focused theme include initiatives for orphanages, churches, and environmental protection, among others. Common features that enhance the template utility include integration with Elementor for easy page building and dedicated editors for customizing footers and headers. Also, Sterling boasts a responsive layout that adjusts to various screen sizes and is compatible with WooCommerce along with other popular plugins.
3. BigHearts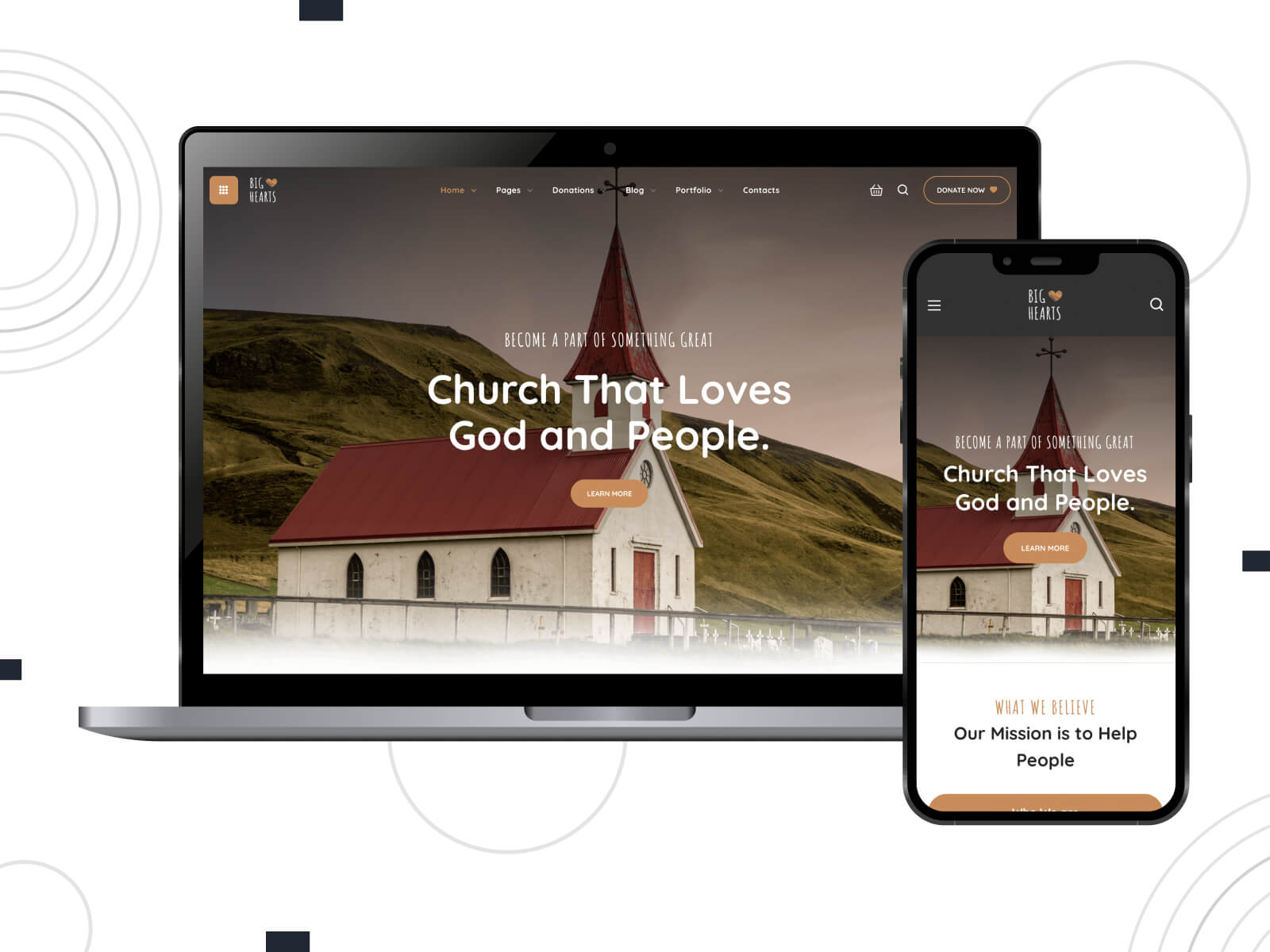 Author
Rating
Avg. Demo Speed Score
Webgeniuslab
4.83
Mobile 35
Desktop 71
The authors present this template as an excellent starting kit for creating a platform where those in need can find individuals willing to help. Conversely, those who wish to assist others will find a website based on this template to be a valuable tool for actualizing their good intentions.
Boasting compatibility with the popular GiveWP Donation Plugin, BigHearts is ideal for non-profit organizations. Like many other WordPress skins on the market, this theme also includes bundled demos to help craft a site that truly reflects your vision. Additionally, pre-made inner pages such as About Us, Our Team, Portfolio, etc., simplify the website's initial configuration.
A feature now standard in today's digital landscape, such as compatibility with Elementor, facilitates the creation of visually appealing websites using a drag-and-drop editor. Meanwhile, readiness for WooCommerce can aid in selling symbolic items to support the collection of funds for your charitable initiatives. Other features include the ability to adjust colors and fonts, one-click demo import, and extended WGL Row animations.
4. Caridad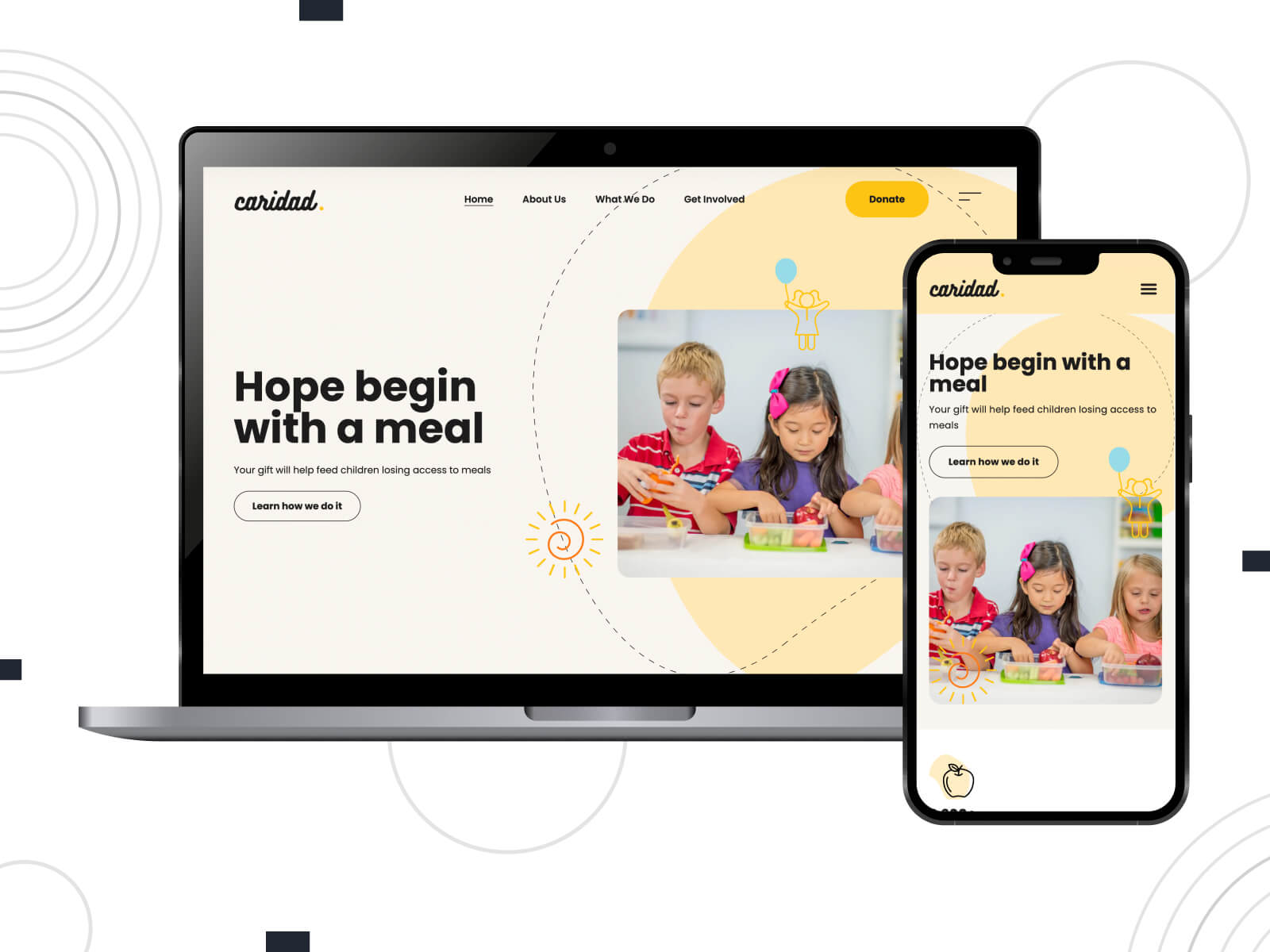 Author
Rating
Avg. Demo Speed Score
Vamtam
5.00
Mobile 45
Desktop 87
Positioned as another prime example of the best non-profit charity WordPress themes suitable for fundraising projects, non-government organizations, churches, and other similar institutions, Caridad is built atop the most popular donation WordPress plugin, GiveWP.
One standout feature of this template is the inclusion of a premium Getty images pack, provided for free, which would cost $240 if acquired separately. These pictures center around the charity theme, making them a valuable bonus, in our opinion, especially for designing a website that precisely matches this niche.
Characteristics such as compatibility with Elementor, the ability to import demo content, WooCommerce readiness, and support for Arabic, Hebrew, and Farsi languages might not surprise many. However, a less common feature like the "Coming Soon" mode could serve as a distinguishing factor from other similar WordPress templates.
5. Charitemax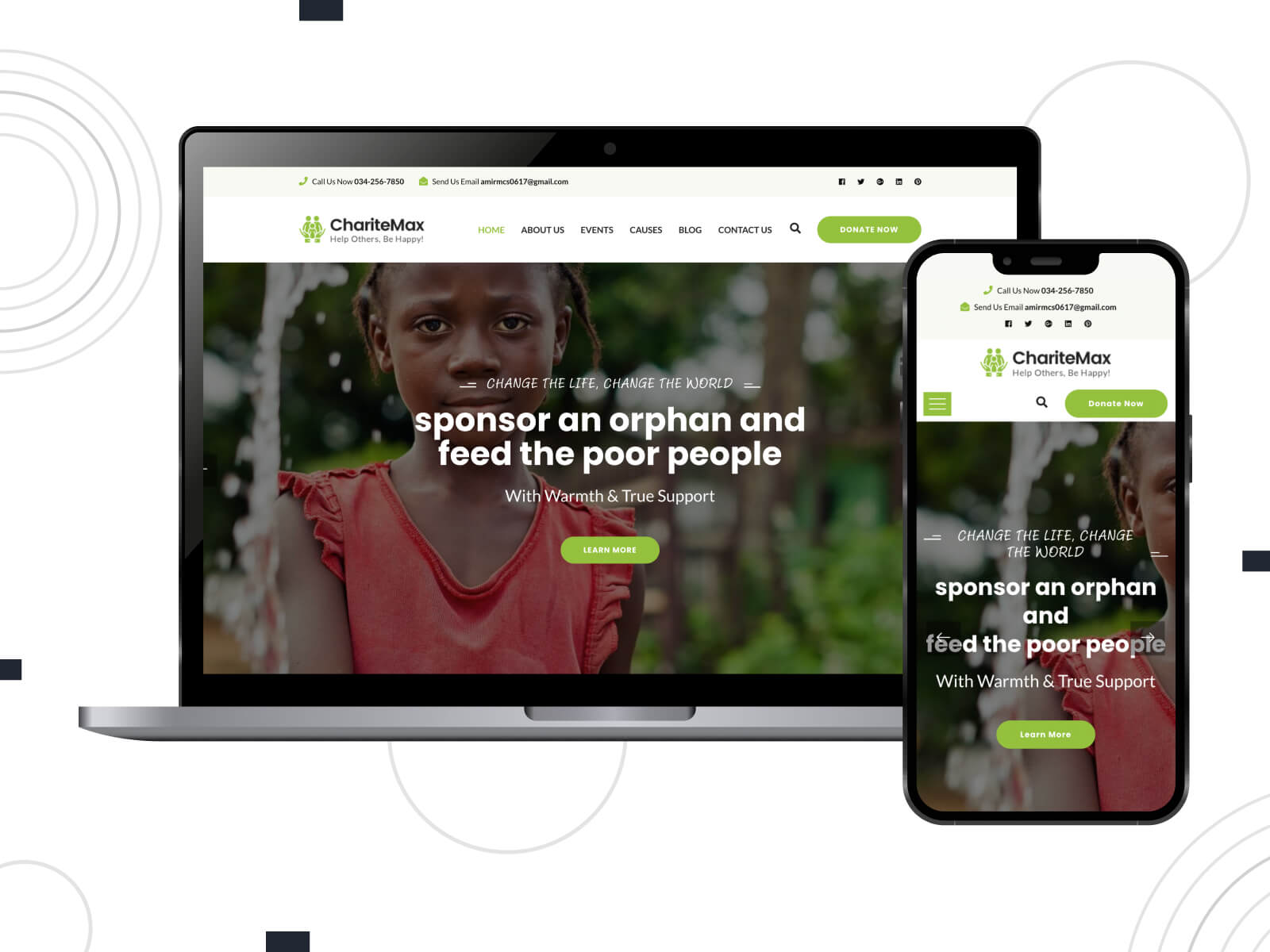 Author
Rating
Avg. Demo Speed Score
Template_Path
4.38
Mobile 44
Desktop 69
Donation websites, governmental social program projects, and other similar initiatives can be showcased with the appropriate degree of credibility, professionalism, and empathy using Charitemax. Unlike the two previously mentioned examples that are based on Elementor, this alternative has been built using King Composer. This is a similar tool intended to significantly simplify the site-building process.
A set of frequently encountered characteristics includes demo content availability, one-click installation, and design style, which ensures proper display on virtually all devices capable of browsing the web. Other features include support for multiple languages and compatibility with Contact Form 7, WooCommerce, and other popular extensions. As for our particular topic, it's worth noting the integration with the Charitable plugin, one of the most popular donation tools.
6. Chariti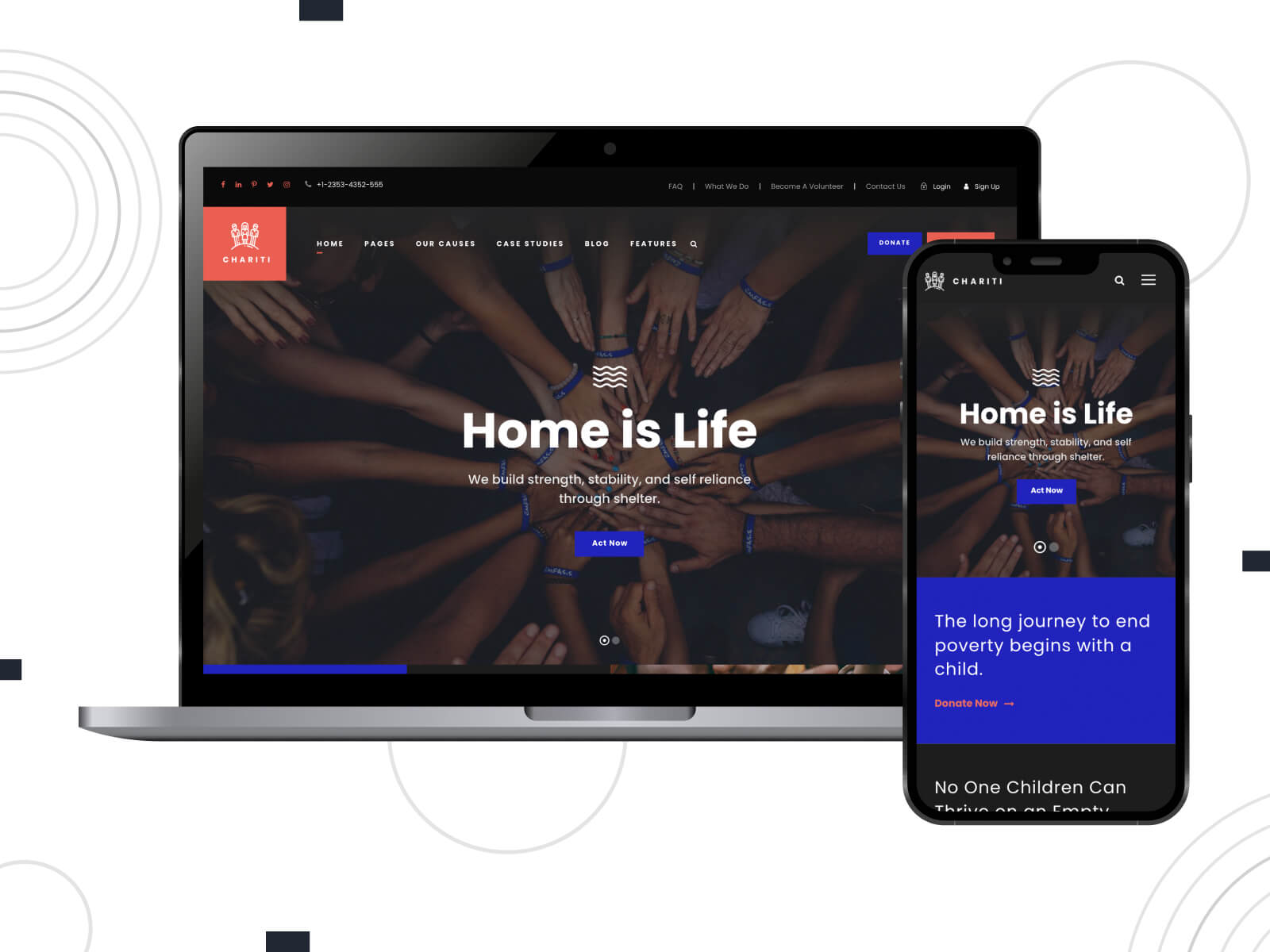 Author
Rating
Avg. Demo Speed Score
Goodlayers
4.65
Mobile 47
Desktop 85
Among the most important features that might influence the decision to choose a niche-specific WordPress theme, especially one positioned as a philanthropic template, is the presence of donation tools out of the box. As one of the best non-profit charity WordPress themes, Chariti offers exactly that functionality. For the convenience of donors, there is an opportunity to review the history of their contributions along with other valuable information.
From the other side of the operation, website owners can review all the necessary information and accept payments through multiple popular payment gateways. In other words, managing financial processes is also relatively easy and comfortable. As for additional distinctive features, the template includes Revolution Slider and LightGallery plugins for free, saving $37 for those who decide to use the Chariti.
As for other components of the system that are common nowadays, they include a demo importer for convenient and quick installation of pre-designed appearance variants, 22 highly customizable header layouts, the presence of a drag-and-drop page builder, and several distinctive layouts for the footer.
7. Donakion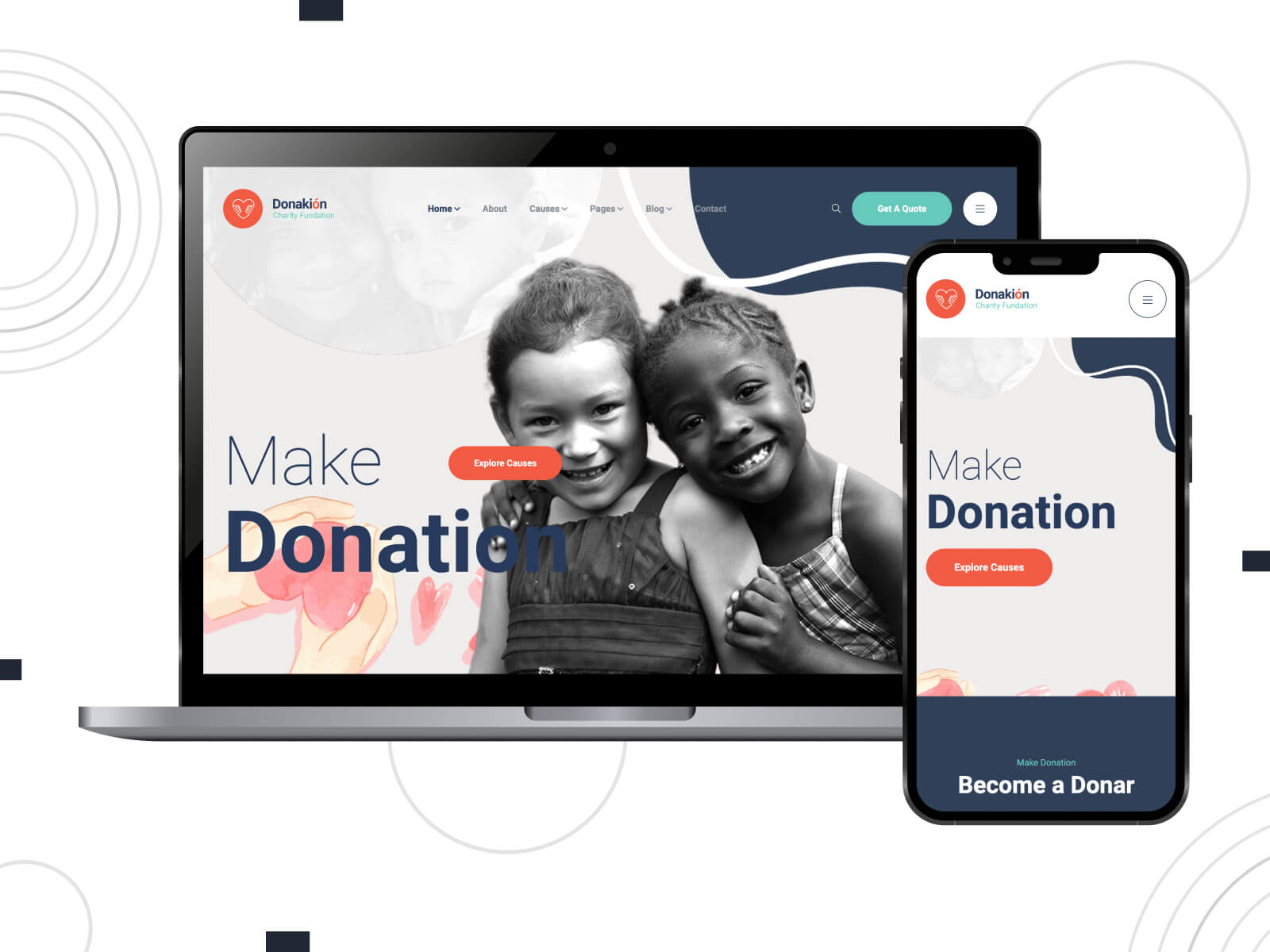 Author
Rating
Avg. Demo Speed Score
Theme_Pure
5.00
Mobile 62
Desktop 91
As its name suggests, this entry from our list of the best non-profit charity WordPress themes is designed to become an invaluable tool in the process of fundraising. Primary focused on the needs of NGOs, volunteer organizations, nature protective movements, and other similar projects, this template offers three pre-built home page variants, along with more than 15 inner pages, focused exactly on the topic of charity.
As a rule of thumb, every modern WordPress theme should offer multilanguage capabilities, color, and typography customization options, and be compatible with one of the popular WYSIWYG page builders. This template is no exception. With Bootstrap 5, CSS3, jQuery, and advanced animations under its belt, you can be confident in a reliable design that performs well on both desktop and mobile devices.
8. Ekoterra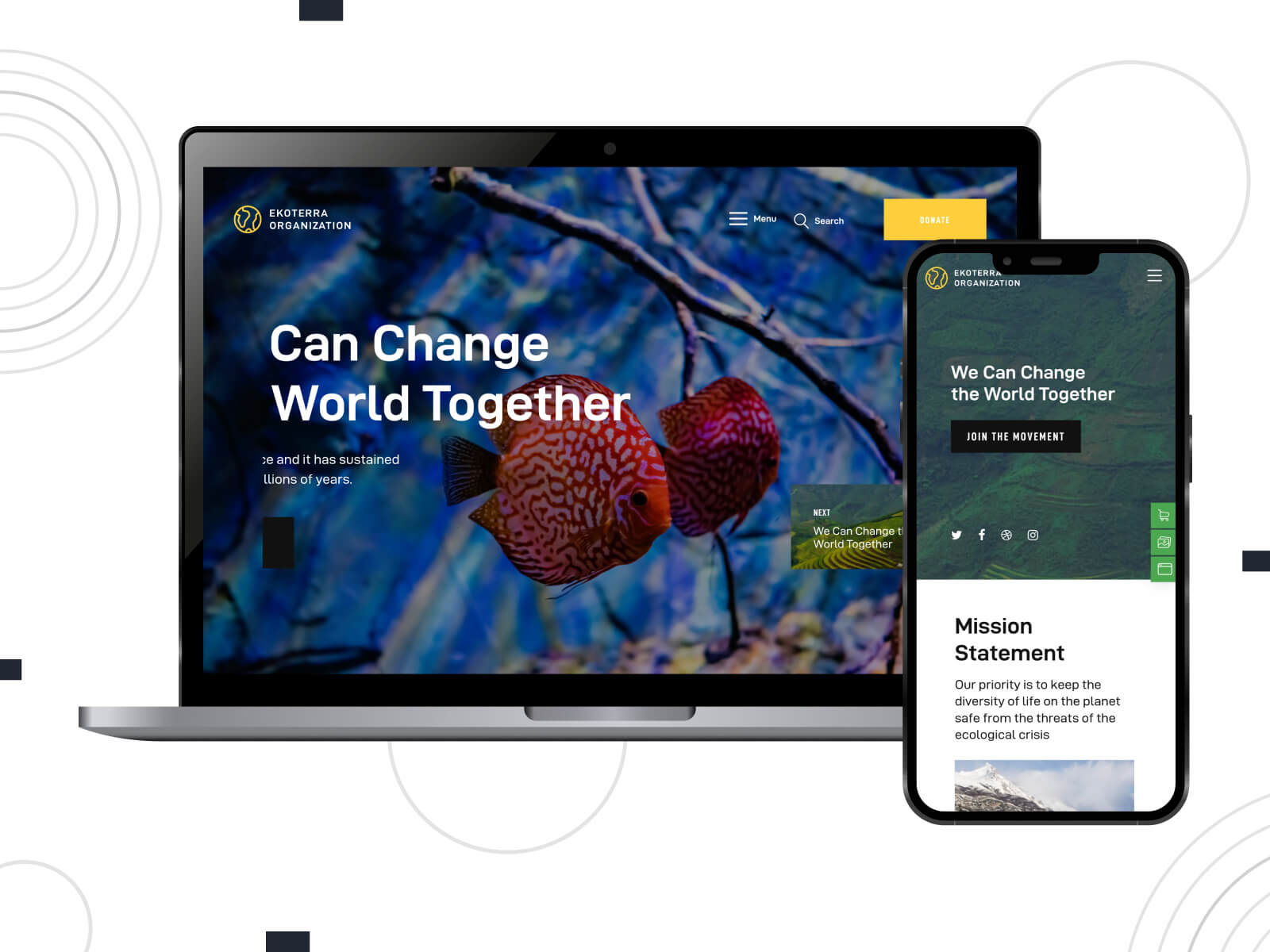 Author
Rating
Avg. Demo Speed Score
Ancorathemes
4.91
Mobile 54
Desktop 77
If the previously mentioned entries from our collection are focused on the general concept of nonprofit-related projects, this one is tailored for nature protection activism. With a specific concentration on ecology, the template offers about ten design variations, which were pre-built precisely to allow you to select the one that aligns most closely with the ideas and values of your initiative, enabling you to establish an astonishing online presence in no time.
As with other templates from this niche, here we have a GiveWP plugin bundled with the theme, which is intended for collecting contributions. It offers a convenient donation process for all those who want to help save nature while ensuring the same level of comfort in managing these donations from the admin side. Another pertinent feature is the fully-fledged petition functionality, while the pre-packed Slider Revolution & Swiper Slider can be used to construct attractive call-to-action pages.
Other well-known plugins that this theme is compatible with include MailChimp for WP, The Events Calendar, Elementor, Contact Form 7, and Elegro Crypto Payments. Thanks to the astonishing number of widgets and shortcodes, along with flexible layout options, you will definitely be able to create an attractive website for your eco-activity project, while Likes and Sharing Button functionalities will help in spreading the word about your initiatives.
9. Fundor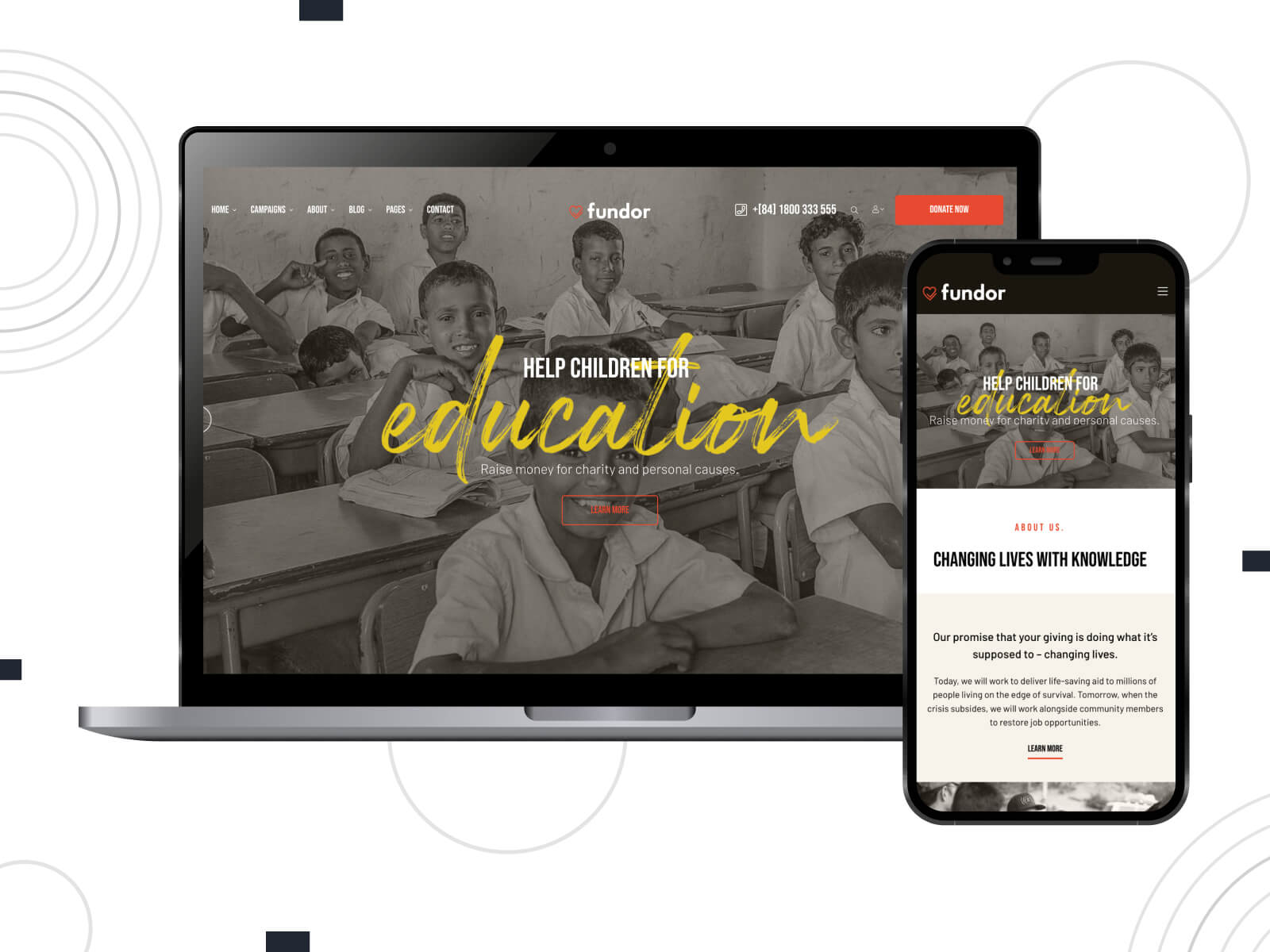 Author
Rating
Installations
Avg. Demo Speed Score
Themelexus
5.00
236
Mobile 35
Desktop 84
As with any other nonprofit WordPress theme, this one includes a special Donation Plugin, which captures the core idea behind this template: to cater to fundraising campaigns. With three homepage demos designed to emphasize the sharing and helping nature of the project, combined with Elementor support, it becomes an easy task to quickly launch and later customize the website for your specific needs.
Among its distinctive attributes are an inspiring stories section, which creates a positive impression of your initiatives, and a volunteer registration page. According to the authors, there's also a specialized donor wall, where prominent contributors are showcased as a sign of gratitude for their charity. These are just a few among multiple other prebuilt web pages.
Features that are now almost standard in the realm of modern WordPress templates include adaptability for any device, optimization for high loading speed, reliable support, and compatibility with the majority of popular plugins.
10. Gainlove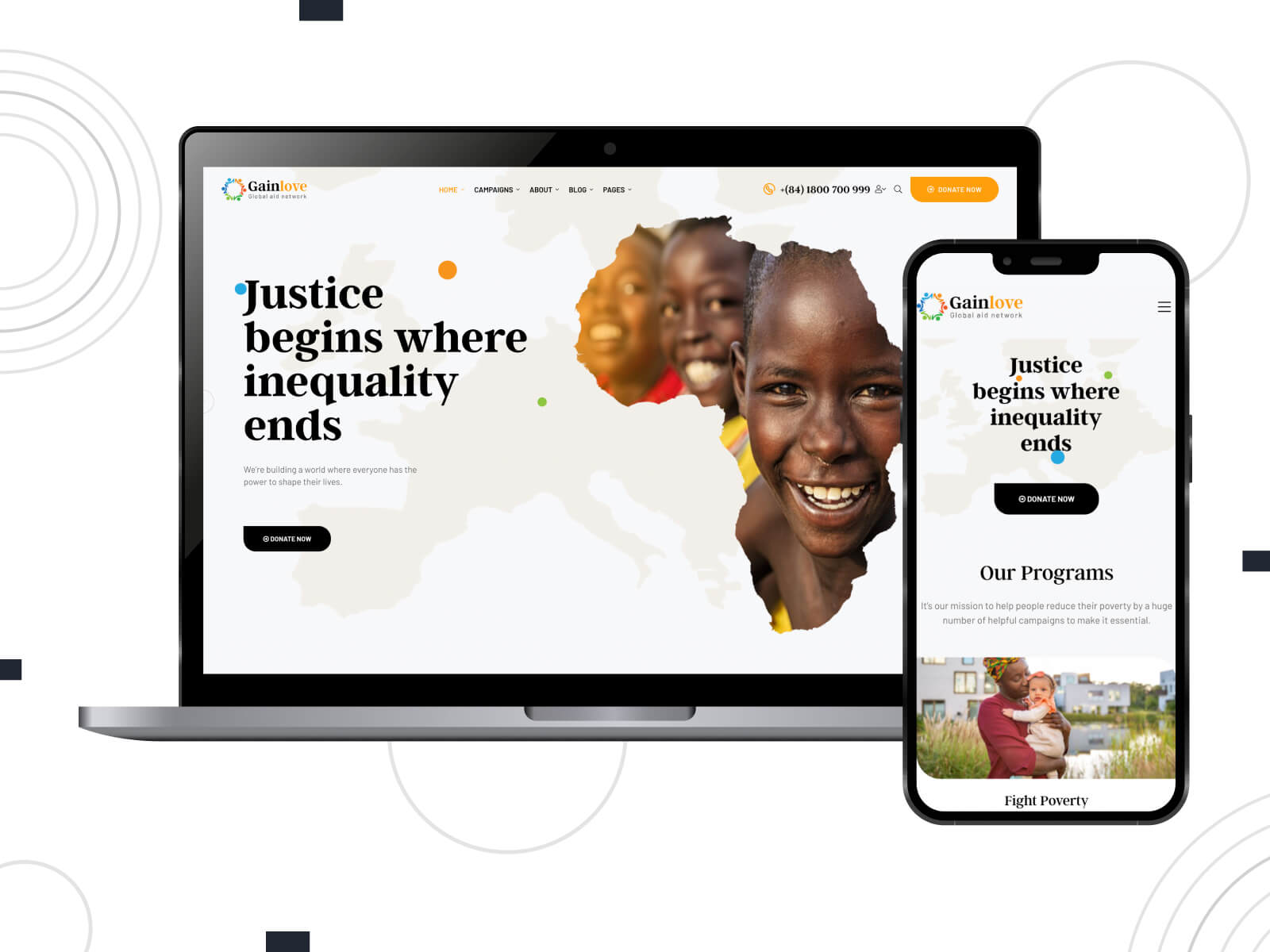 Author
Rating
Avg. Demo Speed Score
Themelexus
5.00
Mobile 39
Desktop 86
Donation features, several prebuilt homepage demos, a dedicated webpage with information on volunteer participation in the project, and an inspiring stories page — these are probably the primary essentials, necessary for running a successful nonprofit website. And they all are present in Gainlove, which is deemed as the best template in this niche, at least according to the theme's authors. The target audience for this skin includes those who run crowdfunding campaigns, NGO initiatives, animal-saving projects, volunteering programs, and so on.
Integration with Elementor facilitates the drag-and-drop construction of campaign pages, donation forms, or any other web pages for a charity website. Responsiveness, SEO capabilities, and support for a safe donation process with multiple payment gateways are also included. Integrated tools such as Yoast SEO, Mailchimp for WP, Contact Form 7, Revolution Slider, and WPML are present, exemplifying the gold standard of modern template bundles.
11. GoodSoul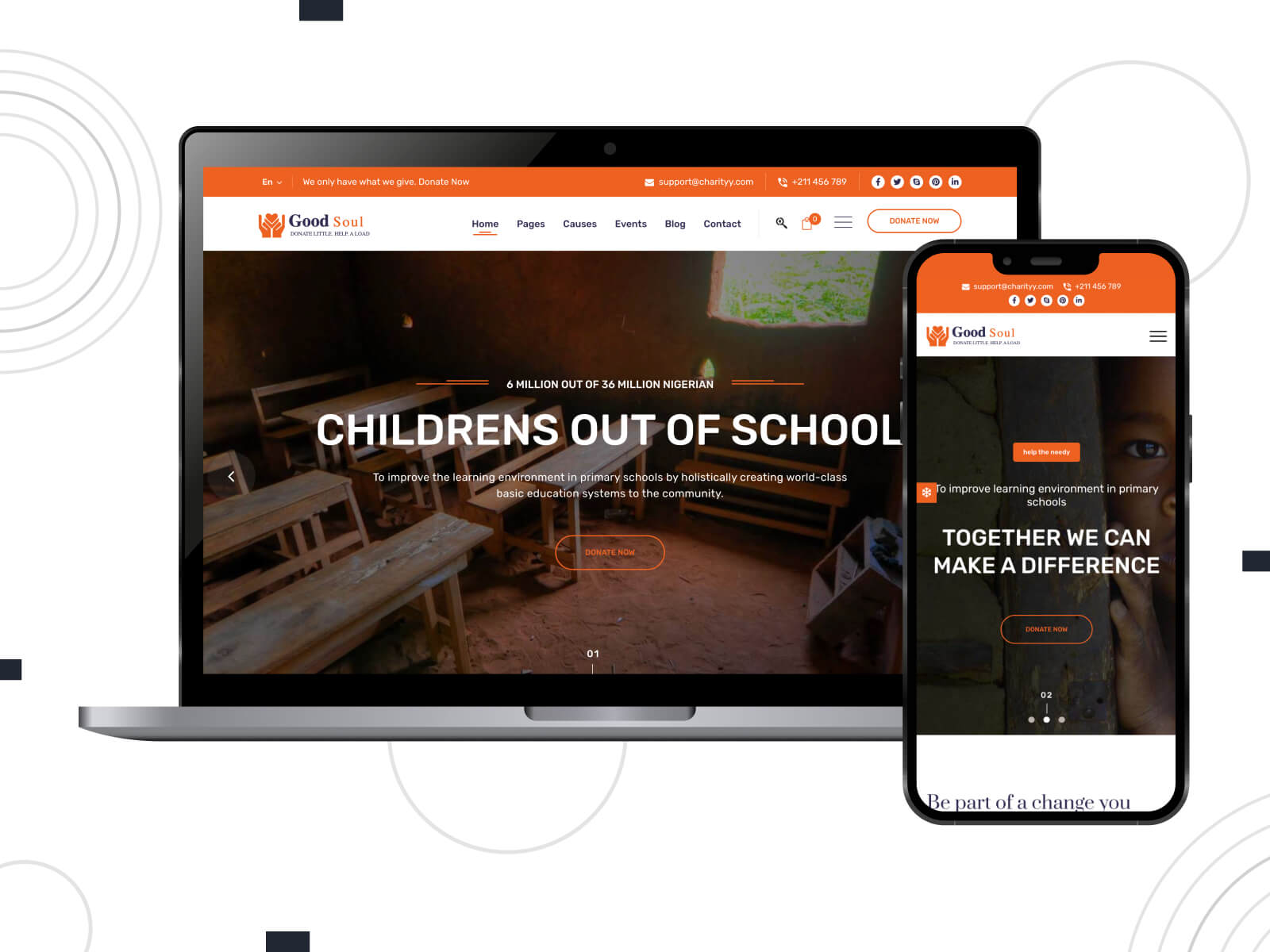 Author
Rating
Avg. Demo Speed Score
Smartdatasoft
4.17
Mobile 40
Desktop 74
Another entry from our list of the best non-profit charity WordPress themes offers the majority of functionalities important for this niche. Unlike some previously mentioned templates, this one provides a slightly larger number of pre-constructed homepage demos — 5 in total. Additionally, the quantity of inner pages pre-designed by the authors exceeds 20.
When looking at the main demo presented by the authors, it becomes evident what this theme is all about. It meets the gold standard in terms of features commonly found in a vast majority of premium WordPress templates. This is confirmed by the presence of a responsive layout, the underlying Bootstrap framework (version 3), unlimited sidebars, Google Maps integration, advanced typography, parallax effect, and prompt support.
12. Governlia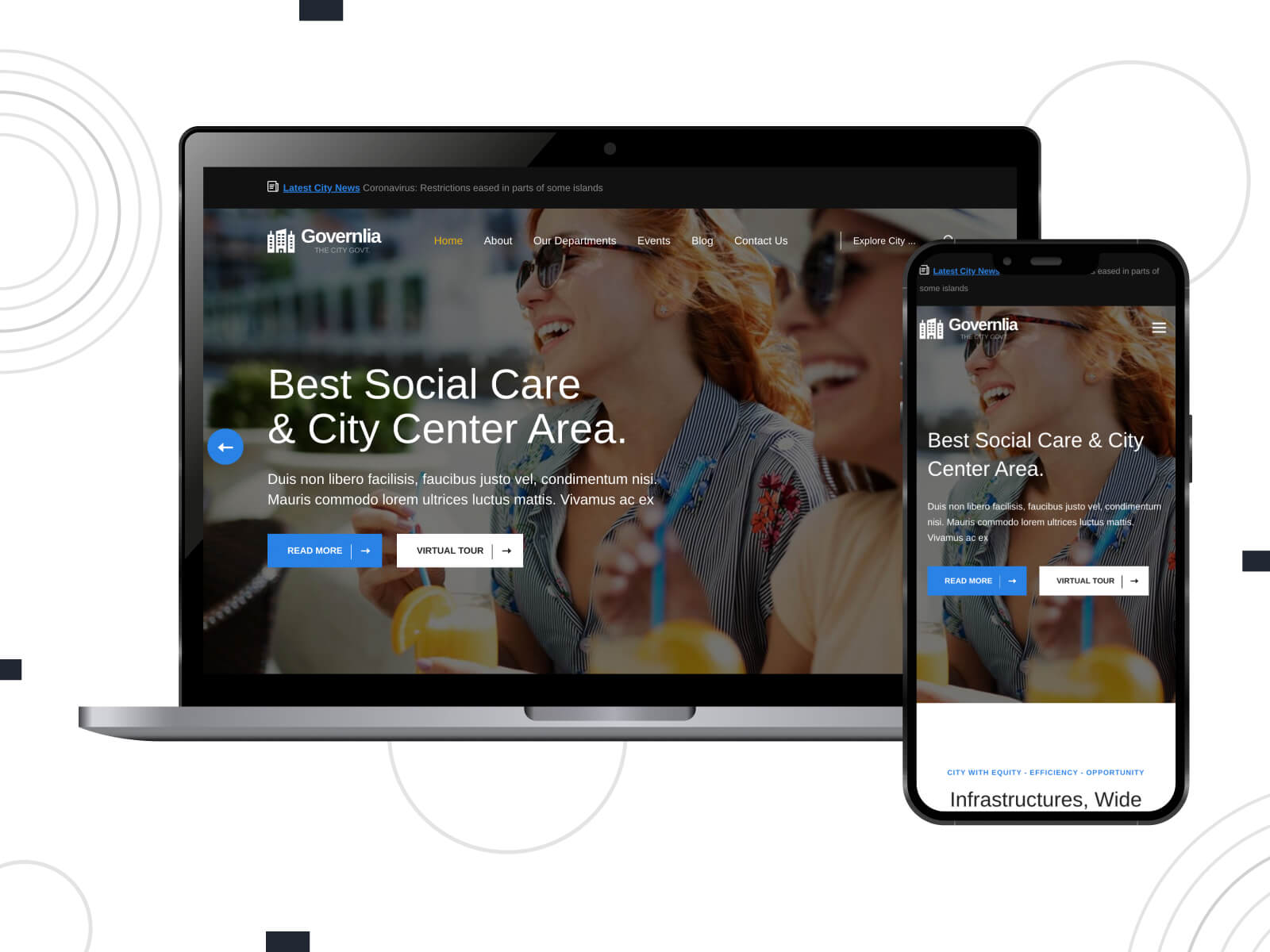 Author
Rating
Avg. Demo Speed Score
Template_Path
5.00
Mobile 41
Desktop 78
From its name, we can immediately deduce that this theme has a governmental and political inclination, and our first impression is correct. Websites for social programs, political organizations, social justice campaigns, and overall sites related to municipal institutions were in focus when the creators of this template began its development. Unlike some previously mentioned options, this one doesn't have embedded donation plugins; the main goal of this theme is somewhat different.
Here we can see Elementor integration, which is frequently encountered, along with several home demos. The design's adaptability ensures it looks beautiful on any device. It supports WPML, and Contact Form 7, and offers a vast array of fonts for customization. Additionally, the structure is optimized for search engines, there are variable content sections, custom page templates, and so on. Overall, in other, more general aspects, this is a fairly standard theme in today's landscape.
13. Impacto Patronus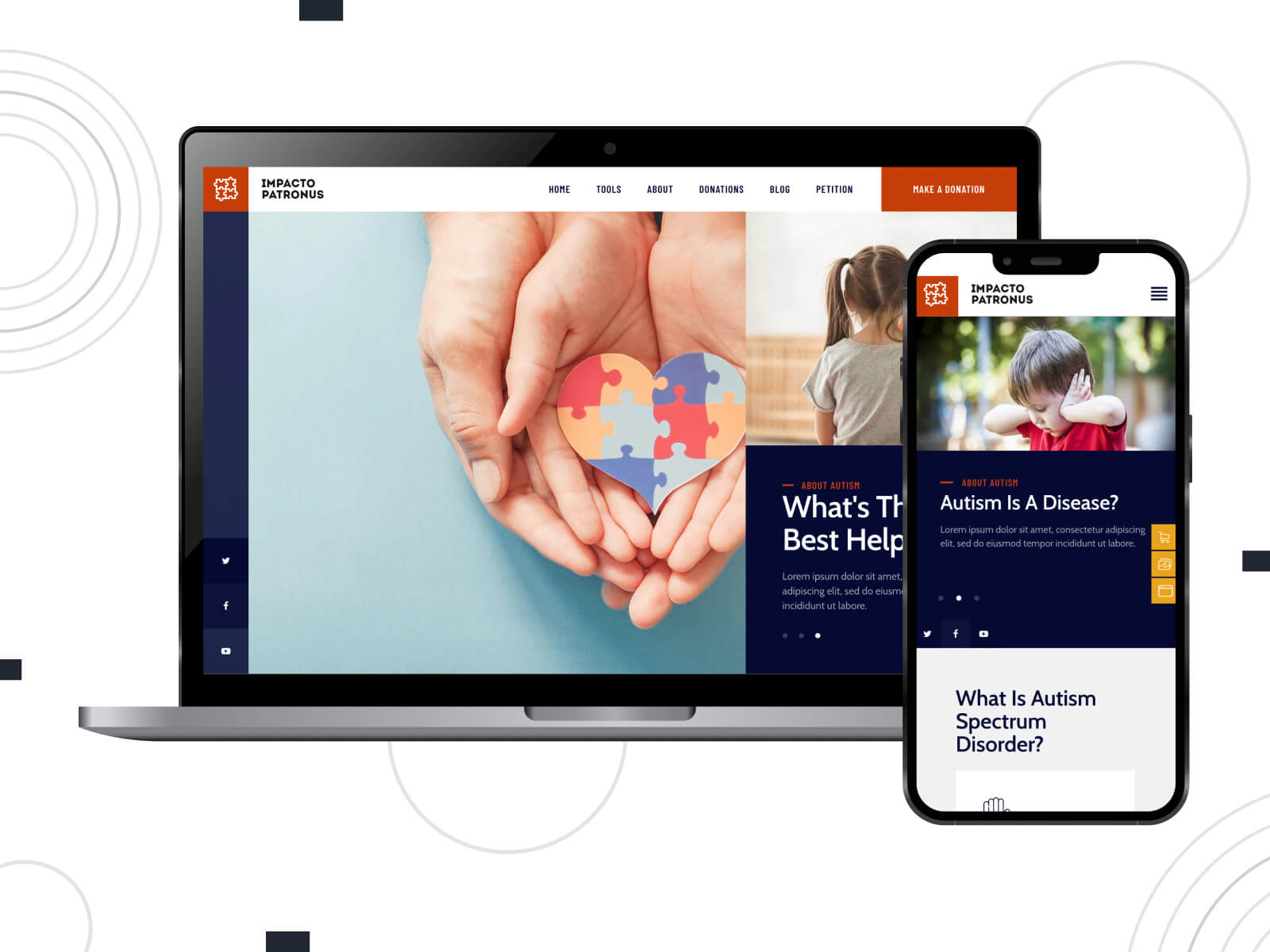 Author
Rating
Avg. Demo Speed Score
Ancorathemes
4.81
Mobile 35
Desktop 75
Here, we can see a total of 16 preconstructed demos that are sure to captivate anyone seeking a non-profit template for their website. These layouts cater to children's protection organizations, institutions that support individuals in psychologically challenging situations, human rights movements, various social healthcare programs, environmental protection initiatives, organizations championing the rights of the LGBT community, and even those advocating for the legalization of prohibited substances. Nearly every non-profit institution could find a design that suits their needs among the pre-built offerings of this theme.
Niche-specific functionalities include the ability to create petitions and gather donations via corresponding plugins (WP Petitions and GiveWP, correspondingly). Regarding general features, in this case, we have Elementor support along with Slider Revolution, Swiper Slider, Contact Form 7, Mailchimp for WP, and so on. The one-click demo installation ensures a quick initial setup, while RTL capabilities are invaluable for those targeting audiences from Arabic countries. Moreover, this template can be adjusted in any way you wish. According to the authors, there are more than 750 customizer options available.
14. WiHelp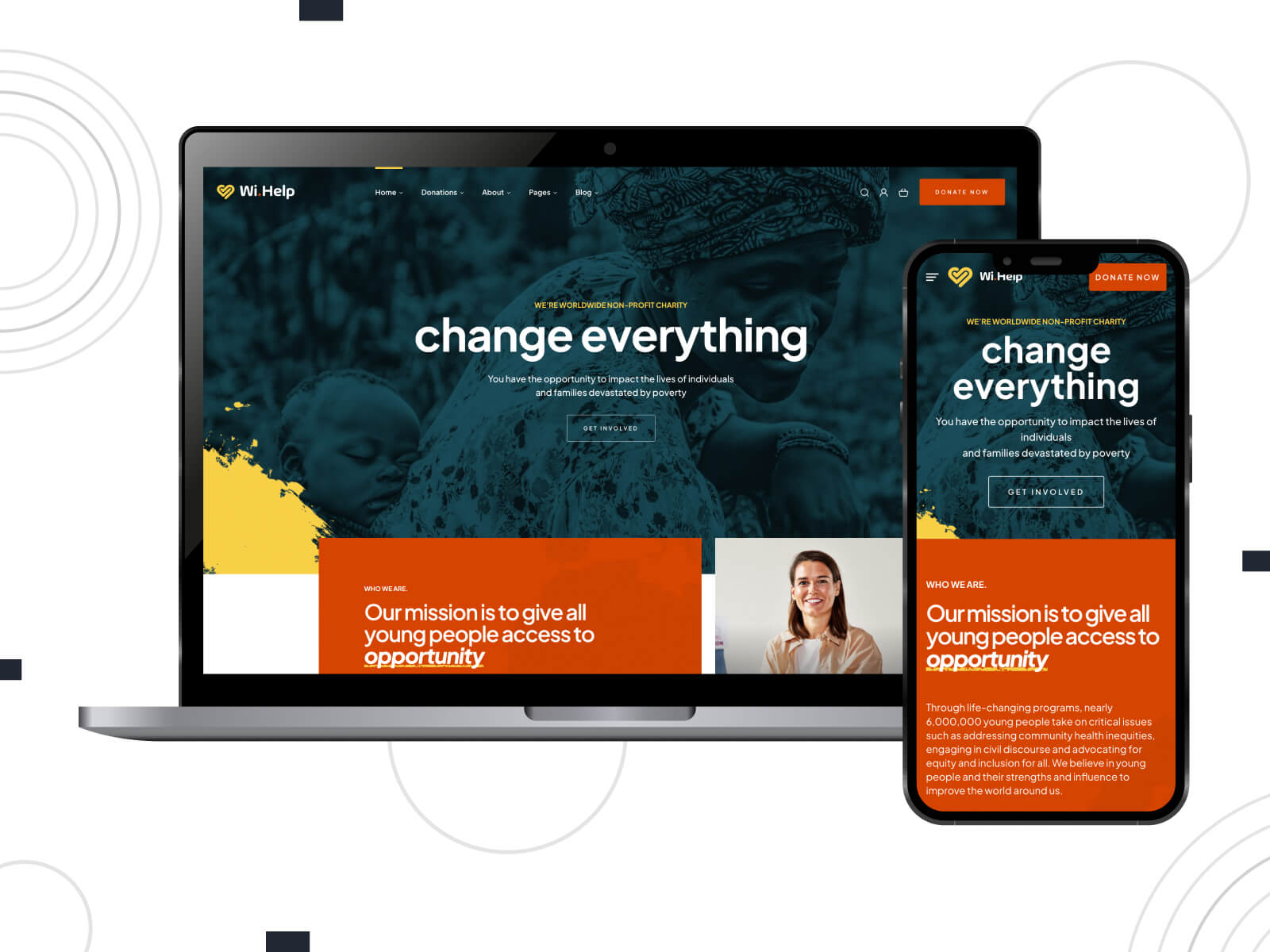 Author
Rating
Avg. Demo Speed Score
Pavothemes
5.00
Mobile 46
Desktop 79
With 12 pre-built homepage layouts catered to projects such as children protection, nature conservation, support for those battling cancer, women's rights movements, LGBT rights advocacy, religious organizations, and even political-related activities, this template stands as yet another prime example of the best non-profit charity WordPress themes. A notable feature includes integration with the GiveWP plugin, which facilitates the collection of payments from around the world and simplifies the creation of donation pages.
As for a more general set of features, Elementor, the king of WYSIWYG builders, facilitates easy customization of imported demos, while various layouts for funds collection pages provide the flexibility to tailor the site to your specific needs. In addition, a multitude of other inner page designs is provided by default, accompanied by a standard set of supported plugins such as Slider Revolution, WPML, Mailchimp for WP, and more. Customization ranges from the minutest details, like fonts and colors, to broader aspects such as changing backgrounds, header and footer designs, and so forth.
15. Worldlife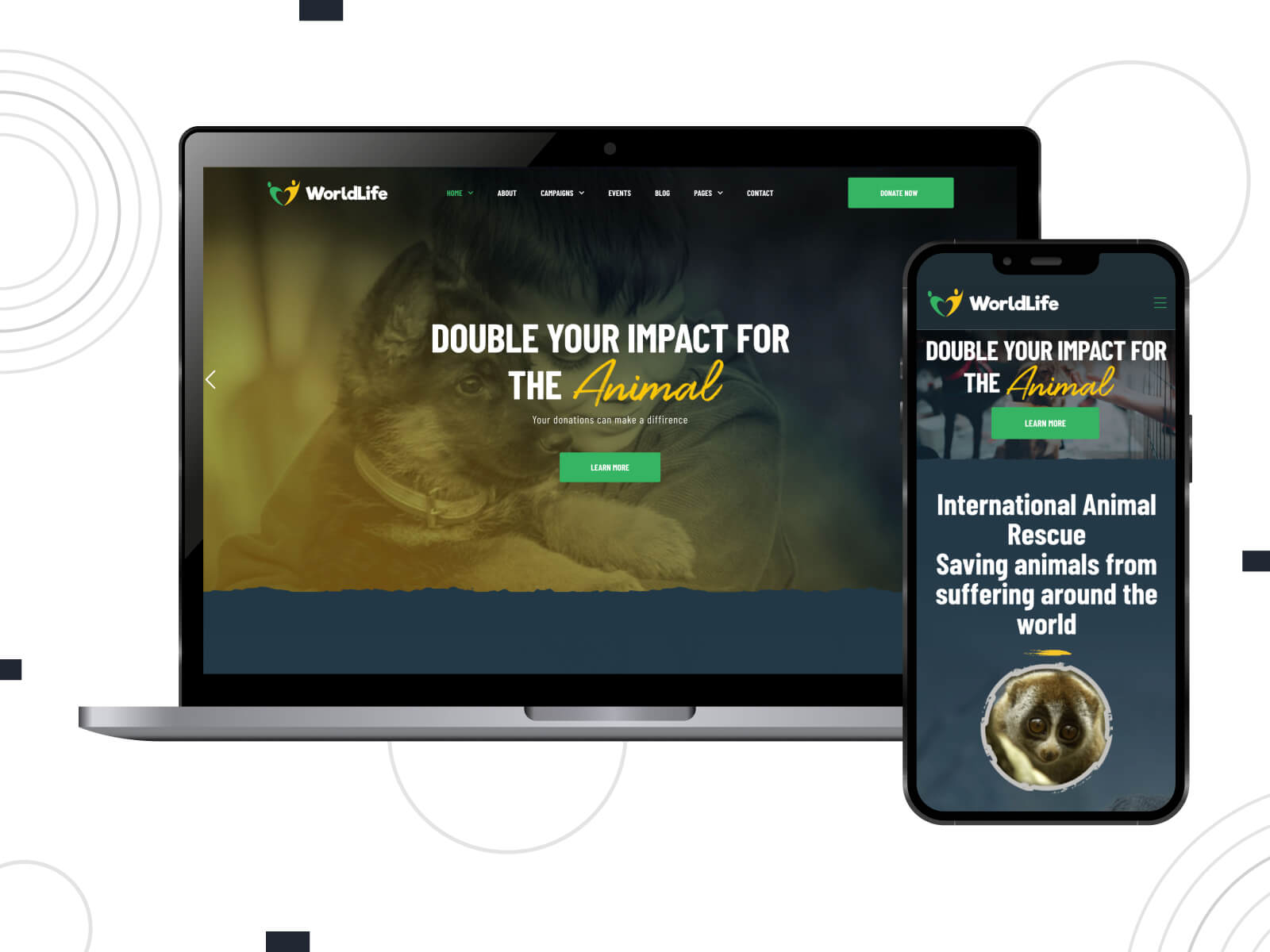 Author
Rating
Avg. Demo Speed Score
Themelexus
5.00
Mobile 33
Desktop 57
The name of the template speaks for itself: it is designed to help create websites dedicated to addressing global issues, such as animal protection, challenges caused by natural disasters, fundraising for disease treatments, and the worldwide problem of unequal education. Correspondingly, there are four pre-made demo layouts for these sub-niches.
What else do we have here that's directly related to non-profit activity? You can create specialized donation pages to initiate crowdfunding for your projects and express gratitude to donors with a special "Thank You" wall, where all contributors will be showcased. Additionally, you can add various events related to your activity and construct unique donation forms.
Elementor, Mailchimp for WP, Contact Form 7, and so on represent a fairly standard package, making the management of your website as straightforward as possible. Cross-device compatibility, optimization for speed, and SEO-friendliness likely will not surprise you, just as the extensive range of customization capabilities won't.
Best free non-profit WordPress themes
This section of the best non-profit charity WordPress themes collection is specifically dedicated to templates that are available for free. If you want to truly reflect the non-profit nature of your initiative, these options are ideal. However, it's worth noting that these themes tend to have fewer features than those presented in the previous section. Additionally, they typically offer just one initial layout, whereas premium templates often come with several alternative pre-designed homepage layouts.
16. Charity Fundraiser
Author
Rating
Avg. Demo Speed Score
Themesglance
5
Mobile 97
Desktop 100
In this case, the name speaks for itself: this template is designed for nonprofit, charity, and fundraising projects. The layout is visually appealing, capturing a visitor's attention from the start. Initially, it emphasizes helping children, but the theme is compatible with various page builders, which allows you to change this initial style to your particular needs. A user-friendly interface ensures smooth navigation, while a responsive design guarantees an optimal viewing experience on any device or screen size.
The template loads quickly and is compatible with all major browsers, making as a priority not only aesthetics but also SEO optimization and translation readiness. With customizable homepage banners and sliders, integrated social media icons, Bootstrap framework integration, Call to Action buttons, clean coding practices, and support for numerous third-party plugins, Charity Fundraiser stands as a versatile solution for crafting impactful nonprofit websites.
17. Prayer Lite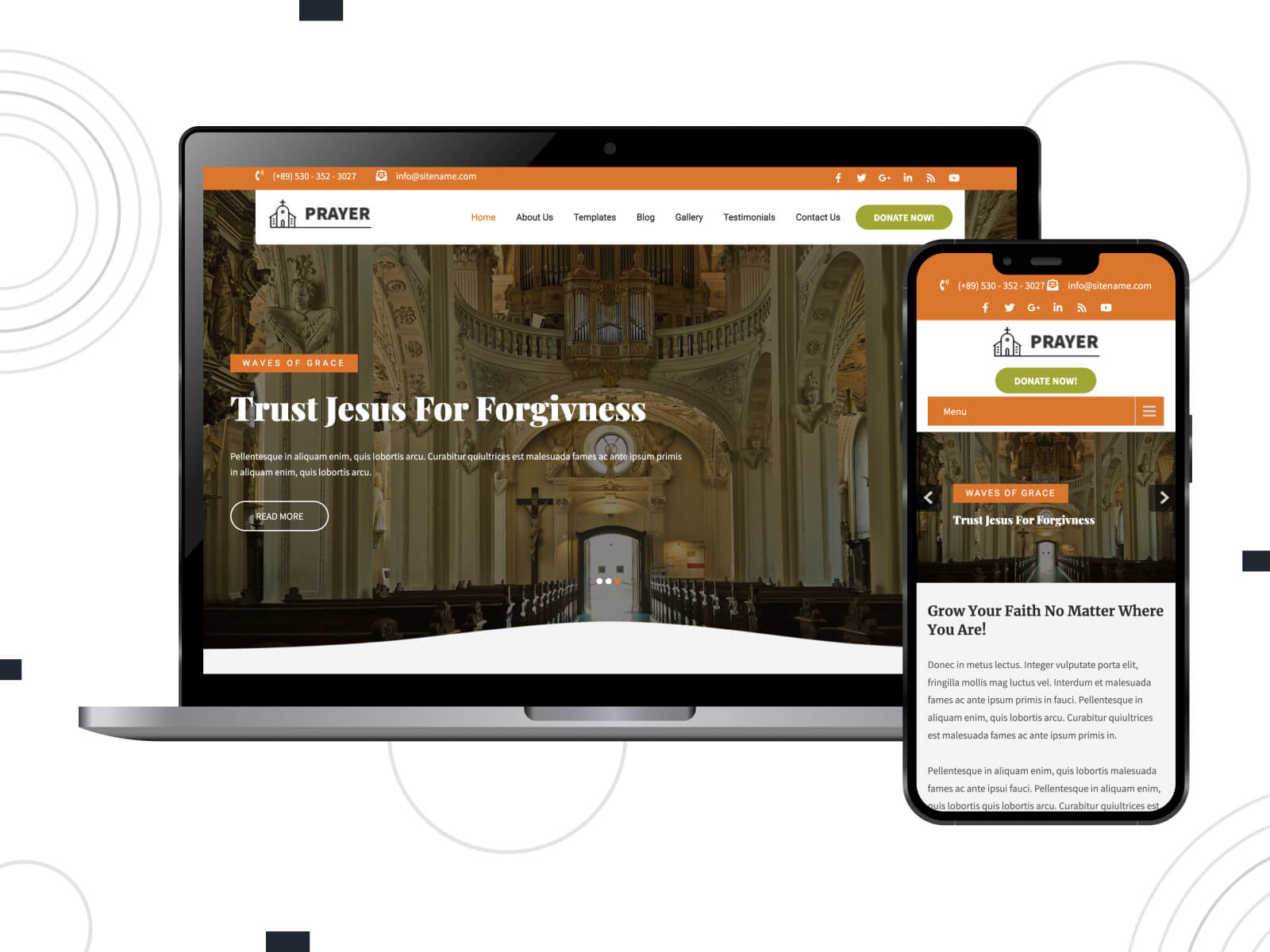 Author
Rating
Avg. Demo Speed Score
Gracethemes
5
Mobile 91
Desktop 99
The primary focus of this entry from our list of the best non-profit charity WordPress themes is to serve the needs of religious websites. However, according to the authors, the template can also be used for NGOs and other nonprofit organizations, likely with a slight modification to the initial design. Overall, the layout is clean, modern, and aesthetically pleasing.
The homepage features a slider at the top and several sections, such as "Welcome", "Services", and a block with social media links. In essence, all other attributes are fairly standard: it's compatible with popular plugins like Yoast SEO, WPForms, WooCommerce, Contact Form 7, and so on. Additionally, it includes Google Map functionality, and SEO capabilities, and ensures consistent and beautiful display across all devices.
18. Forgood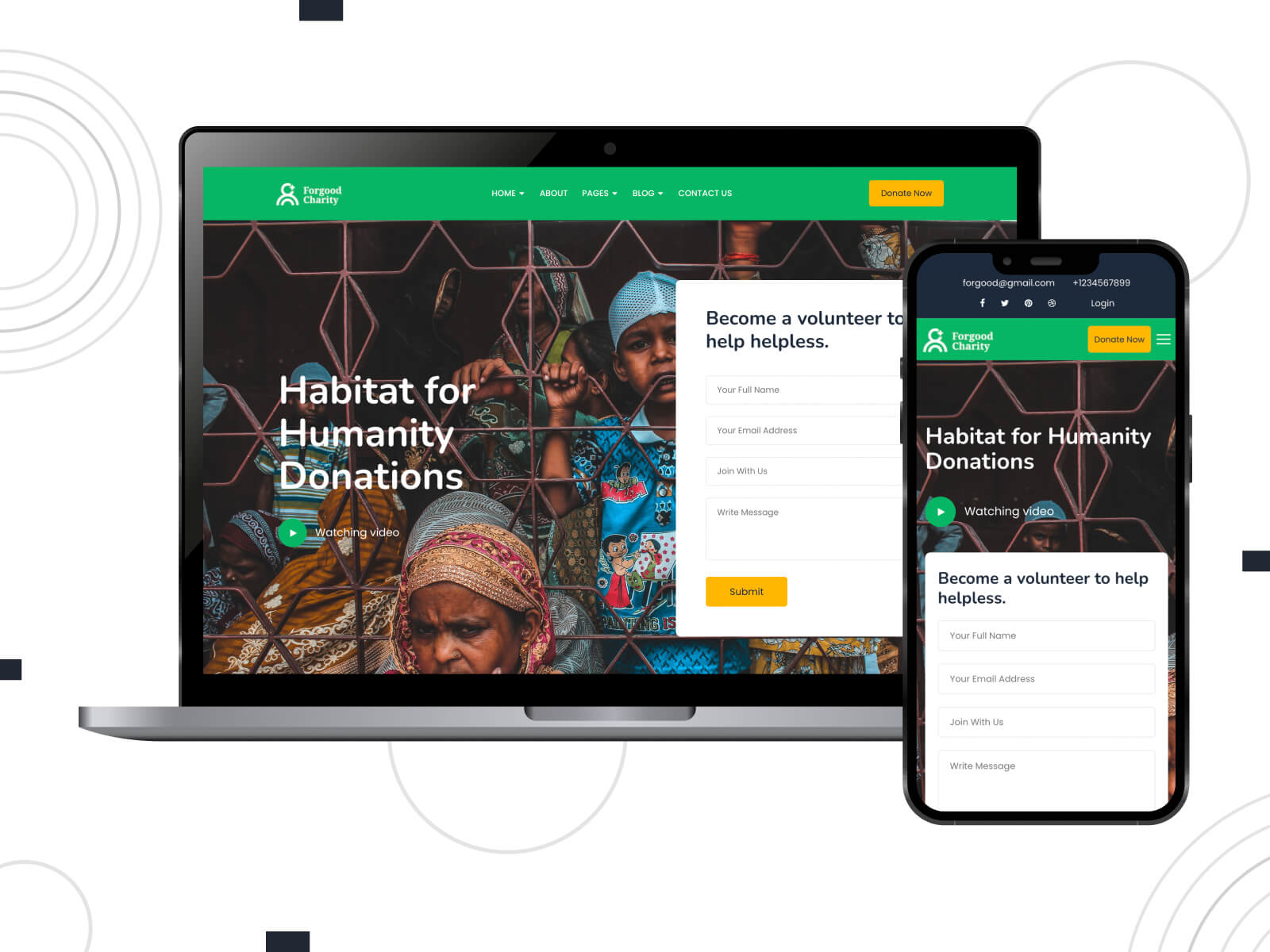 Author
Rating
Avg. Demo Speed Score
Html5Wp Themes
5
Mobile 81
Desktop 98
A versatile and appealing WordPress theme designed for charities, non-profits, and social organizations. It provides an intuitive user experience through its clean design and responsiveness. This template is perfect for fundraising events, blood donation campaigns, welfare activities, and even blogging about charity work. With secure coding, it ensures safety, while its SEO-friendly structure enhances search engine visibility.
A niche-specific feature, such as a testimonial section, not only adds a unique touch to your website but also offers visitors an opportunity to share their thoughts and experiences related to your charitable efforts. Regarding more general aspects, compatibility with a broad range of plugins ensures you can expand functionality as needed. Meanwhile, the theme's customizability and responsiveness ensure an intuitive and pleasant experience.
19. The Church Lite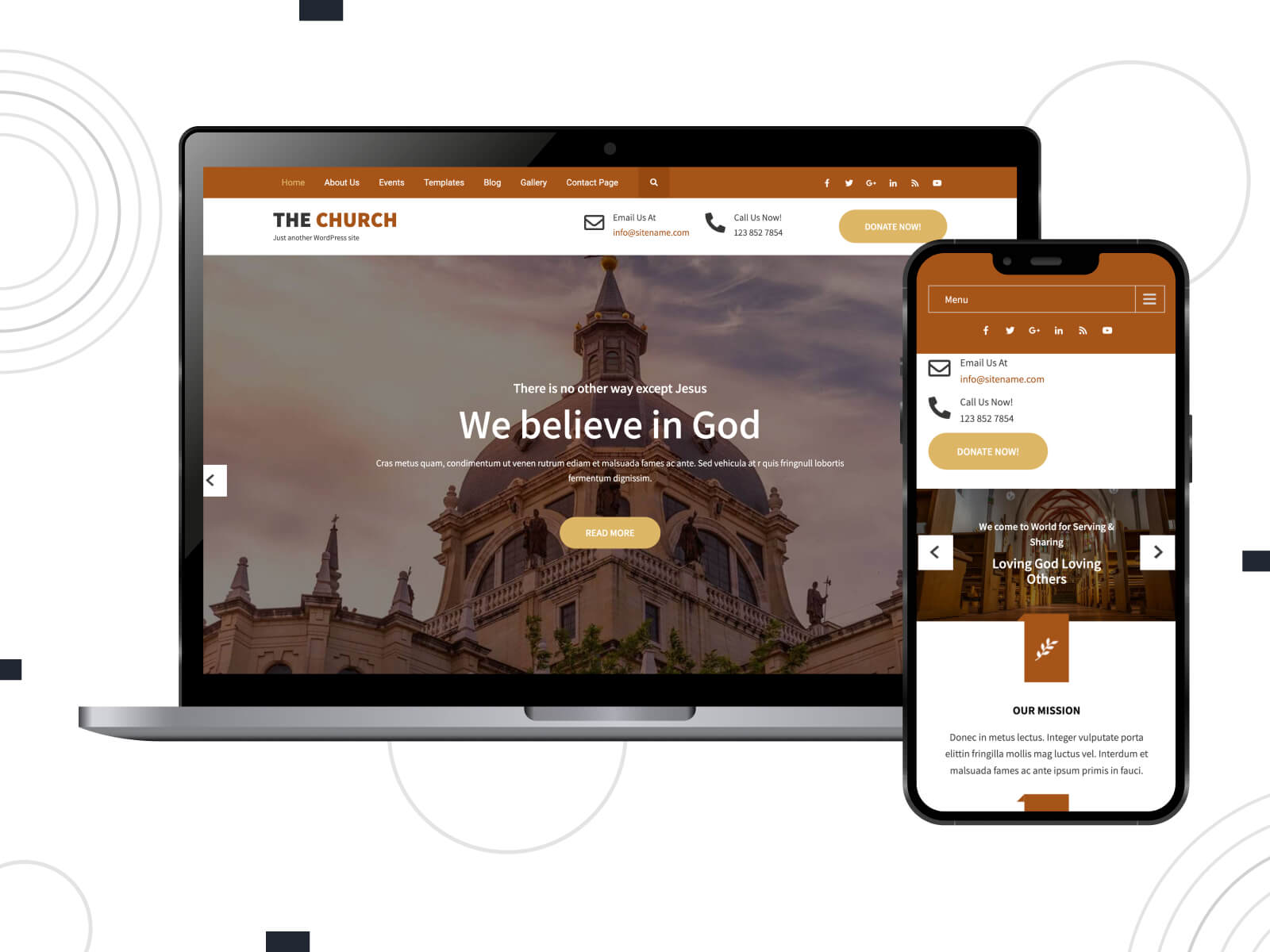 Author
Rating
Avg. Demo Speed Score
Gracethemes
5
Mobile 78
Desktop 99
With this professionally designed example of the best non-profit charity WordPress themes, primarily tailored for church and religious websites, you can also establish an online presence for political entities, donations, foundations, fundraising sites, and similar initiatives. The template showcases a beautiful homepage layout, complete with social media settings and an image slider, making it deeply versatile.
Compatibility with the latest WordPress version, WooCommerce, and popular drag-and-drop page builders has been ensured by the skin. Essential plugins such as Contact Form 7, WPForms, Newsletter, and Yoast SEO are also integrated, confirming that a wide range of website capabilities is provided. Additional features include custom widgets, full-screen slider options, comprehensive online documentation, and a live customizer preview for effortless site configuration.
Best premium charity WordPress templates
Here, we have attempted to categorize themes that lean more toward charitable activities. However, it's vital to understand that this categorization is largely arbitrary. As previously mentioned, all templates mentioned in our article are designed to function within the broader non-profit niche. This encompasses humanitarian aid, environmental conservation, animal welfare, hunger and food security solutions, religious outreach, elderly care, services for individuals with special needs, and much more.
20. Equadio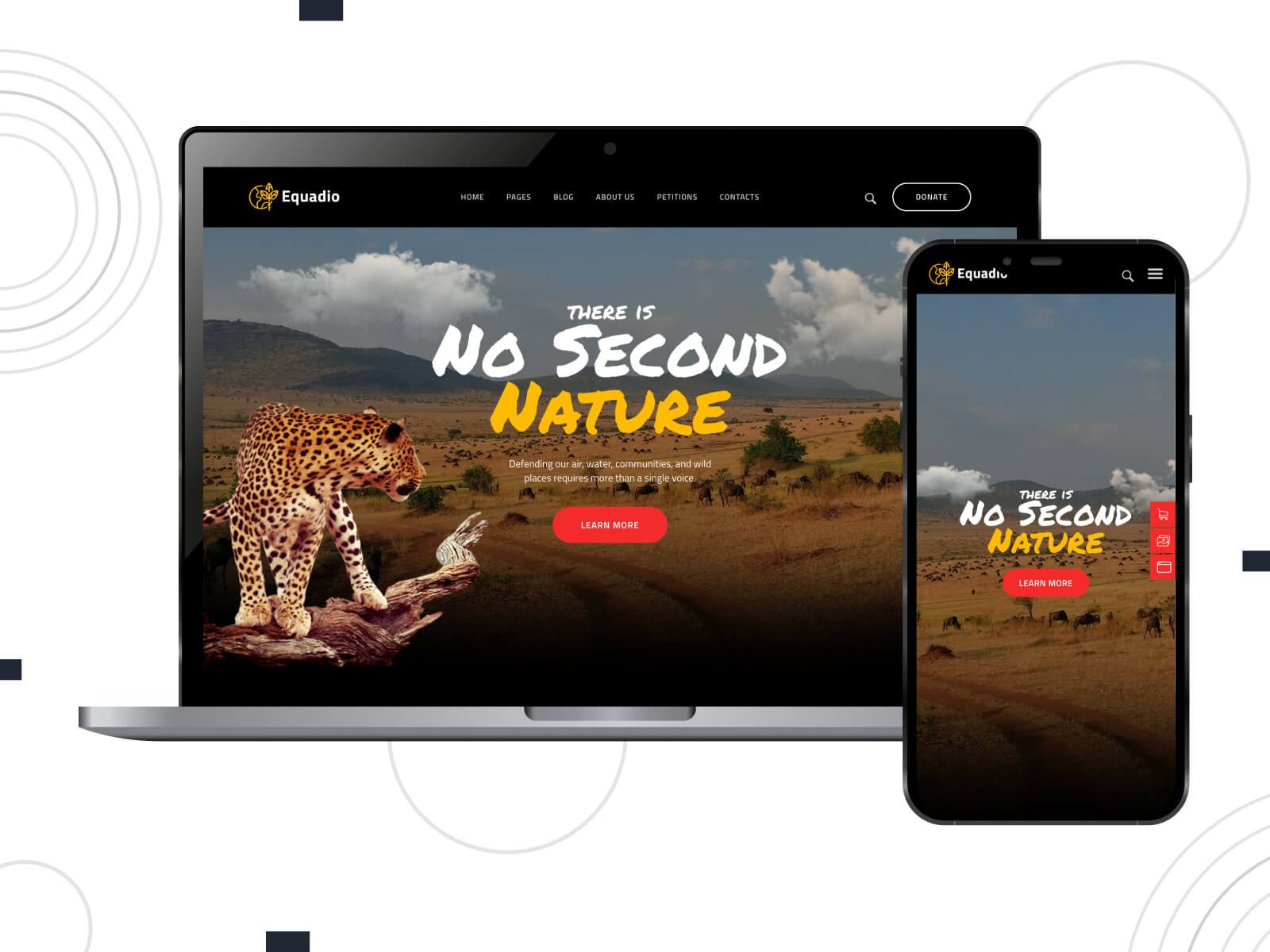 Author
Rating
Avg. Demo Speed Score
Themerex
5.00
Mobile 30
Desktop 63
The focus of this template is on environmental protection and charity activities for those affected by natural disasters. However, like other themes in this category, it can be tailored to suit your specific charity and non-profit project needs. By default, the skin comes with five prepackaged homepage layouts. In terms of relevant features, the template includes a petition functionality through the special SpeakOut extension and the GiveWP donation plugin to assist in fundraising for your charitable needs.
The list of standard components included in the package comprises Elementor, MailChimp for WP, Events Calendar, Slider Revolution, Swiper Slider, Instagram Feed, ThemeREX Pop-Up, and more. Additionally, every theme owner will appreciate the interactive Ajax search, adjustable colors & typography, and over 20 post animations. Likes and sharing buttons are also present, helping to boost the popularity of your initiative. Overall, more than 700 customizer options ensure a comprehensive experience for website owners.
21. Halpes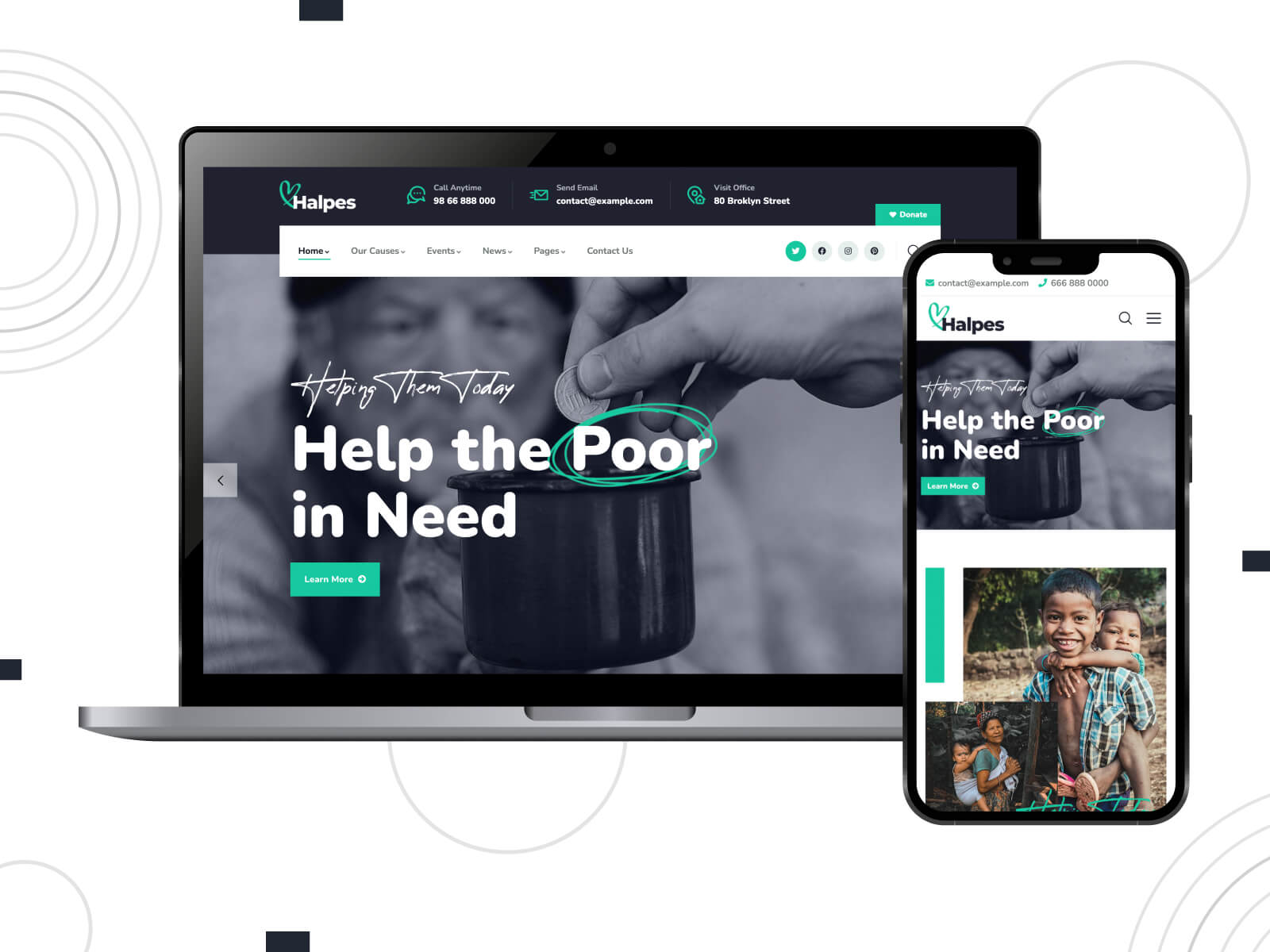 Author
Rating
Avg. Demo Speed Score
Gavias
5.00
Mobile 71
Desktop 87
According to the authors, this entry from the list of the best non-profit charity WordPress themes has its own control panel which will assist in the comfortable management of the website. In terms of its primary purpose, Halpes is focused on collecting donations to aid those in need. This conclusion can be drawn from the five premade demos that clearly reflect denoted intention. The presence of a donation plugin further supports exactly this impression. Serving as a small bonus, the package includes the Revolution Slider plugin for free, which is ordinarily a premium tool.
In relation to the set of pre-determined extensions, we see some differences compared to previously reviewed examples. Apart from the well-known Elementor and Mailchimp for WP, this theme includes the Events Calendar and OWL Carousel. Regarding other aspects, everything remains standard: complete support for adaptable design across all internet-accessible devices, WPML-readiness, a vast selection of fonts to choose from, WooCommerce support, and so on.
22. Helpo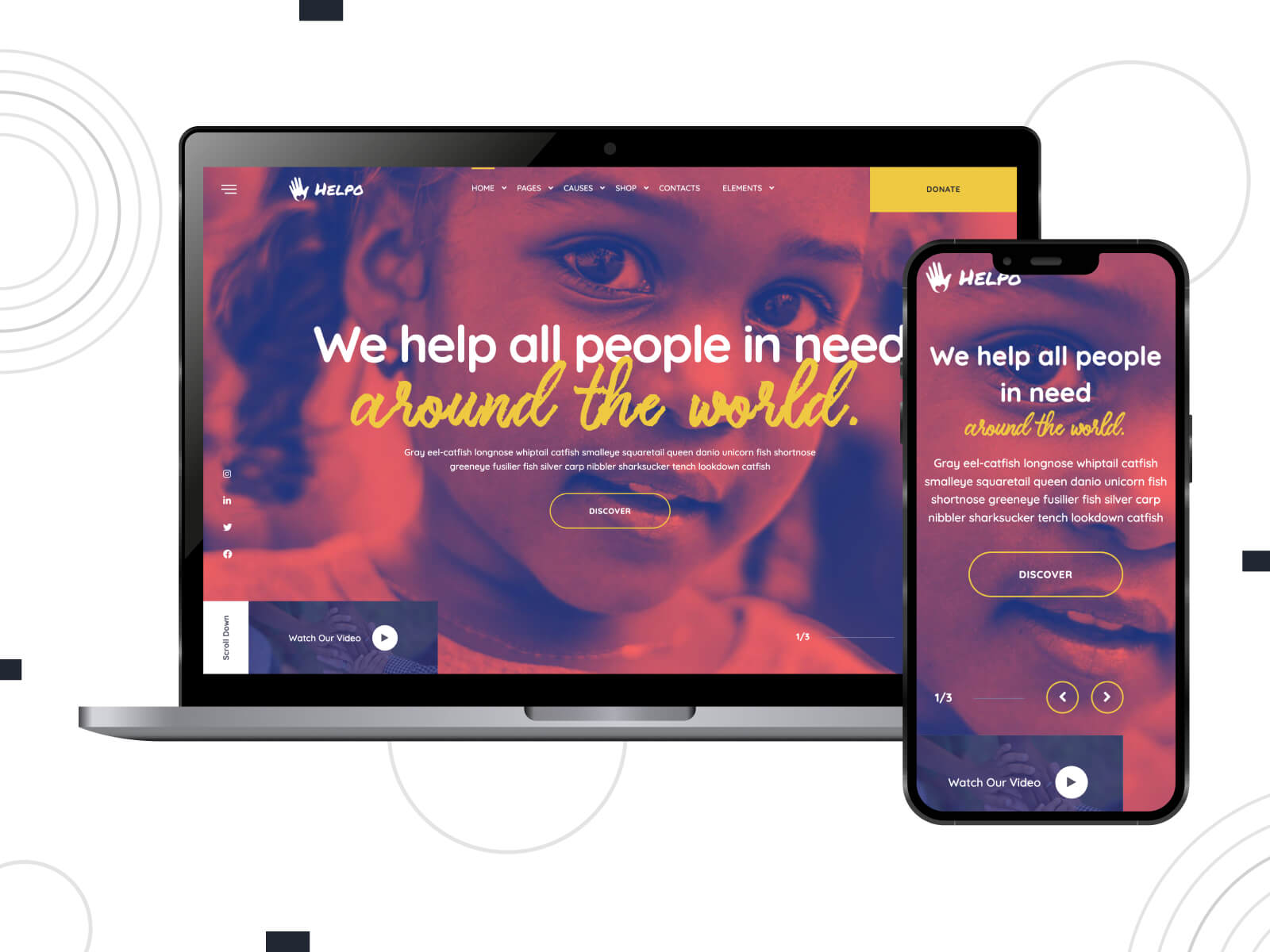 Author
Rating
Avg. Demo Speed Score
Artureanec
5.00
Mobile 52
Desktop 89
The primary goal of this template is to highlight the needs of children from low-resource settings in parts of Africa, as well as other similar areas, and to address the needs of animals. At least 6 default homepage demos hint at this. Of course, like any other template in our collection, it can be utilized to create websites for crowdfunding, NGOs, volunteer associations, and more. The core plugin for this purpose is the previously mentioned Give WP, which can be used to collect donations for any charitable deeds.
Unlike some previously mentioned options, this template boasts more than 50 predesigned inner pages, such as featured projects, upcoming events, invitations to become a volunteer, and so forth. This provides a vast array of choices when selecting starting layouts to suit any potential charity needs. Website personalization is facilitated through Elementor, while a popular plugin for slightly different needs — WooCoommerce — is also among the compatible extensions. Other features maintain a standard that's now commonly expected at a high level.
23. Humani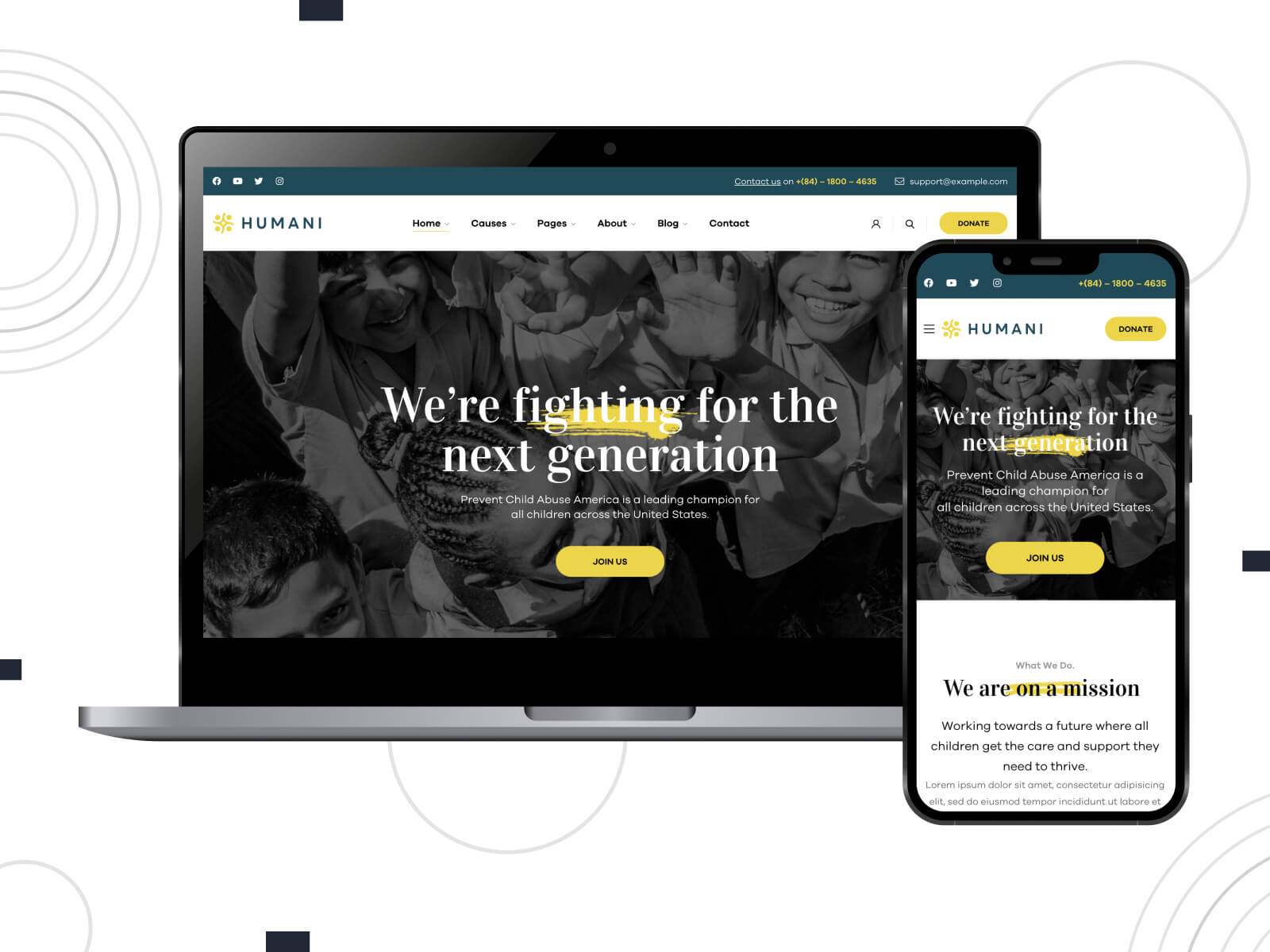 Author
Rating
Avg. Demo Speed Score
Opal_Wp
4.44
Mobile 55
Desktop 86
Sometimes, it's sufficient to choose a template with a relatively small number of predesigned demos, as long as there's at least one that meets your needs. However, from another perspective, themes that come with almost twenty default demo homepage layouts shouldn't be overlooked. The more choices you have, the more tailored your selection can be, making your project unique. Humani is precisely the template that offers such an extensive array of default demo home layouts.
Here you can find designs suited for websites dedicated to the care of older people, assisting refugees, addressing the needs of children from regions with challenging living conditions, and general child protection initiatives. Among the demos are designs for animal protection projects, assistance to the homeless, various health-related programs, sites supporting individuals battling cancer, women's rights protection movements, and more. Most likely, any specific non-profit charity initiative can be realized with the help of Humani.
Once again, with this template, the Give WP donation plugin is included as part of the package, while Elementor handles appearance customization. The predesigned inner pages collection offers several donation cause layouts, some options for showcasing news and stories, and more. Compatibility with Mailchimp, Yoast, Slider Revolution, Contact Form 7, and WPML, as well as speed optimization, responsiveness, excellent support, and comprehensive documentation, are features that probably won't surprise you.
24. Krowd
Author
Rating
Avg. Demo Speed Score
Gavias
5.00
Mobile 69
Desktop 88
This template is relatively simple compared to the previously mentioned alternatives. Its name hints at the crowdfunding needs that are central to the project. Apart from this, any charity, donation-related organization, NGO, and similar institutions might find this theme useful. With four demo styles for the homepage layout, you have some variety, though it's worth mentioning that the color palette for all these styles is similar. The Slider Revolution extension, which comes out of the box, saves you $35, while contribution collection is facilitated by the WP-Crowdfunding and WooCommerce plugins.
The "standard" set of features includes plugins such as Elementor, The Events Calendar, Mailchimp, Contact Form 7, and Owl Carousel. According to the authors, this theme is optimized for search engines and boasts quick loading speeds. It's fully responsive and built on the foundation of Bootstrap 4, HTML5, and CSS3. The One Click Demo Import facilitates straightforward implementation of the initial design setup. Also, it offers compatibility with a child theme, WPML support, and extensive documentation.
25. Loveus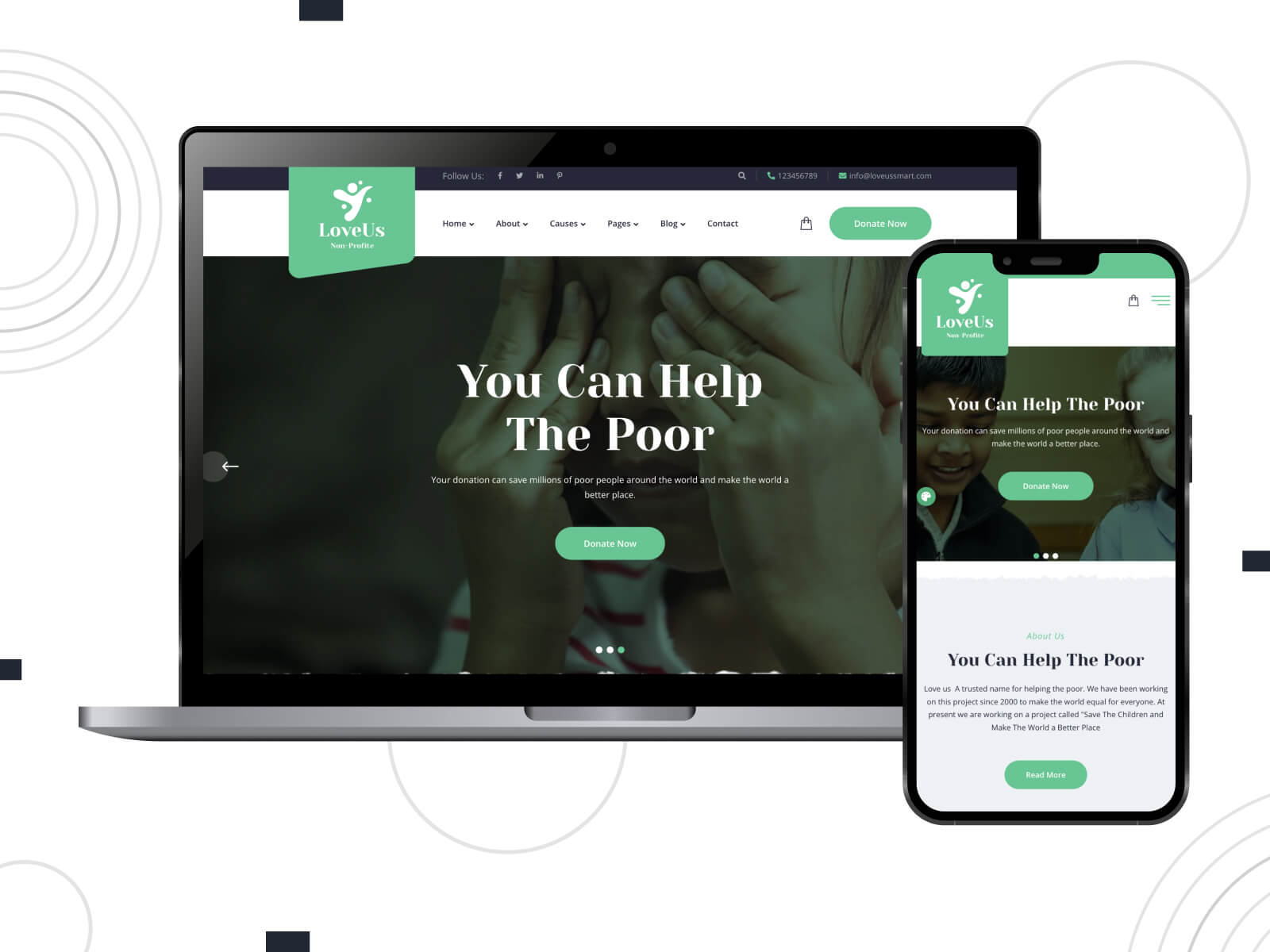 Author
Rating
Avg. Demo Speed Score
Smartdatasoft
4.48
Mobile 41
Desktop 86
According to the description of Loveus on the marketplace where it's showcased, this example of the best non-profit charity WordPress themes offers between 9 to 22 default demo designs. Regrettably, the link leading to the demo preview only showcases one available layout, and the description itself seems somewhat contradictory. However, with an average rating of around 4.5 and over one thousand downloads, we assume this template is worthwhile. So many people can't be mistaken.
Like all previously mentioned alternatives, the focus of this WordPress skin is on simplifying website creation for various non-profit charity organizations, including fundraising, NGOs, religious institutions, and similar projects. A key feature tailored to this niche is the inclusion of a specialized donation plugin called Charitable. This extension allows users to create causes, make donations, and much more.
Design customization is facilitated through Elementor integration. The default set of inner pages includes Event, About, Contact, Donation, Blog, and so forth, ensuring a straightforward start for any specialized website in the charity niche. Features such as Contact Form 7 support, social links, a flexible layout, speed optimization, and SEO readiness are consistent with what you'd expect from other modern premium templates.
26. Nasarna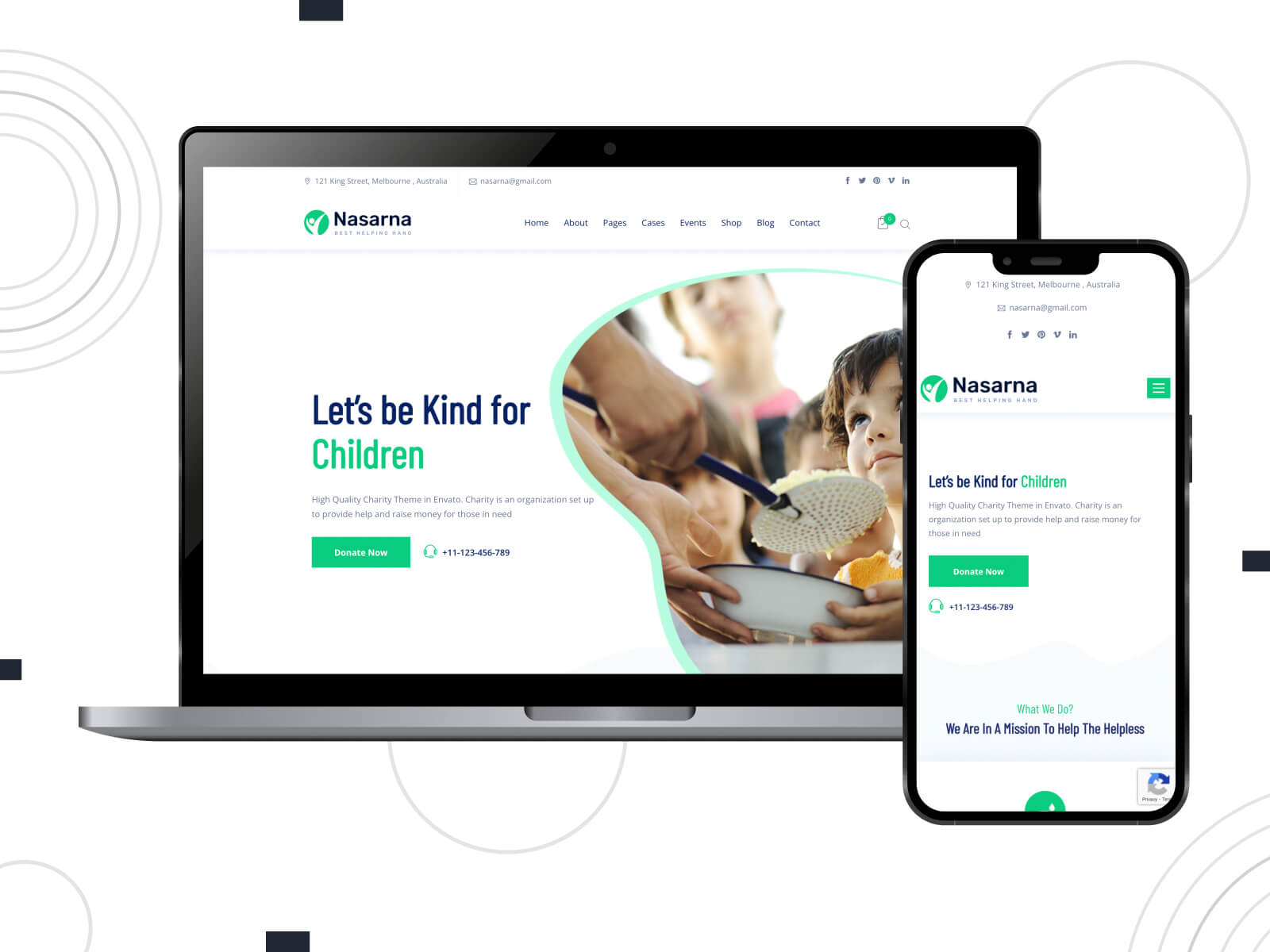 Author
Rating
Avg. Demo Speed Score
WPOceans
4.80
Mobile 33
Desktop 62
A relatively modest template with three variations of homepage layouts. However, this limited set of choices is compensated by the theme's appealing design and user-friendly placement of all essential elements. When an ordinary visitor views a website created with this template, they'll likely be inspired to make a donation or become a volunteer. As for relevant functionality, it is implemented in the form of a fundraising management feature, which allows owners to create causes and initiate the collection of contributions for each.
Elementor serves as the main editing tool for projects constructed with this skin, while compatibility with WooCommerce ensures a smooth implementation for selling cause-related merchandise. Additional standard functionalities include adaptability for any device with internet access, One Click Demo Importer, Contact Form 7, unlimited colors, a wide choice of fonts, Google Map integration with multiple locations, and other commonly mentioned features.
27. Ngo
Author
Rating
Avg. Demo Speed Score
Nicdark
4.40
Mobile 43
Desktop 62
With 6 predefined layouts primarily centered on nature and health protection, this example of the best non-profit charity WordPress themes offers an elegant appearance coupled with advanced donation functionalities. These include support for multiple currencies, specialized contribution collection widgets, a donation estimator to help donors choose the appropriate amount, and easy management of contributions from the admin side.
Standard plugins that come out of the box or are compatible with the template include Revolution Slider, Contact Form 7, the well-known Elementor, WooCommerce, Events Calendar, WPML, and Yoast SEO. GDPR compliance, responsiveness, optimization for search engines, and reliable support might not be surprising features, but they are undeniably essential too.
28. Oxpitan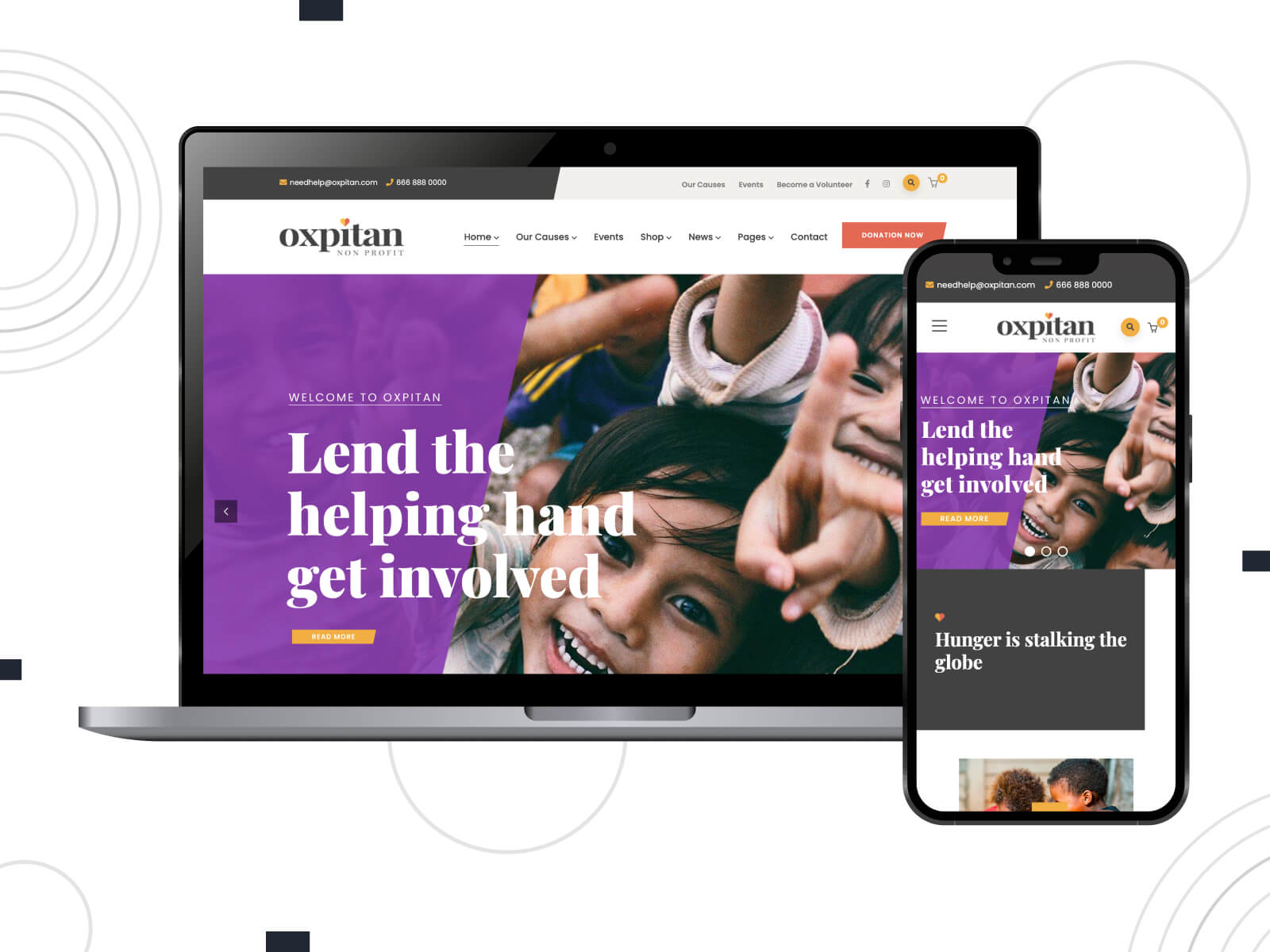 Author
Rating
Avg. Demo Speed Score
Gavias
5.00
Mobile 63
Desktop 93
Another relatively modest yet popular WordPress template, which is dedicated to charity projects. It offers two default homepage styles and comes packed with the premium Revolution Slider included at no extra cost. According to the authors, one of its standout features is the unique control panel designed to manage a wide range of inner settings. The primary layouts are geared towards assisting children from impoverished regions of the world, with donation functionalities powered by the integrated GiveWP plugin.
Built on technologies like Bootstrap 4, HTML5, CSS3, and Font Awesome, the theme's design customization can be effortlessly executed with Elementor. The initialization of the primary layouts is facilitated through the One Click Demo Import. Compatibility with the Child Theme concept is beneficial if you wish to modify the template's source code, ensuring that your changes won't be overwritten by theme updates. Plugins compatible with this WP skin include WooCommerce, MailChimp, Contact Form 7, and WPML.
29. Pifoxen
Author
Rating
Avg. Demo Speed Score
Layerdrops
4.67
Mobile 56
Desktop 69
This template offers 5 default home demo layouts, though they feature a similar color palette. The main images are centered around the theme of assisting children. Beyond the homepages, the template offers over 22 meticulously crafted inner pages right out of the box, providing website owners with a diverse range of design options to best fit their content. For those interested in fundraising or accepting donations, the template seamlessly integrates with the GiveWP plugin, a leading tool in the charity and non-profit sector.
Easy installation is guaranteed with the one-click demo content import. The template is compatible with WooCommerce, supports RTL, and includes a child theme. Integrated with Mailchimp and Elementor, it is fully responsive, offers unlimited color options, and is built on the advanced Bootstrap 5 framework. With its SEO-optimized code, cross-browser compatibility, and W3C validation, website owners can be assured of website quality. The theme also comes with extensive documentation and provides prompt support.
30. Proffer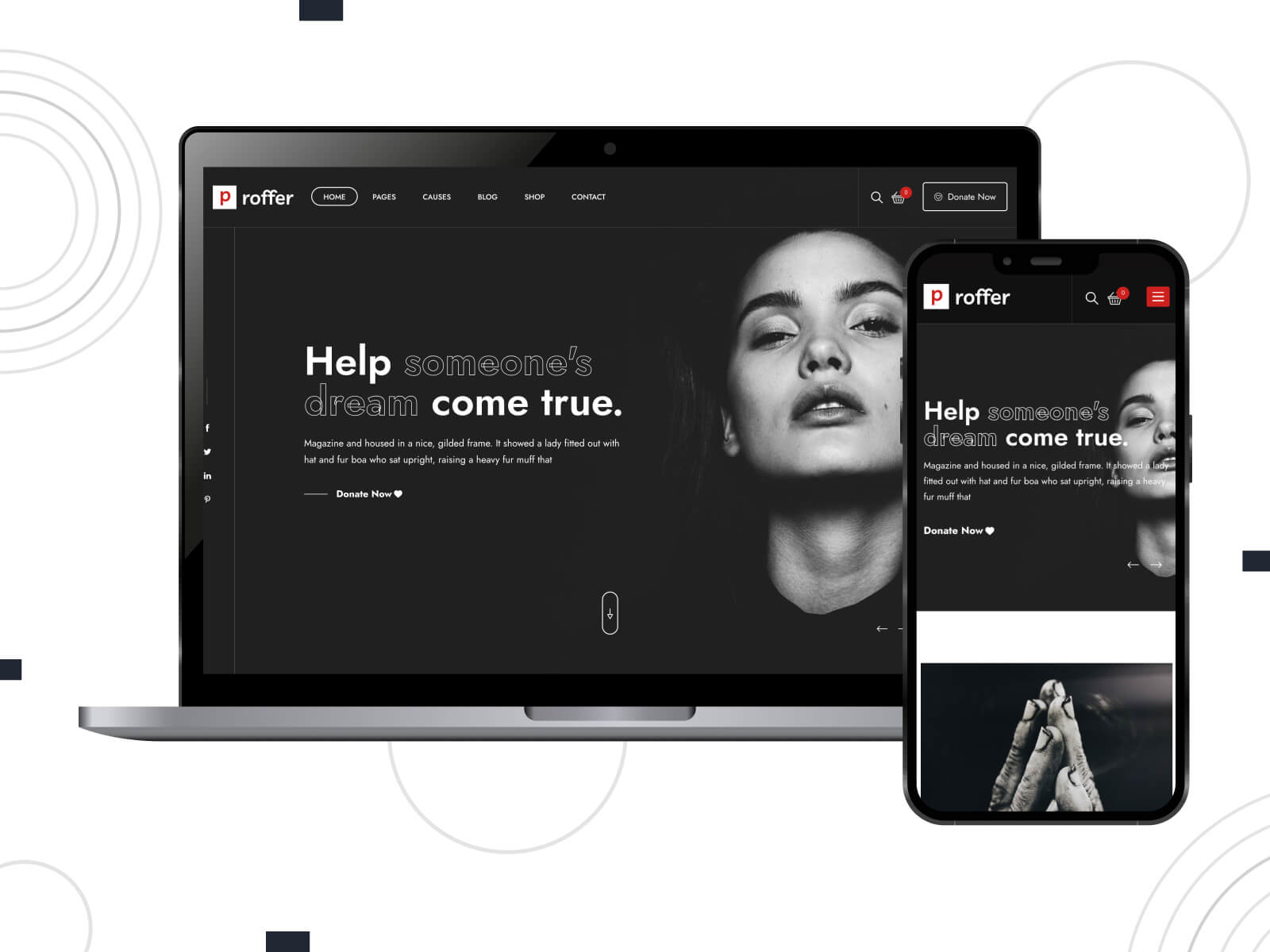 Author
Rating
Avg. Demo Speed Score
Themexshaper
5.00
Mobile 45
Desktop 80
Meet one of the best non-profit charity WordPress themes, that is modern, elegant, and offers three homepage variants. It's uniquely designed with versatile sections tailored for philanthropic activities, catering to both mobile and desktop users with a clean and simple aesthetic. The template is enriched with a donations feature, however, it's not clear from the theme's description whether these functionalities are ensured by existing plugins or by specific capabilities of the template itself.
Contemporary tools like Elementor, Onclick Demo Importer, and Contact Form 7 have been integrated into the skin to streamline the website-building process. A fully responsive layout is combined with a sticky menu, Flaticon integration, and a design that is made compatible across all browsers. Customization is easily facilitated, with unlimited colors, advanced typography, and a pixel-perfect design being offered. Google Maps with multiple locations is integrated, and thorough documentation is provided.
Best charity WordPress templates available for free
The list showcases some of the best charity WordPress themes available for free, aimed at helping you make an informed choice, especially if you prefer not to opt for a paid solution. These templates not only provide the tools to present your cause effectively but also ensure that your website stands out in the digital landscape. Each skin is designed with specific features, ensuring adaptability and efficiency for your charitable endeavors.
31. Gutener Charity NGO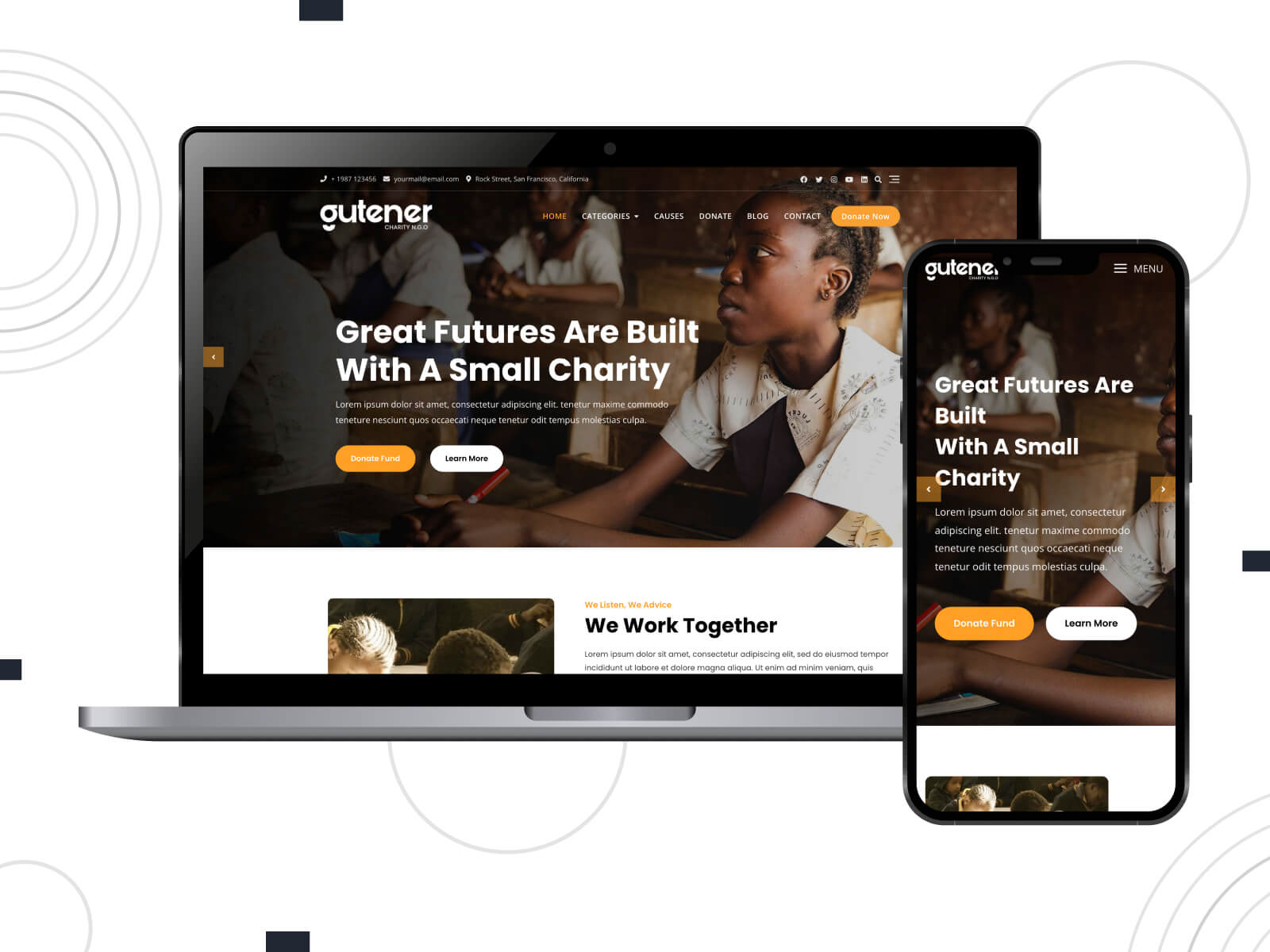 Author
Rating
Avg. Demo Speed Score
Keonthemes
5
Mobile 56
Desktop 83
As a child theme of the Gutener template, this Charity NGO WordPress theme is a versatile and powerful option for projects in the nonprofit niche. The design is clean and attractive, and by default, it is focused on supporting the needs of children from underserved regions of Africa. According to the authors, it is highly customizable and fully responsive, ensuring that your site will look great on any device.
If you're searching for a versatile template tailored to cater to NGOs, fundraising campaigns, or any other philanthropic initiative, this theme is perfectly crafted to meet those requirements. Not only does it offer an array of header and footer layouts to provide a diverse design palette, but it also ensures that your site resonates with your mission and values. Furthermore, its seamless compatibility with WooCommerce and Gutenberg editor enhances the user experience, making site management and content creation a breeze.
32. Revive Charity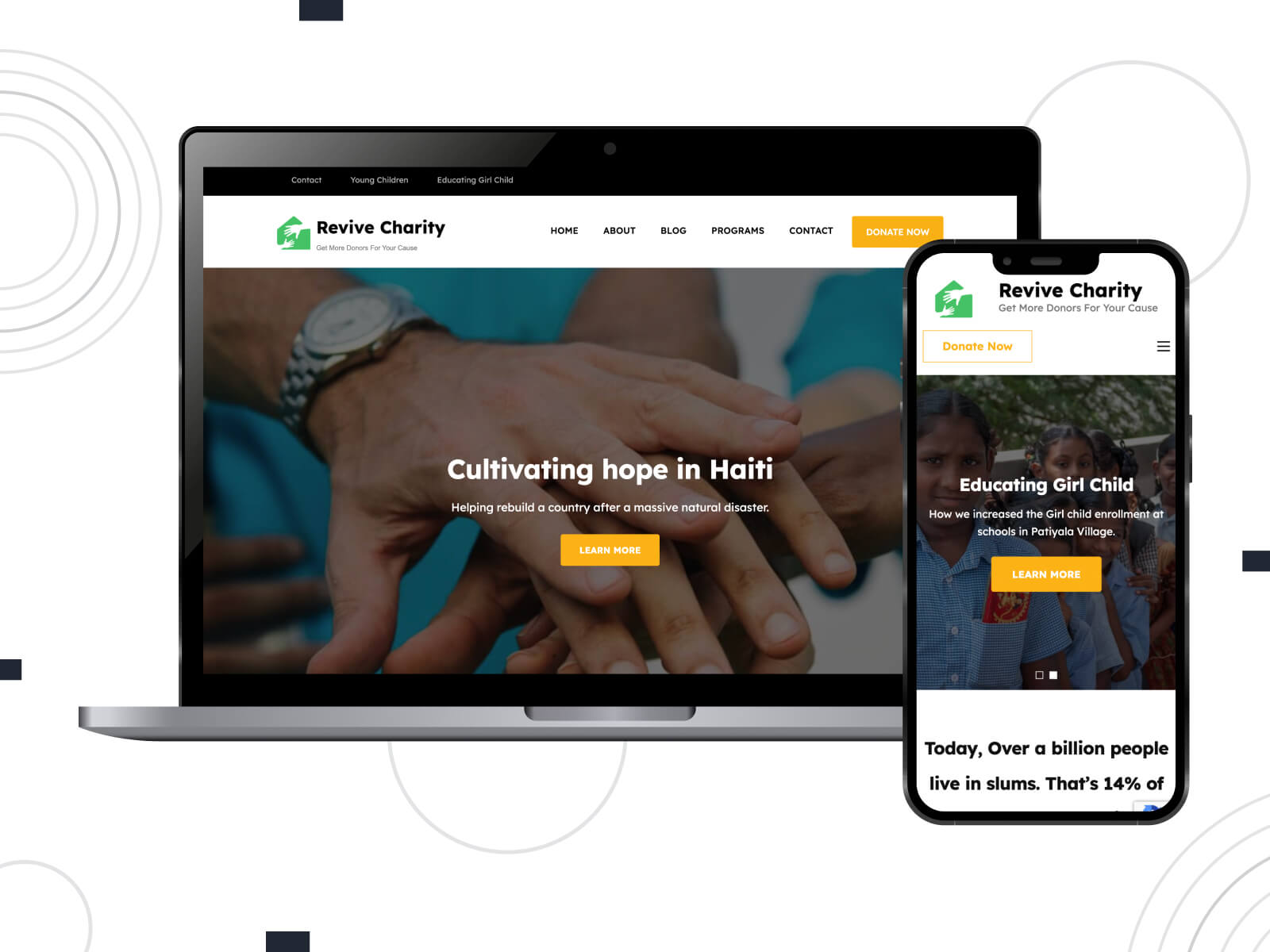 Author
Rating
Avg. Demo Speed Score
Rara Theme
5
Mobile 94
Desktop 100
Revive Charity has been designed as a visually appealing template specifically for non-profit organizations. Integration with the Give WP plugin is seamlessly achieved, allowing donations for your cause to be effortlessly collected. With sections such as Intro, Causes, Donation, and Call to Action, an engaging landing page that highlights key information about your organization and your charitable goals is easily facilitated by this theme.
Furthermore, the template is SEO-friendly due to its optimized code, enhancing search engine rankings. It also boasts fast loading times, and mobile responsiveness, and offers social media integration. Additionally, it's translation-ready, provides a one-click demo import, and is RTL-compatible. A premium version with even more features is available, accompanied by professional and prompt support.
33. TS Charity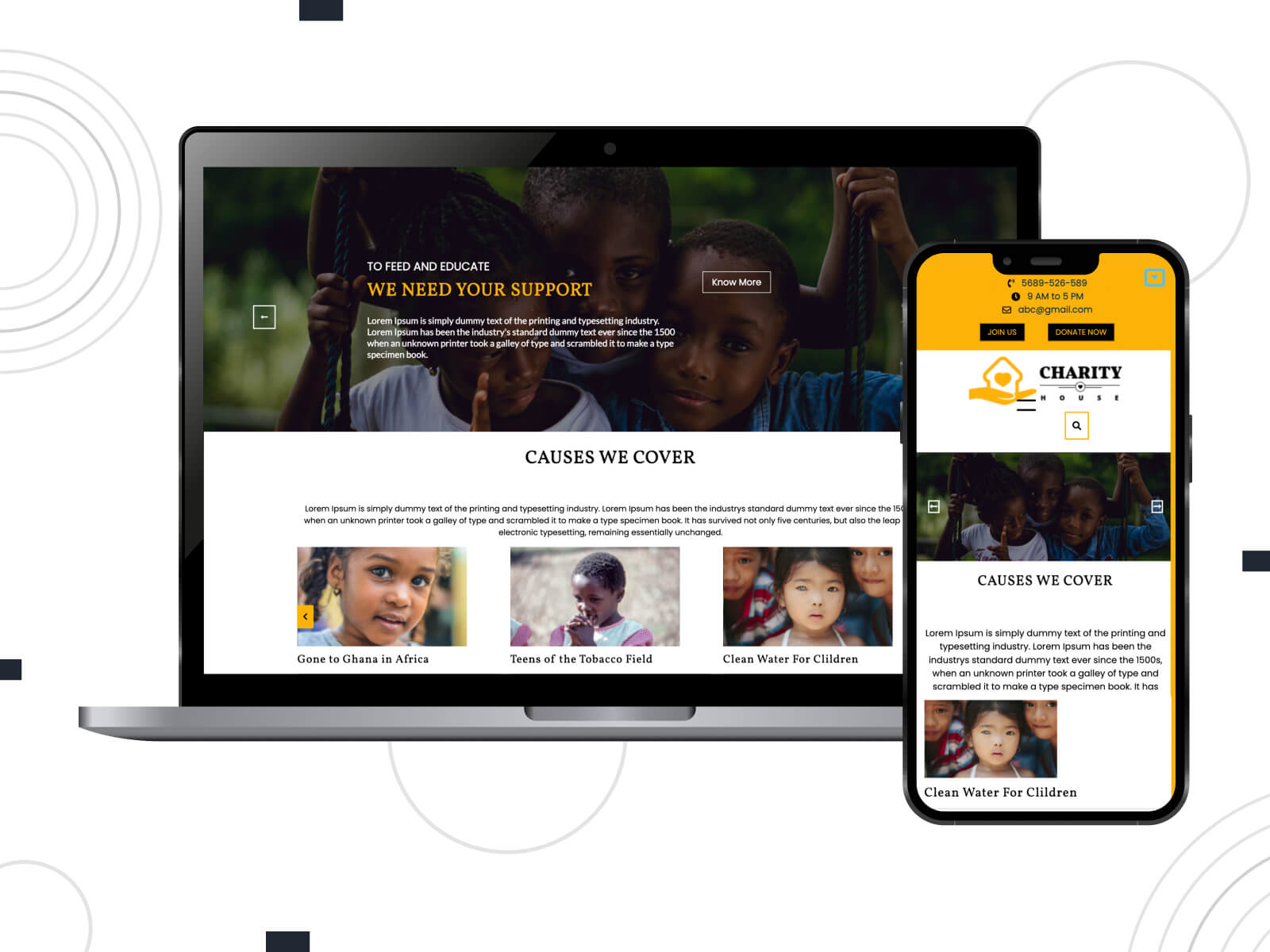 Author
Rating
Avg. Demo Speed Score
Themeshopy
4.5
Mobile 96
Desktop 100
Whether you're initiating fundraising events or providing support to the elderly or disadvantaged communities, this template will showcase your work in a unique and impactful way. It caters to a wide range of causes, including environmental conservation, flood relief, child protection, and more.
With its elegant design and user-friendly features, such as testimonial sections and cross-browser compatibility, the theme ensures that your website stands out while effectively conveying your message. Additionally, its social media sharing capabilities allow you to spread awareness about your cause and inspire others to join your journey of promoting humanity.
The template offers customization options for personalized branding and supports multiple languages through clean translation settings. Its set of additional features includes custom menus, various page layouts, SEO optimization, and more — all aimed at helping you create an exceptional online presence for your charitable initiatives.
Concluding Words
In the sections above, we have attempted to provide a comprehensive overview of the best non-profit charity WordPress themes. We included only those templates created within the relatively recent period of the past four years. Additionally, we paid close attention to including only those with recent updates and avoiding options with outdated codebases. Some other key points are as follows:
Likely with any other niche, the first thing you need to do to pick a proper non-profit template is to assess the design of available demos and the presence of functionalities essential for your activities. Only those that meet your needs in terms of design and features should be considered.
If you prefer editing in WYSIWYG mode, check whether the potential candidates support your favorite visual editor. The most popular is Elementor, and a vast number of modern templates are compatible with it. However, if you have a preference for others like WP Bakery, King Composer, or "pure" Gutenberg, ensure your chosen theme supports your favorite.
The majority of modern templates are designed to be adaptable for any screen resolution, whether it's a desktop or mobile device. Additionally, they are commonly well-optimized for search engines, have high loading speeds, and support popular plugins like WooCommerce, Contact Form 7, WPML, and so forth. However, it's always good practice to verify these aspects.
And, the final consideration is price. Whether you have the opportunity to opt for a premium option or need only a free one, assess all the pros and cons of each of these variants and make your decision.
We hope that our collection of the best non-profit WordPress themes will help you make the right choice. In any case, fill out the comments section below to share your experience and, if you wish, describe your charitable initiatives.
Disclosure: this article may contain affiliate links for third-party products. If you click a link and later make a purchase, we may earn an affiliate commission that doesn't result in additional charges to you.
FAQ
Is WordPress good for nonprofits?
Without any doubt! WordPress is a versatile platform that can be tailored to a variety of needs. For nonprofits, it offers affordability, ease of use, and a plethora of customizable themes and plugins focused specifically on the needs of this niche.

How do I create a non-profit website on WordPress?
Creating a website for non-profit projects on WordPress is straightforward. Here are the basic steps:
Choose a Hosting Service: Start with a reliable provider that supports WordPress.
Register a Domain Name: You need to get a domain name, either through your chosen hosting provider or another platform.
Install WordPress: Once you have your domain registered and hosting account set up, install the CMS.
Select a Theme: Opt for a template designed for nonprofits. This can be a free option or a premium one, based on your needs.
Customize Your Site: Add some content, set up donation buttons, event calendars, member directories, etc. using plugins and widgets.
Launch: Once everything is set up, go live and promote your online resource!
As an alternative option, if you wish, you can utilize our service for a complete installation of a ready-to-use WordPress website.

Why is it not recommended to use free WordPress themes?
While using WP templates that come at no cost can be tempting, there are several reasons why they might not be the best choice:
Limited Number of Features: Free themes often come with fewer features and limited customization options compared to premium alternatives.
Less Frequent Updates: Complimentary templates might not be updated as regularly, potentially leading to security vulnerabilities.
Lack of Support: Most of the themes that are coming at no cost don't offer dedicated support, so if you run into issues, you're mostly on your own.
It's essential to do thorough research if you opt for a free theme. Sometimes, investing in a premium alternative can save time, effort, and potential headaches in the long run.

What is the most popular charity theme for WordPress?
One of the templates dedicated to the charity niche that has gained widespread adoption is 
Sterling
. It offers 20 pre-made demos, 78 inner pages, and 250 Elementor blocks. With nearly 10,000 downloads, it holds a 4.54 rating. However, popularity can change over time as new themes emerge and user preferences shift. It's always wise to check current reviews, ratings, and updates when selecting a template for your non-profit website.