Choosing a WordPress Shopping Cart Plugin from the List of the Best Ones
Do you have a website or blog and want to enhance it with an online shop? Or maybe you are looking for the best solution to build a WordPress eCommerce site from scratch?
The good thing is that no matter which of the two goals you have, you'll need one single tool to start selling on WordPress – a shopping cart plugin.
From the general point of view, all the eCommerce-related plugins on WordPress can be divided into two types: the complete solutions for building online shops from A to Z and the plugins providing some specific functions (e.g., letting you create simple product lists without the actual selling functionality.)
In this article, we'll go through the plugins of both categories.
WooCommerce Setup for Beginners – Video Tutorial
The all-in-one eCommerce plugins will be evaluated by the following criteria:
products – types of products you'll be able to sell with the plugin;
marketing – ancillary tools for promoting products in your store or your business in general;
payment gateways – available methods for your customers to pay for their order;
shipping – available delivery methods your customers can get their purchase with;
reporting – ways of displaying your store's statistics and tools for analyzing your online shop's performance;
price – price or pricing plans for plugin's premium version and extensions (if any.)
This will let you compare the tools and decide if the functionality of this or that one is sufficient for you.
If you don't necessarily require the whole variety of options offered by the full-cycle eCommerce plugins, check out the reviews of the plugins that focus on individual functions at the end of this post.
Complete Ecommerce Solutions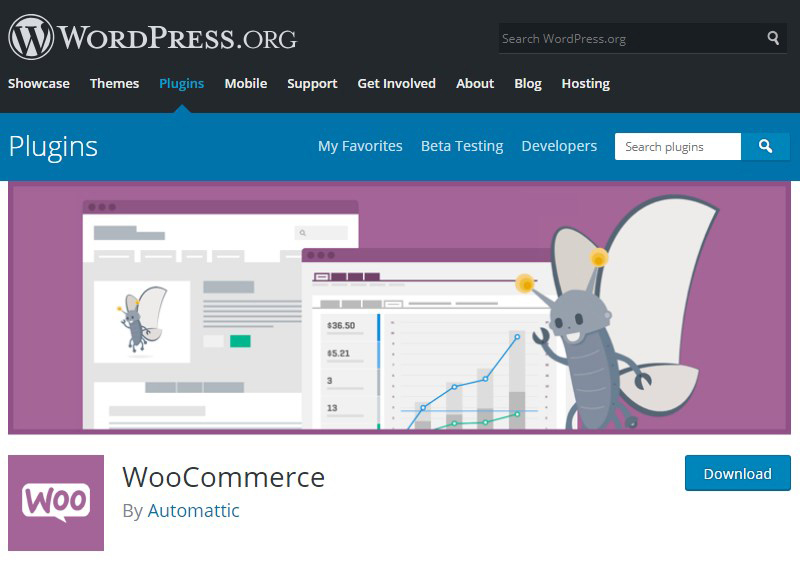 WooCommerce is truly the most widely used WordPress eCommerce plugin: an impressive 93.72% of all WordPress shops are created with it.
Many WordPress theme providers build their templates with pre-designed WooCommerce shop pages and the WooCommerce team themselves offers an official framework of eCommerce themes built specifically to be 100% compatible with the plugin. The core Storefront theme is free, while its child themes dedicated to specific industries are premium.
All this rightfully makes WooCommerce an ultimate turnkey solution to start selling online without hassle.
Products: Supported product types are: simple or grouped physical products (the ones that do require shipping), virtual (the ones that do not require shipping), physical and digital variants of the same product, downloadable, affiliate (adding affiliate links to external websites where the products are sold), variable products (e.g. varied in sizes, colors, etc.) and drop shipping option. Managing taxes is possible too.
Marketing: Create discount coupons with fixed value or percentage or set sale prices for your products. Display upsells, cross-sells, or related products (the ones sharing the same category or tags) thus encouraging customers to purchase more.
Payment gateways: PayPal, Check Payments, Direct Bank Transfer, Cash on Delivery, Stripe, and Klarna Payments are available in the free version. Other payment gateways, including region-specific ones, are obtained via add-ons.
Shipping: Methods available out of the box are: free shipping, flat rate shipping, and local pickup. The free version also covers the setting of shipping zones. More advanced shipping options and integrations with third-party delivery services are added via extensions.
Reporting: Graphical sales reports are available directly on the back end of your site. The Reports section is divided into 4 aspects: Orders, Customers, Stock, and Taxes.
Useful tip: Once your WooCommerce store is up and running, you can take it further thanks to data-driven WooCommerce reports and analytics plugins: understand your customers better, get detailed product and category reports, learn more about shopping and checkout behaviors, and more.
Price: Woocommerce offers a free core version and more than 280 (!) free and paid add-ons (from $29 to $249.) The extensions cover a broad range of functions in the following categories: marketing, payments, supported product types, shipping, subscriptions, store management, third-party integrations.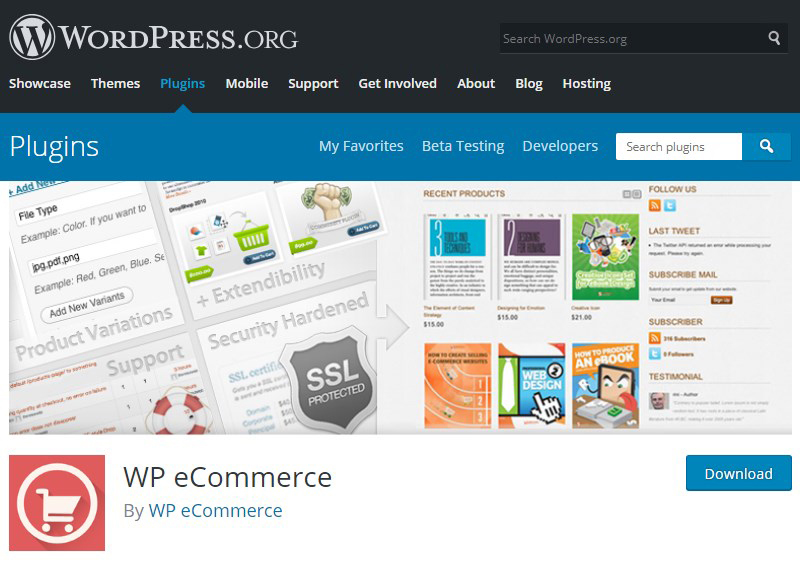 There were times when it wasn't possible to build a store on WordPress. WP eCommerce plugin was among the first to step in and provide WordPress users with basic functionality to showcase and sell products online.
Since that time in 2006, a lot has changed and apart from backing the rough essentials, WP eCommerce now offers an all-sufficient combination of a core plugin and optional extensions for building internet shops.
Products: The plugin's core edition lets you sell digital or physical goods as well as products that can have both versions (e.g., books or video games.) The items you'll be putting up for sale can be simple or have variations. Selling membership- or subscription-accessed products is enabled with premium extensions.
Marketing: Create fully customizable discount coupons, offer related products for the ones that are currently viewed, set up quantity price breaks, and automatically label the products that are on sale. To assist you with your marketing campaigns, the plugin integrates with Google Base, Google Analytics, Share This, and Campaign Monitor.
Payment gateways: Free version offers ProPay, PayPal, and WorldPay. More gateways can be obtained by purchasing separate addons or CloudSwipe (former Mijireh) integration addon for bulk enabling secure credit card payments from 100+ providers.
Shipping: Set custom shipping rules for your goods by choosing among flat, table or weight shipping options (the ones available in the free version.) Defining shipping zones (i.e. zones and countries you send your products to) is possible within the frеe version too.
Reporting: Analyze your store's performance with stats on your site's back end or export the obtained reports and analytics as CSV files.
Price: Price for the Gold Cart extension, aka a premium version of the plugin with extended functionality starts from $99. Apart from it, 15 more add-ons are available (third-party integrations mostly.)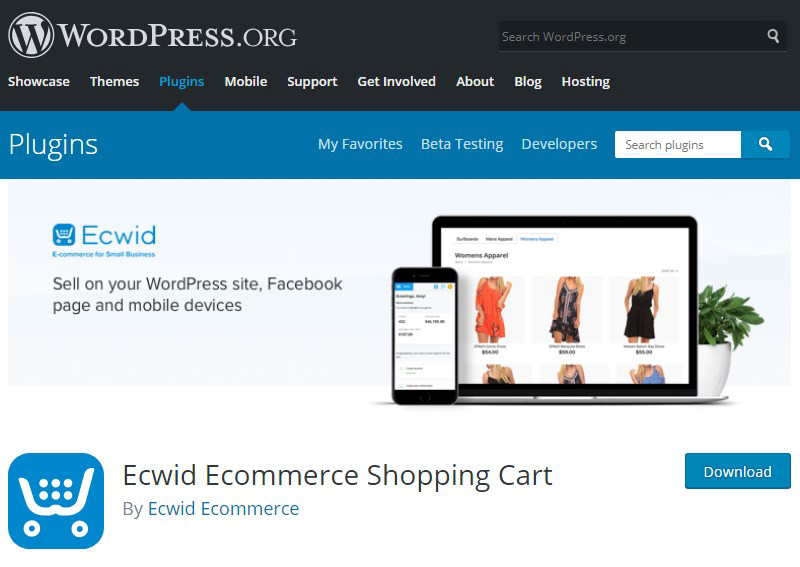 Ecwid eCommerce plugin for WordPress is actually a part of a SaaS product suite that lets you sign up for creating a cloud-based online store and optionally integrate the shop you've built into any CMS you wish. Apart from this very plugin for WordPress, there exist dedicated plugins to have the integration done on Joomla, Drupal and Wix websites. For any other CMS, you can have your shop added by manually pasting Ecwid widget code into a page (learn more here.)
All of the stores you build with Ecwid can be as well integrated with Facebook or Instagram: сonnect the shop from your own website to your business's Facebook Page or Business Page on Instagram and get all the products automatically synced (available for paid pricing plans only).
Products: Sell physical or digital goods and add custom variations for them (size, color, etc.)
Marketing: A marketing feature available for free pricing plan is Facebook Pixel integration. A paid subscription will let you build unique pricing strategies for your products by creating discount coupons and setting bulk discounts. Attracting new customers by holding sales promotions or sending promotional emails can be absolutely doable (and even automated) too.
Payment gateways: The plugin lets you process both online and offline payments. Access to the full list of 40+ payment gateways can be obtained within an unlimited pricing plan only.
Shipping: Define the way you'd like your products to be delivered to customers: choose between in-store pickup or shipping. Available shipping options are free shipping, flat rates, weight- or subtotal-based shipping rates, and custom product-specific rates.
Reporting: View basic reports and sales stats on the back end or use Google Analytics to gain in-depth info.
Price: As building a WordPress store with Ecwid starts by creating an account on Ecwid official website, we'll outline the pricing plans for subscription to it. Prices range from $0 for a free starter plan to $99 per month for an Unlimited plan that unlocks all the available features.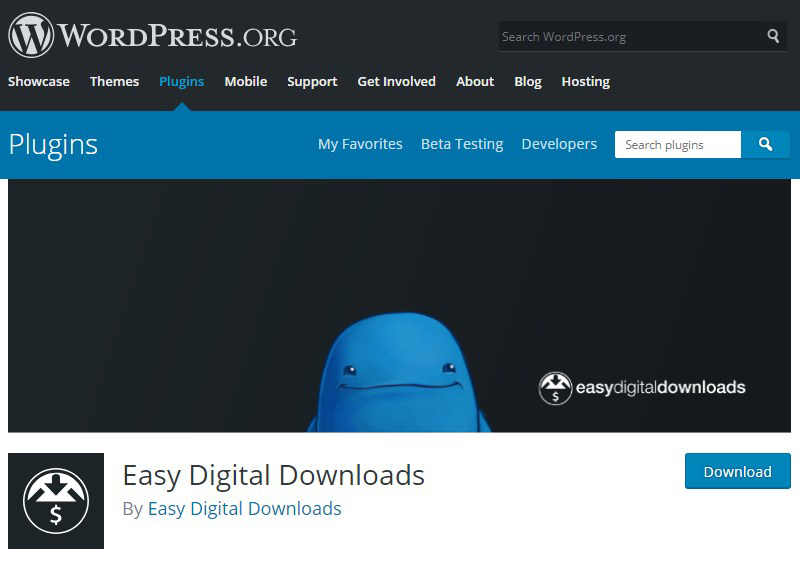 Easy Digital Downloads (EDD) ranks second (following WooCommerce) among the most downloadable plugins for eCommerce in the WordPress plugin repository.
These two bestsellers of the internet commerce sector on WordPress shouldn't be, however, considered interchangeable: WooCommerce is a rather multipurpose tool, while Easy Digital Downloads is a highly specialized plugin focused on building online stores for selling digital products.
Developers of Easy Digital Downloads give you a chance to have your digital marketplace launched at one stroke by offering a number of free themes that are fully compatible with the plugin.
Products: The plugin will enable you to sell software, eBooks, images, audio or video files, electronic tickets, online learning courses, and many more.
Marketing: Most of the marketing-related features are backed by extensions that have to be purchased or downloaded for free (examples are integration addons with third-party email marketing services like Aweber or MailChimp and Recommended Products extension for showing customers more of your products at once.)
Payment gateways: The three built-in payment gateways available out of the box are PayPal Standard, Amazon Payments, and Test Payments.
Shipping: The downloadable digital products do not require shipping (which is often considered to be a benefit of dealing with goods of this kind.)
Reporting: Monitor the dynamics of downloading and/or selling the products on your site by viewing the stats directly on the back end or having it exported as CSV. Another helpful feature is a prediction of your store's sales performance based on the data of current reports.
Price: there are 4 pricing plans available for the premium usage of EDD: Personal, Extended, Professional, and All Access ($99-499 as for now.) The extensions can be obtained as components of the premium packages or purchased separately and used with a free version.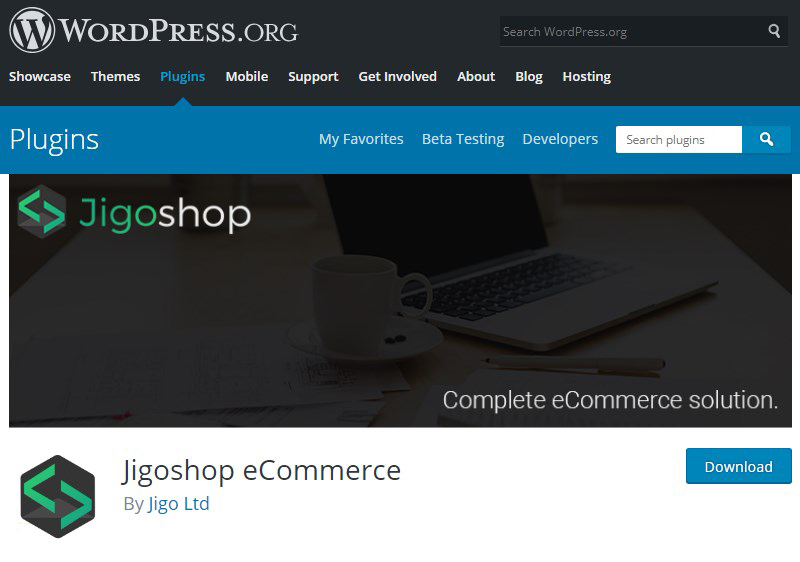 This is one more full cycle eCommerce solution that provides you with both basic and ancillary functionality.
For you to have a smooth start setting up your online store, the Jigoshop team has created a set of minimalist premium themes built specifically to be compatible with the plugin. You'll be able to purchase the templates on the Jigoshop official site and start with your new eCommerce project right off the batt.
NB. The plugin had been present on the market long before WooCommerce, today's giant of WordPress eCommerce, appeared. Moreover, the initial project of the WooCommerce shop was actually forked from Jigoshop on Github.
Leaving the ethics of forking and commercializing open source projects untouched, we'll let you judge the two plugins by the range of functions they provide today; however, it still has to be noted that for quite a long time Jigoshop kept staying one of the most stable and powerful eCommerce platforms on WordPress and was regarded as a fully comprehensive alternative to Woo.
Products: By default, the plugin lets you add physical and digital products that may in their turn fall into two classes: simple or variable ones. You'll be also able to feature affiliate products for your customers to purchase on external websites and bring revenue to you as a middleman.
Marketing: With the free version of Jigoshop you get the go-to set of functions for enhancing user engagement we got used to seeing in most of the eCommerce plugins: discount coupons and showing related products for the ones being viewed (i. e., cross-selling.)
Payment gateways: The core plugin offers a truly diverse range of both online and offline payment gateways to choose from: PayPal, WorldPay, FuturePay, Bank Transfer or Cheque Payment.
Shipping: There are 3 shipping options you get for free: flat rate shipping or, in other words, a fixed amount of shipping cost that doesn't vary depending on product characteristics, local pickup, and free shipping (which can work as a marketing tool too.)
Reporting: The dashboard section of Jigoshop graphically displays the inventory of the items you offer and lets you get a bird's-eye view of your most recent orders, new incoming product reviews, and other latest notifications.
Price: Jigoshop offers a free core plugin that can be enhanced with 100+ premium or free addons. Prices for paid extensions start from $12. You'll be also able to choose a pricing plan for paid support from 10 available ones.
Plugins Enabling Specific Functions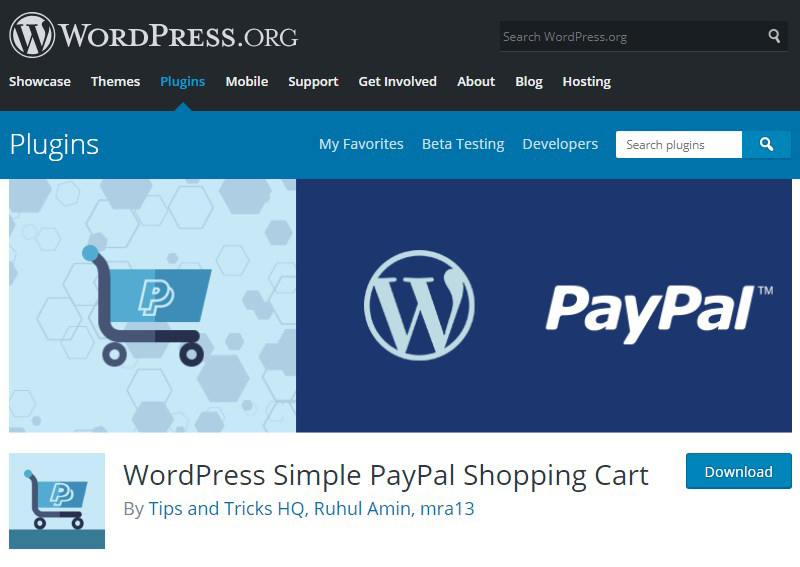 The plugin will let you add an Add to Cart button to any post or page of your site and display a shopping cart containing products added to it on posts, pages or as a widget on a sidebar.
PayPal WordPress Shopping Cart, unlike the complex eCommerce solutions listed above, won't offer you pre-defined modules for adding products.
This means that to create a product catalog with purchasable goods using this plugin, you'll need to have your product info placed on posts or pages in advance.
After your customers have collected products they'd like to purchase in the cart, they'll be able to go directly to checkout and pay online via PayPal.
Please note that it's not obligatory for your clients to have a PayPal account to checkout – thanks to the PayPal Guest Checkout option, it will be possible for them to pay with PayPal via credit card.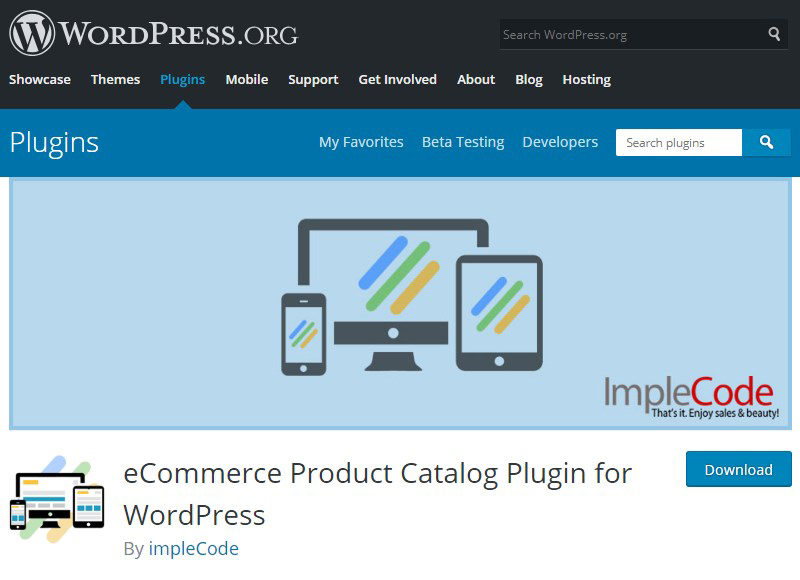 This plugin is in charge of pretty much the opposite functions: it lets you build fully responsive lists or catalogs of products through native WordPress functionality.
Along with adding text descriptions and images of the goods, you'll be able to create custom variations for them via attributes (the number of variations is limited to 3 in the free version), set product prices in any currency, and offer multiple shipping options to choose from (max 3 in the free version.)
Additionally, you'll have a chance to expand the plugin's functionality with premium extensions, among which are integrations with external payment providers. This will let you accept payments online and turn your products catalog into a fully-fledged online shop.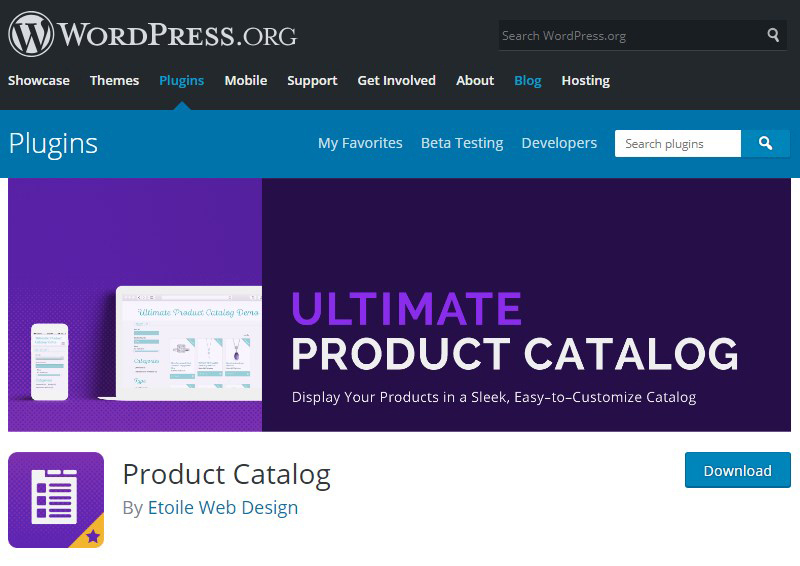 One more solution for creating online catalogs of goods. You'll be able to create products and sort them by categories or subcategories for easier search.
Together with offering 4 layouts of products displaying, the plugin enables you to customize the general look of your shop (change color schemes, edit button or label names, etc.)
Please note that the number of products you can create within the free plugin version is limited.
Final Word
In this article, we made an attempt to review the most frequently used shopping cart WordPress plugins and other related eCommerce solutions for WordPress websites. If you think there's a tool that should be included in the overview or want to share your experience of using any of the plugins mentioned, feel free to write us in the comments.