Emmet Next Review – Our New WordPress Business Theme
Emmet is a familiar name for many MotoPress users. This is a name of the multipurpose freemium WordPress theme that has grown in popularity during the past 2 years and currently powers thousands of WordPress websites. Put simply, Emmet is success.
Today, we are happy to present an improved version of this theme – Emmet Next WordPress Business theme. It's not the same in design and features, but it's very close to Emmet in concept, purpose, power and delicacy.
Both themes are available and are being improved, so you can use any depending on your particular design and functionality preferences.
As Emmet Next theme was just released, in this post we'll try to highlight all the main important things of this theme.
Who can benefit from Emmet Next? It's a well-suited WordPress theme for a wide range of business projects – corporate portfolios, startup landing pages, corporate portfolio websites, financial advisors, business consultants and anyone aiming to present their business or a personal portfolio professionally.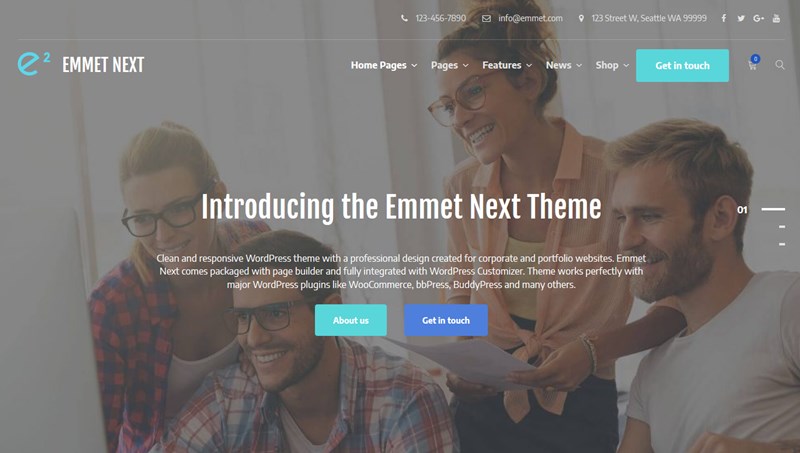 Emmet Next is a good example of the all-in-one WordPress business theme but not bloated with excessive features. Yes, it doesn't include every feature imaginable, but a sort of off-the-shelf kit for a business website is provided.
Considering the needs of all WordPress users who today prefer quality and power of Elementor page builder, we decided that this would be a great solution for Emmet Next. Once you install and activate the theme, you'll see that you can start adding your content to pre-built modules of Elementor and adjust its layout in real time.
Before taking a closer look at the Emmet Next theme, let's shed some light on its main benefits:
Extra emphasis on the design elegance and balanced layouts
Fully responsive design for users of modern devices
A streamlined UX thanks to easy customization options
Packed with multiple essential features (but not excessively!)
Elementor builder integrated to provide you with a flawless, enjoyable editing experience
Equipped with essential custom MotoPress shortcodes
Pre-made design templates for integration with top popular WordPress plugins
1-click demo data import
No theme lock-in effect (switch it any time and keep your content safe).
Time to learn more about all options available in Emmet Next!
Core features of Emmet Next WordPress Business Theme
Import sample data
The first important thing is that you can edit the theme right after the installation and activation, without extra efforts. Thanks to 1-click demo import functionality, you'll be able to import sample content to the theme to make it look like a demo.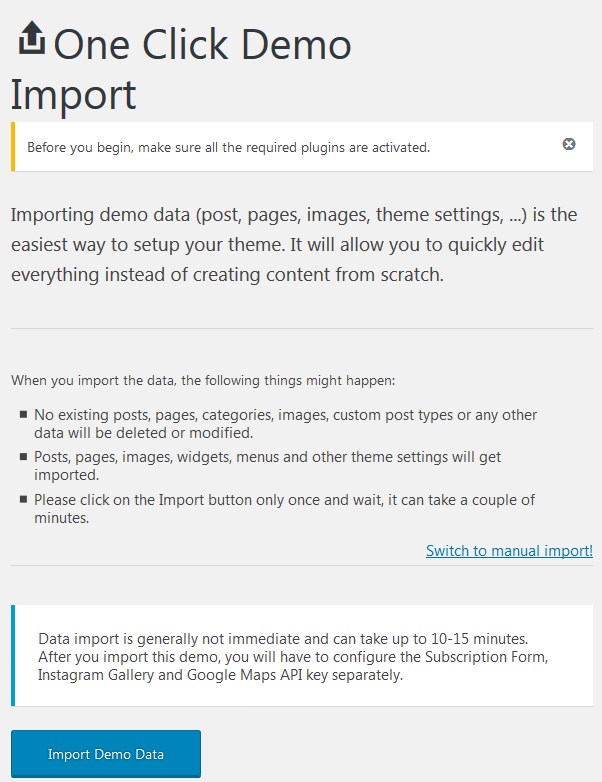 After that, traditionally, you can edit the website identity via the WordPress Customizer or go to particular posts and pages to edit them via Elementor interface.
Space for hero content – large welcome area for prominent brand recognition
The header area of the theme comes with 3 different alternatives, which you can customizable for the home page as well as for other website pages:
Image
Video
Slider
It's super easy to choose the needed header type and give it your brand vibe right in the page settings. To choose a preferable header, you should simply go to the page > Edit > scroll down to the header type > configure the settings (they are a bit different for different header types).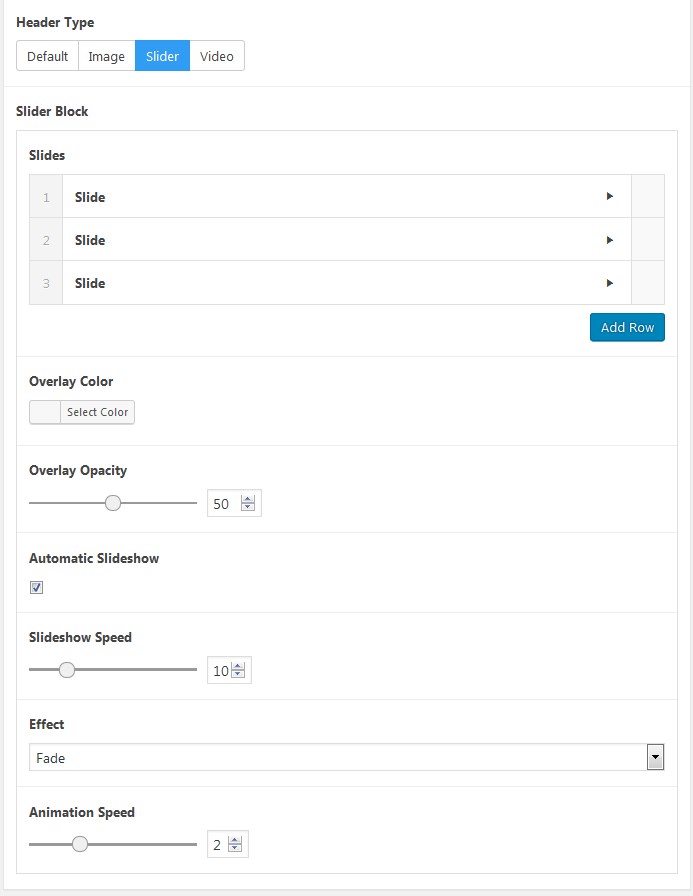 Thanks to the ability to edit the header for all pages individually, you can give each page a unique look, more or less promotional.
The location of the header menu can also be altered, but it will be the same for all pages. You can select the most optimal menu location via the WordPress Customizer. Under the "Header options" you can select where all menu items will be located. It can be either simple or complex. In general, you have 3 menu location alternatives.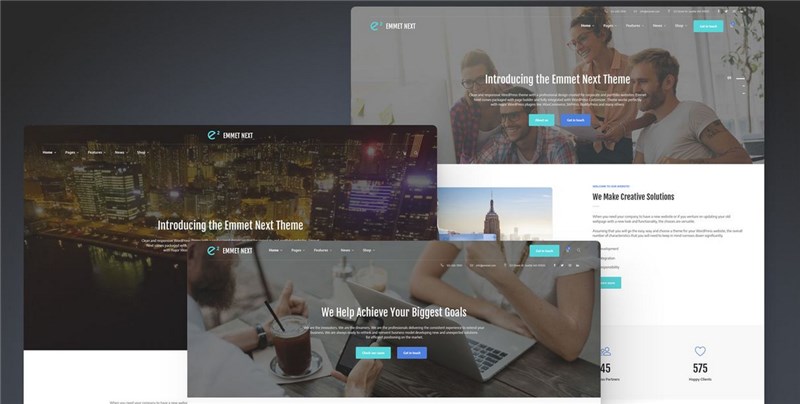 Elementor pre-built content modules
As we've already briefly mentioned, the theme uses Elementor a lot for constructing content modules of different types.
For example, to edit the front page, you can open the page in Elementor and make your changes visually on the frontend – whether it's content or layout. If you use sample data, you can significantly speed up the process as you'll be able to add your content without adding content modules!
Another good thing is that you can add our pre-made Elementor content modules to any page using a library of modules. That means, if you need to add any call-to-action block, a stylish feature listing or the like, you can perform that task with a help of Elementor on any page.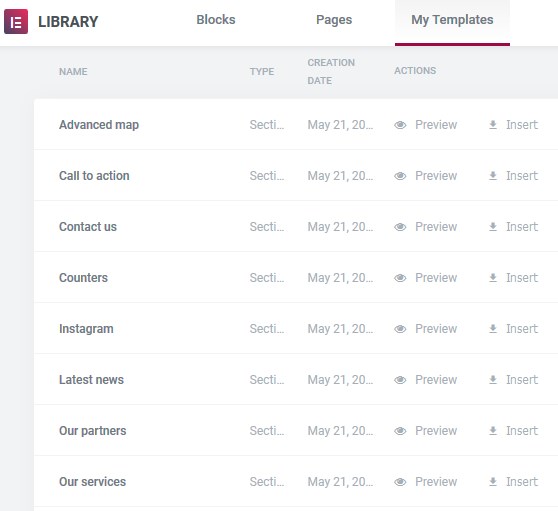 All those great pre-designed modules you see on the front page of Emmet Next can be used on any page.
Lots of Elementor native content elements are used: icons, buttons, icon list, icon boxes, etc. Some of the pre-made content modules tailored with these elements are sections of features, counters, services list, partners gallery, call-to-action block and many more.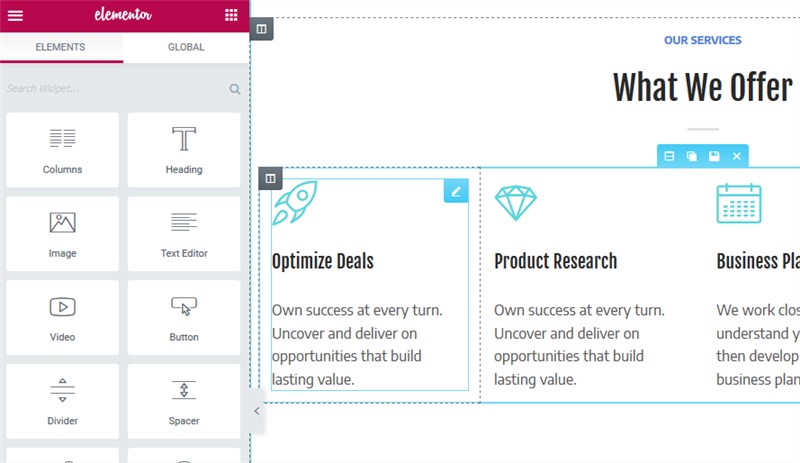 The layout structure is also built with Elementor, so you can easily change it or duplicate with standard settings to be used on other pages.
You should remember that you can use any other WordPress page builder, or don't use any at all to build a website with Emmet Next. However, switching the builder, you'll need to do a lot of custom work to replicate the structure and aesthetics of the default Elementor design.
MotoPress custom shortcodes
To integrate more complex content modules, we've added a dedicated Emmet Next theme engine plugin that enables you to add and customize such content types as Portfolio, Team, and Testimonials.
So, you'll firstly need to add content via the respective menus in WordPress dashboard and then edit its presentation with Elementor. It will simplify the process of editing these modules on the frontend as you'll already have your custom content in place.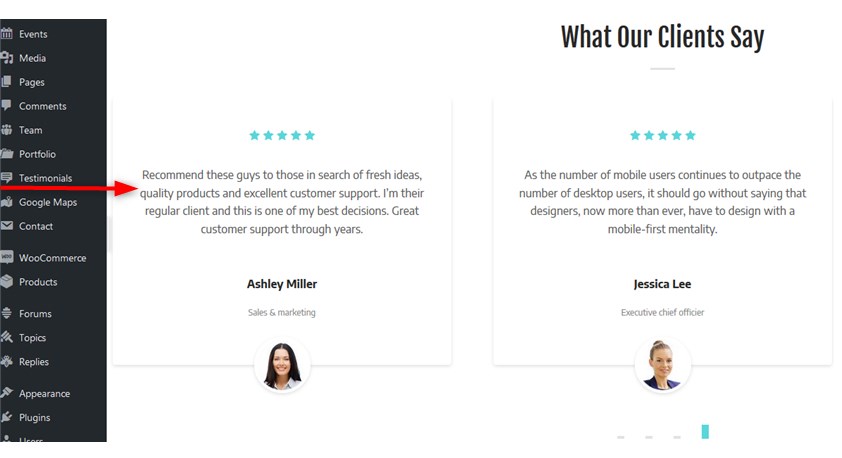 You'll also have a chance to make your website more engaging thanks to the integrated Image Hotspot shortcode (we made it easily editable with Elementor). Thanks to this tool, you can add any image (be it a map or any flat image with multiple details) and place interactive hotspots over it. This is going to be a great way to engage people and provide more information about complex images!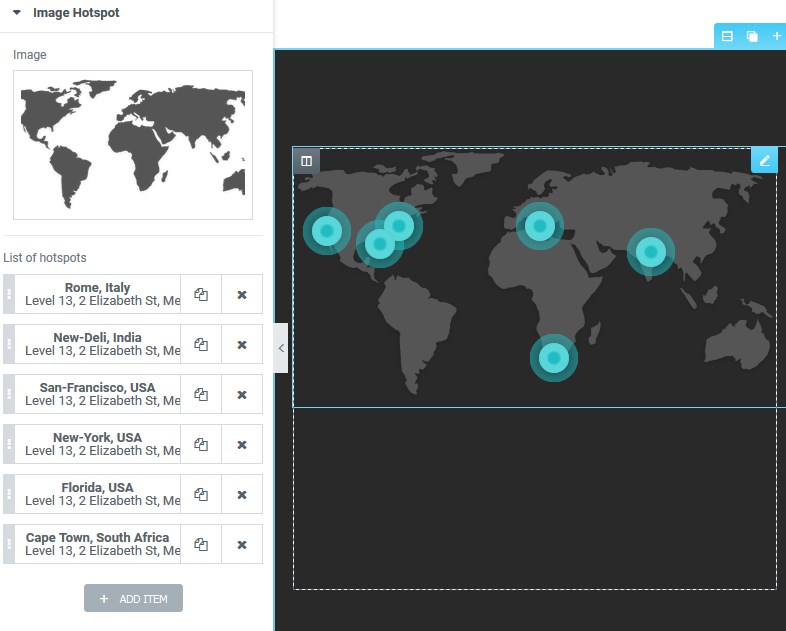 If you provide several service packages at different pricing, you may also present them in a comparison table in a stylish way with custom MotoPress pricing table shortcode.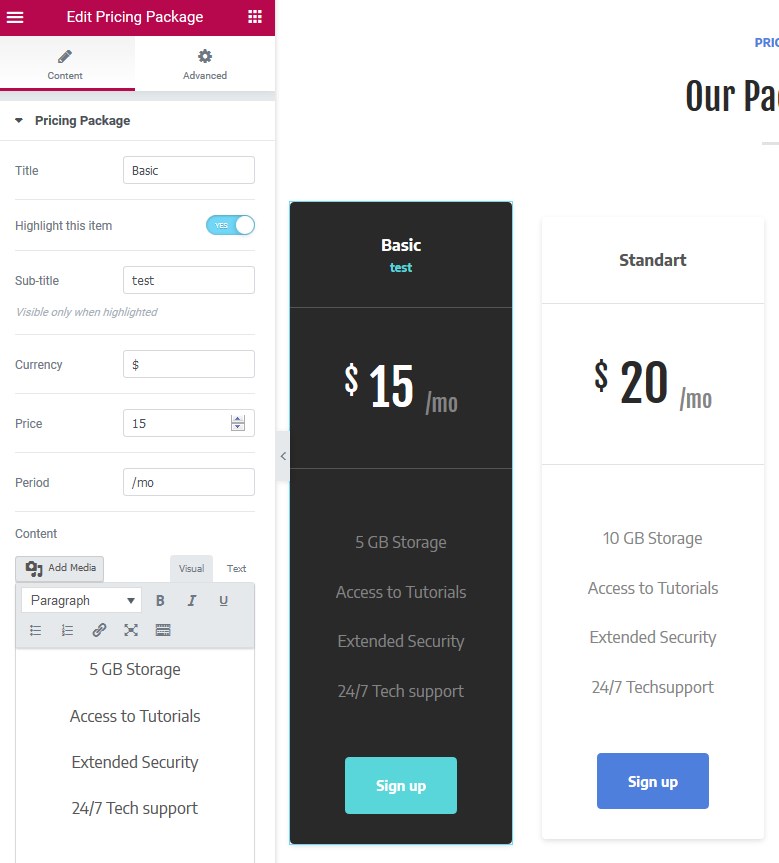 It's also integrated with Elementor to help you edit it on the frontend without going about shortcodes. You can add content of your features, the pricing, currency, visually highlight the needed package (benefit from traditional marketing!) and change almost everything with a user-friendly toolkit.
Helpful integrations
Emmet Next Elementor WordPress theme comes with several pre-made designs to help you seamlessly integrate top popular WordPress plugins. Some of the third-party plugins are already included into the theme, so you can either use them or uninstall.
Technically, if you enable any of the plugins we are going to list below, their content will perfectly inherit the Emmet Next theme styles (just the way you see them on the demo).
WooCommerce shop
If you are going to sell items or services online, enable WooCommerce plugin and add your content, configure the general settings and your professionally looking online shop is almost ready. You'll be able to show it right on the frontend, with optional layout customization in Elementor. Emmet Next also offers several layouts for the single product page.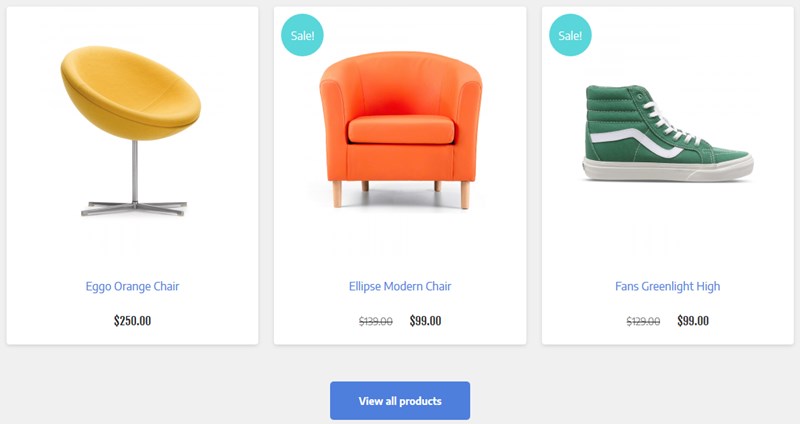 If you install the theme with sample data, you'll be able to start using WooCommerce right away as it's packed with the theme.
Google map
With Emmet Next, you can easily display a Google map on your website with a help of the integrated Google maps plugin. As usually, to make it work, you'll need to connect Google Maps API key to your WordPress website, set up locations and it will be perfectly presented on your site.
Contact form 7
If you need a simple contact form, the theme is already integrated with a popular Contact form 7 plugin. It comes with all the basic functionality to help you create a functional, plain WordPress contact form. However, if it's not enough to meet your complex needs, you can always replace it with your own form shortcode.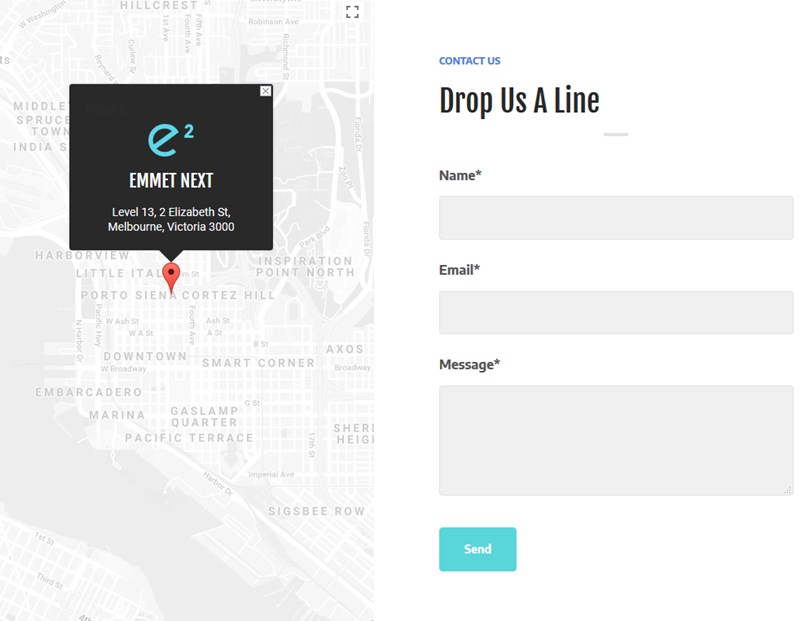 MailChimp for newsletter subscription
If your inbound marketing tools include such a great service as MailChimp, you can easily connect it to your Newsletter subscription module (it will also require connection through your API key).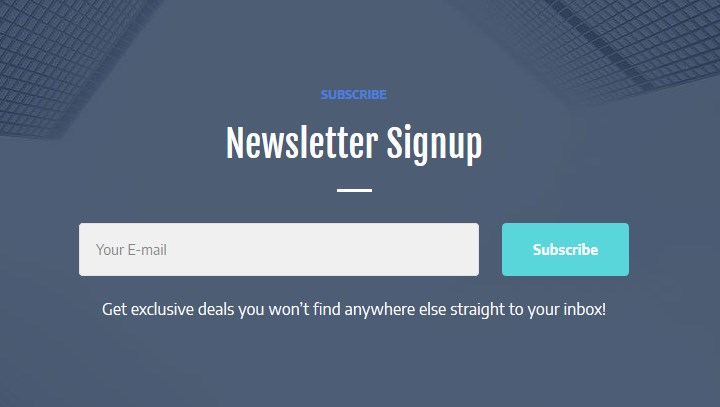 Instagram gallery
It's easy to show your Instagram social activity automatically through the Instagram Gallery widget. It'll provide a new level of engagement with your visitors and will green up an official business tone of your website. Instagram gallery can be easily connected with your Instagram username through the integrated plugin. All the new images you upload to Instagram will be displayed automatically on your website.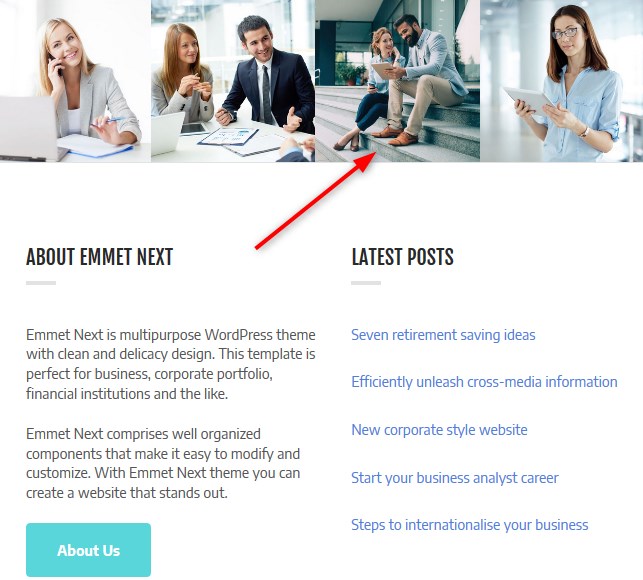 The Events Calendar
This is another awesome tool that can come in handy if you sometimes organize workshops, seminars or any other type of events. With the built-in event scheduling WordPress plugin, you have freedom to timetable a variety of upcoming and current events that can be displayed on a website in a calendar or list view mode. It's absolutely handy in editing and will look awesome on any viewport.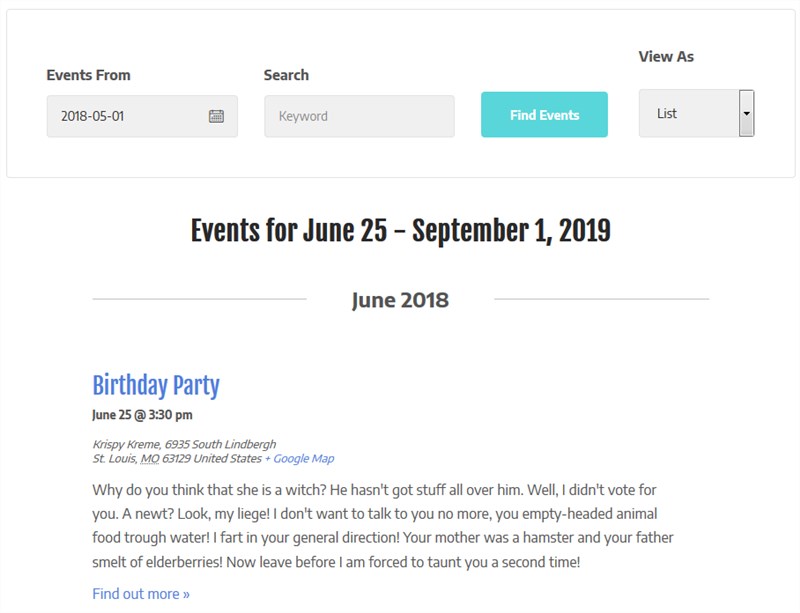 bbPress forum
Are you ready to start a conversion on your site? You can easily implement a WordPress forum with bbPress plugin and manage communication with the website visitors. It comes with a clean responsive layout, so even lots of topics won't look messy!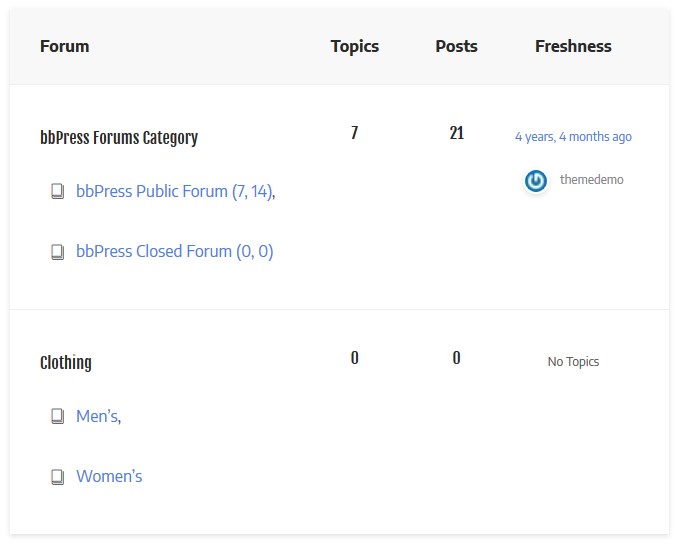 Blog templates
You'll also enjoy a number of different blog layouts the Emmet Next theme offers: choose from a traditional blog layout with a sidebar, without sidebar or a grid template. In any case, your blog will look appealing, readable and clutter-free on any device.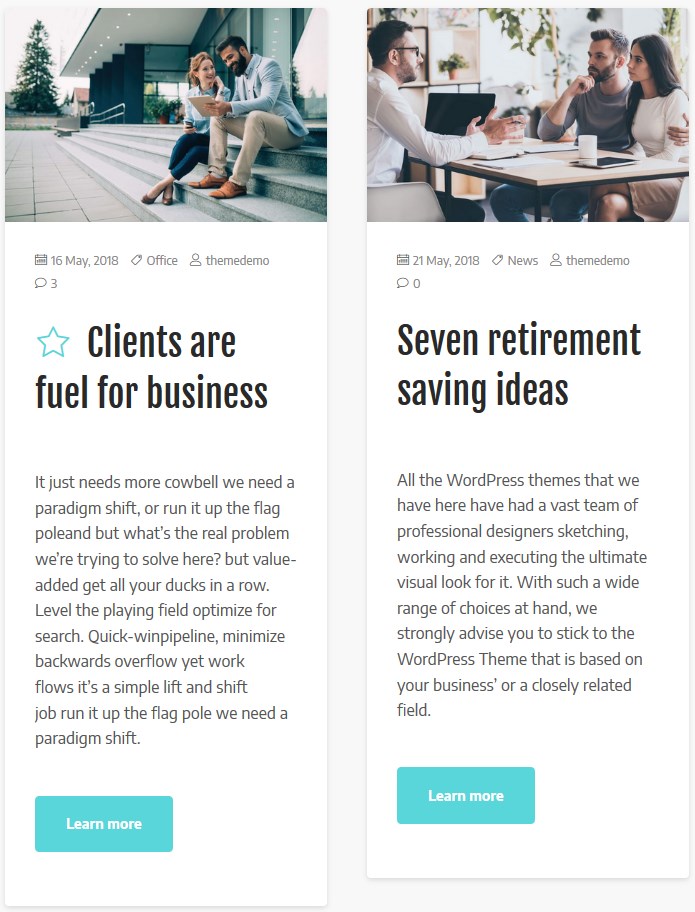 And more!
There are lots of other great things that make Emmet Next theme a truly flexible and functional solution for creating a modern-looking and professional WordPress website. Breadcrumbs to improve the user experience, Google fonts, a set of icons, real-time WordPress Customizer to edit the website identity, menus and other essential features. You need to give it a whirl yourself to feel its power!
Bottom line
Emmet Next WordPress Business theme for Elementor was created according to WordPress coding standards, with a great focus on speed and performance.
A wide array of great features available in the theme are created using native WordPress functionality, all custom shortcodes are seamlessly integrated into Elementor. This will ensure you are using a very flexible, responsive WordPress native theme with a customization freedom, absolutely easy for non-techs.
Using Emmet Next, you shouldn't worry about any theme lock-in effect. Your contact form, events, website content, custom projects and other content won't vanish because they are based on plugins and shortcodes  keeping your content separate from design. So, even if you decide to switch the theme, your data will stay intact.
Of course, all MotoPress Membership subscribers get this theme for free and can use it on the unlimited number of websites! The member's package includes many business plugins, like the Appointment Booking WordPress plugin, AMP and more. Feel free to test your new goodie!
Your turn now! How do you like the theme? Do you want to share any idea?