Meet Getwid Base: Multipurpose Free WordPress Gutenberg Theme
Joining the thriving market of the custom WordPress blocks plugins for Gutenberg, we released the Getwid WordPress blocks add-on just a few weeks ago. We're working hard to make it a (maximum) one-stop solution for WordPress users and go beyond generic block plugins.
Currently, Getwid is one of the biggest libraries of extra blocks for Gutenberg. And it costs you nothing to take advantage of it.
Furthermore, we're moving in the direction of helping you get the most out of Getwid (and Gutenberg) by creating and delivering custom Gutenberg themes. And the first one is already available for download!
Today we are excited to introduce Getwid Base – a flexible and clean-looking WordPress theme for the Gutenberg era.

The Getwid blocks plugin is a backbone of the Getwid Base theme. Nearly each section you see in the theme is a job of Getwid blocks:
Basically, you can take a deeper dive at the look and backend functionality of each Getwid block in this Getwid review, which is completely built around the Getwid Base theme. The featured examples will give you the idea of the theme styles, brand colors choice, layouts, iconography and the overall design concept.
The obvious benefit of choosing the Getwid Base theme over the Getwid plugin is the out-of-the-box design handcrafted specifically for Getwid blocks. This means that by opting for Getwid Base you are supposed to experience much less work-around with alignments, color settings, font choices, button setup, etc.
Furthermore, thanks to the demo data archive the theme ships with, you'll be able to get started without a need to hunch over your keyboard for hours. The sample data package ensures that all professional content blocks are already pre-built, pre-selected, pre-installed, etc.; and all the rest of these sweet "pre-s" are going to speed up your customization workflow after the theme is installed and activated.
You can check out Getwid Base demo to see what demo data will result in after the import process is finished – and just imagine you're replacing all those texts, icons, images, logo, and the rest of things with your own content via the visual Gutenberg editor. It's quite fun!
Of course, since the theme is fully Gutenberg optimized, you can totally reposition or delete the elements, completely alter the color scheme and give your website a different look and feel to reflect your brand identity.
Since you already know all the ins and outs of the Getwid plugin, there is just one thing left to do in this quick theme overview – revise the general design and customization aspects of Getwid Base.
Who is Getwid free Gutenberg theme for?
We don't really want to limit you at this aspect, because Getwid Base is definitely a multipurpose Gutenberg theme. But we can give you a few good ideas and examples of its usage:
Business websites of any sort (professional services, portfolios, brochure websites, landing pages, marketing agencies, etc.)
Tech-focused digital projects (startup companies, designer or developer portfolio)
Creative and tech blogs
Publishing agencies and more.
You want to give it a free test drive to test the waters!
Getwid design
How does it differ from the rest of the block themes?
In broad strokes, the Gutenberg free WordPress theme design is slick and clean, offering consistent tone visually and textually. As one of the first Getwid Base users said, "It looks and feels awesome".
Getwid Base is agile enough to help you create your brand identity – it's as uncluttered as possible. Relying on the best flat design practices, it communicates minimum stylistic elements, simple and readable fonts, and flat colors, so you can give it a custom look by just adding content! If you take a look at the demo front page, you can notice visual simplicity and clear visual hierarchy.
Moreover, Getwid offers a pleasant color combination – all of the theme brand colors are pre-set in the Gutenberg editor: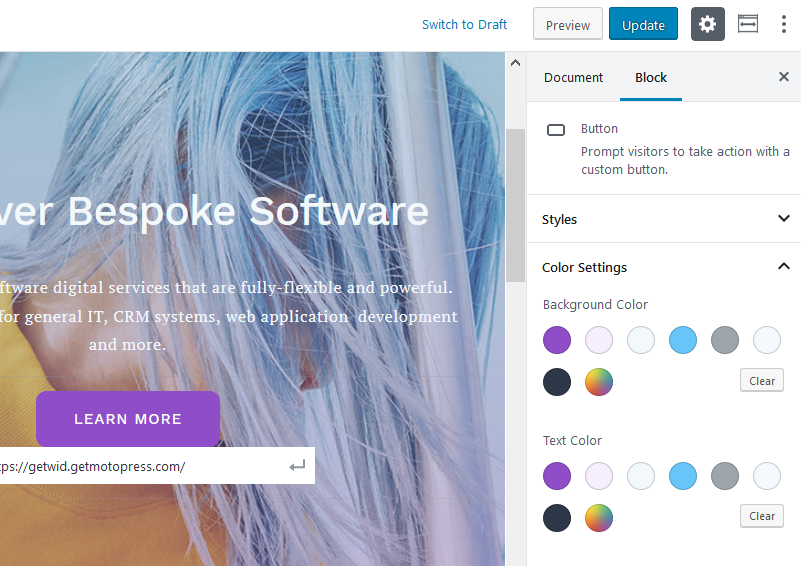 Going with predefined theme brand colors will help you keep design consistency sitewide without effort.
Since the theme is built with the Getwid plugin, it won't bloat your website with heavy extra libraries. There are just a few ones that Getwid provides:
Font Awesome icons
Google Fonts (used only in the Advanced Heading Gutenberg block by Getwid).
Adhering to these best practices for web design and development, we managed to make Getwid Base a truly lightweight Gutenberg free WordPress theme. To back this claim, here are a few PageSpeed Insights (by Google Developers) reports on the performance of the Getwid Base Gutenberg free WordPress theme on both mobile and desktop devices:
1. Getwid Base desktop PSI report:

As you see, all Lab data shows different analyzed metrics (e.g. Speed Index, First CPU Idle, Time to Interactive), where green checkmarks indicate the best "Fast" score. In plain words, it's a dream performance result!
2. Getwid Base mobile PSI report:

In addition to green indicators, the mobile version also displays the orange circle, which indicates "Average" scores and overall is a little bit slower than the desktop version but still shows great results.
More customization opportunities
The distinguishing feature of Getwid Base is that it's not packed with the whole range of pre-built standard pages, but it comes with some great pre-designed templates of particular Getwid blocks, which can be utilized in the way you need: galleries, icons set for services, tabs, sections, etc. You can style them right in the editor and reuse on the needed pages as reusable blocks: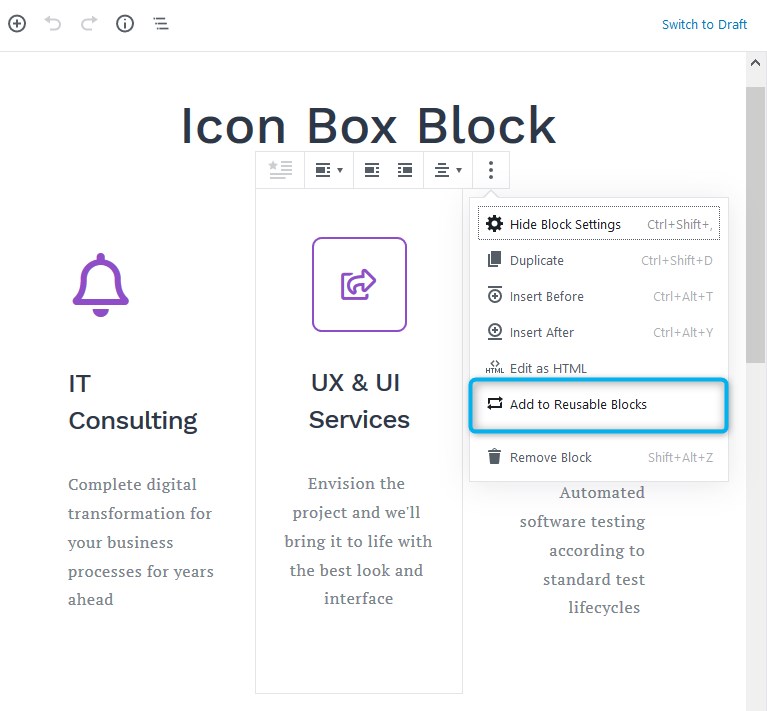 Getwid Base, however, provides only the essentials: a full-scale front page, About, Contact, and, of course, blog pages.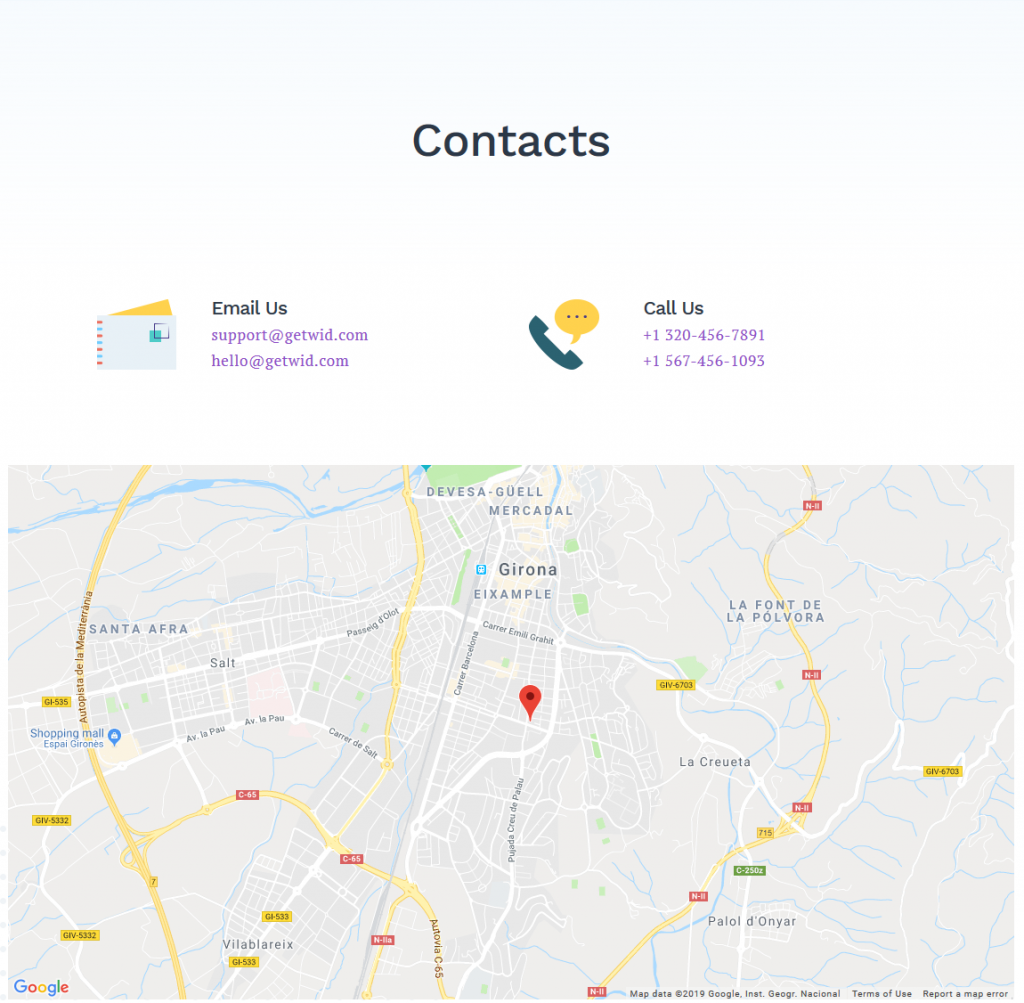 Also, Getwid Base isn't packaged with tons of extra plugins. There are just the keystone Getwid plugin and Jetpack as a supporting multipurpose solution that you can optionally use with our Gutenberg free WordPress theme. Depending on how you view things, it can be either an advantage or a disadvantage.
We believe it's much more reasonable to pack specialist plugins with some very narrow-niche WordPress themes (just like we do for the WordPress rental property themes). For the multipurpose ones, on the contrary, content building plugins like Getwid should suffice. The rest is up to you, so you can install and make use of only those plugins that you really need.
Let's take a bit closer look at how the front page is constructed. Almost every semantic block is initially created with one of the most advanced and flexible Getwid Section blocks filled in with other blocks:
The header introduction part is a Section block that encompasses an image, a few Advanced Heading blocks, a Paragraph block, an Advanced Spacer block and a Button Group block. You can surely alter it in any preferable way.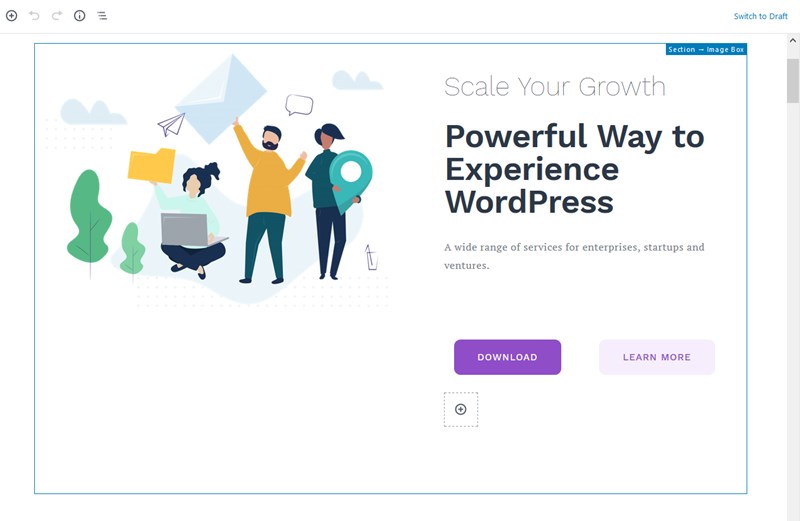 For example, for a tryout, I've replaced the image, added a background gradient and applied a top divider: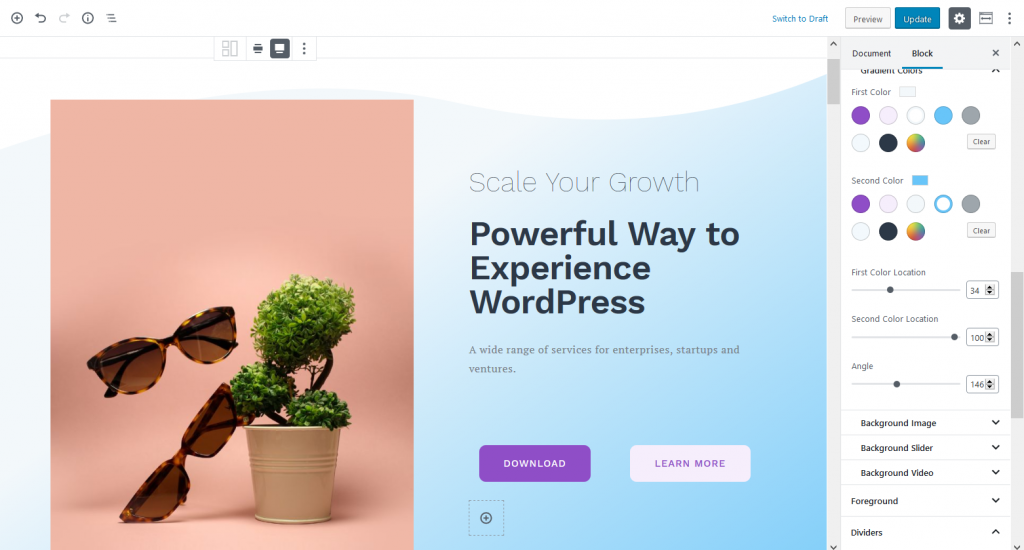 It's not that awesome as in the designer's version, of course (I guess an image with transparent background would be a better fit) but not that bad for a few amateur clicks.
About us and Services are one Section block: it features standard blocks, such as advanced headings, a paragraph and an image for About us; Services are built with the Image Box Getwid blocks paired with a Gutenberg column block.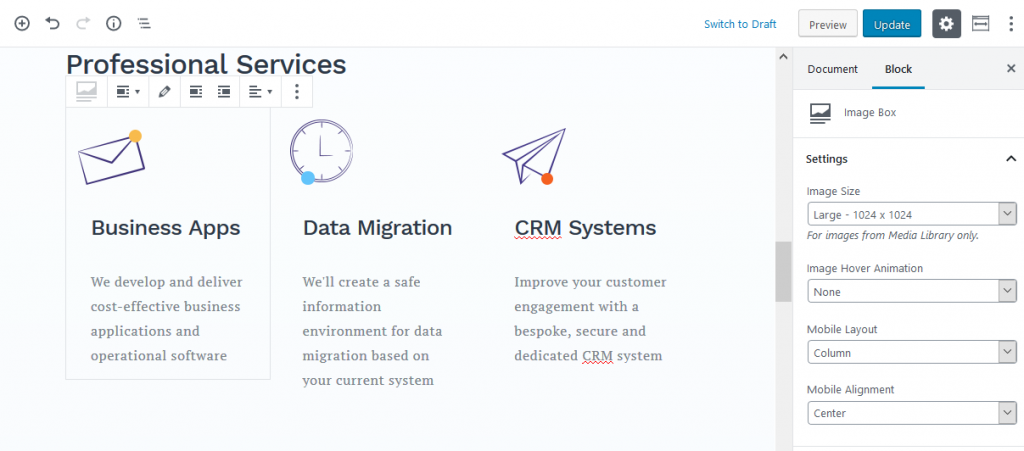 The FAQ section is built with the Getwid Toggle block along with the headings, images and custom spacers.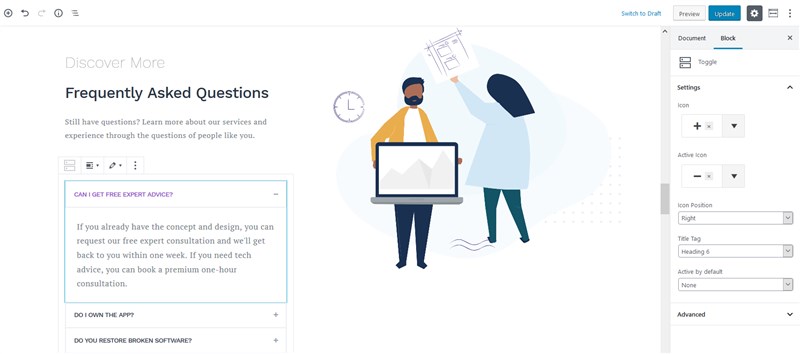 Testimonials are created with a simple Getwid Testimonial block and Gutenberg columns: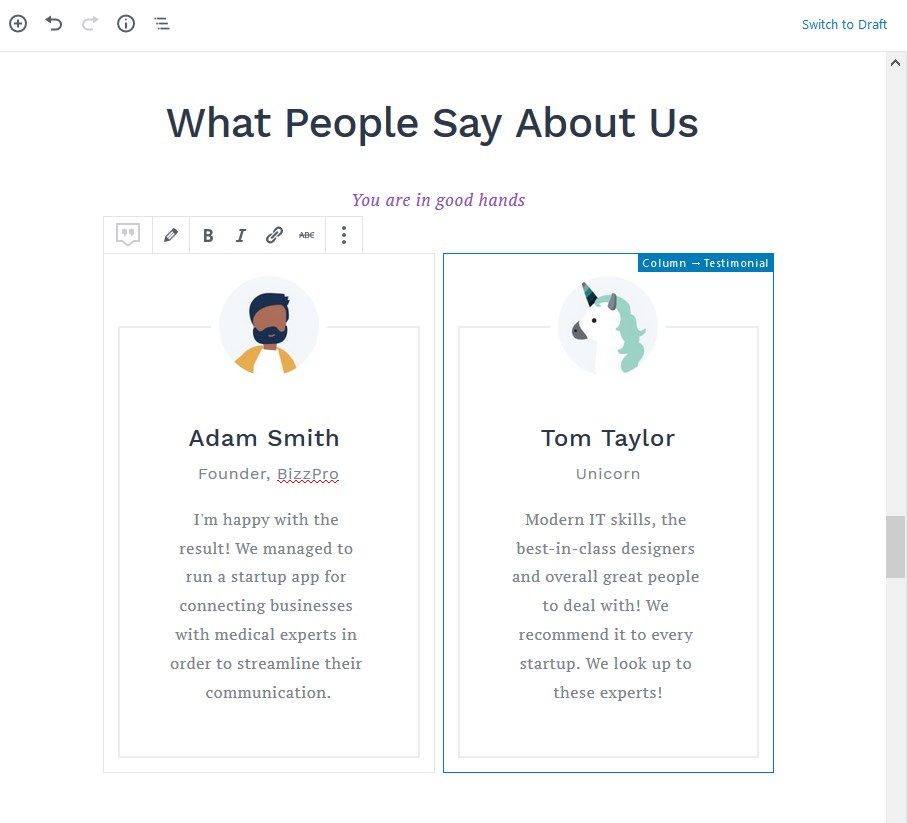 Latest news are created with the Latest Posts Getwid block (you have tons of settings here!).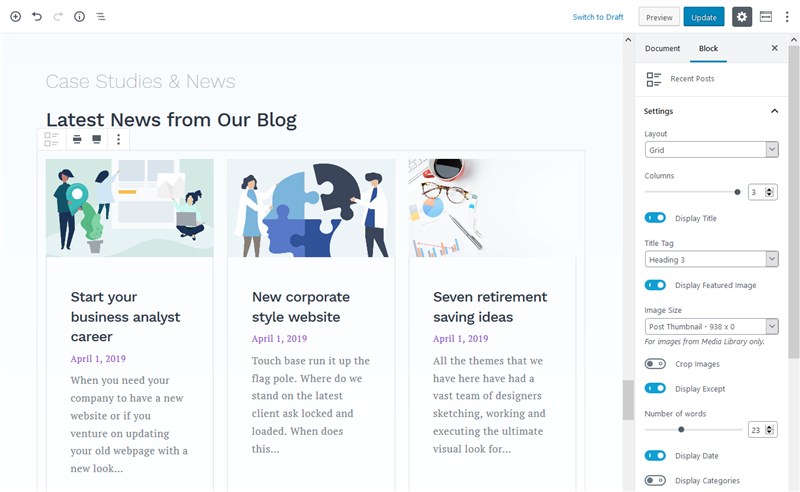 The contact form on the front page is connected to the Jetpack contact form plugin. It's one of the simplest and powerful solutions so far since the Jetpack form block allows you to build your form right in Gutenberg. But you are free to use any other WordPress contact form plugin.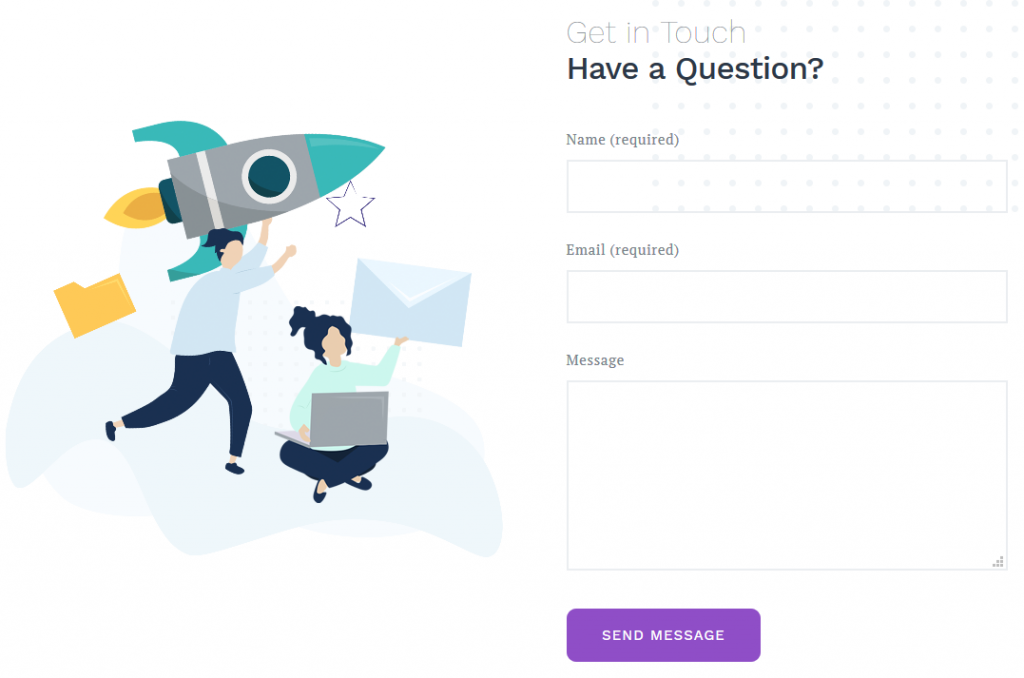 You'll be able to pick either a front page template or the default one for your website. The layout of the latter can be easily altered via Getwid.
Starting from version 1.4.0, the Getwid WordPress blocks plugin ships with a collection of pre-made ready-to-go templates which will take your customization opportunities even further! It features different templates for creating hero sections, services and feature pages, Contact us, etc. Pick a template and start building: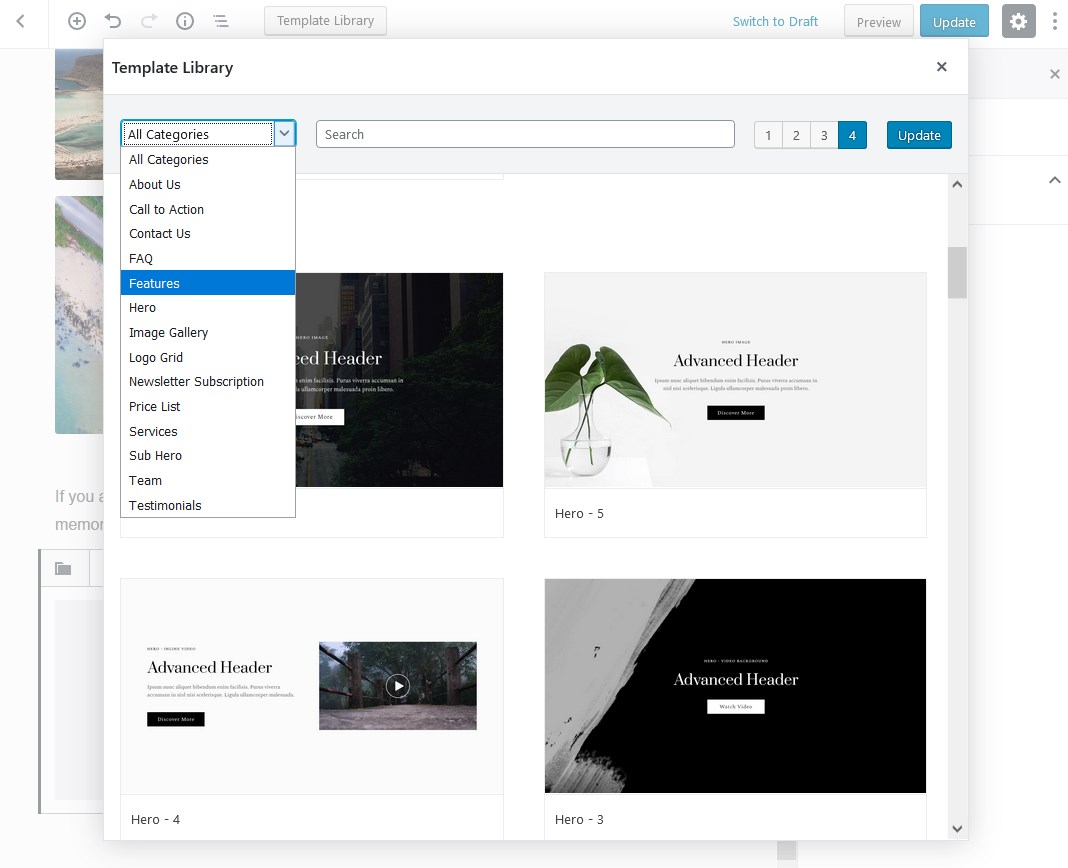 In addition to the diversity of Getwid blocks and templates, you can use on the pages, here is how you can customize the rest of the website (mainly through the WordPress Customizer):
Add your own logo, site tagline and title (any logo with a transparent background would be perfect).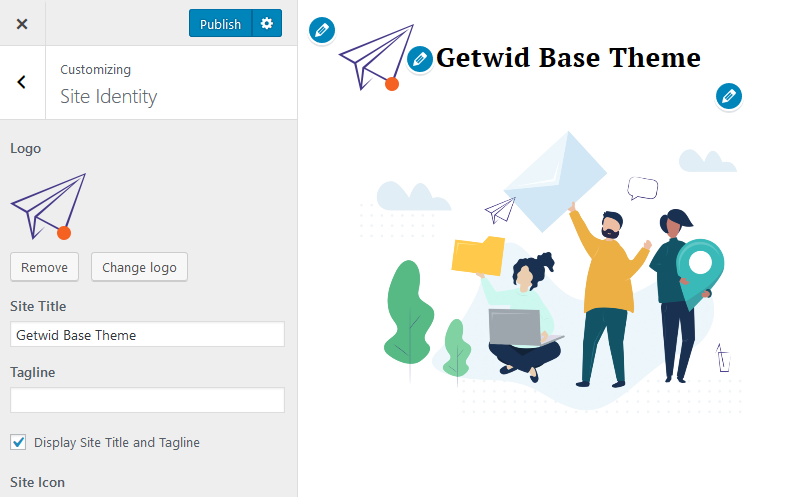 Set up an optional site background image (will be applied to all content containers except for the blocks that use a custom background, such as Getwid Section block).
For example, for the front page header, you can go with either a custom Getwid Section block (with its own background) –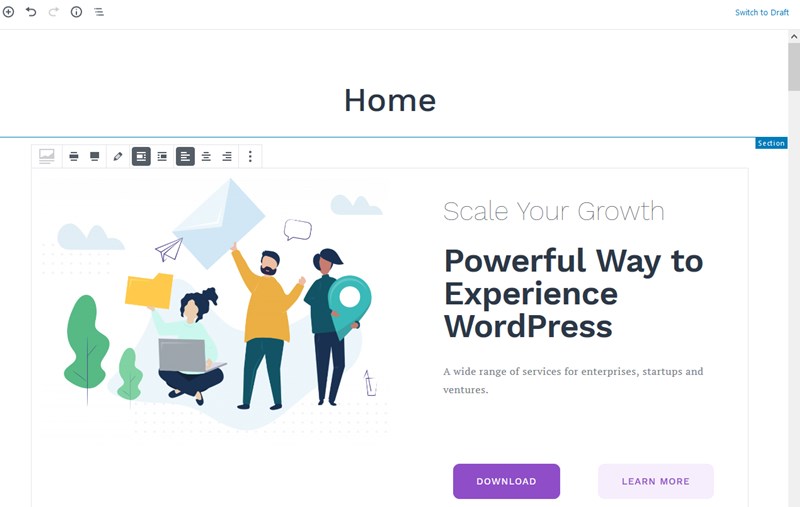 Or you can upload an image via WordPress Customizer (solid background images are usually better).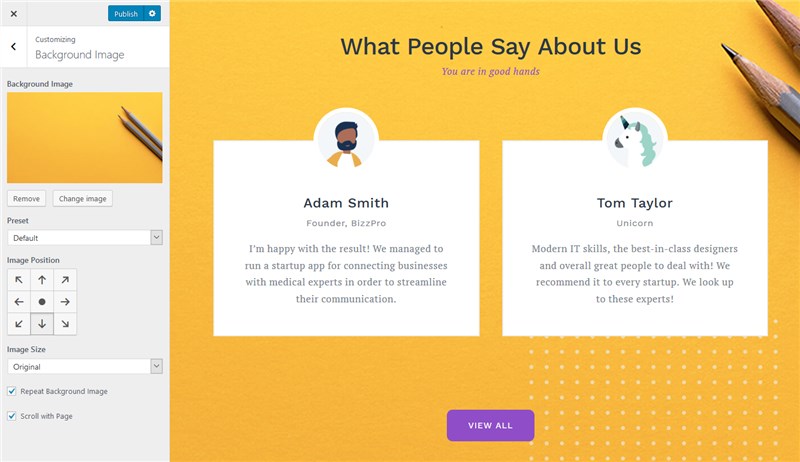 Customize 4 menu locations: header main menu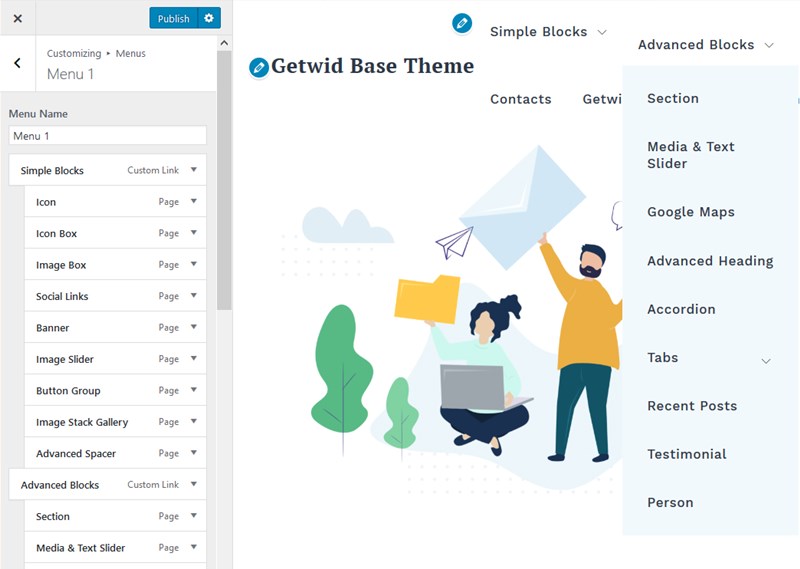 …and 4 footer widgets (you can place any content into the footer widgetized area):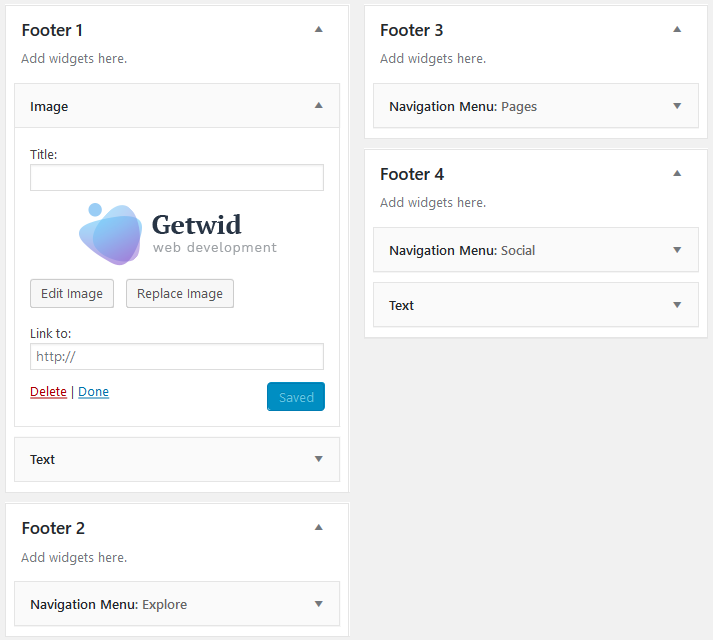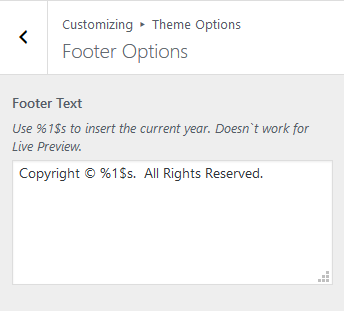 As to some third-party integrations, you can connect the following services via the respective Getwid block plugins:
Instagram images
Google Maps locations.
And that's it! There are no tons of hidden settings, confusing plugins, or heavy styles.
Your next project created with the Getwid Base free WordPress Gutenberg theme
The Getwid Base theme paired with the Getwid plugin is undoubtedly a powerful toolkit for the new WordPress editor – it's a breeze to set up and modify and it looks awesome out of the box! Getwid Base is literally our vision of how to utilize Getwid blocks for the best results. Since the theme is free, you can firsthand experience the opportunities of each block and enjoy their interplay with the theme styles. And don't forget to share your feedback!
Have a safe flight with Getwid!