Top WordPress Plugins to Share Your Posts Automatically on Social Media
Creating content for your blog is definitely the art and science. But when it comes to content managing, sharing, and promotion, you may spend dozens of hours doing repetitive work.
Especially if you try to share your content across all possible social networks (it's hard to count all of them today!), there is simply no point in doing this task manually.
There are so many professional WordPress plugins for sharing your website posts automatically on social media. So, we've done some research for you and collected free and premium WordPress plugins for social media auto-sharing.
What is their main purpose, by the way? They help you save lots of your precious time and make your social media marketing workflow much more effective and less time-consuming. Sounds good to give it a whirl, agree?
We've highlighted the main features, supported social media networks, and, of course, pricing, so it should be easier for you to choose the right one.
Let's get down to details.
CoSchedule WordPress Editorial Calendar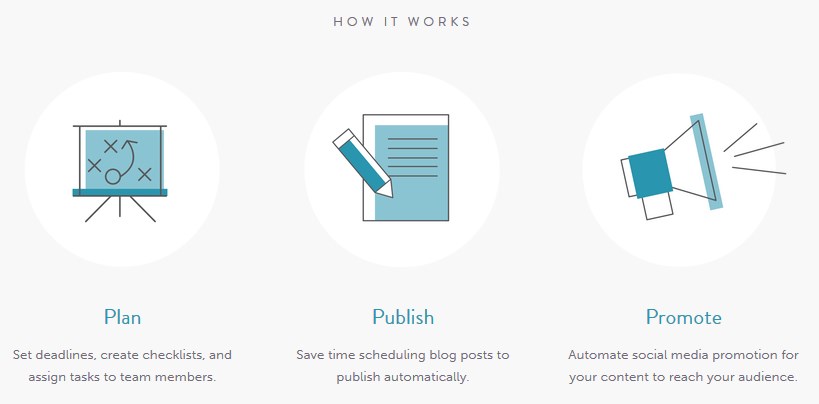 CoSchedule is a popular editorial calendar with a drag-and-drop interface for more intuitive editing work. If you regularly update your WordPress blog with new content, this plugin will be a great helper in planning and sharing your posts on social media directly from the WordPress dashboard.
It significantly eliminates the need to manage different social media accounts, extra tools thanks to a fully automated social media sharing process.
Supported social media networks: fully integrated with Twitter, Facebook, Pinterest, LinkedIn, Google+, Buffer, and Tumblr.
Pricing – 14-day free trial, prices start at $15.
Revive Old Posts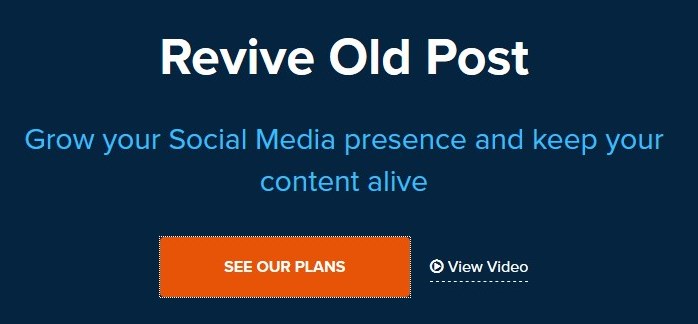 Revive Old Post is a popular WordPress plugin for social media marketing. A great solution to revive your old evergreen content and bring more traffic to your website without fresh posts. This WordPress plugin will automatically share your old but yet useful posts on social media (you may also schedule new posts for auto-sharing).
You have full control over what goes published on your social media accounts and can automate the whole process quite quickly and easily.
Supported social media networks: Twitter, Facebook, LinkedIn, Xing, and Tumblr are your options in PRO version;
Pricing: PRO version – prices start at $75 (personal plan)
Free version supports Twitter auto sharing only.
NextScripts: Social Networks Auto-Poster

This WordPress plugin for auto-posting offers the biggest variety of social networks you can integrate your site with.
You can use it for personal and business accounts, social media communities, groups, etc (using a free version you'll be able to use one account for each network).
Supported social media networks: Facebook, Twitter, Google+(Google Plus), Blogger, Tumblr, Flickr, LiveJournal, Flipboard, Instagram, Telegram, DreamWidth, Delicious, Diigo, Instapaper, Stumbleupon, LinkedIn, ok.ru, Pinterest, Plurk, VKontakte(VK.com), YouTube, Scoop.It, WordPress, XING
Pricing: free (some of the social networks are unavailable in a free version). Prices for PRO version start at $49. Compare the Pro and free versions here.
FS Poster – WordPress to Social Media Auto Poster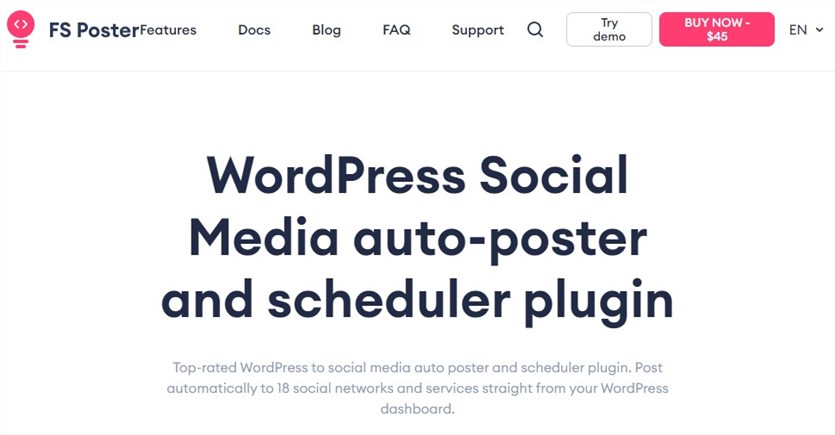 FS Poster is a social media auto poster which lets you schedule and auto post your content to 17 social media networks.
Using FS Poster to share your content is a very straightforward process. After you have added your social media accounts to the plugin and have finished installing and setting the social media scheduler plugin on your website, all that is left to do is publish your WordPress post.
The plugin will handle the remainder of the work.
Supported social media networks: Facebook, Twitter, Instagram, Linkedin, Pinterest, Reddit, Tumblr, VK.com, OK.ru, Telegram, Medium, Google Business Profile, WordPress-based sites, Plurk, Blogger, Discord, YouTube Community.
Pricing: Free (with limited features), price of premium version is $45 for lifetime (see the comparison of free and premium versions here).
JetPack Publicize

A popular Jetpack plugin, developed by WordPress creators, offers lots of WordPress website enhancement and analytic features. Jetpack Publicize, as one of them, can help you share the posts automatically.
This is a very quick and straightforward solution to automatically share your posts on chosen social media networks once you publish a new one on your blog. You can manually adjust all settings, select/deselect the blog posts that should be automatically shared on social media platforms. It can also publicize scheduled posts, which is a pretty helpful option.
Supported social media networks: Facebook, Twitter, LinkedIn, Path, Tumblr and Google+
Pricing: free
Microblog Poster

Microblog Poster is a great plugin that helps you automatically share posts, pages, and custom posts types of your WordPress site. Both free and PRO versions are pretty feature-rich. If you have more than one social media account, the plugin will allow you to connect all of them to your WordPress site (the plugin allows to auto-post to group and communities on different social media platforms).
Within the PRO version, you can also enable category-driven auto-publishing, multi-author mode, auto-publishing to Twitter with images, etc. You may quickly check the full list of differences here.
Supported social media networks: Facebook, Twitter, Linkedin, Xing, Tumblr, Google +, Plurk, Delicious, Diigo, LinkedIn, Blogger.com, Instapaper, VK, Pinterest, Flickr.
Pricing: free. The prices for PRO version start at $49
AccessPress Social AutoPost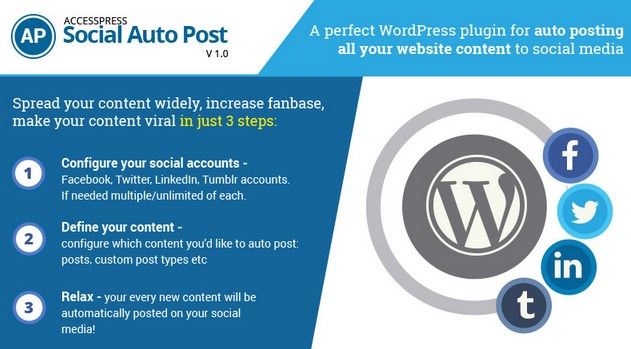 Social Auto Post plugin by Access Press is a great tool to enable auto-posting on multiple social media accounts. Simply apply all needed settings and define which content should be automatically published across your social networks.
With a help of this plugin, you can customize your post formats, filter them by categories and view logs, enable/disable auto-posting right from the post screen.
Supported social media networks: Facebook, Twitter, Tumblr and Linkedin
Pricing: $20
Juicer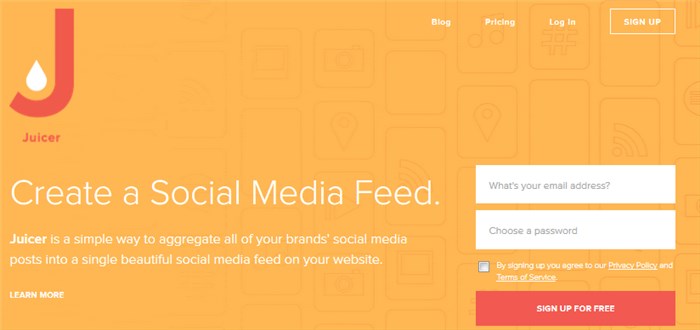 If you are looking for another type of plugin that will create a social media feed on your website, Juicer was created exactly for these needs. It will help you generate a stylish feed on your site automatically publishing the posts from your social media accounts. Juicer will update the feed each time you publish a new post.
To make it all work, you'll need to embed the appropriate shortcode anywhere on your site. However, the plugin won't work without a Juicer account.
Supported social media networks: Facebook, Twitter, Instagram, YouTube, Google Plus, Tumblr, Pinterest, Tumblr, Vine, RSS, Spotify, Slack, LinkedIn, Flickr, Vimeo, Hashtags, Yelp and DeviantArt.
Pricing: free (2 source accounts, Juicer branding watermark, 1 update during 24 hours). Prices for PRO version start at $19.
Social Media Auto Publish

Another great free WordPress plugin for publishing your site posts across social media accounts automatically.
It's fully packed with all needed settings for plugins of this nature: it allows to post to Facebook, Twitter, and Linkedin with images, filter items by categories and custom post types, and customize the format of your messages (the plugin supports post title, description, excerpt, permalink, blog title, and user nickname).
It's also required to create an application for each profile – it's an easy process aimed to delete "shared via xxx" from your social media messages.
Supported social media networks: Facebook, Twitter and Linkedin.
Pricing: free. PRO – $29 (see the comparison of free and paid versions here)
Social Auto Poster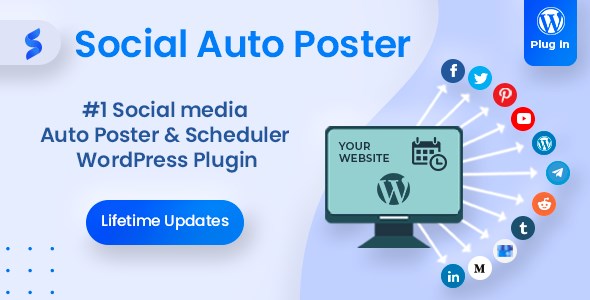 Social Auto Poster by WPWEB is another great solution that allows auto-posting of your WordPress website content. As usual, you'll need to configure the main settings and for your social media account and the posts will go live automatically.
The plugin allows to publish different post types (each with individual settings), shorten URL, and schedule automatic posts publishing on social media networks.
Social Auto Poster also works well with popular WordPress eCommerce plugins and is fully translatable.
Supported social media networks: Facebook, Twitter, LinkedIn, Tumblr, Delicious, BufferApp.
Pricing: $39
Hopefully, you'll find the most useful and affordable solution for your website on WordPress!