Meet Bimba: Handmade WordPress Theme & WooCommerce Store
If you are looking to start an online shop with WordPress, your own but more modest Etsy, we're going to tell you how to do that and what things to consider.
Bimba WordPress WooCommerce theme for handmade, children's, and home textiles, and other sorts of goods can be a great foundation for your future shop website on WordPress.
Bimba is our brand new handmade WordPress theme that was created according to the new WordPress realities that had started with the Gutenberg block-based editor.
Important reminder: Here is our full range of WooCommerce templates offered by MotoPress:
This means you'll be able to customize the theme visually with native WordPress content blocks, without (or less) non-native dependencies on extra plugins.
WooCommerce setup for beginners – video tutorial
What type of website you can create with the Bimba Handmade WordPress theme
So what broad scenarios can the theme cover? Here are just a few examples:
Baby and kids store of any kind (e.g. an online store of handmade goods).
A textile and fabric online shop on WooCommerce.
Handicraft products and souvenirs, and more.
With Bimba, you can either sell (and we mean a fully-fledged eCommerce solution) or simply showcase the products or services in a directory format (so they can be ordered over the phone or by submitting a website inquiry).
You definitely need to take a look at the Bimba demo to see whether its design suits your needs. Meanwhile, we'll show you the functionality backstage.
The best of Bimba Handmade & Craft WordPress theme
It's super lightweight (e.g. won't slow down your website), bold and creative. Overall, we can name at least four reasons why you might fall in love with it:
It's made with the Gutenberg WordPress editor so you are making a forward-looking choice for your website building needs.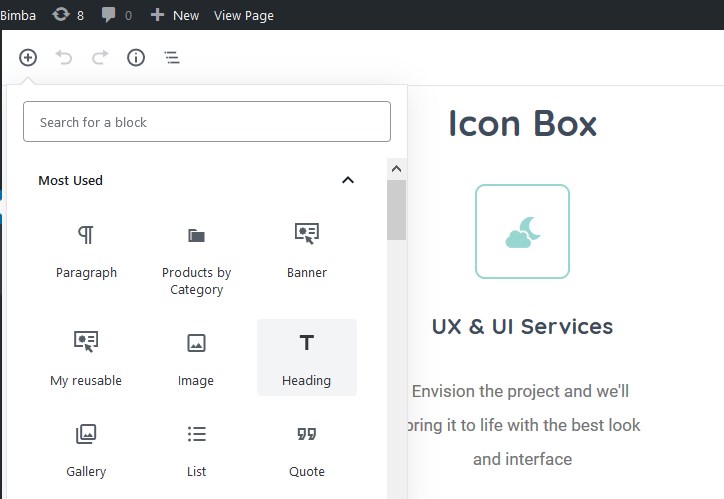 It's bundled with Getwid – our custom addition to Gutenebrg, which encompasses 20+ extra content blocks for the core WordPress editor. Moreover, the theme is supplied with multiple pre-made content modules crafted with Getwid and Gutenberg blocks.
All this means you'll be able to work with the latest WordPress editing experiences, greatly improved by Getwid Gutenberg blocks! It ensures a handy visual customization and tons of customization options.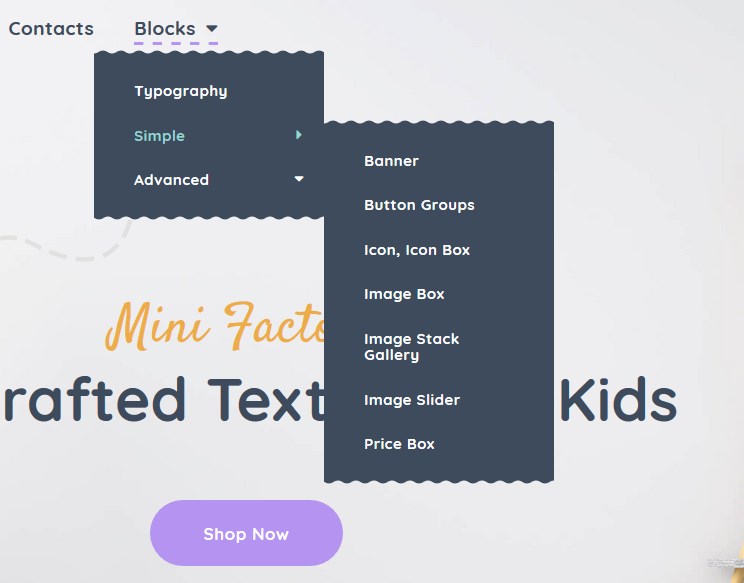 Bimba relies on the WooCommerce WordPress plugin. The biggest number of online shop websites on WordPress are powered by WooCommerce – one of the most holistic, trusted and professional functionality plugins for ecommerce needs.
With Bimba, the sample shop is already packed – you'll just need to replace the products with your own ones, add new goods and set the preferable region-specific e-commerce configuration. There are tons of options on how you can customize the purchasing process for your customers.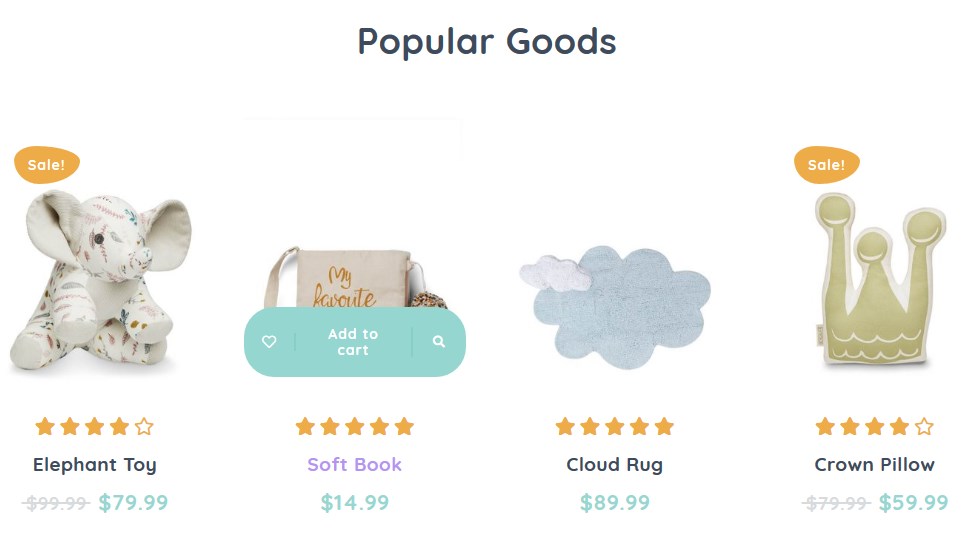 Demo data can be optionally imported in a single click. Since Bimba comes with a sample data importer, you'll be able to manage all the installation and setup things really quickly.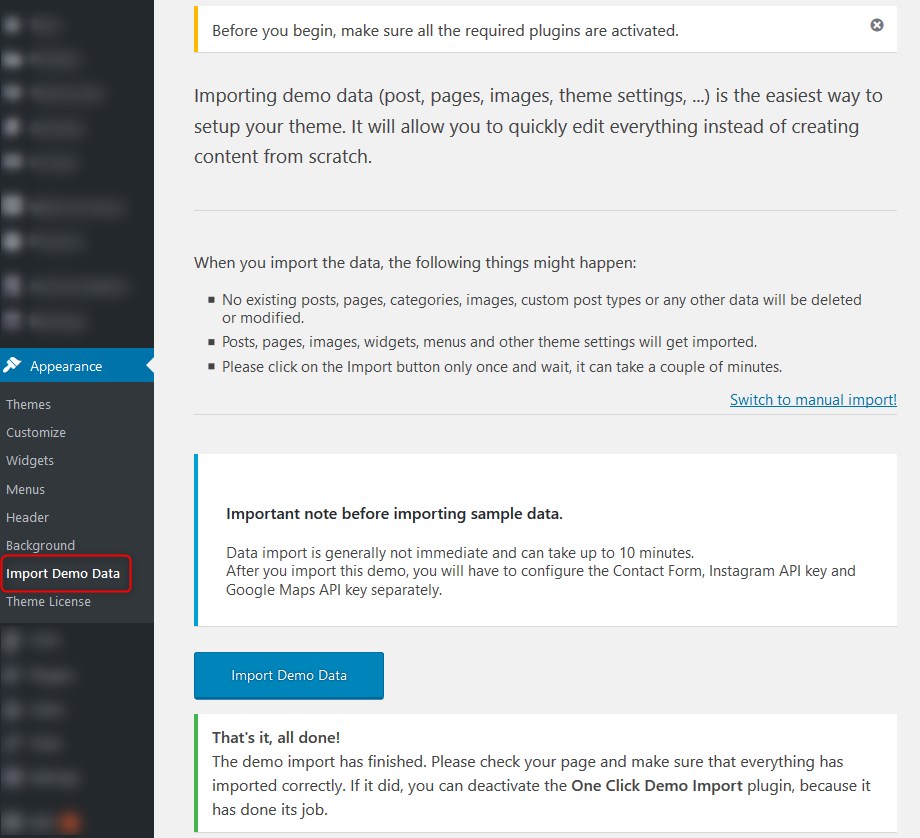 Apart from that, Bimba is loading fast since we take special care of the performance, which is especially important for generally heavy online shops. All the heavy code assets are minified and simplified to ensure smooth shopping for your clients.
Let's talk a little bit more about how it's made and how deep you can go in customization.
The front page: showcase hand-picked products, best offers and more
The default front page features a few completely customizable though-out content pieces to help you get the most out of the shop:
A hero (welcoming) image, which can be easily replaced with a slider or any other block right in the Gutenberg Editor.
You can change the width of the block, customize fonts, update button color and styles and do more via the Gutenberg configuration panel for blocks.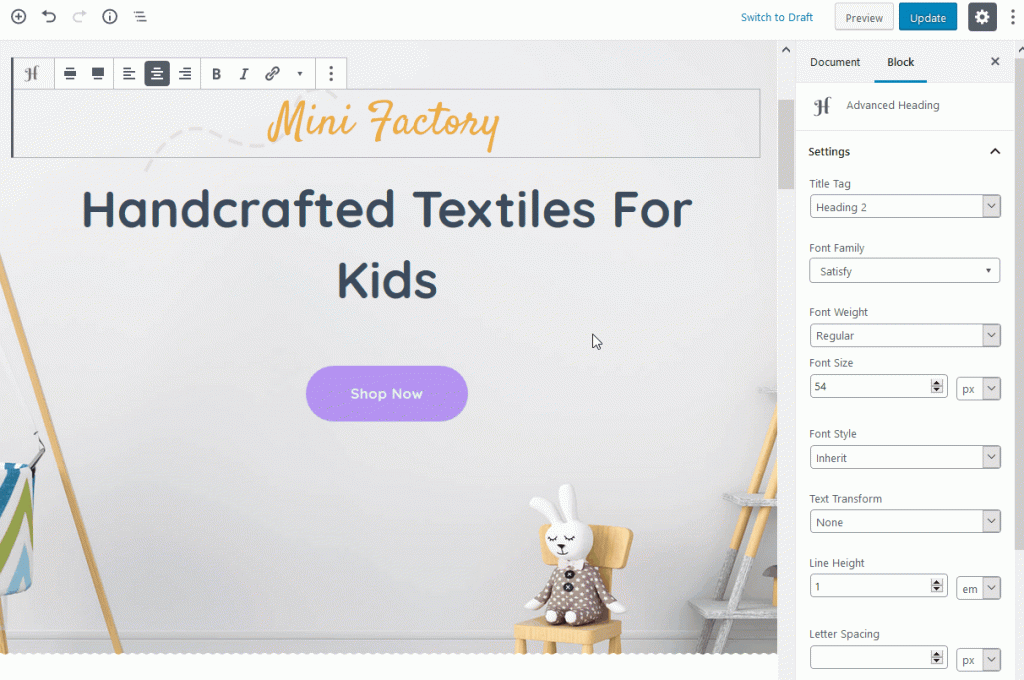 A whole hero area is a top-level Section block by Getwid that encompasses several Advanced Heading blocks, a Button block and the image that is a background cover. It all means you can easily update each content element individually! You just need to click on the appropriate block and make changes visually in clicks.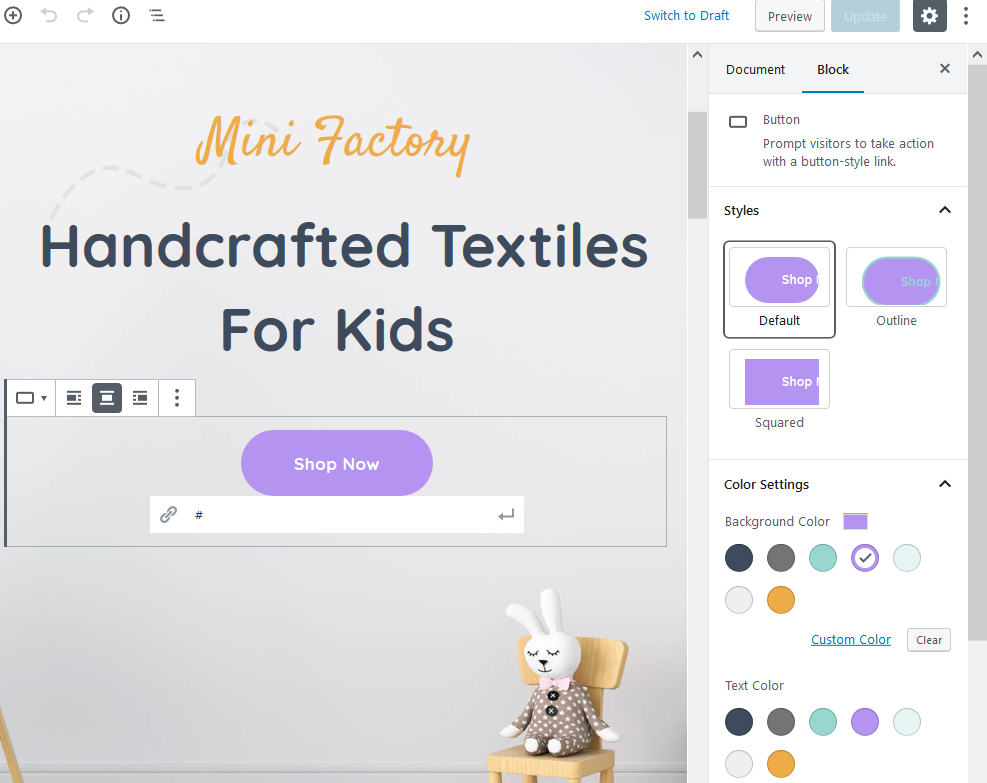 You can also place a slider to the upper section instead of an image.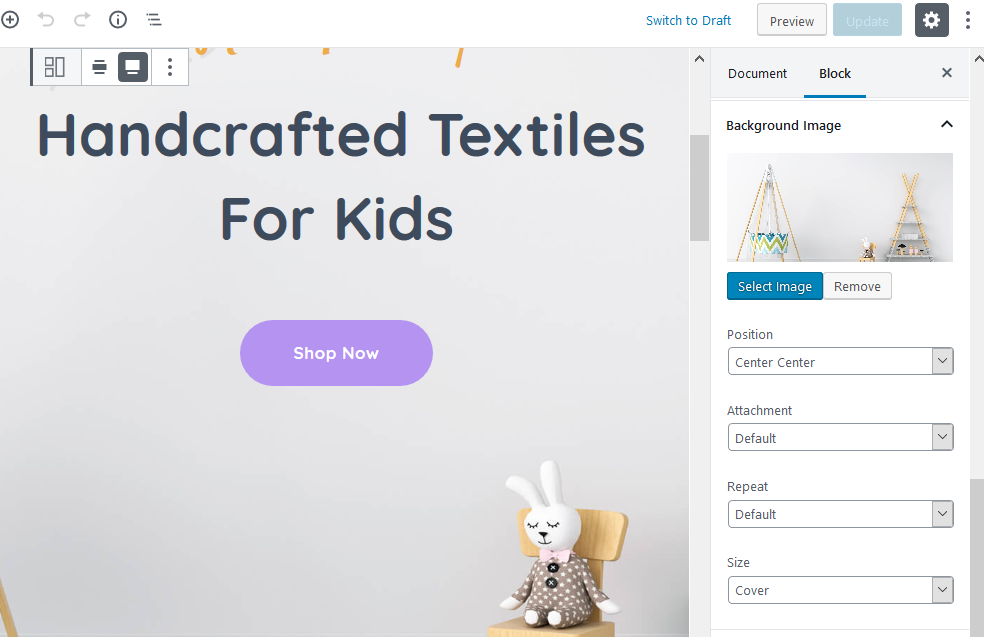 Some hand-picked product categories. You should firstly add them via WooCommerce and then add a shortcode that will fetch your custom data.

And you'll see only those chosen categories on the front page (we packed the theme with a custom design for it!):

Hand-picked WooCommerce products allow you to showcase products individually – you don't even need to work with shortcodes, WooCommerce has a block for it: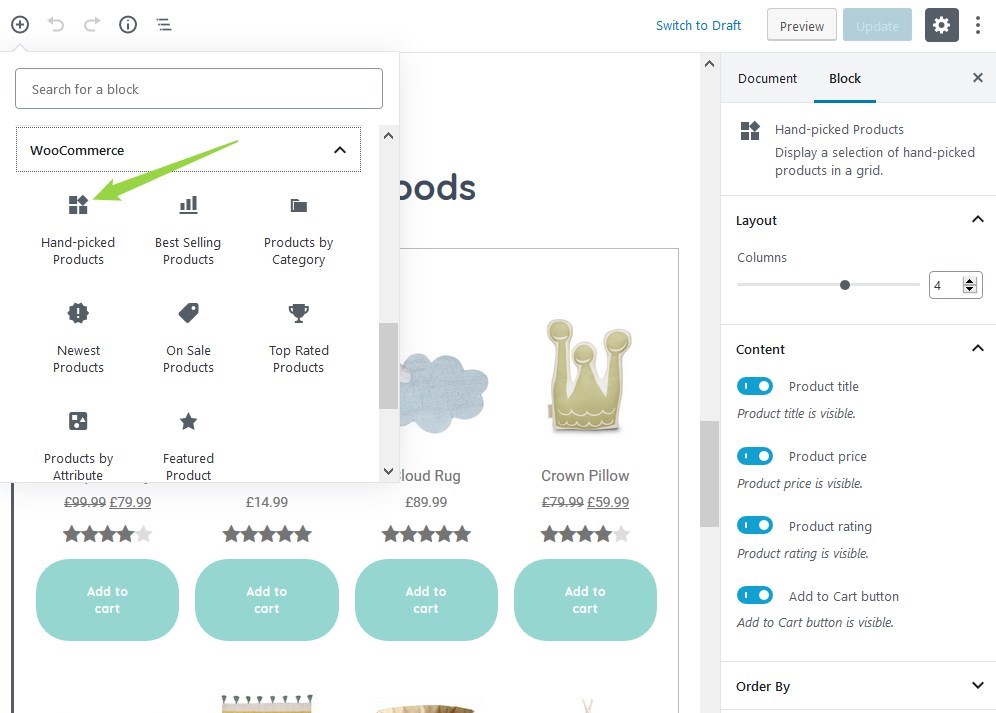 Banners and calls-to-action can be created in any preferable way – using a dedicated Banner block by Getwid, a more diverse Section block or both. For example, in the default theme design, we placed two Gutenberg columns inside a top-level Section block and filled them with the images, buttons and text-related content pieces.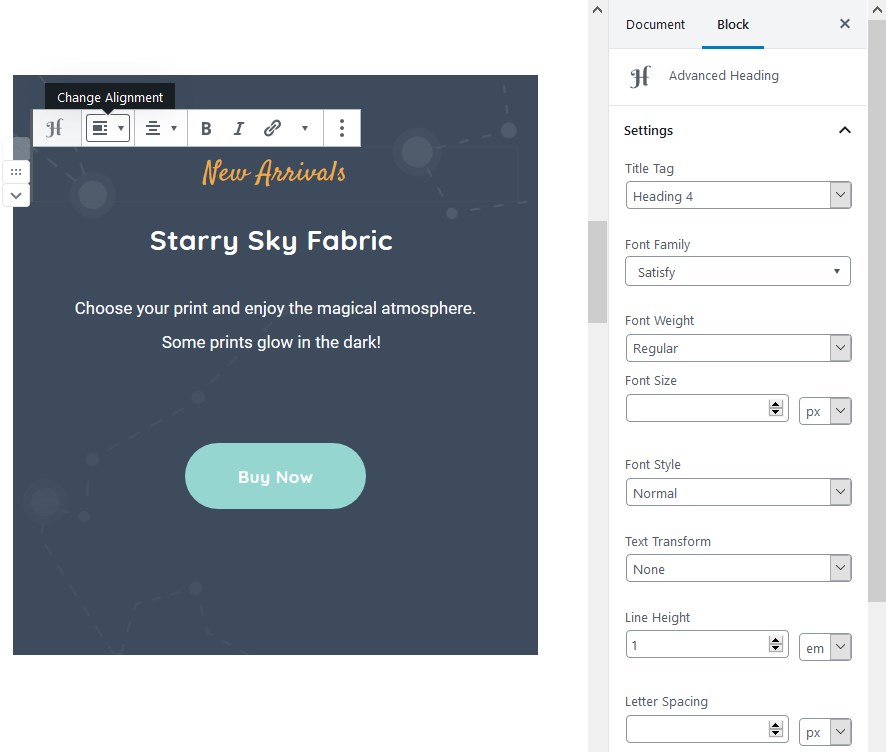 Since the block is fully flexible, feel free to add any sort of content here: sliders, videos, galleries, etc. You can even add blocks from the third-party Gutenberg plugins, but bear in mind that they may not be adapted automatically to Bimba in terms of design.
Showcase your Instagram photos in real time right on your WordPress website (you can also place it on any other page). And what's awesome, you don't really need third-party plugins since Getwid comes with a dedicated free block. You just need to connect the block to your account and enjoy a live feed of your latest photos.


Another call-to-action area is great for putting one specific offer or product into the spotlight. You can use a full-width section to place images and text content, buttons, apply animation, set up backgrounds and more.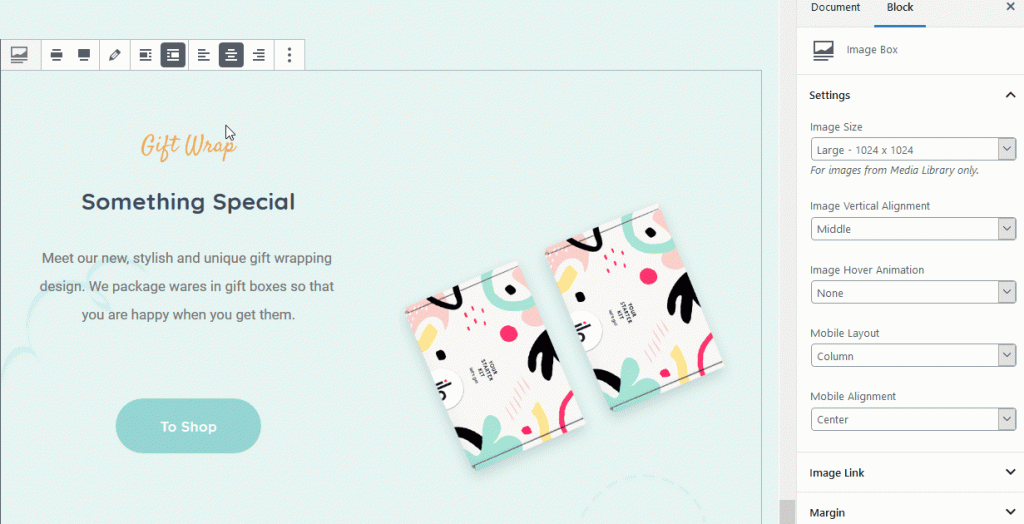 You can fill in this section with any block you consider reasonable.
How far you can go in customization with Getiwd and Gutenebrg
Moreover, for almost each Getwid block you are supplied with tons of settings:
Alignment and spacing configuration.

A brand color palette (so you can keep the color scheme and overall design consistency even for your custom content pieces).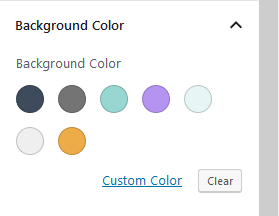 Animation effects to make individual sections stand out.

Holistic typography settings for the Advanced Heading block, so should you need to create any element with custom typography, it's a perfect solution.

Some Getwid blocks come with the settings specifically for mobile devices.

Customize the width of layouts with a click.
Built-in Google Maps and more.
With all that on the table, Getwid makes things extremely lightweight. Each block comes with a purpose-built set of settings, so all sorts of duplicated options don't bloat your website (online shops are usually quite heavy!) and don't destroy your performance metrics.
Since Bimba is packed with several pre-designed content blocks (built with Getwid and Gutenberg), you can grab them, tweak and utilize them on any needed page.
For example, here is a basic Media & Text Slider block you can just add to Reusable Gutenberg blocks and then paste to any page.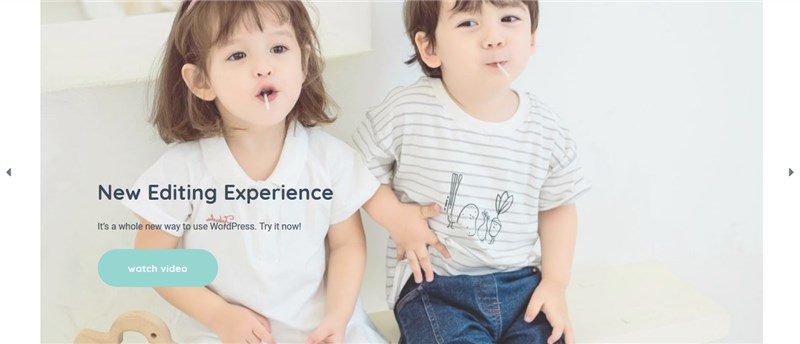 The same is true for banners, posts, image galleries, and more. If you import sample data, you'll find all of them preinstalled. The best way to experience the customization capabilities of Getwid is to install a free Getwid plugin.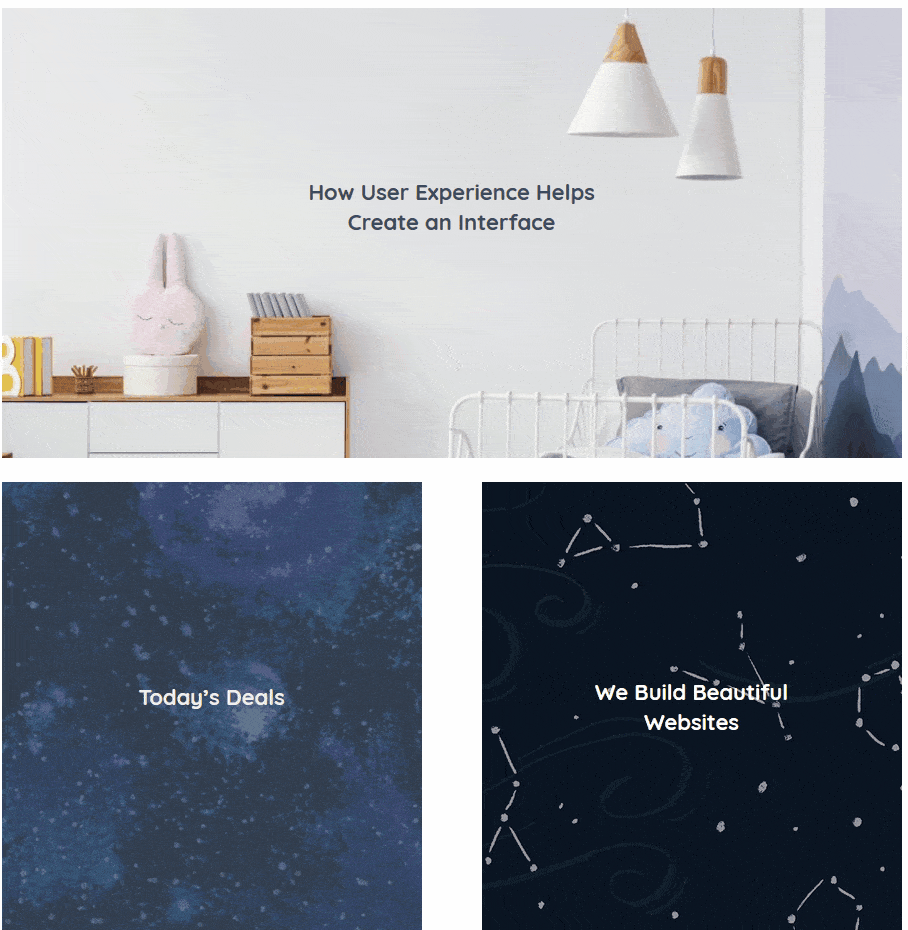 WooCommerce and supporting plugins
As you might have seen in the demo, the design of the WooCommerce shop in Bimba is rather minimalist. We consider it the best option for eCommerce websites since it allows them to serve the main purpose effectively: help prospects quickly and easily load, compare and purchase a product.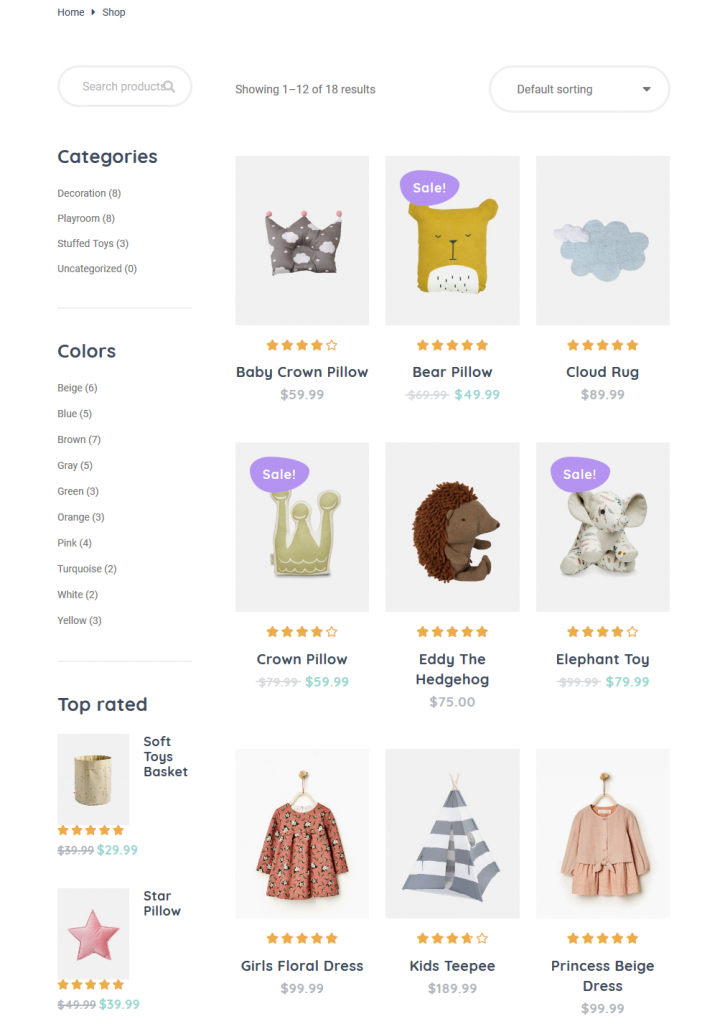 The purchasing process should be as simple as possible when the choice is made.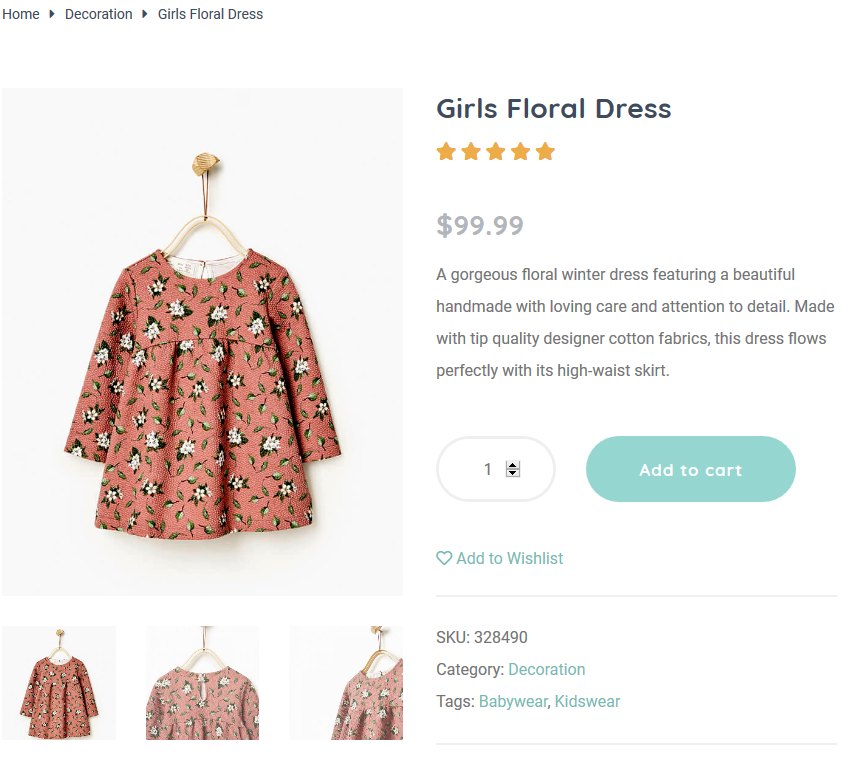 With WooCommerce you can easily set product variations, add a product quick view, enable product reviews and ratings, turn on any online payments via WooCommere gateways (the connection can be free or paid), charge customers later, etc.
Moreover, we don't adhere to some of the popular practices of packing the WooCommerce plugin with extra bells and whistles that oftentimes feel like a maze for non-techs. We let you decide instead: there are tons of helpful extra WooCommerce extensions on the official and third-party stores. You can hook them up only when your shop requires a specific piece of functionality.
However, the only tiny 'improvement' Bimba comes with is a free YITH WooCommerce Wishlist plugin, which greatly improves the user experience by adding a wishlist functionality. It allows for product tracking until the purchase step.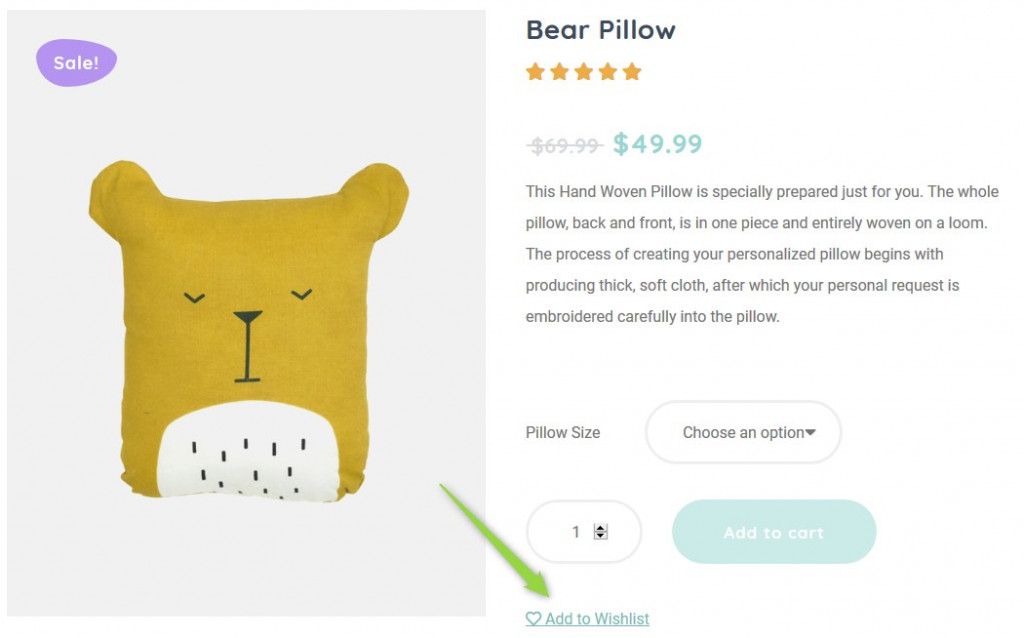 Unlimited products can be stored in a wishlist.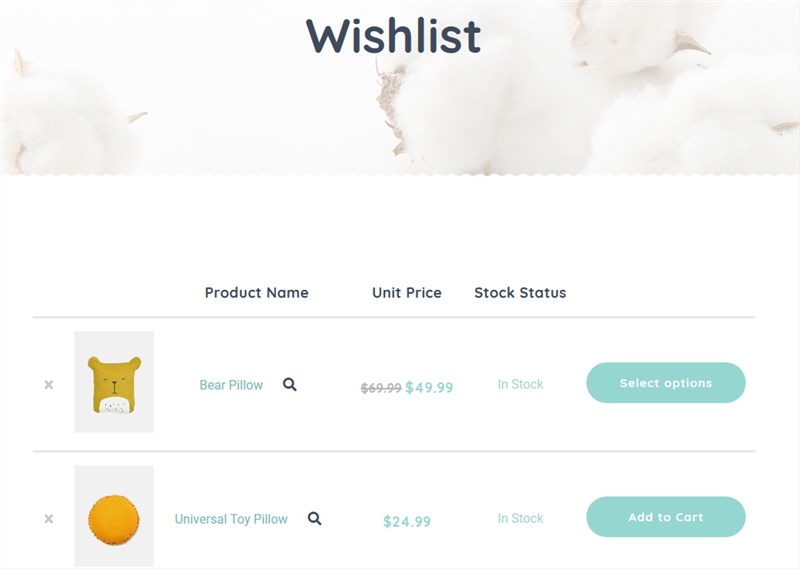 The plugin enables you to deeply customize its behavior, including the ability to let users share their wishlists via social networks, so it's pretty diverse. However, you can opt-out of it at any time.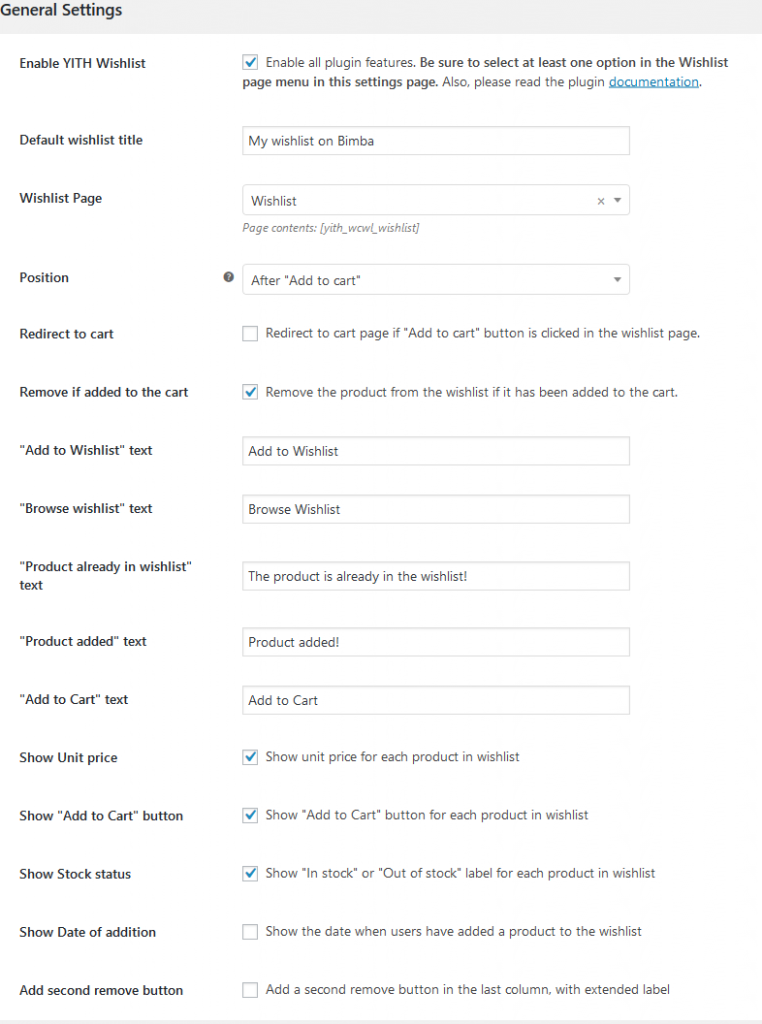 Widgets and navigation
Bimba comes with three customizable menu locations, social menu icons among them. The main header navigation menu can have submenus and you can place any links into the footer menu. It's up to you to make it look simple or informative!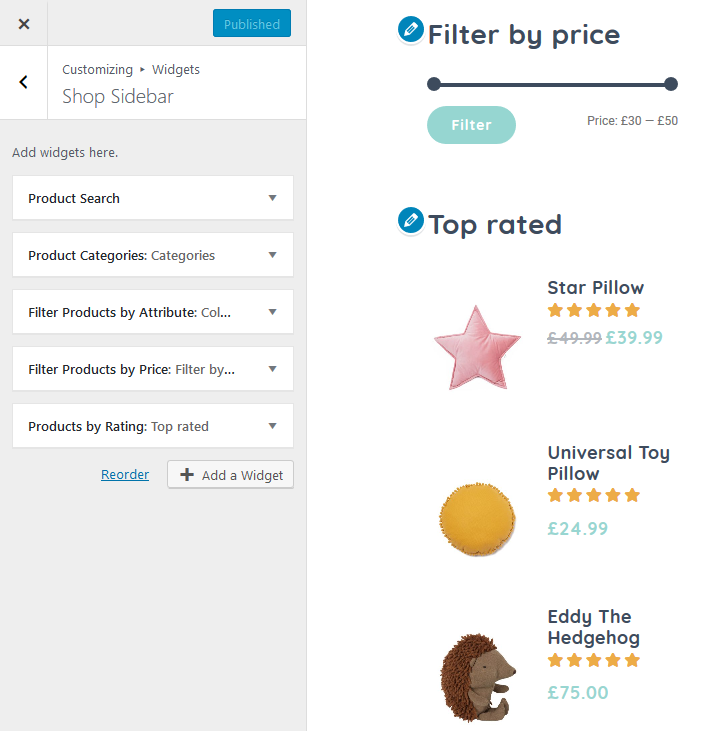 The shop sidebar and footer are also widget zones, which means you can place any content pieces into them as well and completely change those most-visited parts of any website.
Support and pricing
Bimba Handmade and Craft WordPress theme is yours for $49 per year. The price covers support and regular updates.
Build an Awesome Online Presence with the Bimba Handmade Shop WordPress WooCommerce Theme
So what are the main strengths of Bimba? It's made for the Gutenberg Editor, it's bundled with pre-made Getwid blocks that extend your content-building experiences, and it's super lightweight in terms of performance.
So if you are searching for a creative and professional WooCommerce WordPress theme for handmade and art products, Bimba will get you there without stopovers. Got a question? We want to hear from you!