Meet Medmix: Elementor Medical WordPress Theme for Doctor Appointments
What makes a good doctor appointment template? A clean-looking design that gives a feeling of an expert and trusted service, must-have website essentials like the contact information, services, practitioners, etc. What else?
A clinic booking system that just works can be a real game-changer for a medicare site. Quite often this is the central part of the site, if not the main reason for going online. It helps you accept bookings and centralize all the client-doctor communication, with maximum automation.
And people turn to WordPress when they need all these benefits in one product, for an affordable price and… for the long run.
In this post, we're about to tell you of one of such solutions created by our team: the Medmix Medical WordPress Theme with the appointment booking form.
The theme will give you all the benefits of a healthcare industry-optimized design, backed by the intelligent SEO architecture and the MotoPress Appointment Booking plugin (included for no extra fee with the design), and integrated online payment processing options for PayPal, Stripe and more.
To make the theme customization process a breeze for you, we built Medmix with Elementor and Stratum (a bunch of fantastic extra widgets for Elementor).
These plugins enable you to make any change to the theme as well as add any content you might need – for business presentation purposes or even integrate the pieces of functionality.
So will this WordPress doctor booking theme meet your needs?
A medical WordPress theme for clinics, healthcare centers, and independent experts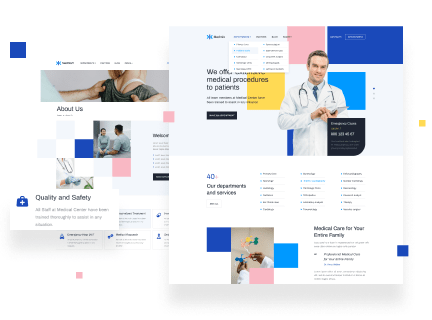 The main design concept of this WordPress medical theme is ready to be tuned to serve as a clinic WordPress website with multiple departments and different experts as well as an independent health practitioner site.
For both scenarios, there are several dedicated pre-made pages you get instant access to and can update with your content:
The minimized departments list (you can change it to list your services, for example) on the front page

The more detailed departments list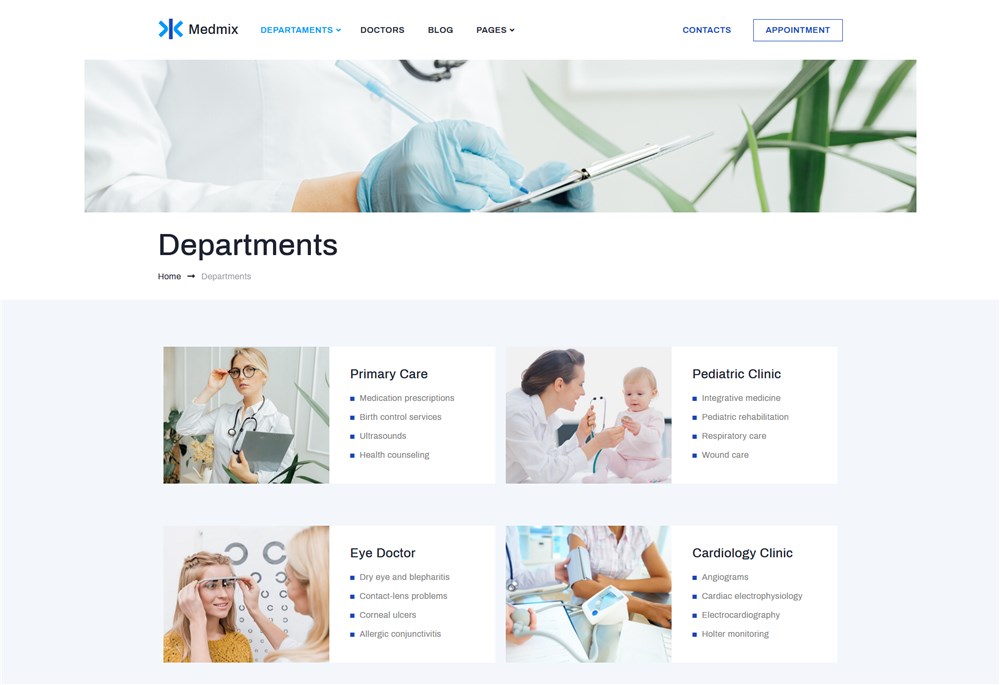 Here you can change the categorization as you wish – it's very easy to update it via Elementor's visual editing interface: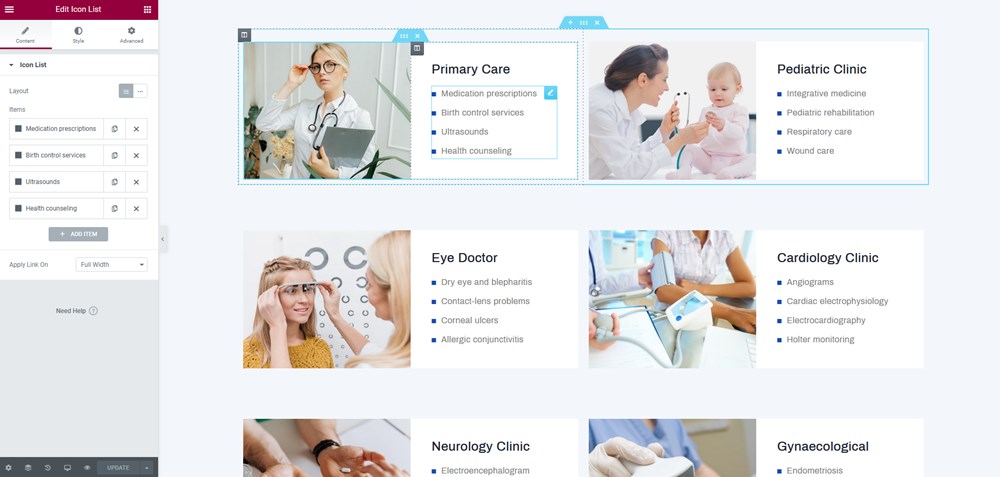 You can also change the details of every department – there is a dedicated page for each. These designs will also come in handy if you want to showcase your practice achievements.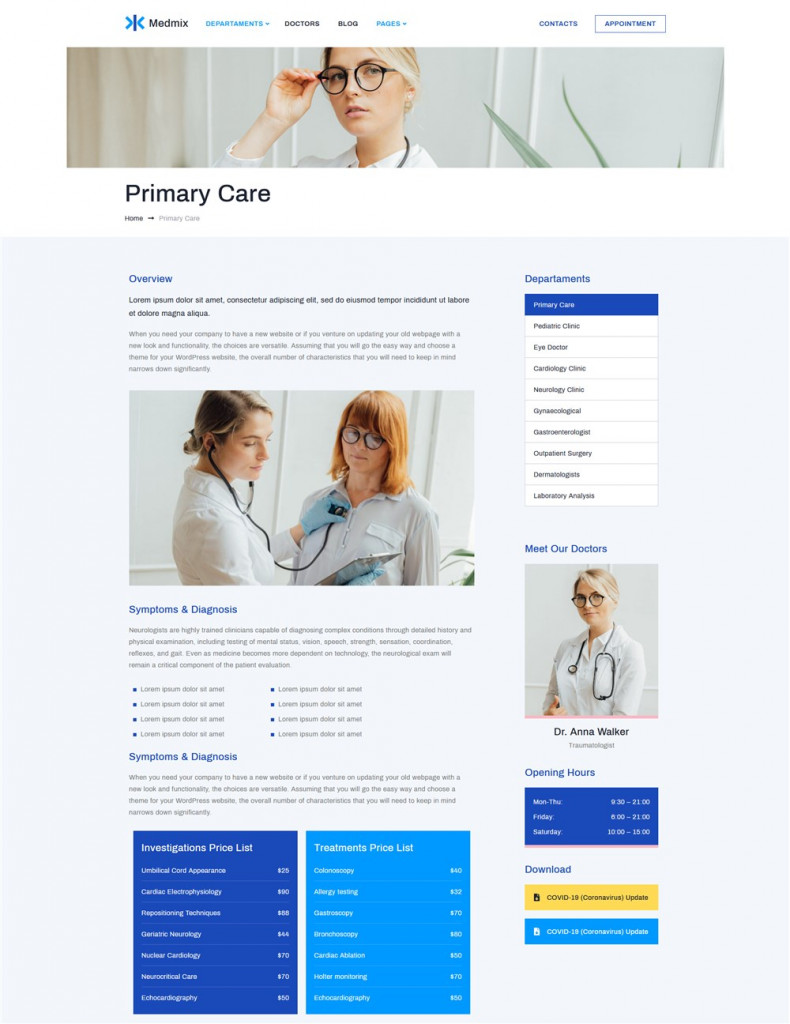 This page contains a lot of handy elements, including the opening hours, pricing lists, different tips, and general health information.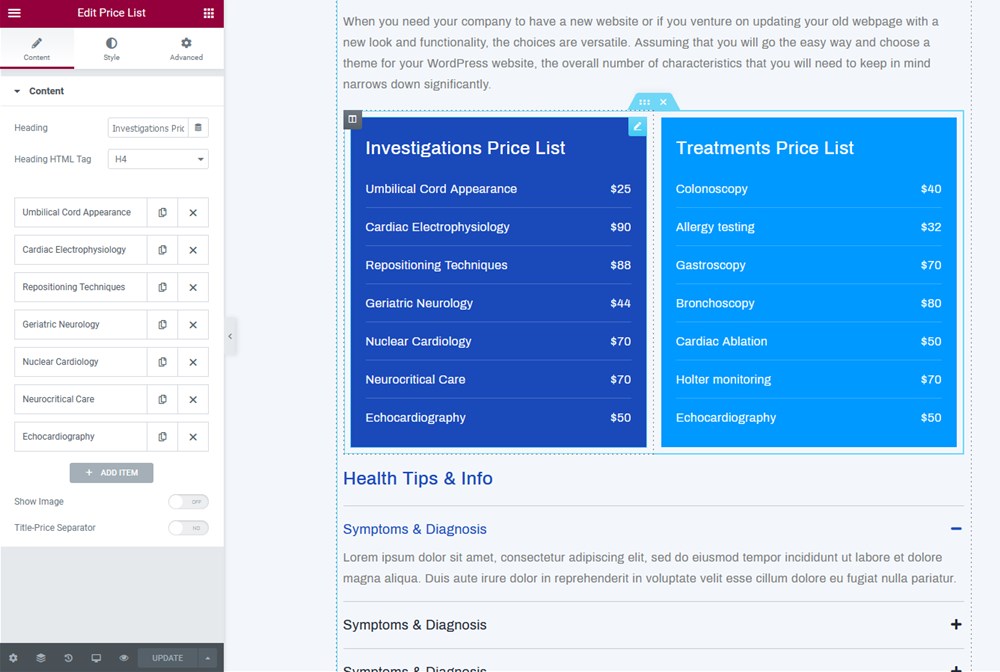 Each page of this WordPress healthcare theme has breadcrumbs enabled, which makes the overall site navigation easier for the site visitors.
Doctor profiles
Medmix also ships with ready-to-go specialist profiles. Just as with the departments, you are free to create or present your entire team as well as tell more about each doctor.
Showcase the healthcare experts on one page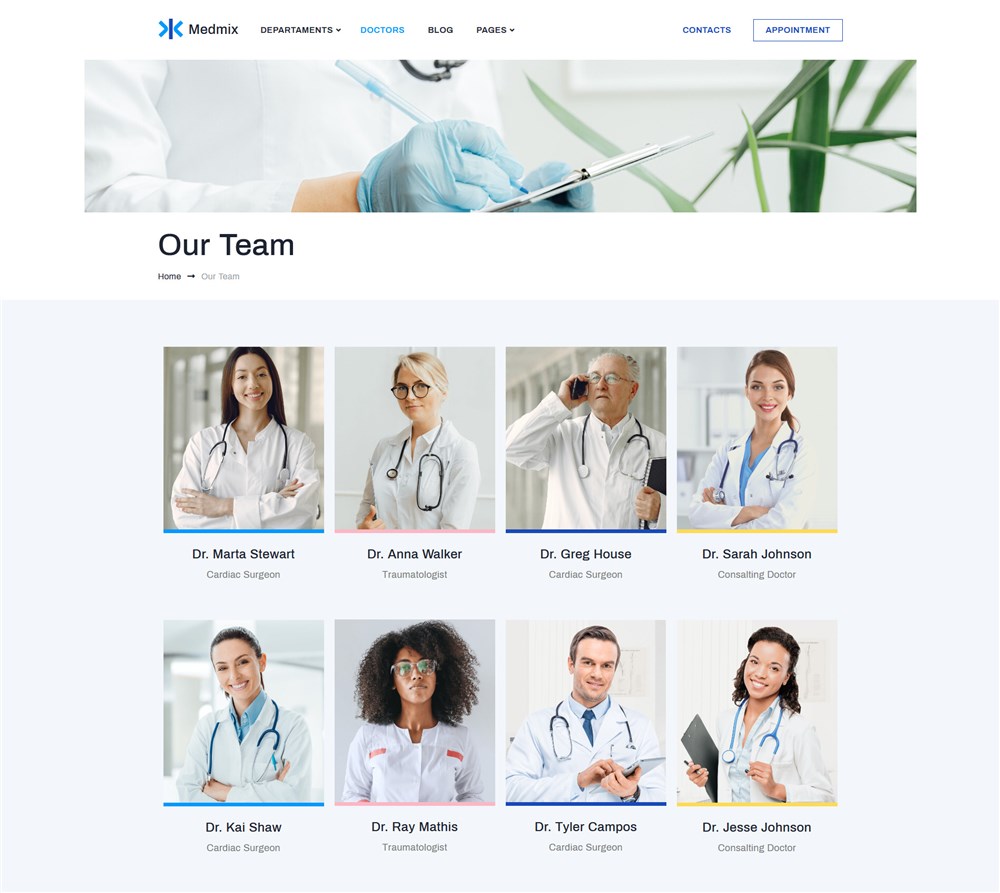 Create a public doctor's profile with their experience and schedule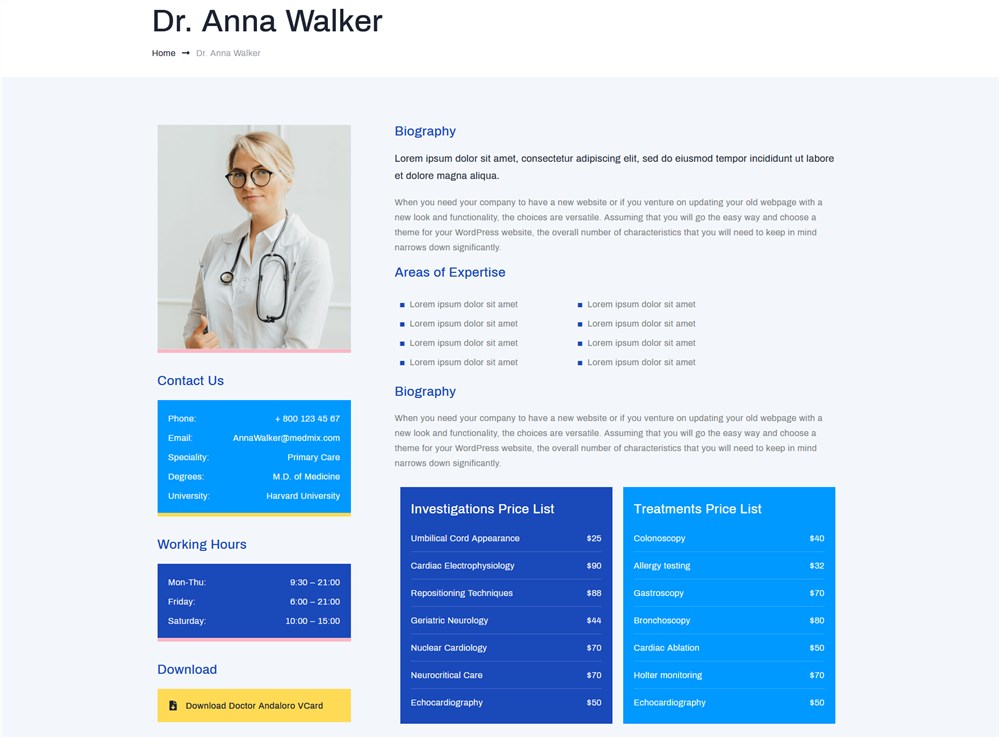 As for how to manage them and create their schedules to run automated appointments, we'll tell in the plugin review section later in this post.
For some key highlights of your business, this medicare WordPress theme also has many things to offer.
For example, you can notice the front-page slider which spans across the entire screen. You can put different call-to-actions and messages inside it.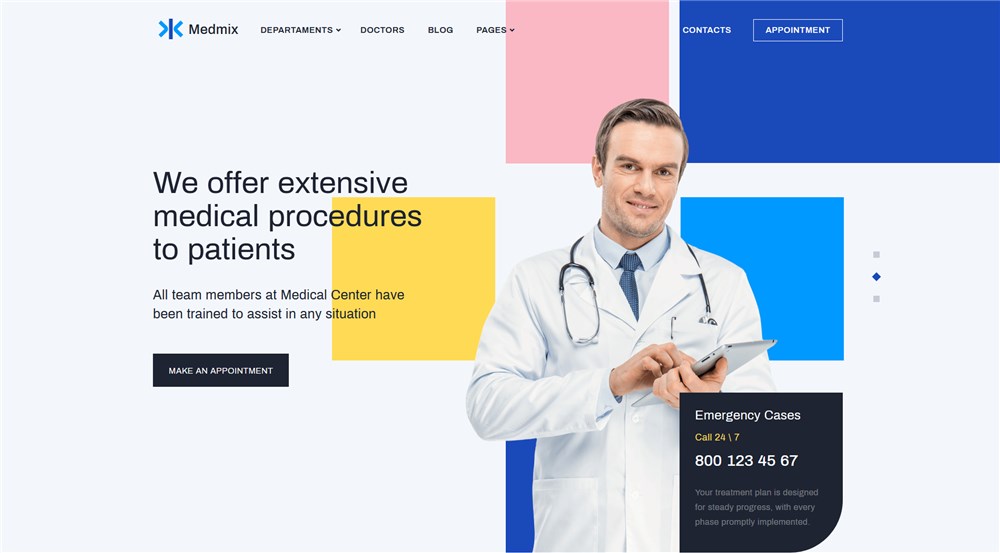 What about creating more sub-hero sections where you can tell the philosophy of your clinic? You can edit virtually every part of it – add quotes, images, galleries, etc.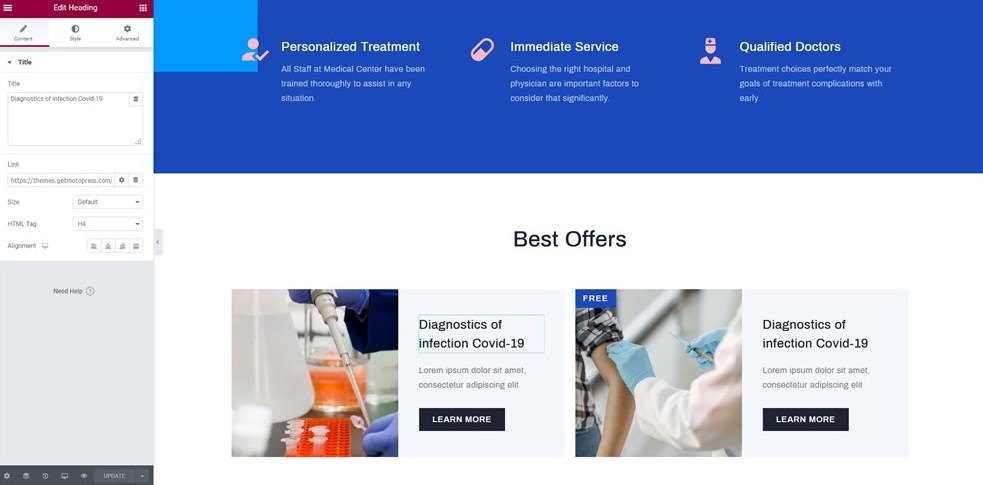 Our designers also put a great blog section to help you focus on the current offers, news, and stories: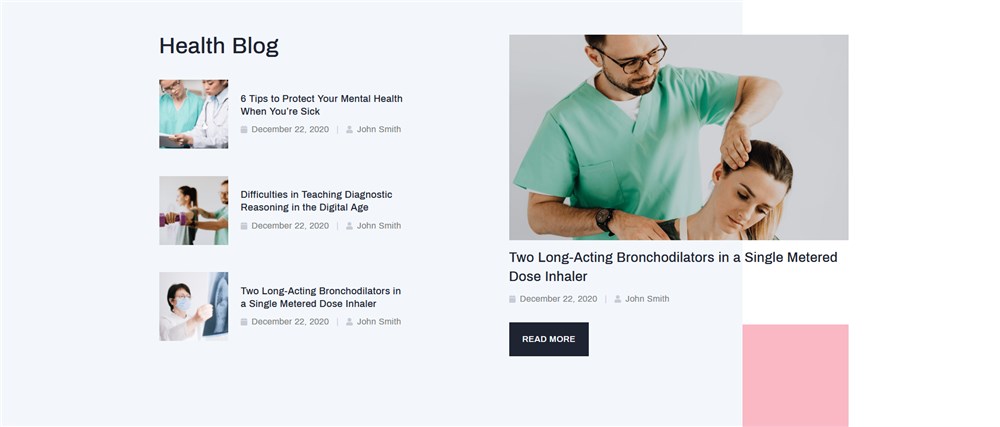 You can show even more features of your business on the dedicated pages – the theme gives you many pre-made sections like counters, testimonials, maps, image galleries and more.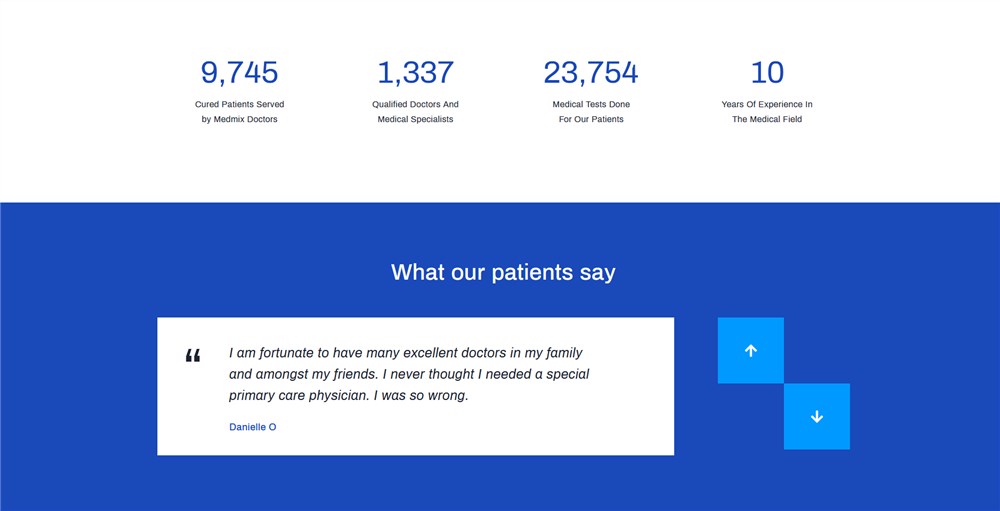 How to run doctor appointments and manage staff with the MotoPress Appointment Booking plugin
The doctor appointment plugin WordPress we use in Medmix performs many operational tasks:
Clinic and patient management
Working day, days-off, and vacation management
Online healthcare services booking, including online and offline consultation
Communication and notifications
Handy reservation wizard
Let's go through the main settings available in the current plugin version (it's a work in progress!) to see how it works for this health WordPress theme.
Doctors
Add as many profiles as needed and assign different services to them.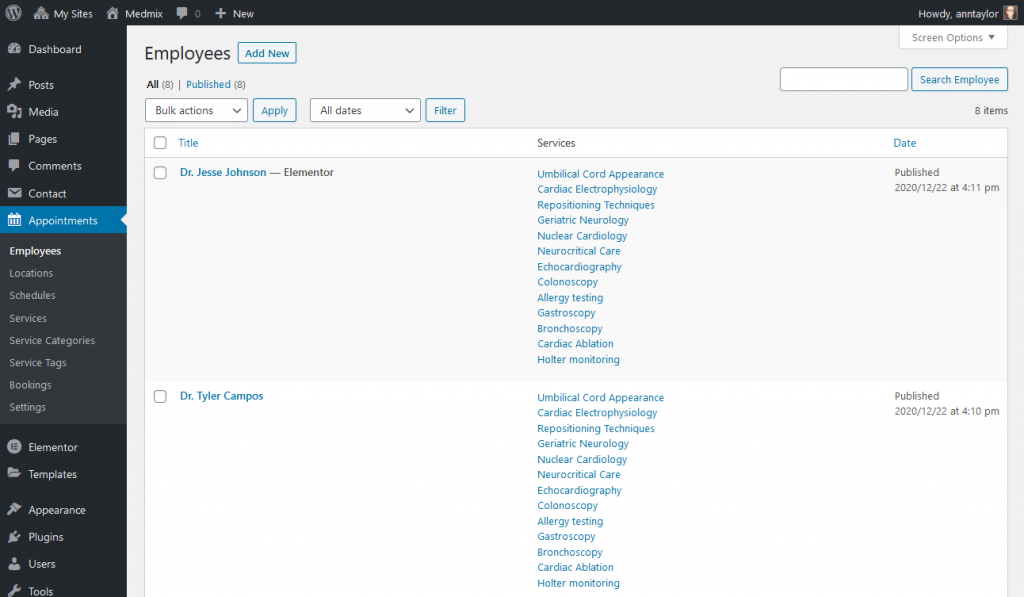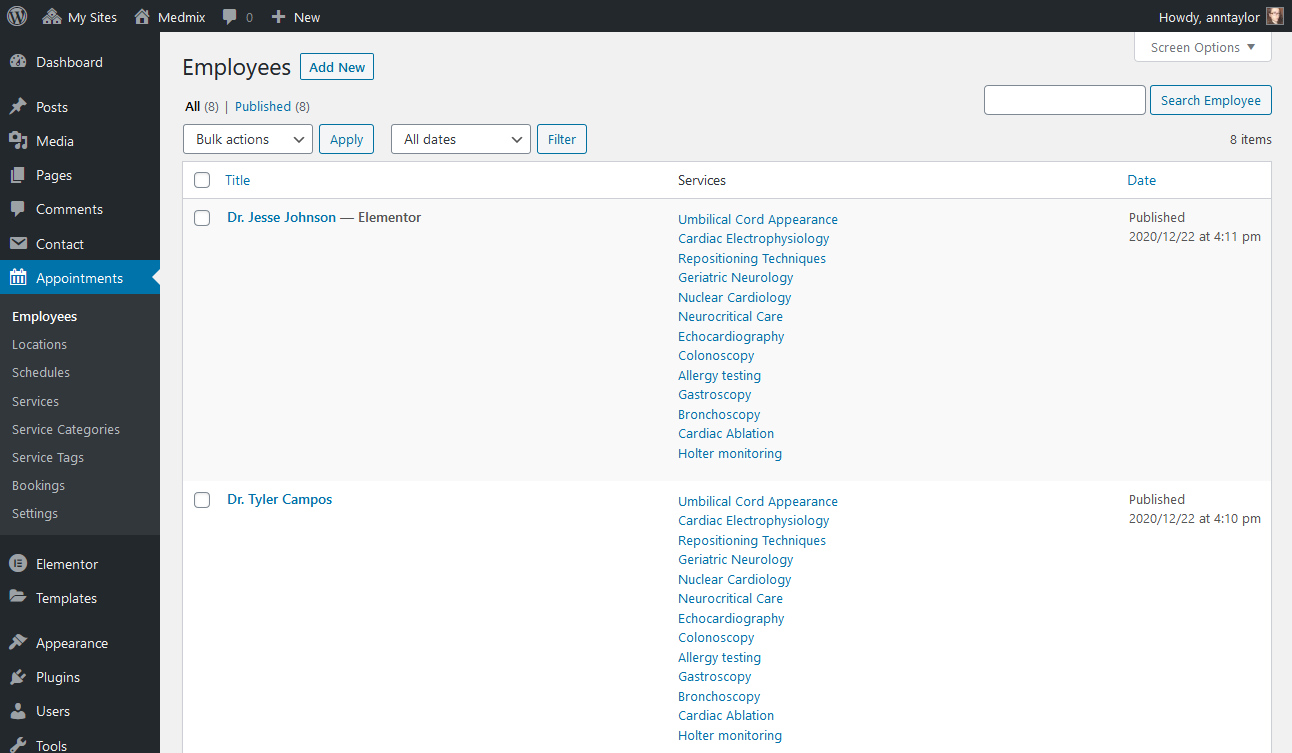 You can create a more feature-rich and visually attractive profile using Elementor's widgets.
Locations
You can serve patients in different clinics or even use 'locations' for departments or consulting offices. Patients will be able to choose the needed department/location when placing a booking.


Schedules
The MotoPress Appointment Booking plugin allows you to create detailed schedules of the working day of your practitioners and make their calendars available for online bookings.
You can also assign different locations to one working day at different times.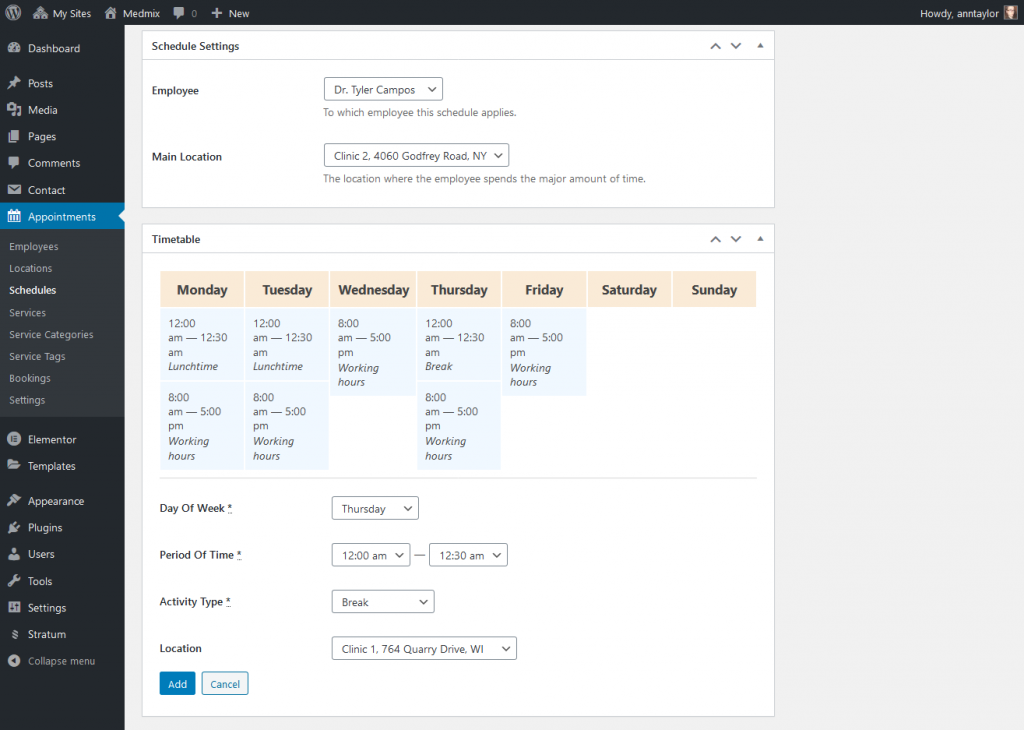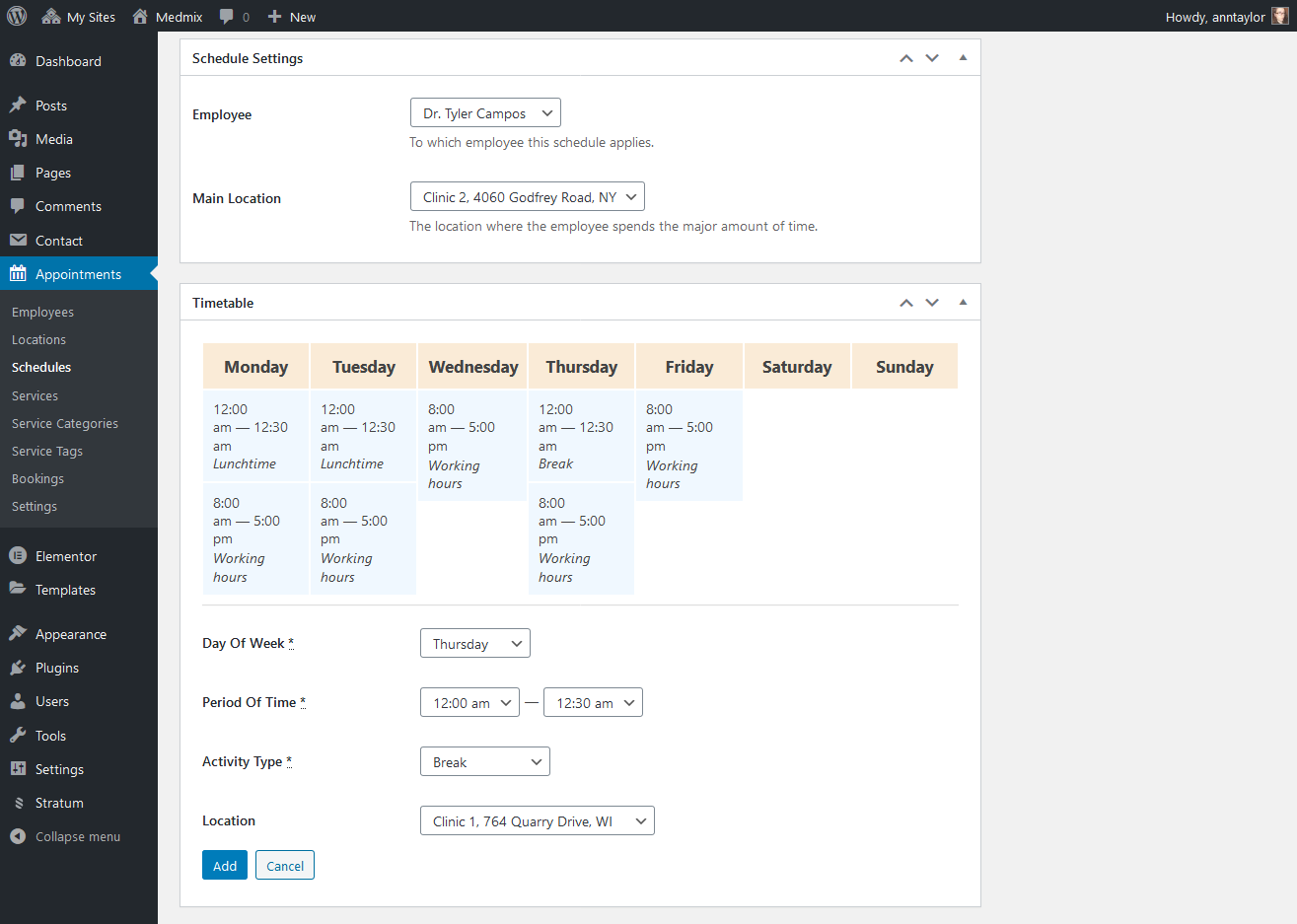 In addition to lunches and breaks, you can also set custom days off for chosen doctors: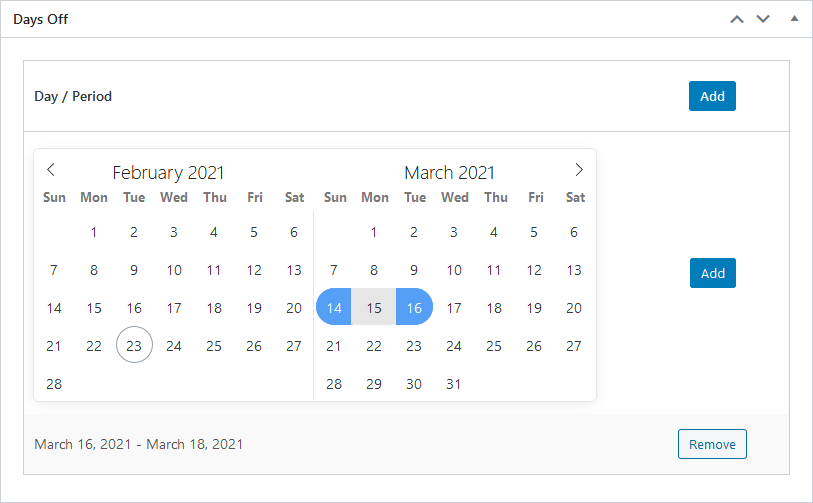 For those who need more flexibility of the main schedule, there is the dedicated 'Custom working day' menu, where you can apply extra working day rules: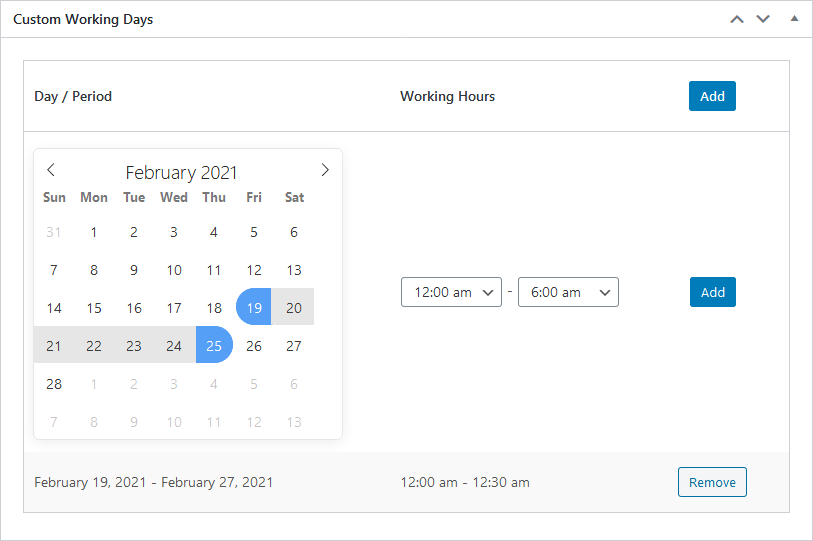 Healthcare services
Add the whole bunch of the healthcare services – you can tweak the duration, pricing, buffer times between appointments and the ability to assign practitioners who provide the service.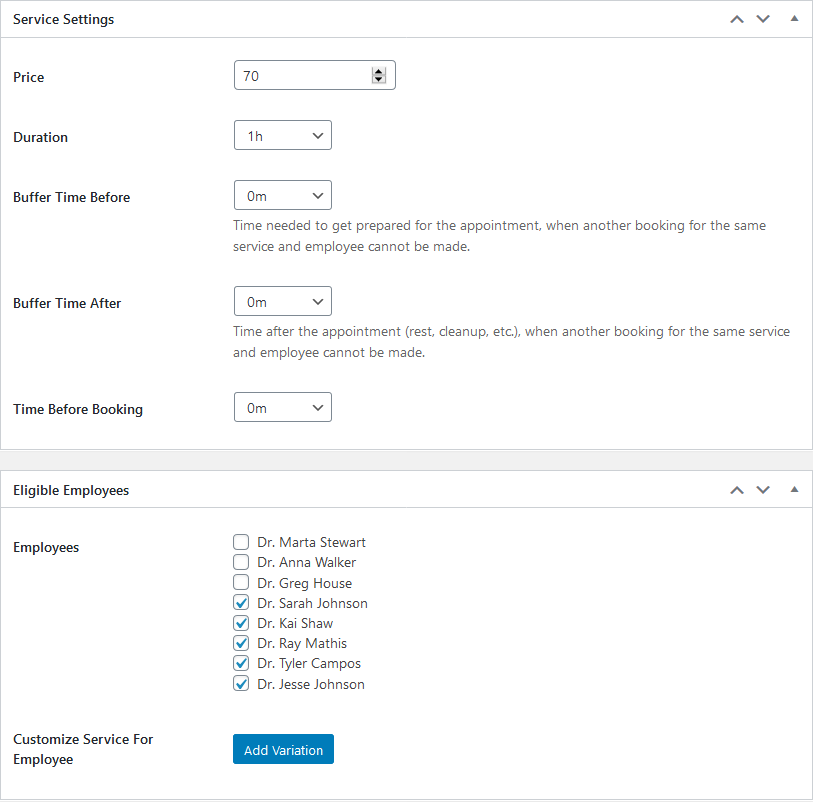 The plugin supports hourly bookings as well as services of any other custom duration.
Note that you can set a different service duration and price depending on the practitioner:

Appointment booking wizard
With Medmix, you can add an appointment/doctor booking form to any page or widget with a dedicated [appointmnet_form] shortcode – you can paste it right into Elementor.
Medmix also supports the widget zone in the header part of your site, which makes it absolutely easy to book appointments in minutes.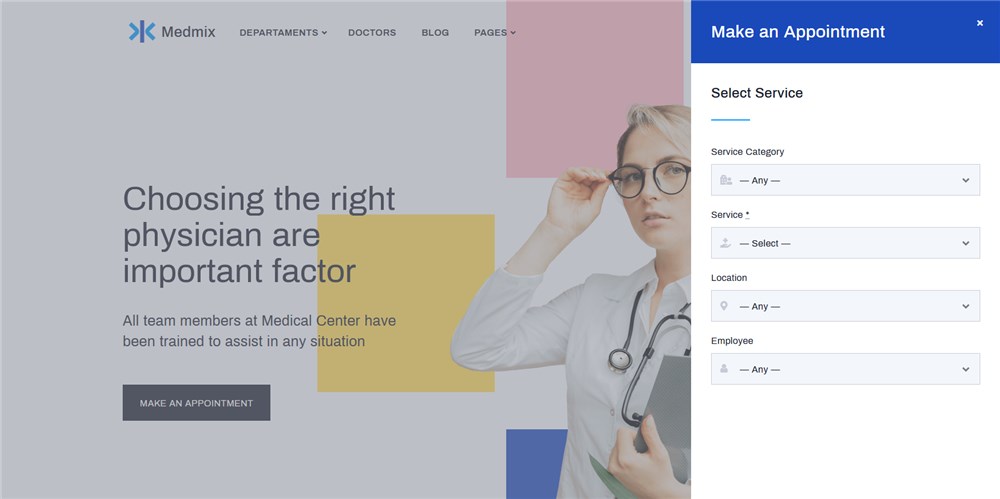 By default, Medmix also comes with the styled-up booking form on the front page: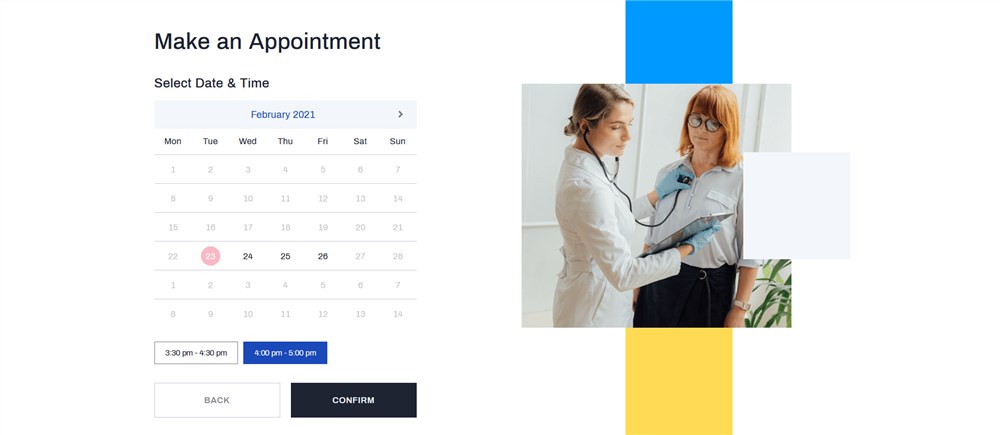 Once a client chooses an available time slot for an appointment, they simply provide their details, confirm the reservation and their booking appears in your dashboard.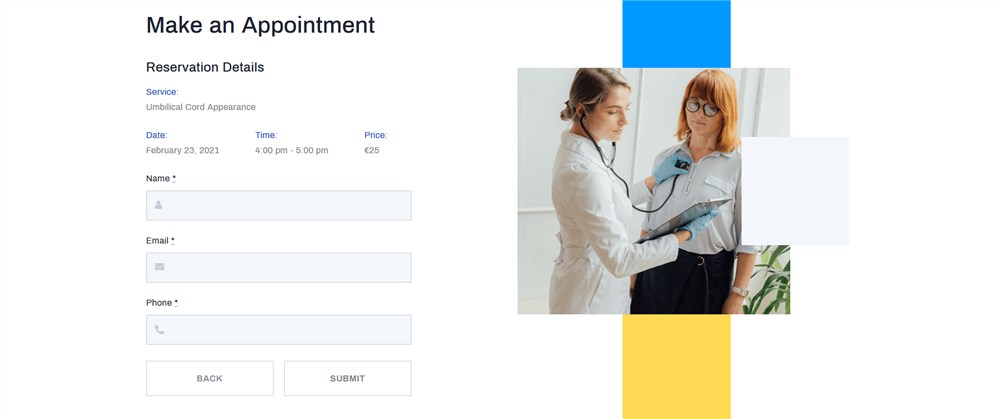 Optionally, you can accept online payments in your clinic using PayPal, Stripe and other gateways if you want. They are already integrated with the theme and plugin.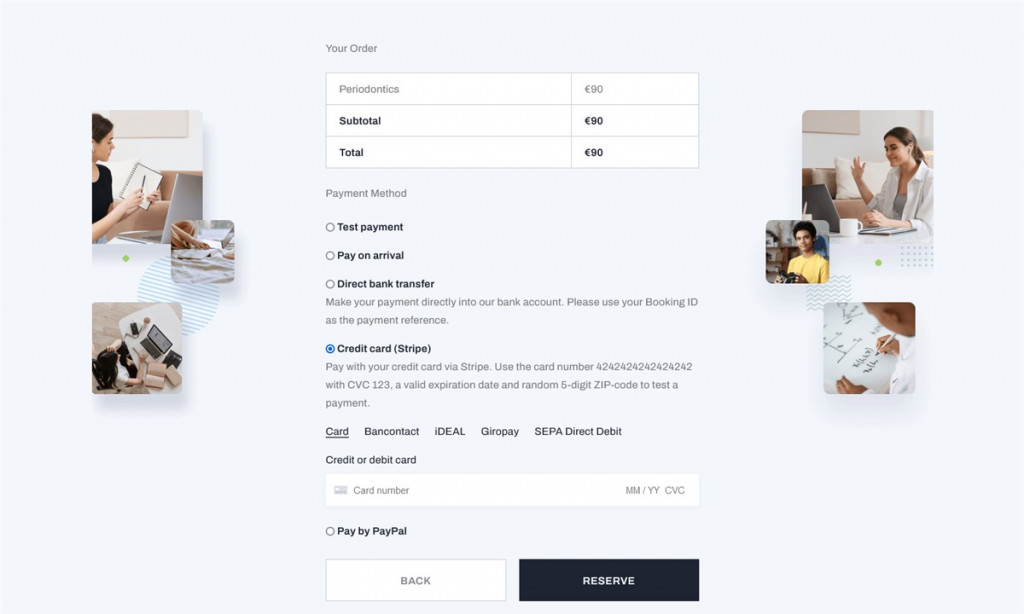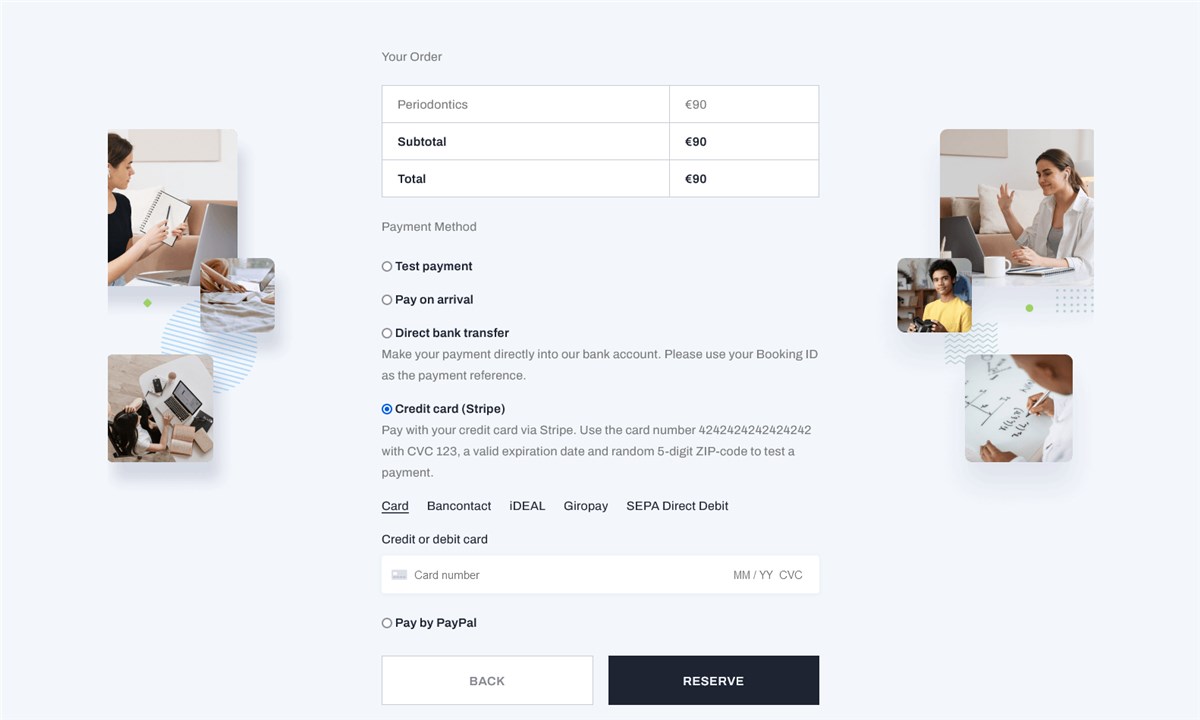 Both the website admin and a client receive email notifications of the upcoming appointment. All the bookings are stored in the dashboard. There are different menus for payments, clients and bookings.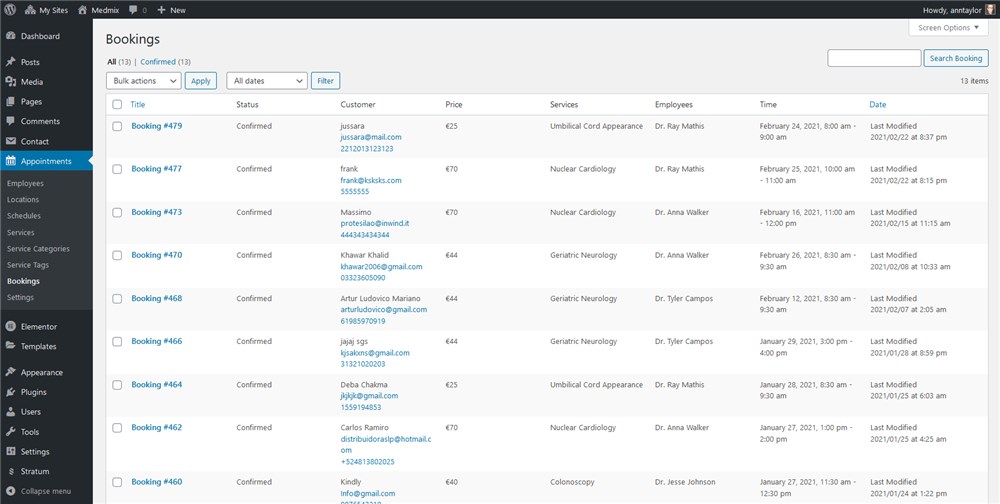 The Medmix Medical WordPress theme pricing
The regular theme cost is $79 (free for all MotoPress club members). This is the price of one year of support and updates.
You also get these premium WordPress plugins includes for free with Medmix:
Stratum Elementor widgets for smoother customization ($29 value)
Doctor appointment booking WordPress plugin ($49 value)
Get Medmix: a fast & powerful medical WordPress theme for doctor appointments
The Medmix medical website template is a perfectly suitable solution for all sorts of healthcare centers that want to accept online bookings for online and offline medical consultation and appointments. The theme is delivered with a super-lightweight design, purpose-built pages for presenting your staff and services, and is powered up by the most popular and professional page builder for WordPress, Elementor. Take a look at the demo and make sure to take it for a spin!