Stratum Elementor Extras: 6 Premium-like Widgets You Get for Free
What if we tell you there is no need to purchase a Pro version in order to get some of its premium functionality? All you need is to download Stratum – one of the most prominent free Elementor extras.
Stratum offers at least 6 widgets considered as free alternatives to the Pro ones, and those are:
With over 5+ million active users, Elementor is certainly making a stir in the multitudinous WordPress community. What makes Elementor so popular is that it offers a lot more in visual editing than its major competitors. One of the main benefits of Elementor is free to access to basic and general widgets with a smooth interface and a WYSIWYG editing mode. Although the plugin offers a Pro version with a larger number of advanced options, the majority of users remain loyal to Elementor free.
That's why we are going to review all six free Stratum widgets and come up with quick how-to guides on each one. Also, you can evaluate the styling of each Elementor module (widget) that I managed to create in the process.
But first, what kind of a third-party addon is Stratum?
What Is Stratum Elementor Extras?
Stratum is a collection of advanced Elementor widgets for building websites. It covers 24+ essential addons for Elementor that suits both business and personal purposes and works for Elementor users of all levels. You can choose between a free and PRO versions of the plugin Elementor.
Stratum provides an advanced design toolchain for each widget and supports the Elementor template library integration.

Why Should You Use Best Elementor Addons by Stratum?
Free alternative widgets to paid ones in Elementor Pro
Analog Elementor Basic widgets (but with extended functionality)
Modules inherit the visual styling of your current theme
Works fast & does NOT slow down your website
Fully compatible with other Elementor plugins
Download the Stratum addon in the official WordPress repository down this link.
6 Free Widgets in Stratum but Paid in Elementor
 1. Advanced Slider
One of the most advanced Stratum extensions MotoPress may be proud of is the Advanced Slider widget. It allows you to build full-width & fullscreen slides with truly advanced options. All the functionality comes free, and you don't need to buy Elementor Pro if you want to build a beautiful intro slider, a product carousel, or anything similar.
Main Features:
fully-responsive image sliders
numerous animation effects
intelligent image positioning
multicolumn slider layout
lightweight & smooth performance
well-structured slider settings
How to Use the Advanced Slider Widget by Stratum?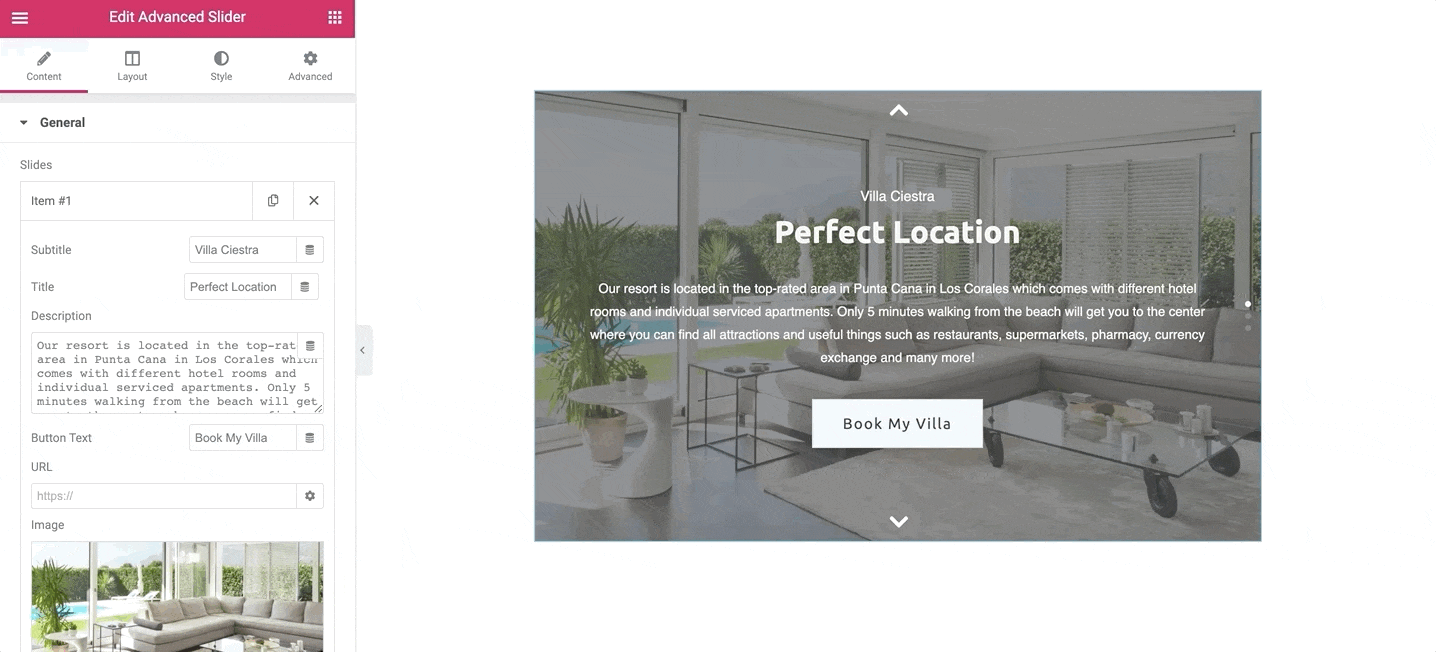 1. Start with the content settings. This is where you can add:
an unlimited number of slides
titles, subtitles, and descriptions
In the following section, you can also work with these settings:
individual buttons
background images
content alignment
2. In your layout settings, you can alter:
the number of rows, columns, slides & slide direction
style of navigation of pagination
spacing between slides
animation speed
 3. As you finish up with styling, you are able to set up:
image size & paddings & height / content width;
alignment & animation effects & overlay color;
individual content elements.
To learn more about the functionality of Stratum Advanced Slider widget (ссылка), follow the link.
 2. Advanced Posts
Most likely, your website has a blog with helpful and promotional posts related to your niche, product, and services. But JUST having a blog post is not enough, so you need to think about how visitors can access those articles in the most user-friendly and beautiful way.
With our next Advanced Posts addon, you can place dynamically sourced posts or certain pages of your WordPress website in a carousel or a modern card-styled grid layout.
Main Features:
Modern Container Shapes
Transition Behaviors & Animation Effects
Customizable UI Controls
Exclude / Include Posts
Automatic slideshows
How to Use the Advanced Posts Widget by Stratum?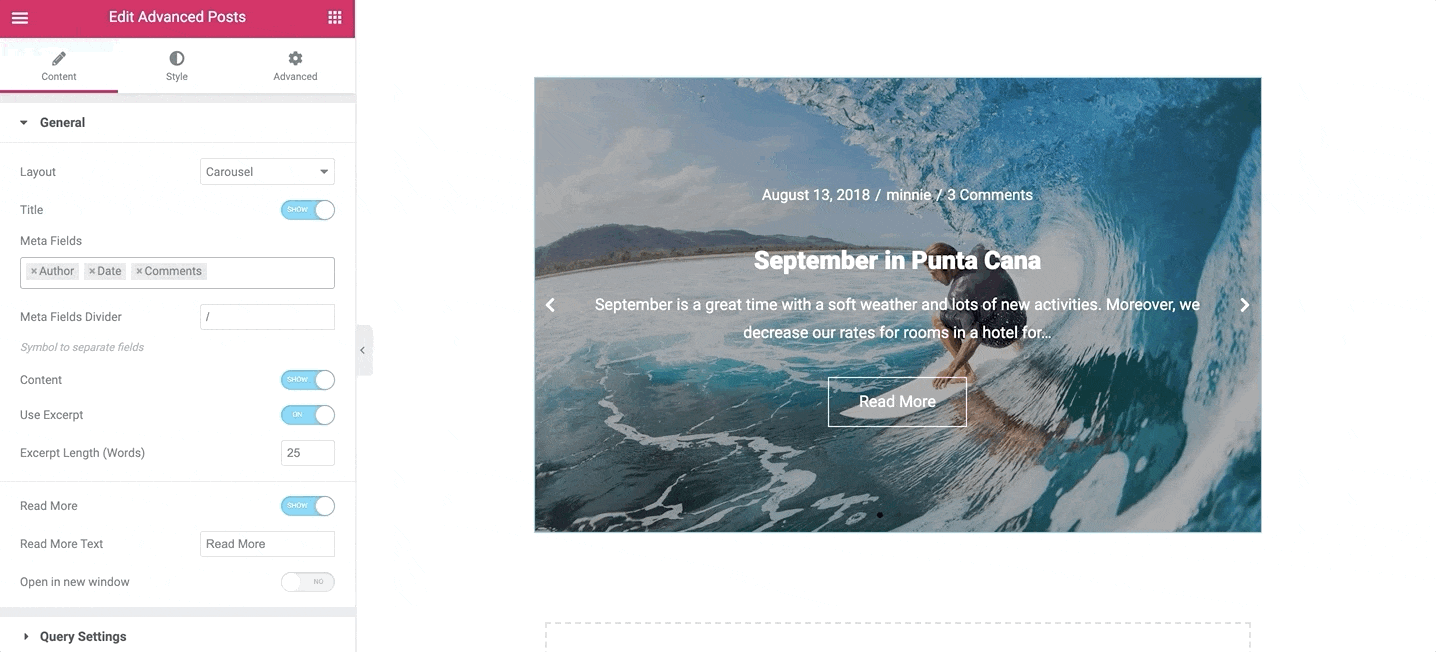 1. Set up display post settings:
Choose a suitable layout and design skin
Show/hide the post content
Set an excerpt and its length
Categorize posts easily with the Query Settings tab
 2. Style up your posts:
Customize your list & grid styles
Adjust the image & content settings
 3. Go on with Carousel settings:
Change number of rows, columns & slides
Choose between the needed slider direction & spacing
Customize navigation controls design
Choose 1 of 4 slide effects & animation speed
Adjust the navigation & carousel styles
If you want to know more about Stratum Advanced Posts widgets, we have the entire blog post devoted to this feature-rich extension.
3. Testimonial Carousel
If you want your best customer reviews to be seen on your Elementor website, you can totally rely on the functionality of the Stratum Testimonial Carousel. The widget provides customizing options that help create stylish testimonials in the form of an interactive carousel.
Main Features:
Advanced carousel settings: slider direction, navigation style, keyboard control, free move mode;
Many slide effects & the ability to change the animation speed;
The ability to edit the slide padding and margins & spacing between elements;
Vivid subtitle editing options;
The ability to edit Navigation styling (bullets & arrows).
How to Use the Testimonial Carousel Widget by Stratum?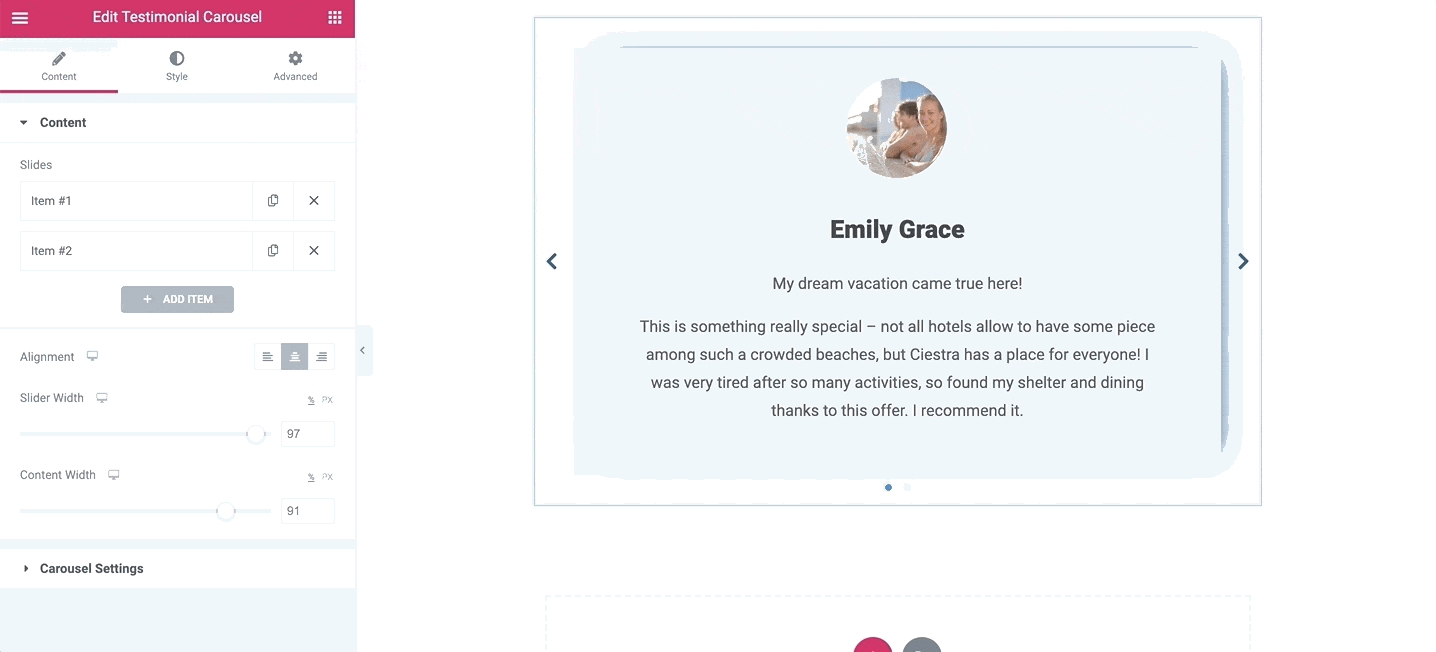 1. First, edit the content elements:
Add text and images to each of your testimonials
Edit alignment & width
Take advantage of extended carousel layout options. This is where you can adjust the following functions: Slider Direction, Number of columns, Navigation options, Spacing between slides, Keyboard control, and Slide effects
 2. Enhance content with advanced styling options:
Change the style of slides: Background Color, Box Shadow, Border Type, Padding, and a Margin
Adjust the style of Content: Image & Heading & Subtitle Spacing, and Text Color & Typography
Finally, you can test various navigation styles
Click here to view a separate blog post for the Stratum Testimonial Carousel widget (ссылка) describing its overall potential.
 4. Masonry Gallery
The basic Elementor functionality might not be enough to build stunning galleries. Luckily, we created the Masonry Gallery Elementor widget offering one of the most advanced solutions for a stunning gallery display.
Main Features:
Variety of animation effects
Multiple hover effects for each content element
Interesting layout options
How to Use the Masonry Gallery Widget?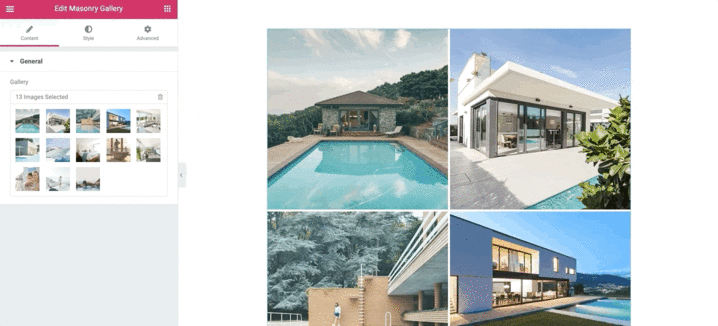 1. In the general content section, add up to as many images as you like to your future Masonry gallery.
2. Continue by styling up your gallery look. The most important settings are:
animation effects
the number of columns
gutter customization
zoom/colorize on hover
image overlay/hover overlay
The objective comparison of the Basic Gallery and Masonry Gallery by Stratum shows that our feature-rich widget wins by so many criteria. As you can see, the Elementor Basic Gallery looks plain and has no customization settings to make your gallery look special: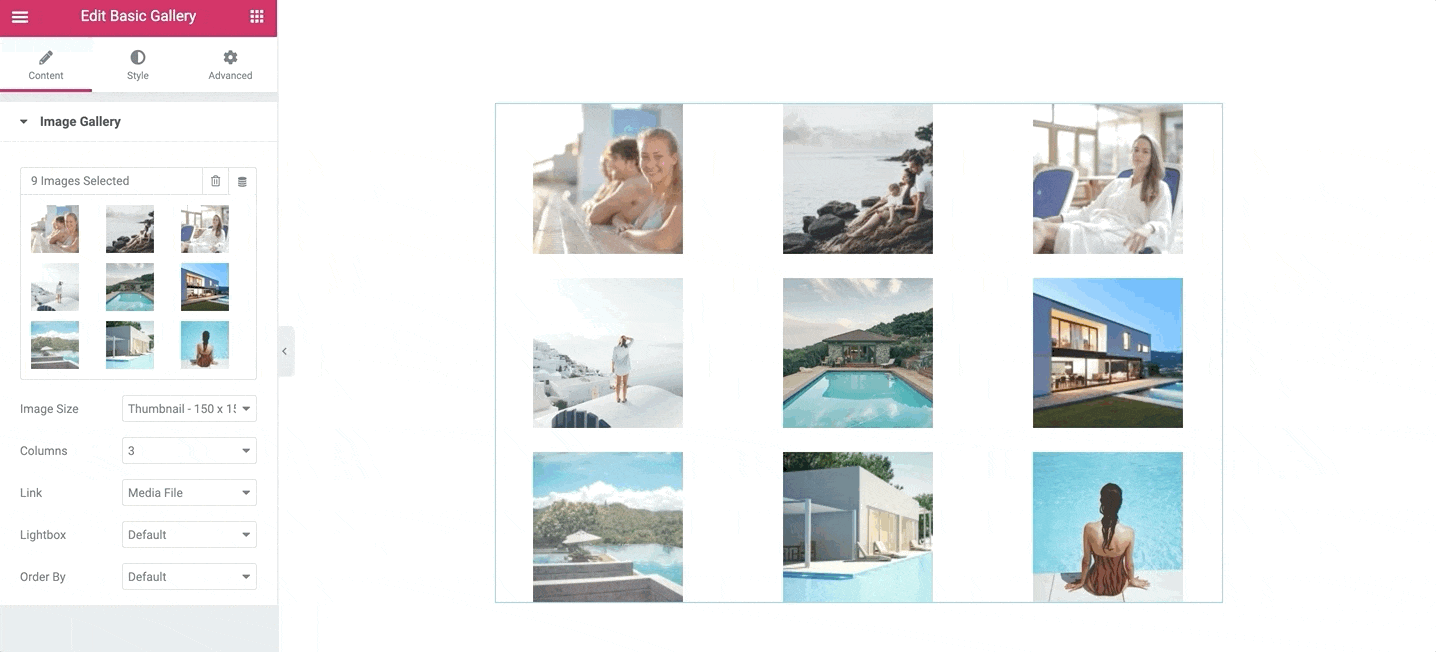 The Masonry Gallery widget (ссылка) helps to make creative image galleries – click here to view the full overview.
 5. Flip Box
Flip Boxes create interactive content, like hover animations, CTA buttons, and other engaging visuals that work way better than static images.
Main Features:
6 flip effects (the same number as the Pro widget)
Highly-customizable content elements
Multiple options allowing you to experiment with layouts & styling
Automatic adjustment to your theme style
How to Use the Flip Box Widget by Stratum?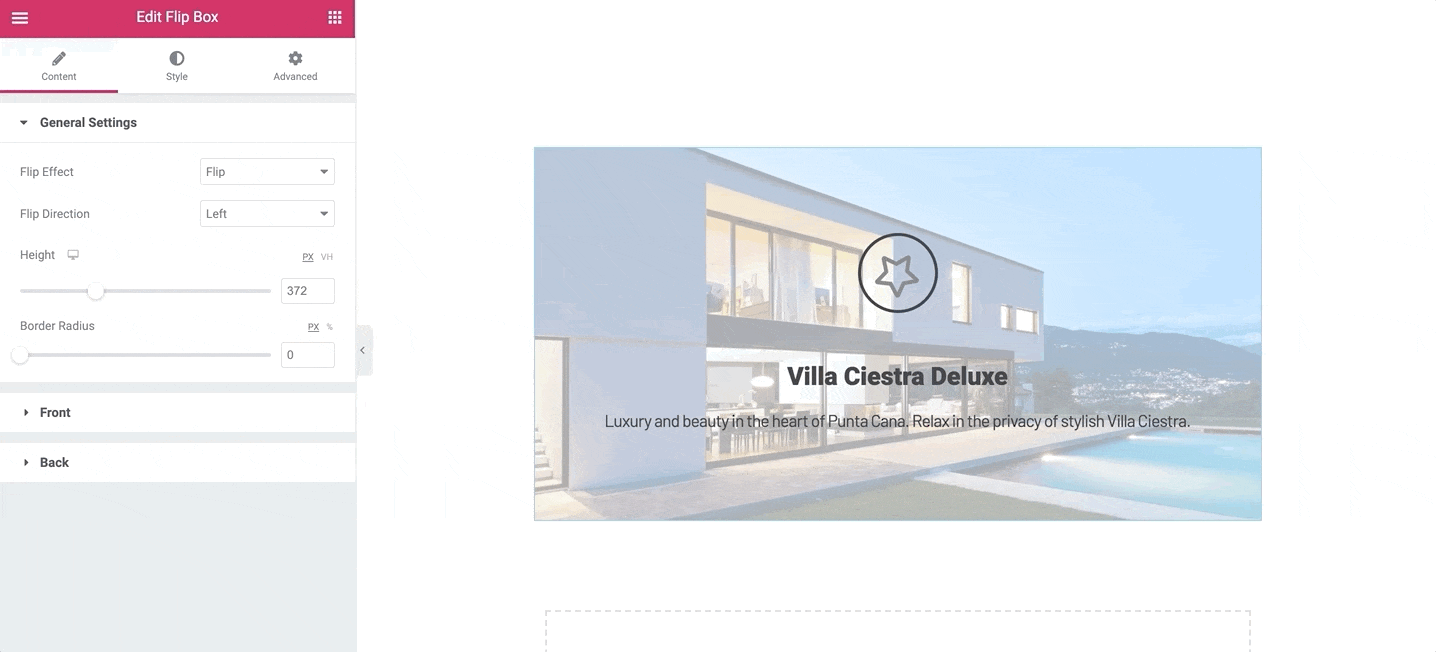 1. Fill content in the content settings:
Choose one of the 6 flip effects & direction
Adjust height & border-radius
Fill in the content for the front & back boxes – you can choose style-up the icon, background image, typography, and overlays
 2. Add more styling for the front & backside:
Adjust the padding, alignment, and vertical position
Choose the border type
Color up your icon, adjust the size & padding & rotation
Edit the typography for the title & description
The full review of the Flip Box widget (ссылка) is available down the link. Also, do not forget about the Advanced settings of our Elementor element pack to go further with the Flip Box widget customization.
 6. Price List
Selling multiple goods/services? Now you can create stunning menus, catalogs, and other types of price lists using our Stratum as one of the free Elementor essential addons.
Main Features:
Multiple layout options (list, grid, and simplified list formats)
Customize each menu item individually
Fully customizable colors, typography, and backgrounds
Mobile-friendly layouts
How to Use the Price List by Stratum?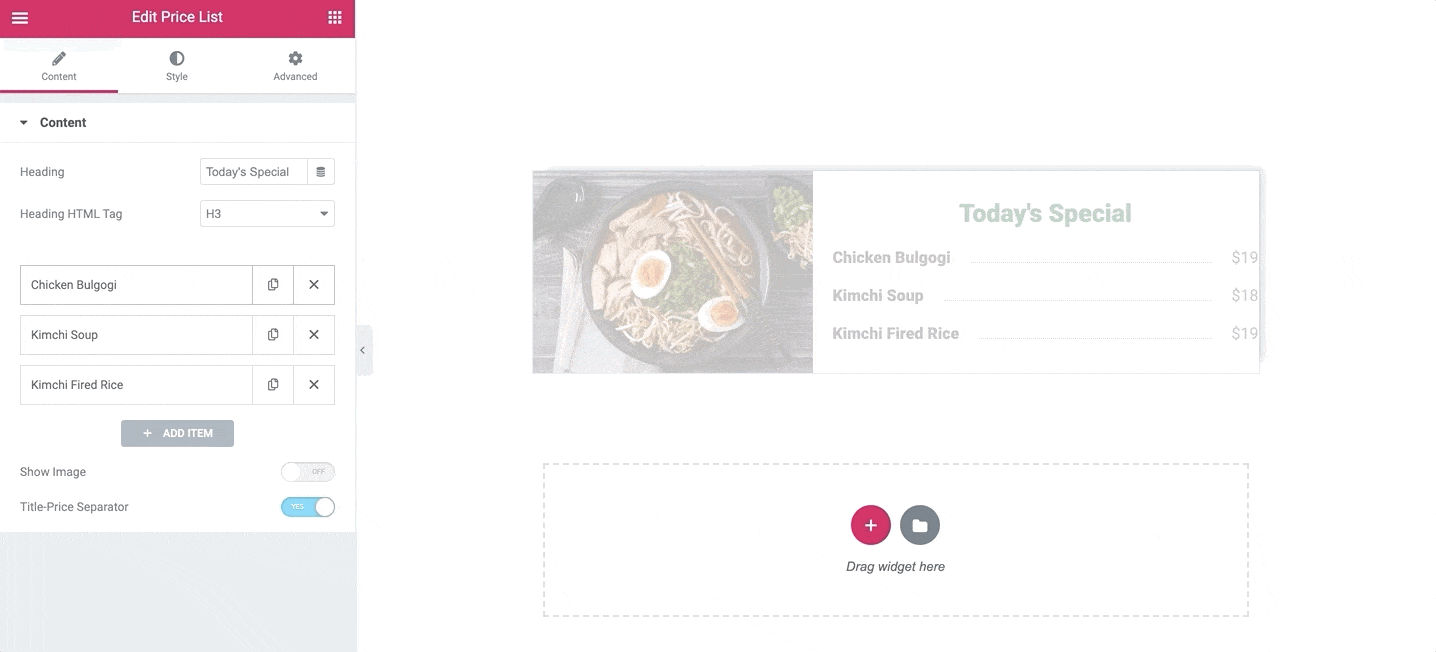 1. Begin with content settings:
Write down the general menu heading
Adjust the heading size
Customize menu items (title, size, price, items on/off)
 2. Finish up with styling:
Change content padding
Select colors for individual menu item elements
Change background colors
Set an image as a background
Customize borders
You can look at the styling of Stratum Price List & Price Menu widgets here.
Stratum FREE vs Elementor Pro Widgets?
Elementor Pro can boast of many exciting features, in particular, dynamic content & custom fields capabilities, as well as motion, parallax & mouse effects. It offers many advanced widgets along with the Pro templates, and a whole lot more than justifies its annual pricing.
However, not always you need ALL of it to build an average business website for your new company or brand. The majority of users will need a couple of cool functionality to easily create complex content for their blog entries, pages, etc. Not always they are ready to pay for using just one, two, or maybe three advanced widgets on their personal site or landing page.
Stratum is a perfect solution for users that aren't ready to purchase paid Elementor Pro or similar third-party Elementor addons (e.g. Ultimate Addons for Elementor). Stratum Elementor extras make it possible to build more functional, dynamic, and highly attractive pages at no cost at all!
Get All 20+ Stratum Elementor Extras for Free!
By downloading Stratum, you are getting far more than just those six widgets considered identical to ones in a Pro version. You are getting 11+ more unique solutions for your WordPress website, which you will find neither in Free nor in Elementor Pro.
To those unique (and totally free) solutions, we can highlight the following widgets:
Together with the unique functionality of Stratum Elementor Addons, you are getting a lightweight editing experience and advanced options for each element.
Download Stratum Free Elementor Widgets
For more tips & updates, and help with any question regarding the addon, join our official Stratum community on Facebook.