Stratum Widgets: Advanced Posts Elementor Widget
The Advanced Posts widget for Elementor is one of the most customizable and feature-rich widgets for dynamically sourced posts or pages of your WordPress website.
Whether you want to showcase the latest or manually selected posts in a carousel or a modern card-styled grid layout, it's a doable task with the Advanced Posts Elementor widget by Stratum widgets.
The Purpose of the Advanced Posts Elementor Widget
The Advanced Posts Elementor widget by Stratum will help you:
Display latest project news (blog posts).
Selectively showcase popular blog posts in style anywhere on the website.
Key Benefits
Let's highlight some of the key benefits:
Modern container shapes, including grid, list, carousel and Masonry styles.
A good pack of transition behaviors and animation effects to help users interact with your posts.
Customizable UI controls for the Elementor post slider.
The ability to selectively feature posts or pages by including or excluding the needed ones.
Automatic slideshows.
General Features & Settings
Layouts and Design Skins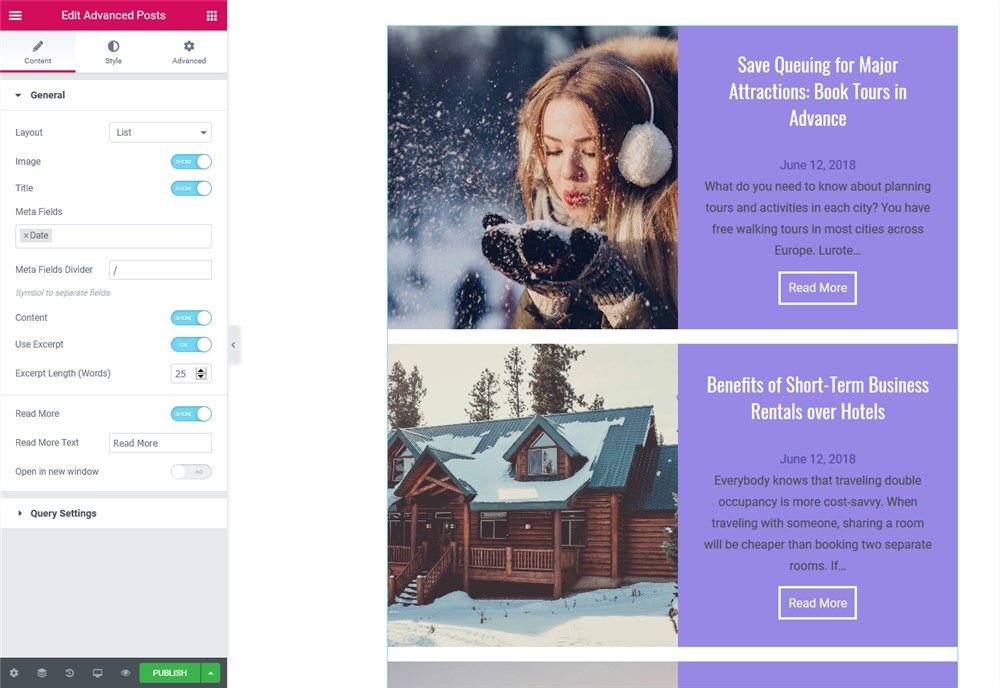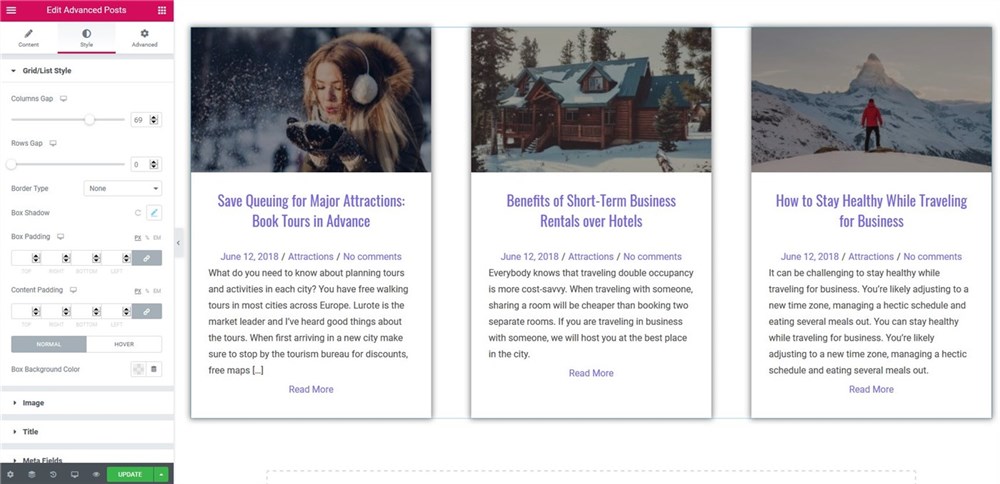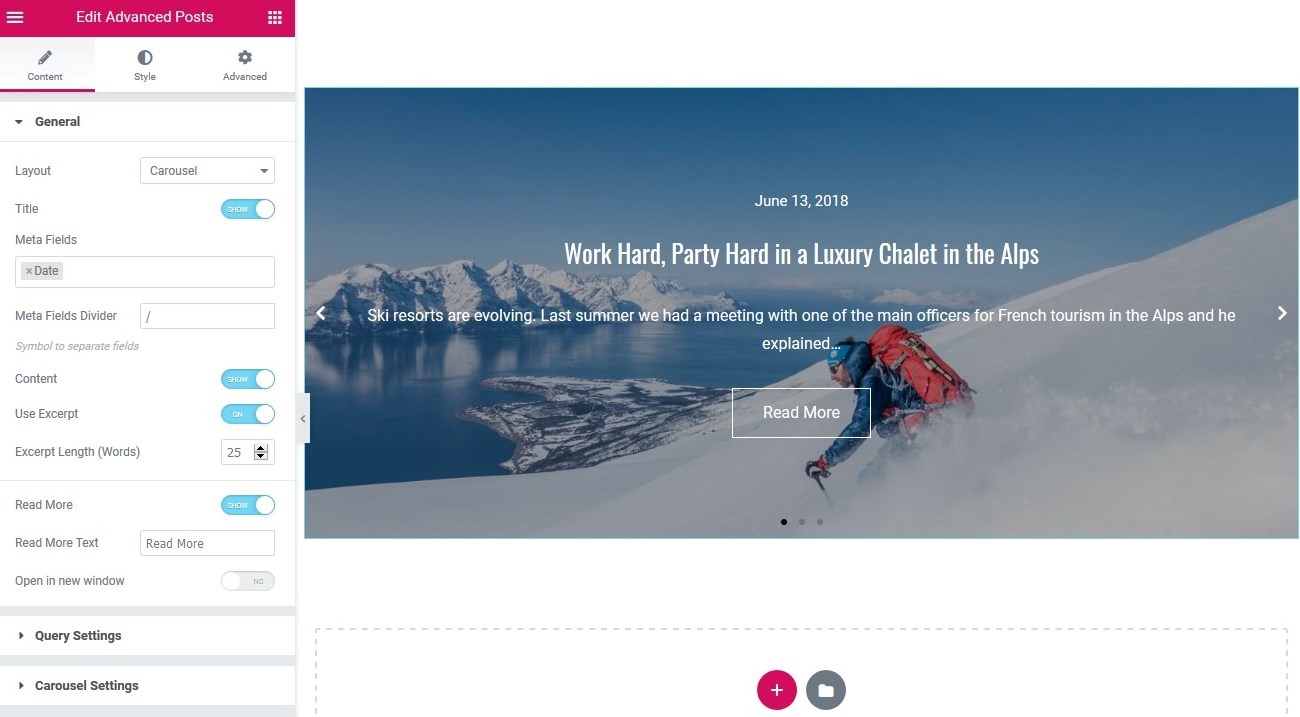 Masonry. Going with the Grid skin, you are free to set the number of columns and optionally use the Masonry-style grid: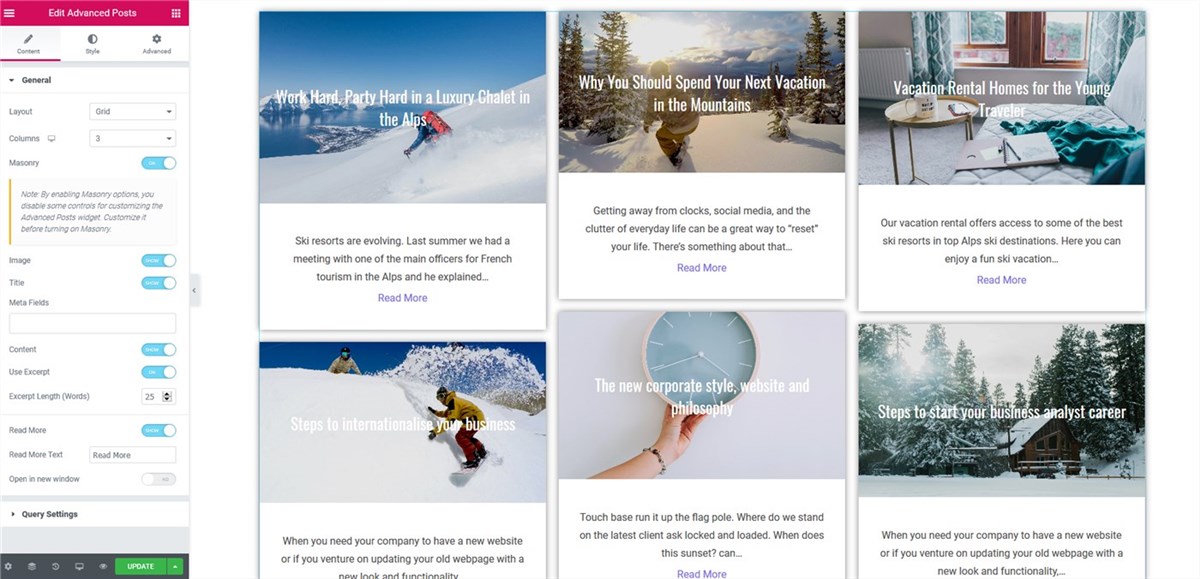 Display post settings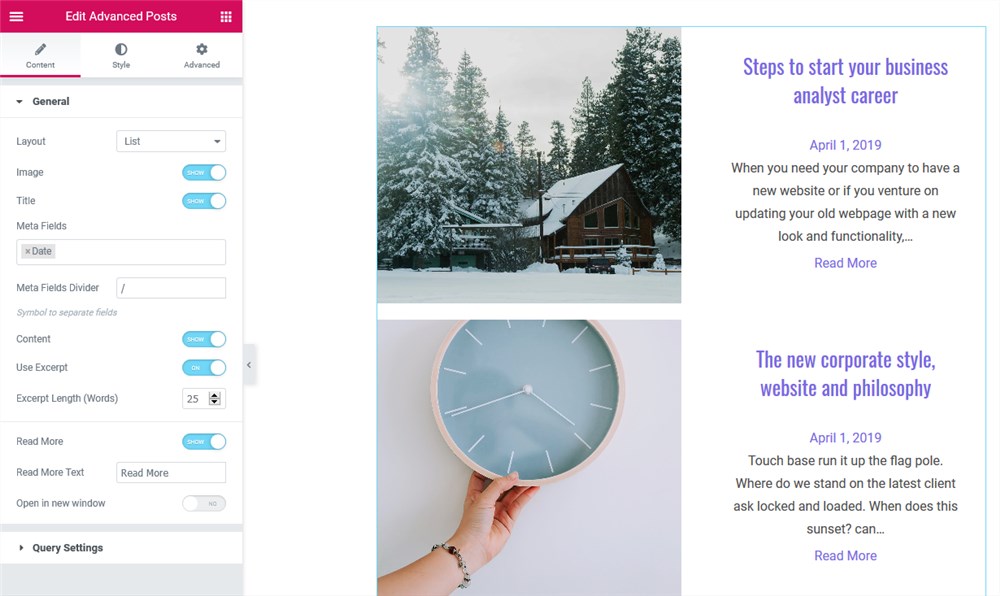 Show or hide the post image, title and content
Optionally set an excerpt and its length
Show or hide the Read more link or replace it with your custom text
Show or hide the needed meta fields (post author, post category, comment count, etc.)
Post filters for custom query settings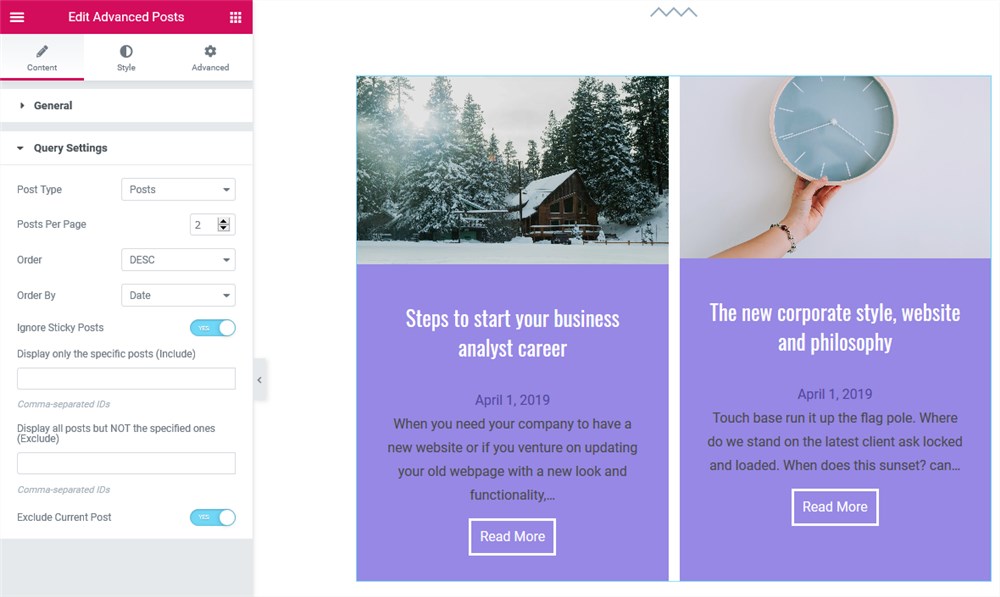 Categorize posts easily with filters (the Elementor/Query ID Settings tab).
Showcase posts or Elementor posts pages (so it's not only posts that you can display in style!).
Decide on Elementor pagination (it helps to display the number of posts for one widget per page).
Order your posts by date, title, or menu order.
Designate ascending or descending order for posts.
Display only specific posts by their Elementor Query IDs.
Styling the Stratum Advanced Posts widget for Elementor
By default, the widget inherits styles (typography and colors) of your activated WordPress theme (it's Aquentro in my case), but you can give it a completely different look.

Let's now see how deep you can go into customization of each skin type. Each of them comes with numerous settings allowing you to change layouts, typography, motion and more.
Advanced Posts Elementor Widget – List & Grid Styles
Here are major styling settings:
List & Grid style
List gap that you can customize individually for different devices (desktop, tablet, phone)
Columns gap and rows gap for the Grid skin
Border type
Box shadow
Box padding and content padding
Box background color.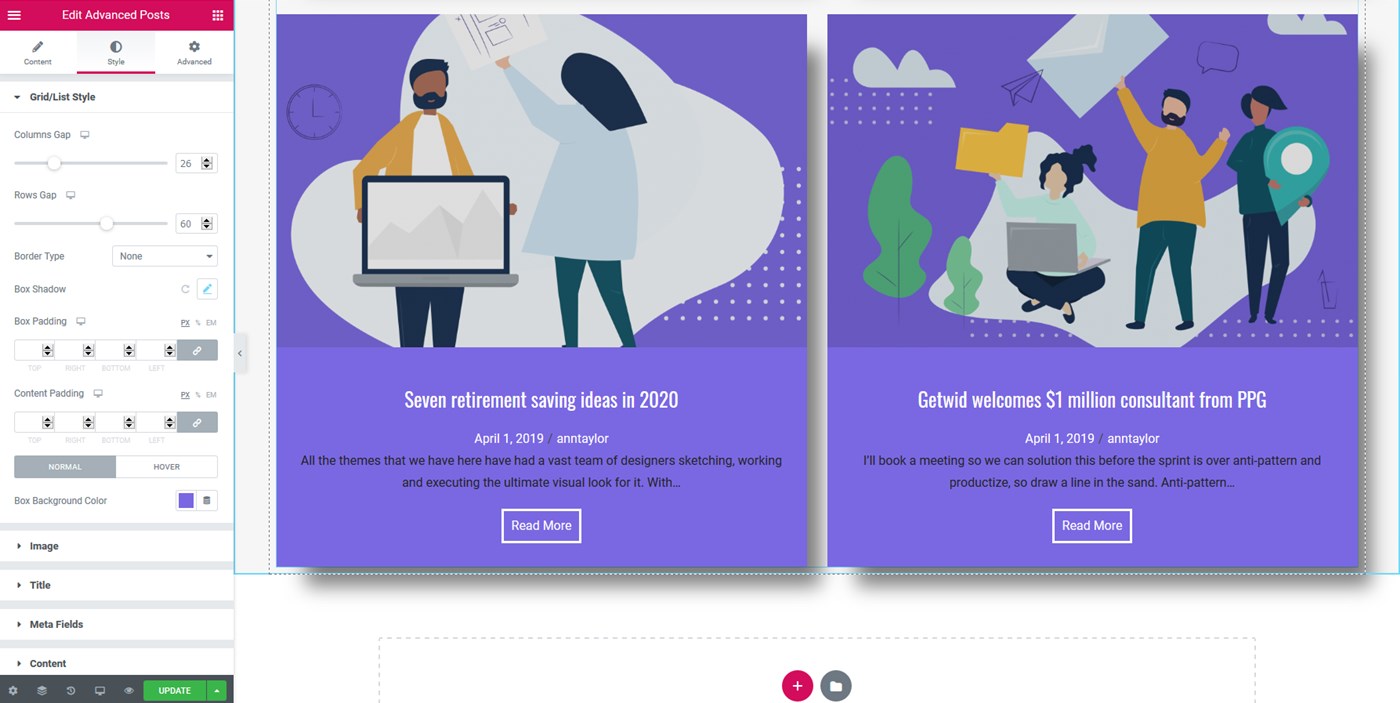 Image style
Left or right alignment
Hover animation effect
Image size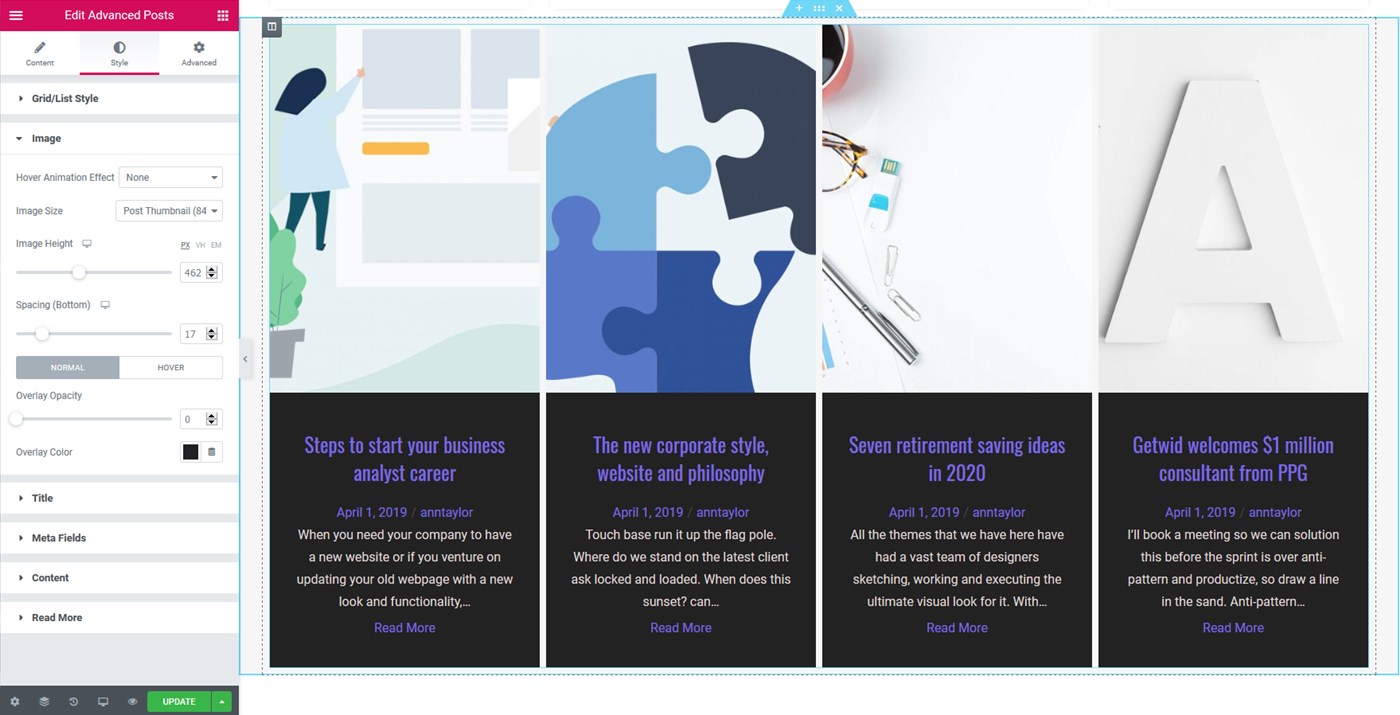 Image height and width
Content spacing
Overlay settings.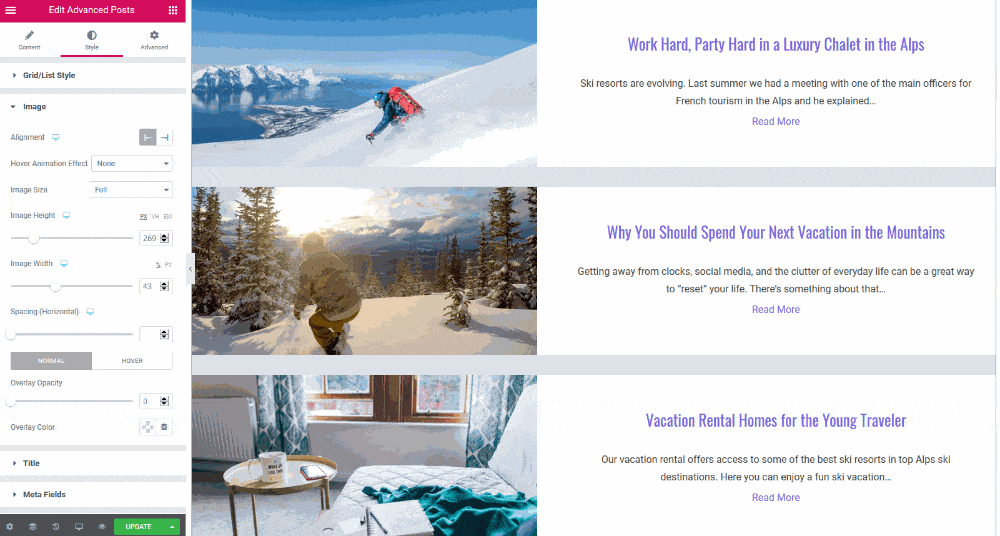 Title style
Title over image
Title alignment
Title spacing
Title typography and color.
Meta fields
Alignment, spacing, typography, color, and divider color.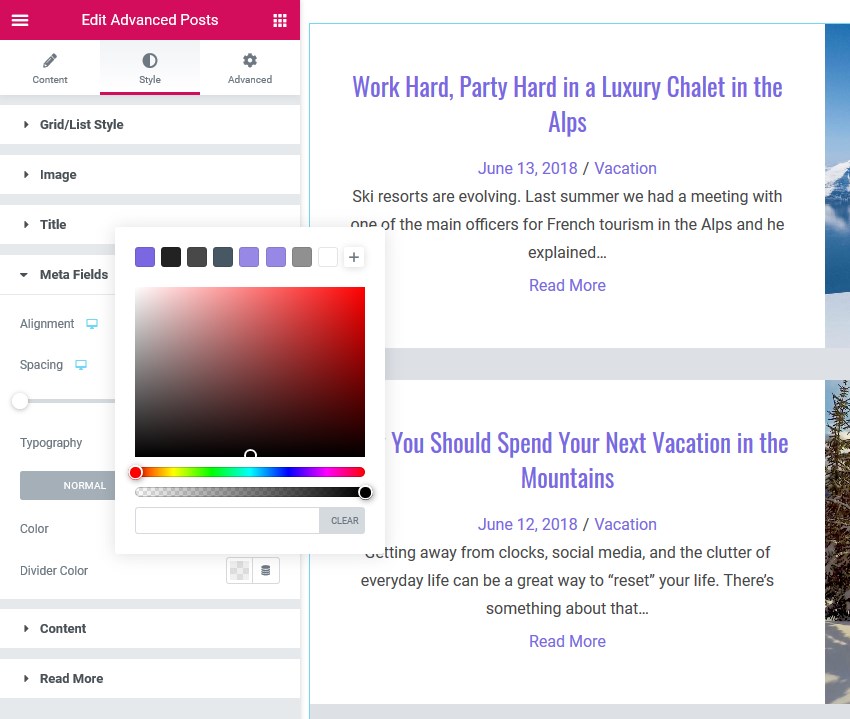 Content 
Alignment, spacing, typography, and color.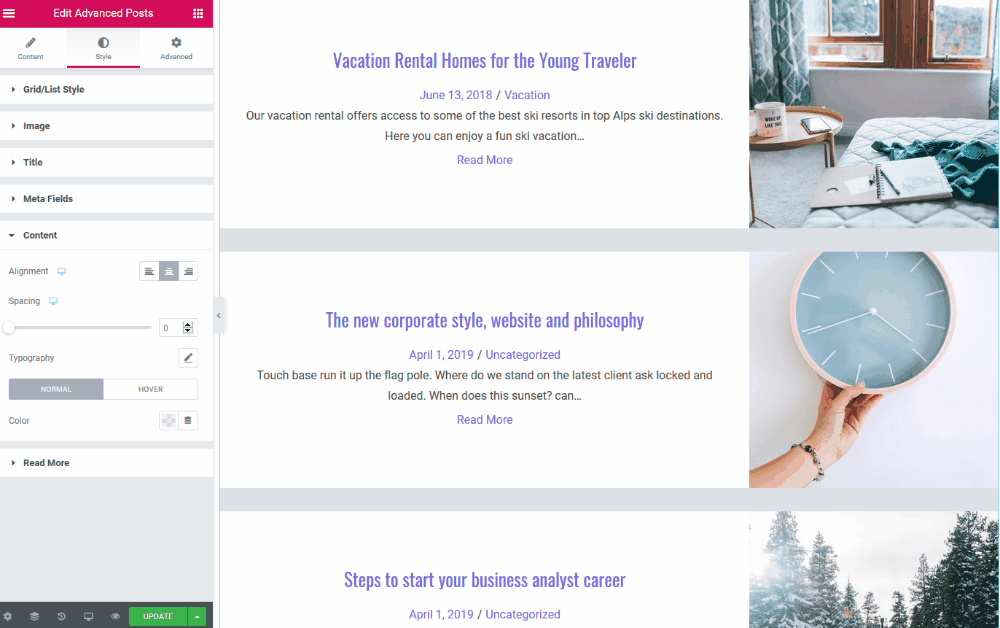 Read more
Alignment, spacing, typography, border type, font color, button background color.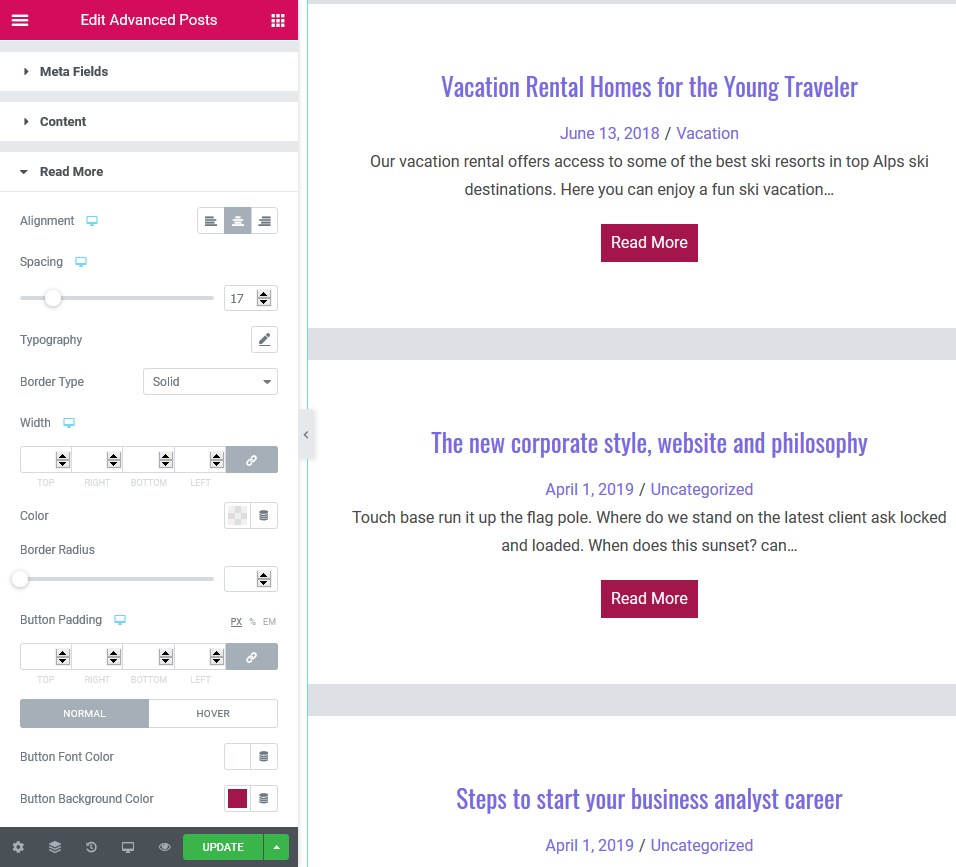 Using Grid, you can set up to 6 columns for layout and optionally turn on Masonry style.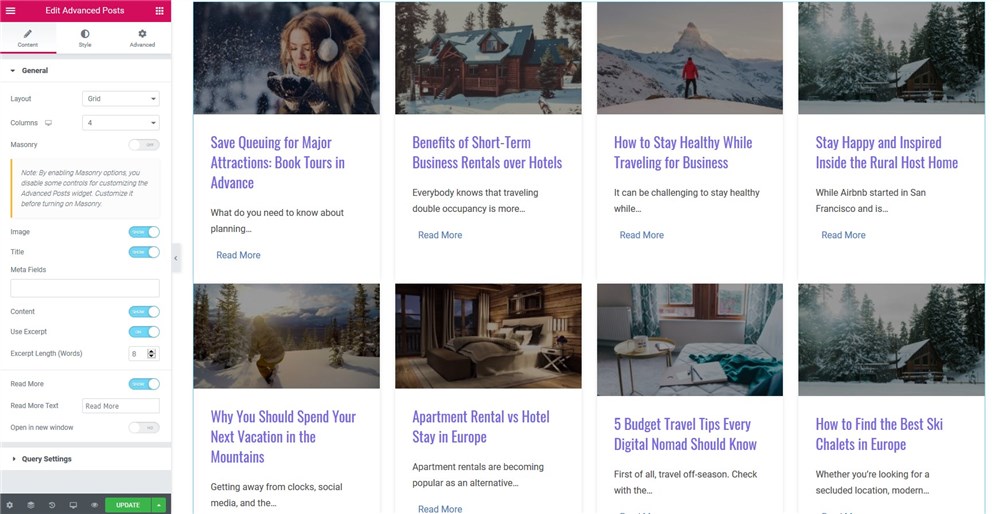 Advanced Posts Elementor Widget – Carousel Layout
The carousel layout of the Recent Posts widget comes with extra Carousel settings, including:

The number of rows, columns and slides to scroll
Horizontal or vertical slider direction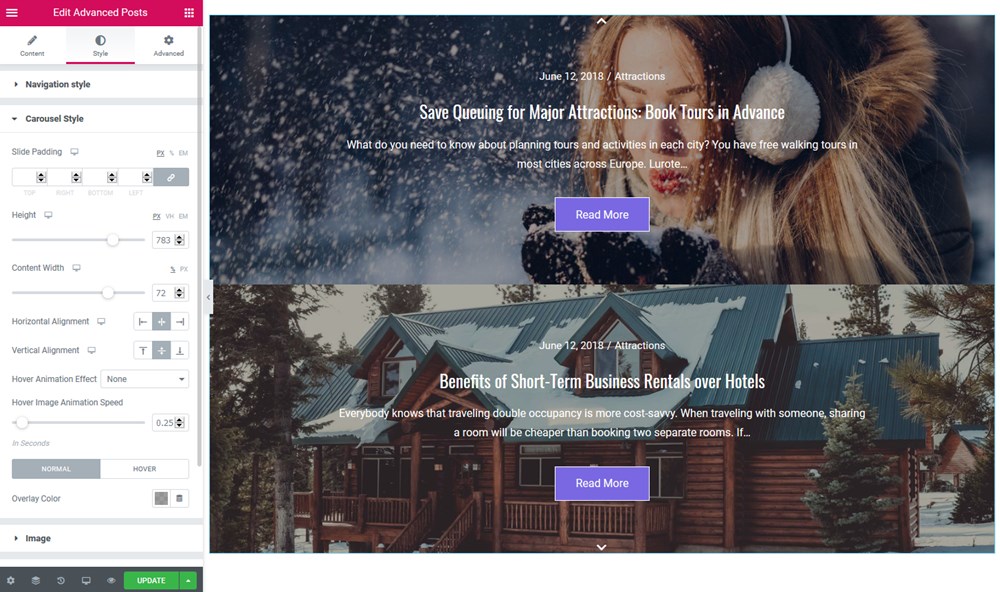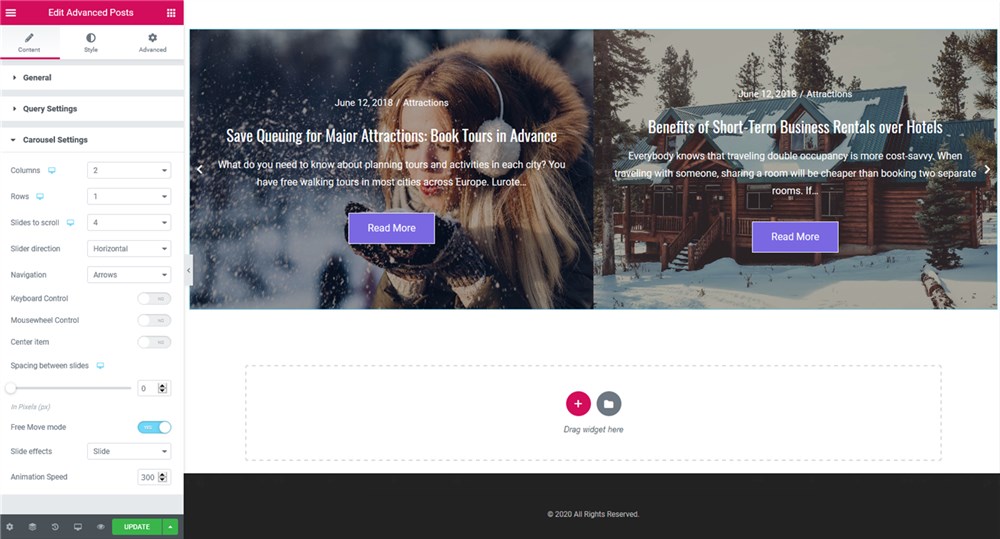 Navigation controls design (arrows, pagination, none)
Dynamic bullets
Keyboard and mouse-wheel control
Four slide effects and animation speed, including cube and the coverflow effects.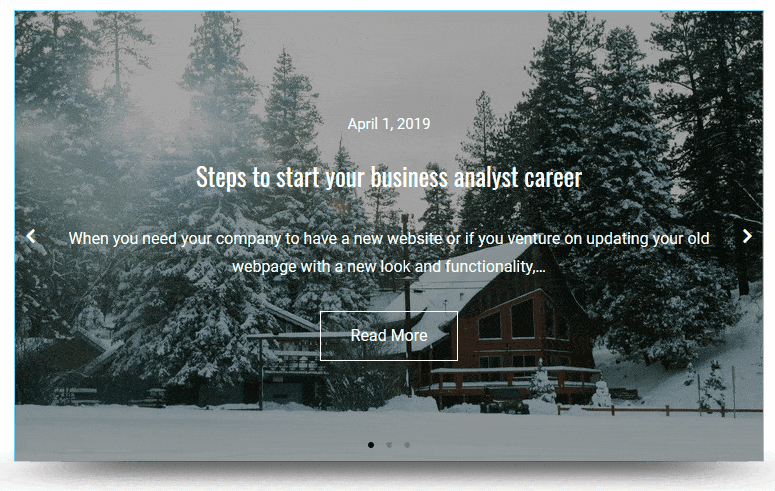 You can also style the carousel widget the way you like:
The navigation style settings include the arrows size, spacing, color and offset styling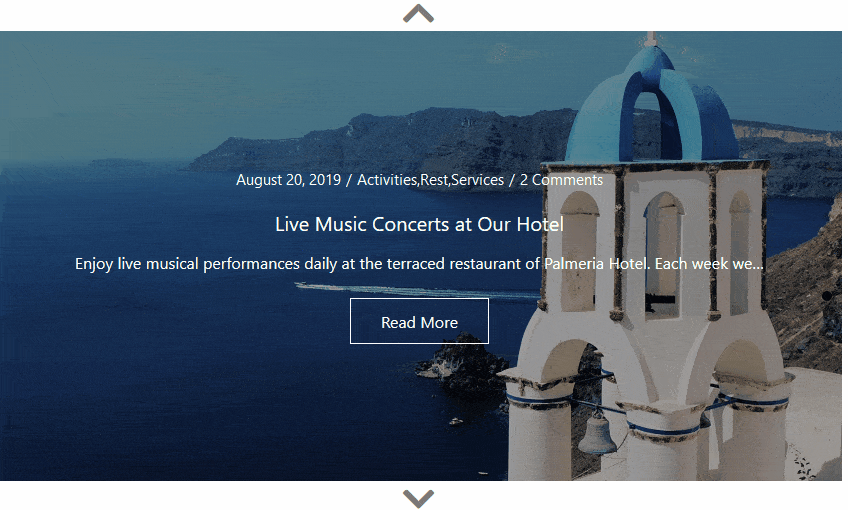 Carousel style that includes spacing adjustments, content height and width, alignment, animation effects and speed.
The rest of the settings are quite the same as in other skins offered within the widget.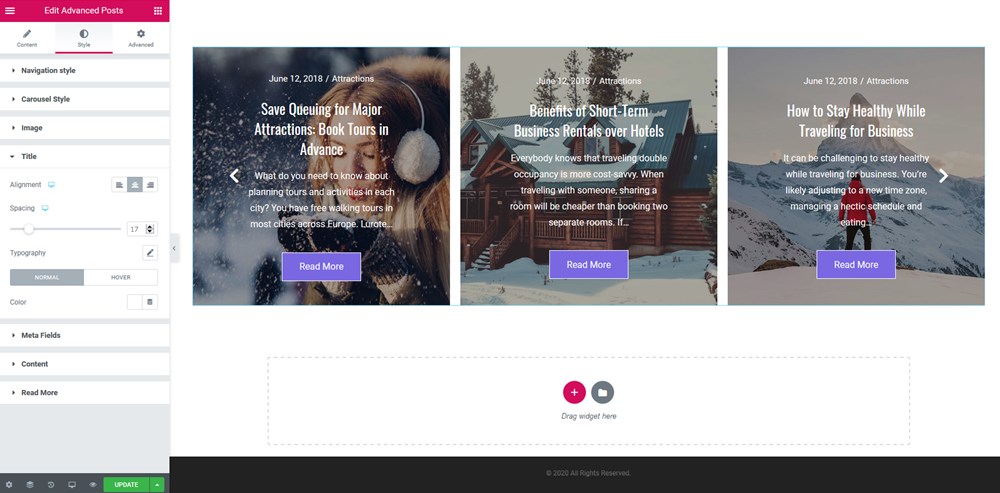 Stratum Free Elementor Widgets: Download Now
Design and display automatically sourced posts of your WordPress website with a powerful styling toolkit that comes with the widget. The Advanced Posts Elementor widget is available for free download along with other brand-new Stratum widgets by MotoPress.
Stratum Free Elementor Widgets Download
Get acquainted with all Stratum demo designs here.
In case you want to go further with extra functionality, you are welcome to purchase Stratum Pro – the extended version of the free addon. Upgrading to the premium version of Elementor Extras gives you 2 major perks: priority support and extended customization settings.
Currently, Stratum offers these PRO features of the Advanced Elementor Posts widget: pagination, list checkerboard, taxonomies, terms relation, and the "Animate on Scroll" feature. These and a few other top-notch customization options will be accessible for as little as $19. Compare Stratum PRO vs Lite versions on our website, choose the plan, and follow the installation instructions.
If you are also working with the Gutenberg WordPress block editor, make sure to check out Getwid – our huge collection of free Gutenberg blocks.