MotoPress Hotel Booking Plugin News: New Level of Price Control
A new update is available for MotoPress Hotel Booking plugin for WordPress! This time we are bringing more rate flexibility to the table. That means if you need to set different rates for the accommodation and make that difference depend on the number of guests, rejoice! You already have this opportunity in version 2.6.0.
We call it "Variable pricing", or dynamic pricing, and it's now available from Accommodation > Rates > Rate Info.
For example, the base rate for an accommodation with a max occupancy of 6 people is $200 per night. But what if only one or two people are going to accommodate this property and you don't want to charge a full price? You can optionally set different prices depending on any exact number of people. The price will be applied automatically according to your settings.
Basically, this new feature allows you to offer a set of variations on accommodation with price control.
Here are the steps to make it configured for your particular needs:
Go to Rates > Season prices > Base price > enable variable pricing. Here you can add variations – the base price change depending on the number of guests.
For example, the max occupancy of the room is 2 people, its base price is $150. If only one guest is arriving, I'm lowering the price to $120: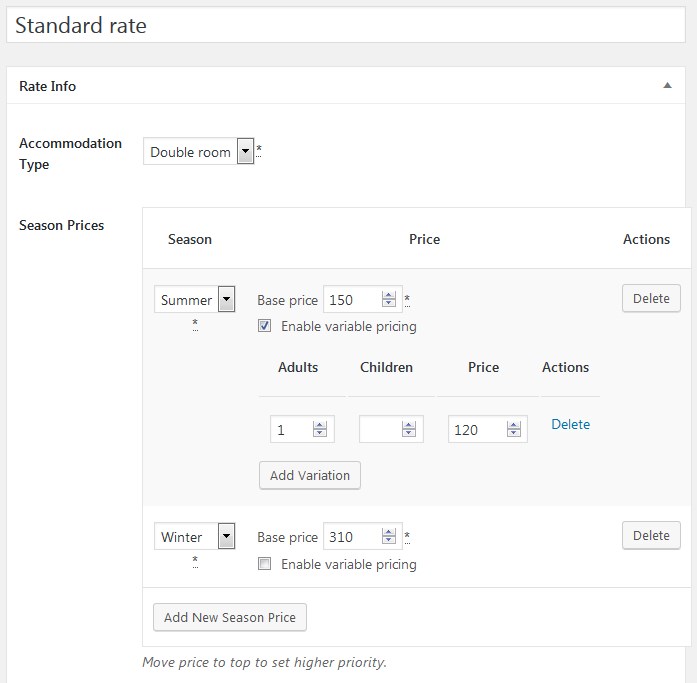 These price control rules can be applied to individual accommodations and seasons.
On the front end, if the guest doesn't apply any search parameters, they will see a base price rate. The lower rate (if you set it) will be displayed only if the guest inputs a number of people in the search availability form.
How to explain to your guests why the price is different
Despite your guests will most likely be only pleasantly surprised about a lower price, they might be at least curious why that change happened. So far, you can state information about your rules and rates only in the accommodation description (probably this information will even encourage them to book an accommodation quicker!).
That's it! A very simple and very useful enhancement that we're sure will help you find more ways to increase the overall occupancy rate of your lodging establishment.
Read more about other options of tiered pricing.
More about other minor improvements:
We've improved the loading of the property image gallery – it's now loaded instantly (without firstly loading a list of images)
Fixed the issues with displaying the age of children in widgets
The accommodation price is now displayed properly in the "Recommended" section (comma separator is back!)
Meet new functionality!
We've released a couple of new extensions for the MotoPress Hotel Booking plugin:
The Hotel Booking Payment Request addon lets you send a balance payment request to the guests who've made a reservation of your property;
The Hotel Booking PDF Invoices addon – allows you to send details of guests' confirmed booking. The attachment comes in PDF format for easier printing or download.
There are tons of other updates that are already being developed! If you have any idea for our best WordPress booking plugin in mind, don't forget to share it. And stay tuned!