20+ WordPress Coming Soon Themes (Free & Premium) 2022
Need to build some buzz around your future website? Good idea! With WordPress coming soon themes you are about to discover in this collection, it's going to be an easy task with WordPress coming soon pages.
But before we go any further… When you need to build a coming soon page in WordPress, it's a standard practice to use a WordPress under construction plugin.
Such plugins allow you to display a sort of launching soon banner/a completely functional page while doing some behind the scene work.
So when you need to constantly take your site down for testing purposes or maintenance, you might need a plugin. Check out our collection of the coming soon WordPress themes and plugins that are much more suitable for turning on/off the maintenance mode as often as you need.
I believe a WP coming soon plugin is something each WordPress website should have along with SEO and page builder plugins because you never know when you need to take a website down and have a temporary announcement instead.
But if you want to go with a WordPress coming soon template, it's also fine. In the vast majority of cases, a WordPress coming soon theme is used on fresh websites, before the first launch. When you have an up-and-running custom website, you can't just activate another coming soon theme for temporary maintenance (this is what WordPress Coming Soon Plugins are meant to do).
Actually, a coming soon template is not just a beautiful page to temporarily replace your future website – you can easily turn it into a powerful marketing weapon in the pre-launch stage. Even more so, you can use the same theme for your future website!
The Best WordPress Coming Soon Themes
Using this sort of page, you won't just be able to showcase your branding, capture leads through subscription forms, and make people aware of the official dates of launch, you can also take pre-orders and communicate with clients.
Coming soon under construction pages with conversion-boosting elements are more than twice as likely as those without to convert on the pre-launch stay so let's discover the templates and their main features!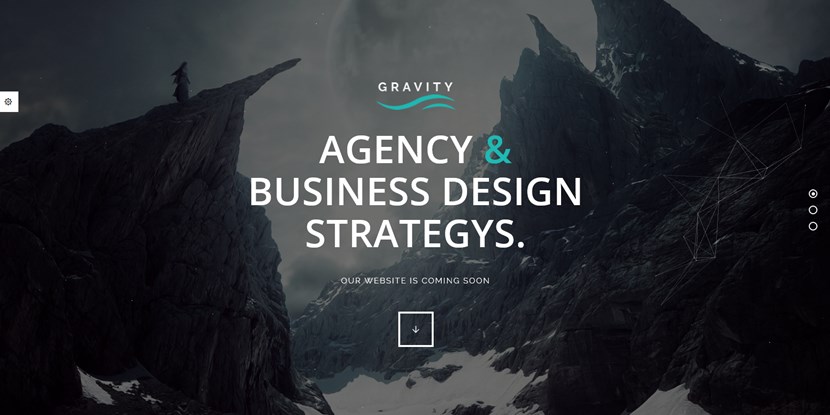 Gravity is a vivid example of a coming soon template that is designed with visual diversity in mind. It lets you start with choosing a preferred background (an image, video, slider, etc.) so that you can make a needed focus on your brand and message. The default theme you choose can be altered in many ways with the frontend customization tool and the WPBakery plugin. So it's literally perfect in terms of design.
As it's expected of a coming soon landing page design, Gravity is chock full of conversion-boosting tools you can employ on the pre-launch stay: collect leads with the email subscription form from Mailchimp, create a contact form for the first visitors, and add any tools you may need.

At the same time, this WordPress coming soon template is not too sophisticated, without excessive things, so you'll be quick to figure out how to work with it.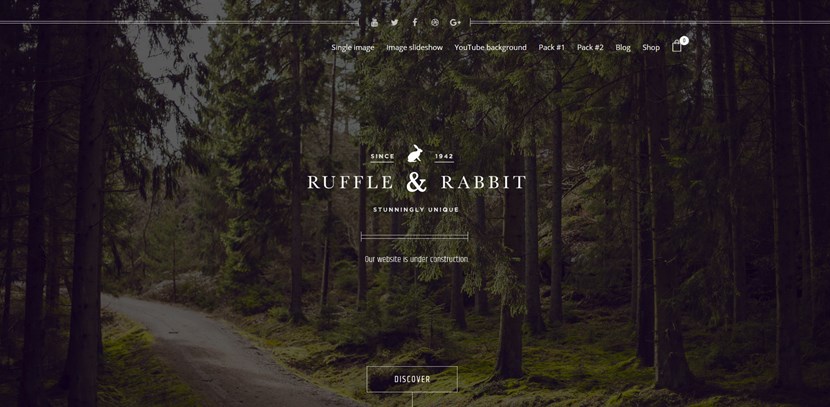 Since the Rabbit coming soon WordPress theme is packed with tons of marketing-focused tools, integrated by such top names as WPBakery page builder and Advanced Custom Fields (for free!), you'll feel almost no difference from a traditional WP theme.
What makes it more appropriate for a coming soon page, however, is a set of pre-designed themes you can replace demo data in and be ready to go in clicks.
Compared to the coming soon WordPress Gravity theme (the first one in this list), Rabbit gives a more advanced starting point with the already organized countdown timers, hero sections, services listings, a team, map & location, and other things you might want to feature to give a more detailed overview of your future website. I wonder if you could choose this one for your main website at the end?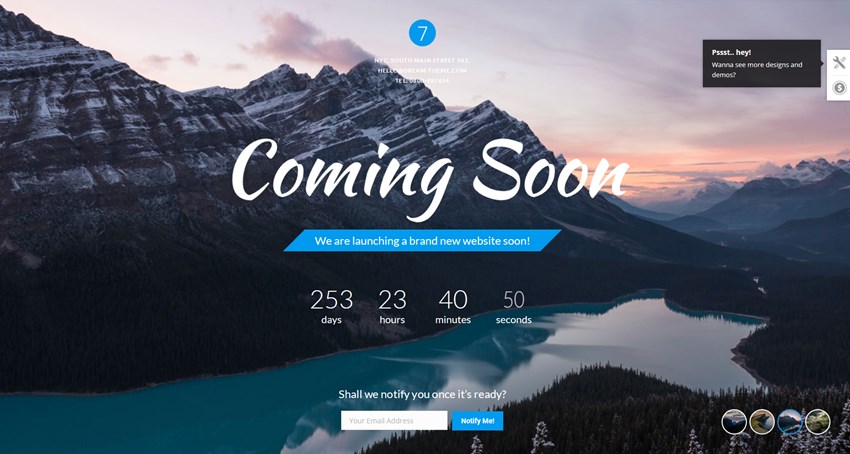 The7 is a complete WordPress site-building toolkit that can help you create any website you can dream of. Unlike many other popular themes that are focused on just one builder, The7 is flexible enough to work with Elemenetor, WPBakery, and Gutenberg.
A huge number of professional designs and unparalleled customization capabilities make this theme suitable for any website; plus, it comes packed with premium plugins included for free providing you with even more chances to save money on some on-demand tools.
Of course, this coming soon website template has a design for a pre-launch website stage (coming soon), which can be easily customized just like any other layout.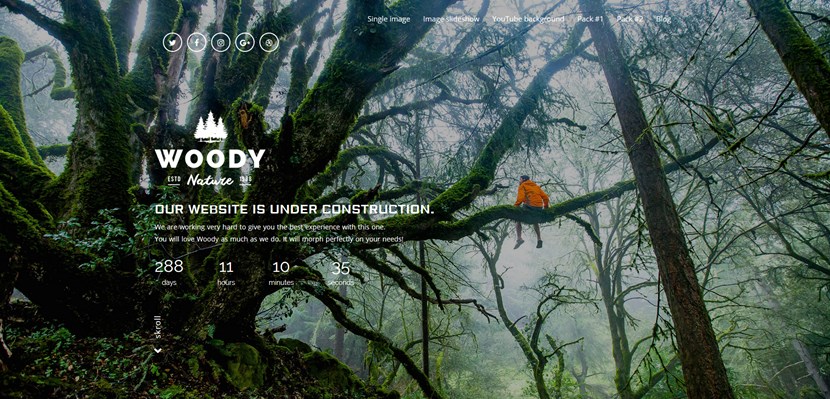 Woody is a WordPress under construction theme from the same developer as Rabbit, so no surprise, it has a very similar design and functional approach to its other WordPress coming soon themes. It's also outstanding!
There are tons of graceful designs in this theme that will help you provide a sneak peek at your product or service in style – a great variety of backgrounds will help you find your best solution.
Similar to other WordPress under construction themes, it comes with the same set of things that can come in handy for adding purpose-built things like a countdown timer, social media integration, contact forms, or any other content module provided by WPBakery. You'll also enjoy the advanced typography control, the ability to add animation elements, sliders, etc.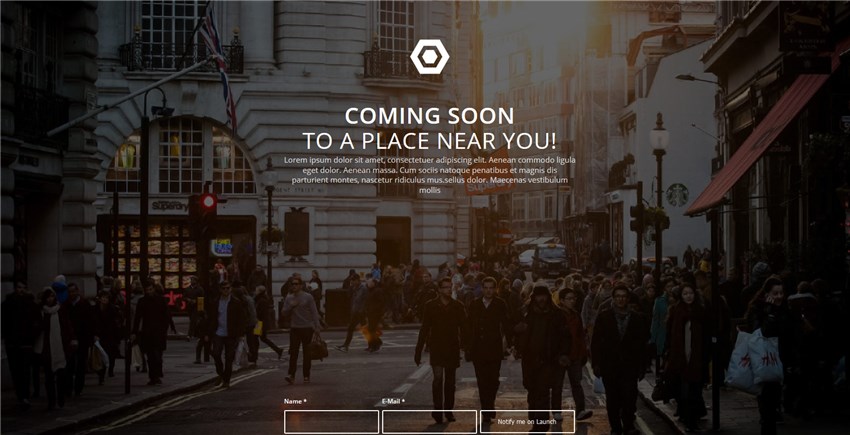 Enfold is on the league table of the multipurpose templates, which has demos of a few coming soon WordPress themes. it's trusted by more than two hundred thousand people!
It's not just packed with a great number of ready-to-go UI patterns for any website (including a shop, portfolio, business, photography, freelancer, lifestyle, artist, travel, medial, construction, wedding, church, etc.), it also has a ready-to-go "coming soon" demo you can set up while you are working on your website created with Enfold. The coming soon page is quite minimalist, with a text container and a newsletter box (which can be altered).
The theme is packed with a few premium plugins, one of each is for events, so if you're looking to save some money on this functionality, don't lose this opportunity to build a great coming soon pages in WordPress.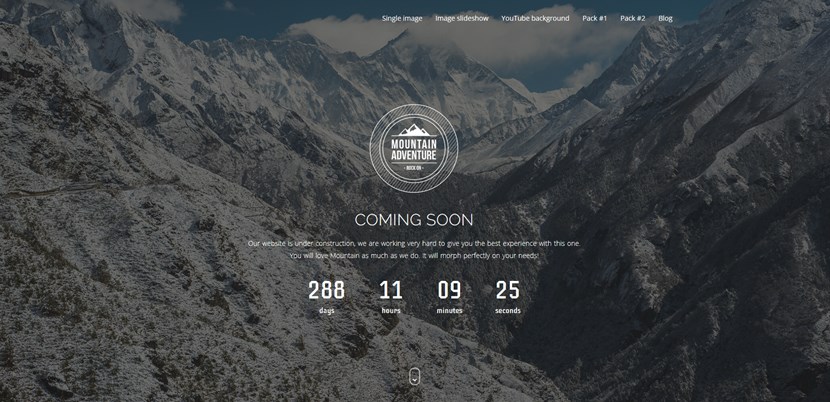 This WordPress coming soon template by the same provider is similarly awesome thanks to several dedicated integrations and fully customizable templates, but with a focus on simplicity in design.
The default demo template is an example of a minimal under construction page that features just the basic things about your project, a newsletter, and a countdown timer.
This template allows you to use video backgrounds, multiple blog layouts to engage people while your full website is unavailable, etc. The template is deeply customizable so you'll have no trouble adding your brand identity. And by the way, just like any other theme in the lineup of this company, the prices are quite affordable.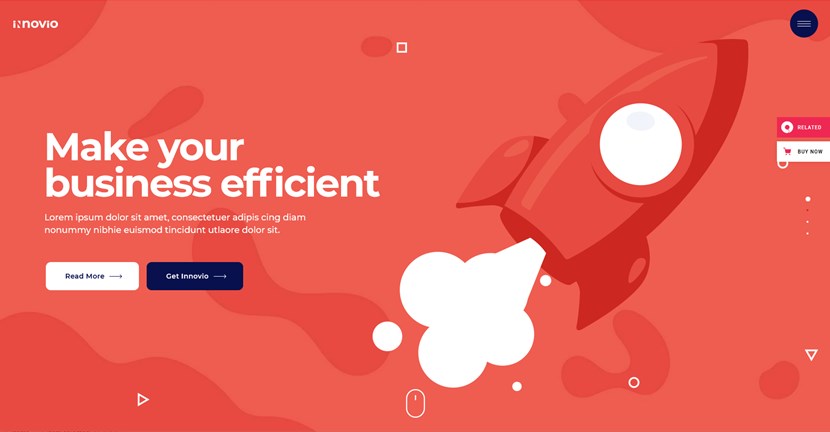 Innovio is by default optimized for software and startup businesses – either their landing pages, coming soon pages, or even the regular website pages. The demos packed with Innovio come with a good dose of creativity and can be used to build truly attention-grabbing pre-launch pages.
You may also safely choose this coming soon template for your future website and work on its pages while having just one "coming soon" page published under your domain.
Once the website is ready to be launched, you'll simply be able to remove/update the under-construction page and launch the entire website with this theme. The Innovio theme has it all for the website building needs: a collection of layouts, eCommerce options (WooCommerce support), beautiful scrolling options, and customizable backgrounds, to name a few.
A few popular WordPress plugins dedicated to SEO, marketing, and visual customization are also there. Overall, this coming soon page for WordPress can be easily turned from just a coming soon template to a fully functional, powerful website. If you like the demo and it suits your business, this theme is a great starting point.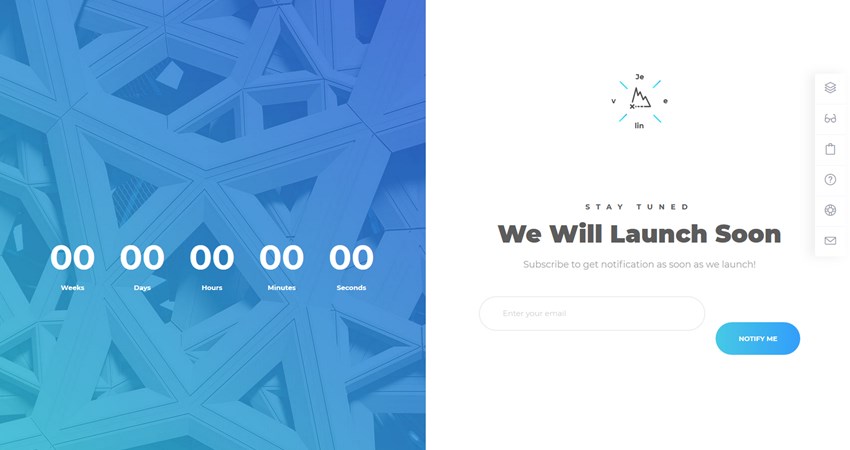 Jevelin is a fantastic multipurpose theme for WordPress that among other demos is packed with a dedicated coming soon page.
There is two default under construction mode pages: a side-by-side design and a traditional image in the background with a newsletter subscription form. Feel free to spice up those patterns with the countdown timers, motion effects, news, and any other piece of information.
Overall, this WrdPress coming soon page theme can boast of truly creative designs, a special focus on mobile-optimized designs, and easy drag-and-drop building. It's super popular with users and is regularly updated!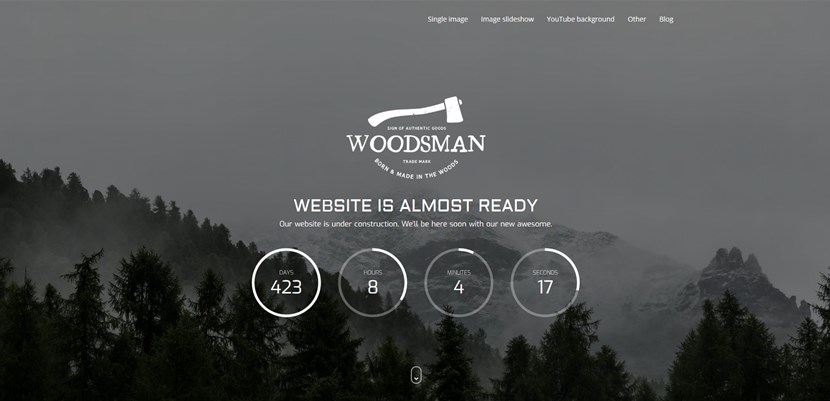 Woodsman is another ready-to-go theme for creating a coming soon page in WordPress. The demo features some significant content elements, such as a countdown timer, a map, services, etc. so you should have enough space for launching a website with a coming soon banner.
There are great full-screen layouts and tons of backgrounds to choose from – you can add some motion with animation effects, video, or slider.
In addition to being one of the super customizable under construction WordPress themes, Woodsman works with such top-popular plugins as WPBakery Page Builder (and ultimate addons for it), ACF for all sorts of forms, and more.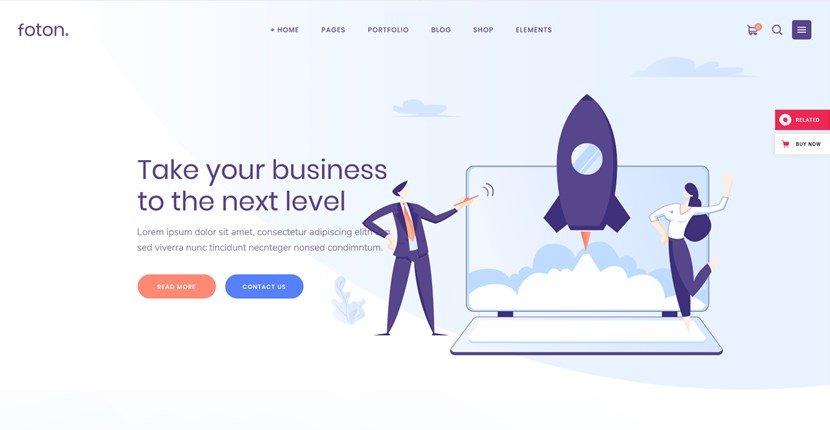 Foton is probably one of the most creative multi-concept WordPress themes for any sort of business portfolio, especially tech companies. It comes with numerous dedicated layouts allowing you to employ it for a coming soon page while you are building a website with this theme. It's super clean and with a special focus on flat minimal design.
The theme is claimed to work with the best WordPress page builders, Elementor, and WPBakery plugins. Additionally, it supports all the industry-standard features and plugins for eCommerce, translation, forms, and more.
To help you reach your goals, the theme offers nine homepage versions, a lot of inner page variations, all sorts of galleries, sliders, and portfolios. There is nothing you can't do with it so you may be sure it's quite a good choice for both a website and a coming soon page for WordPress. Feel free to build a coming soon page for WordPress with this regularly updated theme.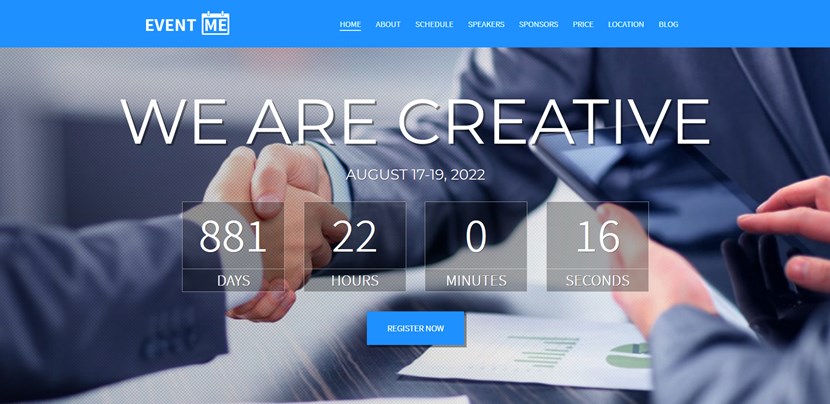 EventMe is initially optimized for a corporate event WordPress landing page ready to take care of the event scheduling and promotion. So if you are creating a coming soon page for the event promo, there is no need to look further.
The landing page ships with an event registration page, a countdown timer, and animated content timeline to provide a chronological order of events, team presentation, and more tools specifically for the needs of events and venues.
The overall theme design is quite organized and professional, all the essential plugins usually present in WordPress coming soon themes are in place so you'll unlikely have troubles neither with putting your website under construction nor with the event presentation. Above that, it's an award-winning design – the best-in-class WordPress theme.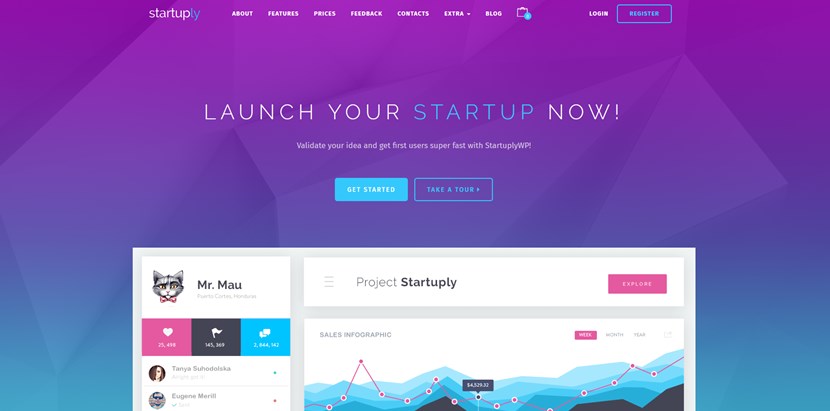 Startuply is packed with home and coming soon pages to help you be safe while you are customizing your website. It comes with a whole range of supporting tools, such as a countdown timer, forms along with a form manager, and the WPBakery plugin for visual customization.
The theme also provides seamless integration with newsletter services (which is highly important while your website is under construction), eCommerce, and just any industry-standard solution you might need along the way.
There is also a huge pack of icons and widgets, page templates, numerous shortcodes and all types of backgrounds to help you create the needed website experiences.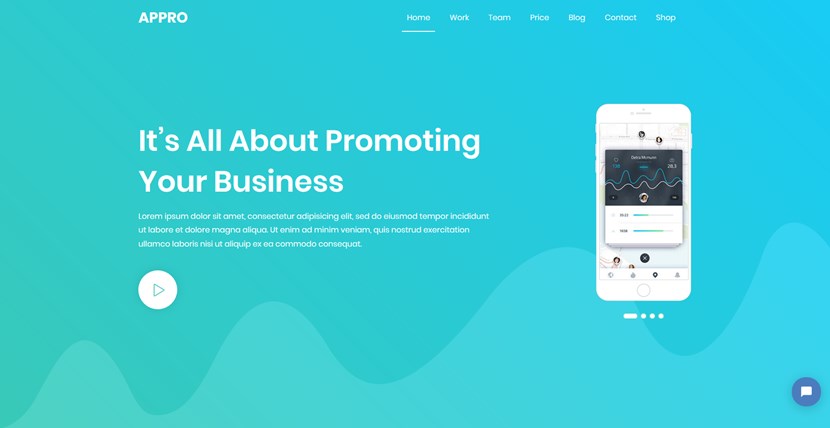 App Landing theme is rather a landing page template that can be used for building under construction pages in WordPress since it has all the required tools for setting up a temporary under construction page. It's by default optimized for launching an app, a design agency portfolio, a startup, and more.
It comes with a few clean-looking multi-page demos you can alter the way you need: you already have tools to present your team. It also makes a specific focus on mobile-friendly design so it should look just right on any device.
The template lets you control typography, icons, add smooth scrolling with parallax effects, and more.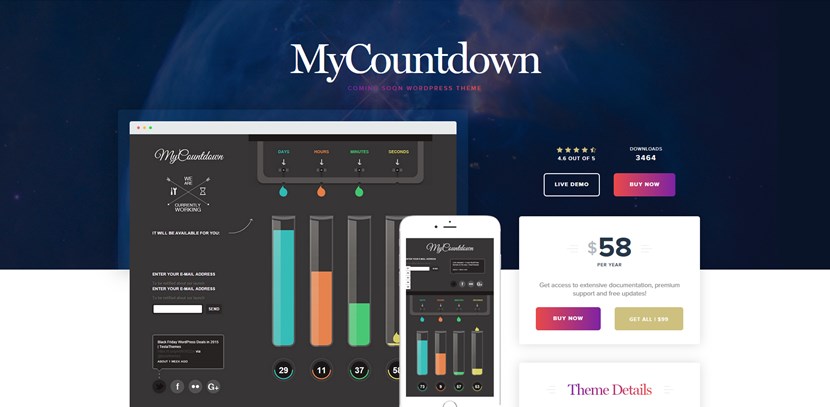 MyCountdown is a cool coming soon landing page WordPress users love since it's a completely dedicated solution without any pitfalls. It will definitely stand out from the pack thanks to its unique design and the right set of features.
For example, you'll be able to showcase a Google map, add social media support, set up a newsletter signup form, and more. Most importantly, this coming soon template for WordPress is very fast so neither desktop nor mobile users should experience any issues.
The theme has been around for some time now, and after some cool improvements, it's so far one of the most chosen solutions. Overall, MyCountdown is quite popular among WordPress coming soon themes.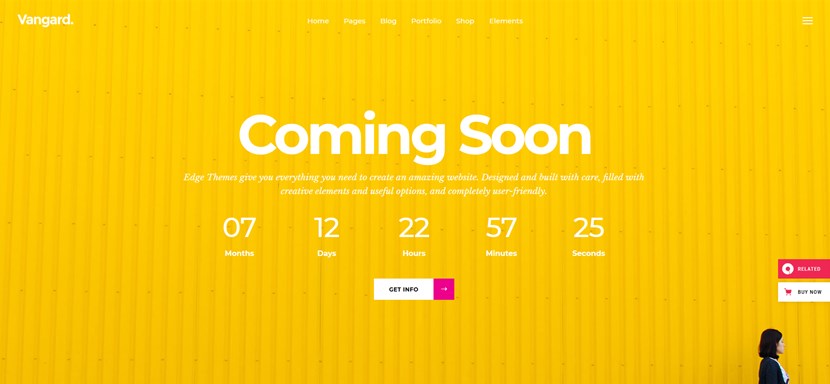 Vangard is a high-quality theme for design studios and freelancers so by opting for it you kill two birds with one stone. First, it's quite suitable for constructing a temporary coming soon page thanks to its arsenal of customization tools, and, second, it's packed with more than enough tools for a fully-fledged website.
A slick, ultra-modern design will help any portfolio stand out. There are tons of full-width layouts, galleries, sliders, various animation effects, and any content module that may exist in WordPress.
It ships with premium plugins, such as WPBakery, to help non-techs create the website of their dreams with their own hands. This portfolio theme should fulfill the needs of any creative project focused on images and videos.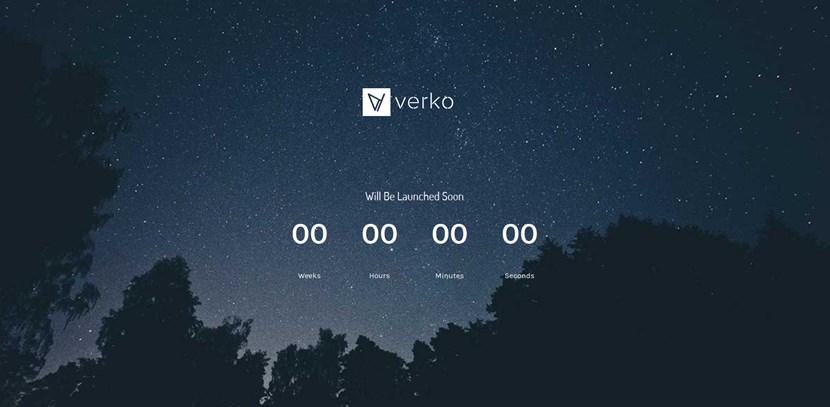 Verko is a cool on-page WordPress landing & coming soon page for businesses and creative agencies. In addition to having your attention right away thanks to creative design decisions, the theme is notably quick, which is also a matter of the utmost importance for any website.
A default design features calls-to-action, photo and video sections, advanced menus, and numerous design variations. All sorts of builders, forms, and other tools are packed with the theme. Furthermore, compared to some other under-construction WordPress themes in this list, Verko is very affordable.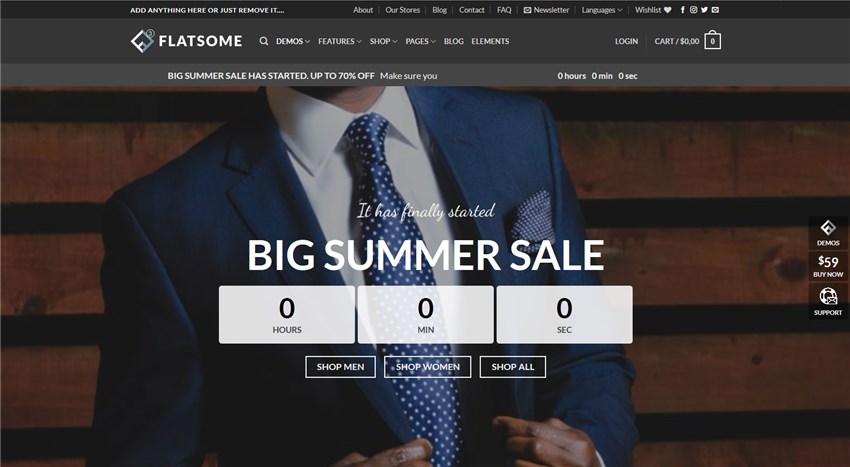 Flatsome is one of the bestsellers among multipurpose WP themes, primarily dedicated to shops. The theme developers are always on the lookout for updates and new demos, so it can be the focus of your interest if you are in the e-commerce industry. You can choose it as your main website foundation theme.
In addition, it comes with a few demos for a corporate website, freelancer, and a few more. The theme is packed with a huge library of pre-designed layouts and content modules to enable you to unleash your creativity when building with Flatsome.
It comes with a sale countdown that can be easily turned into a website launch countdown. Since the theme is fully customizable, you can employ any content module for your maintenance mode.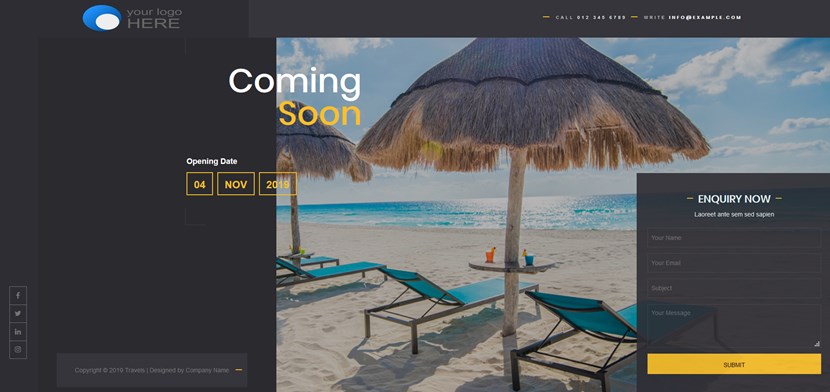 If you are on a budget, this free Under construction WordPress theme will help you set coming soon banners with all the necessary business and contact details. The theme is rather minimal giving all the limelight to the countdown timer and your key brand messages. There is also space for a contact form and your contact details, including social media links.
The Coming Soon Lite WP theme is the right choice if you need something simple and free yet professional looking.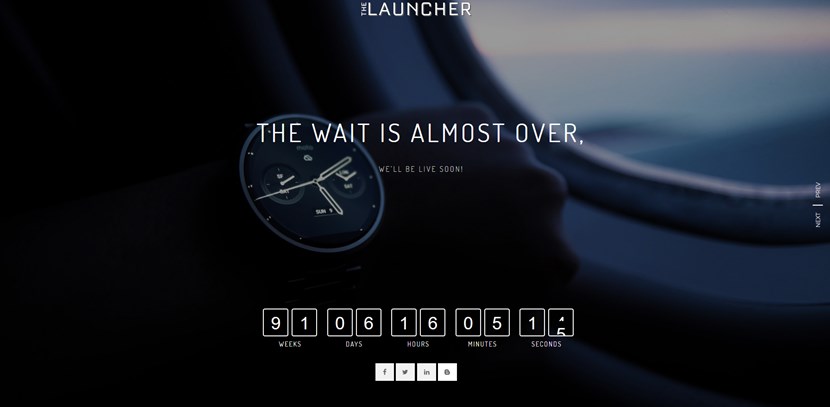 As its name suggests, the Launcher free coming soon theme for WordPress is completely suitable for product landing pages and temporary countdown coming soon for WordPress pages.
From the functionality standpoint, the theme gives you the choice to make it more content-rich than a default demo design (there are three of them, by the way – a landing page, coming soon, and a multipurpose page). For example, you are free to add sliders, countdowns, call-to-action sections and buttons, testimonials, and more.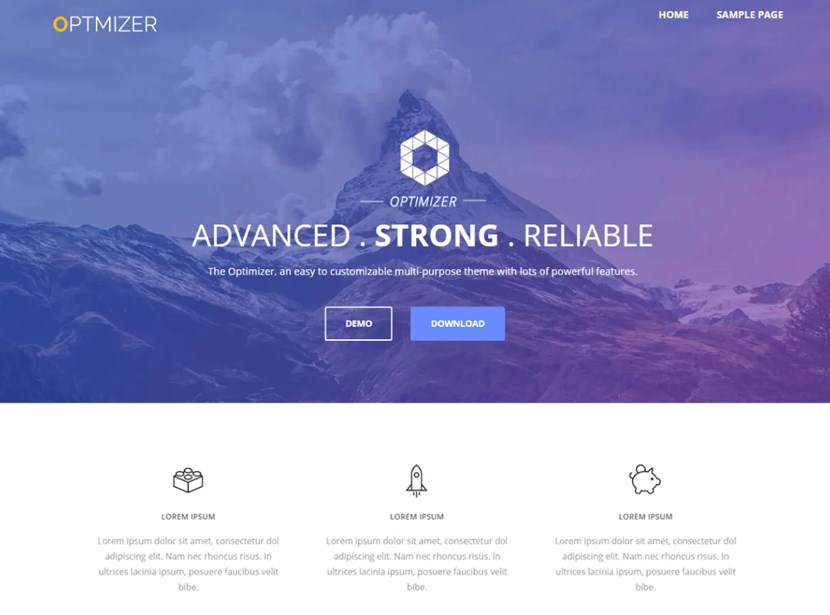 Optimizer is a very popular solution among free product landing page WordPress themes since it comes with popular integrations (WooCommerce, bbPress, Mailchimp and others), awesome design, a couple of cool layouts, and overall is very generous as for a free theme!
This free WordPress coming soon theme is used by many people so you can feel safe as to updates and suitability.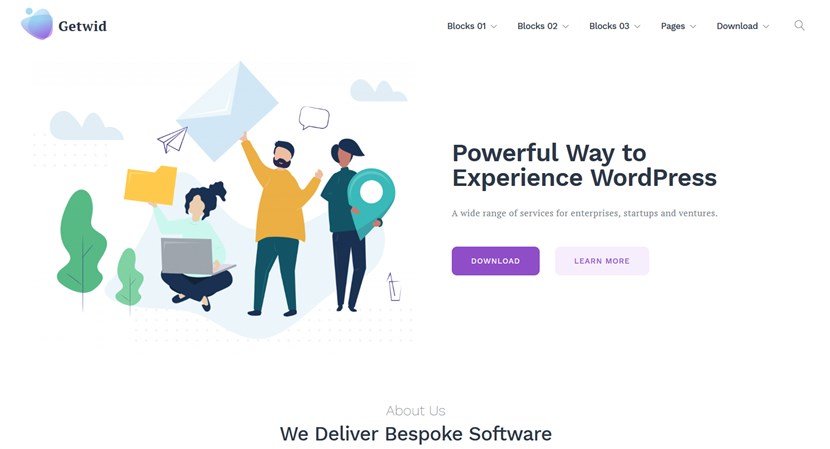 Getwid Base is a fast, minimal WordPress Gutenberg-powered theme with flat design – a truly loved approach by developers and tech agencies of all sorts. This business theme, however, can also cater to the needs of businesses that want to use it temporarily as a coming soon template.
Thanks to the Getwid Blocks WordPress plugin the theme is packed with, you can build a smart landing page/coming soon page with numerous conversion-boosting elements: a countdown timer, sliders, call-to-action-buttons, contact forms, Mailchimp subscription boxes, to name a few. All of them can be added in just a few clicks. There is even a collection of pre-designed page patterns you can insert and tailor to your needs literally in clicks.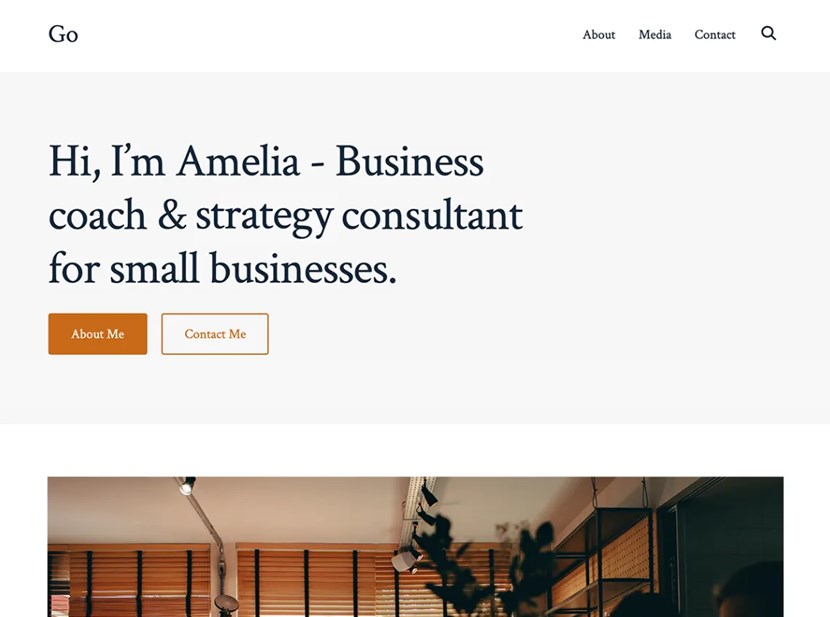 Go by GoDaddy is a popular free portfolio theme but thanks to its minimalist design, it won't take too much effort to make it a coming soon page of any kind.
The page-building experience of this theme is offered via the block editor so you can leverage Gutenberg and any other third-party add-on like Getwid to make your website look beautiful even before its launch. Go is pre-packed with the ideal set of tools that make you ready to go without hours of tweaking.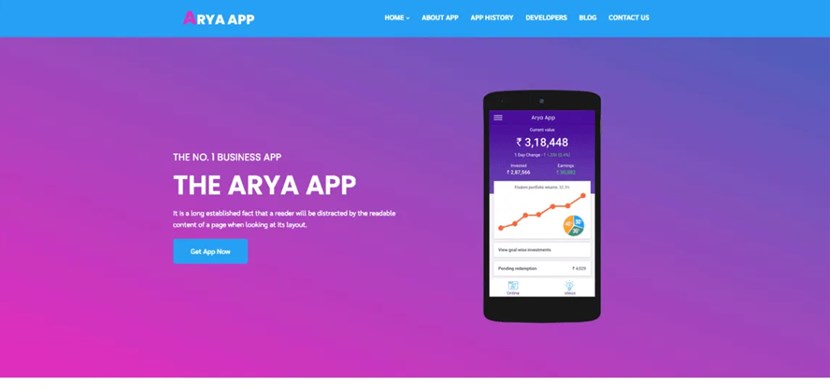 Arya, a free multipurpose WordPress theme for businesses and bloggers, can perfectly serve the needs of WordPress users who need to set their websites into the under construction mode before a website is launched.
Out of many WordPress themes coming soon template by Arya is optimized for Elementor. You can unleash your creativity to the fullest and not just create a temporary design but also employ this theme as your main website design. In addition to business-focused websites, Arya is on the first name terms with eCommerce tools.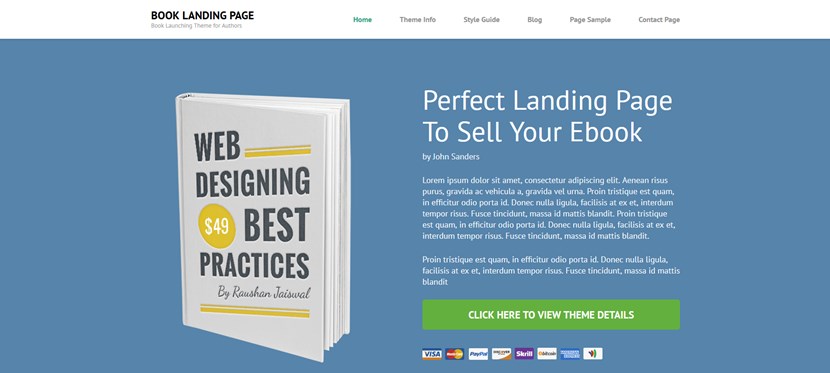 Although this theme is made for a book landing page, it can be easily turned into any similar product presentation/product coming soon page.
It has it all for a product-focused design, the bio section, and even eCommerce integration. It's quite clean and simple to boost your future product or service sales.
Final word: WordPress coming soon themes are sometimes a better way to go
Build buzz for your next product or service launch with any of these truly functional and beautiful premium and free WordPress themes for coming soon pages.
Remember that when you need to constantly turn on/off the under-construction mode, it's better to go with a coming soon WordPress plugin of your choice. This will be an independent "toggle" you can employ no matter which WordPress theme you use.
If for some reason you want to go with a coming soon theme or just a regular WordPress theme that can be used as such, it's also possible. For example, you might want to opt for it to reduce the number of dependencies/expenses or when you want to use the same theme for the official website and the under-construction mode.