Customize Service Capacity & More since Appointment Booking Plugin 1.3.1
Since version 1.3.1 of the Appointment scheduling software for WordPress, you can further customize service settings. The newest update focuses on extending the service capacity options to enable a customer to book an appointment for a group of people at one go.
To test out the revamped menu, go to Services in your MotoPress Appointment Booking plugin.
The latest plugin version ships with four new options in the Service menu:
Minimum capacity: a minimum number of people the service price covers (even when this parameter is set to two or more, an appointment can still be booked for one person since this parameter is related to price in the first place).
Maximum capacity: a maximum number of people for an appointment.
Allow additional guests: it's required if you want to allow customers to add extra guests (the maximum number of actual people for one appointment is the max capacity parameter; for example, if minimum is 3 and maximum is 7, a client can add 4 more people).
Multiply price: tick this box if you want the base service price to be multiplied by the number of people for one appointment. Please note, if, for example, a minimum capacity is set to two people, the Allow Additional Guests option is disabled, the service price will be still multiplied by two.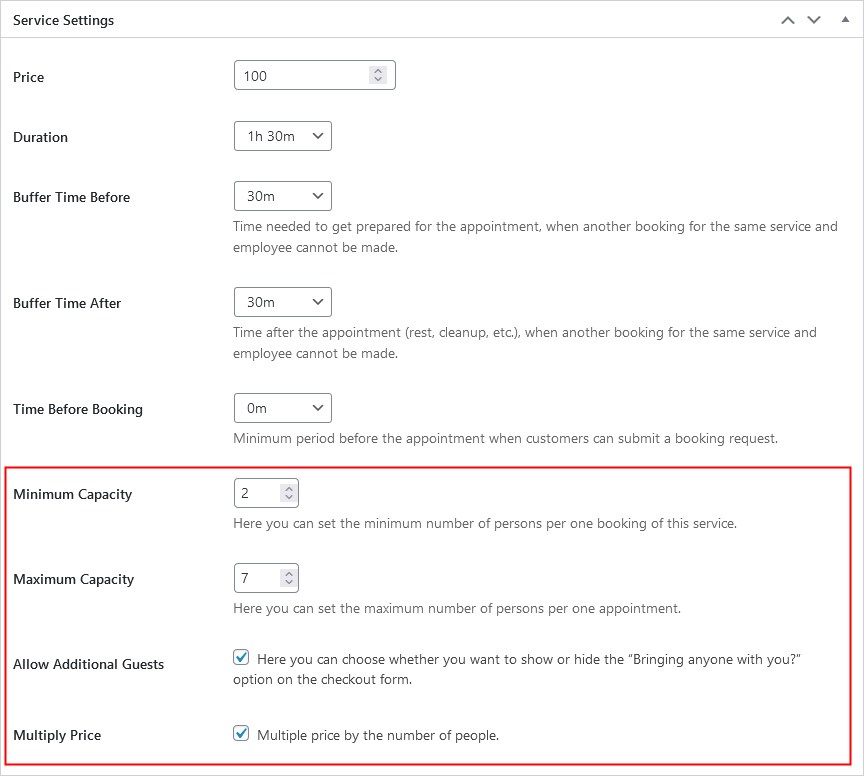 The capacity information can be displayed on a single service page as well as in a list of services. It's also shown on the final submission step when a client provides their personal information.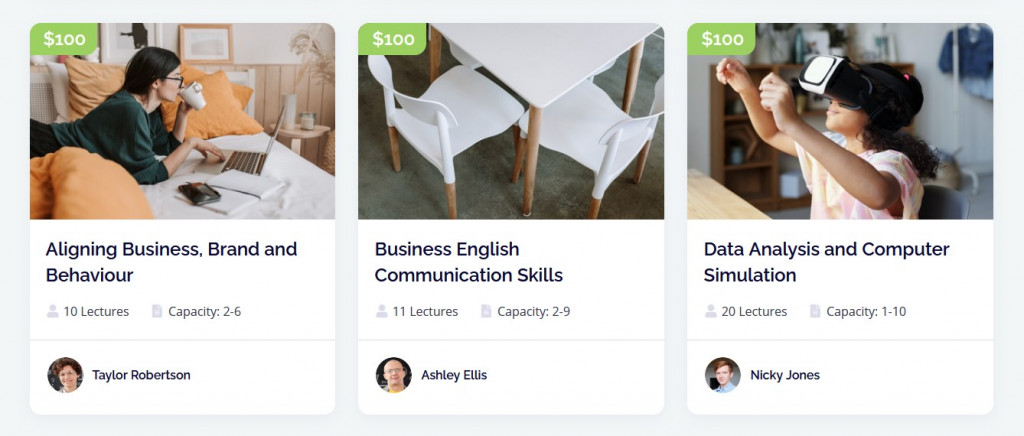 You can optionally exclude capacity from the list of services displayed on your site. You can do that by either editing the services list shortcode or visually via a preferable page builder (the Appointment Booking plugin supports Elementor, Divi and the block editor).
Additionally, you are free to customize the service capacity based on who performs it, that is, for individual employees, the number of people for an appointment can differ.

This is how the booking experience with the MotoPress Appointment Booking plugin changes for your client.
Step 1. A customer filters the services to find the needed one. This was so before.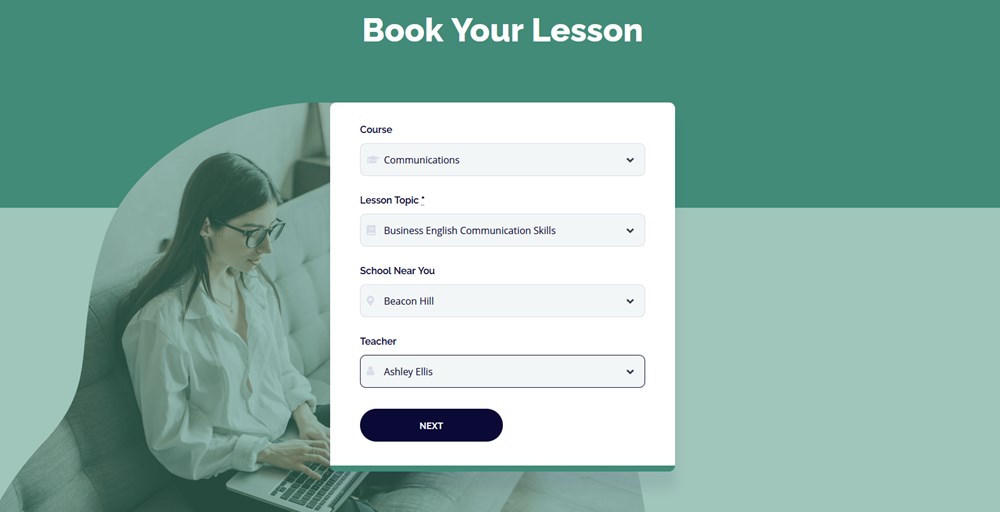 Did you know that you can edit the form fields in the MotoPress Appointment Booking plugin?
Step 2. Then they choose an available date and time – no changes here as well.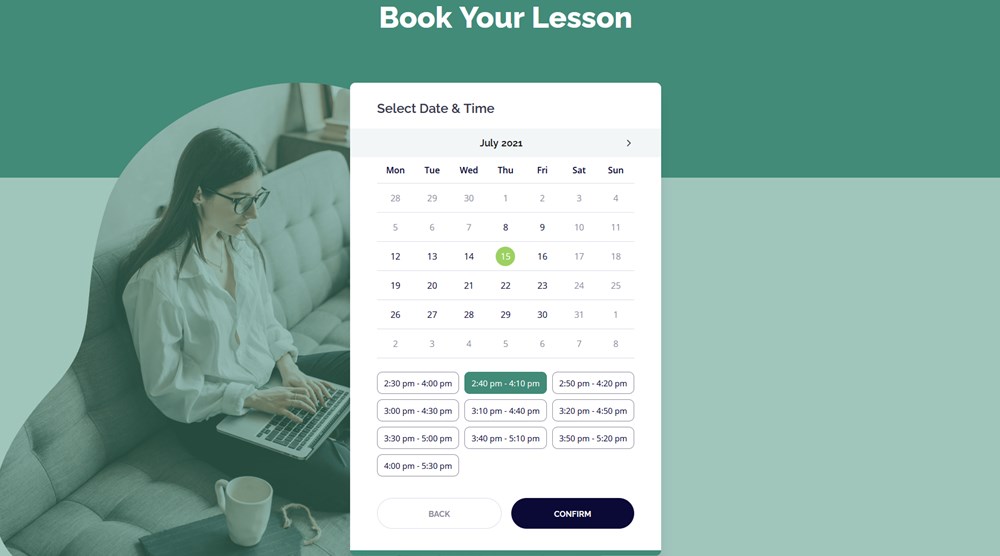 Step 3. They submit their personal details.
All the newly released options appear on this step.
Here you can notice a service capacity right under the service title. Also, if you enabled the dedicated option, the 'Bringing anyone with you?" box appears – it allows customers to specify the number of people. They can't choose more than the min+max capacity in total.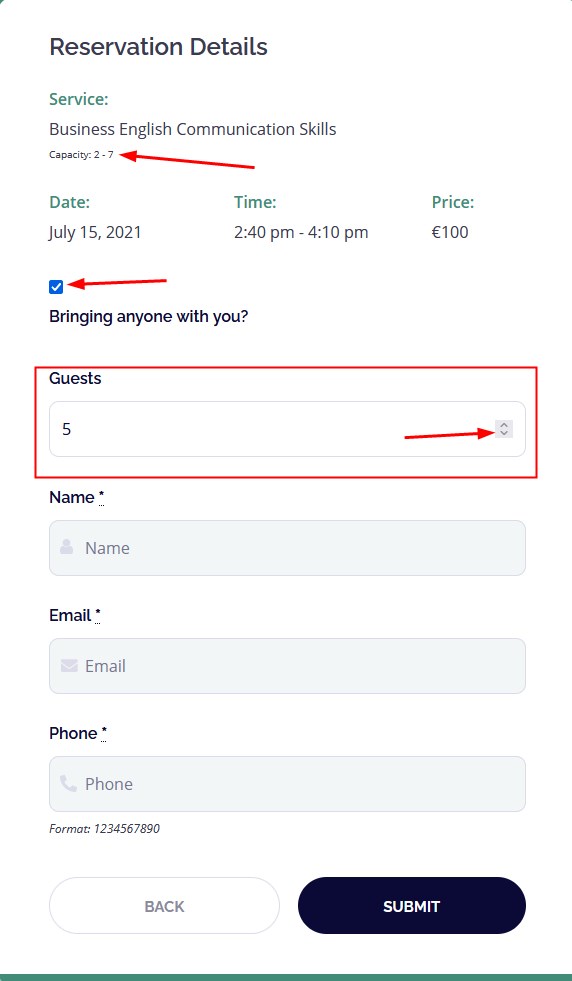 You can also notice that we added the new 'Guests' column to the bookings database so that you can quickly and easily preview the number of people for all future or past appointments.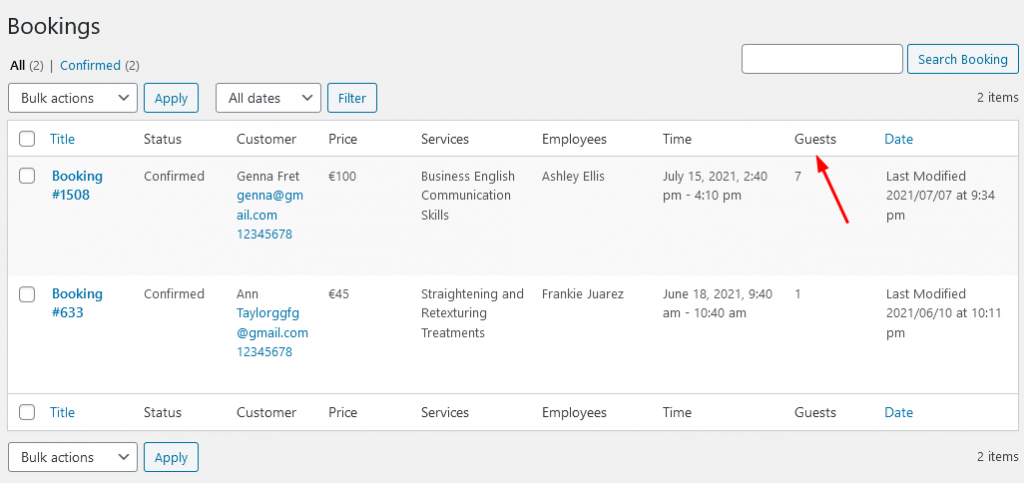 The capacity information is also presented in all individual bookings:

That's it! You can now allow your customers to make an appointment for group tours, lessons, events, trainings, seminars, etc. The only current limitation is that such an appointment for a group can be made only by one person who submits a reservation, for example, for a family or friends.
DEMO of WordPress Scheduler Plugin.
Download the MotoPress Appointment Plugin.
We also plan to make this feature more flexible and improve the overall plugin's abilities to help you run your appointment-based website with a fully-fledged solution! We hope you'll enjoy this update! Any questions or ideas?