Meet Oceanica – One-stop WordPress Hotel Theme
Oceanica hotel WordPress theme is something completely new in the product line of WordPress themes by MotoPress: it's much more lightweight, modern-looking, and deeply integrated with the native WordPress functionality.
Oceanica was created for the hospitality-centric industry: hotels, apartments, vacation rentals, hostels, guesthouses, inns and vacation rental businesses.
By the way, are you currently searching for high-quality hotel solutions? Take a look at other MotoPress alternatives:
The reservation system of this hotel WordPress theme is powered by MotoPress Hotel Booking – a professional WordPress reservation plugin. It enables you to feature your hotel establishment in the best light and rent out your rooms in real-time. The booking plugin is a premium solution, but it's bundled with Oceanica for free!
As both design and development needlework of Oceanica was done by MotoPress guys, its design and a powerful booking engine work together as one seamless solution and help you power direct bookings for your hotel or sync them with external OTAs to avoid overbooking. Exactly as we announced – a one-stop WordPress hotel theme for your hospitality business needs!
Want to know details? Let's take a closer look at its design and functionality.
Clean and lightweight WordPress design
As you might already notice, Oceanica is very clean and clutter-free. This is extremely important to provide your guests with a great user experience of a property reservation, so they won't feel lost.
You'll also enjoy elegant and readable fonts, responsive layouts that will look sharp on any device and overall usability. Here is the cutie: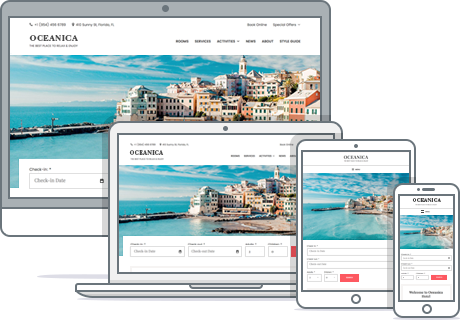 You are free to tweak colors, hover colors, and background in the theme to reach a perfect fit for your brand identity.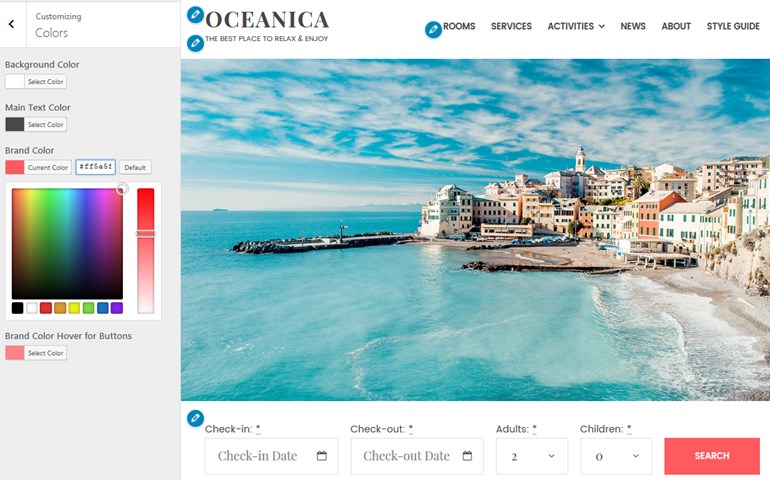 It's also important to mention that Oceanica comes with a deep native integration with WordPress functionality (e.g., you may add your Features listing using child and parent pages), which means easier customization and saving your content even when switching the theme.
For example, here is the 'Activities' block featured on the front page – it's a child page of the parent 'Oceanica" front page: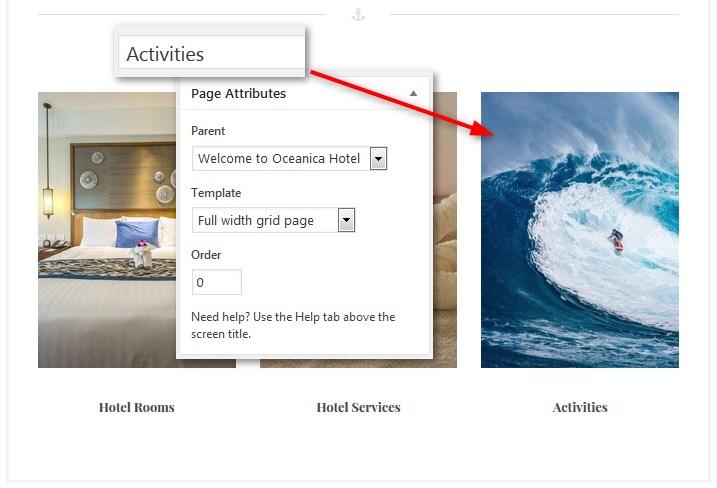 Layouts are far from complex as well: you can use a full-width or full-width grid for a front page, your blog posts, etc. Take a look:
You may also use a more standard layout with the sidebar or grid with sidebar. For example: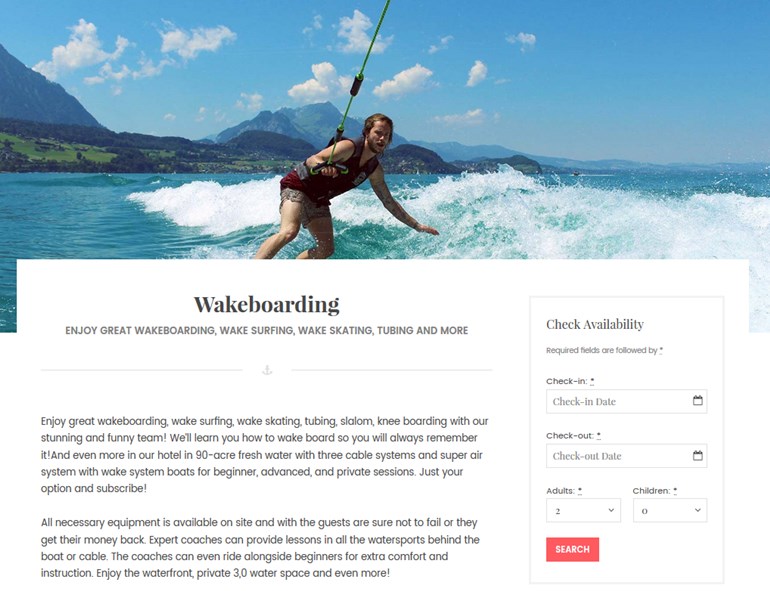 Overall, Oceanica is a very lightweight WordPress hotel theme without redundant functionality and wrong plugins, easy navigation and optimization. That's great news for search engines and for your guests in their fast and dynamic journeys.

The main features of Oceanica hotel WordPress theme
Oceanica is a fully customizable hotel WordPress theme, you should not have any problems making your updates.
The front page can be set up in a few steps with the visual WordPress Customizer:
Update your site identity (site title, tagline and logo).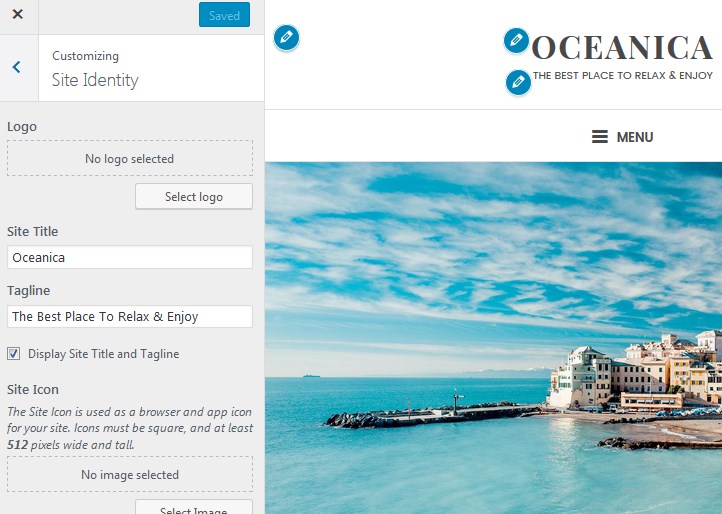 You may also change colors and a background image. Here is a piece of Oceanica with the background image (do you think it looks better now?):
Additionally, you can create up to 4 different menus (3 in the header and 1 in the footer) with site pages, widgets, icons, contact details or any other info you need: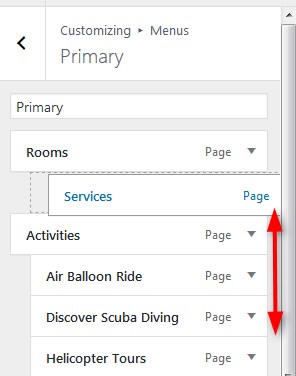 You may also change the location of the menus or completely hide unneeded ones.
Take a look a step-by-step tutorial for Oceanica and see how to work with the menus.
The widgets area (your content blocks) can be also quickly added with the WordPress Customizer: you can choose what widgets to add to the front page top and bottom, and to the 3-column footer.
For example, by default, Oceanica comes with the Search Availability calendar at the "front page top", but you can add/replace the widget with any to your liking: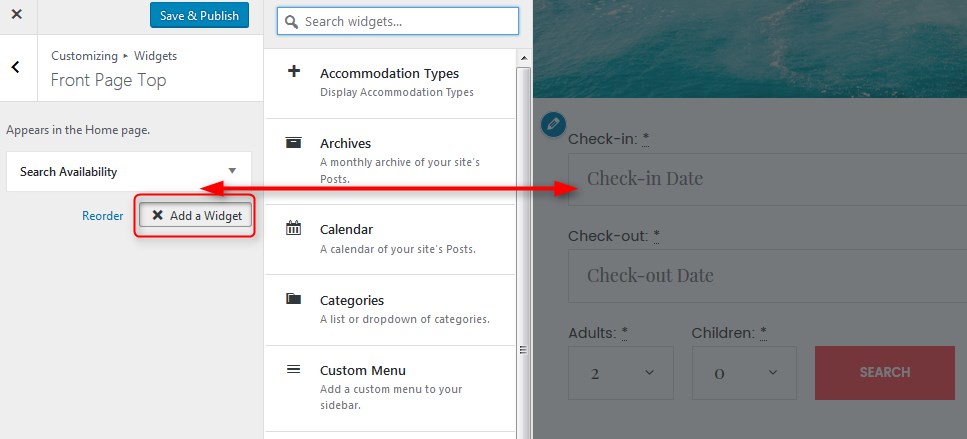 Oceanica comes with a custom set of different social media icons you can link to your accounts (you can add them to any menu via Menus):

Testimonials are integrated into Oceanica via Jetpack plugin (all the pros and cons of this plugin are described in one of the previous articles by Steve Collins, a lead developer at MotoPress.) In the Oceanica, Jetpack plugin adds stylish and functional galleries for your images and enables Testimonials module:

However, if you are not interested in those modules, you may opt-out of installing the plugin.
To configure whether the front page should show your latest blog posts or the static page with your content blocks, navigate to Static Front Page via the WordPress Customizer (or go to your main WordPress dashboard > Settings > Reading).
A powerful WordPress property booking engine
Accommodation bookings in Oceanica are powered by our hotel and rental property business dedicated WordPress Booking plugin. It means you won't need to work with other third-party companies and can fully rely on Oceanica when it comes to the theme functionality. If you list your hotel on the external online travel agencies like HomeAway, Oceanica got you covered as well. You'll be able to cross-sync all external bookings with the direct ones (via iCal file format and the Hotel Booking system).
The styles of the plugin perfectly inherit the styles of Oceanica. Moreover, you save a pretty good sum of money with the plugin that folks often buy separately!
Let's get down to the main features of the WordPress Hotel Booking plugin built into Oceanica:
Real-time search availability form – the guests see the only rooms available for their dates and can book them online.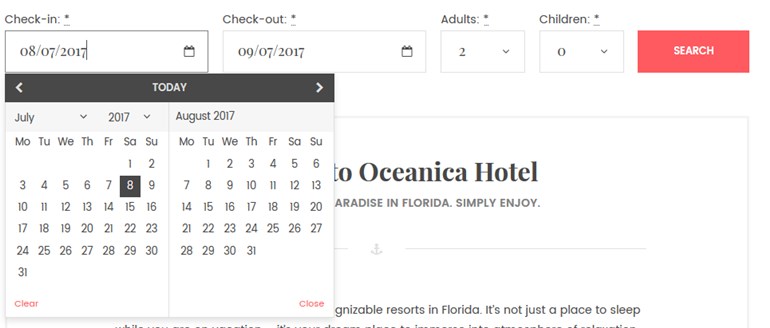 You also can add this calendar to the sidebar through the Widgets menu.
2. Properties listing – add your rooms/ apartments /villas through a handy dashboard, specifying all details such as in-room amenities, extra services available, capacity, etc. You may also add an image gallery for each accommodation.
All of them are stored at one place in the WordPress dashboard: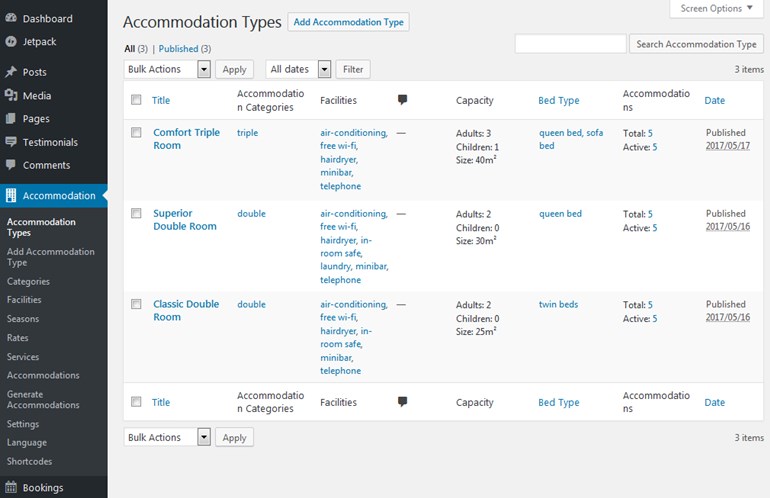 Visit frontend demo to see how the rooms look in the wild.
Seasonal pricing – you can regulate the prices depending on any date/dates/season. For example, you want to rent out your apartment for $100 on the weekdays and charge $120 during the weekends. Just set the prices accordingly in the Seasons menu.
Rates – you may set different rates (prices) for one accommodation type depending on extra benefits (e.g. a room with/ without breakfast included). Your guests will be able to choose the rate when reserving a room.

Moreover, since the plugin version 2.7.2, you can set weekly, monthly or any custom rate and change different price based on the length of stay. The booking plugin is also flexible enough for setting a per-guest price.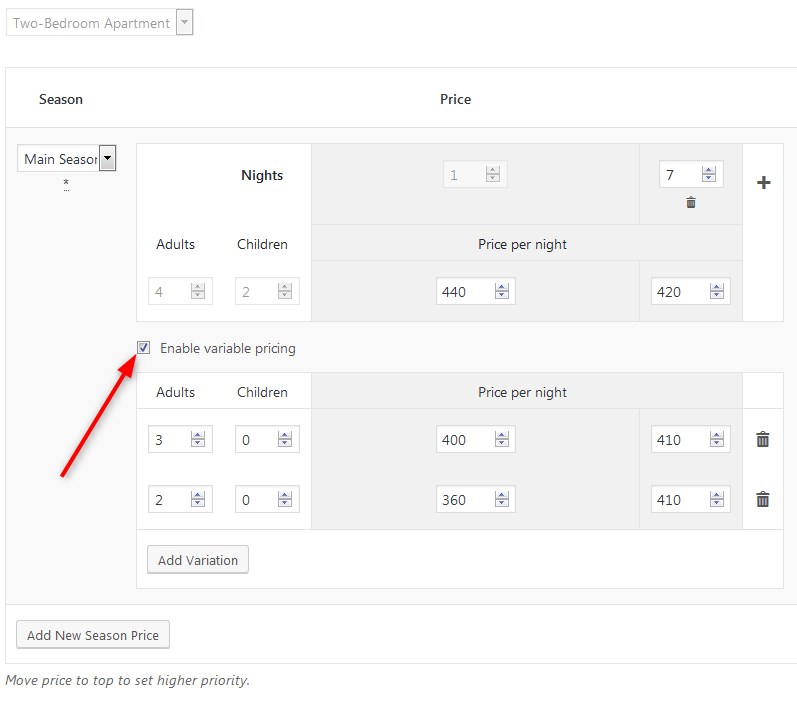 Extra services – are you selling any extra service? A baby sitting, or maybe the parking is paid? You may allow guests to choose the needed services and pre-order them reserving an accommodation. If you set the price to zero, the guests will be able to pre-order it for free.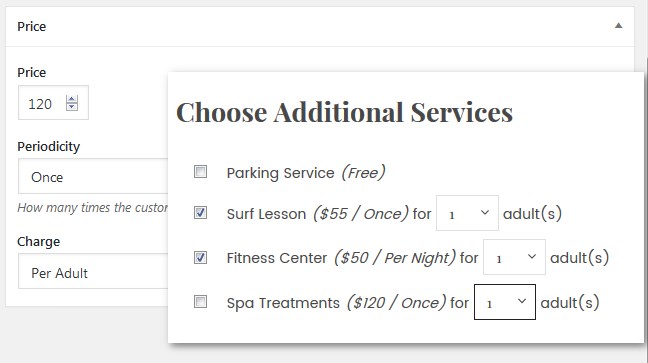 6. Custom booking rules – you may specify when the rooms are not available for booking, i.e. block specific rooms at specific dates/days. Also, you may set min and max days to stay rules for specific accommodations.
7. Payments – you can charge your guests online via built-in PayPal, 2Checkout, Braintree, Stripe, and Beanstream/Bambora gateways. Alternatively, you may set the plugin for after-arrival payments. To enable more local payment gateways, you might need to get a premium WooCommerce Payments add-on.
8. Confirmation of reservations – you can confirm each reservation manually or automatically after the payment.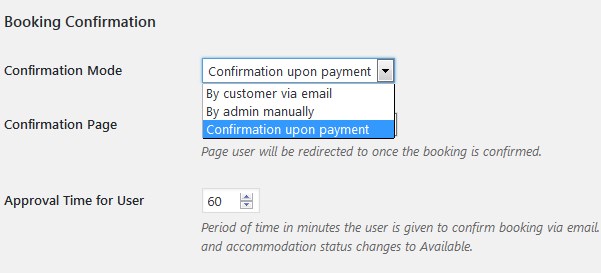 9. Email templates – customize and send your brand email notifications automatically.
10. The backend and frontend tools of the plugins are professionally translated into multiple languages (so far, there are Portuguese, Polish, Russian, Spanish, Turkish, Swedish, Italian, Hungarian, Czech, Chinese, Dutch, French, Arabic and German languages available). So, if you run a non-English website, there will be much less work with the plugin! Or, it won't be a problem to translate the plugin if required as it's officially compatible with WPML.
11. View and manage real bookings via Bookings menu (view them in a list or in a handy calendar view). You can also add bookings from the backend if guests placed a booking over the phone, for example.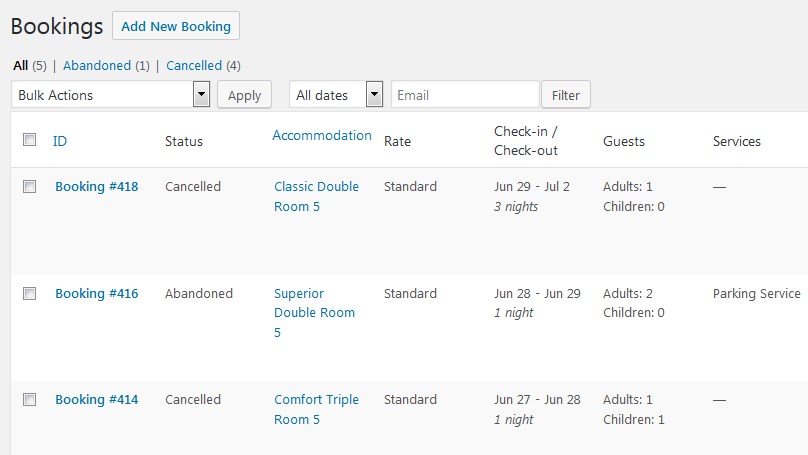 12. If you rent out accommodations on OTAs like Airbnb, you can synchronize your bookings easily thanks to iCal file format (the synchronization is automatic).

13. If you want to create discount coupons for your travelers, you can do that via the Bookings > Coupons menu. This will allow you to provide your guests with personalized discounts. As for automatic discounts that are applied for a longer stay, you'll be able to set them in the Booking rules.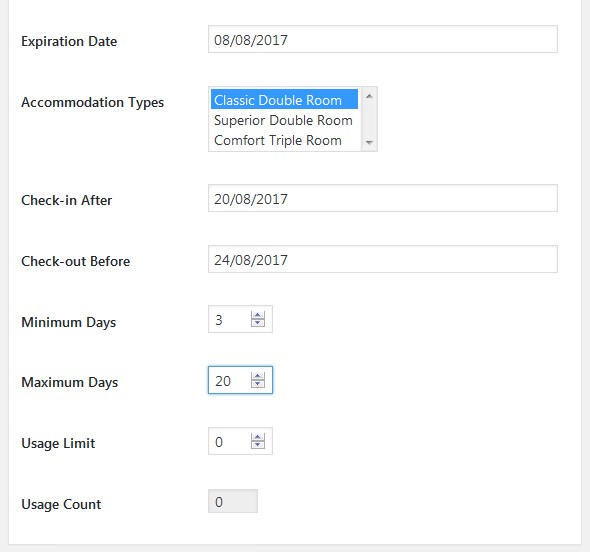 14. Add mandatory taxes and fees charges. This will allow you to bring your hotel accountability to the next level! The guests will be able to see the summary of accommodation charges on the checkout page. A website admin will see the details of each payment on the backend as well.

Pricing
You can get Oceanica WordPress Hotel theme for $55 (for 1 website) or $99 (for unlimited websites). The theme is bundled with a premium Hotel Booking plugin for free saving you a good sum of money! By the way, the theme is free for unlimited websites for all MotoPress Members (with the pack you also get many handy additional plugins, e.g. the Appointment Booking WordPress plugin).
Bottom line
In a word, the Oceanica Hotel WordPress theme is a very powerful solution for any hotel establishment primarily because it combines so many features: a hotel booking system, a property management system, a channel manager, and, of course, a stunning lightweight design. It's a great solution for your independent hotel to gain access to a global travel audience!