MotoPress Hotel Booking Plugin for WordPress Updated: Don't Miss Cool Features
Before releasing these new updates of the WordPress Reservation plugin by MotoPress, we've made some research in the hospitality and tourism industry and asked experts about market essentials and trends. We hope this helped us made the product development itinerary a bit more clear in terms of business/technology balance.
So, which aspect should take a capital letter according to people who have broad experience in the hospitality business?
In addition to a hotel reputation, presentation, boutique hotel trends, consumer decision-making strongly depends on the usability of your hotel website (we are particularly interested in the booking process). That is, there is no place for complexity.
Modern people do everything on the fly and they cannot bear the websites peppered with unnecessary things. If a guest only loses their time on your site trying to figure out which button to click to make a room reservation, all your marketing efforts don't mean a thing. That's also a technique we followed creating Oceanica – the latest hotel booking WordPress theme.
That's why major updates of the WordPress Hotel booking engine for a diversity of hotel establishments were made around enhancing a user experience: a smarter search algorithm to faster the booking process, multiple properties booking within one reservation, and lots of other things were released.
And we are going to talk about them right away.
Booking multiple accommodations at a time
It may have been stressful for customers to reserve several rooms within different reservations, but this is no longer a problem! The updated plugin version offers you no limits in setting the number of adults and children for the search availability form. Consequently, it will allow guests to reserve several accommodations depending on the number of guests and add all of them to one reservation.
Recommended accommodations
The search algorithm of the plugin can offer the best set of rooms/apartments for a number of people requested in the Search Availability form.
How to set it up: If you want the system to recommend the rooms, go to your Admin WordPress dashboard > Accommodation > Settings > General > scroll down to Misc > find and check the " Enable search form to recommend the best set of accommodations according to a number of guests." box.

If this box is checked, it's better to change the Search options as well and increase the maximum number of adults and children. Staying in the same General tab in Settings, scroll down to Search options: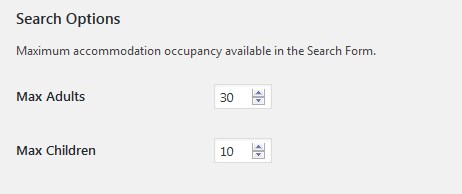 So, when a guest is looking for a stay for 9 people, for example, the system will suggest the available rooms: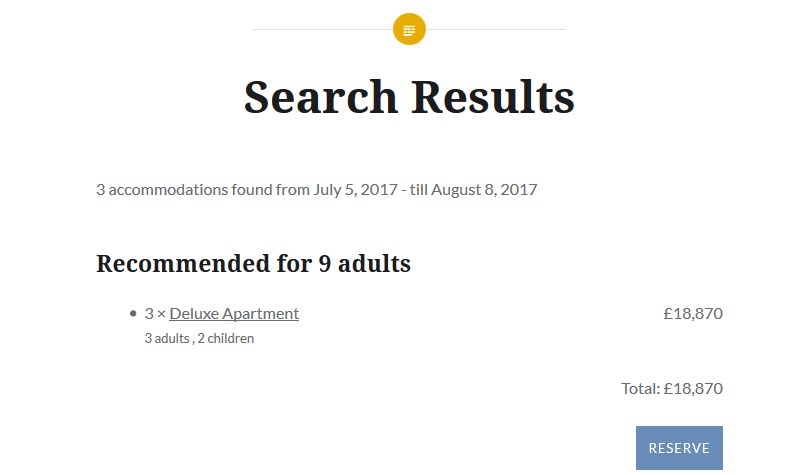 If the guest is not satisfied with the recommendation, they may alternatively choose the accommodations manually from the available ones and add all of them to the reservation.
The macros for email templates were also slightly changed, so if you allow multiple accommodations booking, make sure to update the template: simply delete the current text, update the template and save changes (go to Customer and Admin emails tabs in Settings):
Compatibility with Jetpack gallery and lightbox modules
If you are a lucky user of the popular all-in-all Jetpack plugin for WordPress, you should know the MotoPress Hotel Booking plugin is now more compatible with the gallery and lightbox modules. It means your property images can look even better in the gallery and will be previewed in the lightbox! You may turn on the Lightbox in the Display options (General tab in Settings). Here is the example of the gallery: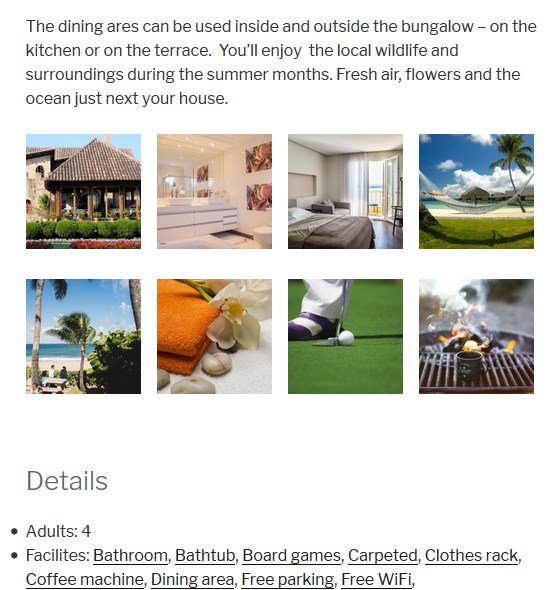 A theme-friendly pagination option for properties and services
You may specify how many accommodations/services should be featured per page.
By default, it depends on your WordPress theme, but you can change it for accommodations and services in the Shortcodes menu: go to Accommodations > Shortcodes > Accommodation types listing > find  posts_per_page

For example, I own 4 villas (a dreamer!) and want to show only 2 ones per page, so I modify my shortcode accordingly and set it to:
[mphb_rooms posts_per_page="2"]
And here are 2 villas on the first page and 2 villas on the second page: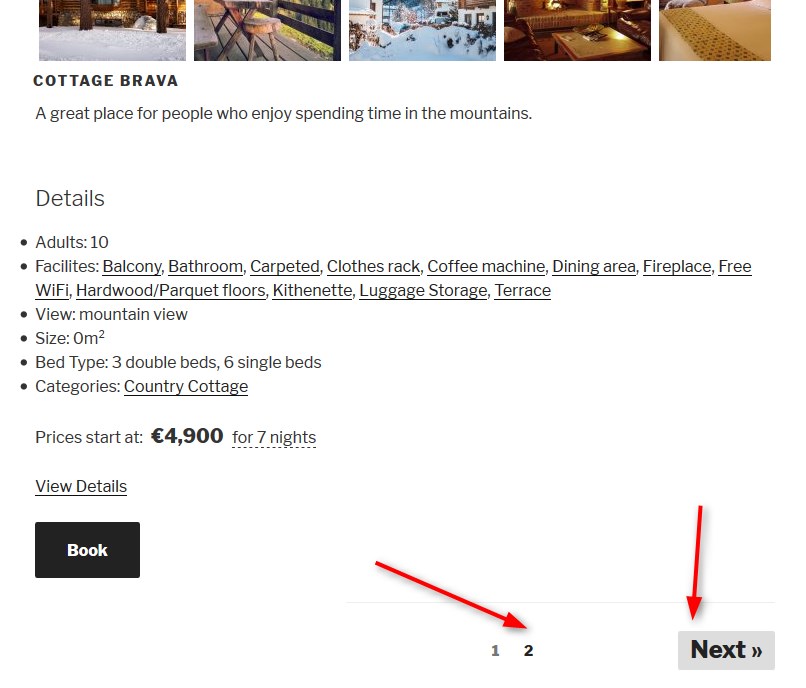 MotoPress Hotel Booking for WordPress demo sites
Booking cancellation option in WordPress reservation plugin
You can now use a cancellation email macro to send cancellation emails. If you allow guests to cancel their reservations, go to Accommodation > Settings > Booking Cancellation > check "User can cancel the booking via a link provided in the email". Then, try to edit any needed template and use the tag
%cancellation_details% – Cancellation Details
Improved usability
Taking into account that multiple accommodations booking may involve including multiple guests and rooms into one reservation, the Price breakdown table on the checkout page was supplied with the "Expand info" option. This way, the data on each booked accommodation doesn't overlay the screen and a guest can expend the only needed details.
Request full or limited guest details
It's up to you what info your guest should provide when placing a booking request. To set it up, go to Accommodation > Settings > General tab > Booking confirmation > check the fields with info that is required to be provided during the reservation. It can be:
A country of residence only
Or full address fields
15 designs for Search Availability Calendar
Now you have more design alternatives for your WordPress booking engine, a search availability calendar in particular. Go to Settings >Display options and find all of them, choose the one that suits your theme the best.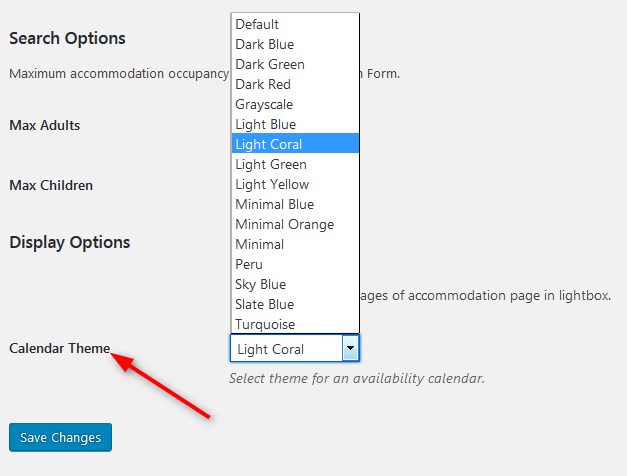 That's all for the MotoPress Hotel Booking plugin for WordPress for today! Make sure to check up the settings one more time and make your work easier. It's in your best interest 🙂
UPD: It is now possible to expand the default functionality of MotoPress Hotel Booking plugin with a number of WordPress Hotel Booking Addons.
Each addon brings a specific function so you'll be able to pick the ones that are relevant for your business and build a property management system with a custom-tailored combination of features.
There are a lot of new important updates that will be released soon, so don't forget to follow MotoPress on social networks or simply subscribe to the newsletter.
Got a question or idea? What is it about?