Edme Review: Elementor Education WordPress Theme Made For Appointments
Since the release of our WordPress Appointment Booking plugin, we were eager to build a theme that would provide a perfect design basis for this plugin. To wit, we wanted to make sure you get the right appointment booking WordPress functionality that doesn't just work great but also looks professional and attractive.
Visual design is not equal to awesome functionality, but with the Edme WordPress education template, you get the premium appointment booking functionality backed by the modern, purpose-oriented design.
So what stands behind Edme? A very broad definition we gave is the education WordPress theme because it can empower many education-focused niches.
What education industry scenarios does it fit?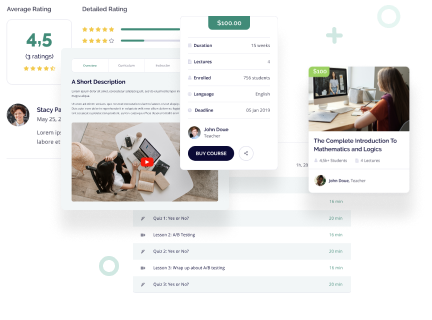 General school/university/educational project websites
Private tutor/coach/mentor websites
WordPress education consulting websites
Distance learning needs.
To narrow down those cases, I'm pretty sure the Edme WordPress education theme will work magic for tutors and schools that run online/offline classes and course bookings on their websites.
To help you understand whether this is your guy and whether you need to read further, here is the main hint. The bread and butter of the WP appointment scheduling functionality is the hourly bookings or any other custom appointment duration. That is, you can sell booking slots, whether those are lessons in the classrooms or meetings in Zoom.
So, the plugin is not the learning management system, which suits self-study courses. It doesn't enable you to create virtual classrooms or collect student work.
But its main purpose is also essential – it removes the burden of manually accepting class bookings and scheduling each lesson. The appointments WordPress plugin does this work for you.
So I'd rather call it an education theme WordPress that fits the needs of teachers, tutors, or schools. The appointment functionality is a headache-free way of scheduling their classes. So if you are looking for a tutor website template, Edme may become your number 1 choice.
By the way, you may also watch an Edme video review:
So now, let's now look into the details of this awesome theme.
Customize the Edme education WordPress theme extensively via Elementor
It's possible to make the Edme Appointment WordPress theme more tailor-made thanks to Elementor and Stratum – many page sections are created with these plugins.
If you are not familiar with Stratum, I'm sure you'll love it once you give it a try together with our WordPress education theme.
Stratum is the Elementor extras plugin, that is, it extends the list of default Elementor widgets.
Stratum allows you to build such cool content elements as testimonials, sliders, all sorts of lists, profiles, flip boxes, image galleries, and more via the visual, drag-and-drop, user-friendly interface provided by Elementor.
In the Edme tutor template for WordPress, the vast majority of website sections are built with Stratum. Another pleasant bonus is that the premium version of Stratum comes at no cost in the theme package!
So you can use the plugin with no limitations and tailor specific website parts to your needs. We'll emphasize some of these widgets in the further review of some pages.
But the way, you'll be prompted to install the demo data to make your website look exactly like in a demo in a few clicks, so it's going to be really easy to get started!
Edme is crafted for online appointments on WordPress
The Edme WordPress education theme, or its booking powerhouse to be more precise, allows you to create a schedule of your working day and open it up for online bookings, enabling students to choose the preferable date and time and place their booking.
There are many settings you need to configure to bridge different parts of the plugin and make it work.
Here is what it means in the language of your admin dashboard:
You can run appointment bookings as a solo instructor or add multiple tutors if you operate a school:
The default content of the Edme Elementor education WordPress theme has a pre-made section for the tutors: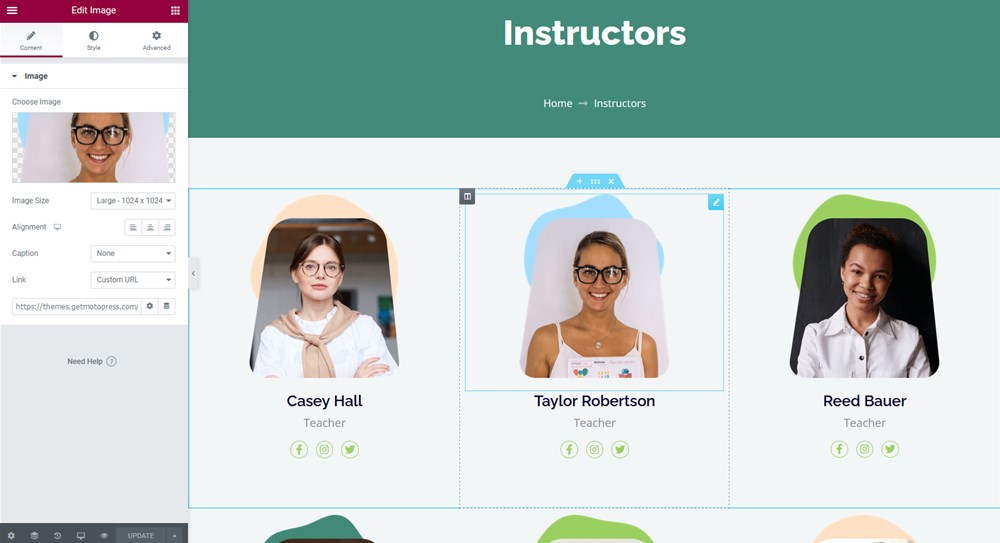 To build an individual instructor page, use Elementor and Stratum, as they help you create a more engaging profile: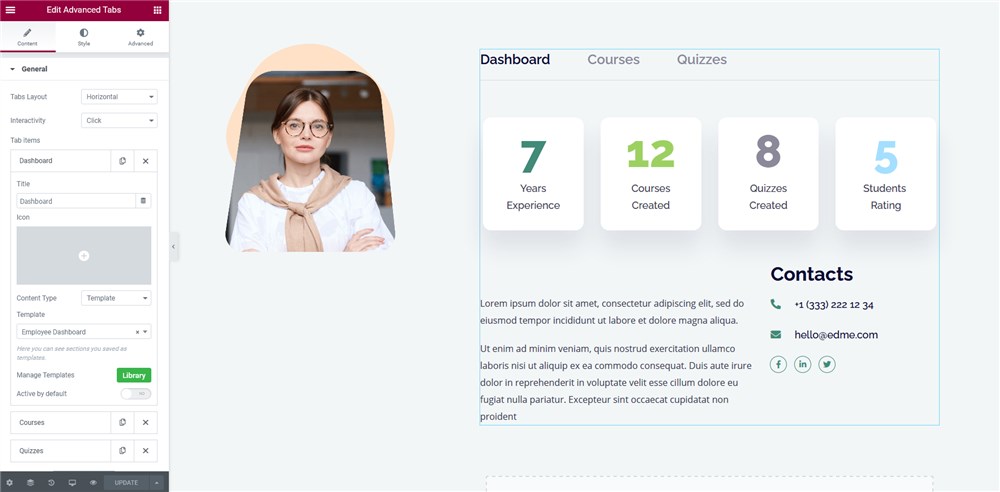 Provide your services in different locations, e.g., schools, classrooms or even cities. This gives space to multi-chain schools or tutor organizations. Clients will be able to choose it (or go with 'any' when making a booking).
Build your schedule / a timetable for each tutor: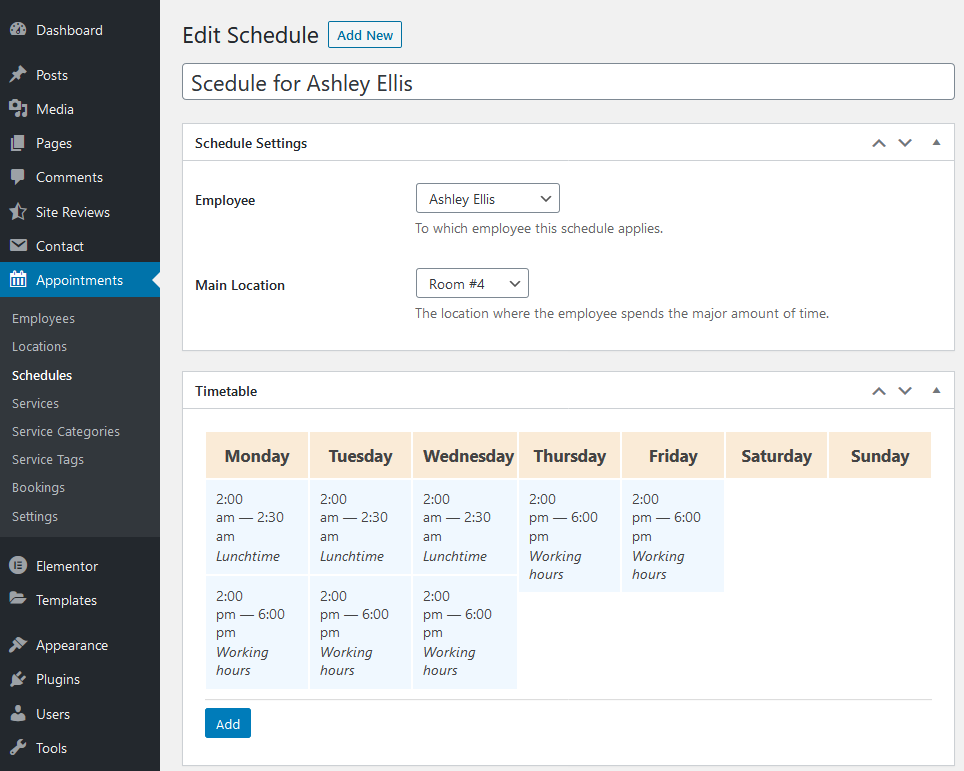 Basically, a timetable is a calendar where you can add working hours, lunchtimes, breaks, vacations, days off, etc.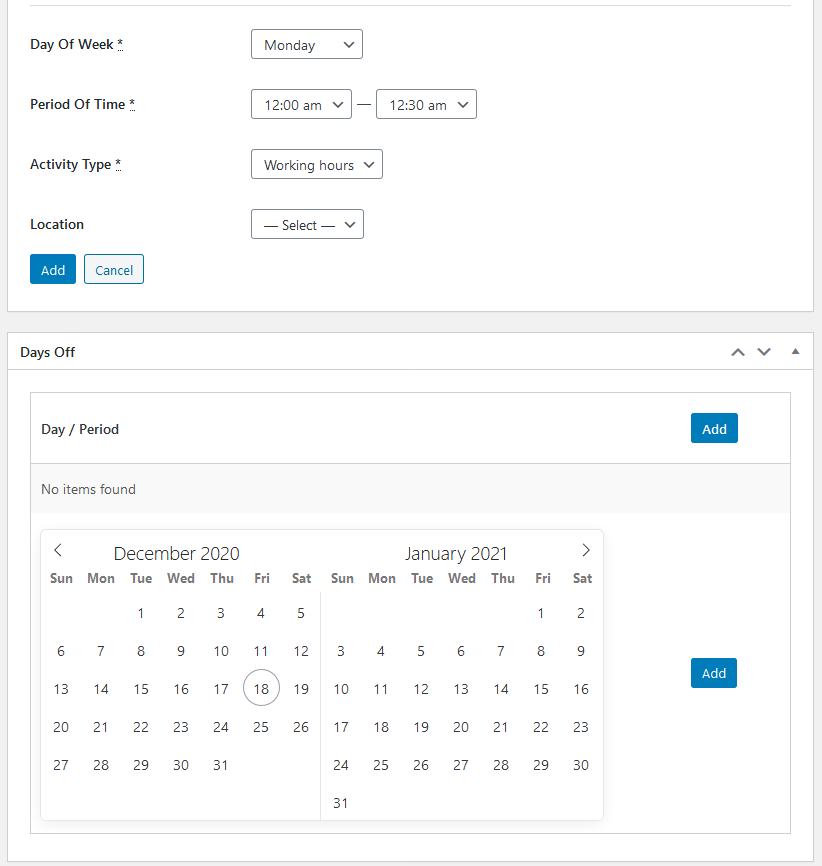 Add services, which are most likely lessons or courses in your scenario. You have a whole bunch of settings to tailor the duration, pricing, buffer times between lessons, and the ability to assign tutors who can provide a course/lesson.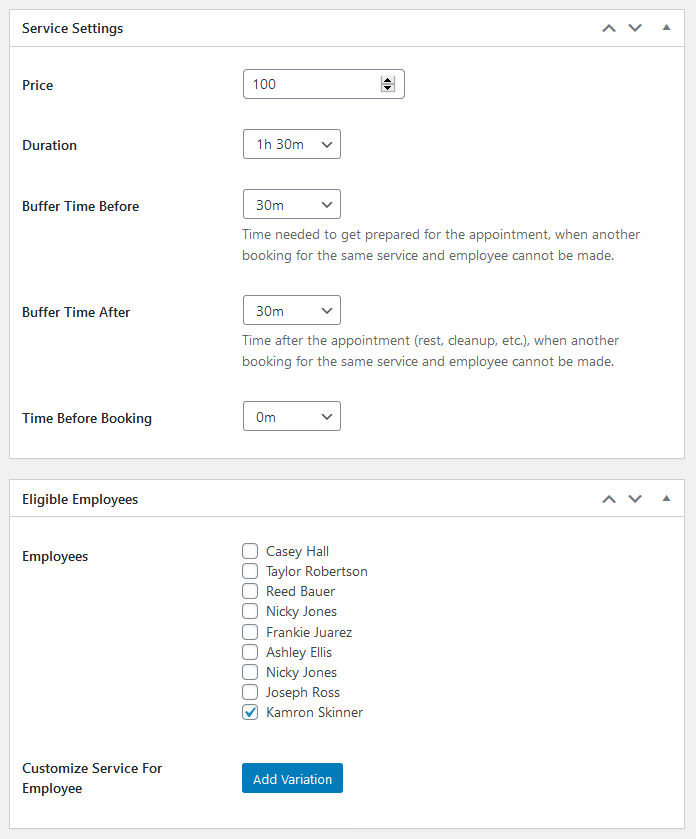 Thanks to Elementor powered up by Stratum, we created more feature and detail-rich course pages that in the demo design consist of the detailed course overview, a course curriculum, an instructor profile section, and reviews: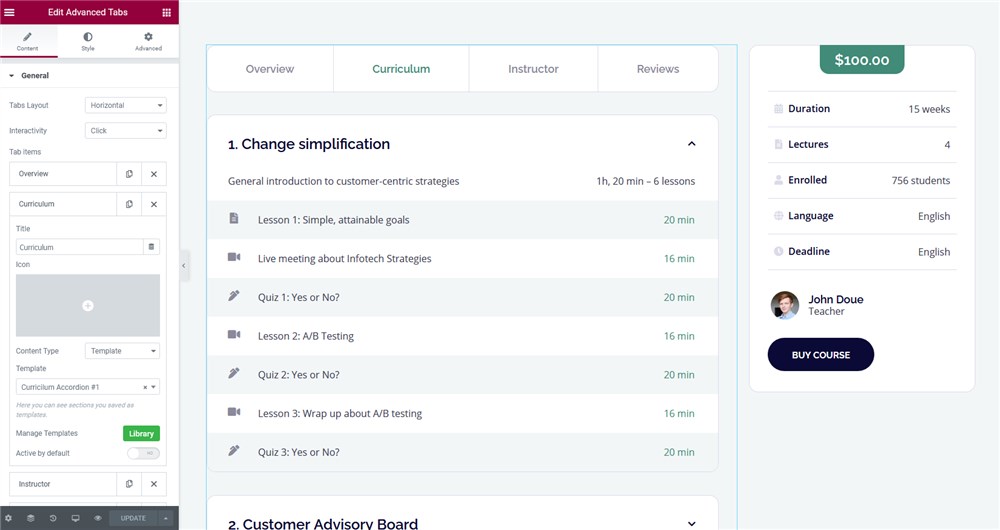 The reviews section is powered by the third-party plugin we packed with the Edme tutor website template. The Site Reviews free plugin allows you to accept client-generated reviews.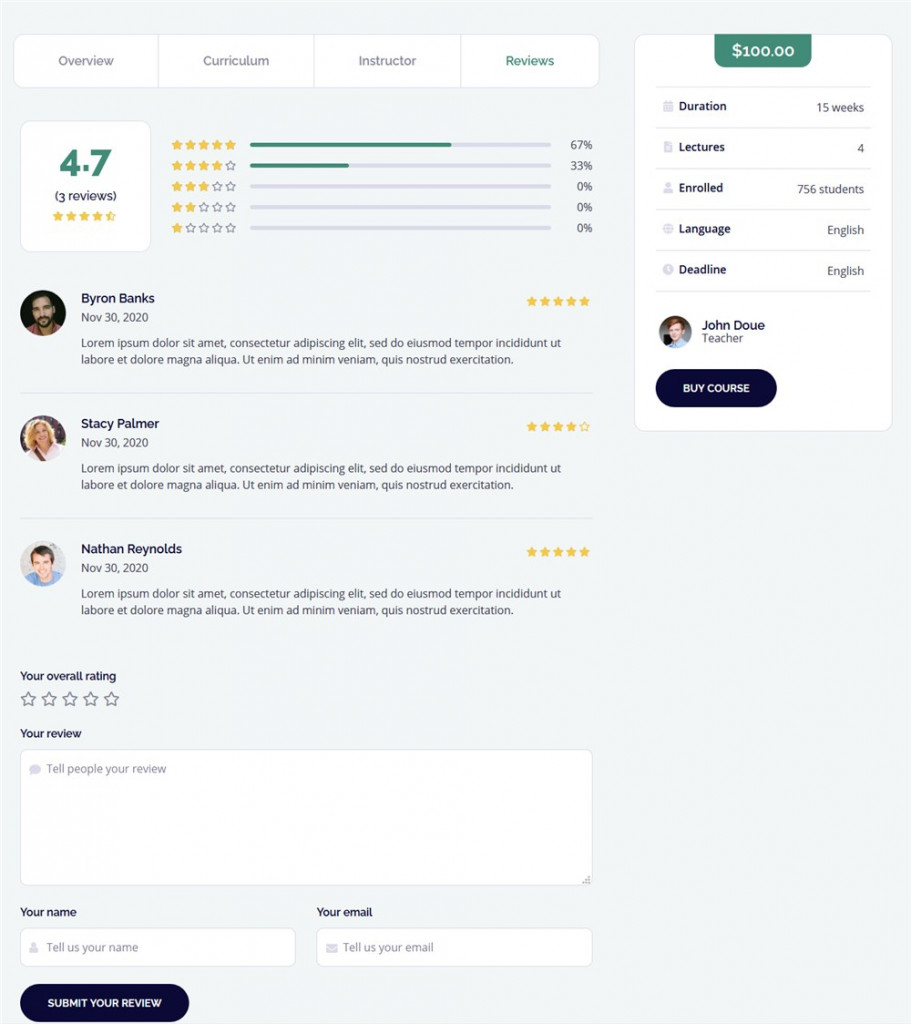 Feel free to simplify this section to just a short presentation or even totally remove it if you don't teach this way (by providing your prospects with the detailed lesson or course plans in advance).
Since the course pages are built with the Stratum's tabs widget for Elementor, you are free to completely rename the tabs and edit their content via our custom-crafted templates specifically for the Edme Elementor education WordPress theme: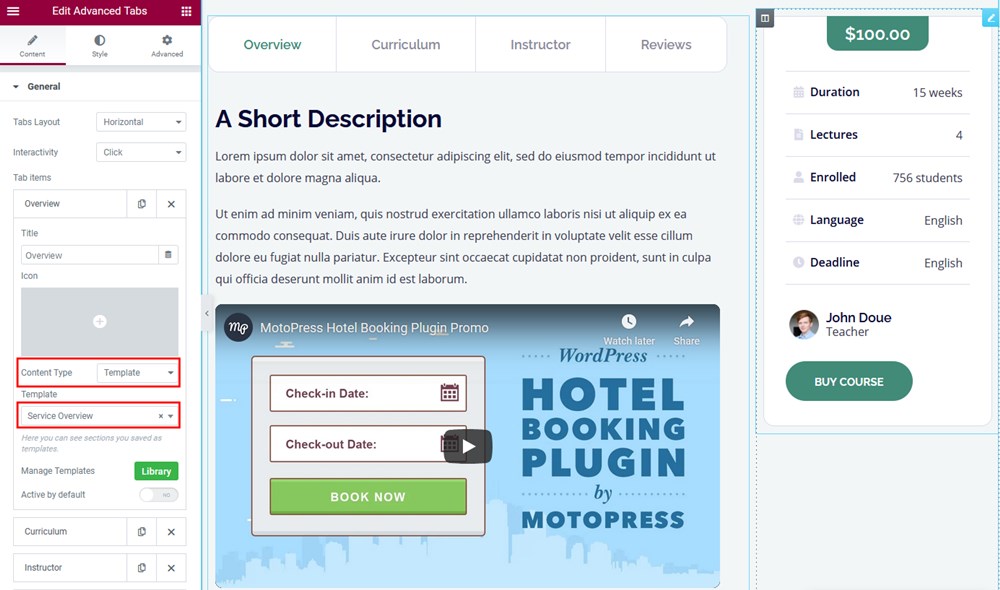 Add an appointment booking form to any page or widget with a dedicated [appointmnet_form] shortcode. In Edme, the wizard is accessible via the frontpage, the footer and the header menus.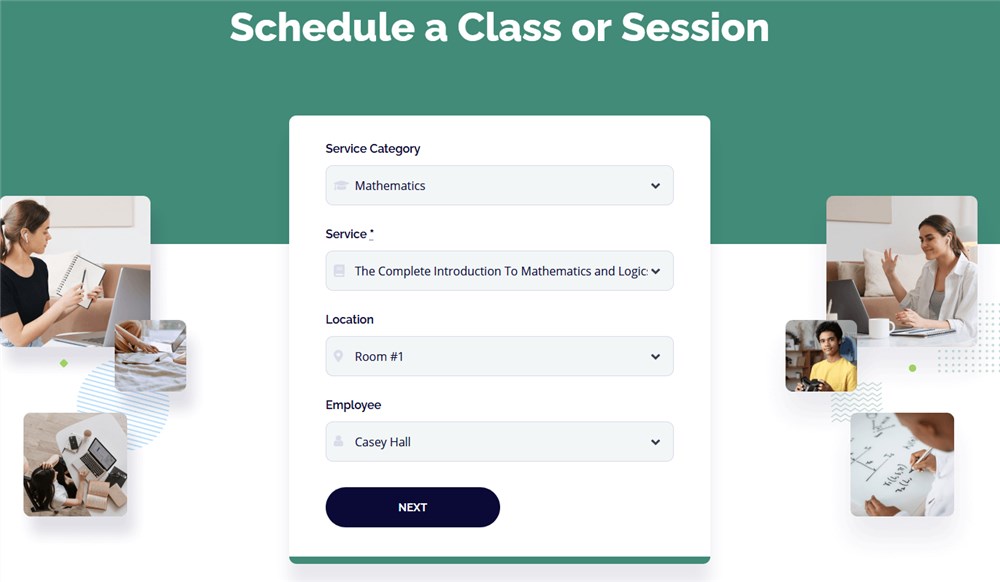 You can notice the "Book" button in the header menus that allows clients to quickly and easily place a booking request.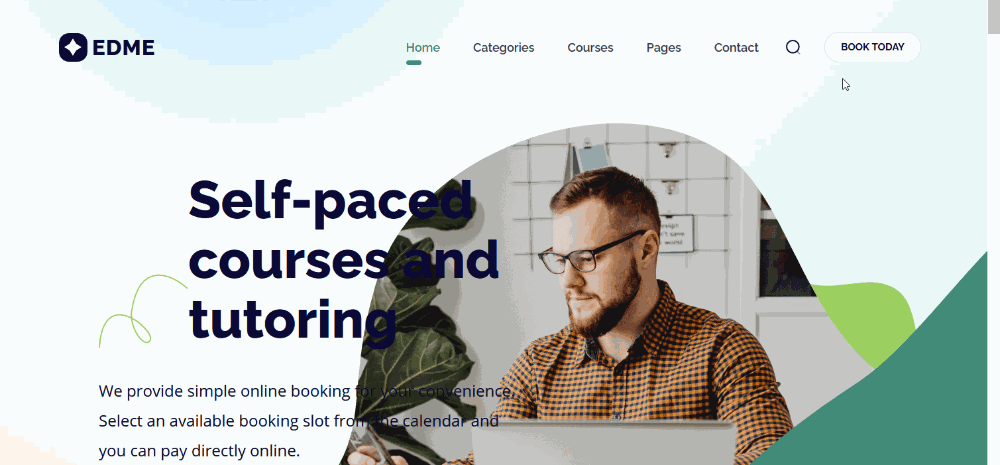 You can easily manage all your appointment bookings via the plugin dashboard – check out the statuses, client information and the details of their booking (cost, booked services, etc.).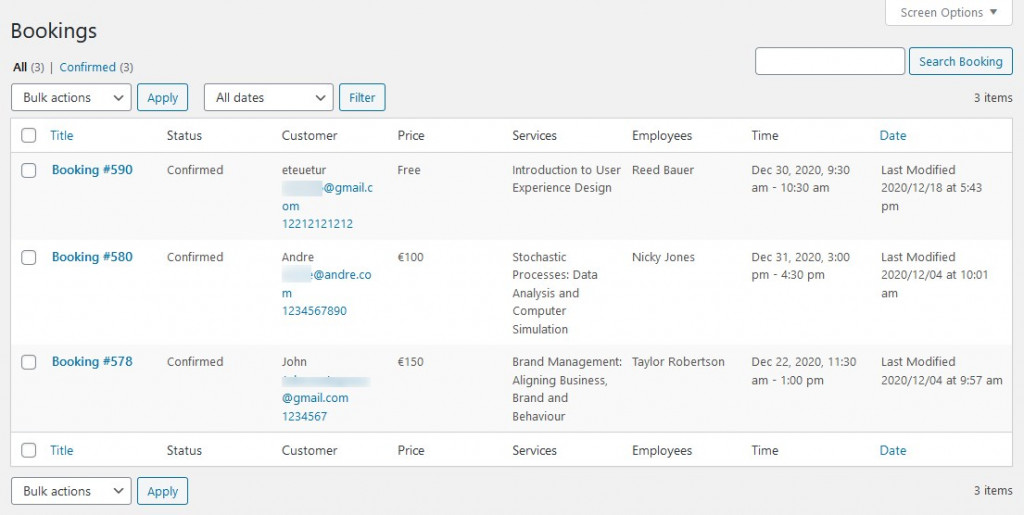 Edme education theme WordPress front page
As you might have already guessed, the pages of the Edme WordPress education theme are built with Elementor and Stratum. Let's review some of the front page sections that will help you impress the site visitors and at the same time provide them with the essential information.
The slider
This lightweight slider is created with the Advanced Slider by Stratum – you are free to completely customize it by adding your images, call-to-action-buttons, and text messages.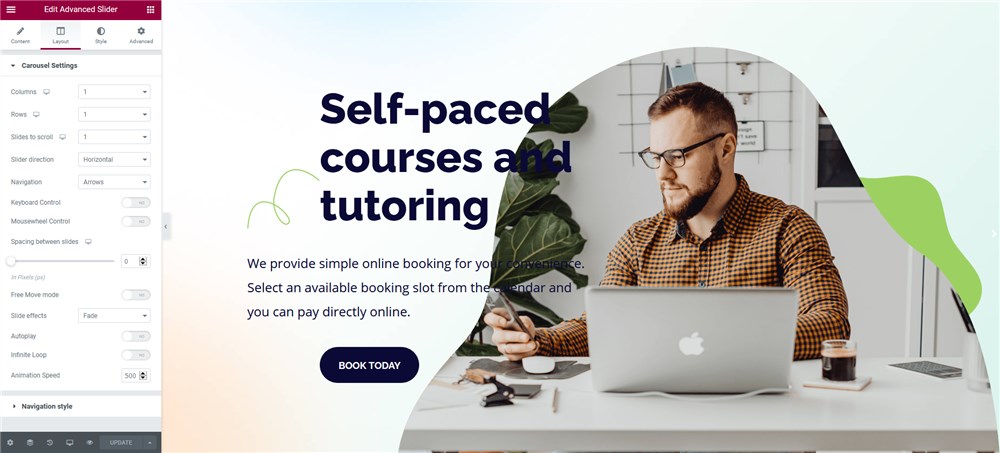 Highlight your key expertise
There are several sections where you can do that – use the section right under the slider or even employ the popular categories. Since they are created manually, you can update icons and texts in there to completely change their concept.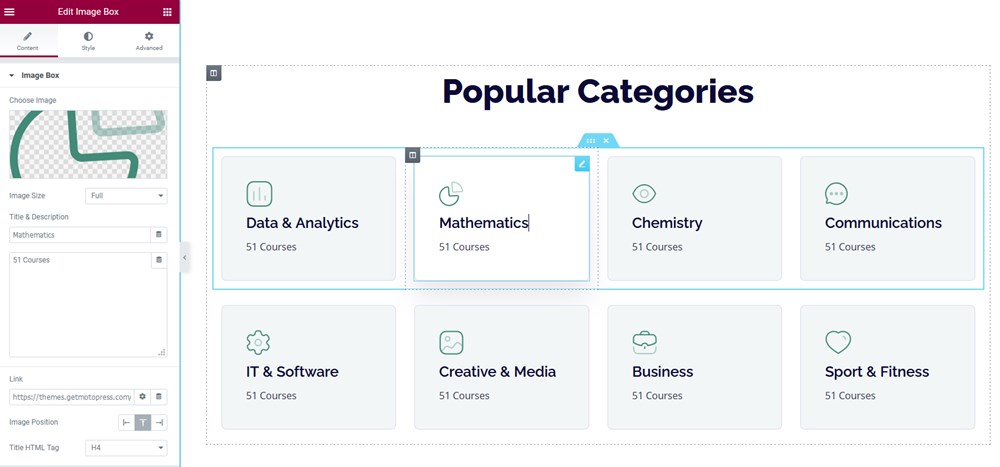 The courses directory
Of course, this part is suitable if you run multiple courses, but if not, you can turn it into something different – anything that can be categorized and presented in a way like in a demo: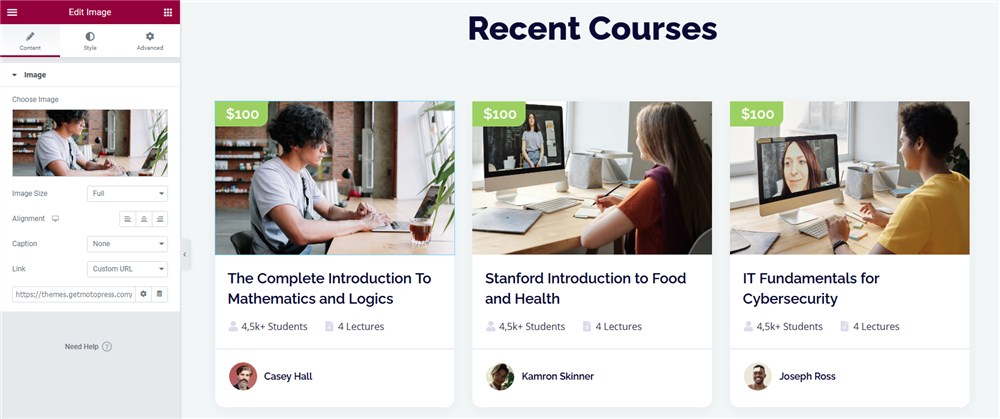 Featured instructors
This is a special place to make detailed profiles of your tutors or just your profile. Again, it's easy to replace this section with any other data – your offerings, benefits, expertise, etc.
The booking wizard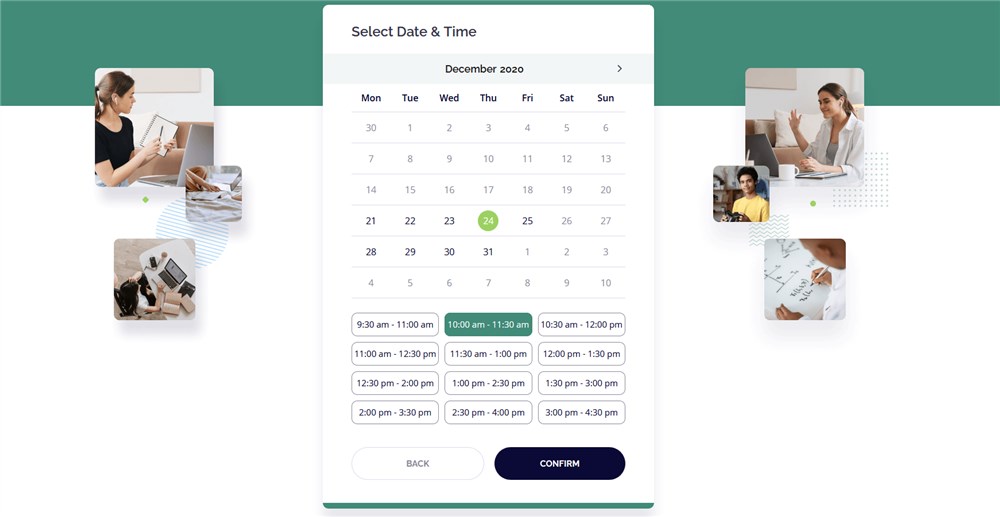 Testimonials
The Testimonials carousel is where you can place chosen testimonials, add client images and their feedback. It's built with Stratum's testimonials carousel widget, so it gives you numerous tools to make it your own.

There is one more pre-designed block for featuring testimonials in a different way: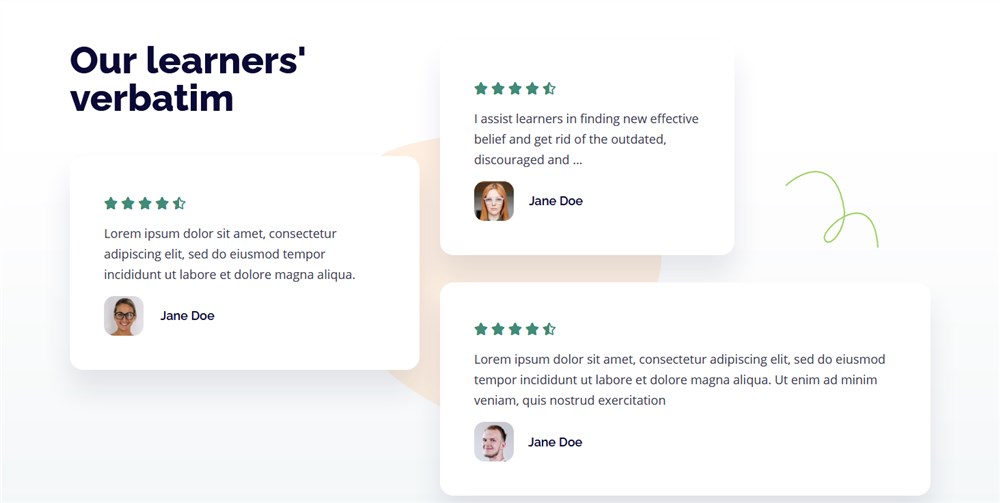 Featured blog posts
The Edme Elementor education WordPress theme transforms your dynamic posts into a stylish section, allowing you to engage clients even better with some inspiring stories or informative case studies.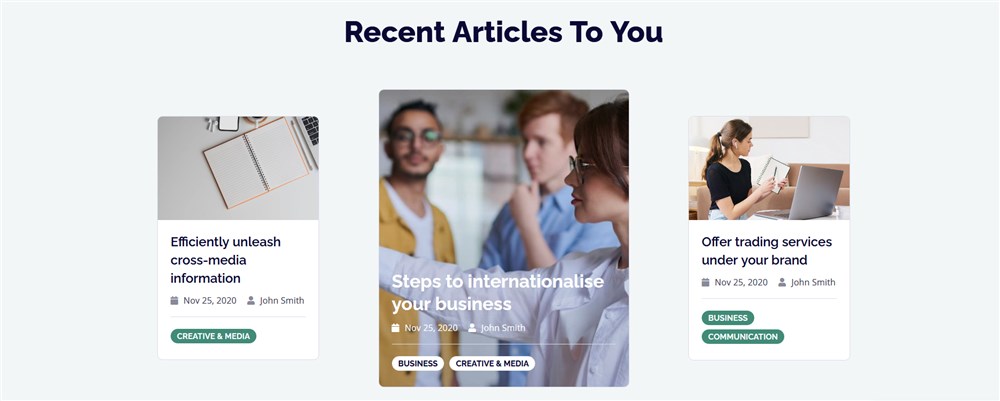 More custom-crafted elements
The Edme WordPress course theme comes with many pre-made Elementor-built sections you can reuse on any other page. For example:
School/tutor data in a visualized format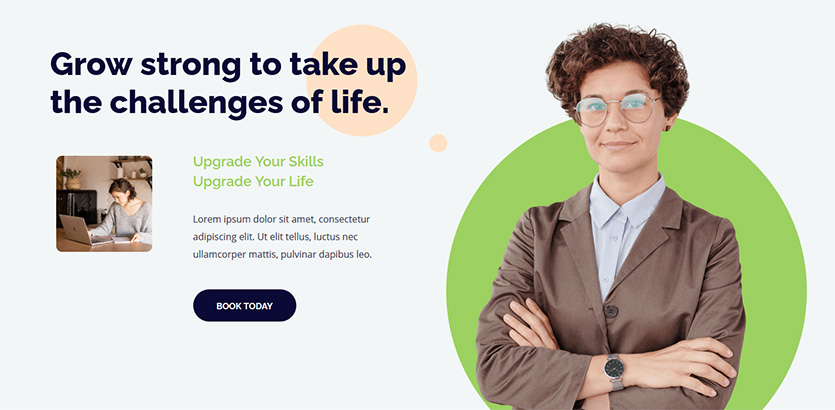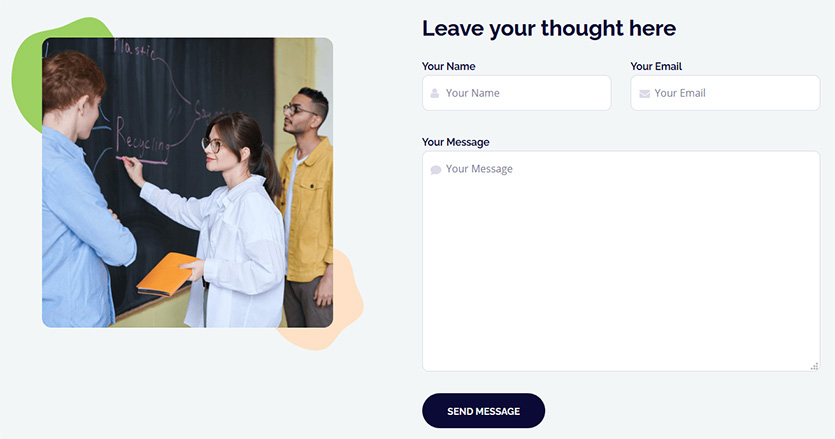 You can also notice smooth scrolling and animation effects through the entire front page that will ensure your clients have the best site browsing experiences.
More general customization settings
Via the WordPress Customizer, you can change colors, footer widgets, and the site identity in the header (e.g. upload your logo, change a headline, change the navigation menu).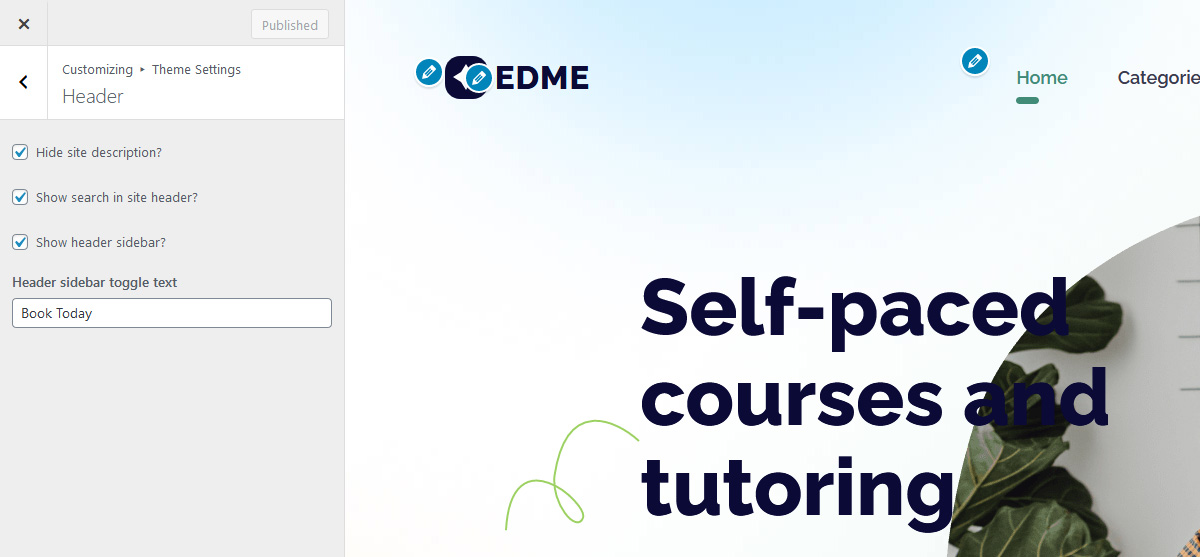 Final Word On Edme – The Best Education Theme WordPress Can Offer
To power online courses and tutor bookings on WordPress yet keep consistency and aesthetics of your theme design, the Edme WordPress education theme comes into play.
Embracing the features of the MotoPress Appointment Booking plugin and Elementor, we managed to make Edme powerful and flexible in terms of customization and the appointment scheduling software.
Last but not least, Edme is a pioneering design in our future collection of the appointment WordPress themes lineup. You get it – there will be more design solutions for a wider range of businesses! Keep an eye on the updates.

How can I edit the instructor and course pages in Edme?
Edme is powered by Elementor and Stratum Elementor addons – you can replace any content added via their widgets. The process is absolutely handy and straightforward – you'll be working in a visual editor of Elementor.
Is there a booking widget in Edme?
Yes, the MotoPress Hotel Booking plugin ships with a dedicated booking widget that can be placed on any page as well as in the navigation menu. Customers can place a booking by selecting a preferable service, time, and date.
Can I replace the MotoPress Appointment Booking plugin with any other?
Yes, Edme will work with any other WordPress appointment plugin, but you should remember that the default design is styled particularly for the MotoPress Appointment Booking plugin. That means any other plugin's content might not look that good out of the box – and you might also need to recreate dedicated pages (e.g. for instructors, courses, etc.) if they require connection to the plugin.