Meet Elementor Timetable Widget for the Event Schedule Plugin
If you've been using our free Timetable & Event Schedule plugin for WordPress for quite some time now, we have awesome news for those of you on Elementor! Since version 2.3.15, you can add a timetable to your site and control its look via the visual Elementor interface. We've added a dedicated Elementor timetable widget that eliminates the need to use shortcodes.
To get access to the widget, you need to have both plugins installed and activated: Elementor and Timetable & Event Schedule.
You can refer to the timetable Elementor widget when you have already added all the needed events, columns, categories, etc.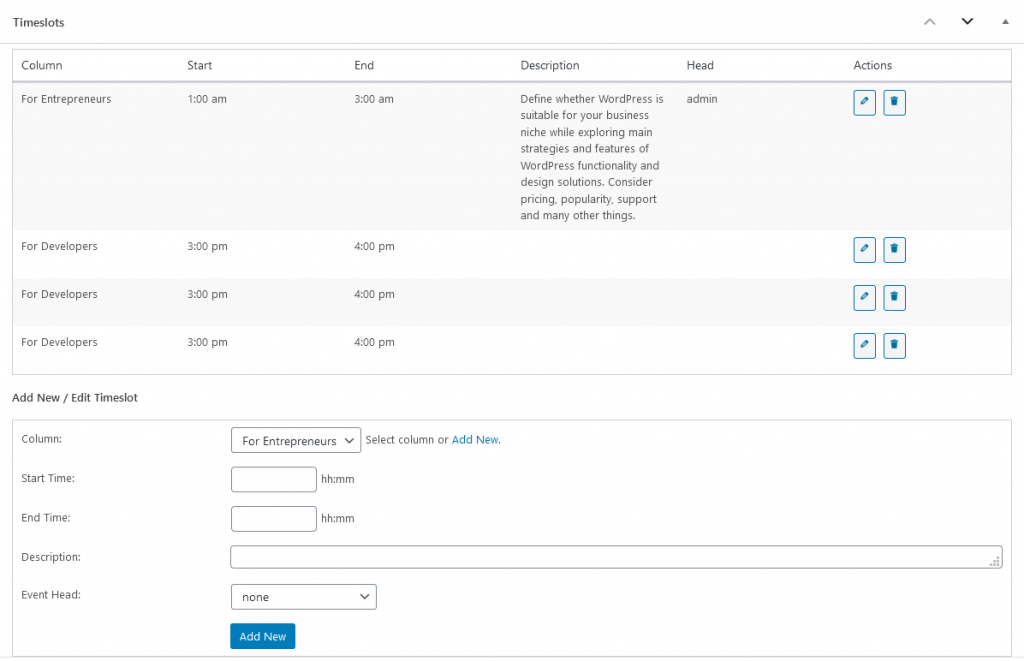 If you are new to the Timetable plugin, you'll see that it's a breeze to add events with their specific times, descriptions, and event heads. You'll also be able to customize the color scheme for many event details: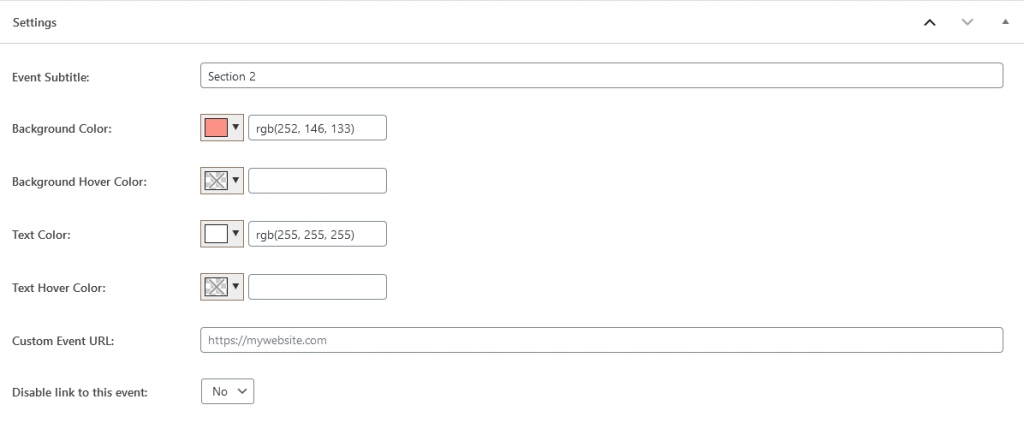 You can use this plugin for creating a detailed schedule of events of any kind – classes, conferences, anything.
It's worth mentioning that if you are on the block editor, the Timetable plugin also has a dedicated block for the visual edits, so you should have just the same flawless experience as in Elementor: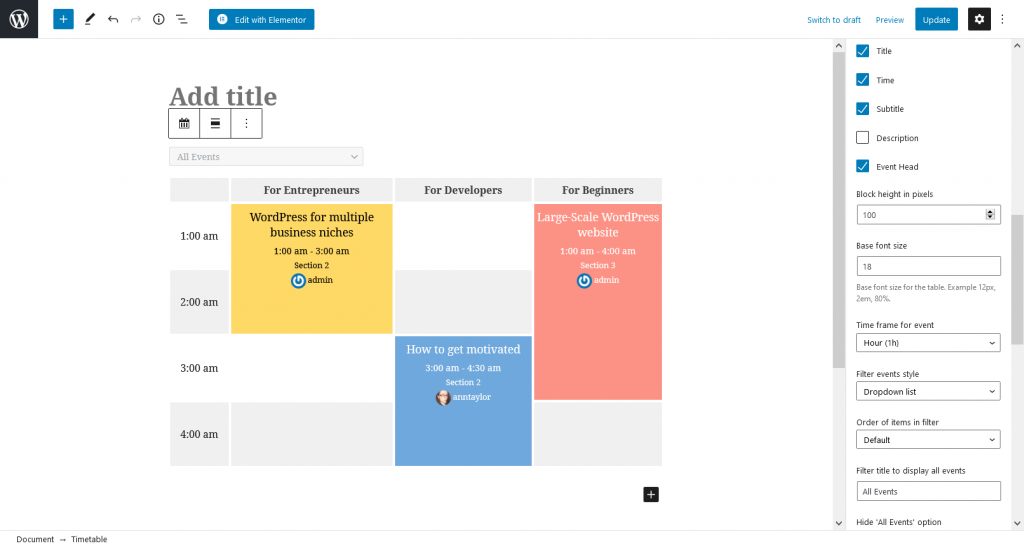 How to edit the Elementor timetable widget
Open any page in Elementor and find the Elementor Timetable widget in the list of the Basic widgets:

Drag it to the page and you'll see all the standard timetable settings in the Elementor's panel:
Let's go through them one more time:
Timetable settings
You can rename the Filter title for All events or hide it if you want to display a timetable only.
Choose which specific columns/events/categories to display (if you don't need all of them).

Display or hide a column that shows hours.
Opt for not displaying empty rows.
Set a block height in pixels.
Set up a time frame for an event (up to 15 minutes).
Customize a dropdown or tabs event style.
Column width (default, auto, fixed).
Mobile behavior (table, list)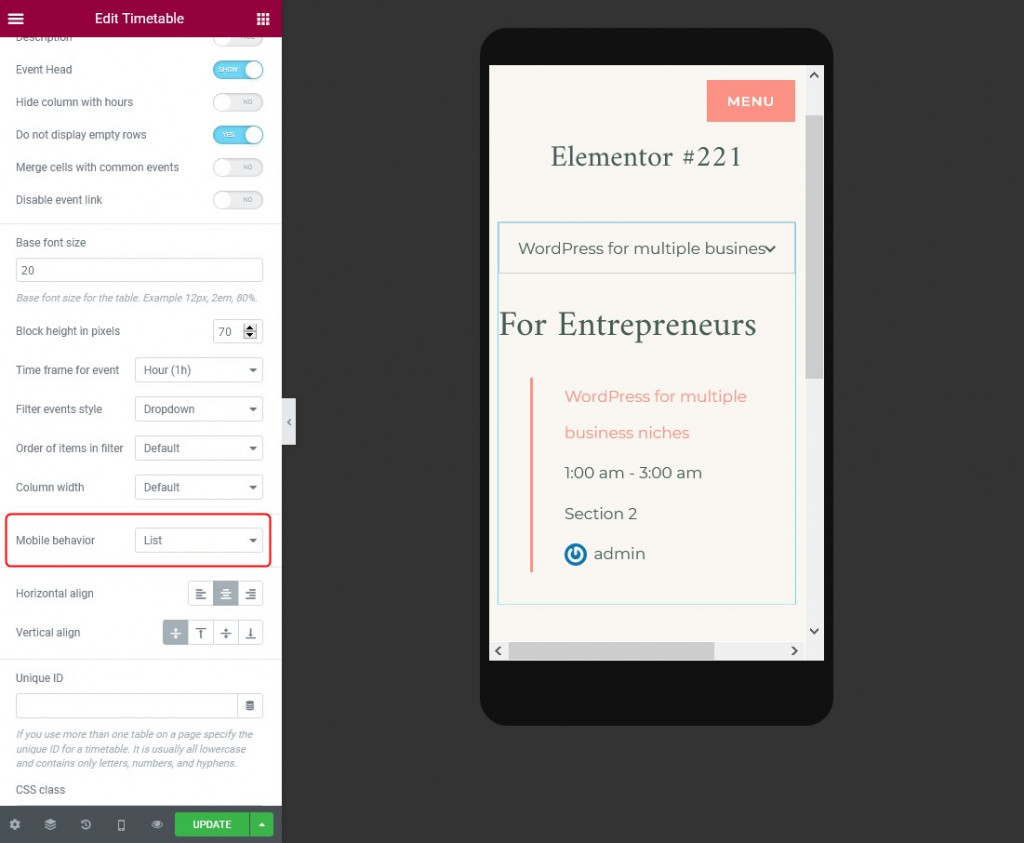 Event settings
Display or hide an event title/subtitle/time/event head/description.
Merge cells with common events.
Display or hide an event link.
Set up a font size.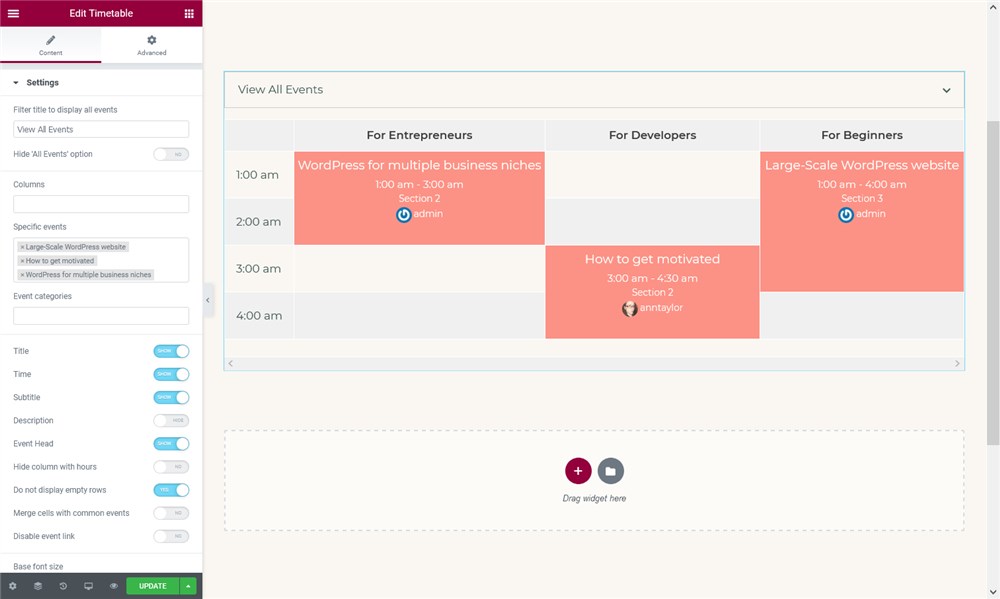 Remember that there is also the Advanced tab – a default Elementor's panel for going deeper into the customization process.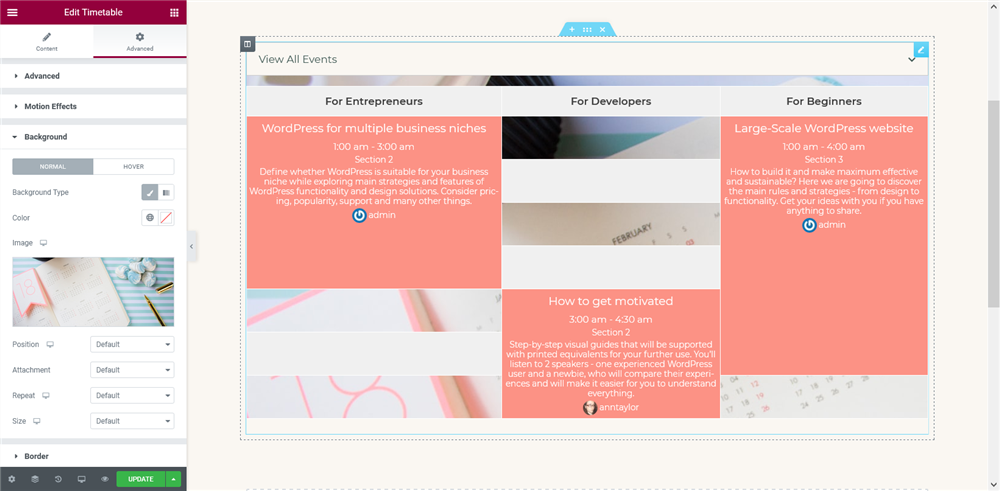 That's it!
Use Timetable with Elementor
The Timetable & Event Schedule plugin is a free solution for WordPress so combining it with a free Elementor version you get an awesome toolkit for creating and customizing good-looking and functional timetables. Now you have the most user-friendly way to do that!