Ultimate Addons for Gutenberg vs. Getwid WordPress Blocks
Ultimate Addons for Gutenberg or Getwid? Which Gutenberg addon deserves to become your go-to solution in your WordPress site building routine? Both WordPress block addons are free, so you can take any for a spin.
Although the Ultimate Addons for Gutenberg plugin installations outperform those of Getwid by ten times so far, both plugins are very popular with users and hold an approval rating in the vast majority of reviews.
So let's compare the following things to see which of the WordPress block plugins can suit your needs:
The number and purpose of free blocks
Layout control
Post-related blocks
Turnkey design patterns
Ultimate Addons for Gutenberg (UAG) (reviewed version 1.20.1)
Getwid (reviewed version 1.6.10)
The number of free WordPress blocks
Getwid: 37 blocks
Ultimate Addons for Gutenberg: 27 blocks
There are many repeat blocks in these plugins, so to some extent, they are interchangeable when it comes to rather standard content elements (e.g. Google Maps, Pricing List, Team, Testimonials).
But you might need one mere block, which might not be present in the plugin of your choice.
So let's now highlight the differences.
Available in Ultimate Addons for Gutenberg, unavailable in Getwid: Post Timeline, Post Masonry, Blockquote, Marketing Button, How-to Schema, FAQ-Schema, Inline Notice, WP Search, Review Schema, Taxonomy List, Lottie, Taxonomy List.
For example, with the Post Timeline block, you can customize every tiny detail of your timeline, including layouts, content, typography and colors: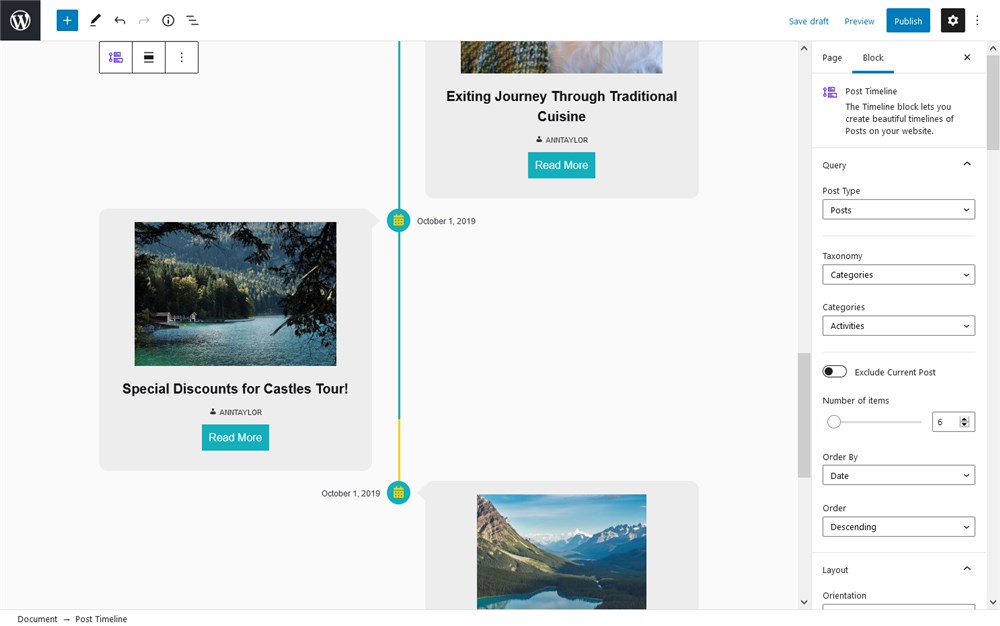 The WP Search block also comes with loads of settings (under the Search Bar you can also see the Post Masonry block):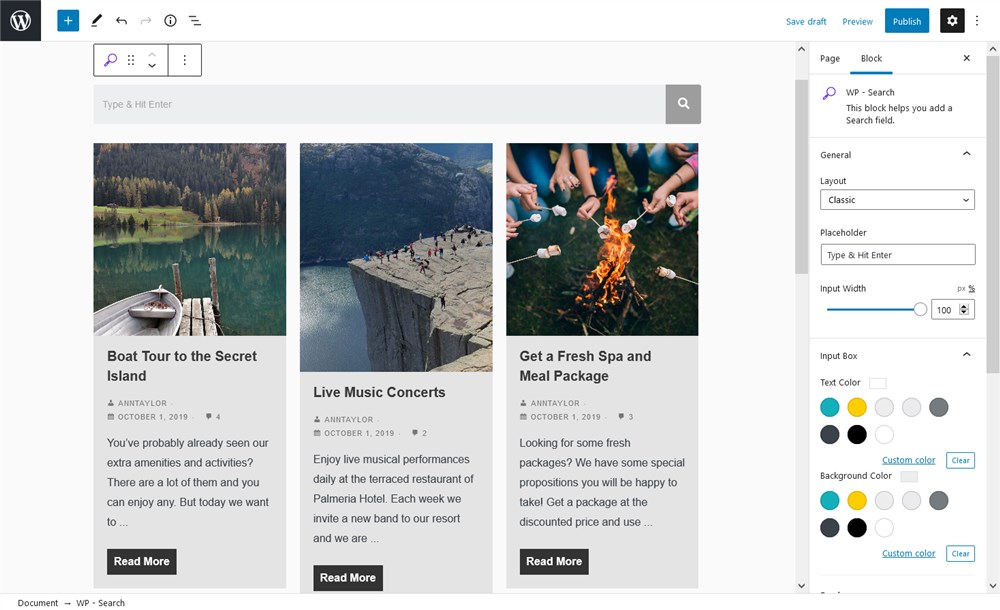 Available in Getwid, unavailable in Ultimate Addons for Gutenberg: Three slider blocks (Image Slider, Media & Text Slider, Post Slider), three tabs blocks (Tabs, Accordion, Toggle), Mailchimp, Banner, Advanced Spacer, two Progress Bar blocks, Counter, Instagram, Image Hotspot, Contact Form, Custom Post Type, Video Popup, Table, Anchor.
For example, the Image Hotspot block allows you to place many animated markers over the image to provide more details about each image part: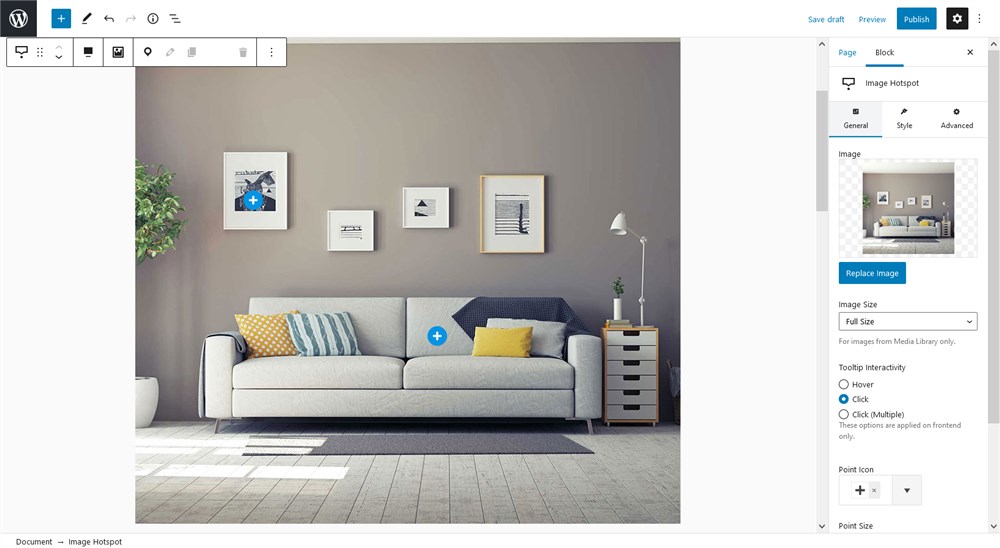 You can also make your site pages cleaner by putting information into the tabbed widgets: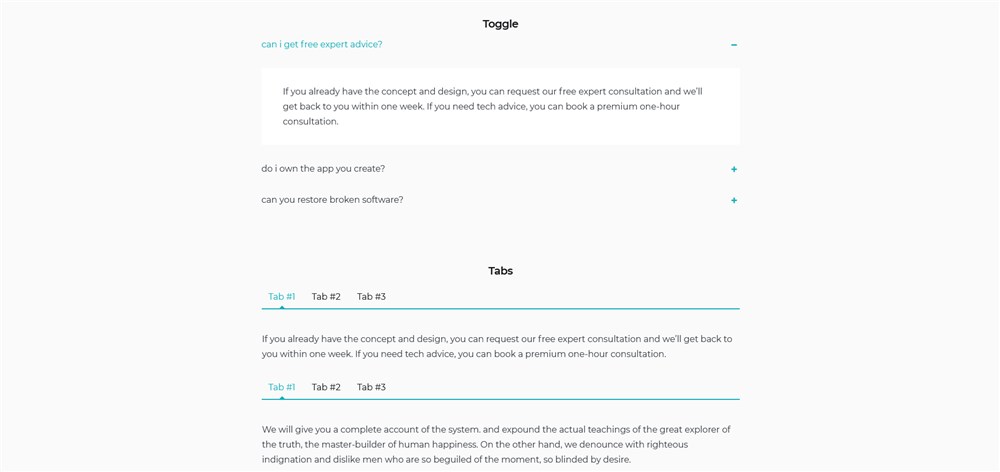 Even from this difference, we can already conclude that these WordPress blocks plugins are optimized for quite different tasks:
What you can do with Ultimate Addons for Gutenberg and can't do with Getwid is to improve SEO with dedicated blocks, create a post timeline in clicks, add Lottie animations, and easily create taxonomy lists.
Those Getwid blocks that are absent in Ultimate Addons for Gutenberg are in the vast majority of cases useful for many routine tasks, such as building FAQ sections, organizing and structuring content, visualizing data with a bard, and charts, and connecting such third-party services as Instagram and Mailchimp. As for rather marketing-focused blocks, you also have the unique Image Hotspot, Video Popup, and Banner blocks with Getwid.
Let's now see whether there are any differences in how the similar blocks perform. Let's compare a few examples.
Advanced heading
The major purpose of the Advanced Heading block is to provide you with advanced typography options, including blocks where you can transform the regular heading into the Advanced heading block.
Both addons give you a lot of freedom in this regard. The default template is different, though. With the Ultimate Addons for Gutenberg, you a heading and subheading divided by a separator is added.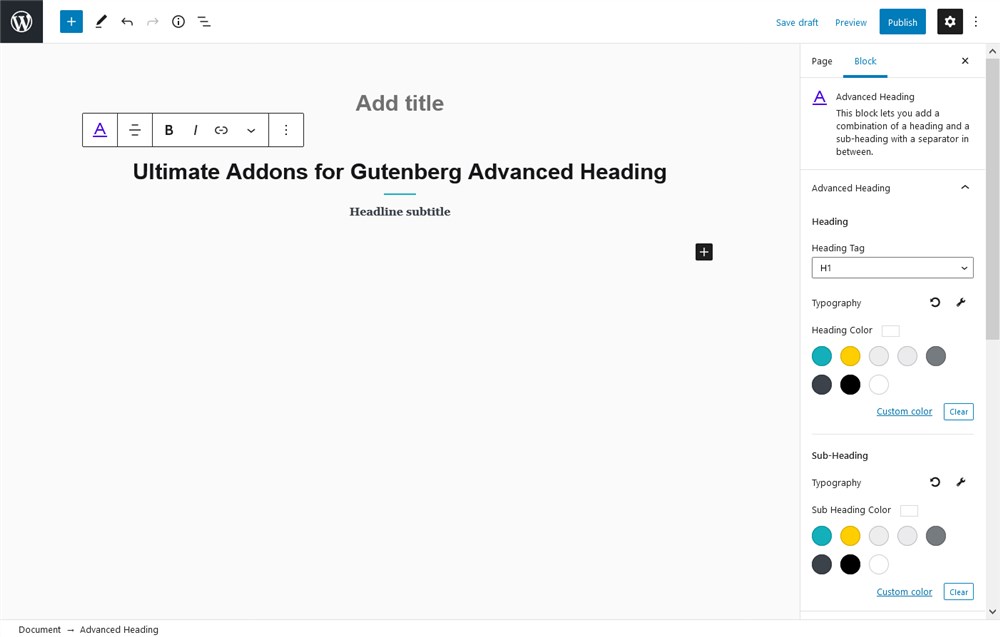 There is also an individual styling panel for each element – you are free to change colors, fonts, and line-height for the headings and change the styling for the separator.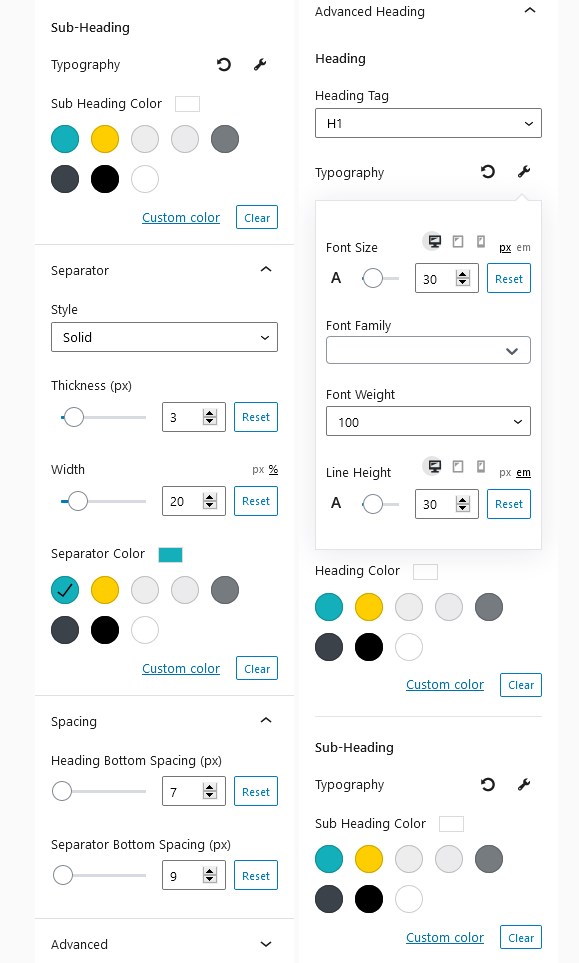 Getwid's Advanced Heading is a mere heading, with just a similar set of settings: fonts, colors, alignments, etc.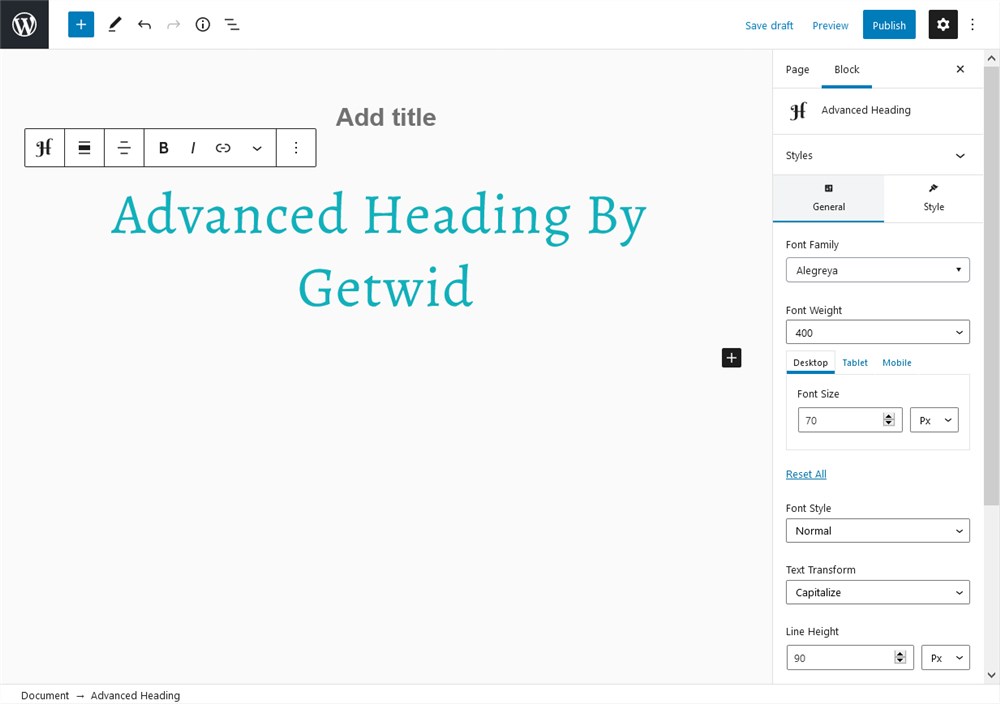 It's worth mentioning that the styling settings of this block, like in many other Getwid blocks, are placed into a different tab, which makes the settings more structured.

Team
To show your team members, there is the Person block by Getwid, which is a template consisting of an image, social icons, job title, and description.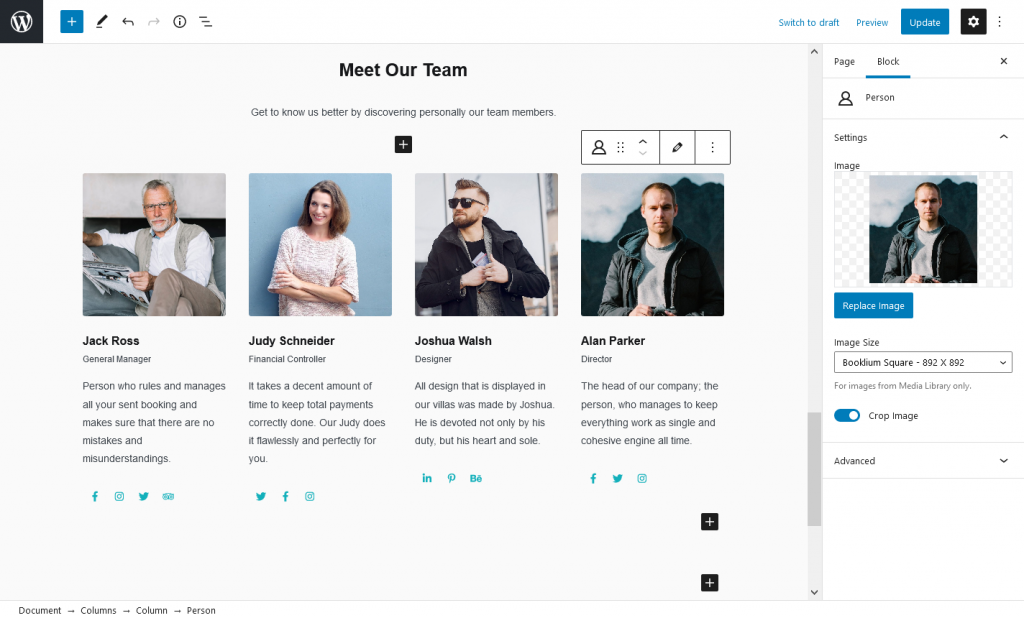 The counterpart block by Ultimate Addons for Gutenberg is also quite unpretentious, but it further gives more tools to customize typography, the person image, colors, and spacing between the elements.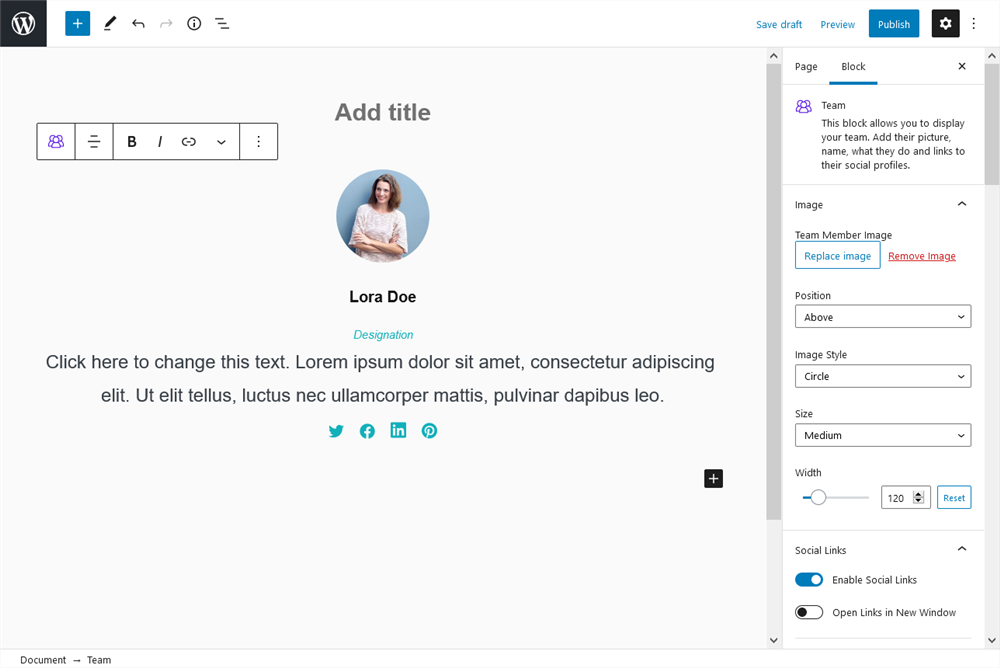 Price list
This block adds a template with pricing – like in a restaurant menu. Actually, it'll serve this need best.
Getwid by default adds a template that looks like a classical menu with a minimum accent on an image. You can make the menu item titles bigger, change colors and currency, and optionally remove a price separator: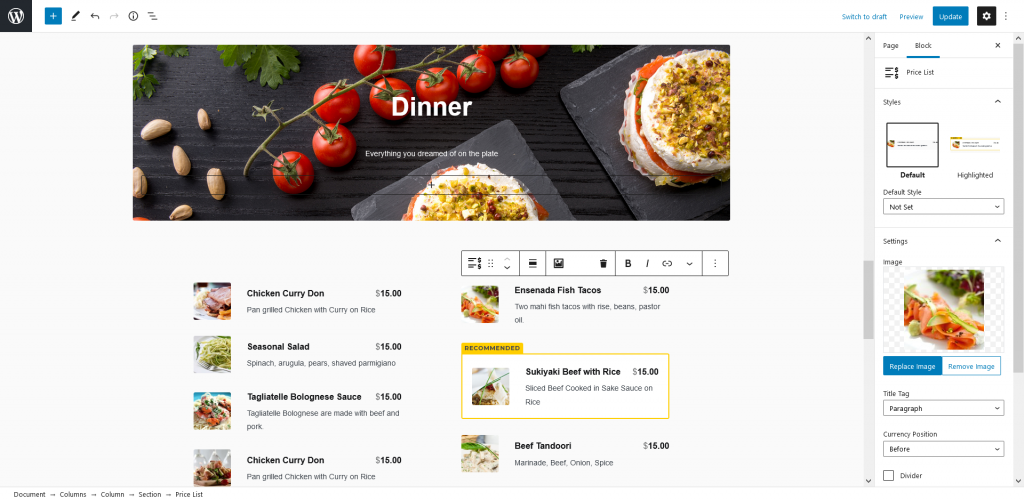 Ultimate Addons for Gutenberg also adds a cool template with bold food menu images.
It also allows for more styling settings: you can choose the number of columns for your menu, change image position, the entire block width, customize a separator style, change colors, typography and more: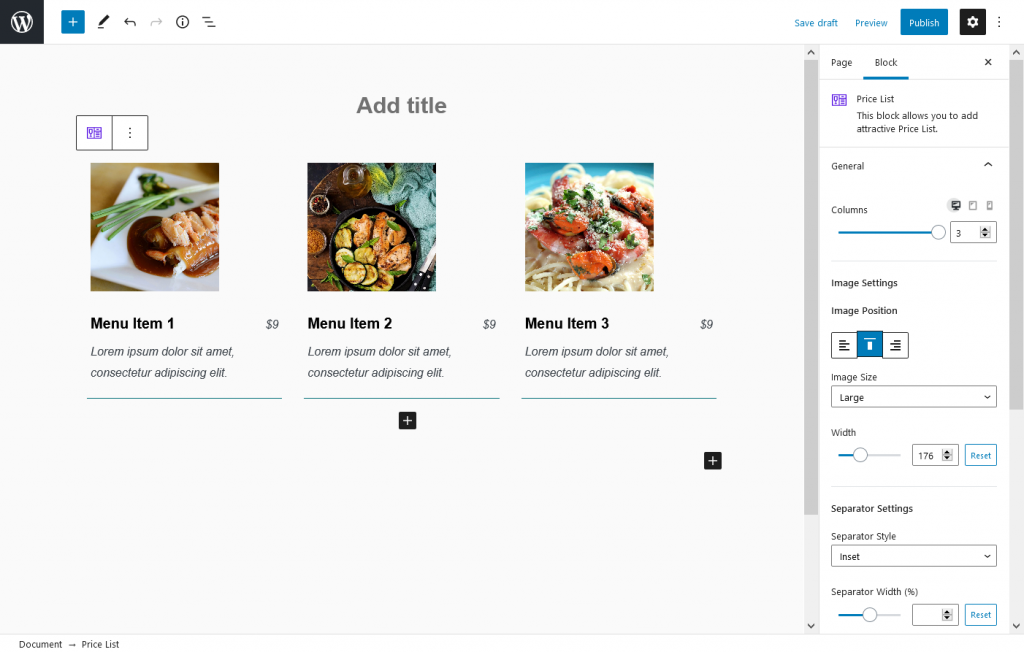 Image Box
The Image Box WordPress block by Getwid is pretty diverse – you can set different image/text positions, tweak alignments, add animation and links, and more.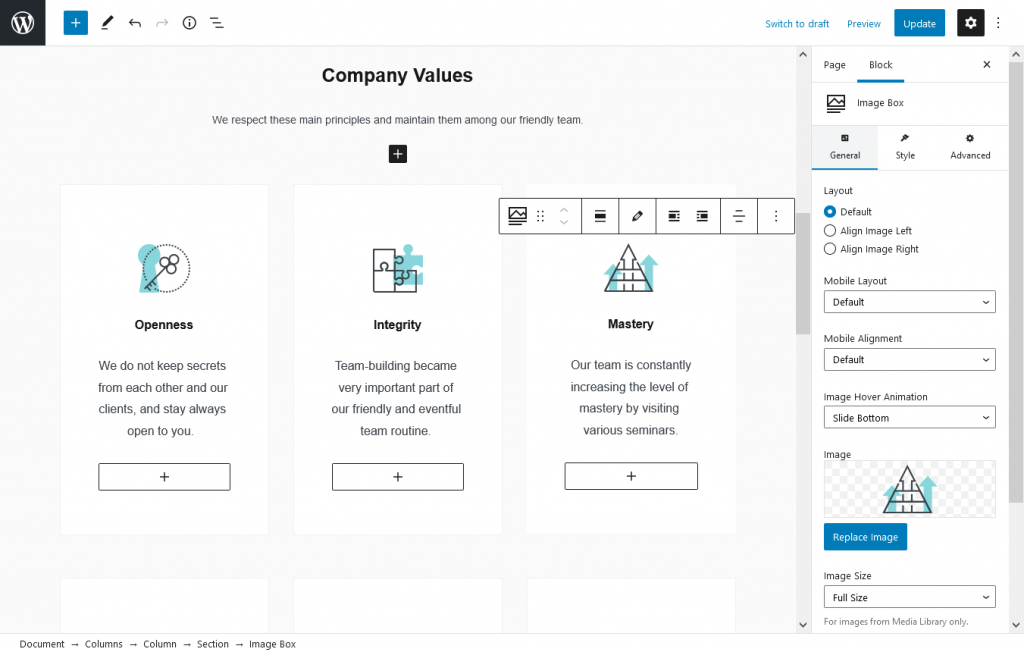 The counterpart block by Ultimate Addons for Gutenberg goes deeply into each element of the block – you can customize the styling and content separately for a call-to-action button, separator, text, image, etc.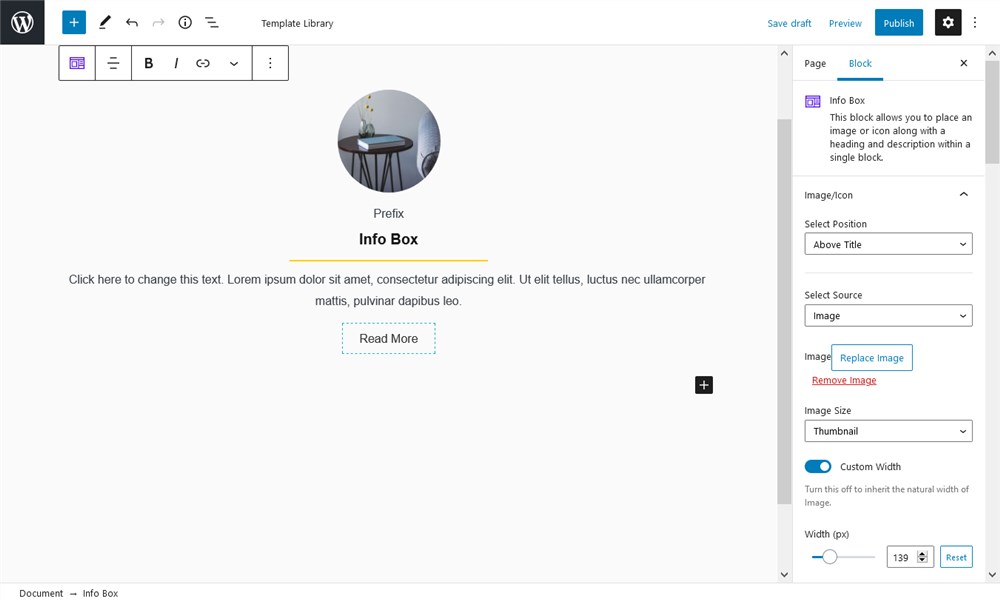 I must admit in the similar blocks, the Ultimate Addons for Gutenberg plugin gives you more flexibility as to the styling, for instance, providing you with the deep typography panel for each block where text is involved; there is also usually a wider settings panel as for the alignments and spacing for all blocks.
This is a blessing for designers and developers, but at the same time, this means that in the hands of non-professionals, the plugin is not immune to haphazard edits, leaving room for inadequate customization and chances to end up with design inconsistency.
As for Getwid, it also provides a great bunch of customization settings for these blocks but doesn't do that as deeply as its competitor. Getwid, however, provides a better user experience by separating the content and styling settings into different tabs, which is very convenient.
Getwid or Ultimate Addons for Gutenberg: Layout control
What WordPress blocks are responsible for top-level containers? You need these blocks to start with advanced layouts (e.g. columnized) and control them as single blocks containing other (child) blocks.
First, Ultimate Addons for Gutenberg has the Advanced Columns block for this purpose.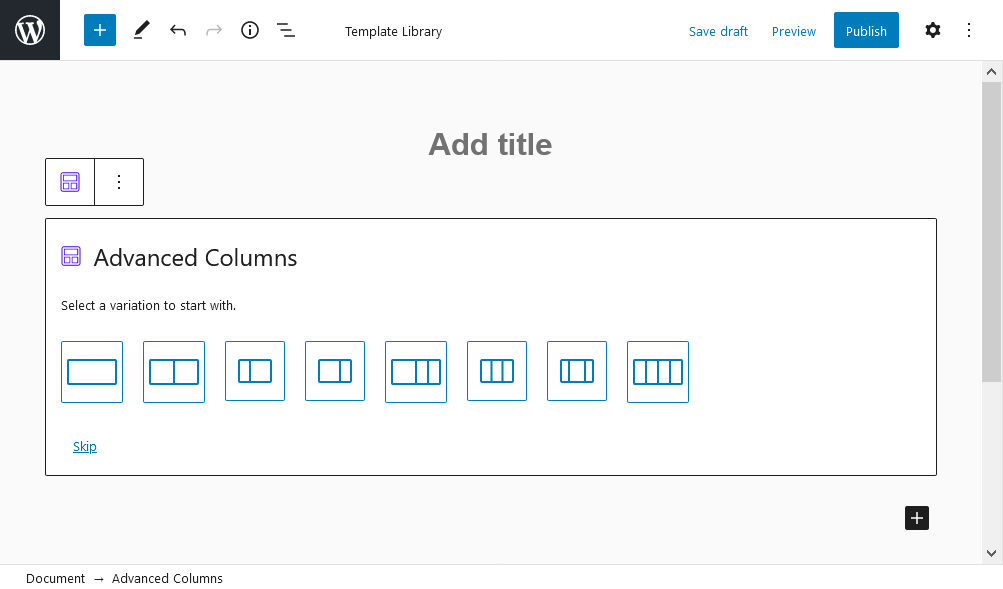 It lets you start with the needed number of columns and then make any further changes of the content width, paddings and margins, background types (you can use color, gradient, image, or video), top and bottom dividers, and borders.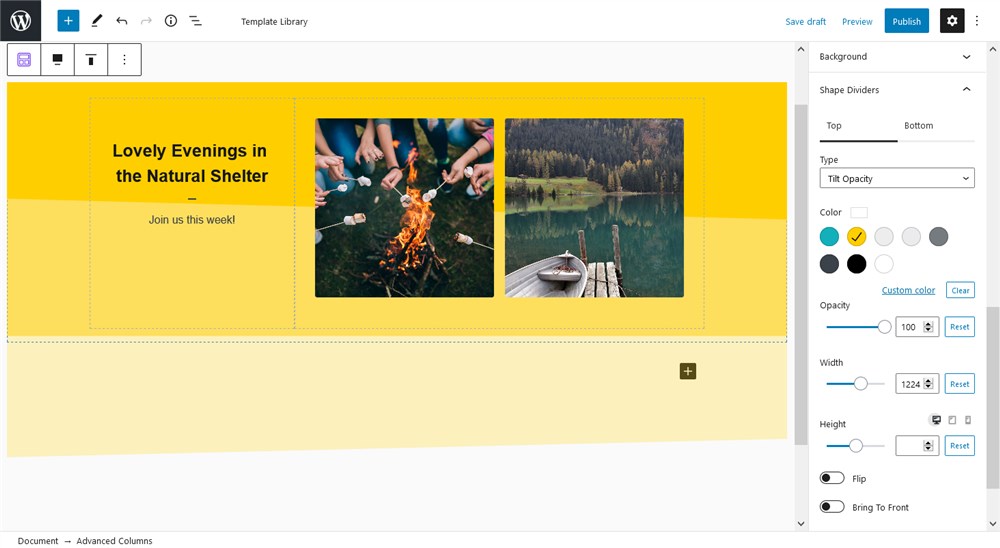 Unfortunately, there are no automatic options for deeper columns management: for example, you can't sync margins and paddings or change the column ratio. There is also an extra Section block that allows for the same thing but starts with a one-column layout.
Getwid also offers one dedicated Section block.
It allows you to use multiple content blocks and customize them as one multi-element container (e.g. positioned on the same background).
The block doesn't offer columns by default, so if you need those, refer to the default WordPress Columns block.
When adding the Section block, you are offered to start with the default width: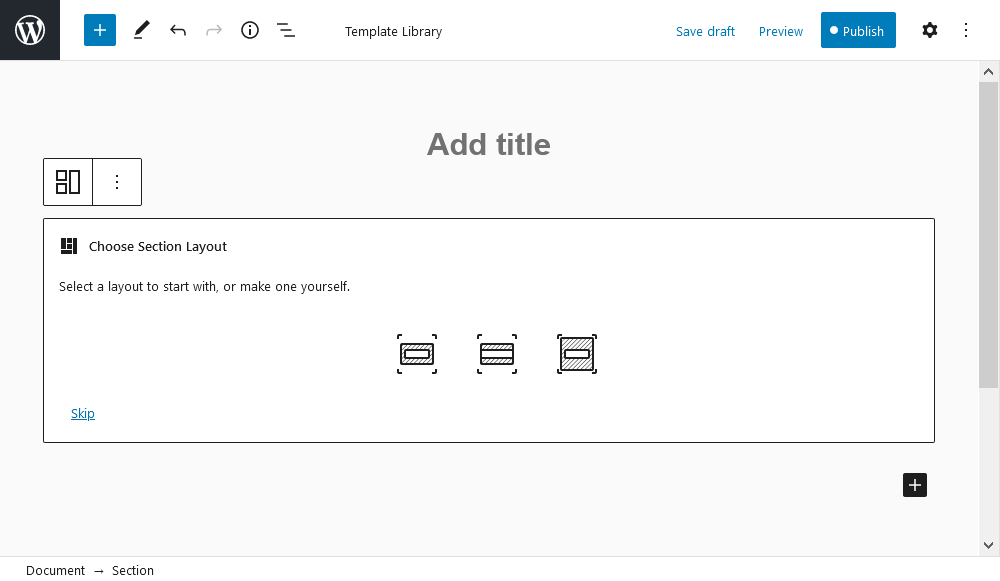 This block gives you almost the same set of tools as in UAG, but it additionally provides a slider as an extra background option.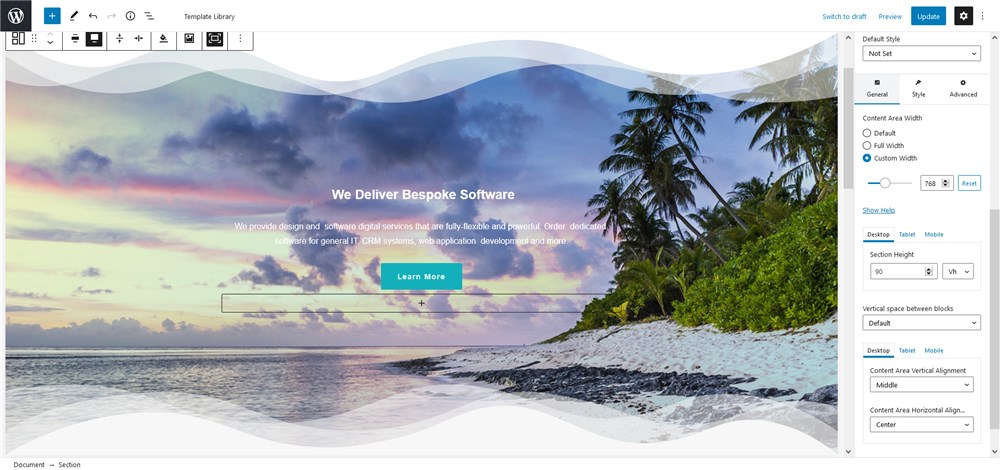 It also gives you an easy way to drag and drop the angles to set the needed margins and padding in real-time.
The Section block allows you also to apply dividers to the section borders, apply animation effects, and more.
Pros & cons
The Ultimate Addons for Gutenberg plugin provides you with better column management thanks to the dedicated Advanced Columns block (no such thing in Getwid)
Getwid allows you to use a slider in the background (no such thing in UAG)
Getwid gives you a handy way to customize margins and paddings visually.
Post-related blocks
Any of the reviewed blocks comes with a number of cool dedicated blocks for feeding posts and pages in different creative ways.
The Ultimate Addons for Gutenberg plugin offers an impressive list of such blocks:
Post grid (fully tweakable, including images, metadata, colors, spacing, and more).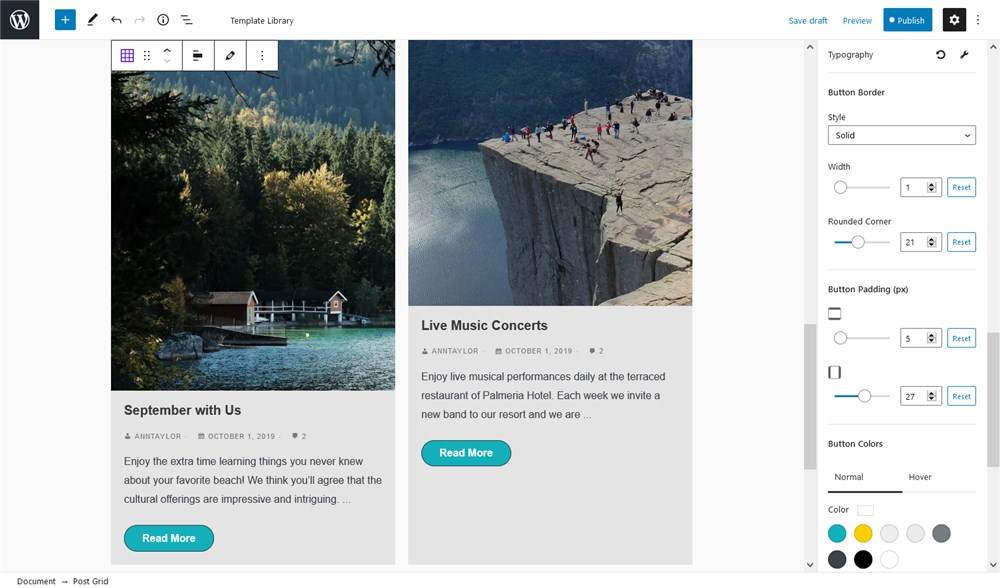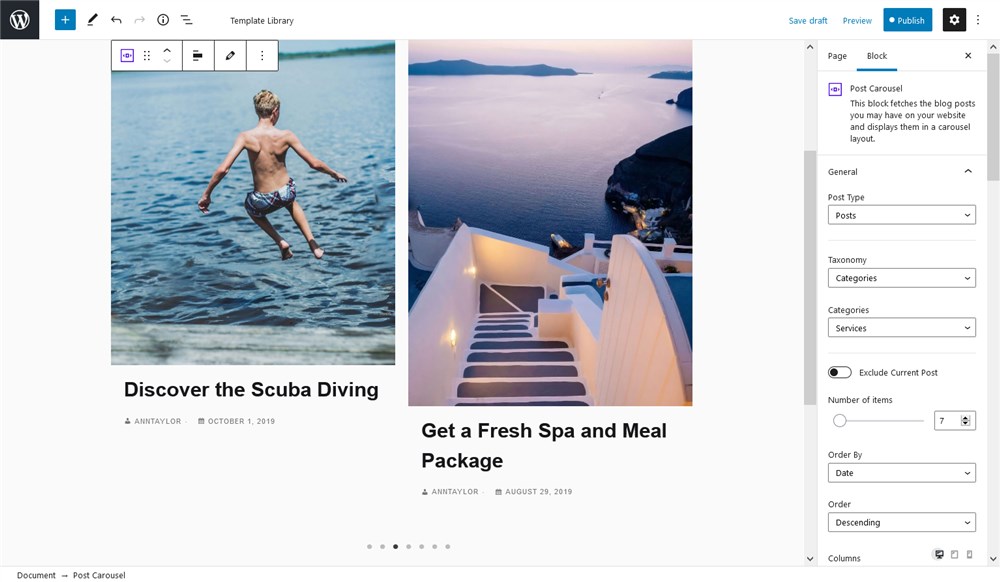 Getwid also has four great post WordPress blocks to give you the flexibility to go with more fancy layouts: Recent Posts, Post Carousel, Post Slider, and Custom Post Type.
Let's show a few examples:
Post Carousel (you can customize the navigation styling, content and alignments).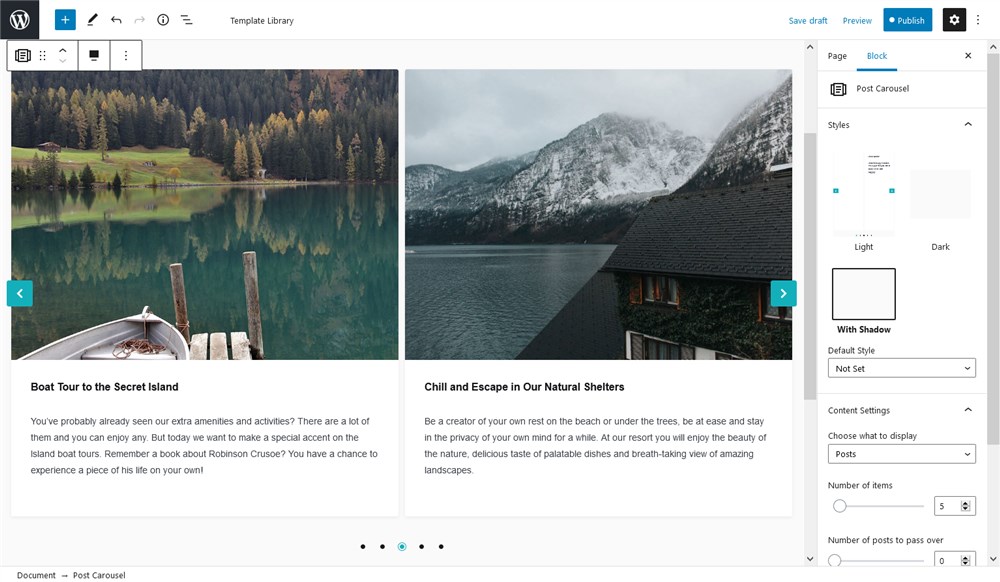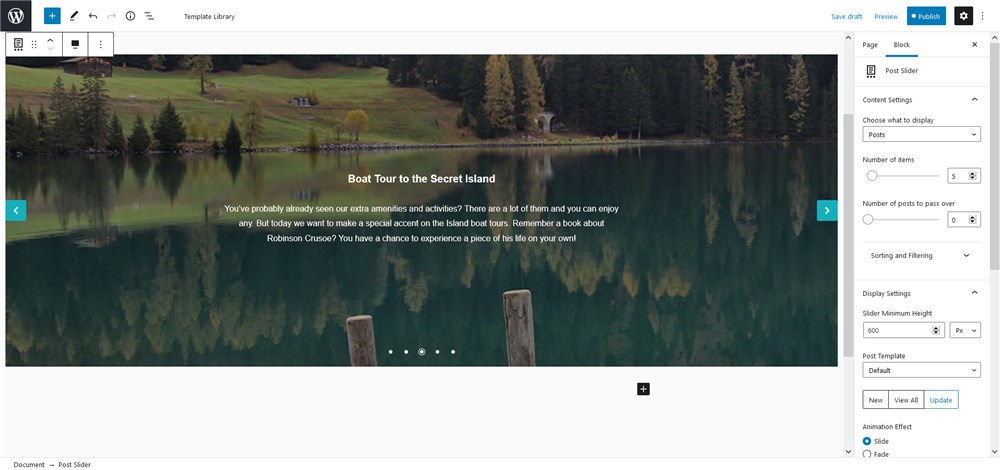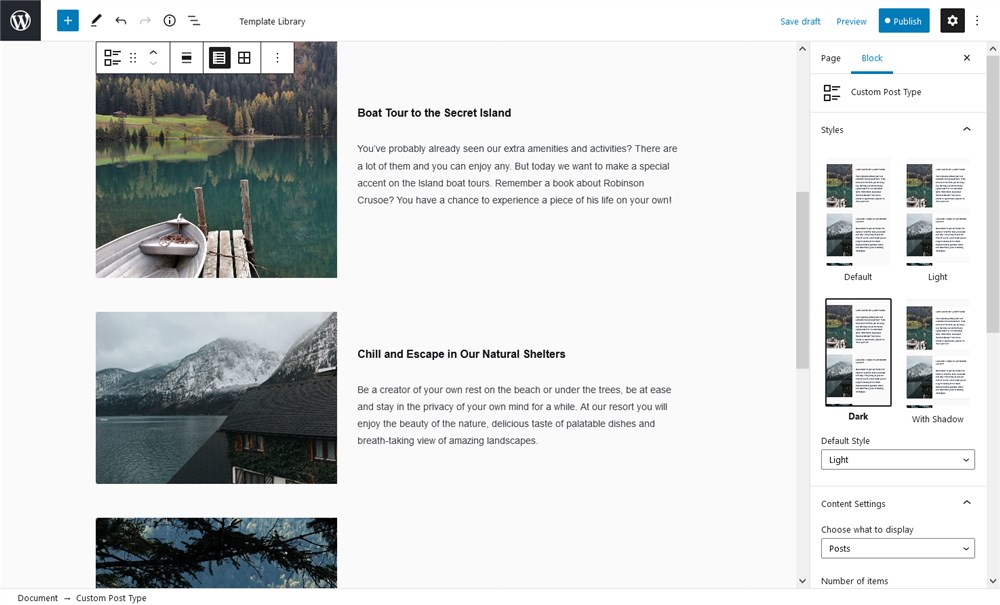 You can go with a custom-made layout here using a specific template: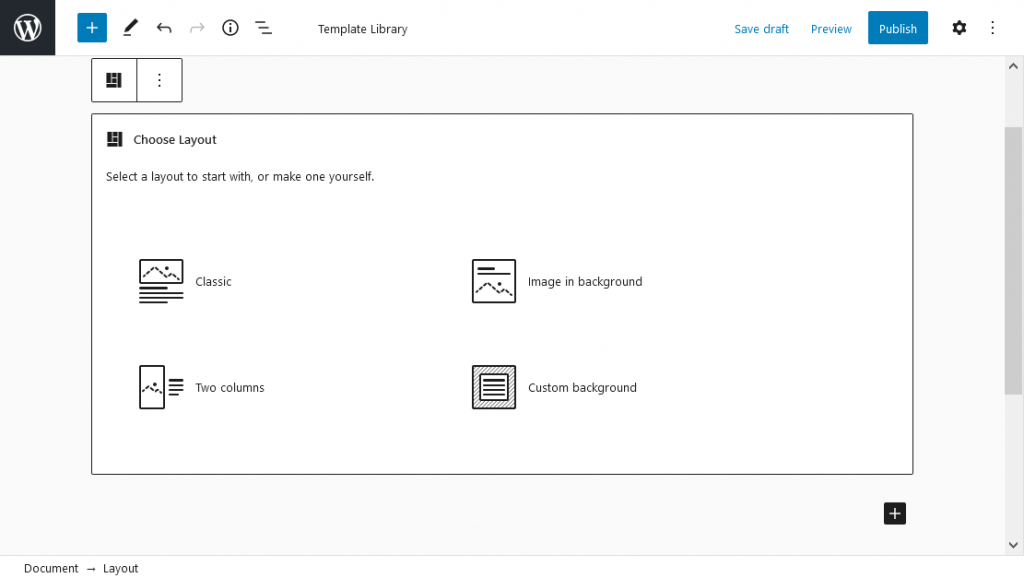 Ready-made block templates & designs
The Ultimate Addons for Gutenberg doesn't deliver any specific templates, but there is the Astra theme, which comes with dedicated styles for the whole UAG blocks library.
Getwid, however, offers 38 pre-designed sections containing almost all Getwid blocks – these sections are devoted to different classical website sections: contact us, team, hero sections, services, offers, etc. You can insert any of them into a page with one click.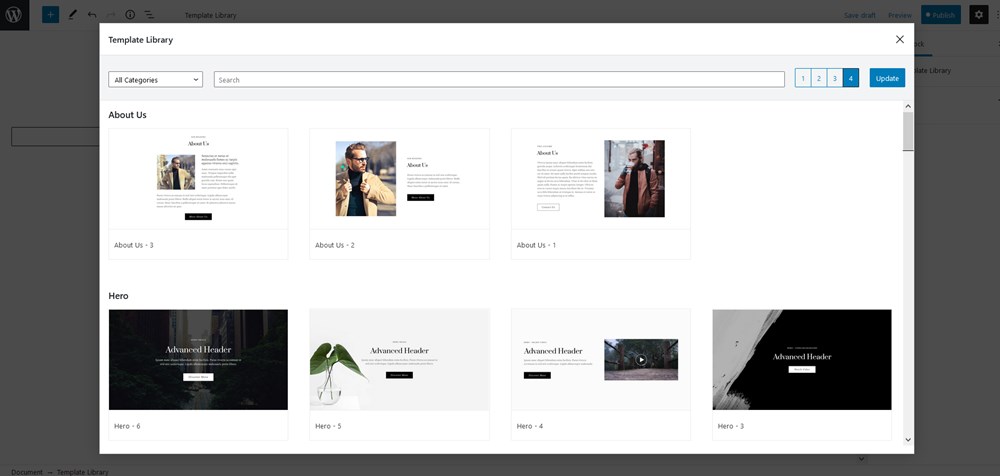 Both plugins will work better paired with their dedicated themes:
The Getwid Base theme Free Download
Astra Theme for Ultimate Addons for Gutenberg Download
Ultimate Addons for Gutenberg vs Getwid WordPress Blocks
Let's highlight a few differences and similarities:
These WordPress block plugins share many similar blocks, yet the Ultimate Addons for Gutenberg plugin comes with more SEO-focused blocks, while Getwid comes with many third-party service integration blocks and visuals.
Ultimate Addons for Gutenberg quite often offers a customization panel for deeper block styling.
Ultimate Addons for Gutenberg deals better with columns, while Getwid provides more section (top-level) container styling settings.
The Ultimate Addons for Gutenberg has a cool feature to opt for the default plugin styling for some blocks or inherit styling from the active WordPress theme in one click.
Both plugins have a good bunch of blocks for creating post grids and lists; Getwid also gives you a customizable template to create the presentation of your own posts.
Getwid ships with the design patterns, Ultimate Addons for Gutenberg doesn't.
Download Ultimate Addons for Gutenberg

Can I use both plugins, Getwid and Ultimate Addons for Gutenberg?
Sure – you can install both plugins and use them in the block editor. Furthermore, if you don't need some blocks, feel free to turn them off in the plugin settings. This way you'll see only those blocks you use on the block editor interface.
Which WordPress block themes work best with these plugins?
There are dedicated free WordPress block themes created for both plugins – they guarantee 100% of the design quality. With Getwid, use the Getwid Base theme, download it for free on wordpress.org. The creators of the Ultimate addons for Gutenberg are also the authors of the popular Astra theme, which is also the best fit for their plugin.
Which plugin provides more blocks?
Getwid comes with 37 blocks and a bunch of design patterns. The Ultimate Addons for Gutenberg offers 27 blocks.