Gutenix Review: a Free Multipurpose WordPress Theme for Elementor & Gutenberg
This is the Gutenix review we've promised! Gutenix is a free multipurpose WordPress theme we've recently acquired and is eager to tell you more about its cool features.
What can you do with Gutenix? Pretty much anything!
Adapt it to your business niche, edit with the page builder of your choice, customize headers and footers, fully tweak the color scheme and typography, add sticky menus, use vertical menus, turn your blog into an astonishing online magazine, optimize for mobile and tablet devices, display a pop-up builder, build a shop with WooCommerce and get all the essentials you need to work effectively with WordPress – all in one theme.
Simply put, Gutenix is a completely flexible WordPress theme for long-term projects.
The tools behind Gutenix?
Gutenix is a free multipurpose WordPress theme with ready page templates for different niches ranging from a business consultant to a restaurant.
It's powered by a few familiar tools: WordPress Customizer, Elementor, the block editor (Gutenberg), and Brizy.
Gutenix offers complete starter WordPress sites or various businesses, each of them is optimized to work best with the particular builder. That means you can choose the flexibility of editing you are looking for!
Who can benefit from this free multipurpose WordPress theme?
First and foremost, Gutenix is made for the ease of customization in popular builders. So whether are you designing sites for clients or building a site yourself, it'll serve your needs perfectly.
Let's briefly focus on the templates you'll get with the Guentix free multipurpose WordPress theme.
Peculiar Gutenberg optimized themes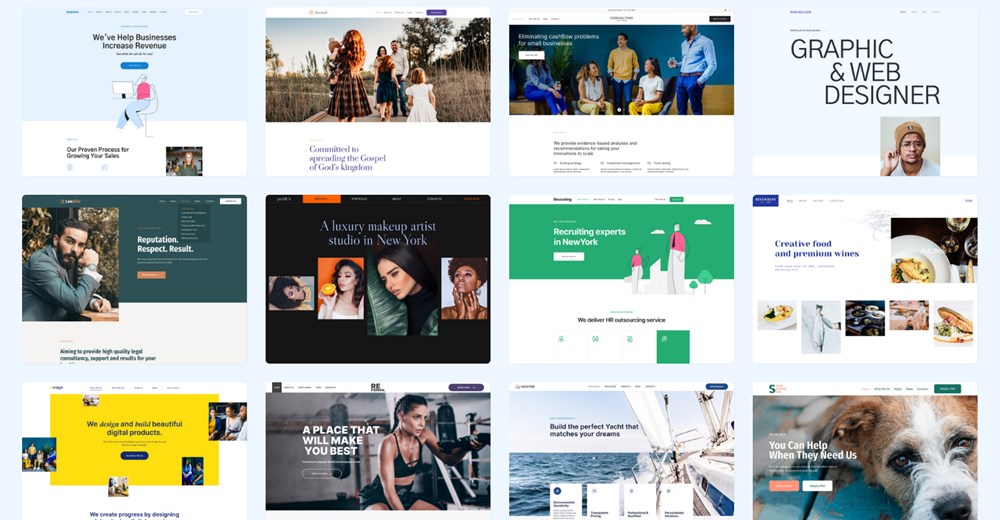 Starter sites built with Gutenberg are especially valuable.
First, the block-based editor is the only official WordPress core site builder that is regularly getting new updates and features. Entrusting your site to Gutenberg, you don't need to go back and forth with any third-party builders.
Simply put, consider yourself a forward thinker opting for Gutenberg templates.
There is one more reason to love Gutenberg themes packed with Gutenix. They are accompanied by the premium ZeGuten plugin, which is an extra library of unique blocks for Gutenberg.
It'll help you add professional call-to-actions, catchy headings, multi-block sections, flip boxes, banners and more content elements that are helpful in building sites. You can also connect any block or block set like Getwid to customize these templates.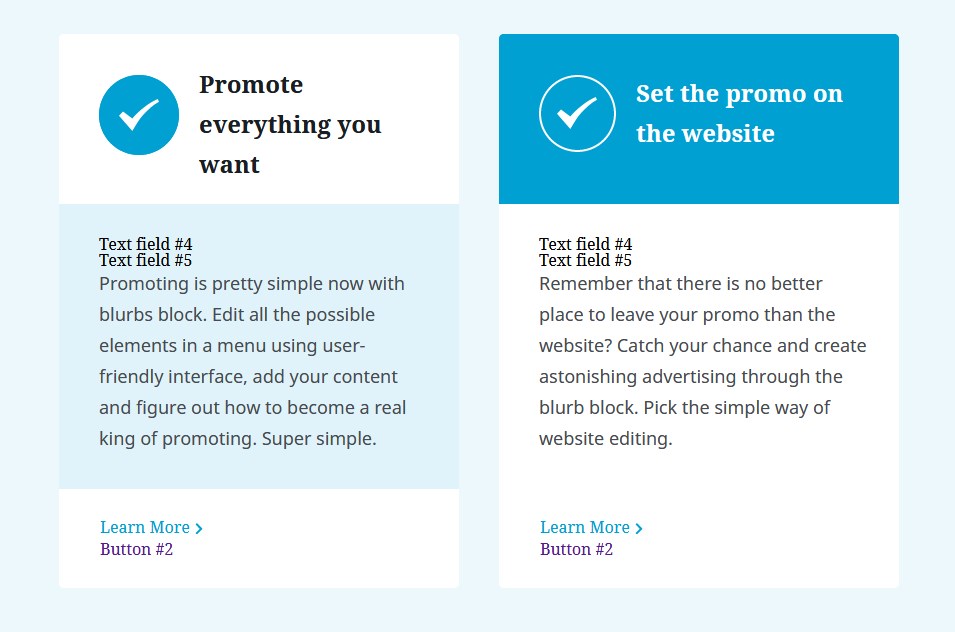 If you've already tried Gutenberg, you'll see how easily you can build more complex, eye-catching, and feature-rich website content sections.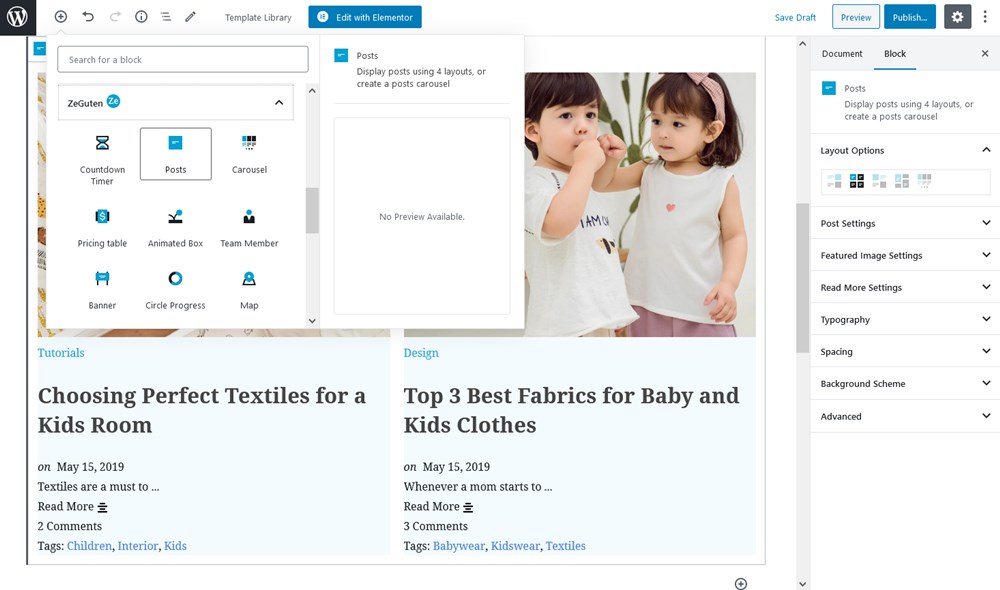 Since these templates offer both minimalist concepts and rather fancy design decisions, you'll have a good choice of ideas.
For example, this WePros demo is a great choice for designers and digital agencies of all sorts.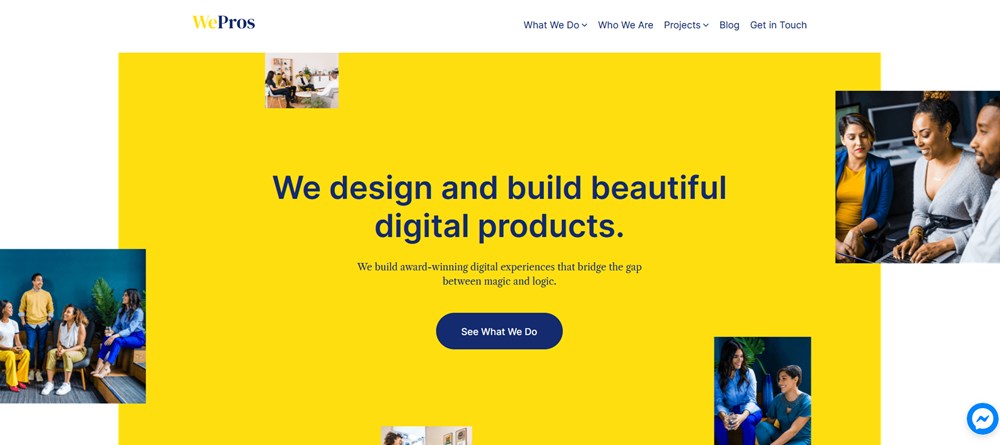 The collection of Gutenberg starter demos focuses on business services, food and restaurants, non-profit establishments, fitness services, online magazines, portfolios and more.
Bold & creative WordPress Elementor templates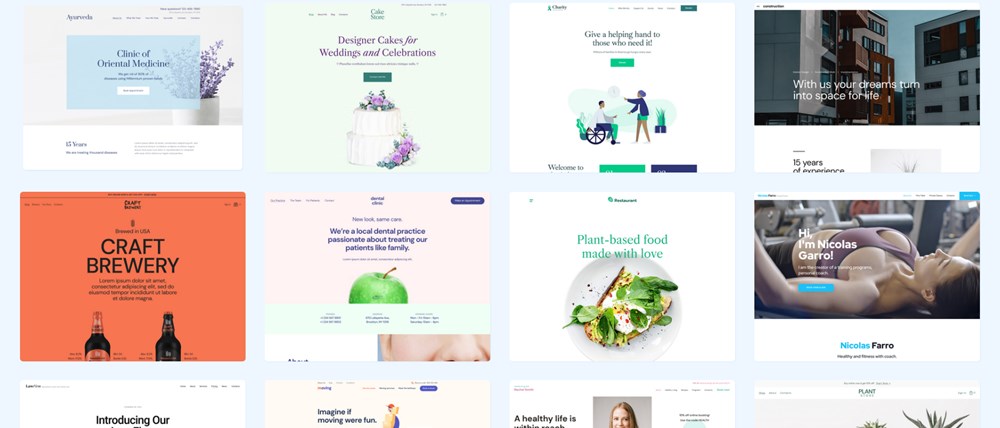 Elementor is not just another page builder for WordPress, it's a story of success.
Building with Elementor, you are confident that you'll 99% achieve what you are looking for with your site. Besides that, there is always support, the needed extension and an Elementor template you need out there on the Internet.
A collection of templates that comes with Gutenix free multipurpose WordPress theme offers solutions for many common business niches, some come with minimalist flat design, others are more traditional business templates; you'll also find a solution if you need something more vibrant, creative, and bold.
I can exemplify the last case with the FreshDiet Elementor WordPress theme: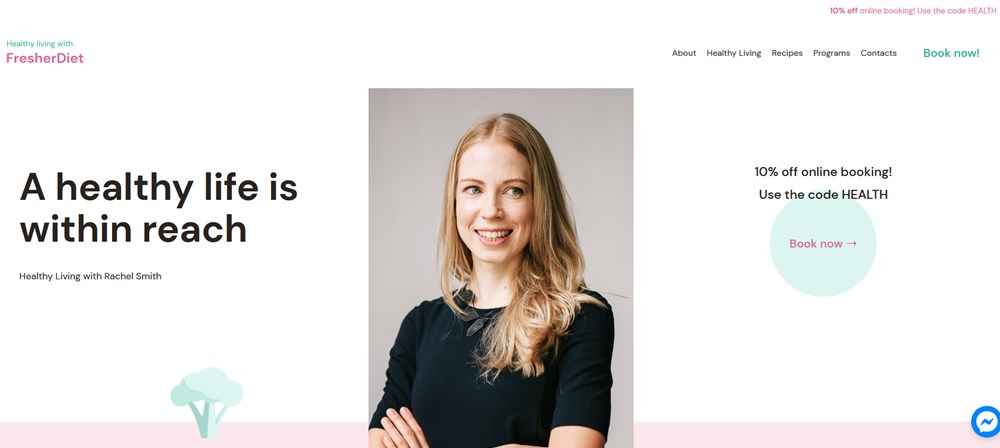 We're proud of Stratum, our own free extension to Elementor, which can help you add many premium-like content widgets.
So if you do want to work with Elementor themes in Gutenix, download Stratum Elementor widgets for free and give it a try. The Stratum plugin is not packed with the theme, so you can download it yourself.
See some Stratum examples to get inspired!
Brizy optimized starter WordPress themes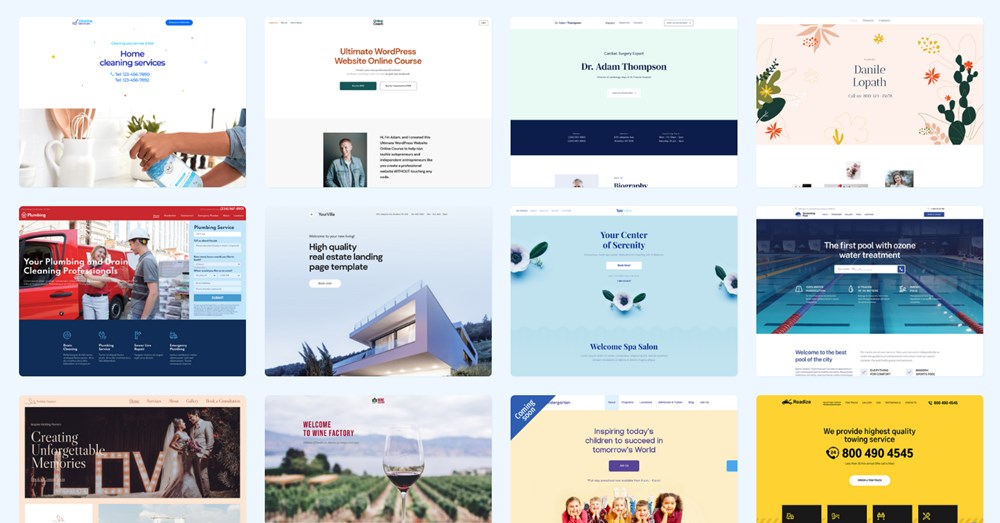 Brizy is a relatively new page drag-and-drop WordPress builder but it was quick enough to build its loyal fanbase.
Each element has its own customization menu, so this page builder is the same as the competitors in principal but slightly different in parts. The builder can boast of its intuitive and clutter-free interface that delivers tons of options.
Gutenix offers a few cool starter themes that are initially built with Brizy. Those include designs for services companies, personal portfolios, online courses, landing pages of all sorts, wedding agencies, wine business, etc.
Brizy designs ship with different color schemes and concepts and are fully transformable allowing you to adapt them to your needs.
If you are looking for a Brizy optimized WordPress theme with page templates, the Gutenix free multipurpose WordPress theme is a great way to go.
Setting up the Gutenix free multipurpose WordPress theme with the step-by-step wizard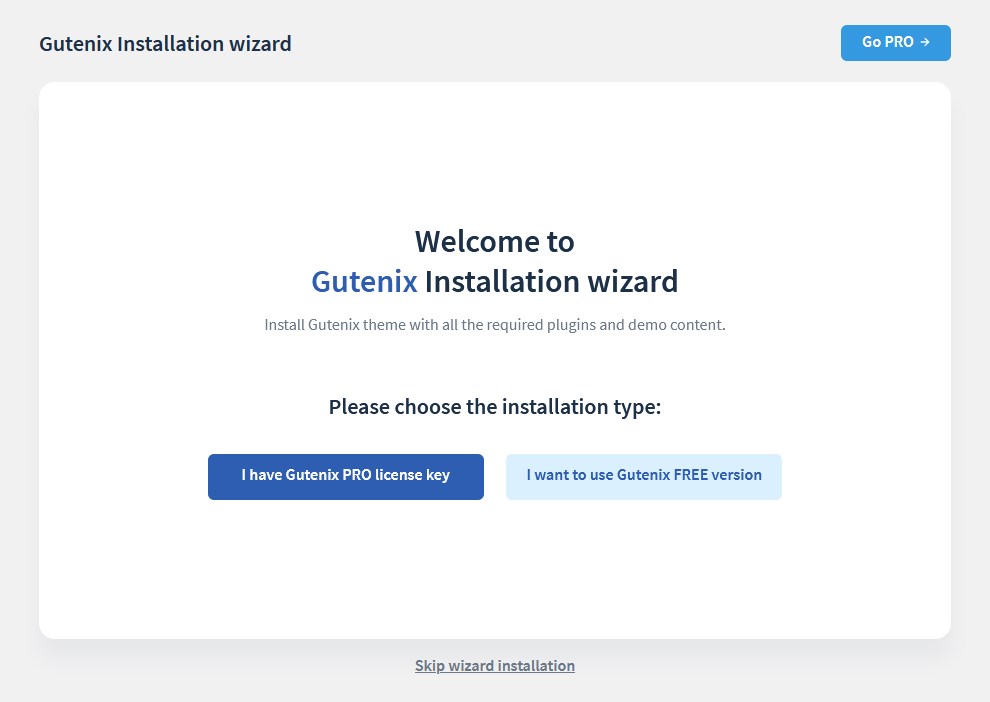 Installing Gutenix is super straightforward. You'll be guided from A to Z with a handy wizard – no matter whether you are on a free or paid version.
Here are the choices you'll need to make along the process:
Go with a free version (offers a limited number of free designs) or PRO. We'll go with Pro to show you all the functionalities. You'll just need to paste your license key to activate the license.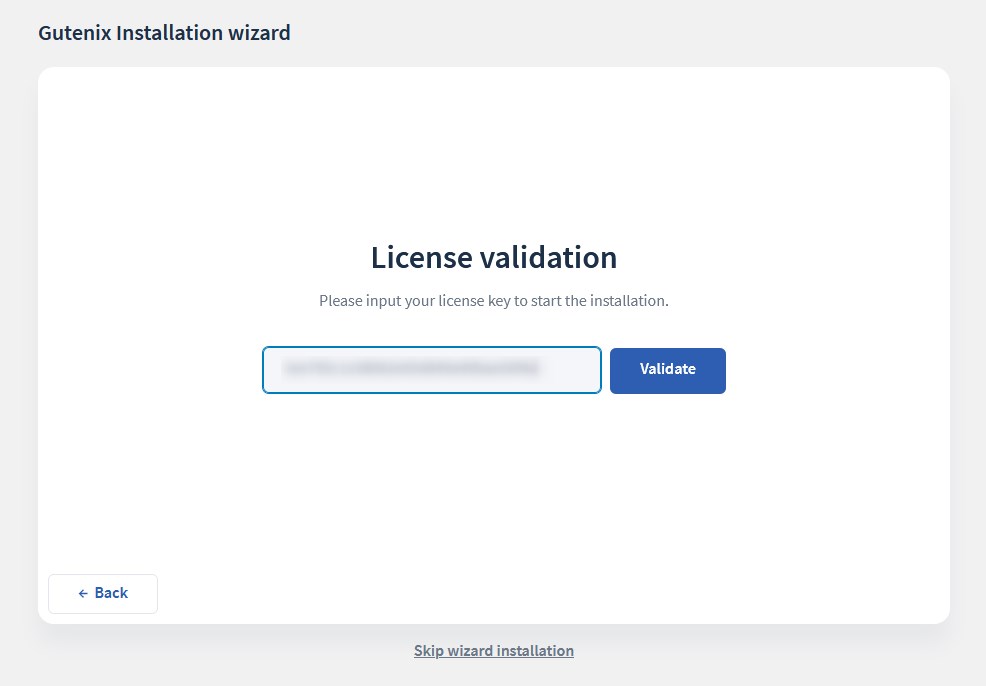 You can get your keys in your account: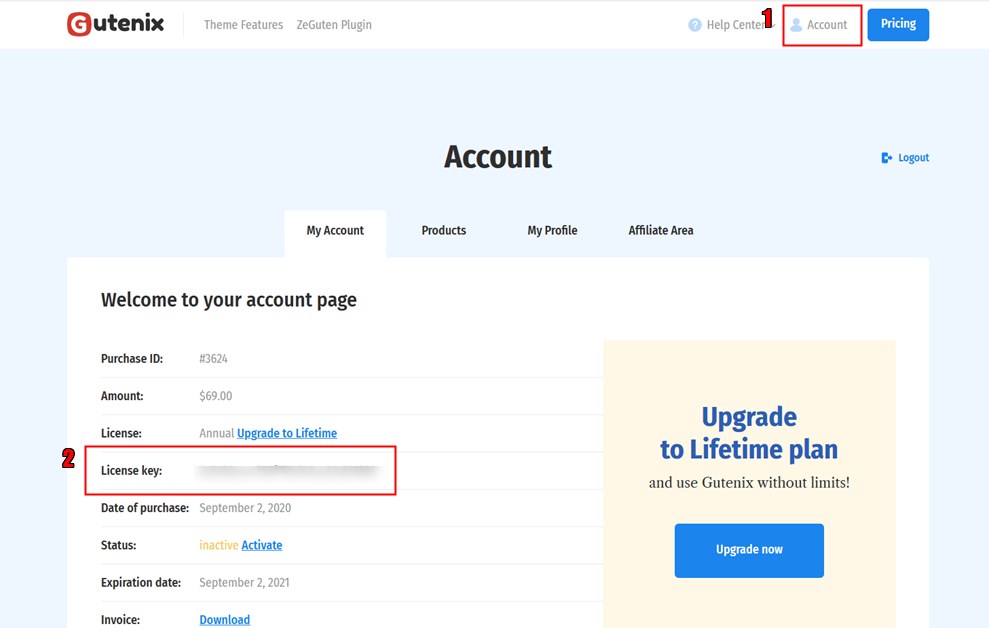 2. Install Gutenix with or without a child theme. We recommend the second option since it'll allow you to apply changes without worrying they'll disappear after the next theme update.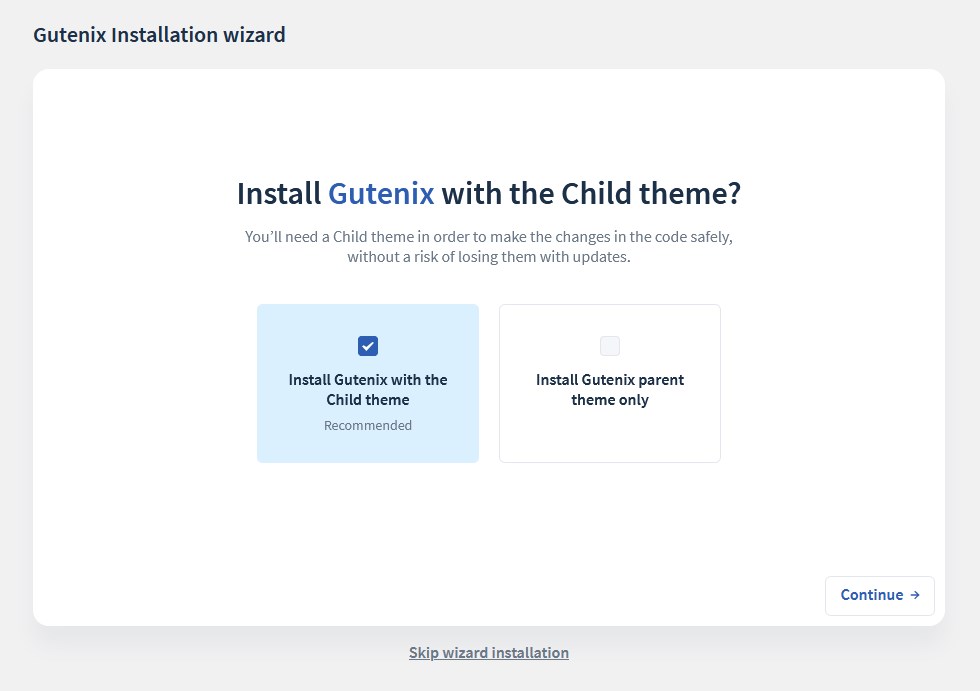 3. You'll be presented with different themes (complete site templates). They are different for different builders. For example, if you are a fan of Elementor, you can choose a starter theme that is optimized for this builder (there are 15 templates so far). If you don't really care about which builder to work with, just select the needed niche theme.
On this step, you can view demos of all themes to have a better idea of their design.
For example, let's choose a feature-rich business theme created with Gutenberg – I really love one called Bisiz because it delivers numerous options out of the box.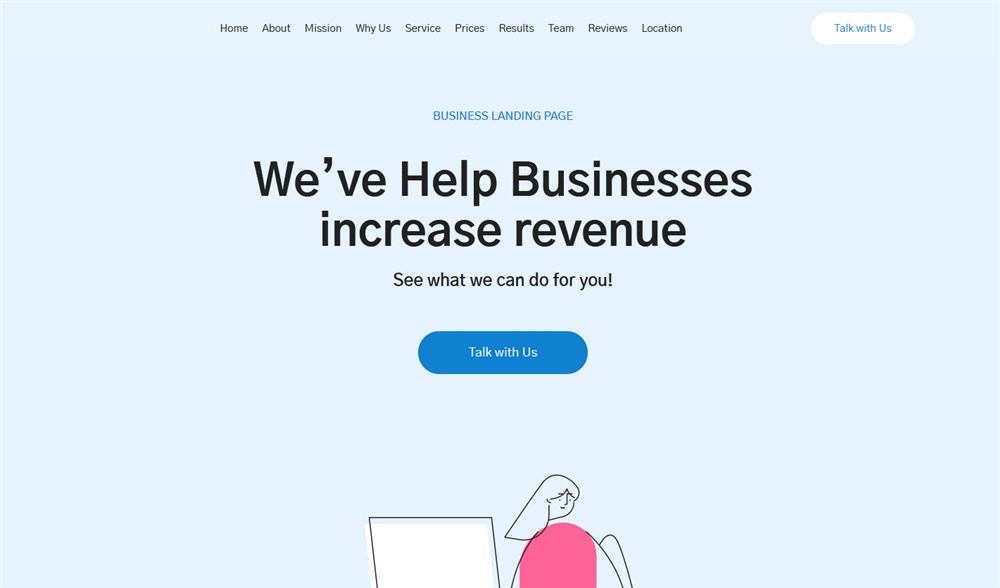 As you see, it will install a few helpful plugins, primarily content customization helpers: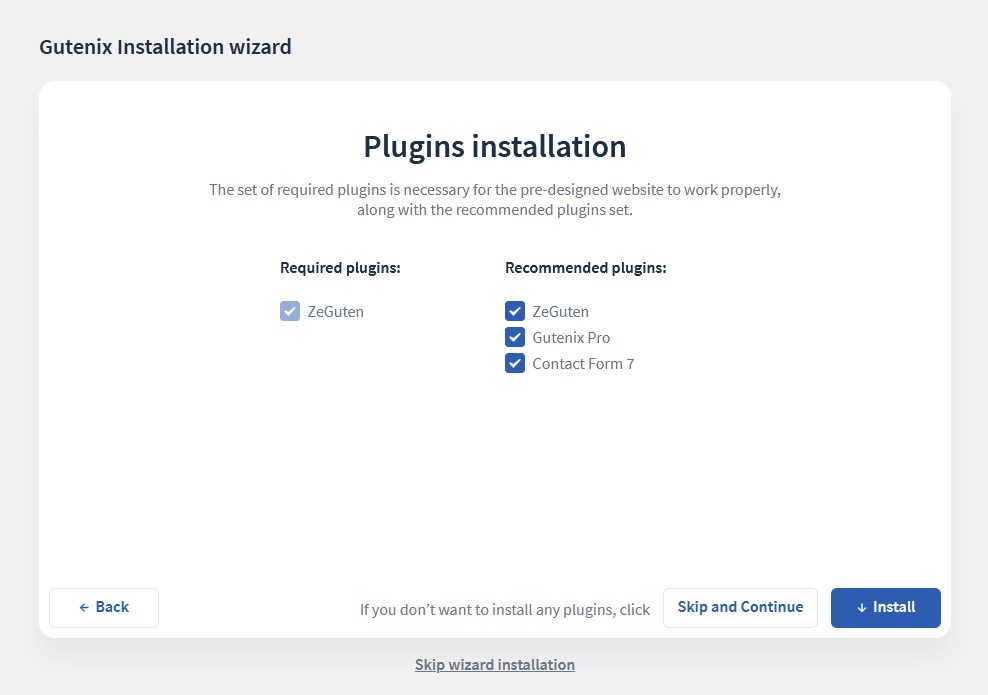 ZeGuten – a premium (packed for free!) library of extra Gutenberg blocks you can add and manage individually on any page.
Gutenix Pro that integrates more theme native global customization settings.
Contact Form 7 to power a contact form on your site (you can replace it).
Once the plugins are installed, you can start working on your site.
Feel free to optionally import demo content in a click – it'll help your website look exactly like a demo template you like. If it's a fresh installation, feel free to click "Replace" since most likely there is nothing to lose. If you, however, have some content, just click "Add demo content to my existing content".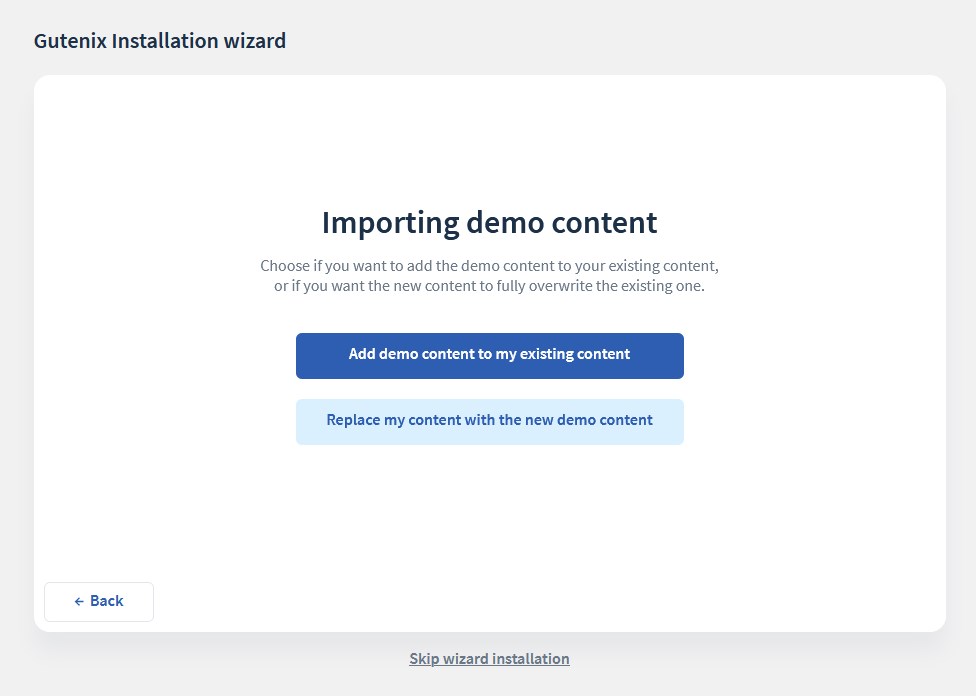 2. Once all the pages are imported, start working on your site!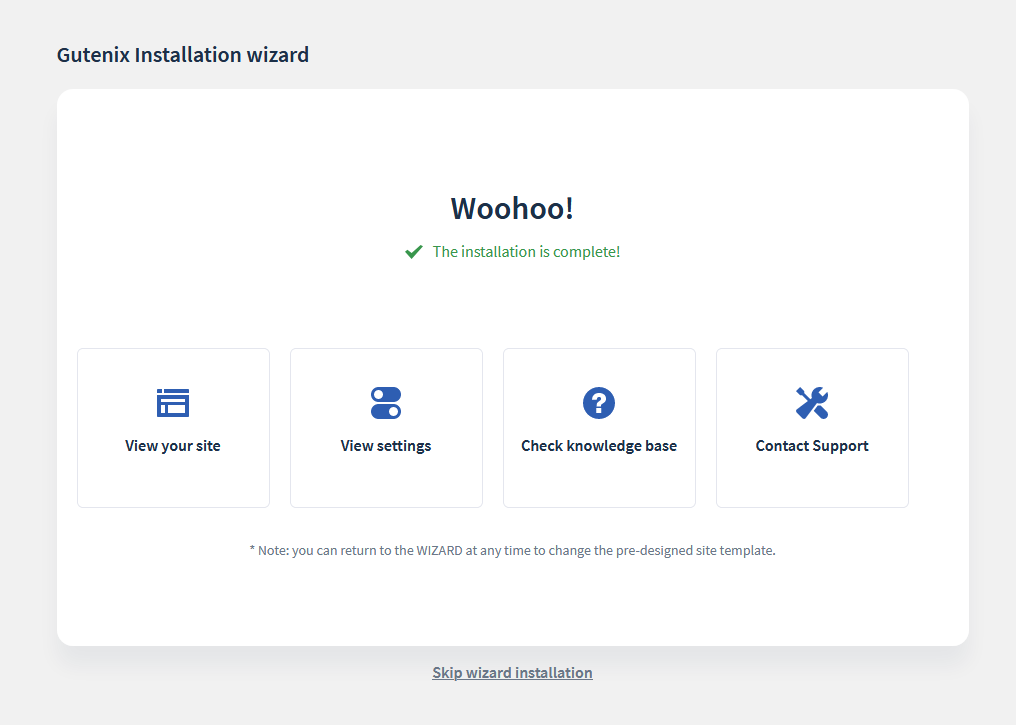 Check your site or go to the settings.
Configure many global settings via WordPress Customizer
Gutenix doesn't rely solely on page builders. The native theme's panel of the WordPress Customizer settings is very feature-rich and flexible.
It's actually one of the most prominent benefits of the theme since the panel allows you to configure a lot of global settings (for the whole site).
Let's list some of them of the key settings to impress you:
Fully customizable site typography (Google fonts, font style, font weight, colors, etc.) for the main text, headings, buttons and the input text.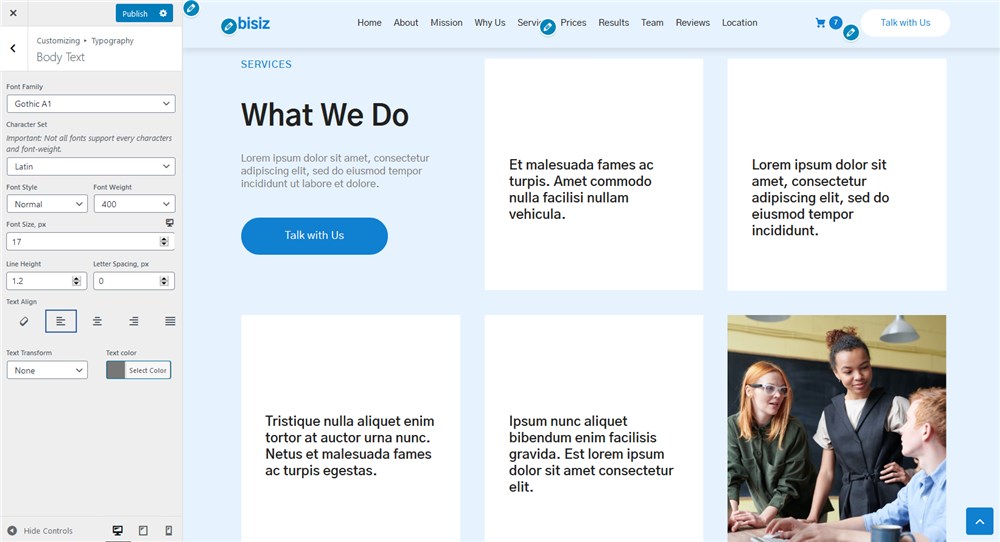 Website layouts: with/without a sidebar, full-width, boxed layout; plus, the ability to set a custom site container manually.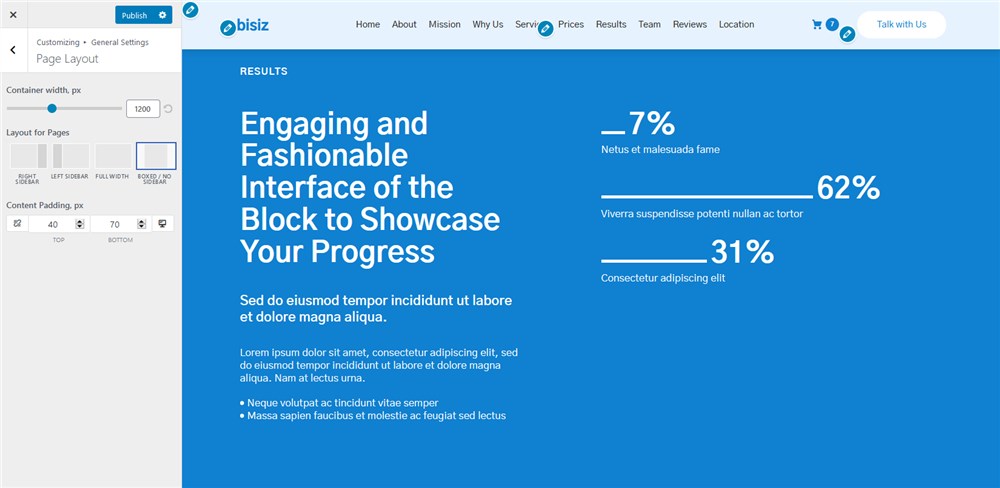 Optionally turn on breadcrumbs for better navigation.
Customizable back-to-top button (you can change colors, paddings, and radius).
Add a sidebar with a sticky effect.
A custom 404 error page.
Add an optional preloader.
Dynamic CSS to make the site code more lightweight and boost the performance of your site.
Google Maps and Popup subscription forms.
Fully customizable color scheme (primary, secondary and link colors).
Enable a top panel to feature extra information or, for example, temporary ads.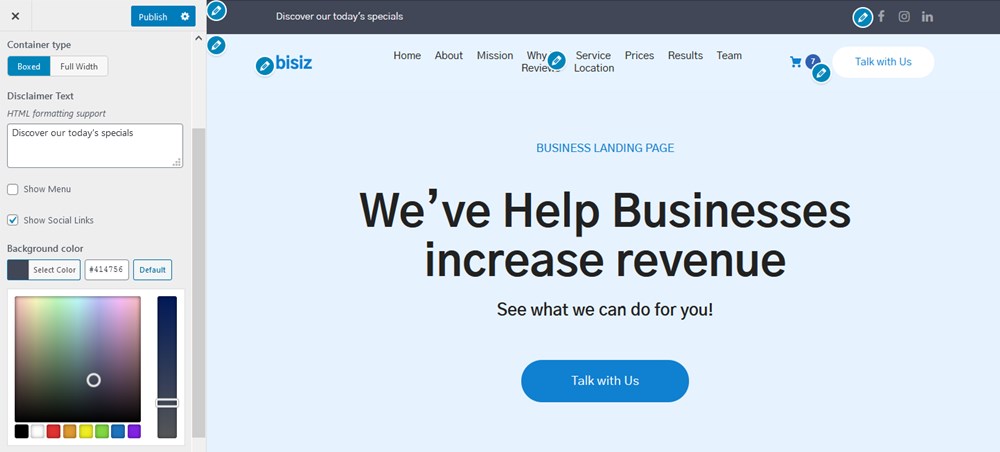 Truly flexible navigation menus with the ability to enable a sticky header.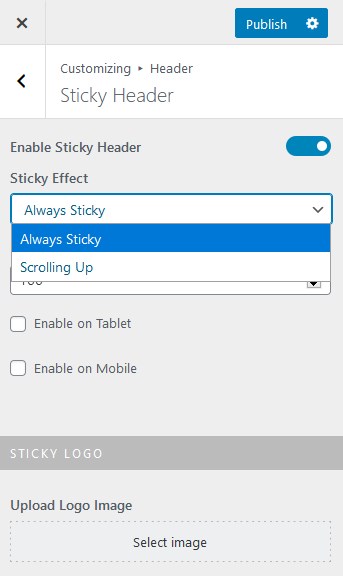 Create a transparent header and show it on the chosen pages.
Completely edit the footer area.

Individual settings panels for all blog elements
Bend your blog in any direction – Gutenix gives you a dedicated tool for that.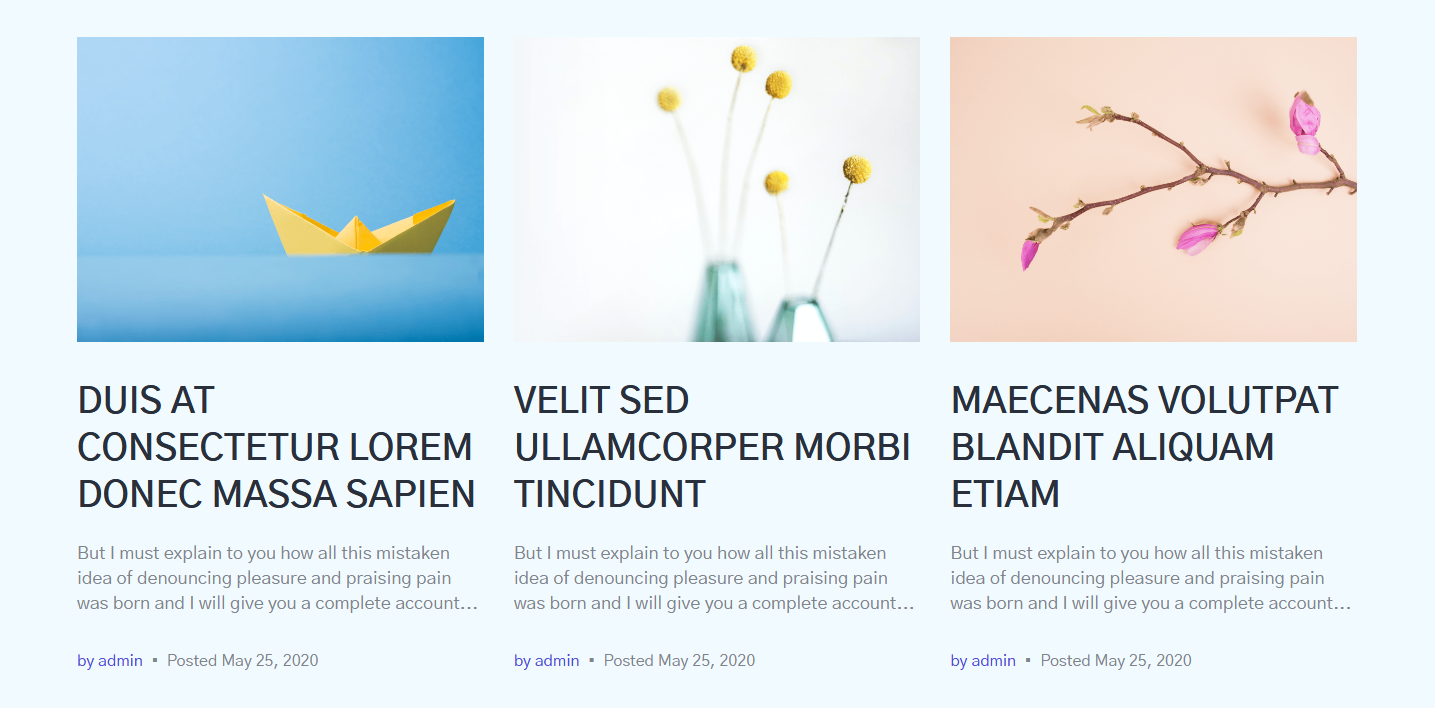 You can choose a preferable blog layout, customize an order of the blog elements, display or show specific metadata, customize the post style, typography, and more. The customizer allows you to go as deep as edit paddings and line heights!

WooCommerce settings
If you need to add a shop to your Gutenix theme, it's going to be an easy task to customize it with the initial WooCommerce support and the flexibility of settings offered with the theme.

The WordPress Customizer gives you full control over many WooCommerce shop elements:
Shopping cart in the menu
Tags and badges to display
Custom colors
4 layout variations for a product catalog and single products
Grid and list views
Filters
Custom typography for products and categories
Upsells and related items
Sharing options
Optional sticky checkout.
The Brewiner and Cozycake starter sites packed with Gutenix offer cool premade shop designs out of the box: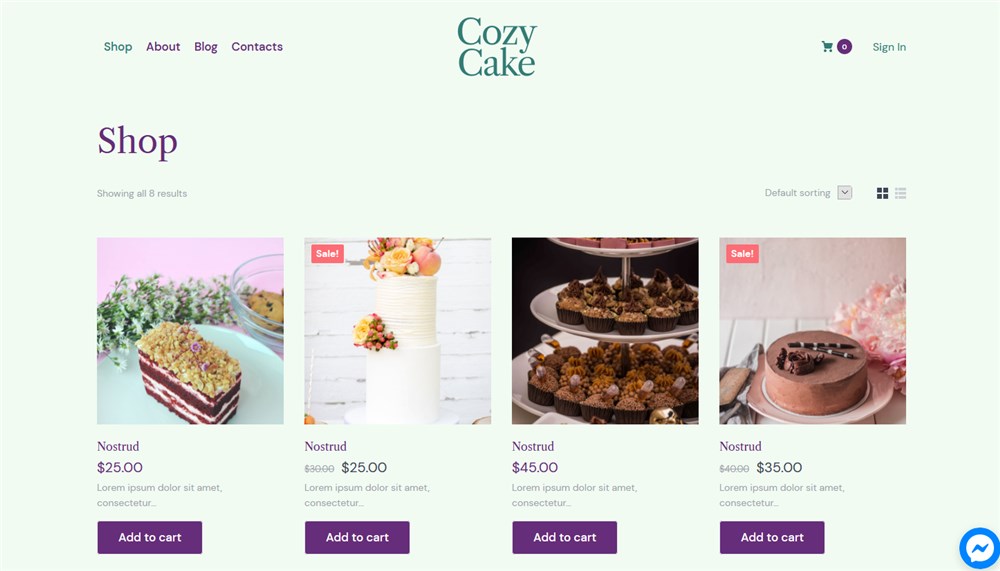 How much does it cost to use the Gutenix free multipurpose WordPress theme?
You can use either free or Pro version of Gutenix:
Gutenix Free Download – it allows you to use some of the available Elementor templates.
Gutenix Subscription gives you access to all the tools, templates, and premium plugins that you can use on the unlimited sites. There are two alternatives:
Pay $69 per year to get updates and support.
Pay slightly more, $174, and never bother to pay again. This subscription level provides you with the lifetime theme updates.
The PRO version of Gutenix is much more feature-rich yet it is relatively affordable, which means you can build a site with a lower budget and less risk.
The Gutenix free WordPress multipurpose theme – top-notch, fresh design solutions for different businesses
If you are looking for a comprehensive and powerful WordPress multipurpose theme, Gutenix is worth a try. The theme works with the builders you love, gives you access to creative designs of any kind, is packed with extra plugins and tools to fulfill your marketing and SEO needs, and is super intuitive to install and work with! Not to mention it will save you some money with the premium plugins built-in.
We plan to add more designs and features to Gutenix so we're looking forward to your feedback!
Will I get access to Gutenix if I purchase MotoPress Membership?
No, Getenix is now our theme, but it's distributed under a different domain name and subbrand, so you need to purchase it (or download a free version).
Which options do I have with a free Gutenix version?
The free Gutenix theme ships with a few Elementor designs, which you can use for free. With a premium version of Gutenix, you can use many more block editor, Elementor and Brizy optimized designs, which are a gem for designers and developers who build client sites.
Are there WooCommerce designs in Gutenix?
Yes, Guteinix comes with a few templates optimized for eCommerce and offers smooth WooCommerce integration. There is also a dedicated e-store menu in the WordPress Customizer we built exclusively for Gutenix and its shop themes.