Find Your Best Scheduling App for Small Business 2023
Is managing client reservations a part of your business? Are you craving to find your best scheduling app for small business?
We are about to share our favorite booking systems compatible with WordPress! One engine is all it takes to stop suffering from the administrative burden of managing employee schedules.
In this roundup, you'll find WordPress solutions for businesses working as hour-based (appointment) services, restaurants with a table booking feature, and accommodation rental industries.
Why Is Booking Software Important for Small Business?
Small business owners often underestimate the power of booking software aimed to facilitate their workload. It seems to them, at one point, that they can manage client bookings manually without the need to entirely automize the booking process. But even the most responsible employee is likely to make a mistake that can be vital for your reputation.
Here are some more reasons why it's worth investing in a good scheduling app or widget:
Most of them work as an all-in-one reservation system. You are able to accept and manage bookings, accept payments, assign employees' tasks, track reservations in real time, and more;
Automatic bookings management. You don't have to approve each booking manually unless you choose to. Almost all booking systems work automatically based on the available time, day, location, and other aspects;
Extensive employee profiles & schedules. Most software support unlimited employees with extensive timetables (inc. days off, breaks, lunches, etc) and profiles (picture & description);
User-friendly dashboard. All bookings and other dashboards (schedules, information about staff members) are displayed in a visual manner;
Notification system for admins, employees & clients. Most software supports email and/or SMS confirmation messages as well as reminders about the upcoming booking.
7 Best WordPress Scheduling Apps For Small Business
If you are oriented to leverage the productivity of your bookings-related business, it's time to find the best booking app for small business. Particularly, this is a compilation of the top 7 booking software, either built for WordPress-based websites or available for WordPress integration.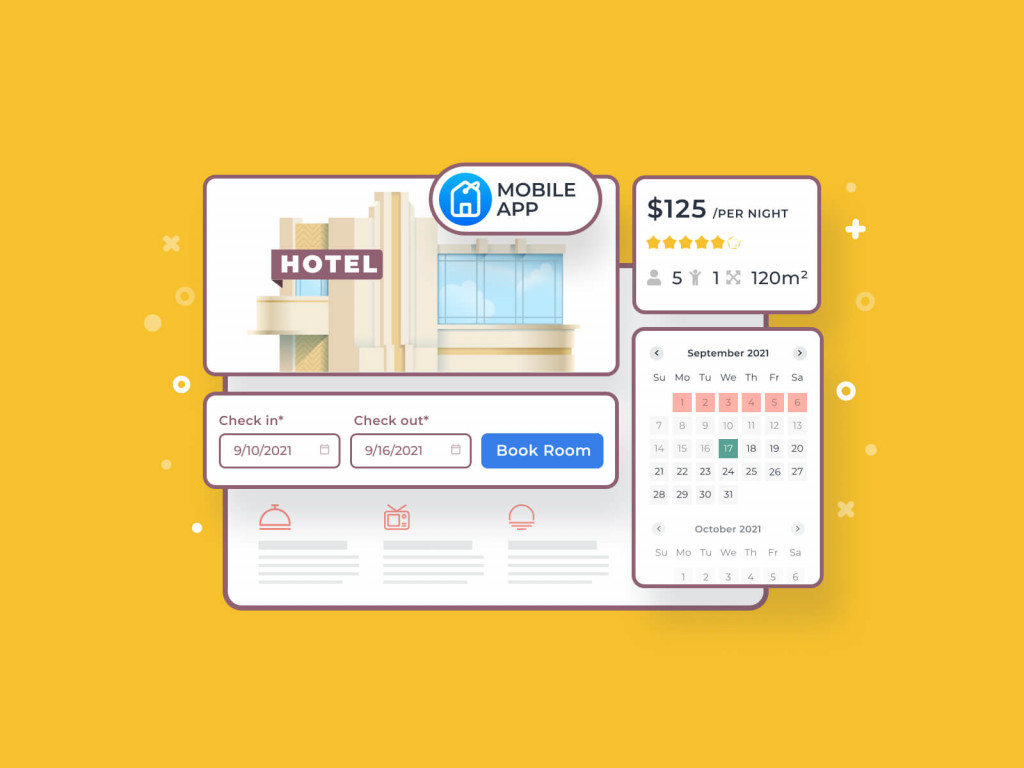 MotoPress Hotel Booking is a small hotel reservation system, which comprises the full span of the accommodation booking process from start to finish.
The plugin offers an unlimited list of properties with information on all amenities, services, images, etc. It comes with an online availability calendar, flexible booking policies, customized rates, seasons, displayed taxes and fees, as well as bookable extras.
To avoid overbooking, MotoPress Hotel Booking will automatically sync your rentals listed in different OTAs with your direct bookings on the website. To keep track of all expenses, the plugin comes with a complete system of taxes, fees, payment history for each booking, etc. Guests can confirm your bookings either by payment (PayPal, 2Checkout, Braintree, Stripe, Beanstream / Bambora, etc.) or manually (via email).
Highlights:
Unlimited categorized properties
iCal channel management to sync with OTAs
Custom fields for advanced property search
Multiple properties bookable at one go
Flexible rate & inventory system
REST API
Mobile App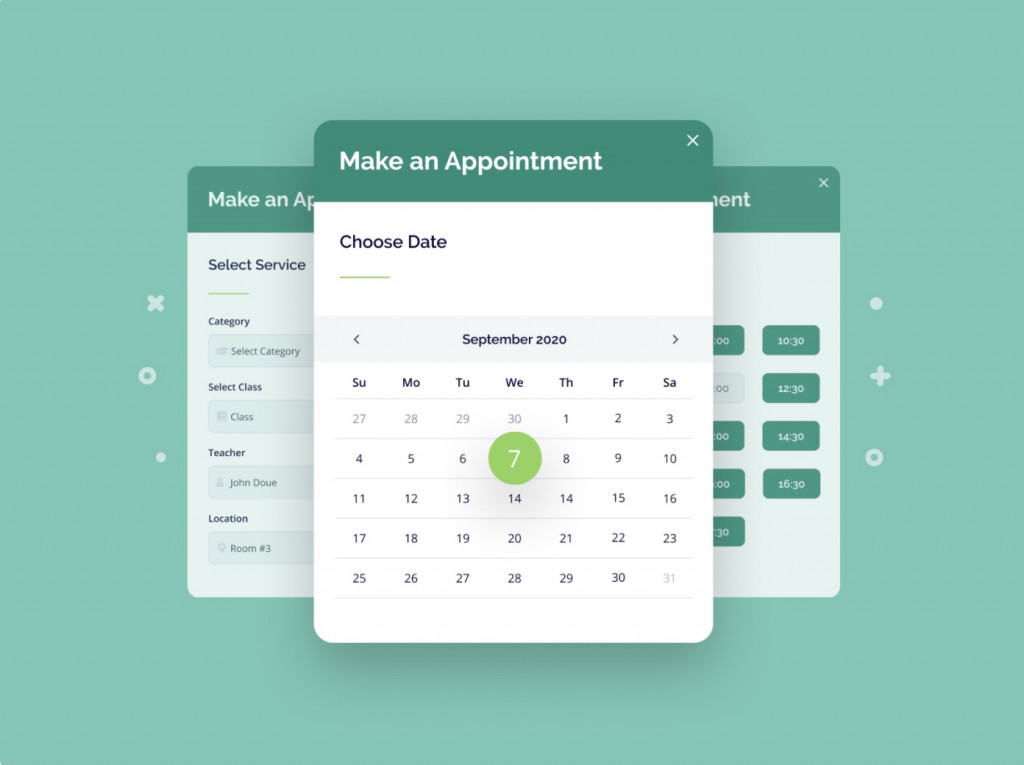 One more booking-related product to suit the needs of small business is the MotoPress appointment engine. Compared to hotel booking software, this system is entirely crafted for hour-based services, whether it's a standalone solopreneur or a company with multiple employees. It covers industries in such industries as beauty & spa, education, healthcare, sports, equipment rental, and so on.
Read more: Which is the Best Equipment Rental Software for WordPress?
The plugin is flexible in all possible aspects. It supports unlimited services, a number of employees, and locations (for chains and brands with more than 1 office). You can set a custom appointment slot, be it 15 minutes or a few hours. Besides, you can add buffer time before and after the actual appointment in case it's necessary.
Regarding bookings management, you'll be surprised at how easily all information is stored in one place. The booking calendar stores all data in a convenient table. It lets you track bookings, and their payment status. If needed, you can add and remove bookings manually. Besides the ability to set custom schedules for each employee (with days off, lunch breaks, etc), the plugin also lets you create their profiles. Employees can synchronize their bookings with Google Calendar.
Highlights:
Custom appointment timing
Unlimited employees, services & locations
Group Bookings
Advanced employee schedules
Buffer time before/after appointments
Online & offline payments
Discount system
Many pre-designed themes: WP rental theme, medical theme, coaching theme, and more.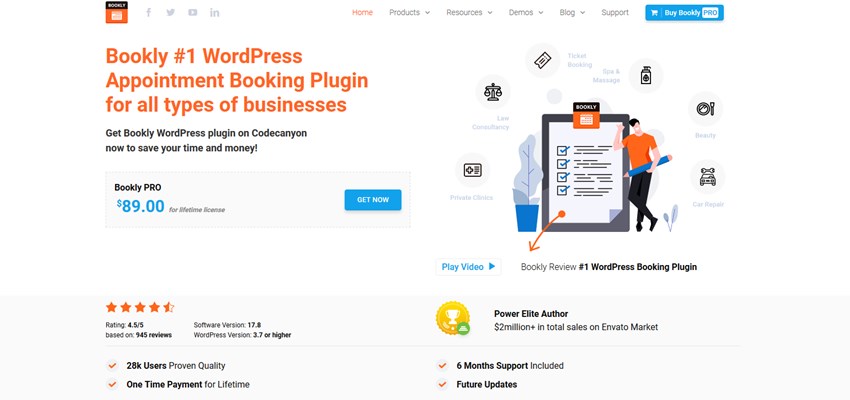 Bookly PRO is a WordPress plugin designed to smooth your scheduling system and build a customer database from booked appointments. It enables an unlimited number of booking forms, services, and staff members.
On the surface, Bookly is no different from any other best online booking system for small business. Clients can schedule appointments, send payments, and cancel their appointments via confirmation email. You can integrate Bookly with Google Calendar so that each employee can see the schedule of their meetings in a visual calendar. Bookly also gives you full control over employees: you can schedule shift times, breaks, and holidays on their calendar. The SMS & email notifications are available for both sides (employees and clients).
Yet, Bookly stands out with its own unique features. For example, the plugin provides one of the most customizable booking forms. It lets you tweak its overall design and content. By the way, you are allowed to create unlimited booking forms across your site.
Highlights:
Fully customizable booking form
Filterable, sortable & searchable booking list
Group bookings
Multiple bookings at one go
Two-way sync with Google Calendar
Integration with PayPal Express Checkout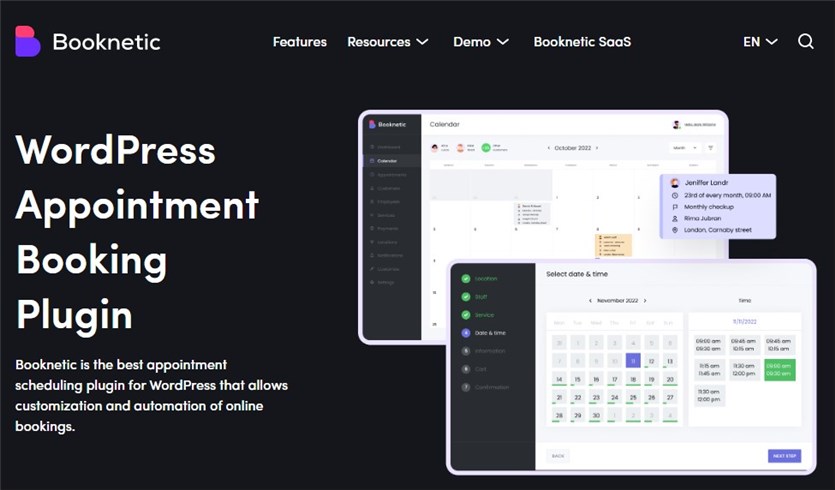 Booknetic is a WordPress appointment booking plugin with a user-friendly and modern interface on both frontend & backend. The plugin suits any kind of appointment-based service. Users can add an unlimited number of services, locations, and employees within one license.
This booking engine for WordPress transforms the booking experience. Not only it offers convenient online booking, but it also helps increase them. With webhooks and Google Analytics conversion tracking, it's easy to optimize your website and maximize bookings.
The Booknetic reservation engine supports Zoom and automatically adds all of the scheduled meetings to Google Calendar. With its automation settings, besides the standard SMS and Email messages, you can also send reminders from WhatsApp and Telegram.
Highlights:
Conversion tracking with Google Analytics and Tag Manager
Wide range of webhooks support
Waitlist management
Custom appointment durations
User role management
Zoom integration and Google Calendar support
Multiple locations & services
Reporting module
SMS, WhatsApp, Telegram, and Email reminders
Webhook integrations (Zapier, IFTT)
Recurring and group meetings
PayPal, Stripe, Square, Mollie, Razorpay, and local payments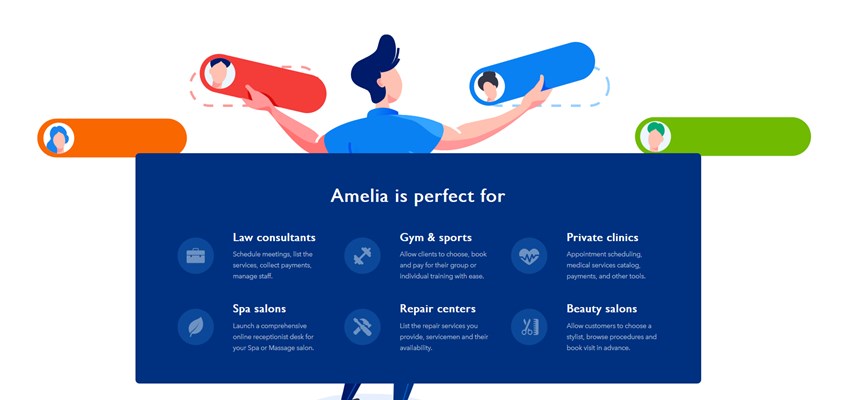 It will be incorrect to title Amelia as the best scheduling app for small business just because it's not considered an app, and nor does it provide one. The engine is entirely WordPress-based and is one of the most popular solutions suitable for appointment-based businesses.
The plugin ensures a seamless booking experience. Just like other software, it fully automates the interaction with potential customers, helps them select the right service and employee, takes care of payments, and reminds both sides about scheduled, canceled, or rescheduled appointments.
Amelia manages not only customer orders but also employees' schedules. Business owners or managers can view the KPI indicators of each employee.
Highlights:
CRM-like booking functionality
Two-way Google Calendar sync
Stripe, PayPal, or multiple gateways through WooCommerce
Advanced booking control panel
Dedicated billing and finance area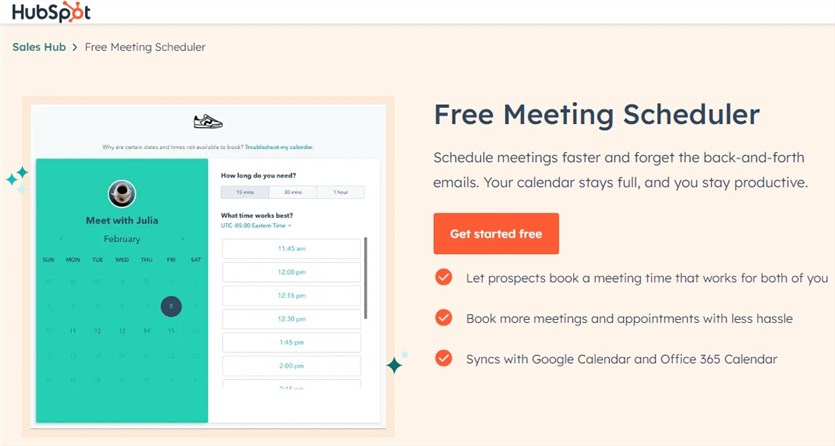 HubSpot Meetings Tool is not a WordPress yet an effective solution for marketers and sales representatives. Free and easy to use, it offers flexible meeting forms and automated meeting reminders. Prospects can book a meeting with you and receive a confirmation email.
This scheduling app supports payments via Stripe and Square systems. Also, you can keep track of your meetings and contacts added to a database. It's possible to send a group or round robin meeting link.
Highlights:
Sync with Google Calendar and Office 365
Multiple integrations with business tools
Stripe and Square payment integrations
Dashboard with insights
Personalized booking links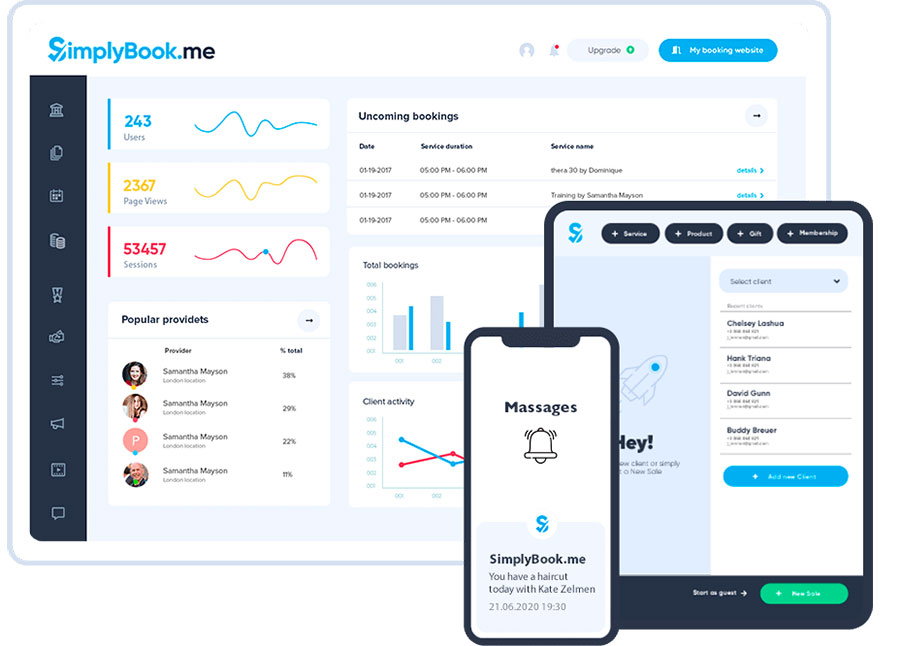 Compared to the previously-mentioned WordPress plugins, the SimplyBook.me software suits ALL types of booking sites for small business. The engine is suitable not only for WordPress but also for Facebook, Instagram, Google My Business, and other CMS systems (Joomla, Site123). Also, you can use API to create your own custom integrations.
SimplyBook has 50+ features to customize the booking calendar to your personal needs. It supports coupons and gift cards, product sales, memberships, classes, promo system, HIPAA, SOAP, login forms, bundled packages, POS, and more. The engine supports group bookings – perfect for group classes and conversation clubs.
SimplyBook.me supports payments and offers bookings analytics & financial reports.
Highlights:
Client & admin app
2-way sync for Google & Outlook calendars
Multiple integrations & addons (coupons, packages, gift cards, etc)
Online video meetings via Gruveo Video
Client & admin app
Pick Your Best Scheduling App for Small Business
When looking for the best scheduling app for small business, it's important to orientate on your niche and know your needs. After all, there is a big difference between the small hotel reservation software (like MotoPress Hotel Booking) and an appointment booking engine (MotoPress Appointment Booking, Booknetic, Amelia, etc).