One-stop WordPress Massage Therapy Theme: Restline Review
Restline is a brand-new WordPress massage therapy theme, and a good fit for wellness and spa salons, too.
It's a super lightweight, digitally mature theme with multiple business-focused content elements, including services, testimonials, galleries, pricing lists, gift certificates, and more.
Although it delivers a fresh design, it's powered by the trusted WordPress plugins and functionalities, such as Appointment Scheduler for bookings and WordPress blocks for customization.
As you can see, in Restline, we make a special emphasis on the booking widget.
So if you take the aim of offering automated bookings to your clients seriously, the theme will be effective in this case.
WordPress massage therapy theme
The booking plugin can process online payments, you can manage the staff and schedules for automatic appointments, control bookings and notifications and do more from a single dashboard of your WordPress site.
Getting all those benefits, you are sure to put your massage center on the path to competitive advantage. That what Restline is made for.
So let's talk about the details.
Client-oriented design, smooth animations, smart calls-to-action
The Restline WordPress massage therapy theme allows you to unlock the value of the native WordPress block editor.
The theme is built with blocks, and can be edited and extended with blocks.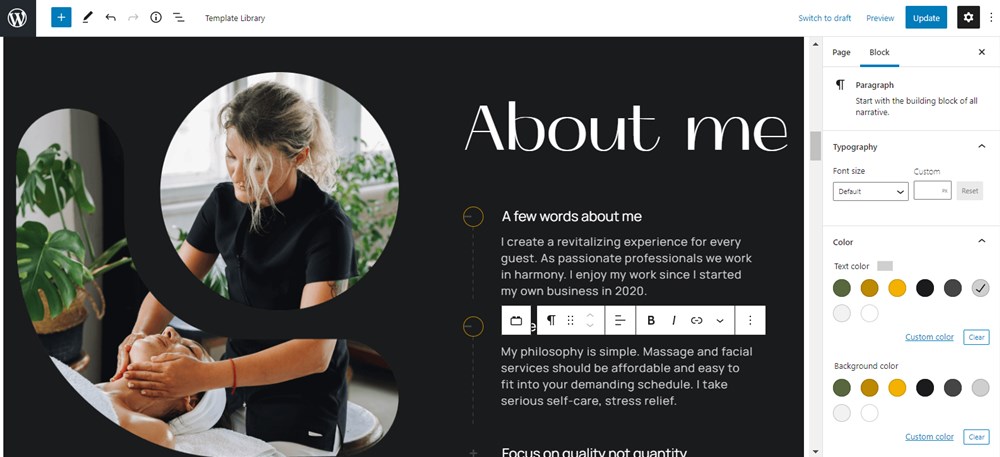 The latter is a work in progress and the thing of constant improvements, which means you will be able to always have up-to-date customization tools at hand.
It allows you to click on every visible block in the editor and edit it via the handy settings panel on the right.
There are also multiple inline settings, which allow you to edit the page or individual block/section layout.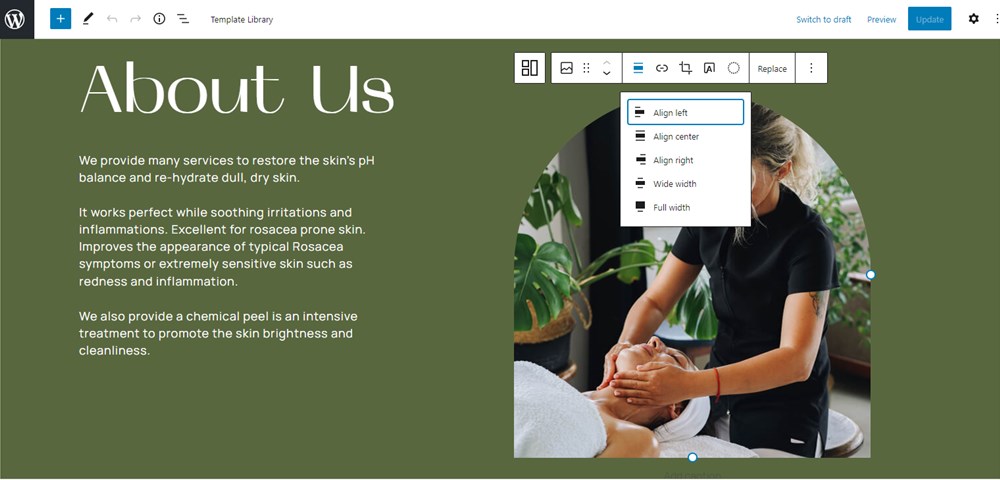 The theme also leans heavily on the extra powerful extension, the Getwid blocks library, which is also our solution, fully native to the block editor.
This addon plugin lets you add even more creative blocks (content elements) to your website created with this WordPress massage therapy theme.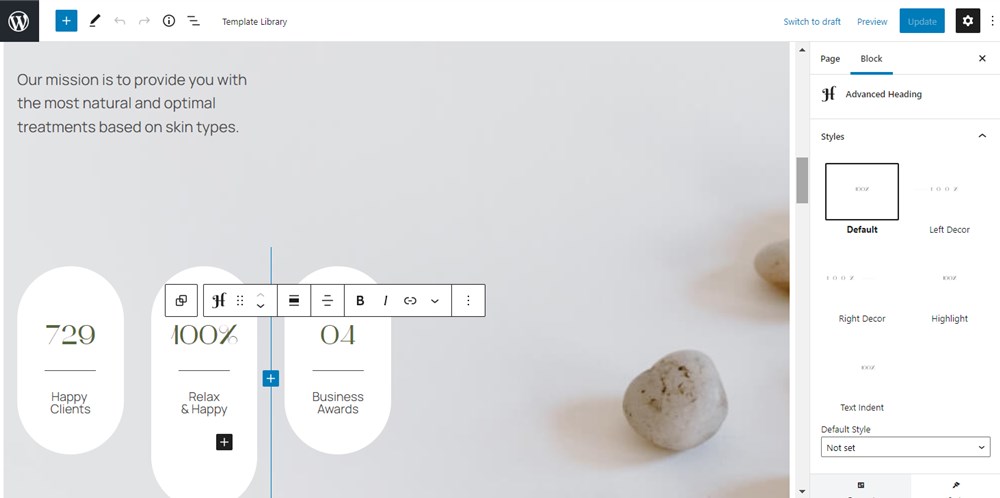 And not only separate blocks but page templates too; the latter are complete page sections with various blocks in harmony: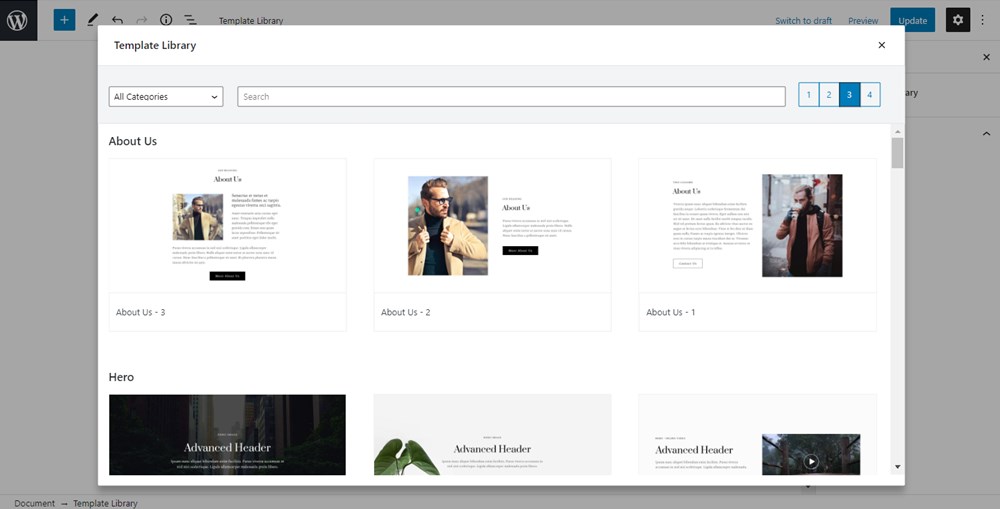 Even more so, you can always extend the block editor, thus the ways you can edit Restline, further with any builder or extension you want.
But I am sure there won't be such a need, since the block editor alone, even more so powered up by Getwid, is a pretty one-stop mix to create a beautiful and functioning website.
Home page solutions
How have we employed the aforementioned WordPress tools to design an eye-catching home page? Let's see a few examples of what we achieved.
Intro section
An informative and visually minimalist intro section allows clients to grasp some of the essential contacts information, your key statement and probably calls-to-action.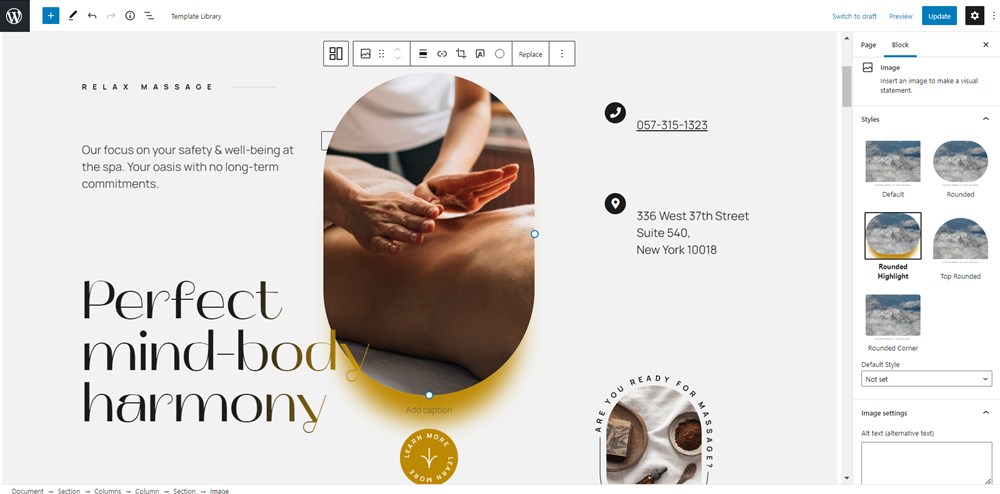 You can edit all individual elements, including colors, fonts, sizes, and more. Adding or deleting elements is a breeze too.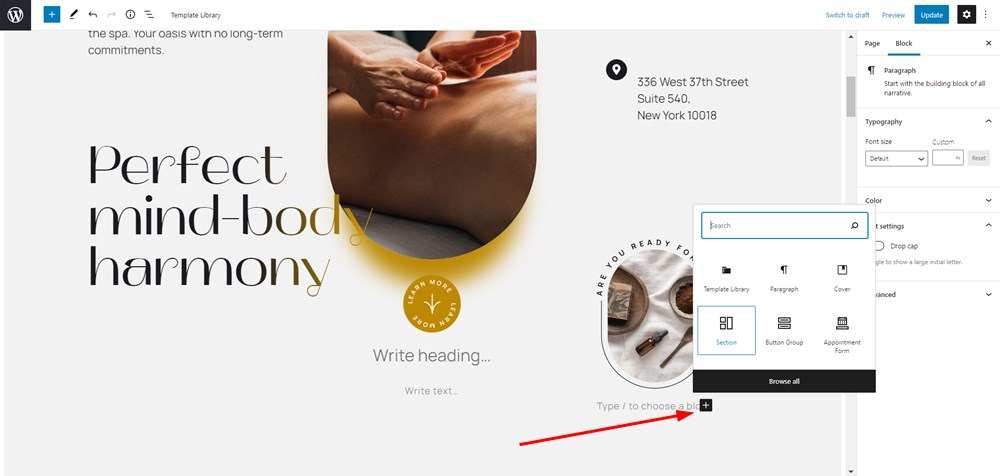 For instance, you can replace the blocks with sliders, galleries, etc.
Thanks to incorporated animation effects of individual blocks, the site visitors experience a nice browsing flow of your site.
About me/About salon section
The theme gives you a good space to present your key ideas, service or salon description, or expertise.
A few incorporated styles are ready for your choice.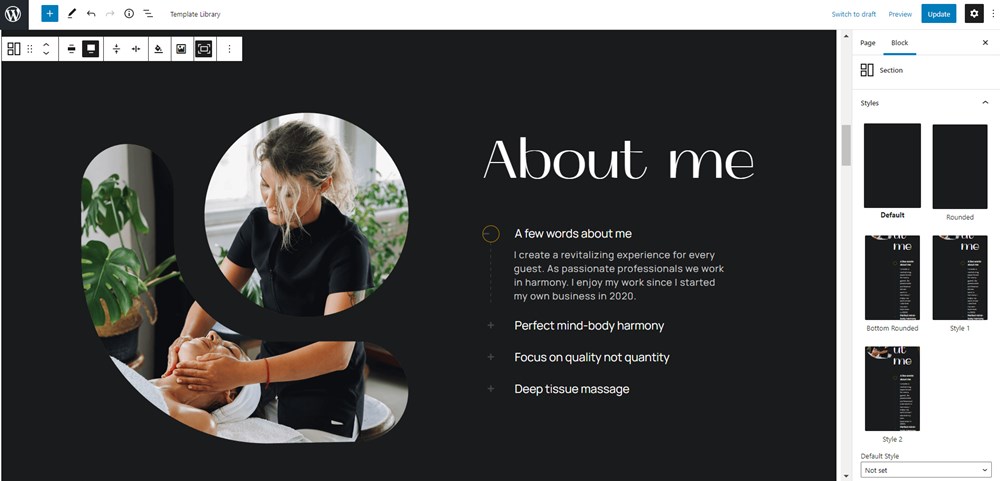 Services & pricing list
Let your client get the idea of your prices right away by featuring the most popular massage services in a list with the prices displayed.
It's an easily customizable list that you can tweak and select only individual services.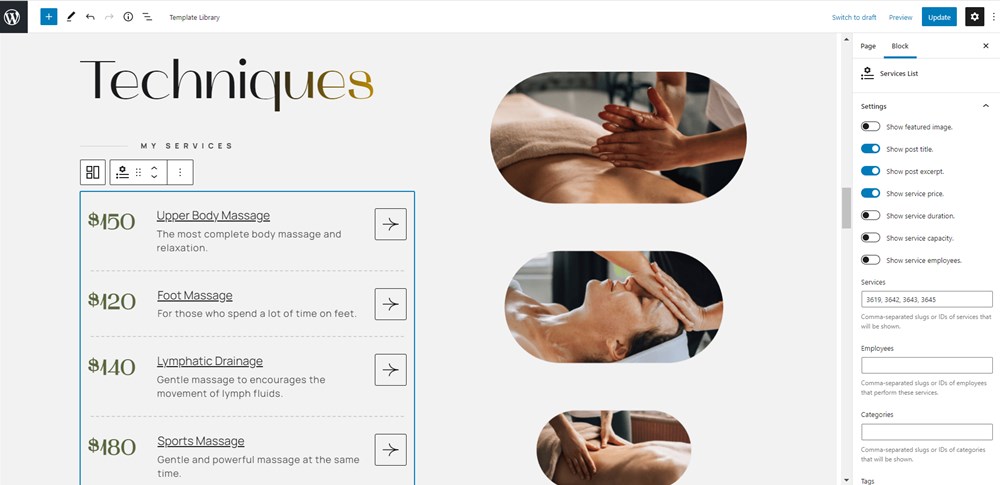 Call-to-action
Any call-to-action section can be transformed into something more relevant to your business. The current one contains a visual part with the image and text, and the Book now button.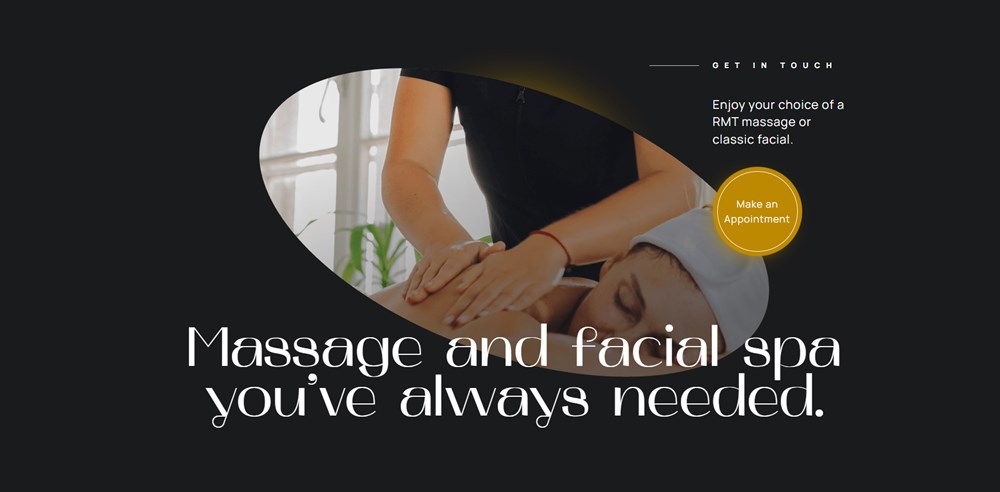 By clicking on a button, the booking widget is opened, welcoming website visitors to choose a service, assistant, location and time to make an appointment.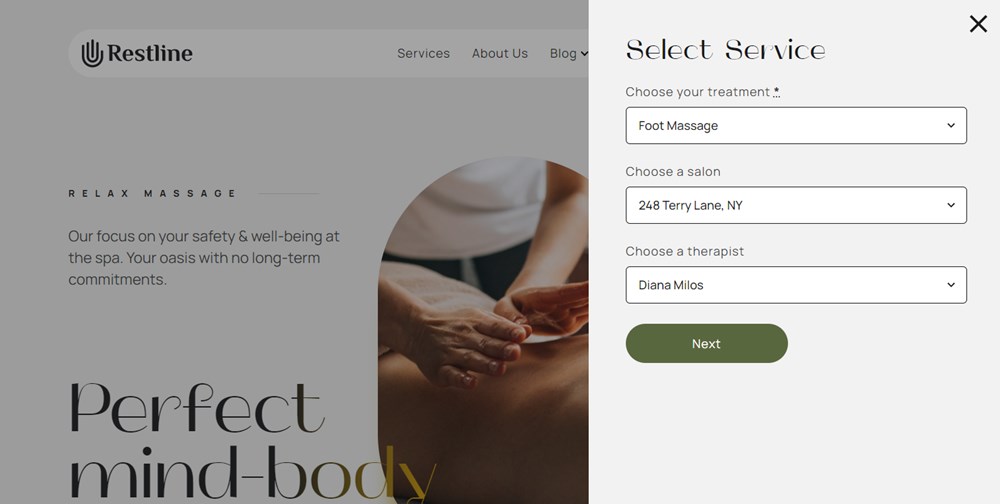 Testimonials
The Testimonials section is built so that each feedback is in the center of attention. Clients can click through them to read all. These are admin-added testimonials.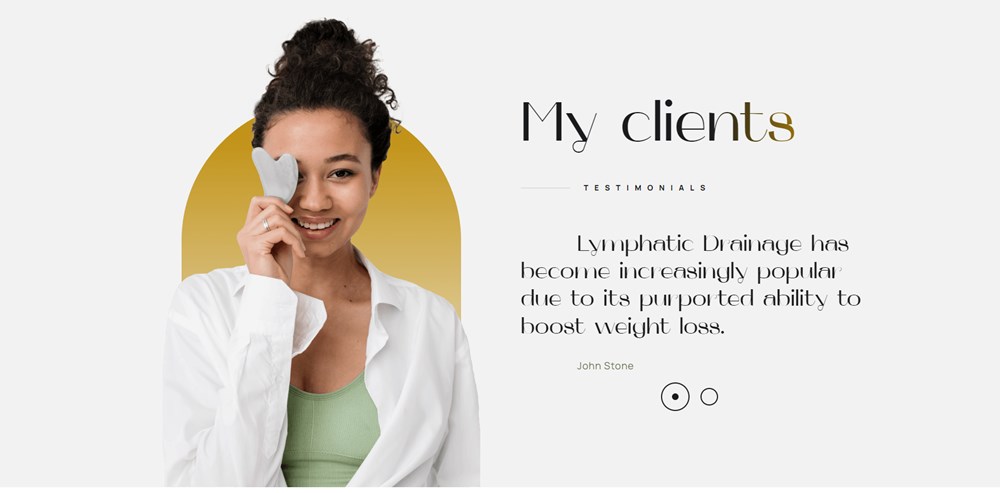 Extract from a blog
To have a SEO-optimized website that Google loves and ranks high, you need to do a lot of blogging.
But don't forget that a blog is also a way to grab your client's attention; putting some of the most interesting and popular posts to the home page will surely increase the time people stay on your website.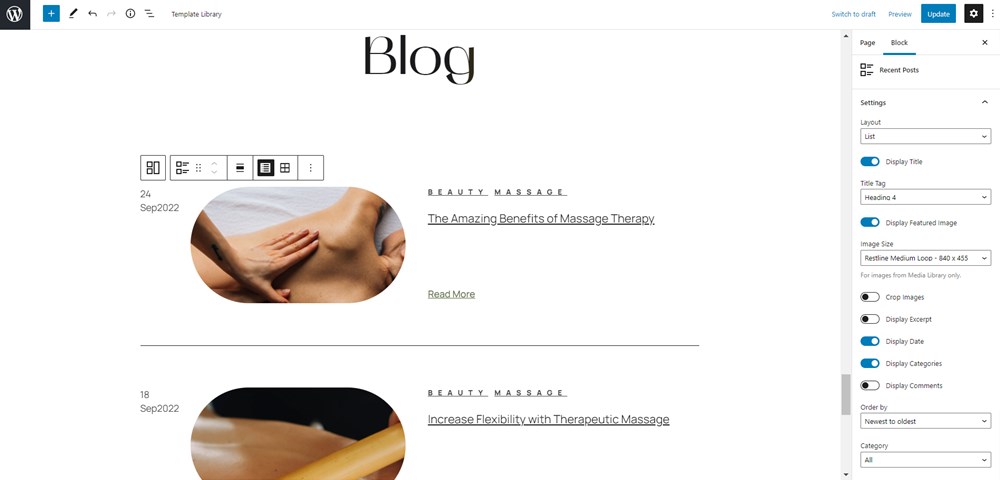 By default, the Restline theme features a nice blog widget of the Recent Posts by Getwid right on the front page.
A bold footer section and minimalist header 
In the footer section, which is really bold, you have space to feature your contacts, social media icons, buttons and more. It's easy to edit sections, such as add or remove widgets and links, in the standard WordPress Customizer interface.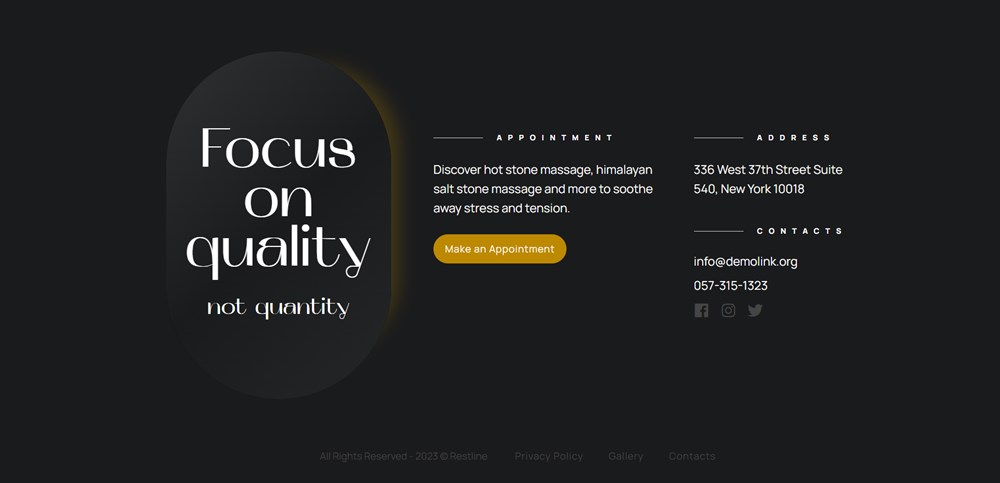 The header navigation area is rather simplistic, with the Make an Appointment button in the center of attention.

Let's now take a bit closer look at other website pages that as a rule allow you to focus on individual messages or services.
Inner WordPress massage therapist theme pages
The dedicated Services page lists a grid of all services with the prices and Book button. By hovering a service, it's color-coded in green.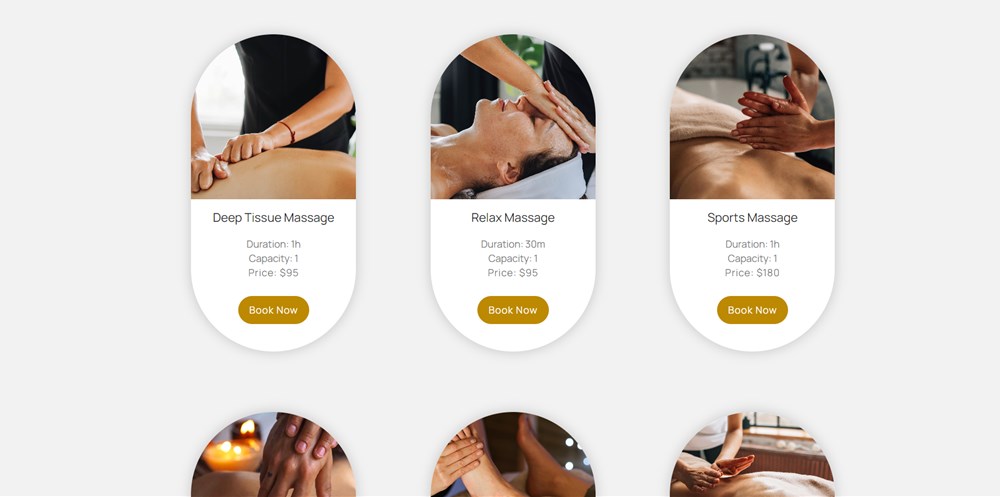 Next, you can build a more vibrant and information-detailed section on the individual About me page.
Here are multiple tools to unleash your creativity, such as featuring your awards, benefits, gallery and of your day-to-day salon life, some stats in numbers and more.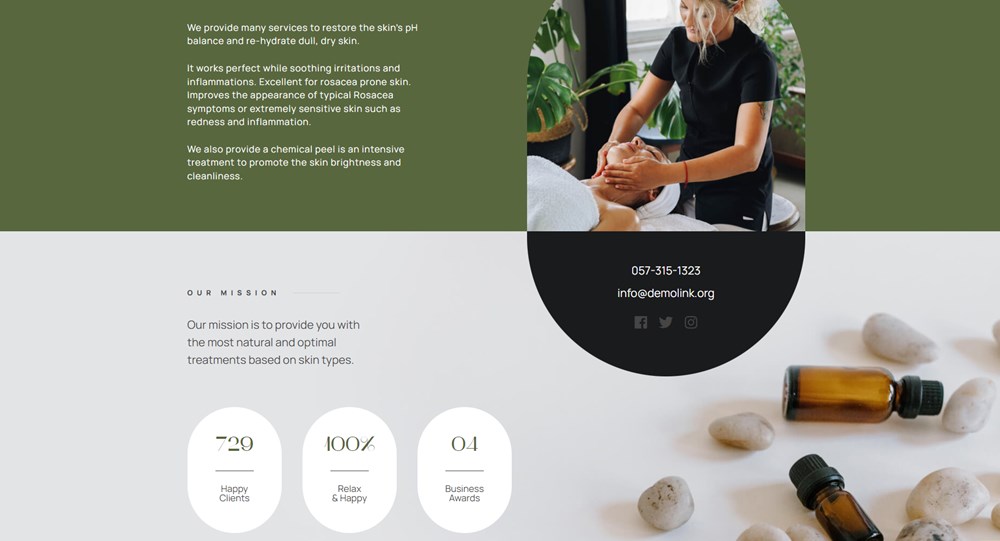 Restline also delivers a few blog layout designs you can choose from: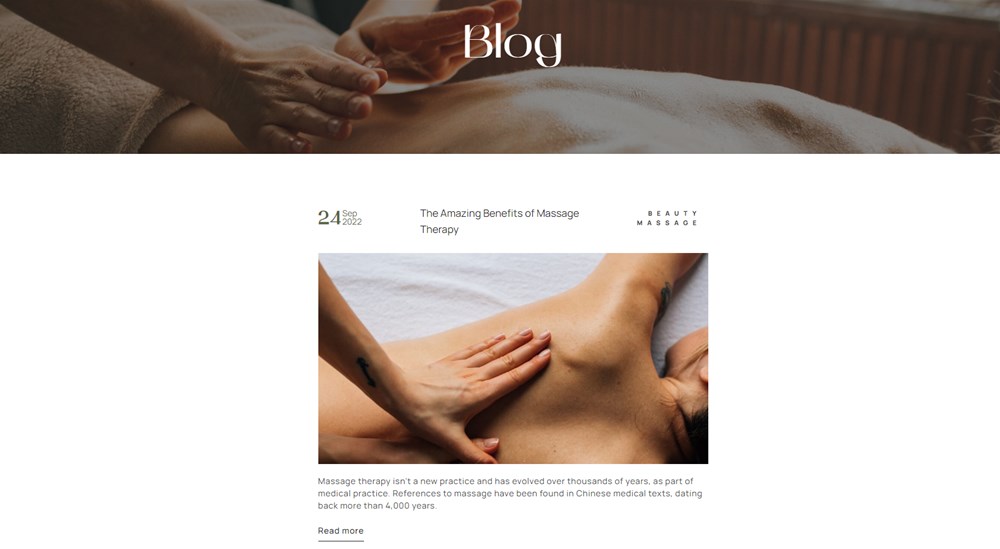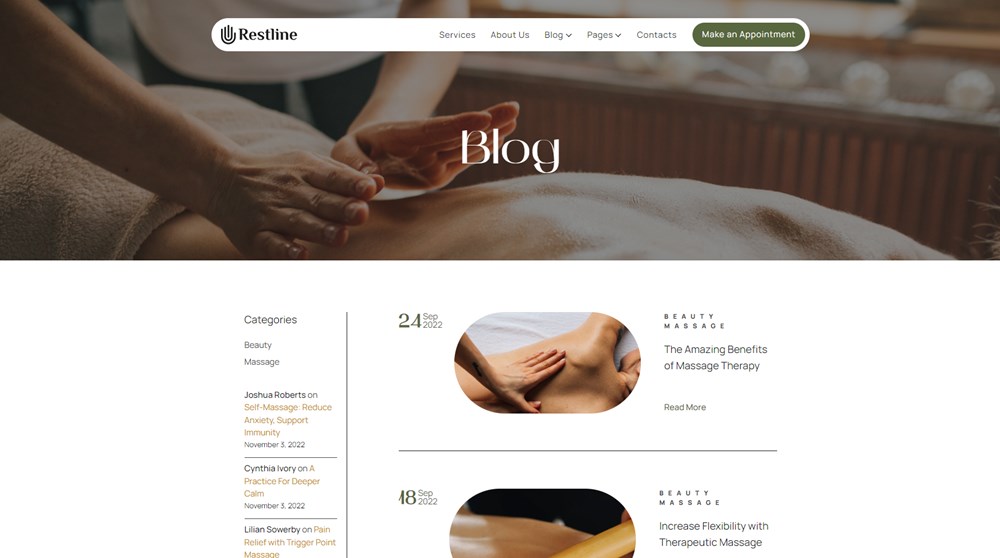 If it's not a one-person business, you can choose to feature your staff, there is a handy block with a nice set of the design customization settings.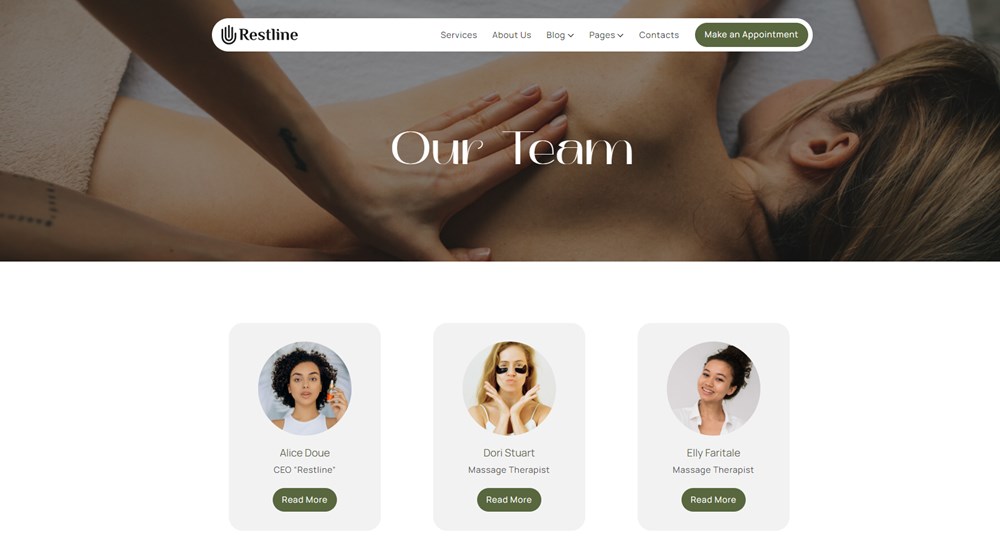 You can sell gift cards or other promo services and packages, the block editor offers tons of tools to build designs for them.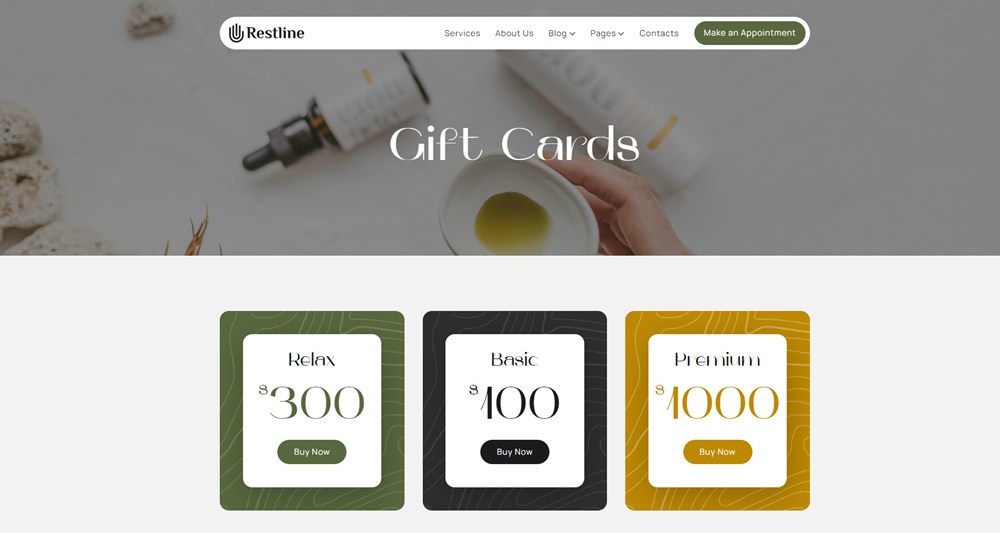 If you offer any other services that you can sell separately, or even the same key services as you present on the front page, feel free to display them in another list.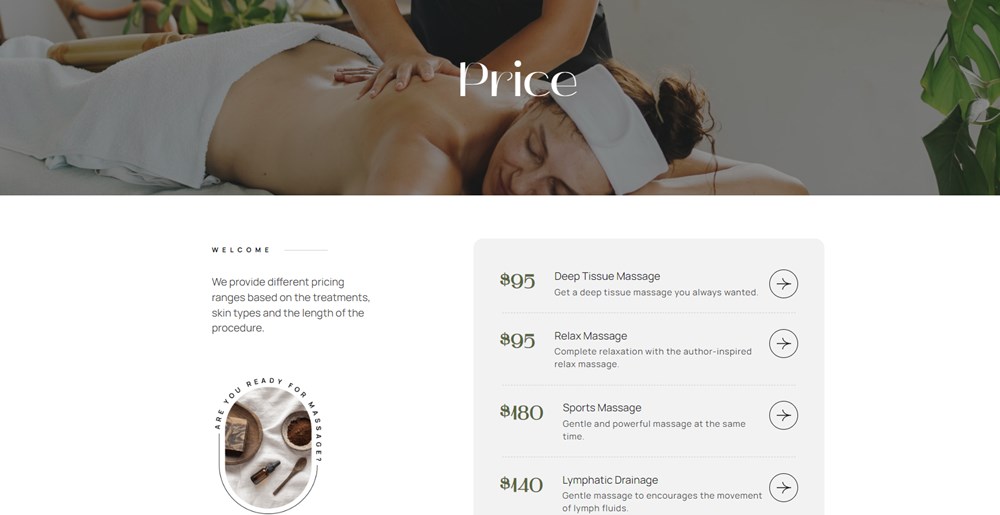 Let images speak, show your salon realities in a gallery style. A built-in gallery widget can help your business page look creative. It comes with nice animation effects on hover.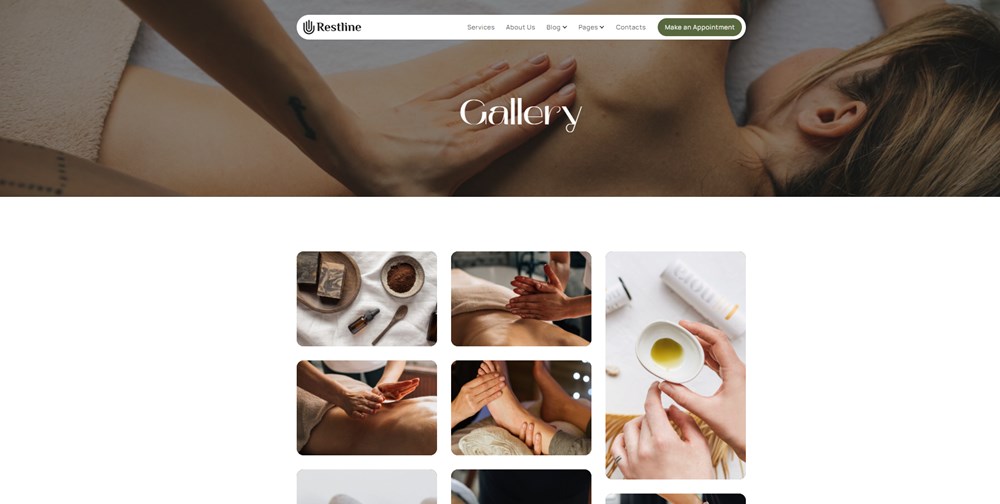 If you want to see more WordPress blocks in action, browse the Elements menu and go to each block to see its details.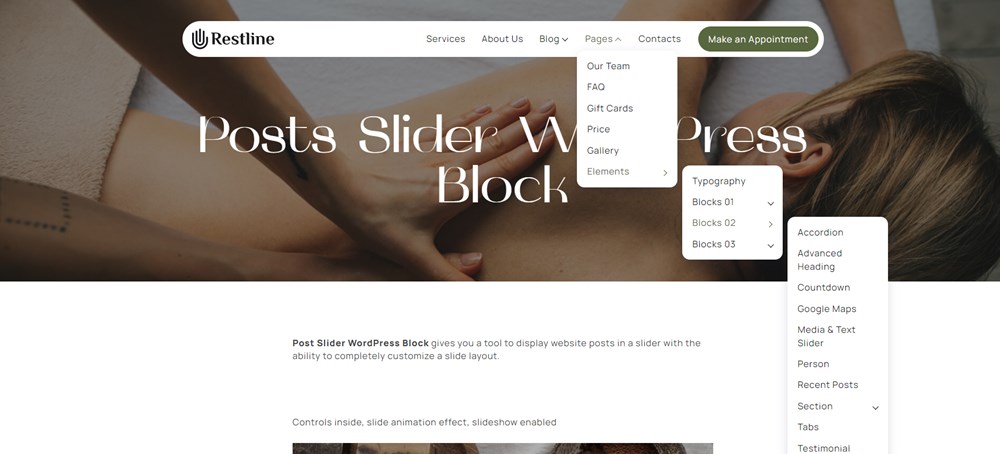 At the moment, when the full-site editing is not completely rolled out, we still need to refer to the good old WordPress Customizer to talk about some global settings you can apply sitewide.
There are a few settings you can configure via the Customizer menu, including 5 widgets areas, where you can add a Book now button, for example, customize the menu content and appearance, and more.
Deliver richer experiences online with automated appointment scheduling
Our review would be incomplete without mentioning how the WordPress booking plugin for appointments works.
You can test every step in the theme demo.
Step 1. Choosing a service and location (you can customize the booking form fields, of course).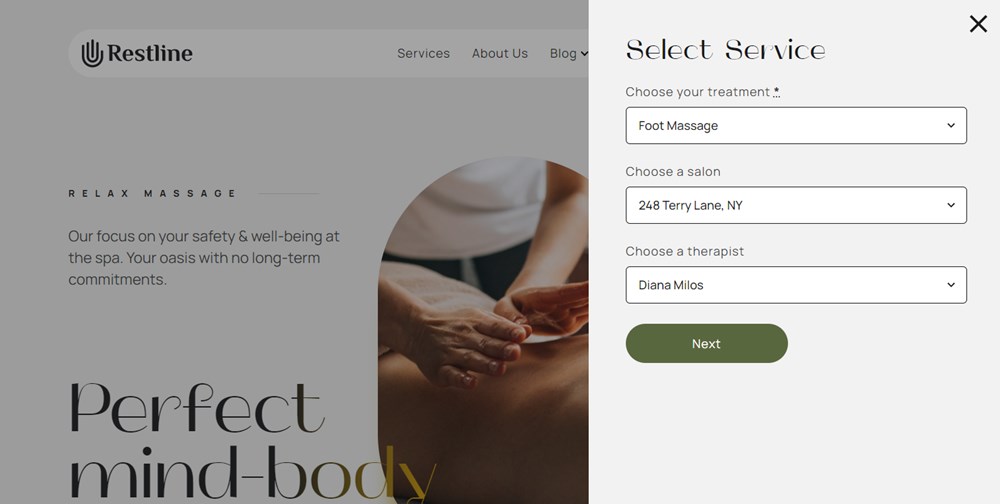 Step 2. Choosing a free slot from available times and dates.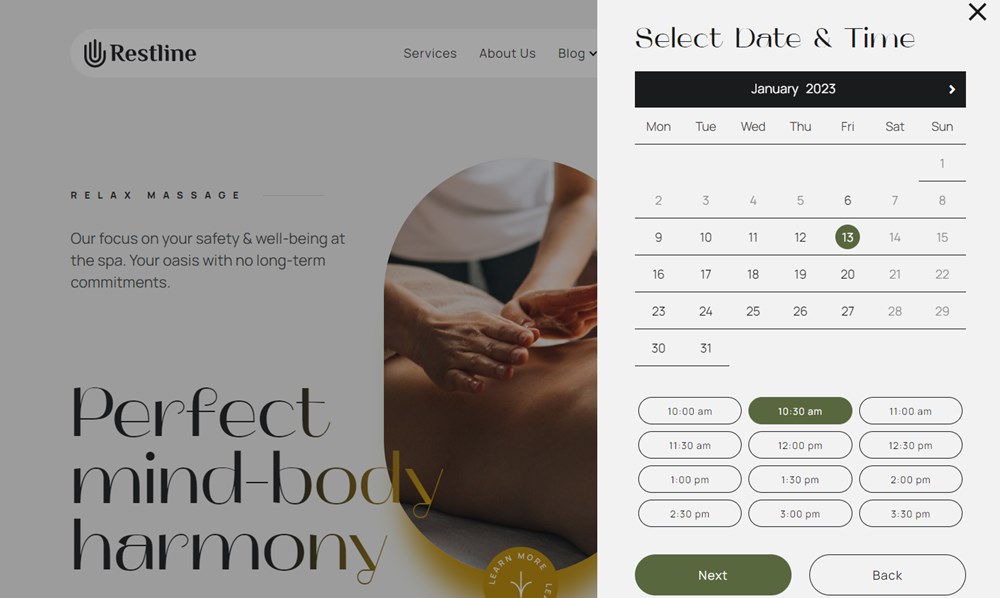 Step 3. On the next step, a client can choose to add more services to cart or finish the checkout process.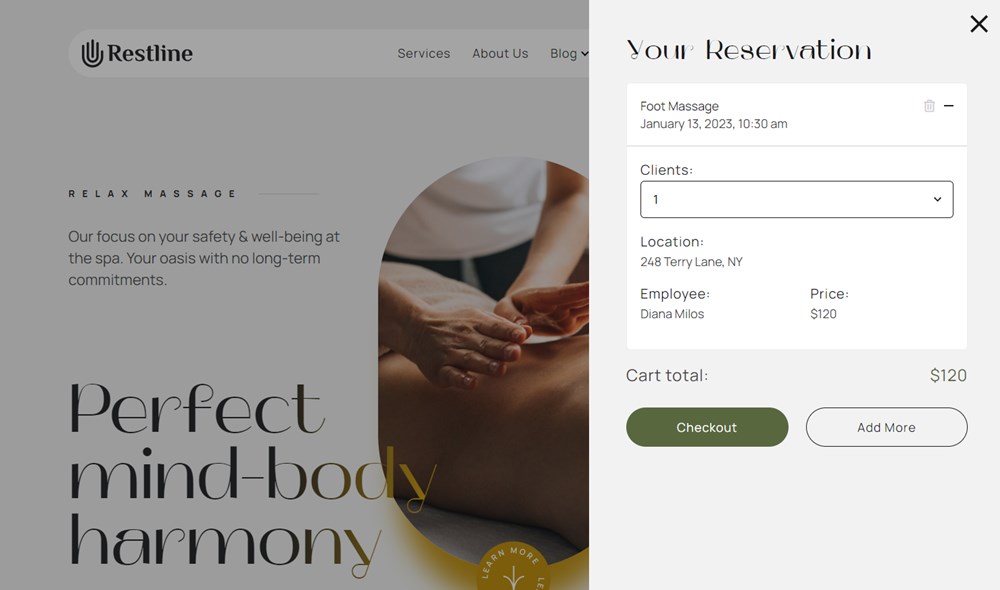 Step 4. Then it's required to submit contact details.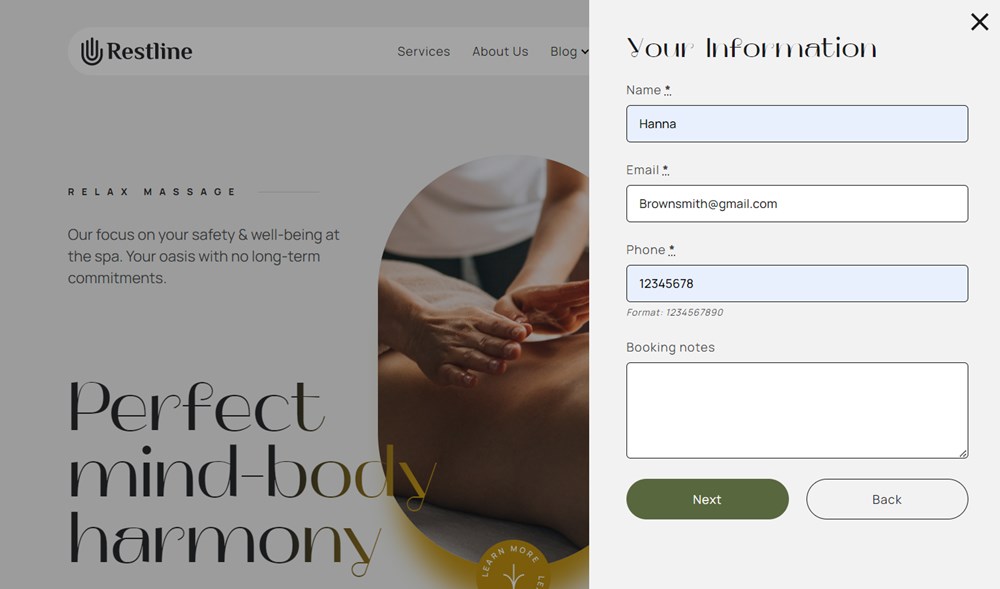 Step 5. On the last step, before the booking is confirmed, a client must choose a confirmation/payment method and pay online (the plugin also allows you to use non-payment confirmations).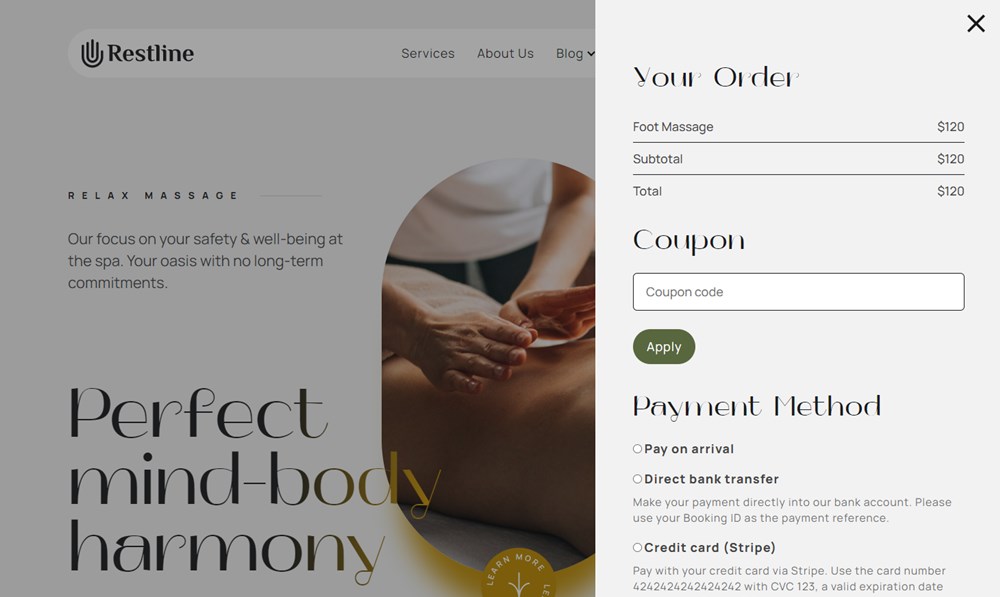 And finally: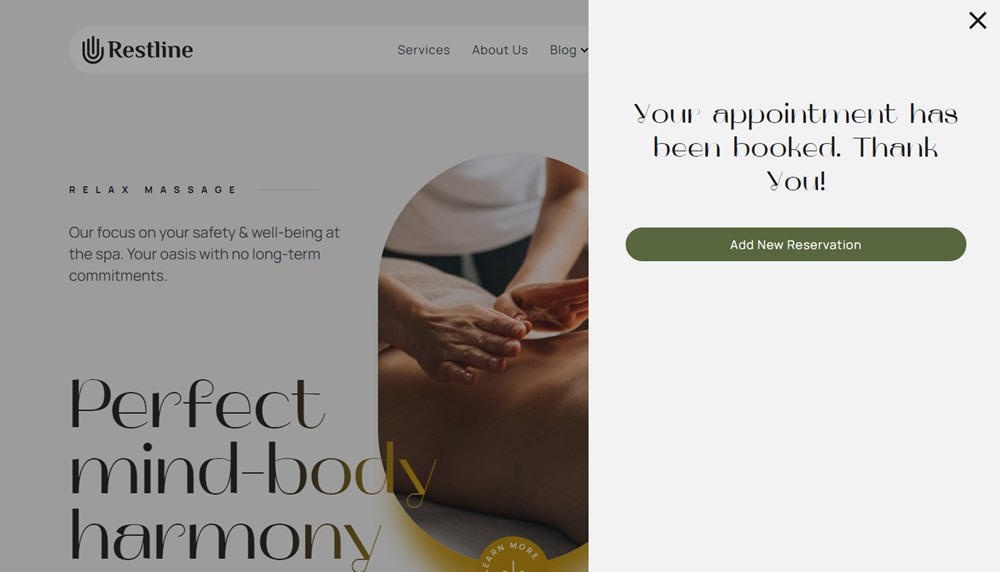 Enable bookings with payment via PayPal and other methods
The MotoPress appointment booking plugin allows you to use Stripe, PayPal, direct bank transfer or pay on arrival methods.
You are free, needless to say, to use this WordPress massage therapist design without the booking options, simply for presenting your business brand.
Remember, however, that automated bookings experiences have the power to fuel growth potential for tomorrow.
Manage bookings and clients
All the information about your clients and bookings will be safely stored in the plugin, you can update existing bookings, such as change the content of the shopping cart, remove services, or completely remove bookings.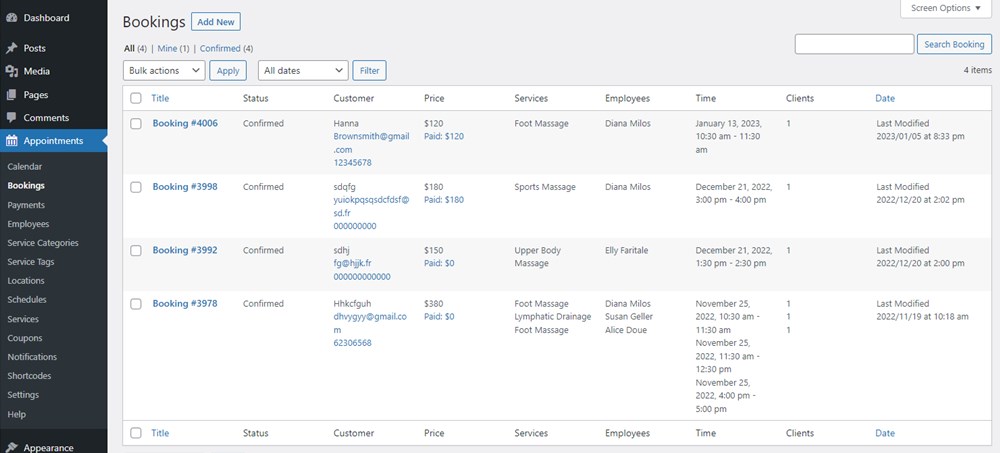 Feel free to register a free trial to test how the appointment plugin works.
FYI: There is a collection of WordPress themes enhanced with this plugin for free: Yogamo, Coachzee, Lotus Spa, and others.
Final word: Restline is a fully-equipped WordPress massage therapy theme
By using Restline, you get all in one, a premium massage therapist WordPress theme and the popular booking plugin.
There are three key areas in Restline that are critical to your website's success:
Lightweight modern design with smooth animation effects.
Reliance on the secure and powerful native WordPress content editing experiences, boosted by the Getwid extension.
Streamlined automated bookings on WordPress with the packed appointment scheduling plugin.
Ready to get started?
WordPress massage therapy theme