Which is the Top Choice Online Booking System for Massage Therapist on WordPress?
If you're looking to integrate an online booking system for massage therapist and other body treatments on your WordPress website, we'd recommend starting with choosing the appointment booking plugin.
We researched the market and introduced a few decent solutions before, you can find them in the roundups of free and premium appointment plugins.
Those are top choice online booking system plugins recognized around the globe, specifically for the WordPress CMS.
These plugins are in general aimed at helping you to manage availability, clients, employees and working schedules online. Almost all of them allow you to process payments securely on your site as well.
So first of all, this sort of plugin gives your customers a chance to reserve time for the massage therapist services you offer.
In this post, however, we'll focus on one of them, the MotoPress Appointment Booking plugin, which is one of the best online booking system for massage therapist with a range of essential tools we developed and have been working most closely with, creating designs and releasing new features on a regular basis.
At its core, the plugin encompasses all those necessary tools we've mentioned above, as well as delivers the following benefits to website owners:
No design skills needed.
Photos of your team members and services, including the ability to create dedicated pages for them.
Fully responsive and mobile-friendly booking wizard/widget for clients.
Present all services.
Adjust the booking widget by editing its fields and labels.
Receive automated notifications.
Integrate popular payment methods and Google calendar application.
Professionally organized admin calendar.
Its role may vary among businesses, so you can easily adjust it for beauty salons, wellness studios, hair salons, spa centers, nail salons, massage parlors and other similar establishments that want to sell hourly appointments easily, keeping full records in the cloud.
What's really important, you can customize the booking system to the needs of your business yourself.
As for the design, a WordPress theme in other words, you can use any to combine with the MotoPress Appointment Booking plugin.
For better visual consistency and professional design looks, we'd recommend you using pre-made appointment WordPress themes that come with this premium plugin bundled for free.
For the examples in this tutorial, we'll use one of them, the Lotus Spa theme that comes with probably the most relevant design for the massage therapist needs.

You might also want to learn how to create a spa booking website on WordPress – it's a step-by-step tutorial.

So let's take a closer look under the hood and see its core possibilities.
This online booking system for massage therapist: what's included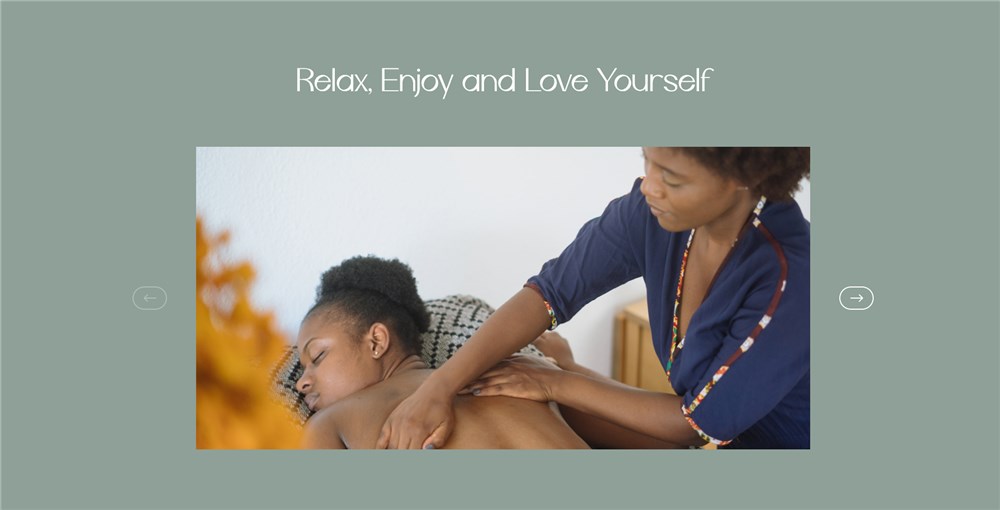 We won't cover every step of enabling and managing the plugin in order to make it work as an online booking system for massage therapist.
It's important to stress that the MotoPress Appointment booking plugin for WordPress we're going to use is a regular WordPress extension.
It means it doesn't require you to create any accounts elsewhere, or to pay commissions for the bookings / translations / services / monthly subscriptions as it usually happens with the cloud-based services; it means it won't leave you dangerous to pricey addons or hidden charges.
You'll need to manage all the booking, services and team members right from your WordPress dashboard. It provides an easy online booking for massage therapist plugin menus.
Services, therapists team, and schedules
No matter the beauty and wellness niche you are involved into, there are umbrella-term menus ('employees', 'schedules', etc.) you need to configure.
These include adding team profiles, creating tailored services and customizing working schedules for each employee.
For instance, you can create the whole database of services with their specifics. For each service, add a cost, any custom duration, maximum capacity (with the option for clients to choose the number of people for the service), optional buffer times to free up some extra time for cleaning or preparing for the next client, etc.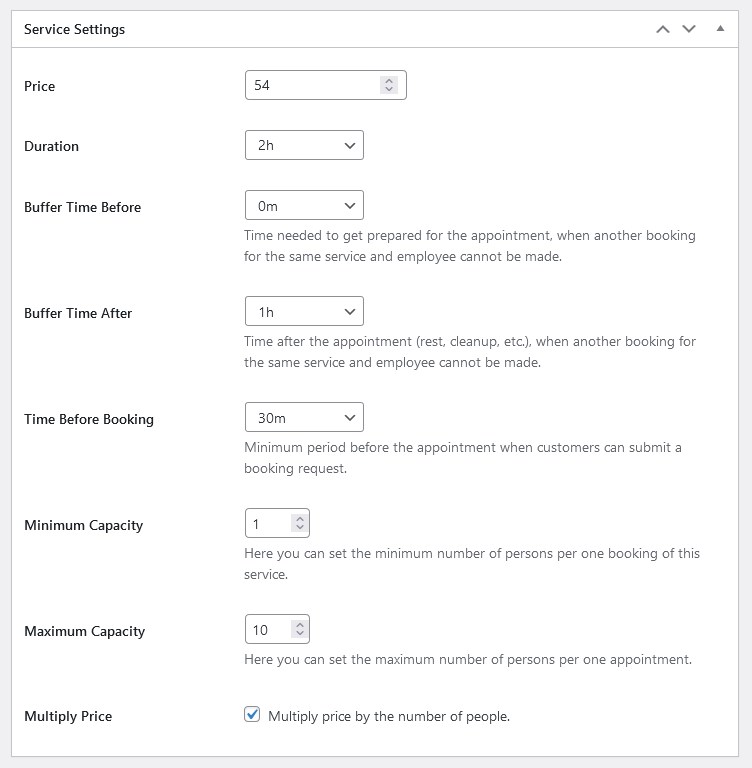 A client will be able to choose a service, e.g. a massage type in the booking widget. They can also add a few services to the cart.
It's worth mentioning that you can add an unlimited number of services, this won't affect the cost of using the MotoPress appointment booking WordPress plugin.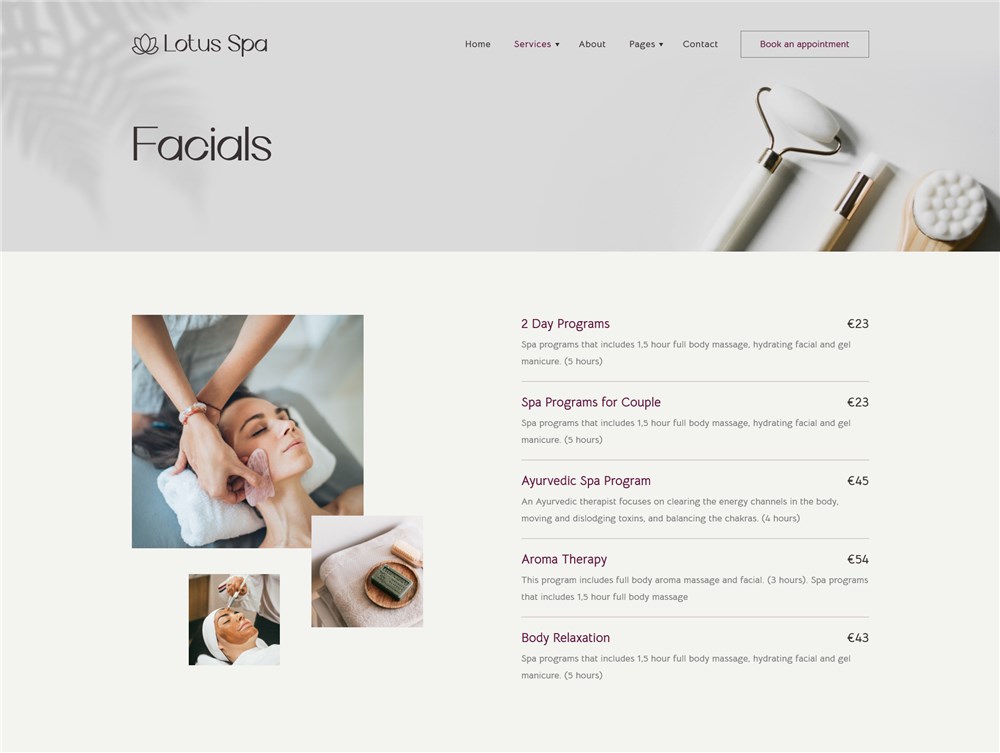 The same goes for the team members of your massage parlor or beauty salon.
The Lotus Spa theme comes with a great sider layout for your staff showcase.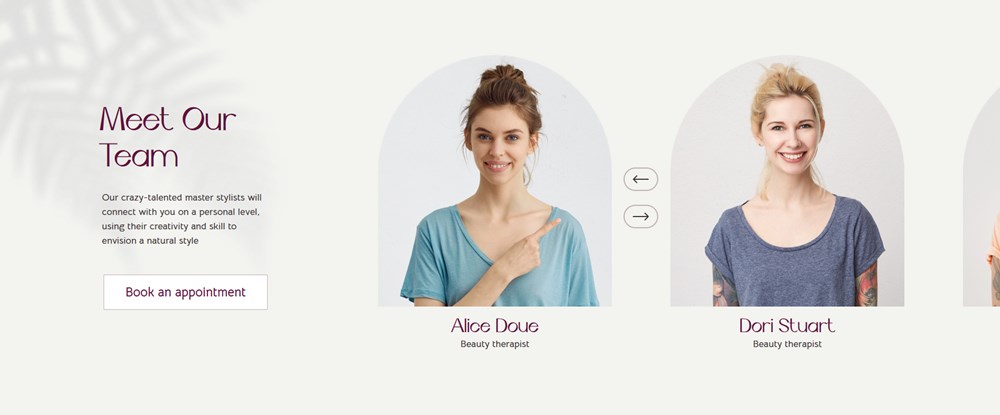 You can come with a more customized look for your team using Elementor, it's easy to edit everything visually via the page builder: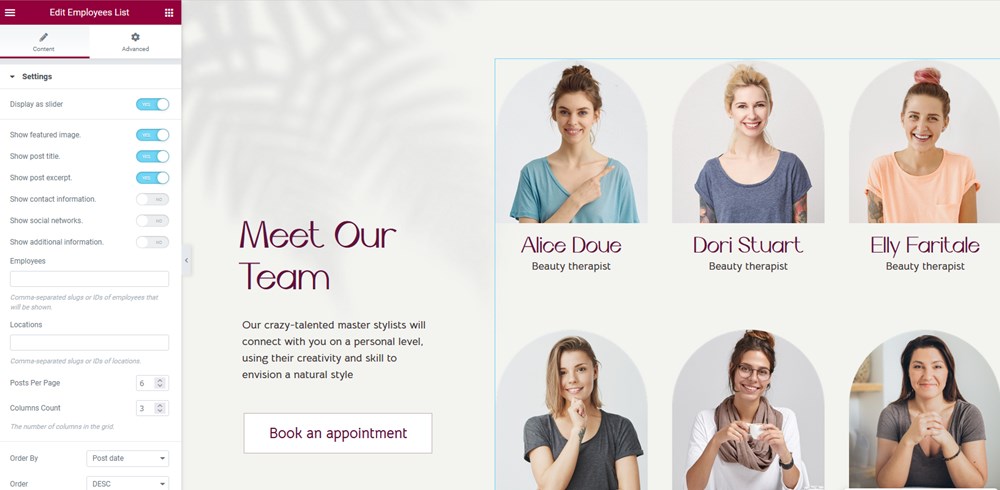 You can do the same for individual profiles, edit them in the native WordPress editor or using provides builders, Elementor in our case with the Lotus Spa theme: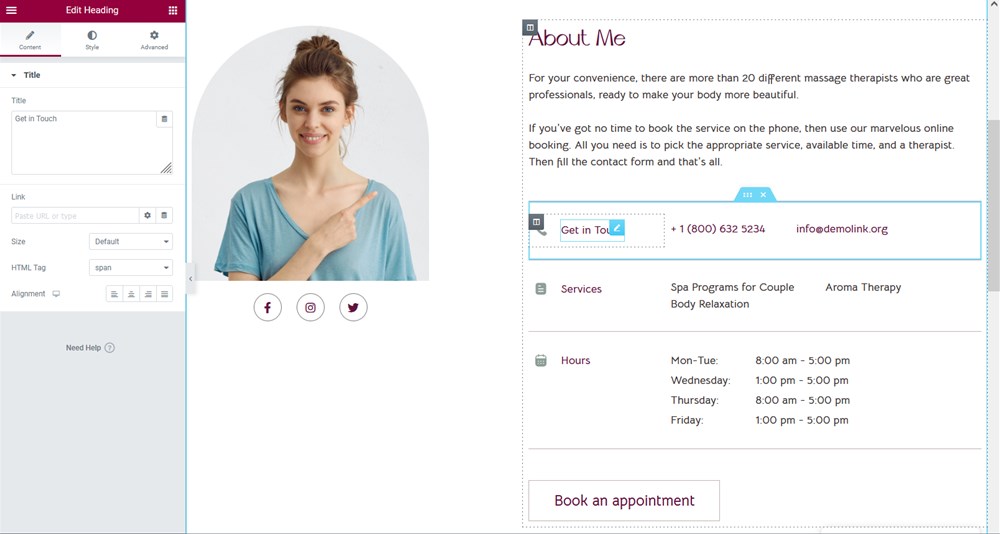 For each person, you can display text descriptions, photo, expertise, and contact information, including social networks.
You can also enable the option of choosing a therapist in the booking widget!
Of course, every therapist will have their personal schedule they or a website owner can customize.
It gives them a pretty good level of flexibility, allowing you to change a regular schedule, e.g. add lunch times, days off, vacations, locations, etc.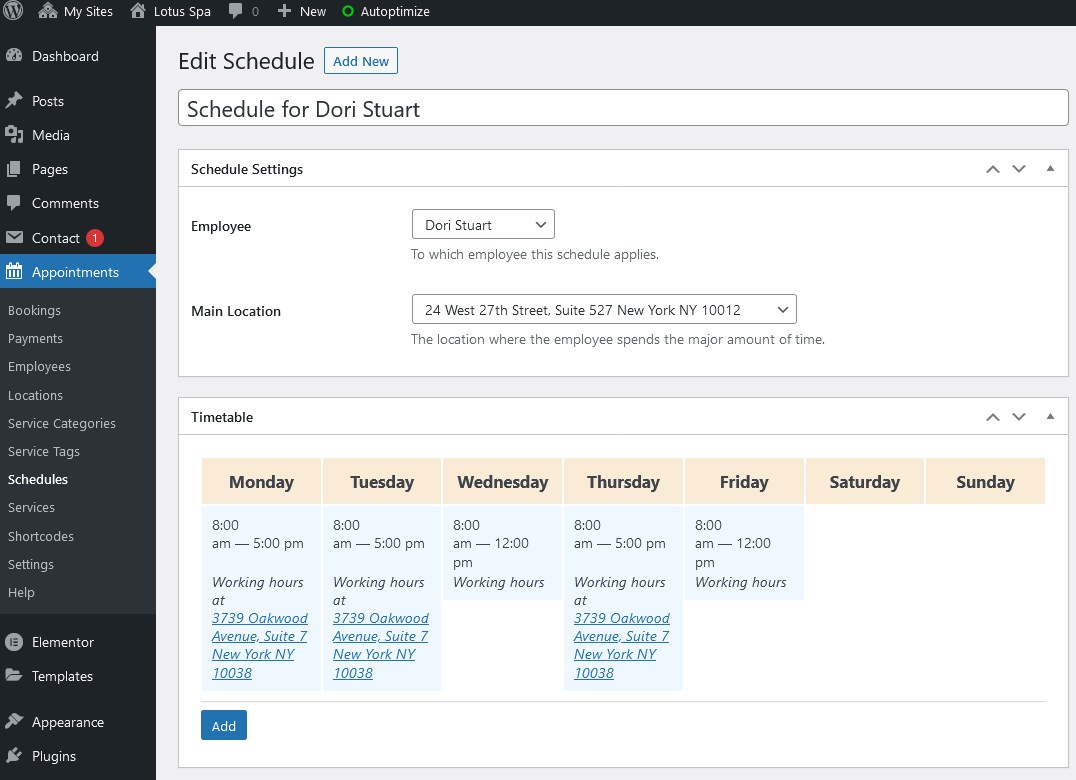 If you want to provide therapists with their own account that gives them access to their schedules and bookings, they can themselves update their availability calendars.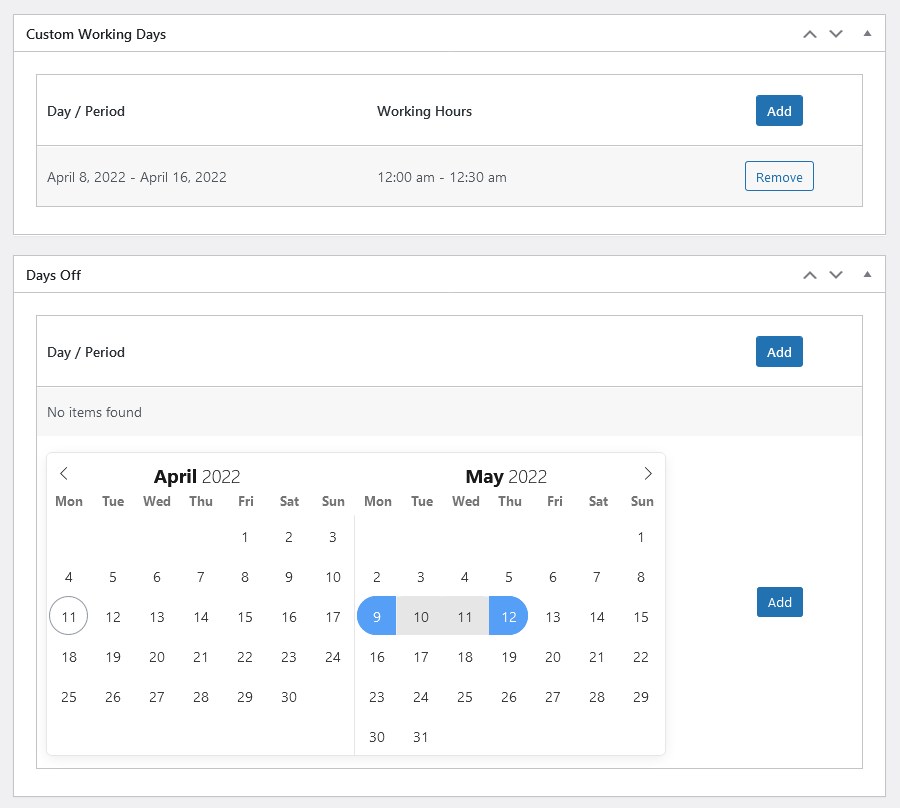 Employees can also sync their availability calendars on WordPress with their Google Calendars so that they can get instant notifications on all new reservations.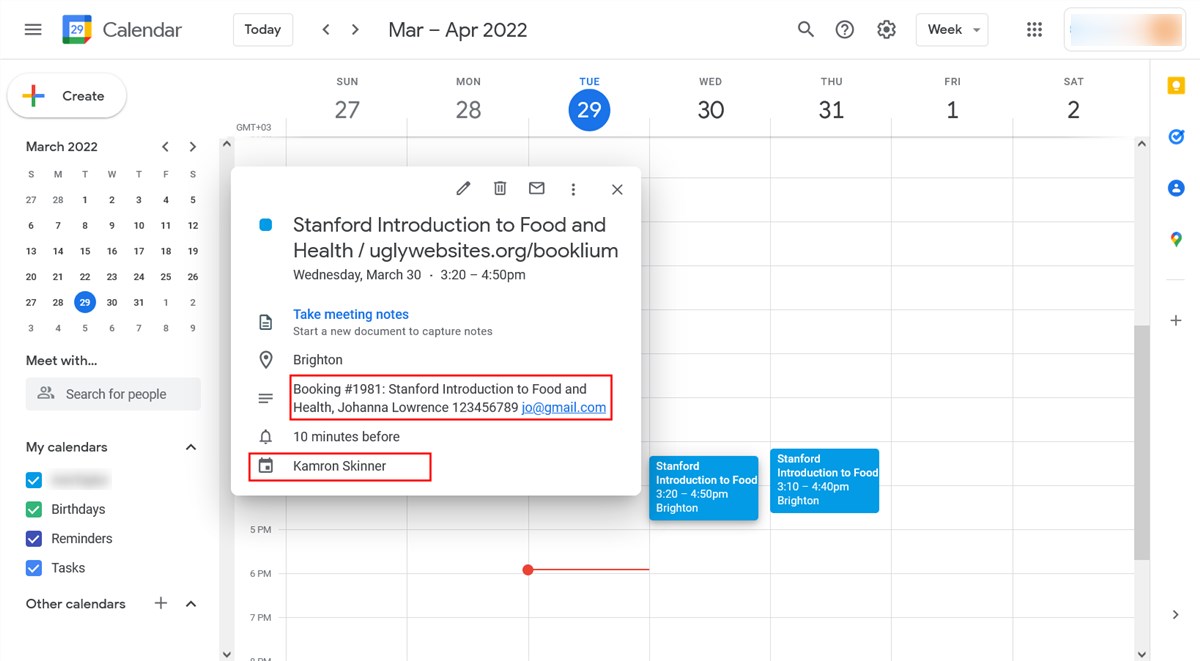 Since the plugin supports multi-location chains, you can also add numerous salons in different locations and assign therapists to various locations.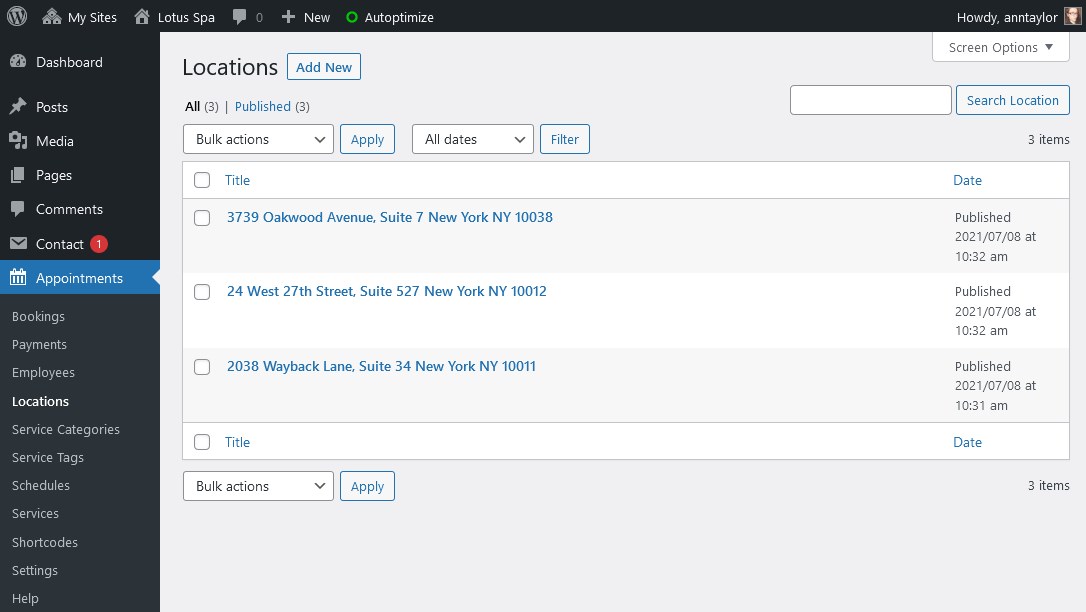 You are free to customize categories and tags for services for a quicker and easier search for your clients.
Allow clients to process payments online on WordPress
It's not necessary to enable payment options online, you can use the booking widget and allow guests to book an appointment and then choose to pay after arrival.
If you, however, want to enable these convenient payment options for people who want to secure their place, online payment processing might really come in handy.
The MotoPress booking plugin allows for PayPal, Stripe, Direct Bank Transfer, or pay upon arrival. With a click, you can also integrate Bancontact, iDEAL, Giropay, SEPA Direct Debit, and SOFORT via Stripe.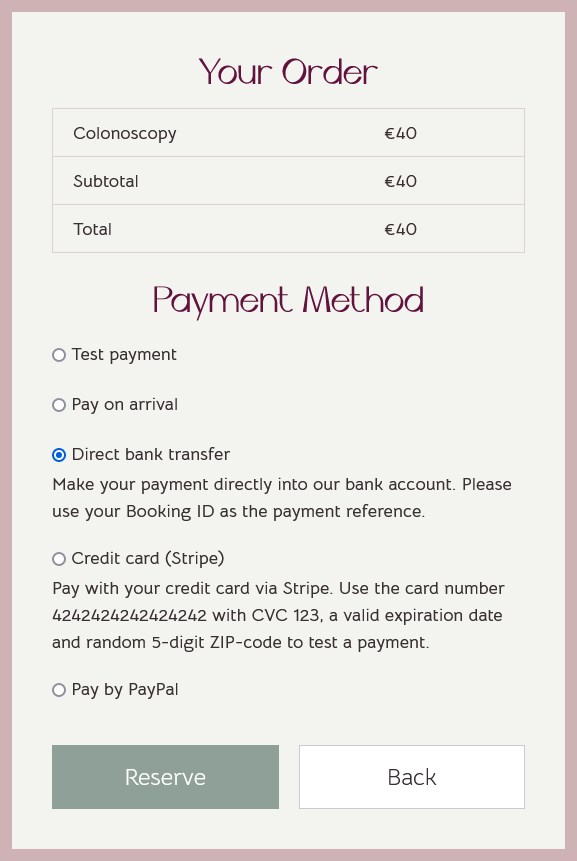 In order to accept payments and connect them to the booking statuses, that is, to make paid booking confirmed automatically, you need to set the respective booking confirmation mode via the plugin settings.

Confirm automatically: reservations are recorded automatically as 'Confirmed'.
By admin by hand: you manually manage booking statuses.
Confirmation upon payment: bookings are confirmed after the payment.
You can also use Test Payments to see how the payments work online, without a need to connect any official payment gateways accounts.
All these integrations are free with the MotoPress Booking plugin.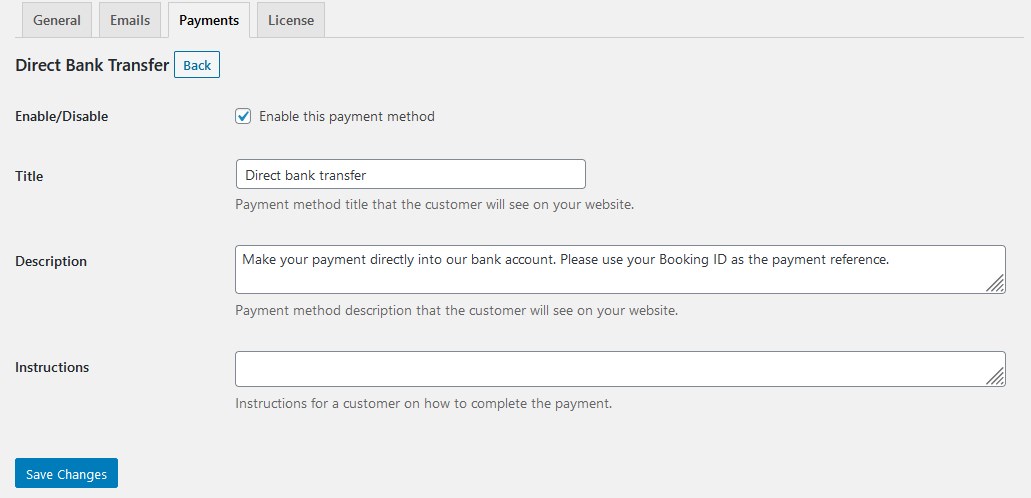 If you choose the pay on arrival method, you can later also register all the payments via the plugin system so keep all records on payments and transactions up to date.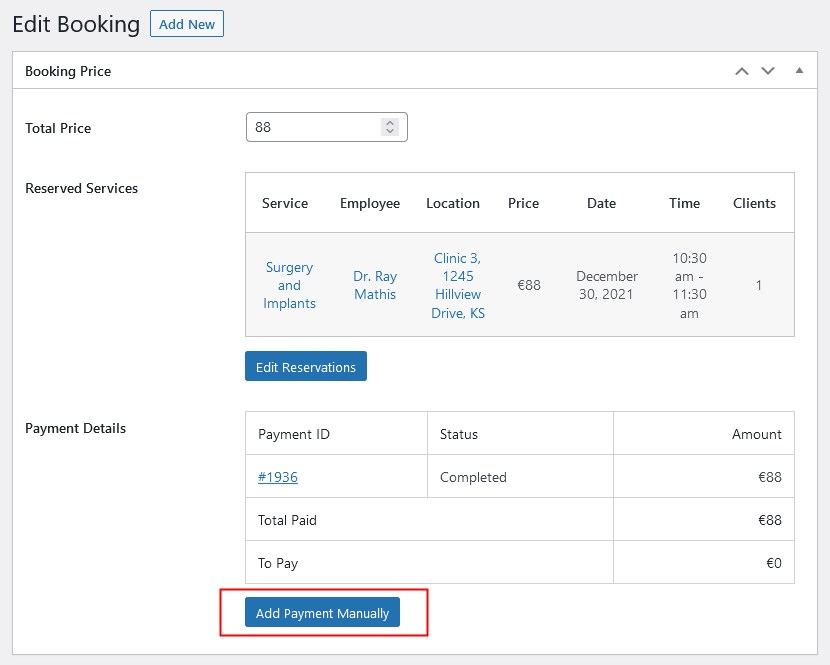 Adjust the booking widget
The easiest way to give your therapist booking system on WordPress a tailored look is to use it with any popular WordPress page builder, such as Elementor or the block editor.
The appointment booking plugin supports both, namely, it has dedicated, easy-to-use visual modules if used with any of these builders.
You can update field labels or completely hide the required fields from the booking widget.
Placing the widget to any website part or available widget zone of your WordPress theme is also easy.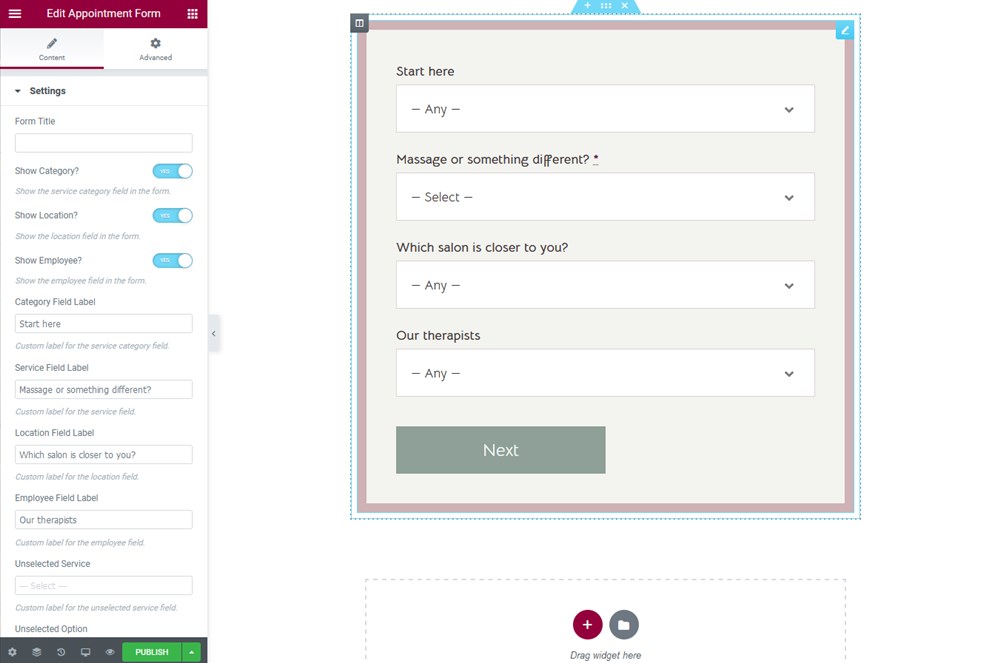 If you don't use them, you still can work with the widget via standard WordPress menus. It's also a breeze, but you'll just need to do one extra option of placing a shortcode to the needed website place.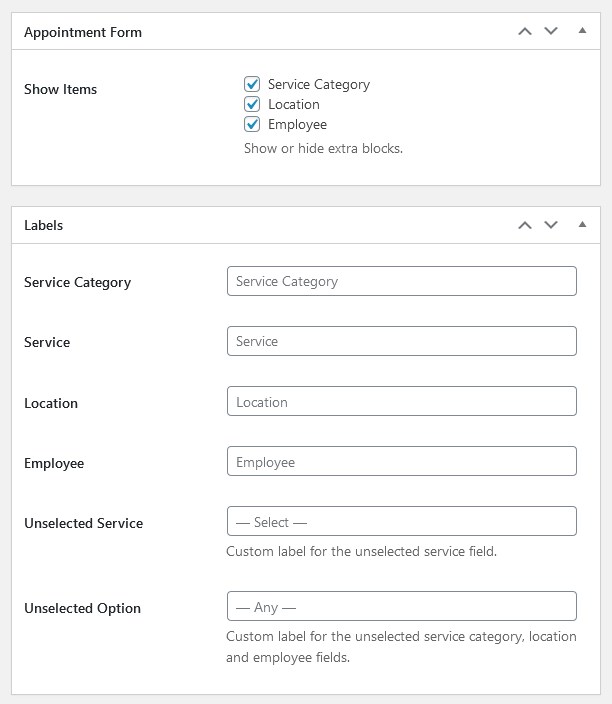 Manage bookings and emails
Not only your clients can do that on your site, you can also schedule appointments via the admin dashboard.

You can also reschedule appointments or change services in the appointment manually by client's request; you'll need to delete current ones and add new reservations. It's also possible to add more services to the existing appointments.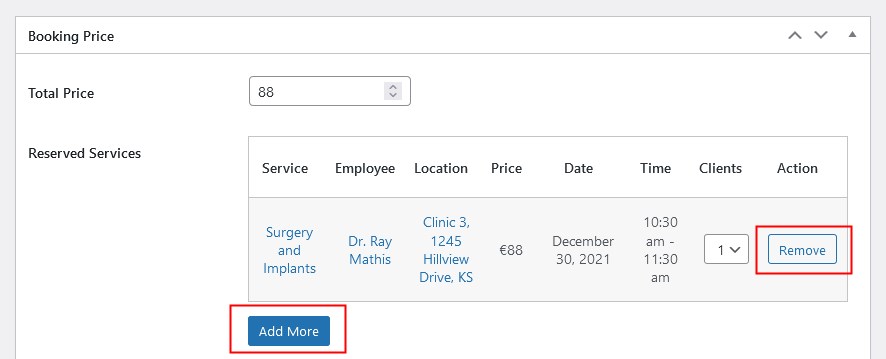 When editing a reservation details, you can also change the booking status to the needed one, view booking activity, and update client personal information.
You can view bookings, transactions and client info via different menus. For example, the bookings calendar menu allows you to see all past and upcoming bookings in a calendar menu.
This calendar has a few more handy views in a timeline mode and individual booking details mode.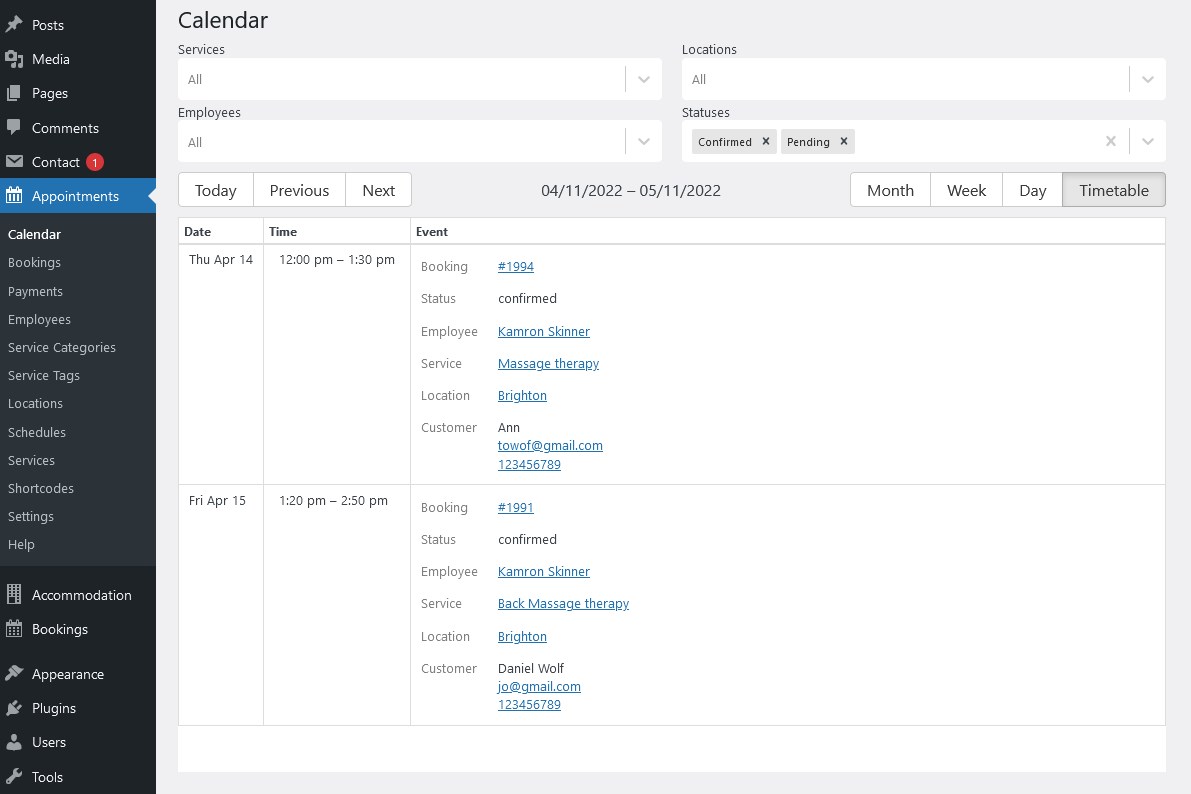 To set up email notifications on autopilot, you also need to configure the email templates for both sides, clients, admins and employees. You can also add some branding to these emails and easily update the text content.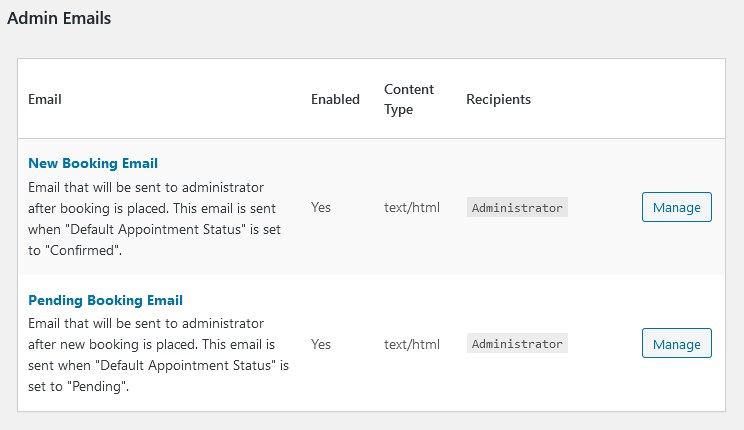 As for the rest of the essential settings, you can update the currency, the smallest time frame for appointments, and choose whether to allow clients to book several services at one go.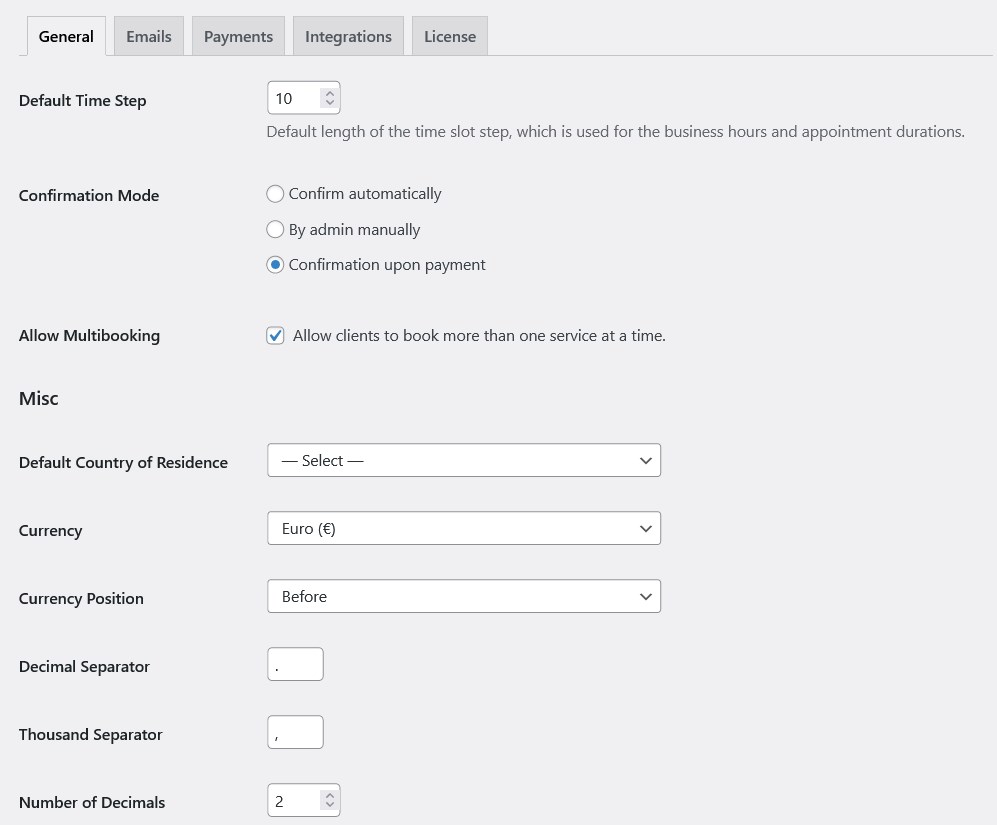 The massage therapist booking tool: Client's experience
A booking wizard you can employ as massage therapist online booking system that is generated based on your settings will help clients place a booking step by step, allowing the latter to book a massage appointment from any modern device.
They need to choose a service or service category, location and optionally a therapist.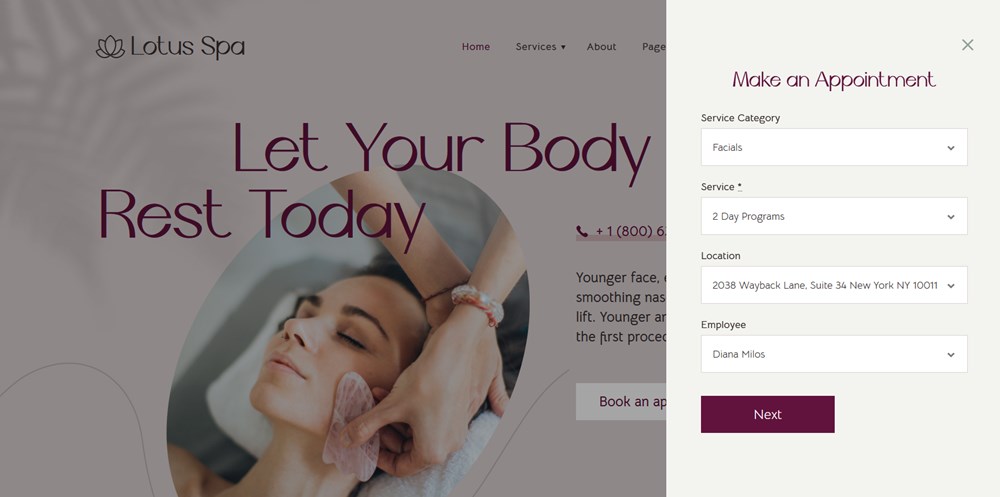 Of course, they need to go through available slots and choose a preferable date and time.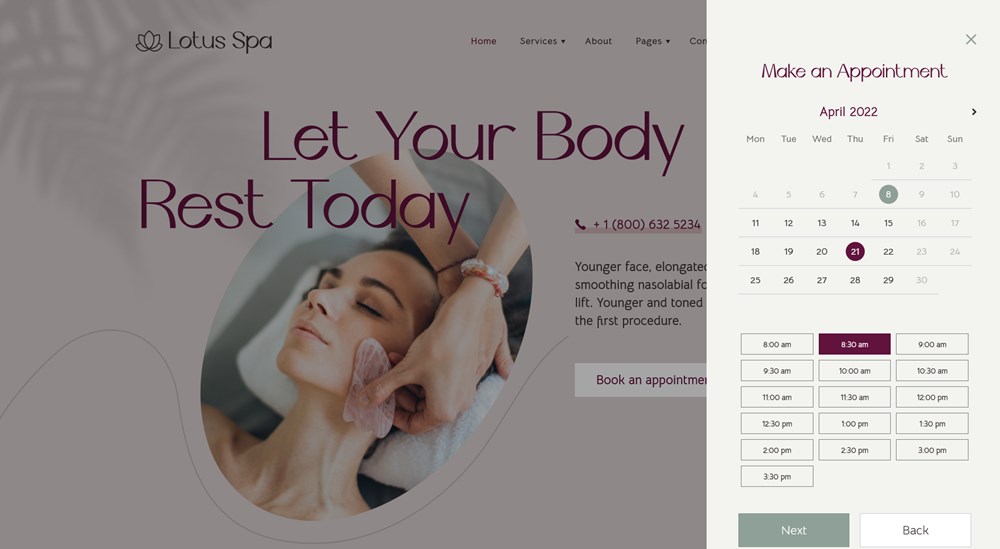 It's possible to add a few other services to the cart on the next step. If you allow bookings for groups in the plugin settings, a client can choose how many people will attend the appointment.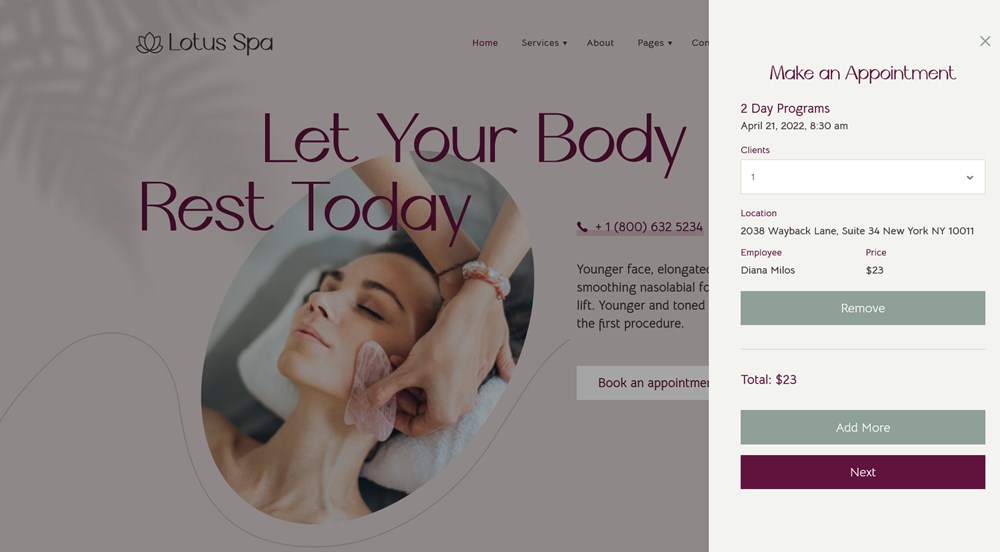 Their contact details, such as an email address and name, come next.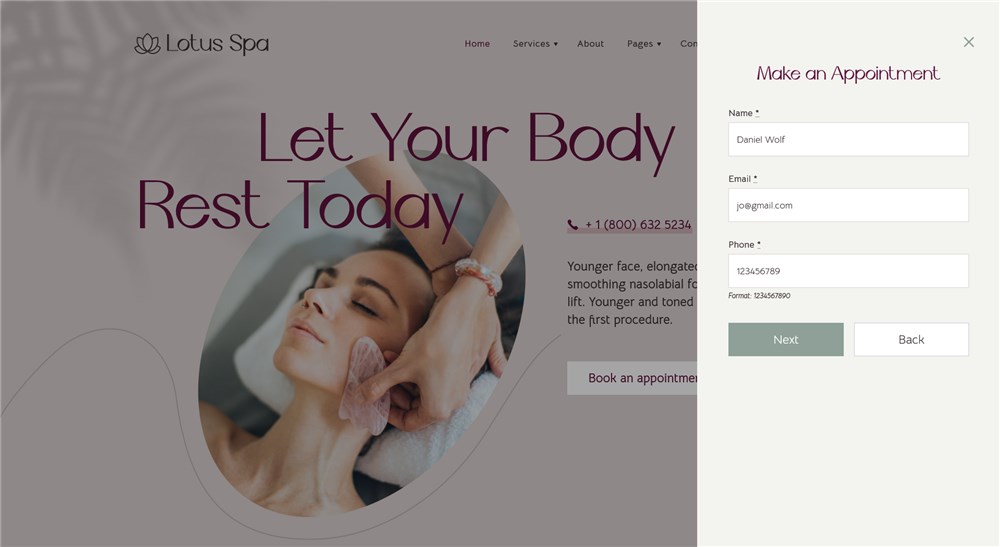 To secure their reservation, a client can pay on the final step using their preferable payment methods.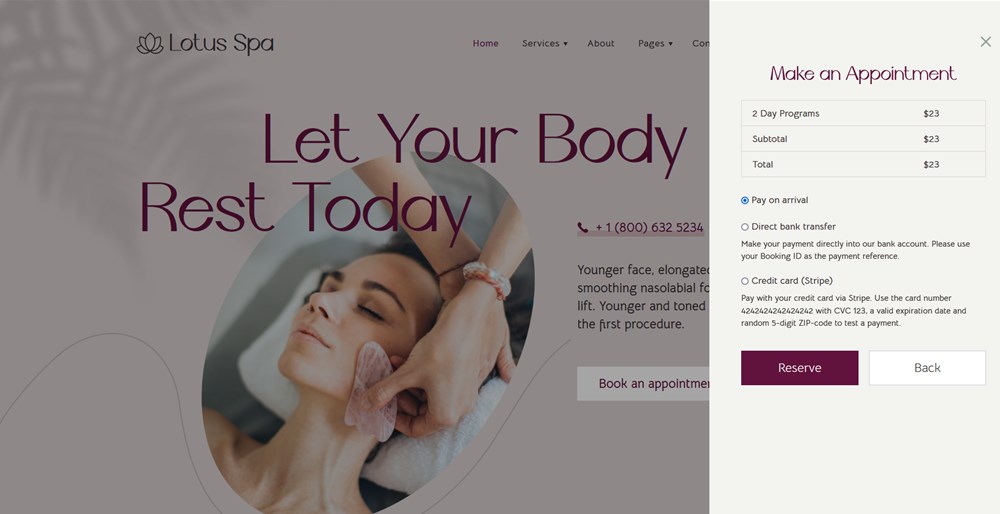 The booking is placed! The plugin will automatically send out email notifications and will change the booking status.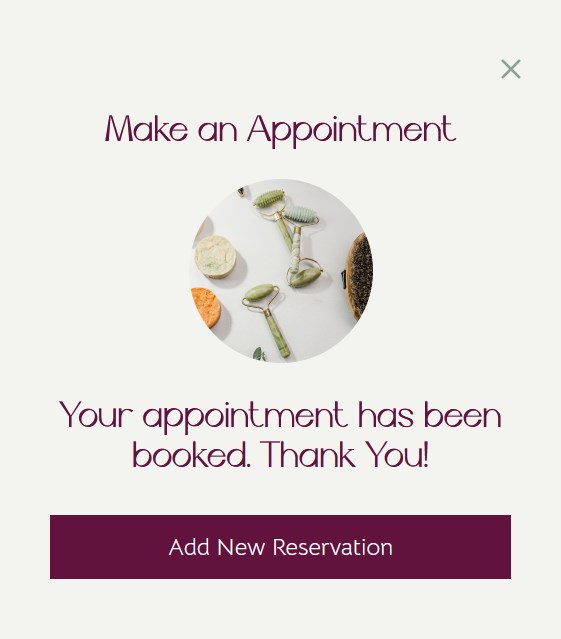 This is how you can benefit from the online booking system for massage therapist on WordPress with the Appointment Booking plugin. The tool is easily adaptable for all needs, including various types of beauty salons, wellness centers and other types of establishments. Let us know if you have any questions!