New Delivery and Toppings Addons: Make Your Restaurant Menu More Professional
At last! We expect to make many WordPress Restaurant Menu plugin users happy with so patiently long-awaited news. Meet new WordPress restaurant online ordering addon and Toppings extra tool that aim to significantly extend conversion opportunities of your business and increase the happy user experience of your customers. As for why it'll take more time to explain!
WordPress Restaurant Online Ordering Extension
As we plan to review a couple of fresh products, let's start with Delivery plugin for WordPress Restaurant menu. This extension for your  Restaurant menu fully turns on online ordering options offering actual delivery and/or pickup choices (it's up to you whether to provide both or just one of the options).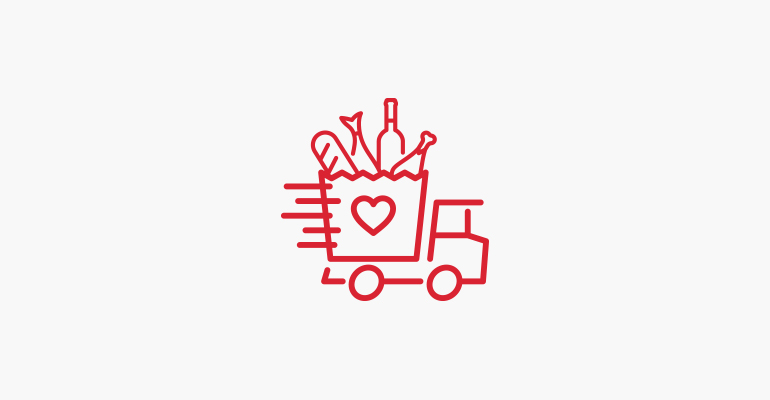 For those restaurant managers who still take online ordering with a pinch of salt, we've prepared some important facts.
Today, online food ordering with delivery services for customers is not just a process to save time or simplify life, it's a huge culture, which is booming worldwide changing the ways traditional restaurants work. The food market is one of the biggest business segments in the majority of countries, that is why a lot of investments are now made in food startups, which at the same time generally come with online ordering apps by default.
In the timeline of key developments in online food delivery, the last years are characterized as follows:
2011-2015 – With increased smartphone penetration, and the growth of both Uber and the sharing economy, food delivery startups start to receive more attention again. This era is associated with the founding of Caviar and Instacart. By 2015, online ordering is about to overtake phone ordering.
If to believe predictive analytics, there are tons of odds it will be fully overtaken in 2017.
Namely, using online food ordering systems with delivery services is rather a habit of modern Internet users, which should be properly served.
Remember, here we talked about how you can sell food and drinks online with free Restaurant Menu plugin for WordPress?
Now let's have a closer look at the core features of the Delivery extension which is now  available for your WordPress Restaurant menu:
two main options: delivery and pickup services (on both free and paid basis);
ability to make order taxable;
opportunity to let customers choose the best time for delivery;
handy order submission form – customers are satisfied with the form usability, you get all needed details logically structured;
option to grant free delivery for a specific minimum order amount;
easy admin management – all orders are stored at one place, organized for quick access and, moreover, fully editable (in case the customer wants to add/remove anything).
It won't take much to configure the main settings of the plugin.
So, to make it work according to your requirements, go to Restaurant Menu > Settings > toggle to Extension tab> find Delivery Settings. The settings are pretty intuitive so you should not have any troubles, just follow these easy steps:
Turn on delivery services – this way you notify the customers that their order can be delivered.
If the delivery chargeable, set its price in the appropriate field or put 0 if it's free.
Specify whether the order is taxable.
If free delivery for a specific amount of order is available, specify a minimum order amount for it.
If pickup option is available, turn it on and fill in the next fields: address to pick up from, the best time of delivery, the minimum time interval for delivery and any other useful information if needed.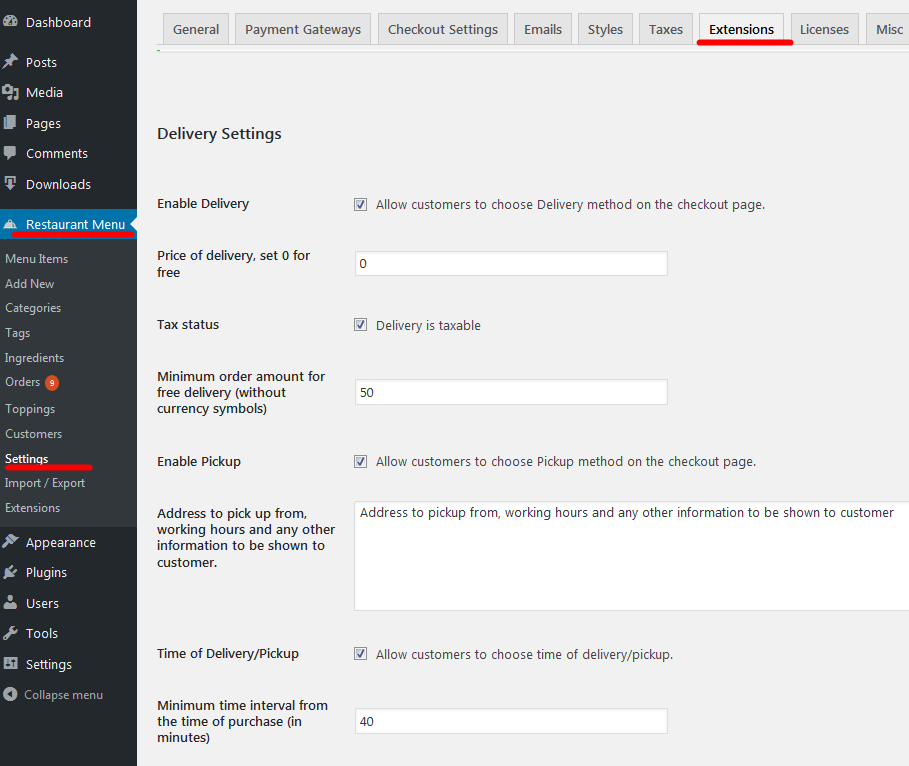 Basically, your online buyers will see the following order submission form on the checkout page, which is very intuitive. They'll need to submit some personal details needed for the order to be delivered: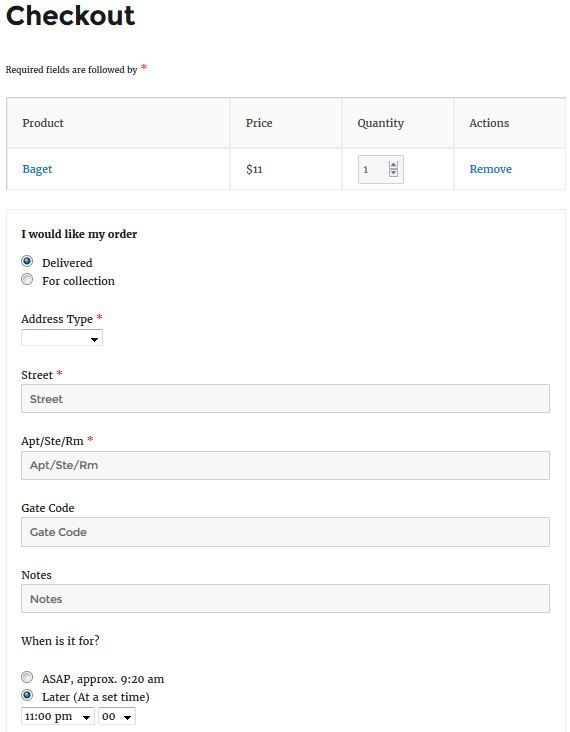 …and billing info (remember that you can place a test payment to test how the form works):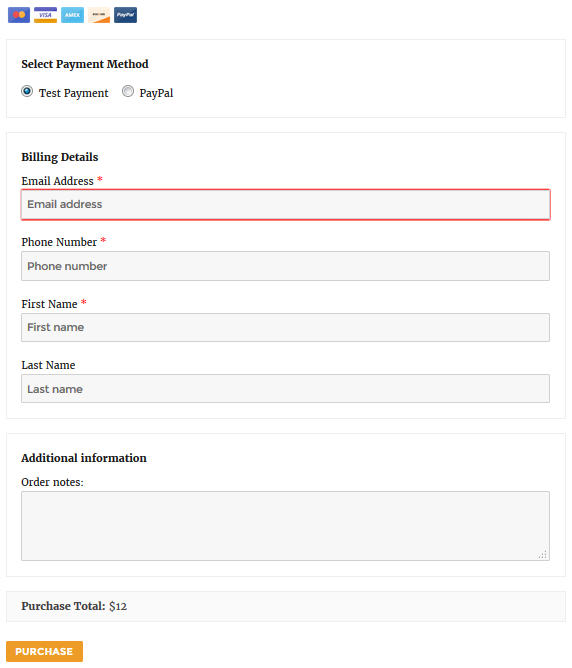 If you toggle to Restaurant menu > Orders you can view all orders, their statuses (pending, complete, failed, cooking, shipping, etc.), addresses for delivery, amount of the order and other details for quick preview:
Moreover, if the customer who already placed an order wants to update it somehow (add or remove items, customize the dishes), the plugin administrator can easily edit the needed order details according to the customer's request. Simply find the needed order and click "Edit":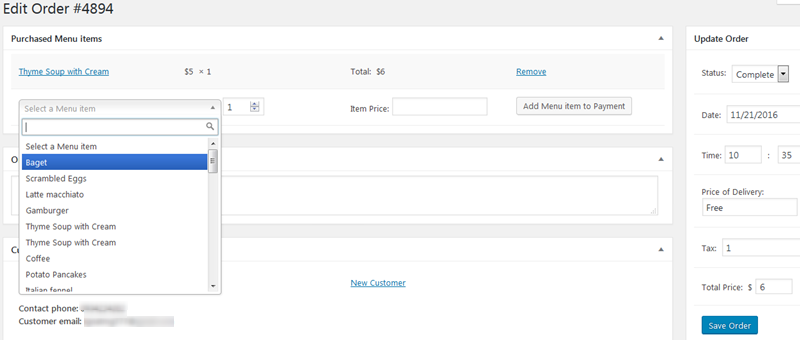 So, these are major moments of working with a Delivery addon for your WordPress Restaurant Menu by MotoPress. If want to learn more or get the addon, click the button below:
Toppings extension
Time to cover the main advantages of another extension we've just released: Toppings plugin for your WordPress Restaurant menu.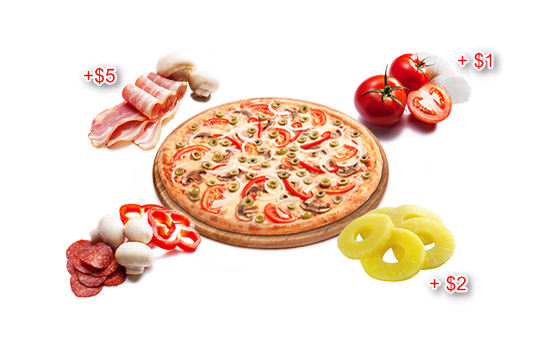 This is a perfect tool to increase the amount of order in each shopping cart in a natural way: if you offer more available ingredients or products for additional purchases, online buyers are more likely to add something else. This way they get more customized orders in the result and feel that their personal complex demands are met. Moreover, if you have some free optional extras, you can also list them along with a menu item.
So, what are the main options and benefits of this addon? Let's make a quick list:
ability to supply each menu item with the needed amount of some extra ingredients/dishes available for additional purchase;
selection controls of the toppings: which way is the most suitable to show a list of toppings to customers;
easy checkout: the chosen toppings are automatically added to the cart with still editable quantity;
easy management process: add and customize toppings in a few clicks;
featured image of a topping: make toppings more attractive to customers by adding tasty images;
pizza builder – it's a general name of the plugin option, which basically means you can offer customers to completely customize their orders, just like design their own pizza with chosen ingredients.
General settings for the plugin are accessible via the same menu for all addons under Extensions tab, or, to be more precise go here: Restaurant Menu > Settings > toggle to Extension tab> find Toppings Settings. Here you can update a label for Add a topping button and text notification to show to customers: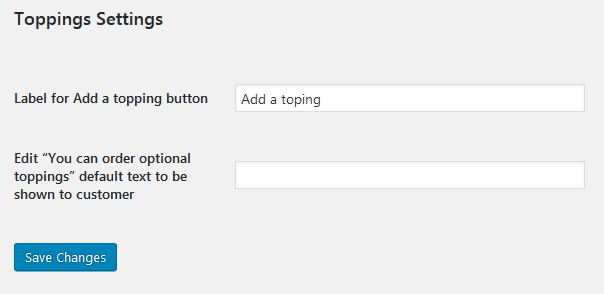 When you need to add any new topping, go to Topping under Restaurant menu > click Add topping and customize it. Apart from the title, description and featured image, you can choose the most appropriate selection controls: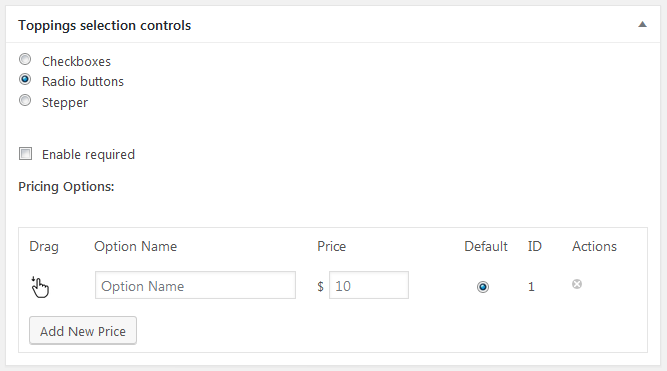 When the topping and its price is added, you should go tie it to the appropriate menu item: Restaurant Menu > Menu items > choose the needed one > scroll down to Toppings > choose the needed ones:

As already mentioned in features, you can allow the customers to fully customize the menu item including a menu item builder. We've created an example of Pizza builder with a help of Toppings extension, which allows to choose the size and ingredients of the dish: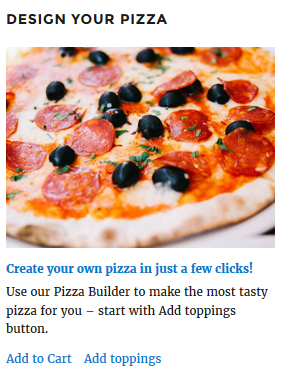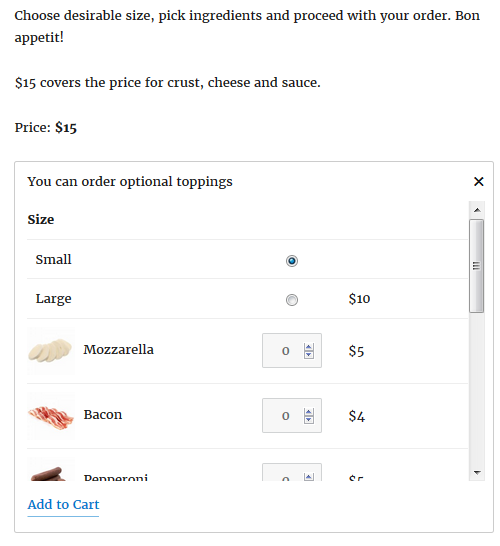 The toppings are added to the cart along with the main menu item, so the whole process should be easy for the customers.
Sounds easy and tasty, agree? To find out more or get the addon, go here:
As you might see, a couple of really easily manageable tools can drive your food business for much more sales and increase its popularity among modern users. If you were thinking of the ways to make your restaurant or cafe business more profitable, just give these new tools a try and great outcome won't make you wait!
Any ideas or suggestions regarding the plugins in questions are more than welcome here!