MotoPress Visual Builder Version 1.6.1 released
During a few last months we slowed down our work on MotoPress Visual Builder to focus on our new products – Responsive Slider for WordPress and Content Editor Addons. But we haven't stopped it at all and now want to show you new improvements which were added to the Content Editor plugin in the updated version 1.6.1.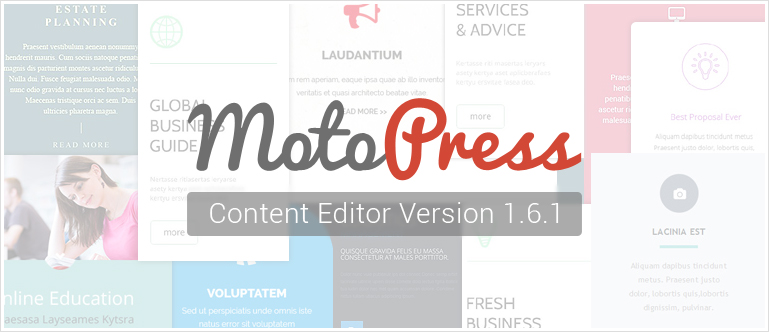 So what can you use in our updated WordPress drag and drop editor to edit your pages and posts visually? There are really many new features that were added to this release, we'll stop on the most significant only:
Highly Customizable Service Box Widget
When we state that it's highly customizable we mean really very multi-functional service box tool.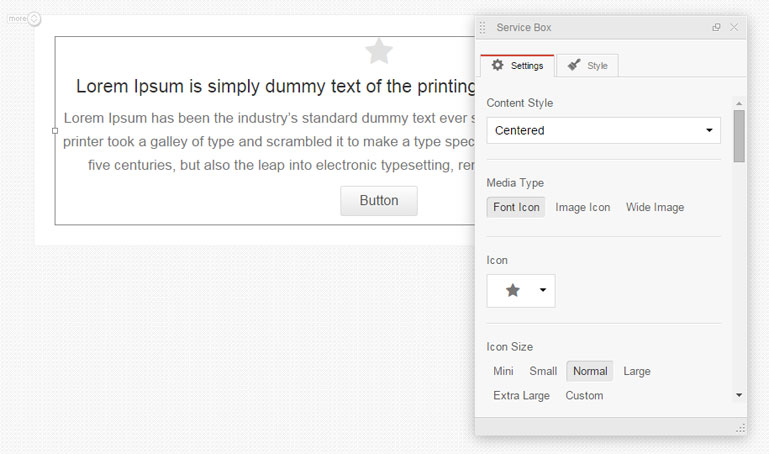 After adding the widget to the stage, in the Service box settings you can:
decide whether to make your content centered or align it to the right side
choose the media type of the service box by setting the font icon, image icon or wide image
set the size of the icon, its color, effect and background settings which could be without changes, square, rounded or circle. 
write the title and assign its style: from H1 till H6. Note: this parameter is very important for SEO
fill the service box with content or leave only an icon and a button
decide whether to display the button or not
select button text, link, alignment and even color
Updated Post Grid Widget
In the previous versions of MotoPress page builder it'll be possible to display only recent posts and custom post types, now by using the Post Grid widget you are able to display any kind of posts: blog post, forum, topic, reply, documentation and download. We are sure, you'll appreciate a new feature to show posts with the Custom Query option as you are allowed to choose the number of columns, style of the post, image size, and title style. It's also possible to show the date and comments of the post or vice versa hide them. If you need you can add 'Read more' text or the 'Load more' button, so users do not miss any important information.
Improved Button widget
The button is a really significant element in each post or page. In most cases, it plays a 'call to action' role and should be very noticeable. Considering this fact we've added the ability to set an icon for the Button and the opportunity to stretch it to the full width of the page.
Additional Changes
added the ability to set Instagram link in Social Buttons widget
added the opportunity to use shortcodes in Members Content widget
added the possibility to show caption of the image in Image widget
added the ability to add addons settings in the MotoPress settings section
made minor bug fixes and improvements
We've worked hard to bring all these new features of MotoPress Visual Page Builder to you and hope you are going to enjoy and use them. We are looking forward to seeing your feedback in the comments.