MotoPress Content Editor update version 1.6.5
Finally we have finished working on impressive update and released highly anticipated 1.6.5 version of MotoPress WordPress Page Builder plugin. By updating to this version you get new widgets and features like popups, countdown timer, custom lists, group buttons and many others. All the widgets are multipurpose and you will find them useful for sure. Let's go down to the details.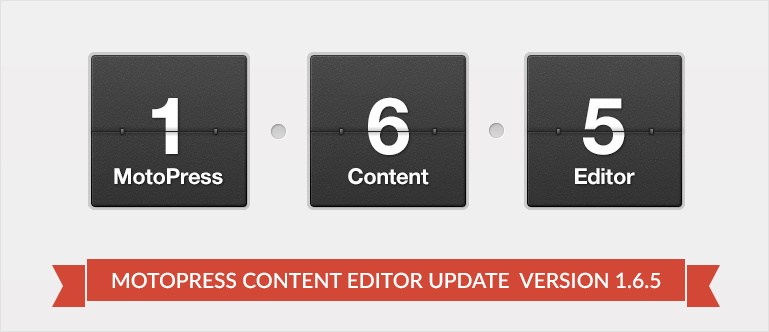 New Posts Slider widget
We are pleased to introduce widget for sliding your Posts and other post types. Using this widget you can slide any post type provided by your theme like Posts, Pages, Portfolios, Testimonials, Services, etc. Thus you have an ability to place stunning testimonial slider on the home page of your website and show the feedbacks of your customers or services you provide in a few clicks.
The slider settings are flexible enough and you can find the following options at Settings Panel of this widget:
select post type to slide (Posts, Pages, Testimonials, etc)
display posts by category slug. It allows you to show posts of certain categories
display posts by tag slug to show posts with certain tags
define the a quantity of posts to slide
set the order of posts (Order by Author, ID, Date, Random, etc)
sort the order (Ascending/Descending)
select a style of Post Title (h1-h6 or hide the title)
define the length of description (Short, Full, Excerpt, None)
set a size of the image
define image position (Left/Right)
link the post to original link, set custom links for each post in a slider or disable links at all.
enable or disable slideshow and set delay
select animation type (Fade/Slide)
show or hide pagination
enable pause on hover over a slide
New Download Button widget
This widget is not exact copy of simple button as you might think. Using this object you are able to select any file from your WordPress media Library and let your visitors to download it. The button was coded intentionally to save all file types and extensions instead of opening some of them in the browser. Therefore you may be sure that your visitors get your shared files to PC and not just view it in a browser.
Also you are able to change the button title, select and align icon and stretch the button.
New Splash Screen widget
It is definitely new type of widget that is presented in MotoPress Visual Editor. It opens popup window automatically when your website visitors scroll the page down to the place where this widget was added. It is a great help for marketing strategy. This tool allows to place additional information about sale, increase traffic conversion by placing sign up form, suggest a call, live chat to get in touch with your customers or website viewers. There are the following settings items available:
content field – a WordPress editor window to place shortcodes of sign up forms and other objects.
delay option  – to determine a delay in milliseconds when splash screen should pop up
style – you have choice between light, dark and custom styles. By selecting a custom style you may pick colors for background and box.
show and hide animation – it is possible to select an effect animation for your popup to make it live. There are such predefined effects like – bounce, fade, slide, rotate, flip, etc.
New Countdown Timer widget
Here is one more premium widget that was added to MotoPress Visual Page Builder plugin with current 1.6.5 version. It is a great tool to count down the start or the end of discounts, sales or any other promotions on your WordPress website. It is fully customizable and would fit your website design perfectly. You can set the following preferences using Countdown Timer widget:
determine the expiration date
define a timezone – there are two options: server time or user's local time.
set a format of the year, month, week, etc.
pick background and text colors
define block, digits and text size
set a spacing
New Modal widget
Modal widget is a button that opens a popup window. It can be used for marketing purposes too. You might place a sign-up widget to follow you in social networks, add website registration or contact forms, put a privacy policy text, poll, etc. Using Modal widget it is possible to modify button and  popup easily without any line of code.
New List widget
Since current update you got a marvelous widget to create beautiful lists. Now you are able to form listings on your website using so much loved – font awesome icons as markers. You just need to type the items one by one and select Icon style. And of course you can pick custom color for text and icons.
New Icon widget
It is a simple widget that allows to drop Font Awesome icon of custom size and color anywhere on the page. Moreover it is possible to define a background shape type among circle, square and rounded, pick a color and size. Also you may link the icon and make it look live selecting appearance effect. This widget will help you to avoid usage of images on your pages to make your website light, fast and beautiful.
New Call To Action widget
Right after update to version 1.6.5 you get a superb widget to draw attention of your website visitors. Call to action widget provides a possibility to create an eye-catching block using drag and drop only. It is extremely important to stand this widget out of the rest design on your page and make your viewers to take a certain actions like: purchase a product, subscribe to newsletter, check an offer, download latest version of software, etc. This widget can be easily modified to your needs within the following settings:
title/subtitle/text content
define shape of the block – square/rounded/round
select a style from predefined classes or create your custom one.
define button position
set button color, size, icon, animation and shape.
link a button
pick an icon for call to action
define icon position
set icon color, size, icon and animation
select an effect of appearance for whole call to action block
New Button Group widget
This is one more tool that will certainly help you to improve conversion on your website. Button Group widget enhances site navigation structure so that your visitors could easily browse necessary page without thinking too much. As a result it increases website usability.
The preferences of this widget allows to place group of remarkable buttons vertically or horizontally, control alignment and spacing, customize and link buttons individually.
Posts Grid widget update
We recommend you to pay attention to Posts Grid widget settings after you update MotoPress Content Editor plugin to latest version. You can find a new option to Load More posts instead of simple 'Older Posts' button. This function will smoothly load older posts in your grid.
Also we have added the ability to filter posts by categories and tags. It means that guests of your website are able to sort the news easily by tags and categories they are interested in.
GPL license, Finnish and minor bugfixes
From version 1.6.5 MotoPress Visual Page Builder plugin is licensed under GPL. You are free to include plugin in any client work you may do, and charge for the development work as part of the overall package. But you may not simply resell them as your own.
We have also added Finnish language, improved compatibility with WordPress 4.3, WPMU Domain Mapping plugin, WordPress Multisite and fixed minor bug fixes.
This was a huge update package though. Now it is much easier to build amazing content and fulfill effective marketing projects on your websites with MotoPress.
Go ahead update your plugin, check new features and leave feedback below.