Create Separate Demos for all WordPress Products from One Multisite Network
This cool feature appears in a recent version 1.1.4 of the Demo Builder for any WordPress product plugin.
For those unfamiliar, this fresh MotoPress tool helps WordPress developers and business owners promote the plugins and themes in demo presentations with an additional option of providing the prospects with trial accounts. Thanks to the feedback of our first customers, we've made some important improvements to help you stay in tune with your requirements.
In the first version of the plugin, you could create a demo website using your main one.
But of course, if you have different products, you probably want to feature them on different backgrounds, themes, with different content, etc. And moreover, you want to provide users with an easier way of creating their trial account for testing a particular product and have different links for sandbox registration.
All this is now reality thanks to a new option of creating a demo website from the specific sub-site.
Namely, if you have say 3 WordPress products to feature and want to get different links with sandbox registration forms for all of them, you'll need to create your demo websites from the different sub-sites and accordingly create 3 registration forms each with a unique ID.
To perform all this, you first have to go to your WordPress Multisite Network and create a needed number of new sites and customize them – add content, activate plugins, set restrictions, etc. So, all of the sub-sites will have their individual settings and look.  What you also need on this step is remembering the site IDs. Don't forget to find it out – just hover the mouse over a website link: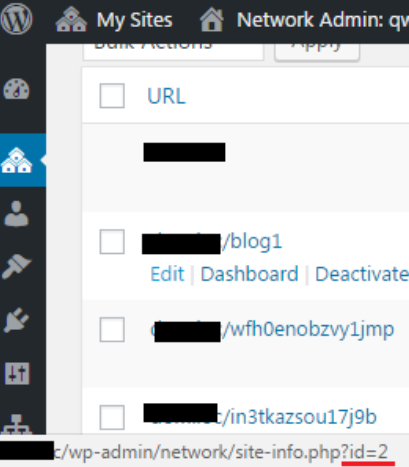 To add a sandbox registration form, go to the blog which is not a sandbox > customize the form and put the needed sub-site ID: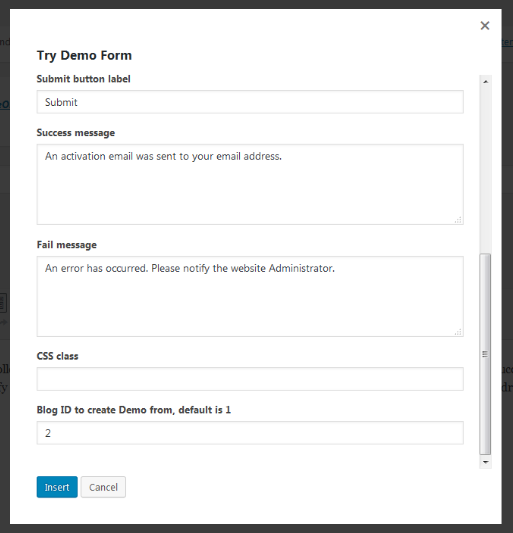 Now each particular sandbox will be created with its particular activated theme, content, and restrictions.
UPDATE: you don't have to hover the link to find out the ID any more. Simply choose the needed one from the dropdown: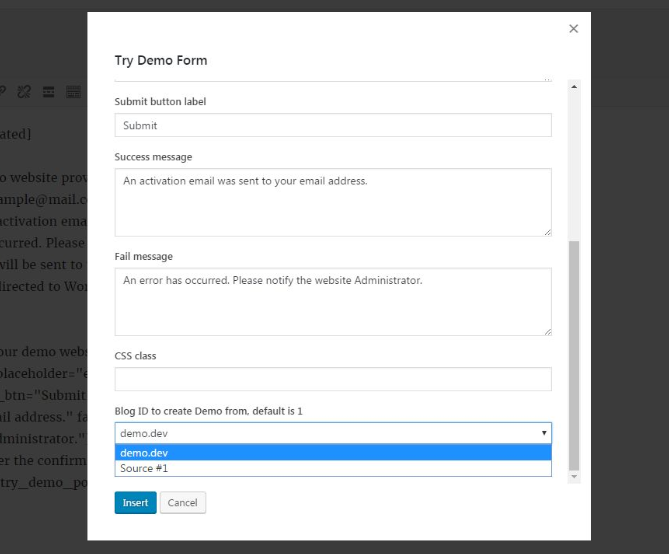 You may check out the updated documentation for more details:
A few other updates:
Give sandboxes access to your plugins
If you want to allow users to activate/deactivate the installed plugins, you should configure your Network Admin settings.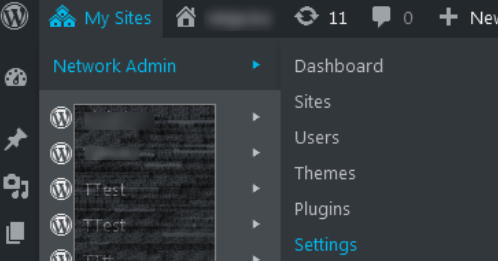 And then tick Enable Administration menus – Plugins options. This gives you access to restrictions of a particular blog, where you can tick "Plugins" to allow users to activate and deactivate the plugins.
Please note that this option is foremost controlled by WordPress, so if the user role of the created demo site is not Administrator, the plugins won't be visible for a demo user in a sandbox. So make sure to set a preferable user role for the sandbox: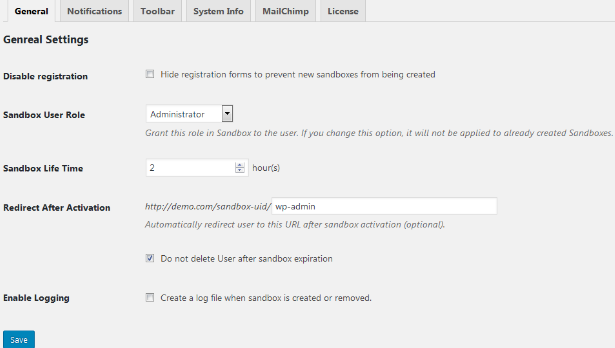 Restrict access to specific pages
This new option allows you to manually hide a needed page from the sandbox if you were not able to do that via the Restrictions menu. So you may just add the needed URLs – each from the new line.

Keep the user after their sandbox is expired
When the trial period is over, the data of the sandbox will be deleted, but you still may keep the email address of the user to continue communication.
Looks like all main updates are already mentioned.
We hope that they will improve your experience of managing the demo builder plugin! Any other ideas or questions are welcome, just share them in any convenient way.
Interested in getting this MotoPress Demo Builder with all other WordPress plugins and themes in one mega discounted bundle, for unlimited websites usage? Check our Membership option.