Advanced Google Maps Addon For MotoPress Content Editor
We would like to introduce a new widget for MotoPress Visual Page Builder – Google Maps Pro. This addon allows you to add an unlimited amount of markers, select marker type between images and font icons, define types and styles of your map and utilize many other useful features.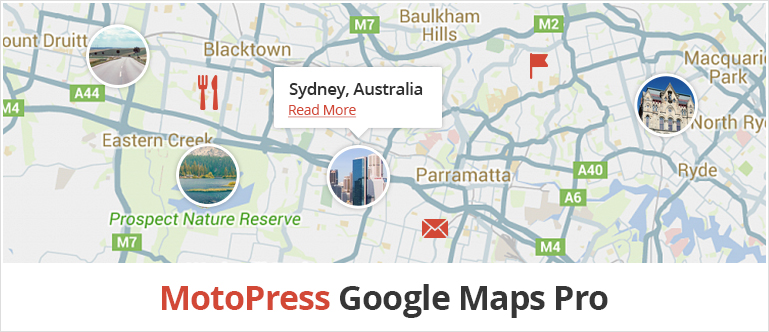 Unlimited markers
By using MotoPress Google Maps Pro widget you may place as many markers as you need with one click only. In order to put a marker to the required location you have to type its complete address and marker will be dropped at that place.
When markers are added to the map do not forget to adjust zoom to make them look better. Actually it is as simple as that.
Define a marker type
Often users complain that markers which  are provided by one or another plugin do not fit the style of their theme or simply they do not look effective with the existing icons. To avoid such requests we've prepared two solutions:
Font Awesome icons are getting more and more popular and provide huge choice of icons actually. You can find any icon solution within this service. Moreover you are able to define a color and size of the icon right at the marker properties. The main advantage of this service is that icons are vectors and it means that they look perfectly on high-resolution displays.
Even if you miss some icon or wish to place something else instead of the default marker it is always possible to switch to Media Type. It means that you are able to upload any image: icon, landscape, portrait, logo etc. and apply it as marker. Thus you can drop any custom marker you prefer.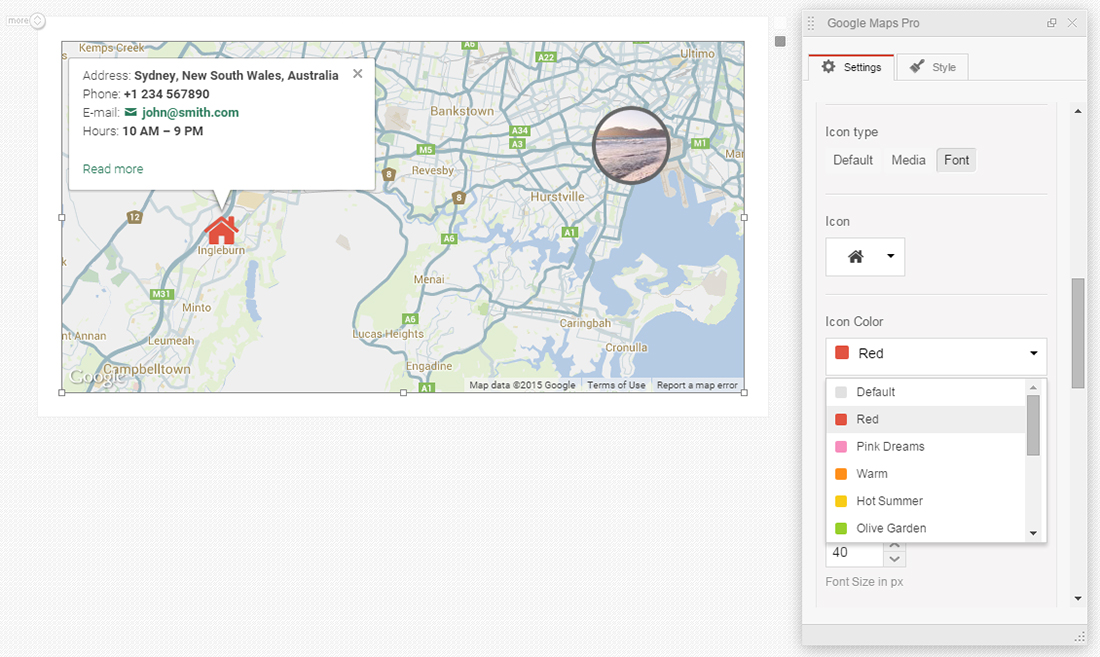 Edit the description of markers visually
The information at marker tooltip is fully customizable. You can modify it using WordPress Text editor right at MotoPress Visual Page Builder. It enables to add images, embed videos, style and link the text in the tooltip area easily and without any coding.
If you have much information to paste to your marker description you'd better place it on a page and link 'Read More' tooltip label to it. It is possible to change both label text and URL via Object Settings panel.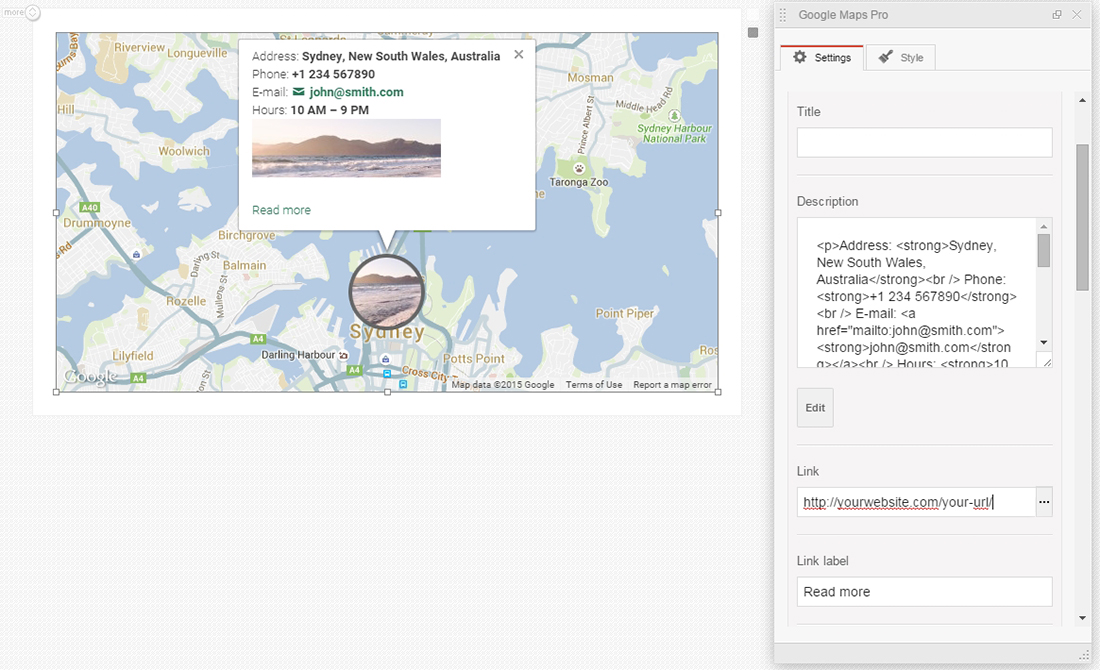 Style your maps
You should not worry that map may not fit the style of your WordPress theme or make your website look weird. You have a choice of 6 most popular predefined styles. They will make your map to look really stunning.
Just in case you could not find a style with the desired color scheme among predefined looks there is an option to integrate any style from Snazzy Maps for free and in a few clicks. This service presents more than 1000+ styles for Google maps. You may search for a style by filters like colors, tags, etc. When the required style will be found you need to copy its code and paste it to the proper field of widget's settings panel.
If you do not want to look through the ready styles you have an opportunity to create your own style with Styled Maps Wizard free service. When you are done you'll get a code that should be pasted to settings panel of the widget.
As usual you may switch between 4 different types of the map:
Road Map
Hybrid
Satellite
Terrain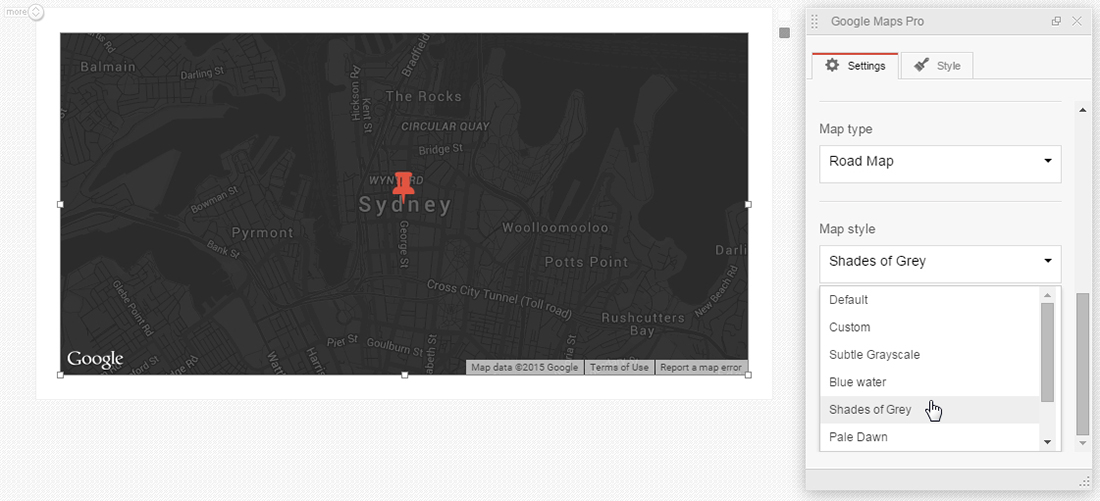 Make your map mobile friendly
Sometimes an embarrassing situation may occur to each of us when we view a full width page with a map on a mobile device. And we can not scroll the page down due to the enabled scrollwheel zoom and draggable features. In order to prevent the situation like this and keep your visitors calm you can find properties that allows you to disable these features on the map's settings panel.
Moreover you can hide the controls that may look weird on mobile devices covering some of your markers for example.
Save your time and embed your map
MotoPress Google Maps pro widget can also be useful if you previously created map with Google Maps service – manually. All you need is just to get a code to embed your map and paste it to the properties of this widget within Content Editor interface. The map would be perfectly imported. You do not need to waste your time and re-build it you are able to add new maps with the new marvelous MotoPress addon in a minutes.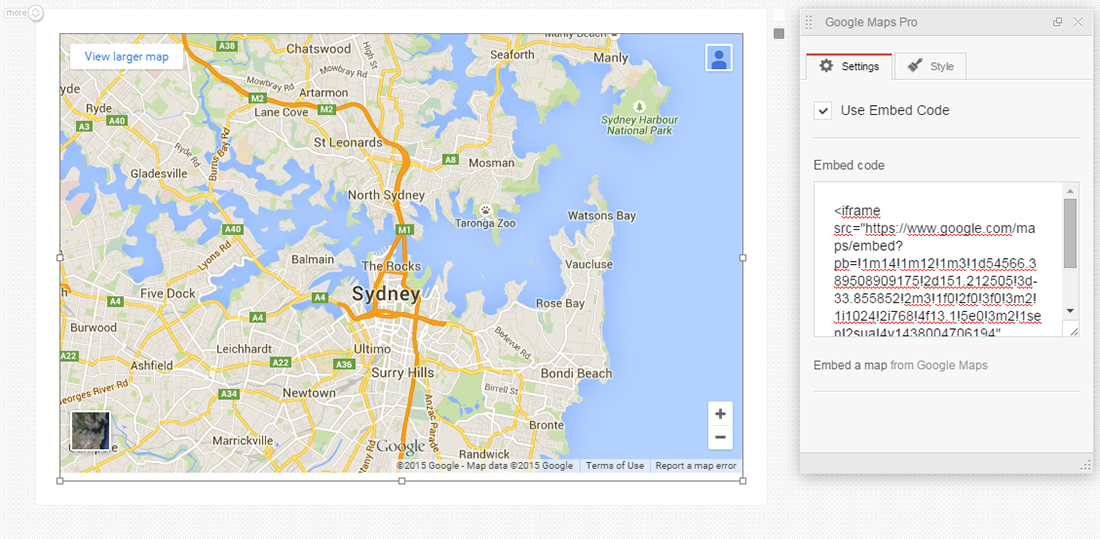 Driving directions
This simple feature may be useful for your customers. It will help them to discover a short way to your business location certainly. You can either enable or disable this property. It does not require any additional settings.
New Google Maps widget from MotoPress is an intuitive tool for creating multipurpose map. It doesn't require any coding skills at all. This addon allows you to create the unique map in a few clicks. MotoPress team did their best and included all necessary options this widget to make it usable. But we are always happy to hear your suggestions and ideas to enhance the widget's functionality. Share them with us in comments.