MotoPress Slider Version 1.1.4 Released
MotoPress team is glad to announce that Responsive Slider version 1.1.4 has been released. This update includes some big changes and significant improvements, such as swipe navigation, new slider settings, retina-ready controls, and much more.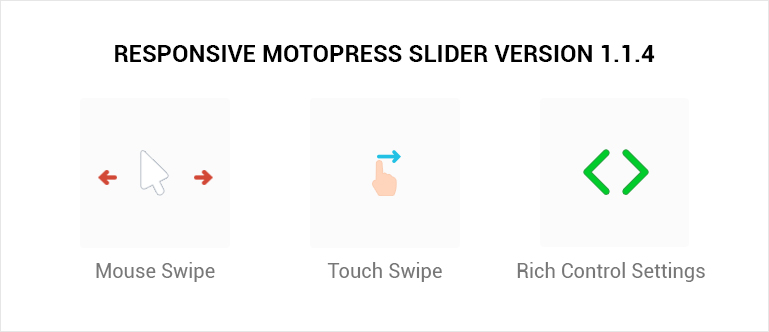 With the updated MotoPress Slider you can:
Use swipe navigation
Foremost and the really awaited renovation is the new swipe navigation feature which makes it possible to move between pages with the swipe gesture. If you prefer to use a tablet for your work it's easy to turn over the slides with one finger only and without navigation controls. Just touch and swipe.
Desktop lovers will also appreciate the update as a handy mouse swipe option is available. Easy to use swipe navigation is a perfect way to control what is going on on your screen in a really intuitive way.
Hide slider controls
By using the Control Settings you are able to hide the specific slider navigation controls.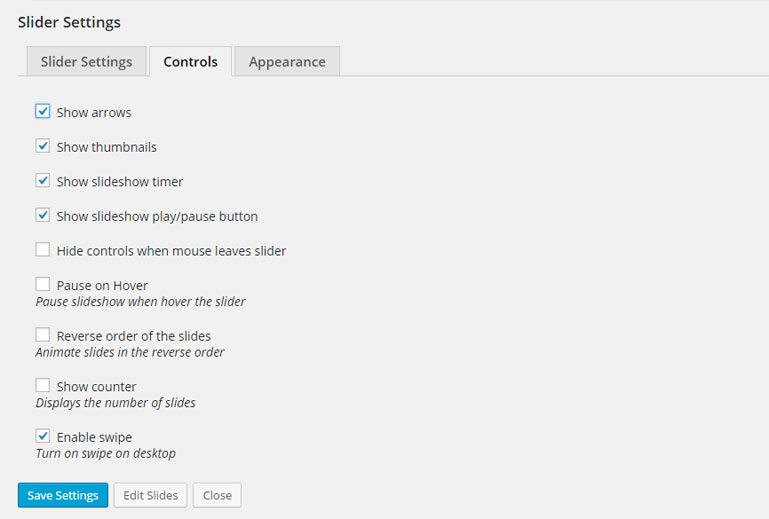 It depends only on your preferences to show both arrow and thumbnail controls or only one type of slider navigation. You have also the possibility to display or hide the slideshow timer, play and pause buttons. In the updated Slider version you are also able to hide controls when the mouse leaves the slider, so there is an opportunity to enjoy the clean look of the image.
In case you want to show your slides in the reverse order, just select this point and change the order of the images. It's really handy when you have many slides in your presentation and want to display new slides first and old ones last without moving all slides.
You can use the "Show counter" option to display the number of slides or if you prefer not to share this data simply disable this parameter.
In the Slider Controls section, you have also the opportunity to enable the swipe feature and make your slider even more user-friendly.
Show sliders on certain devices
In order for this to work go to the Appearance section in Slider Settings and adjust the slider size for the specific device or screen size.

You can choose the exact size for your slider which will be displayed on different devices. In the screenshot above we set a specific size for a tablet, these numbers can be easily changed according to your needs.
The great advantage of version 1.1.4 is the ability to set the custom class and custom styles. If you want to change the default style just overwrite them with your own, this will let you to completely customize slideshows to your needs.
Enjoy retina ready controls
Updated MotoPress Slider version provides controls available in retina resolution. This tiny improvement allows controls to look engaging on your retina-ready device.
Update notifications are available for users who activate a license key. If you have not entered your license key you are able to do this in the MotoPress Slider License section. Let us know if you have any questions or suggestions in the comments.