New MotoPress Offer: Image, Video and Product Slider for PrestaShop
From now on you don't only easily WordPress with MotoPress, we've developed one great alternative for PrestaShop slider users: universal PrestaShop Slider Module. It's a powerful and fresh PrestaShop tool that comes along with an affordable price, handy backend, and tons of trendy features to outperform your competitors.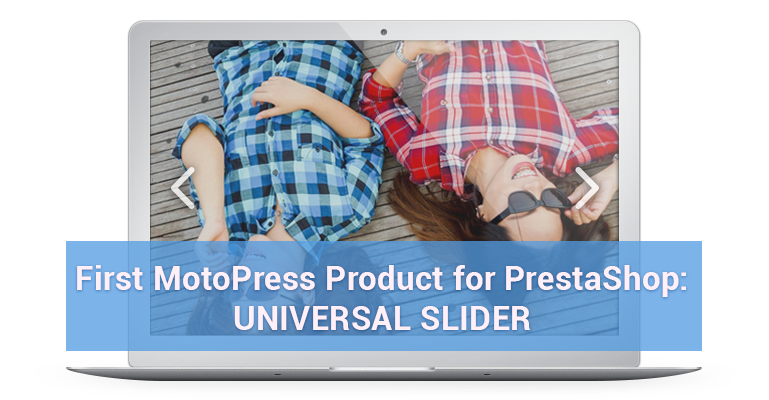 So, how can PrestaShop users apply the slider? Here come two slider types MotoPress offers:
1. Product Slider: to build a stunning product slider and target the right users to the right products, increase your online sales and brand awareness across the web.
2. Custom Slider: to create any other type of slider like Image, Video, or call-to-action to make the site visitors genuinely impressed and involved.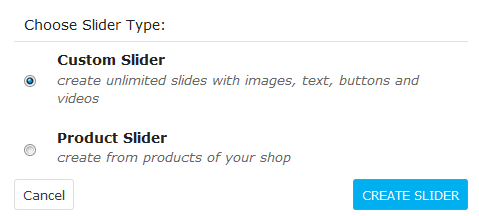 Let's continue with some general features that come along with each type of slider:
hassle-free backend customization
fully responsive and mobile-ready design to make sure every site visitor is provided with a satisfying user experience
slider preview within the backend
safe import and export of the slider data
ability to make the slider viewable for logged-in users only
auto appearance and hiding of the slider according to the set dates
slider linked to an external URL
module licensed under GPL to provide you with more freedom of the slider customization
ability to use custom styles
Consider numerous backend options to create a stylish product slider for your online shop:
duplicating slider ability if you use several sliders with the same content or same style
alternative ways of outputting the particular products in the slider: by categories, tags, in-stock products, on-sale items, and including/excluding the products by IDs. You are free to modify these settings under the Content tab: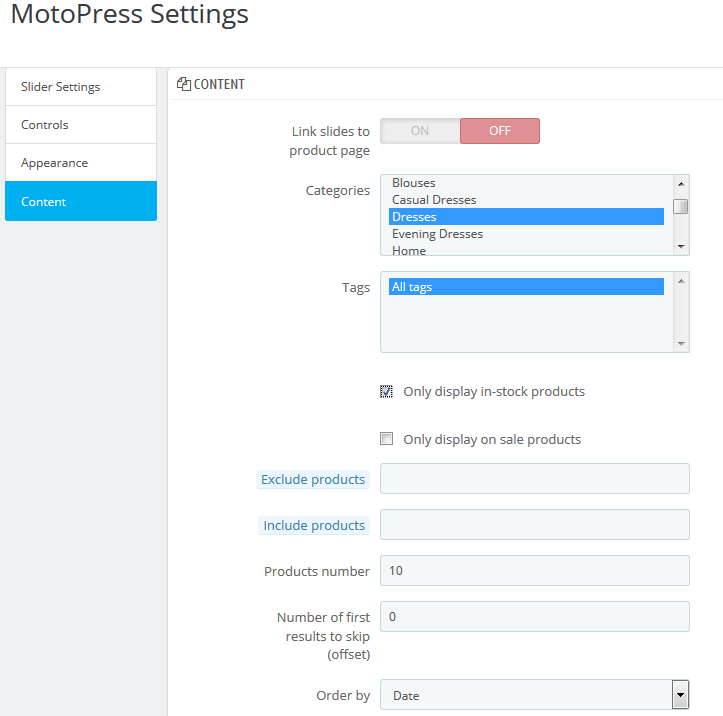 Different widget areas to place the slider to the specific part of a website in a single click: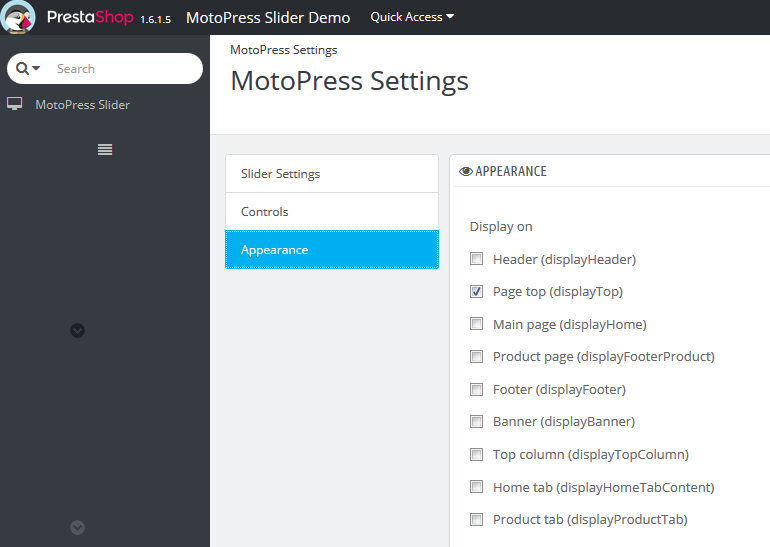 Each type of the PrestaShop Slider module comes with much more useful features:
Style builder to customize the styles of each slider element, using which you can do the following:
– adjust background: choose the color and its type (color/gradient), upload background image (set its size, choose whether it should be repeated, and apply the needed position of a photo), or set a background video
– experiment with fonts and typography (apply the needed size, font style, text shadows, borders, and paddings, etc.). You may also choose from the predefined Element styles, e.g. Button Green, Header dark, etc.
– use earlier created and saved styles to apply to other needed slides (all of them are available in the preview area) or duplicate the needed styles.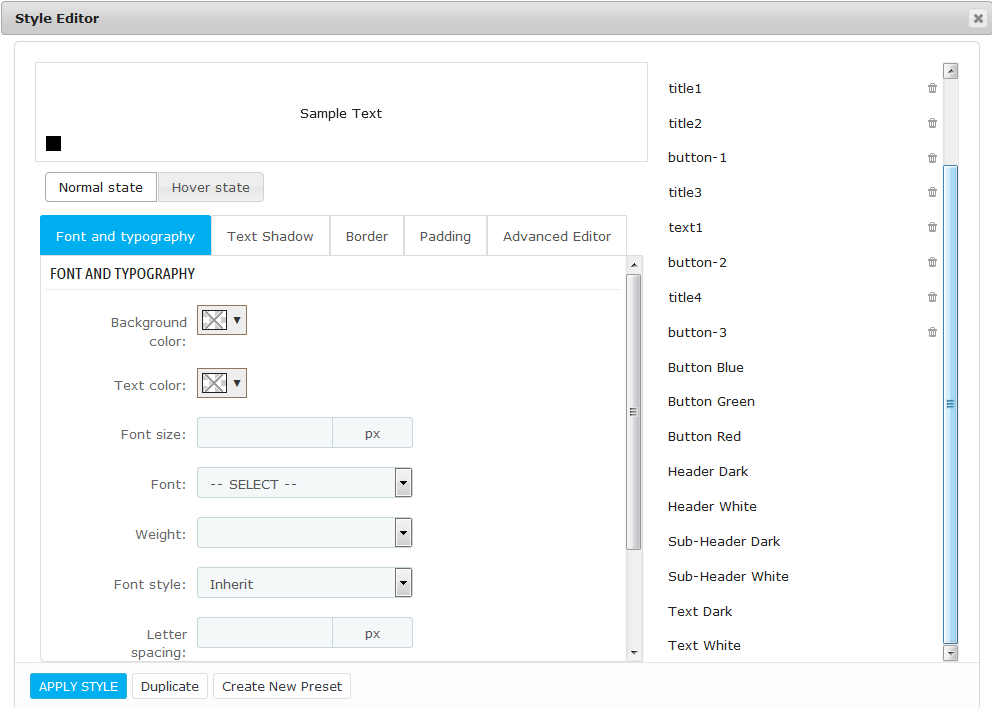 Animated Layers. Add any needed layer (text, image, button, video) to the slide with a click and customize each one separately using a handy layer toolkit. You can simply drag and drop all of your layers across the slide to define the best location for each of them. Moreover, there is an option for setting a layer duration – when it should appear/be hidden, so your dynamic storytelling is even more intrigued.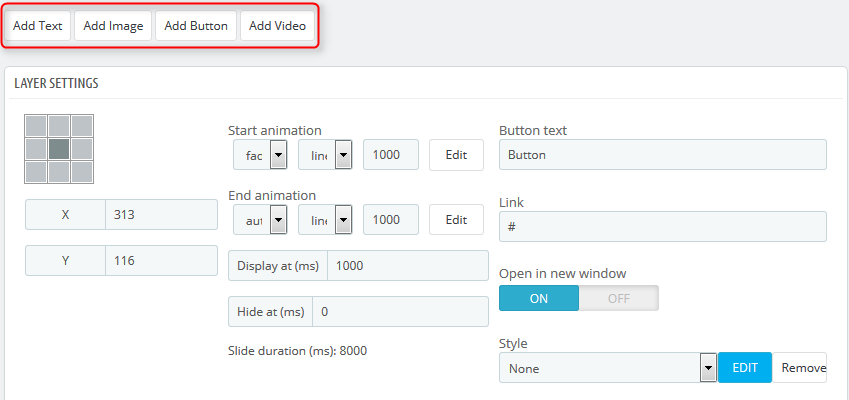 Animation effects were implemented to make your slider more dynamic. You'll be able to animate each slider element and preview all needed animation effects before applying them to the layer. To adjust all animation effects for the needed layers, simply click on the Edit button next to Start and/or End animation -> preview all needed effects -> choose the needed one and click Apply.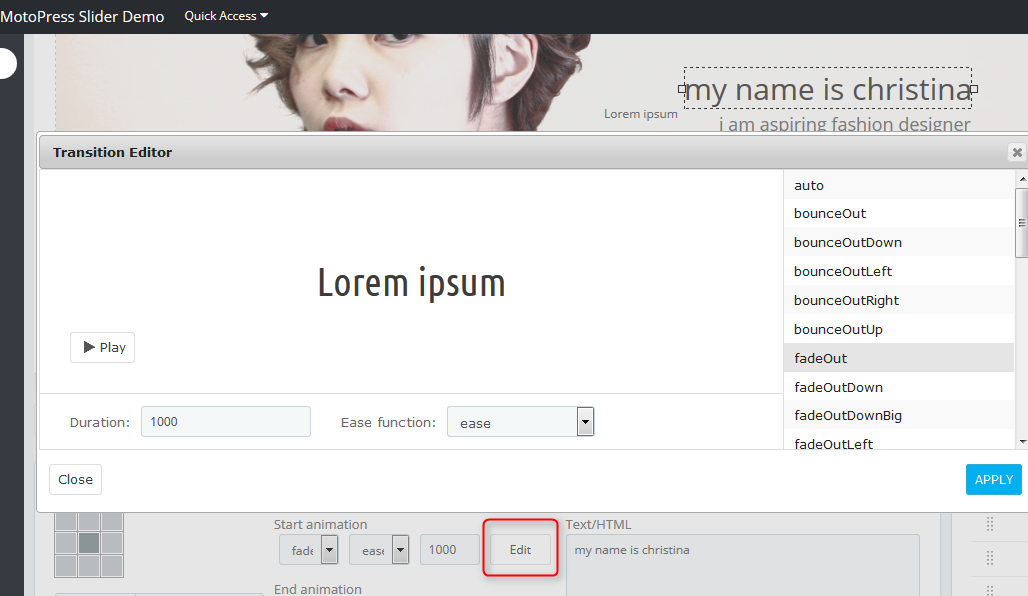 Full-screen slideshow. Full-screen website mode is one of the hottest web design trends, so you have a chance to create a more modern and fresh website look and boost your online sales if you use the module as a product slider. If it's any other type of slider, you'll simply please the eye with the catchy images, videos, and calls-to-action providing a satisfying user experience and increasing your brand identity. To apply the needed width and height, go to Slider Settings > Turn on Full width and/or Full height mode: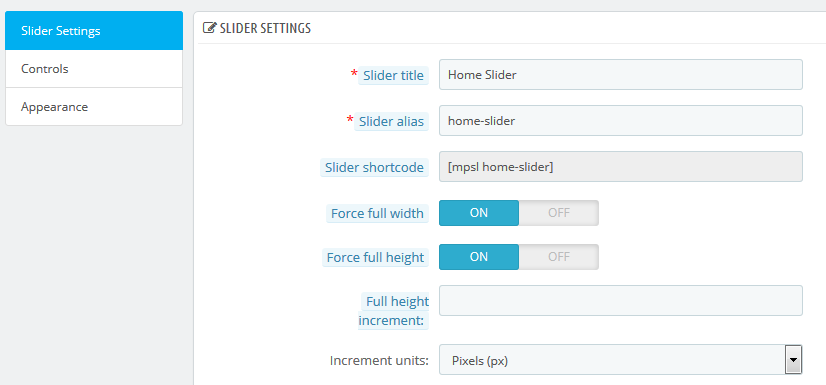 Smooth swipe navigation. It's a fact that the number of touchscreen holders is increasing every day and the number of online buyers grows appropriately. MotoPress Slider for PrestaShop ensures you provide all the users of touchscreen devices with very smooth swipe navigation. Especially online shoppers will value these features as they'll be able to quickly view the products, define what they want, and make the purchase faster: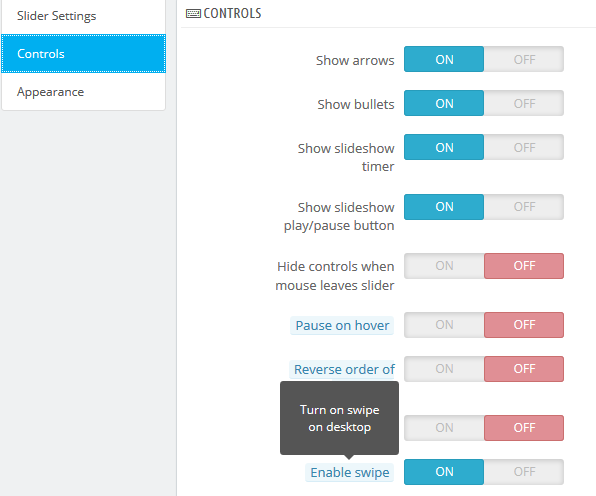 Feel free to send us your questions and feedback!