New MotoPress Hotel Booking Add-on: Email PDF Invoices to Your Guests
We're super excited to announce a new addition to the lineup of the MotoPress Hotel Booking plugin extensions: Hotel Booking PDF Invoices addon. The addon covers all hotel/property invoicing needs allowing you to send guests professional automated invoices as PDF attachments.
The extension takes just a few minutes to set up and is very straightforward in use.
How can you simplify bookkeeping with this addon?
Email PDF invoices as attachments to all confirmed bookings – it's a completely automated process.
View invoices in the admin dashboard and resend them to guests if needed.
Allow guests to quickly print out or download structured information about their booking, its charges in detail, and a total stay cost.
How to use the Hotel Booking PDF Invoices addon
Download, install and activate the Hotel Booking PDF Invoices extension.
Go to Accommodation > Settings > Extensions tab > Invoices to customize your invoice.
The first addon version offers average invoice template customization flexibility – you can update all brand details but so far you can't tweak the template layout. Here are details you can customize in an invoice template: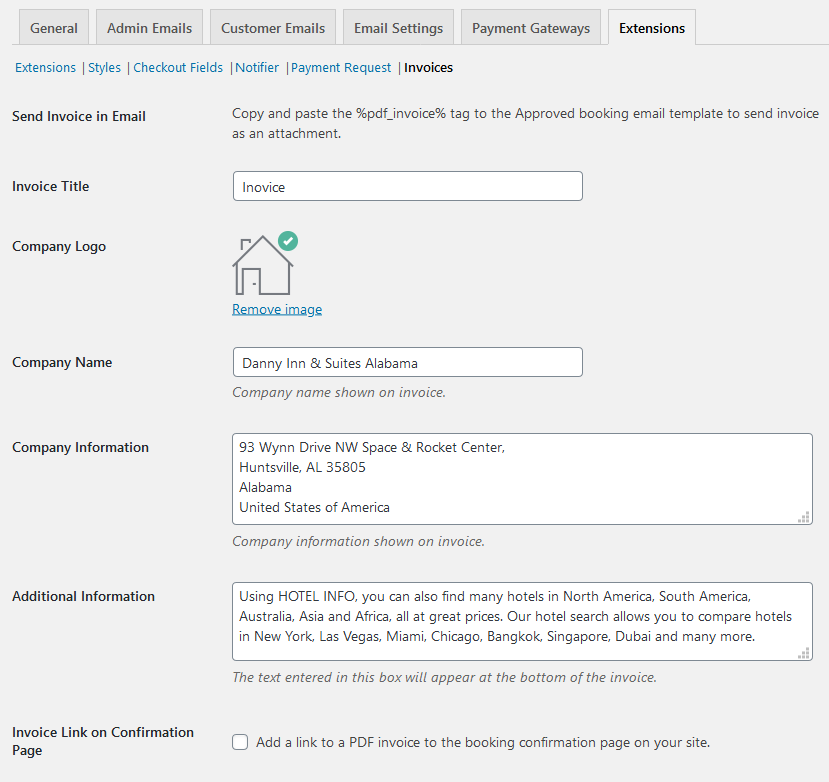 Invoice title (usually it's just 'Invoice')
Company logo
Company name (your hotel or property name)
Any company information (e.g. address, website, references)
Additional information (it'll be added at the bottom of the invoice after the booking and pricing tables).
Here is an example: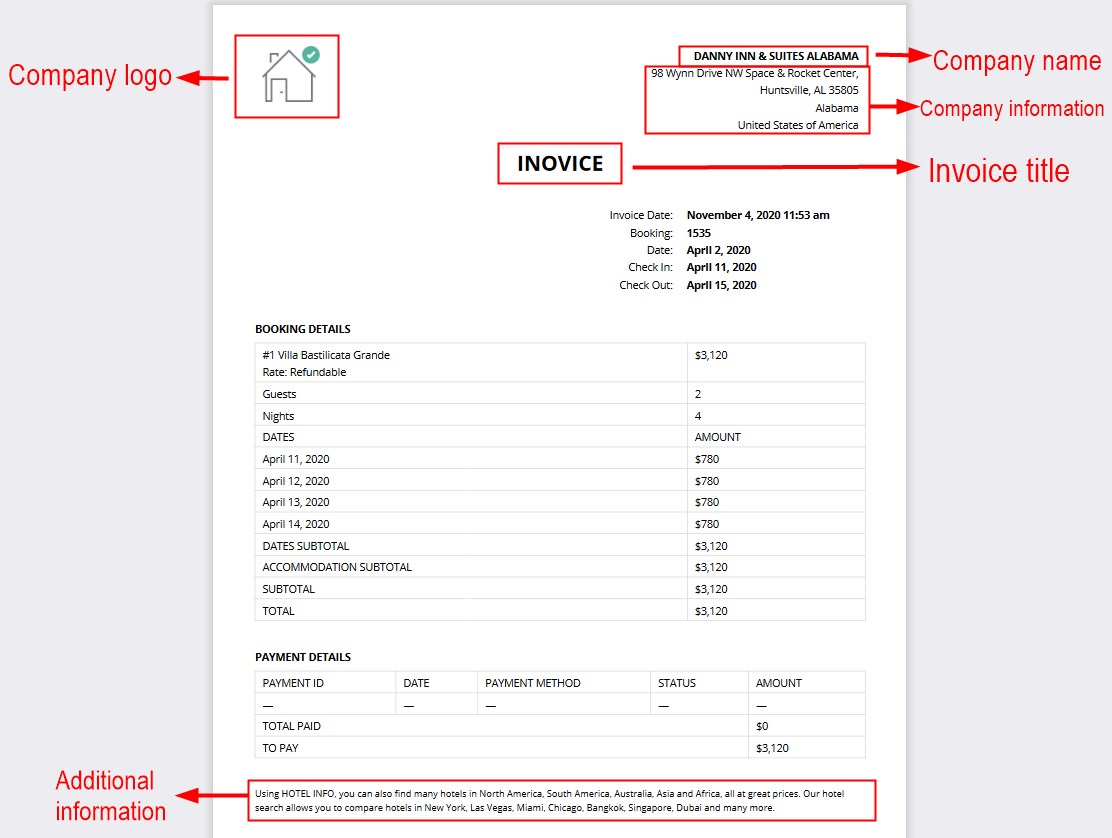 The invoice also contains extra references, such as the date and time when the invoice was generated, Booking ID, and customer info: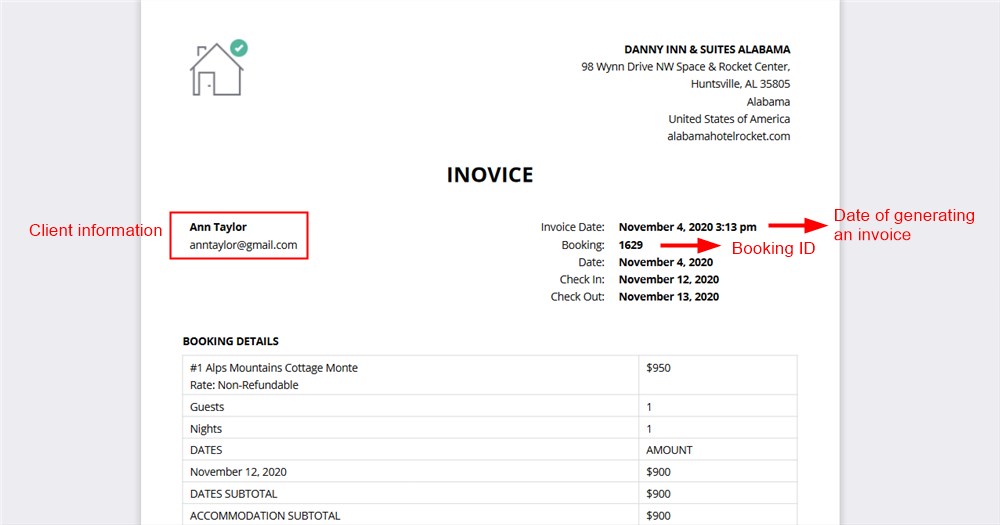 Please note: the invoice date changes once any new payment status or booking changes appear.

If you additionally want to allow guests to download their invoices right on the website, just tick the box that says "Invoice Link on Confirmation Page" – and it will display the link on the Confirmation page: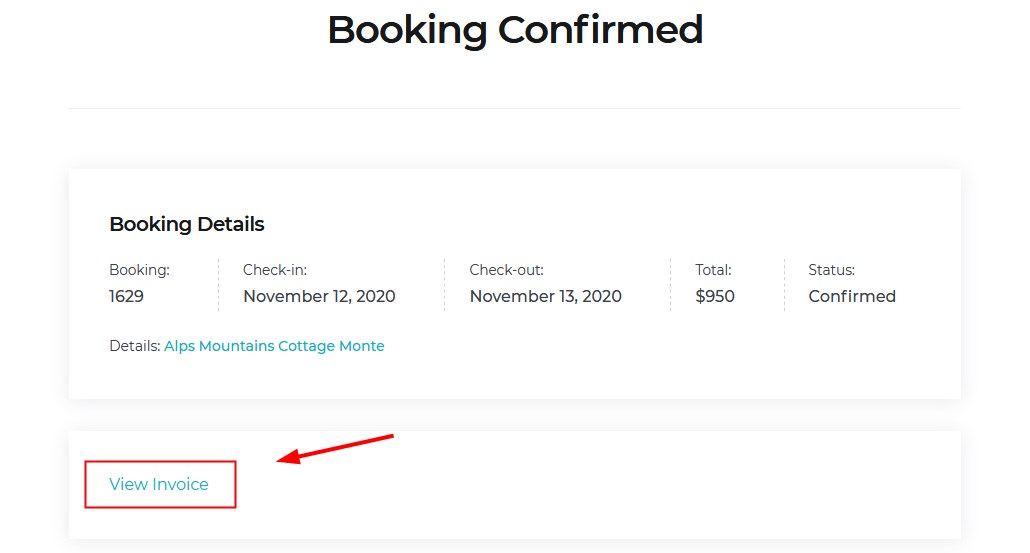 The invoices won't be sent until you add a dedicated tag %pdf_invoice% to the Approved booking email via Accommodation → Settings → Customer Emails. You can also add any extra text if you want, e.g. Find your invoice in attachments.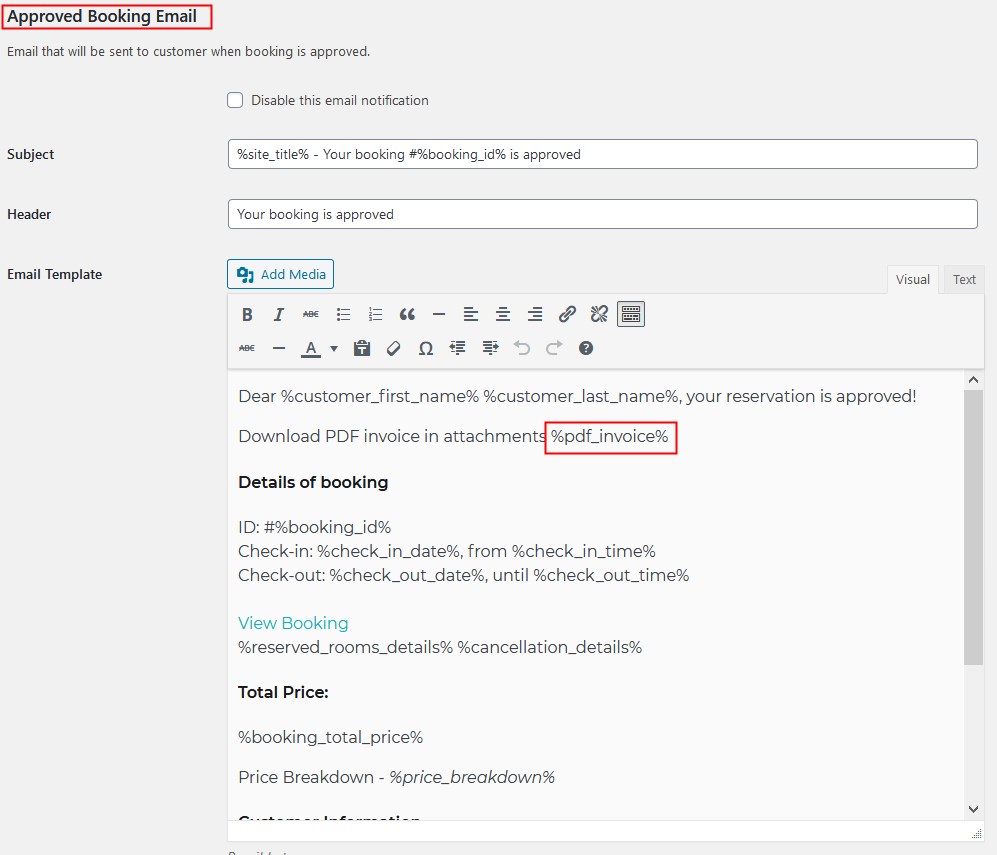 Most likely guests will notice right away that your email contains an invoice:

Since all invoices are in PDF, guests can easily download or print them out:

You can also notice that the invoices are generated for all approved bookings, even for unpaid ones – the guest will simply see how much they need to pay:

Once you received a payment, via a payment request online on the site, wire transfer, or manually, the new invoice will be generated according to the new payment information.
Preview, download, or resend invoices
As a website administrator, you can view the invoices for each individual booking either right from the list of bookings (in the dashboard) or when you open any booking stored in your dashboard: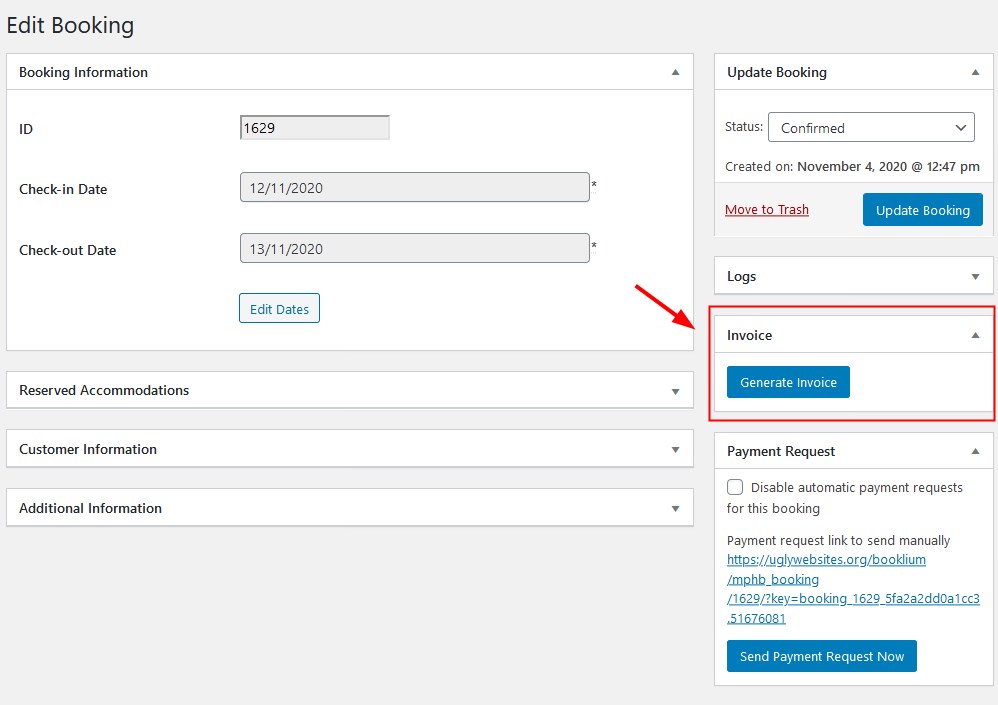 Pricing
This is a premium addon that will cost you $89 to use under one domain or $199 for unlimited sites.
The addon is free for MotoPress club subscribers.
Make sure to check out ALL MotoPress Hotel Booking extensions.
We hope that the new Hotel Booking PDF Invoices addon will meet the needs of you and your customers, allowing you to easily and anytime issue up-to-date invoices to your guests, as well as allow your guests to have proof/details of their payment.