Update to Hotel Booking 3.8.0 to Modify Original Bookings!
A long-anticipated update is here! The latest MotoPress Hotel Booking plugin version 3.8.0 allows you to change original customer data collected at checkout or added by the admin manually to the dashboard, thus easily modify hotel bookings. For example, now you can change arrival/departure dates, rooms, services, the number of guests, rates, and more details from the backend.
It's a handy thing when you need to switch accommodations for guests, extend or shorten booking dates (add or remove days), modify booked services or rates, etc.
Let's introduce you to the new update with a quick walkthrough.
How you can make changes to bookings
How do you make changes in the MotoPress admin booking dashboard? To edit any booking, go to Booking > pick a booking and click "Edit".

You'll see that in the "Booking Information" section, you can edit check-in and check-out dates. In the"Reserved accommodations", you can manage accommodations and other booking information, such as booked services or a room rate.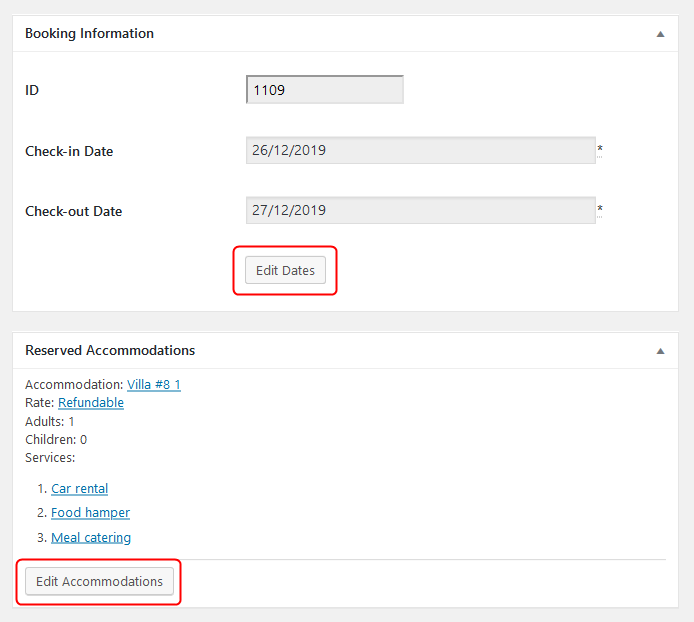 How to edit dates in bookings
To edit arrival/departure dates in the MotoPress admin booking dashboard, click "Edit Dates". This will bring you to the selector, where you can pick new dates to check whether the already booked properties in this reservation are available for new dates.
Don't forget to click "Check Availability"!
It a property (properties) is available, you'll see the "Available" status: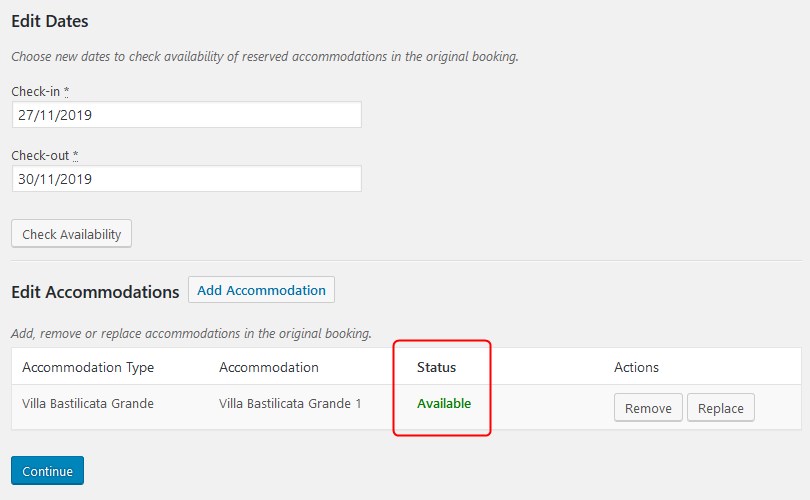 If it's not, the corresponding status will signal about it:

As you can see, you can't press "Continue" for an unavailable property – we are keeping you safe!
Let's proceed with the available one. Just click "Continue". Here you can choose the source booking (to automatically generate data for an updated booking). Most likely you'll want to leave the current accommodation since you are just changing dates:

Click "Continue" to get to the last page where you can compare the original and new bookings (for this example, we've just changed dates).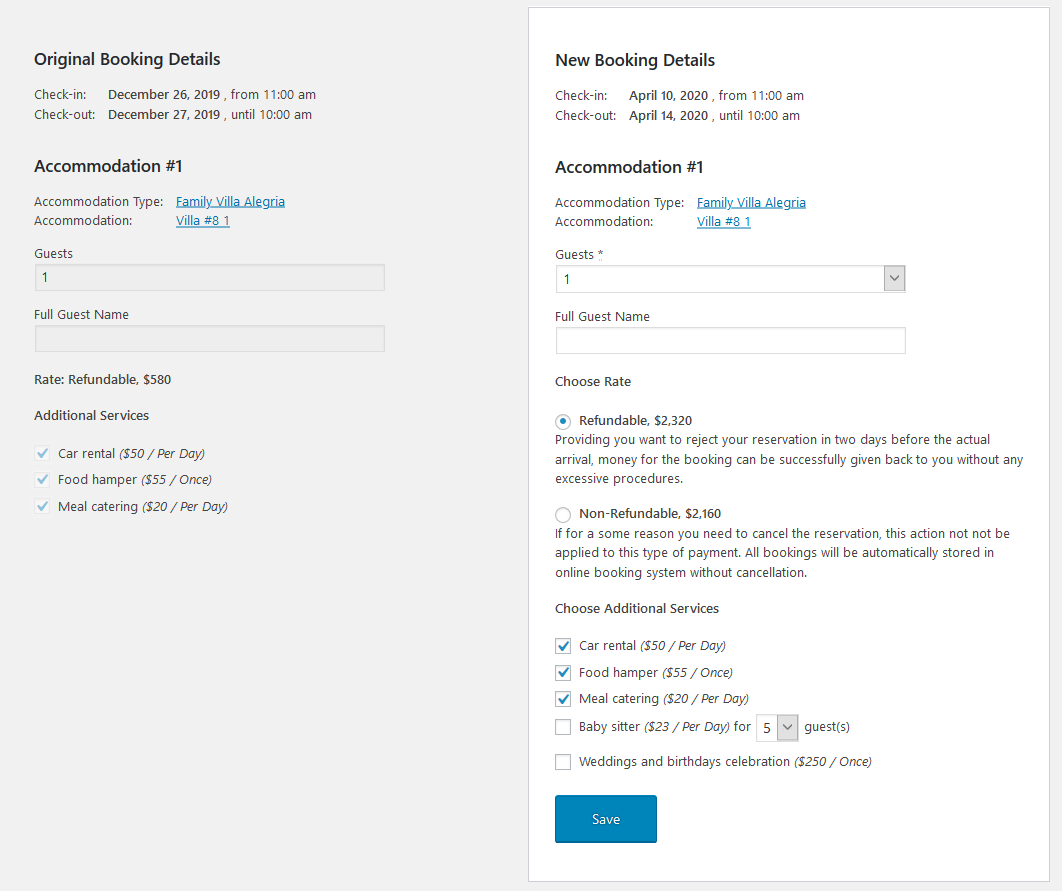 If you want, it's also possible to change and modify hotel bookings data on this step, such as select the number of guests, change rates, add or remove extra services.
When you are ready, click "Save" – you'll be brought back to the booking page. The dates are changed to the new ones!
How to edit accommodations
All the information you see in the "Reserved accommodations" section in the MotoPress admin booking dashboard can be edited.
Click "Edit Accommodations" in the needed booking and you'll be redirected to the same screen as in the previous part we described.
Here you can click "Add Accommodation" to add more accommodations to the original reservation. As for the current accommodations, they can be either removed or replaced.
Regardless of what you need to do, you'll be offered to select a new accommodation type and the exact physical accommodation of this type: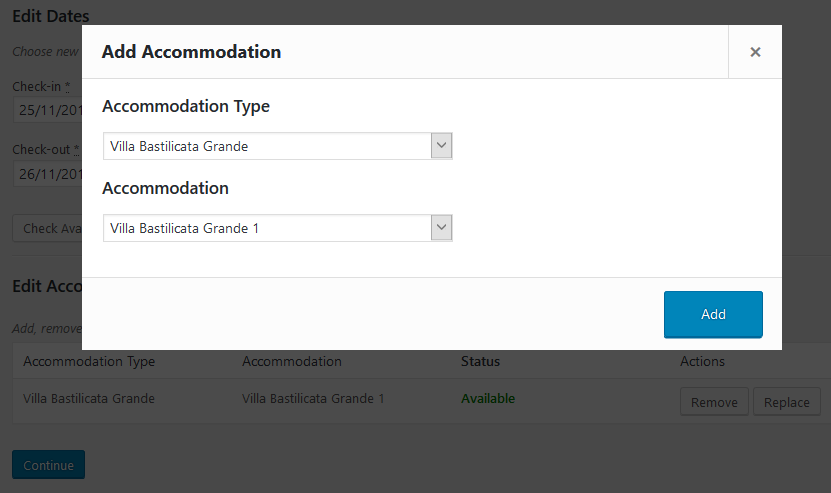 You can add several properties if you need – they will be added only if they are available: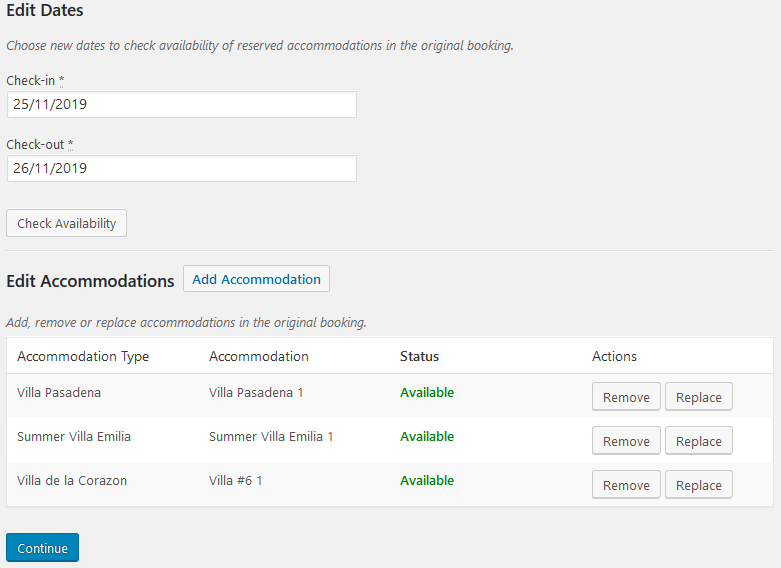 On the next step, as with dates, you can choose the source of booking for each new property you add (this will instantly generate data collected at checkout) or leave the source property empty. Click "Continue".
You need to fill in client information for those accommodations without it – add a name, rates, services, etc.: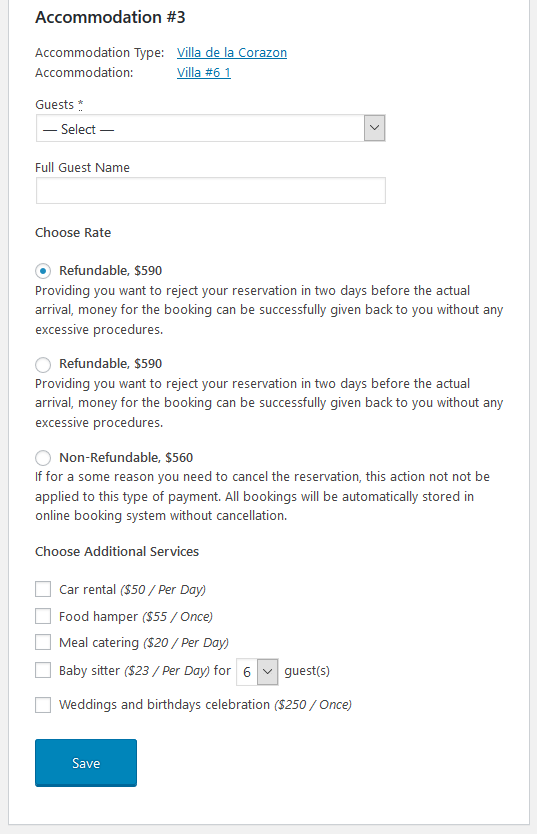 That's it! All new accommodations with their details appear in the "Reserved accommodations" section: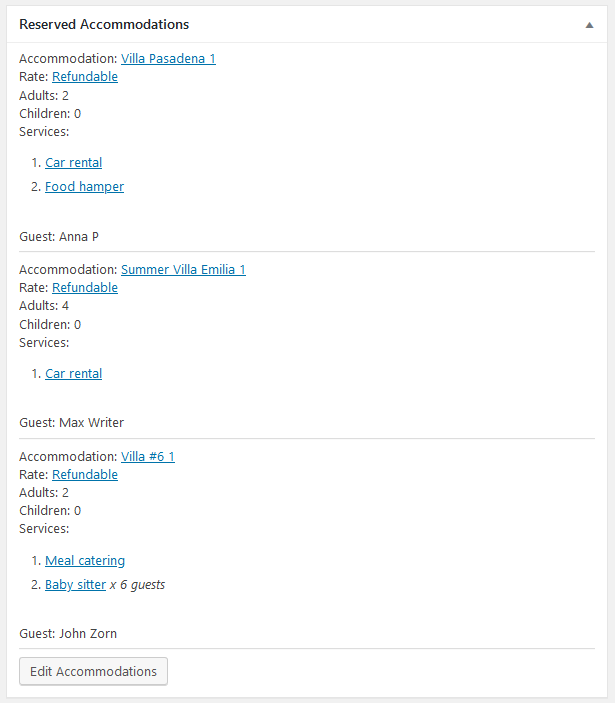 All the changes you've made will be recorded via Logs in the right-hand panel.
How does it influence the final booking cost?
When you update properties or rates, the prices can also change. If the property was fully or partially paid, it's up to you how to charge the balance.
For example, after I added a few more services to the original reservation, the booking price increased by $55 (it's now more than the client initially paid). How do they pay the rest?
Here is what you can do:
Record payment manually after their arrival (add cash payments to the dashboard).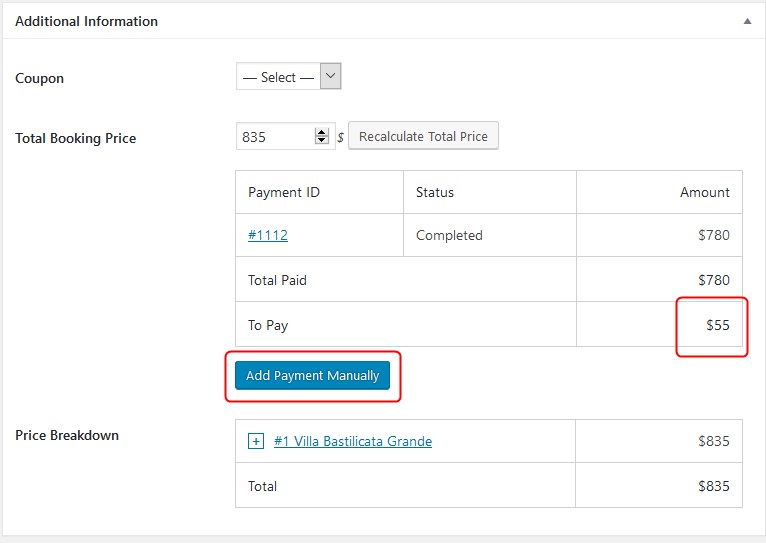 For example, you can go to that booking and click on the "Send payment request now" (this works when the add-on is activated).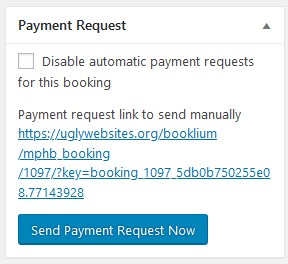 This will send a payment link to the client instantly so they can pay the balance via a preferred payment method online: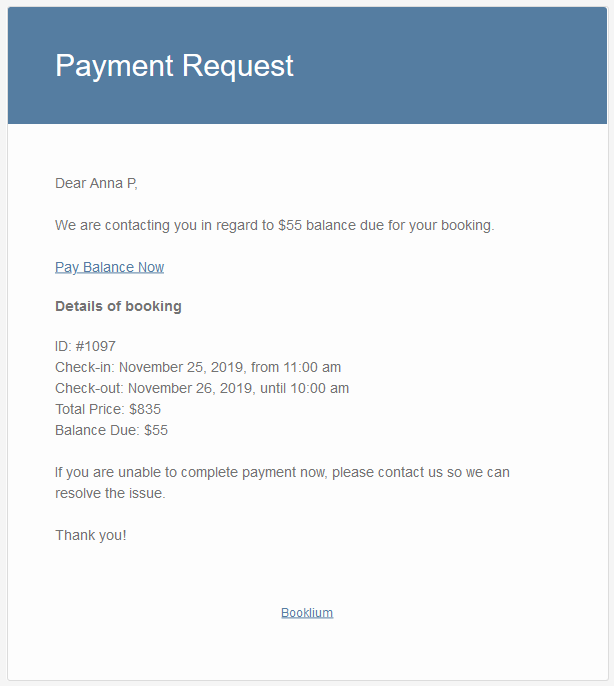 If there is some negative balance (you owe guests money), you can transfer the money or return the balance in cash after their arrival.
And while you are tackling the money transfer matters, guests may receive the information about their confirmed booking via email. In order to send automated invoices as PDF attachments, use the Hotel Booking PDF Invoices addon.
How does it work with the iCal export?
We have thought this out as well.
Changes you make to bookings also affect exporting bookings via iCal to external platforms you might use.
Each accommodation in a booking (your "Reserved accommodations") has its unique ID (UID) that is used in iCal calendars. There can be several ones in a booking.
If you change only dates in a booking (properties stay the same), the calendar UID doesn't change (meaning this is the same event with the updated information).
If you change accommodation or its type in a booking (add, remove or replace properties), its UID in a calendar is also changed (even if you change dates).
The updated booking data will be synced with external calendars during the next scheduled automatic synchronization update (you don't need to do it manually to transfer new data).
Each time the export is done, the UIDs of the events are compared, so if there is a piece of new booking information, it should be also automatically updated on the external platforms.
However, you cannot edit the bookings imported from external sources/platforms. To modify hotel bookings, you need to update the source booking (the listing on the OTA) and resync your calendars to export new data to the Hotel Booking plugin.
Final word: Modify Hotel Bookings in the WordPress Reservation Plugin
A much-anticipated update is at your fingertips. You can now modify original reservations in the MotoPress Hotel Booking plugin the way you need at any time, including changes to the dates, rooms, services, rates, and the number of guests. If you feel any limitations so far or have noticed any problems, do let us know! How do you like the update, by the way?