MotoPress Visual Builder Updated: Content Synchronization with WordPress Native Editor
We are moving in the direction of improving your editing experience with MotoPress WordPress Page Builder and prepared some awesome updates! From now on, the builder won't leave any shortcode mess in a standard WordPress TinyMCE. Instead, you'll get a great alternative of switching to a plain Text Editor any time without losing any content. The most important thing, content from the Visual Builder will be duplicated to a WordPress text editor, so you'll be able to continue editing your content without shortcodes even if the MotoPress Page Builder plugin is deactivated.
A shortcode-based WordPress page builder is a very sensitive topic in the WordPress space. On the one hand, a shortcode makes it easy to automatically generate complex code without actually having any coding skills. On the other hand, it can restrict access to your content if the plugin is deactivated or uninstalled. This is why such synchronization with a native WordPress editor and content "anti lock-in effect" is a huge step forward for us. Not all builders are now supplied with this option, so you are an owner of a unique tool, which gives you much more customization freedom
In case you missed it, there were tons of other cool Visual Builder updates.
Let's get closer to what you get with this update.
It's important to clarify a shortcode matter at first. The update doesn't mean the plugin is shortcode-free now, but it leaves all shortcode structure backstage offering you full content synchronization with WordPress native editor. It means:
1. When you open a page or post, you are free to choose any editing mode: either Visual Builder or Text editor. Content created in Visual Builder will be displayed on your site when the Visual Builder tab is active. You may switch to default Text Editor to make changes at any time, but your edits made there will not be duplicated to the Visual Builder. On contrary, the changes made in the Visual Builder are replicated in the Text Editor.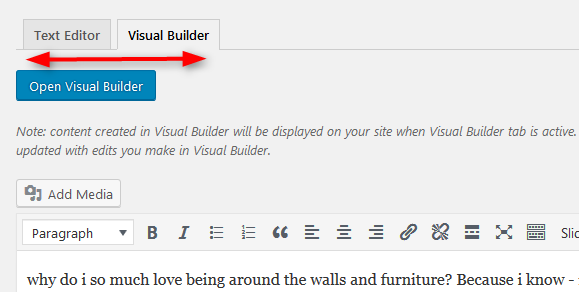 2. If the plugin is deactivated, deleted, or crashed, your content built with the MotoPress Visual Page Builder is available without shortcodes in a simplified way in a WordPress Text area. Compare: here is how you usually edit your content on the frontend with the Visual Builder: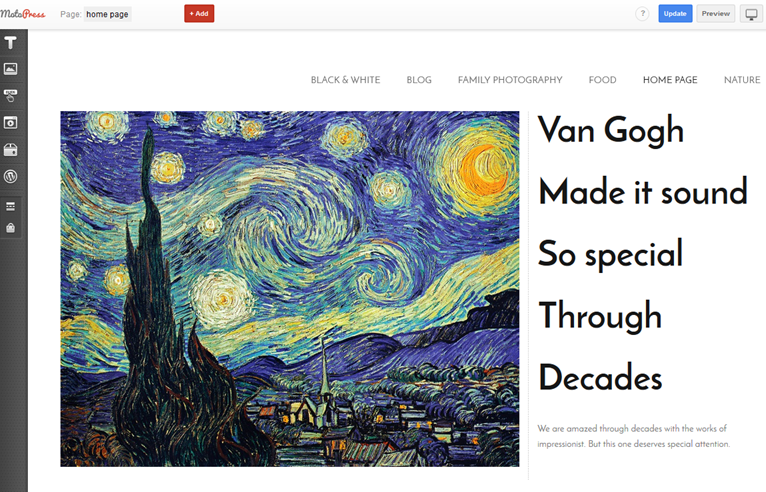 And if the Visual Builder tab is deactivated, your content is saved in a simplified way in the Text editor. So, the same page will be transformed to: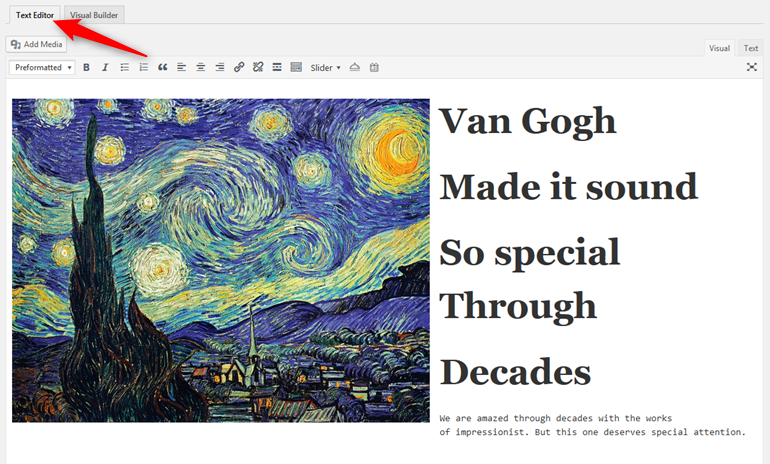 As WordPress native editor doesn't support difficult formats, your content modules like sliders, charts, etc will be simply transformed. For example, a slider in the Visual Builder will be displayed as a simple list of image in a text editor: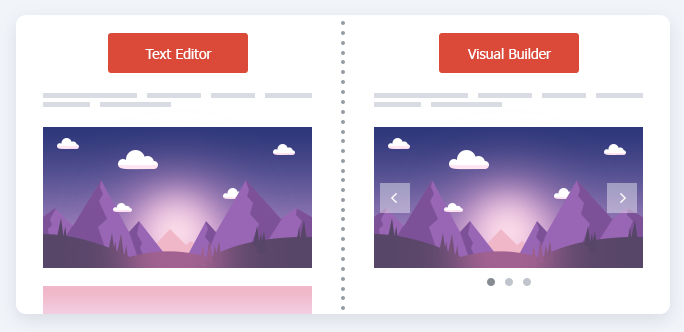 3. However, as it was already mentioned, if you use the Visual Builder but also want to tweak the shortcode, you may still find it here (in the Visual Builder tab before clicking Open Visual Builder):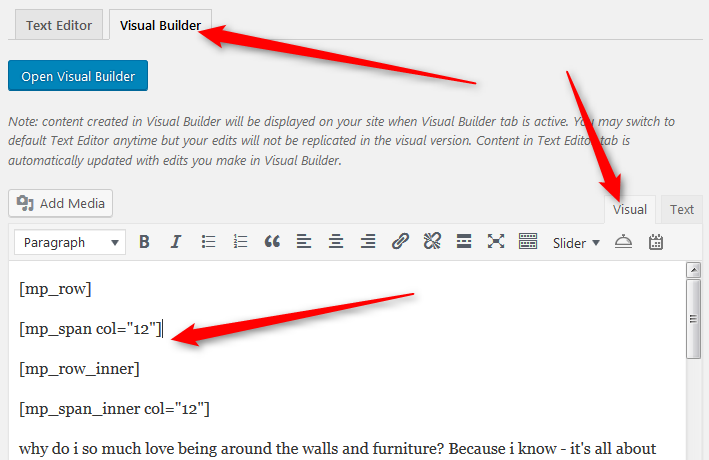 To sum up, your live site displays content depending on which tab is active for a particular page. This new feature will work for all posts and pages created after this update.
Edit your content with more peace in mind with the updated MotoPress Visual Page Builder.
Having fun with an updated plugin or noticed any issues? We want to know more, so speak your mind in the comments!