Responsive MotoPress Slider 1.1.3: Release Notes
We are proud to introduce 1.1.3 update of MotoPress Slider for WordPress. Thanks to your feedback it is full of new features and enhancements such as slider custom styling, integration with Content Editor, new Interface and many others. Even so we did our best and improved slider performance. It is indeed faster now. Let's come down to the details.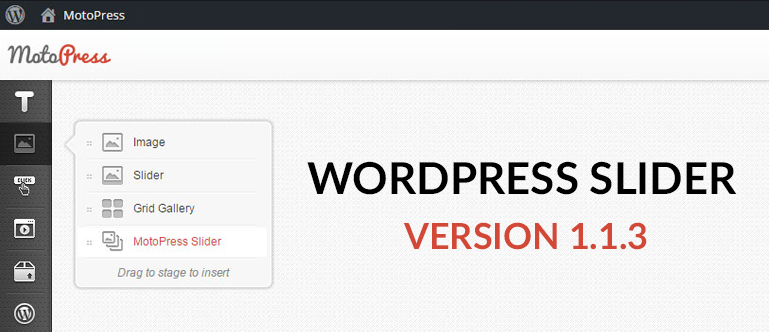 Improved Slider Performance
First of all we would like to let you know that we have completely rebuilt and improved video layers for the Slider Visual Editor. That is the logic of playing videos in the slider has been completely changed. It takes less time to load and start playing videos within responsive MotoPress Slider using either desktop PC or mobile device.
New Slide Settings Interface
Now it is more convenient to add and edit slides with the upgraded interface. Tabbed menu allows you to organize the preferences of a new slide saving the room. And you can surf within the preferences rapidly.

As you might noticed from a screenshot above there has been added Status For Your Slides within this update. By using this option you are able to add new slides in advance and not be afraid that they will be published right away. You may save any slide as a draft for further publishing.
Setting Date of Slide Visibility
Using this extremely useful feature you can plan a publish date and exact time for your drafted slides. Moreover it allows you to set up the date when this slide should be hidden from the slider.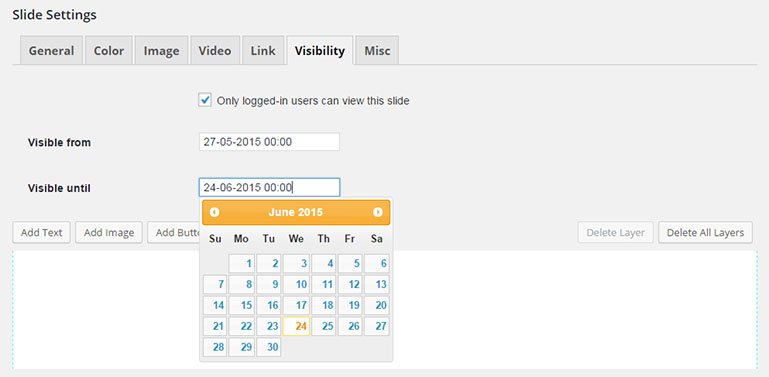 And that is not all for Visibility Tab. You can also Show Slide To Registered Users Only. This option does not require detailed explanation in fact. Enabling it you will hide a particular slide from unauthorized guests.
Slide Linking
We are happy to inform you that now you are able to set a link for each slide with ease. This property is settled under the Link tab item. Thus it permits to :
set a link
define a target of the link current/new windows
set link id and class – it is used for custom styling
set link rel and title – are important for SEO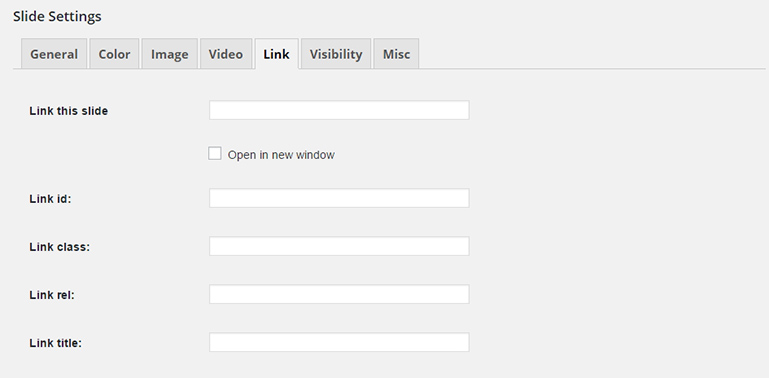 Setting Link to Image Layer
Using the latest version of MotoPress Responsive Slider for WordPress you have a possibility to set a link for Image Layer without any coding. Link properties for image object might be found at Layer Setting window. Therefore there appeared the following fields:
Link – a field for URL
Open in new window – allows to open link in a separate window
Link Custom Classes – you can set custom style for the link

By updating to the newest version you'll get opportunity to set custom CSS class and ID for Slider. MotoPress Slider is definitely getting more flexible with this and other custom style features. It is possible now to adjust the slider to fit your website design in a simple way. These preferences can be found in Misc section.

Export and Import Slider Content
Here is one more productive enhancement included to the 1.1.3 update. Right away you have new option next to Create New Slider one – Export/Import. You may export existing sliders and import them to new projects. You do not need to spend much time for re-building sliders from scratch any more.
Move and Delete Layer with the Keyboard
It's more than simply great news for lazybones who appreciate time and comfort actually. By updating MotoPress slider you get the power to move and delete the layer object using keyboard. Consequently the workflow becomes faster and handy.
Improved Integration with Content Editor Plugin
We are happy to notify current and future MotoPress Content Editor users with this adjustment. It means that you have an alternate way for adding, moving around and re-sizing the slider on the page or post using drag and drop with MotoPress visual builder.

This Slider update as any other one includes insignificant and a bit more weighty bug fixes and improvements as well. In particular we would like to single out the following ones:
fixed an issue with incorrect width in full-width mode
fixed an issue with slideshow and layer hide effect
fixed an issue with external links and SSL mode
That's all for now! If your MotoPress Slider is not up to date it is time to do that and use all advantages of Responsive Slider for WordPress. We look forward to your feedback and ideas!