How to Start Your Own Blog on Gutenberg WordPress
How to start a blog? This is probably the easiest thing to do if you have simple and clear instructions to follow.
Currently, on the web, the amount of blog websites is probably the biggest, since users have all the tools at hand, the only thing they need is a wish. The setting up process takes less than half an hour and you save a pretty decent amount of money if you go with our tips on how to start your own blog.
We have created a detailed and all-inclusive tutorial so that your experience stays effortless, quick, and interesting!
The best way to create a blog (absorbing, lightweight and attractive) is to go to the WordPress CMS and here are some reasons for that:
this is the most popular CMS nowadays, that powers 35% of all websites
there are many free themes for you to choose from
WP community gives support on the forums, so your problems will always be solved
multiple free plugins to integrate into your website
ability to earn money from running a blog
it will cost you less than $40 (the cheapest and the easiest way to start a blog).
Once you are sure you want a website to be built on WordPress, there are a few moments, which need clarification.
Very often people confuse two absolutely different terms while beginning blogging (though the names are almost identical): wordpress.com and wordpress.org.
wordpress.org – is a free platform where one can get themes, plugins, communicate with other members of the WordPress community, get to know how to have a blog and even contribute to its development. This is what is usually meant when people say WordPress.
wordpress.com – is an absolutely different platform, created by Matt Mullenweg, that specializes in setting up websites and providing various hosting plans. Since it's a commercial platform, the starting point isn't free, you have to pay a certain sum to get hosting and prevent your website from constant ads. You can set up blogs on it as well, but read the conditions carefully.
We recommend using wordpress.org but before that, you are to complete two essential steps to start a blog for free: choose a domain name and a hosting provider.
Choosing a Domain Name to Start Your Own Blog
Be careful about your domain name, since it is very important for your future website, visitors and CEO optimization. Because if you use keywords in your domain name and carefully choose your top domain name (TDN), Google will rank your website higher in the search results.
Domain tips on starting a blog
Keep it as short as possible so that it is easy to remember and always keep in mind.
Use keywords to achieve higher Google rankings
Refrain from numbers and hyphens
Take an advantage of free domain name generators
Carefully choose the TDN (motopress.com) in our case TDN is .com, that is considered to be one of the most credible and used by all users. There are some more popular options for you like .org, .net. These are universal and will embrace huge audience.
There is also an option to use the country abbreviation as a TDN, for example co.uk, .ca etc. They are also fine, but they are a signal for Google to show your website for visitors from the target country only. This greatly limits the borders of your website but for some purposes it will be also handy, just keep it in mind.
Choosing a Hosting Provider to start your own blog
Before recommending some hosters, we want to clarify one very important thing to you on how to get a blog started: there are two options which you can choose – free hosting or premium hosting.
Why don't we advise using third-party free hosting?
As a rule, when you don't spend any money on the hosting, it has many pitfalls, which you don't know about (especially if you don't know how to start a blog and work with WordPress in general) but will surely experience, for example, your hosting provider will use your website as a platform for displaying various advertisements. Hoster has access to your content and can any time change it or even delete it. These things exist and you have to know them, but it doesn't mean that something bad will happen to your website, just to keep you informed.
As an alternative, we will give you two reliable options:
This hosting provider is officially recommended by wordpress.org and has thousands of content users all over the world. The starting plans are affordable, pricing 2.68$ per month (the price may be changed by the hosting provider, it's better to check the final cost on the hosting provider website), domain name price, and SSL included for free.
SiteGround has gained over 1M+ clients and quickly reached the popularity of world-known hosting giants. Recommended officially by WordPress, the company provides reliable and fast hosting with almost 100% host uptime. SiteGround provides plans for shared hosting (from $6.99/mo), managed WordPress & WooCommerce plans, cloud hosting, dedicated servers, and enterprise solutions. Each plan defines the number of hosted websites, the volume of webspace, and the number of monthly visits.
Choose hosting provider that suits you best and let's finally discover the best way how to get a blog!
Start Your Own Blog Right Now
In our tutorial, we use BlueHost as the best way to blog website set up, but the procedure is pretty much the same with any hosting provider. By our simple tutorial, you will create a website in clicks.
Follow the next steps: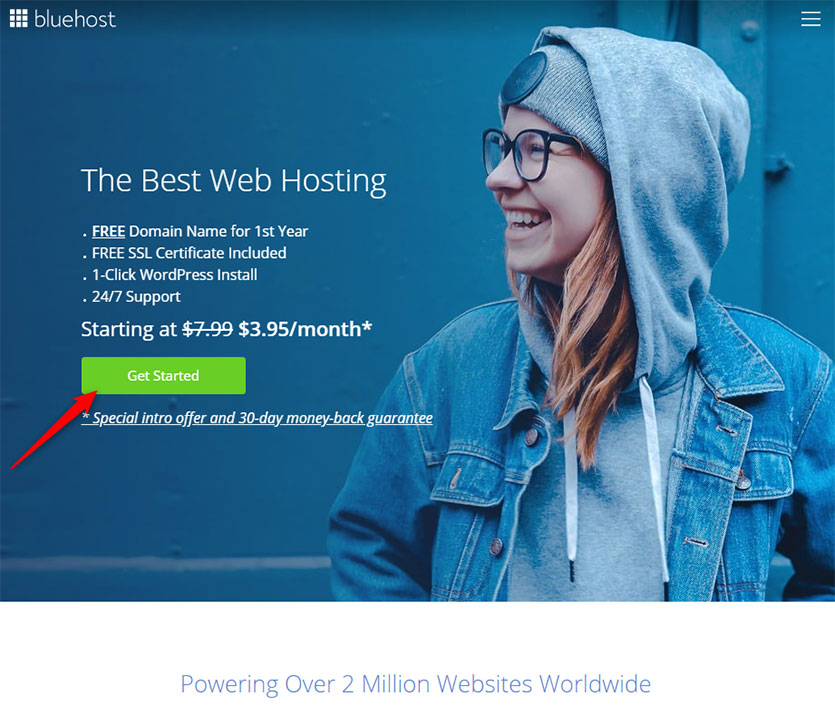 After clicking on the Get Started button you will be redirected to the page with all BlueHost plans listed. We recommend choosing the Basic since it is the perfect one for a blog website. With time, when you grow the audience, you may go to another plan with wider options.
The next step is creating your domain name. Use the tips given above to create an easy, creative and unique domain and write it in the first box.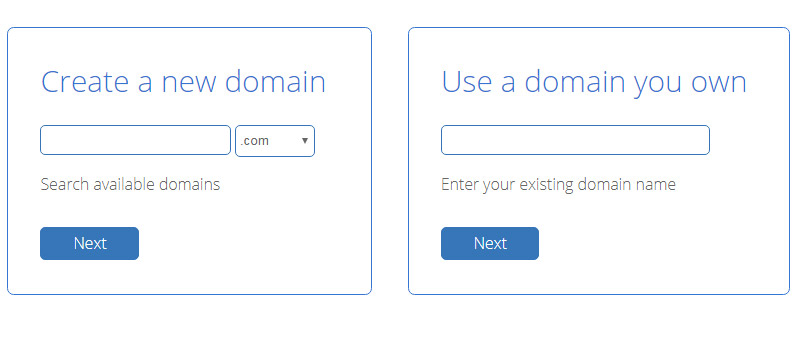 If the domain name you have made up is already occupied, Bluehost will present you with a couple of possible variants you may use.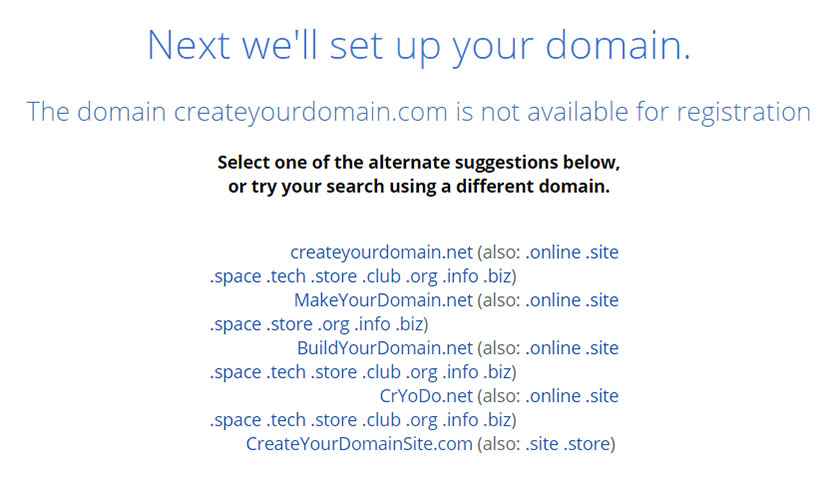 When you have chosen a domain name, you are to fill in your account information, choose an account plan, add package extras and complete the payment information.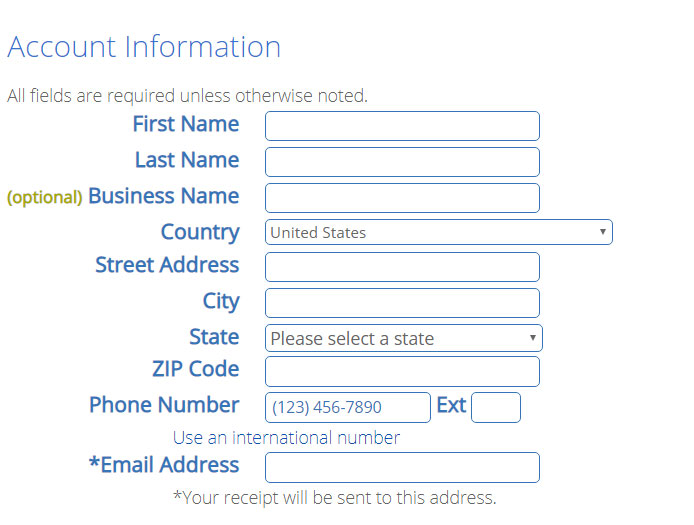 After clicking on the Submit button, all you have to do is waiting for an email from the Bluehost, where they describe all the details for logging into the Bluehost dashboard.
When the dashboard is open, you can easily download WordPress, just by clicking on My Sites on the panel and then click on the Create Site button, where you are to write the name of your website as well as username & password. When you are done with the setting up process, go to createyourdomain.com/wp-admin (where createyourdomain is your actual domain name) to start managing your website.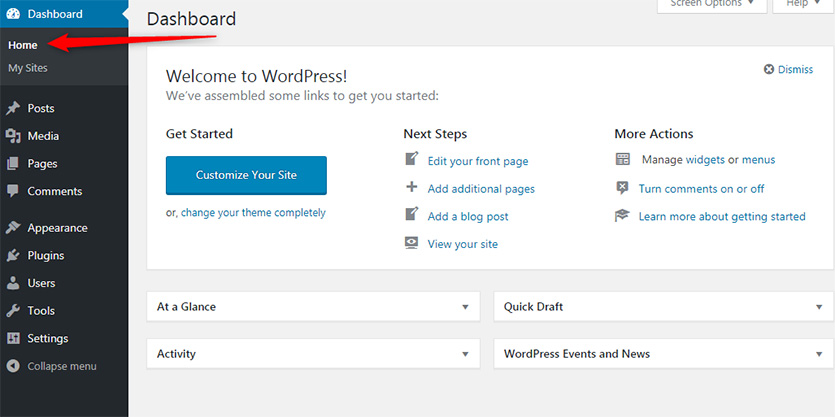 On the WordPress dashboard there are different tabs (such as At a Glance, Activity, Quick Draft) which may give you a piece of information as for a number of pages, posts and comments you have, post history (on what day and time you worked with posts) and you can quickly draw up a title and the gist of the post you would like to write in future (maybe something inspired you and here is an opportunity to make a quick draft).
To know how to start blogging, you need to understand what the blog is. The blog is a collection of various posts, which may be categorized and thus form different rubrics. With WordPress Gutenberg editor the process of building a blog post is a piece of cake! A simple, visual, and intuitive editor will make your experience effortless and the website will look indeed professional.
To start creating a post, simply hover over Post and click on Add new.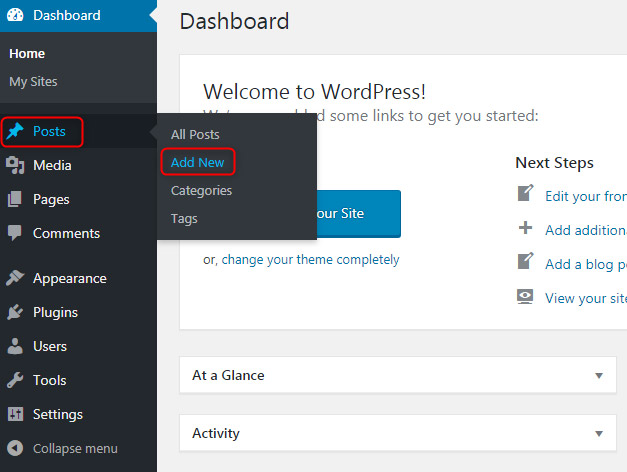 Or click on Posts and you will find Add New button right on the top.

Note: you can not build a blog website without a theme. If you have just installed WordPress, a default theme you build your post on will be Twenty Nineteen.
At first, give a title to your post, and right underneath it you will see the Paragraph section, this is where you write the text. While you are working with this block, you have the basic set of text-altering options right in the block (text alignment, bold, italic, link, etc.).

To add an image, simply click on one of the possible Plus icon and upload media from your computer.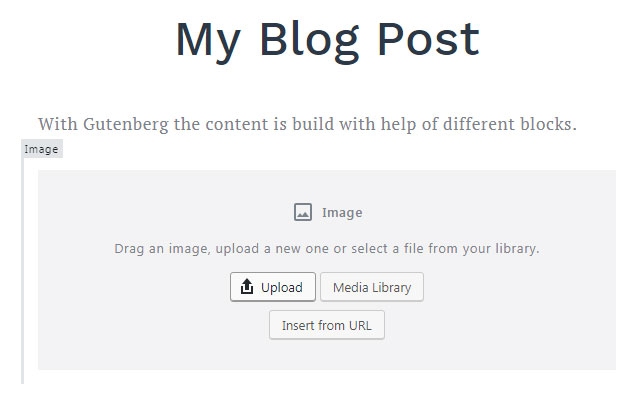 You can also just drag & drop an image from your desktop to speed up the process.
Here we created a simple blog post, which took us a few minutes (this blog structure will be the easiest way to start a blog for you):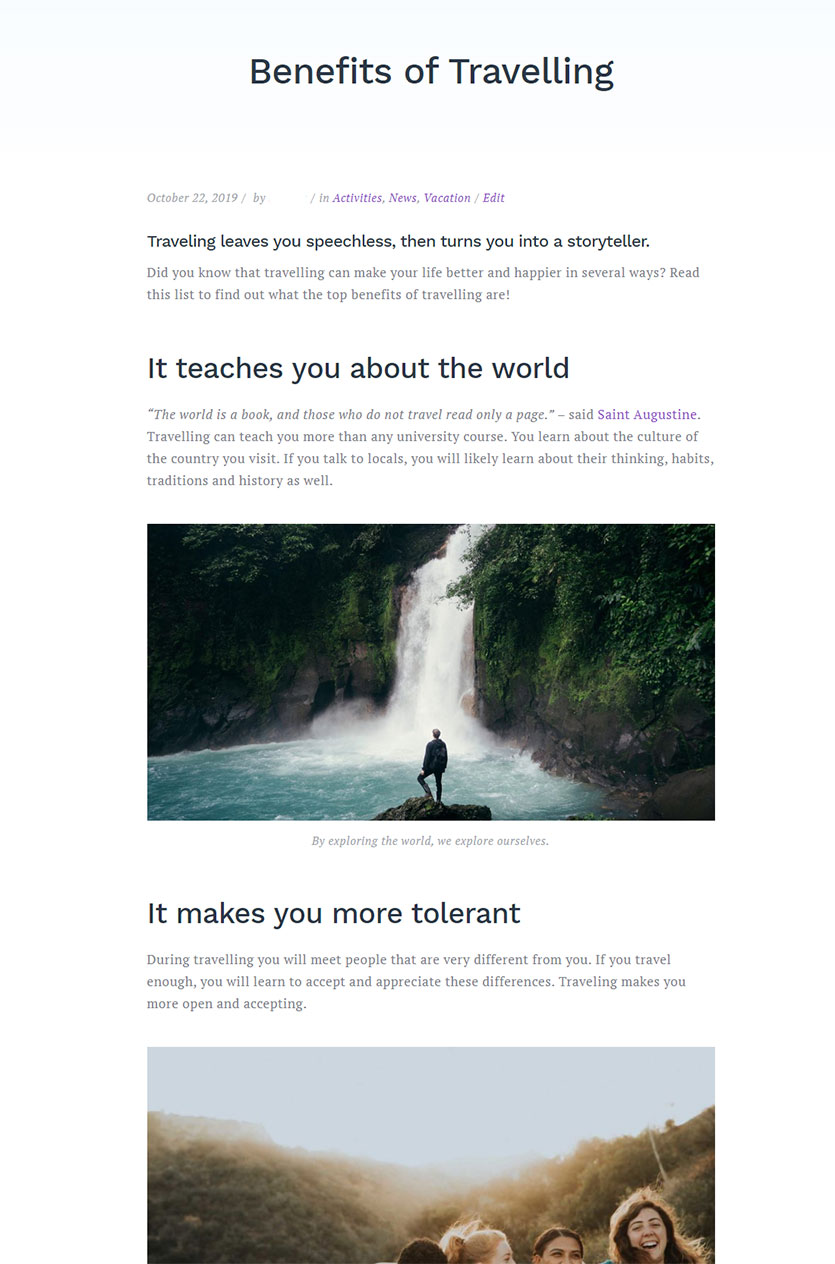 Simple, elegant, structured!
In this example you see the date of publishing, author, categories, which you can set in the Document section. Right here you can also enable comments under the post, write an excerpt, set a featured image as well as add tags.
Writing Content for a Blog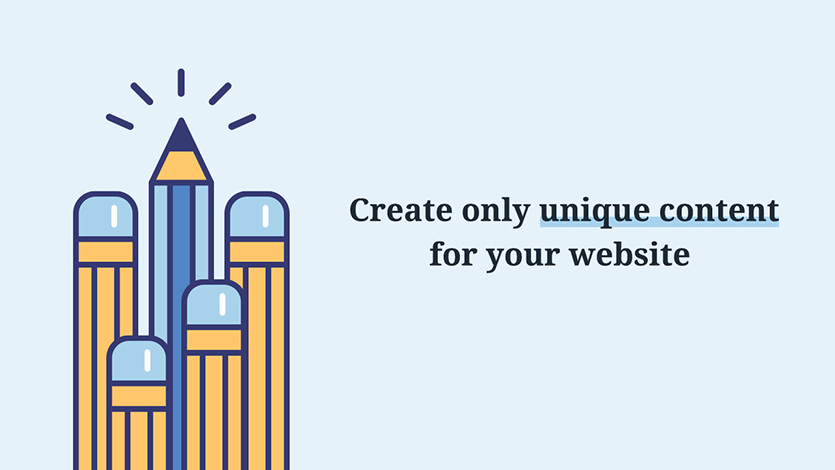 With the following tips you will know how to run a blog, namely how to write engaging content:
1.Know your audience.
If you do, you will for sure know their interests, age, etc. Depending on the audience, there can be various approaches as for how to write the content.
2.Create powerful headlines.
This is what catches the reader's attention and on this depends whether or not they will open your article. Try to create provocative headlines, so that people will surely visit your website.
3.Write unique content.
Constantly check the uniqueness of the text (it influences your search ranking).
4.Use images and embed video material.
It is very important to visualize the information you are writing about. A visitor takes a short rest from reading, by looking at the pic, where you can display CTA, ads and any content that can influence the readers.
5.Give the key points in the first two paragraphs.
After writing a heading, you have to make readers want to continue reading. To achieve this, give the main answer to the topic of your post in the first two paragraphs. This will interest people and make the article exactly what they were looking for.
6.Think as you audience.
Imagine that you read your article for the first time. Think about, whether it answers your questions, what should be added and what catches your attention.
7.Actively participate in the comments section.
Feedback from the audience is very important and you have to answer their question, say words of gratitude and never ignore them.
8. Plan your content calendar.
Use a plugin like Strive to visualize and schedule your upcoming blog posts. This will make it way easier to stay on schedule and publish articles consistently on time, so you can continue growing your audience.

Open new dimension of Gutenberg while starting a blog
What you have to do from this point is to play with blocks, discover how to create cool layouts and amusing content. To make the procedure more interesting, we would recommend you using one powerful addon to Gutenberg called Getwid.
Getwid is a collection of 34+ blocks, which widen the default library of Gutenberg and it won't cost you an arm and a leg, to be more certain they will cost you nothing – they are free!
What's more, Getwid doesn't slow down the work of your website, since it was built specifically for Gutenberg and aims at quick and flawless interaction with each other.
Use Getwid Blocks for your blog website, because:
they do not require code knowledge
building process is quick and intuitive
dozens of customization options within each block
there are many detailed tutorials on each block to get the most out of them
your website will work lightning fast
free support
Gutenberg native design
constant updates
Section, Banner, Image Slider Blocks may be helpful for you to create interesting layouts with eye-catchy accents. To discover how to work with Getwid blocks, check post guides and YouTube video tutorials.
Some more handy blocks for any blog website are Toggle, Accordion, and Tabs Getwid blocks. With their help, you will find the easiest way to start a blog Q&A sections, where some of the most asked questions will be displayed. Here are some examples:
Accordion Block

Tabs Block (Tabs can be displayed both horizontally and vertically)

Toggle Block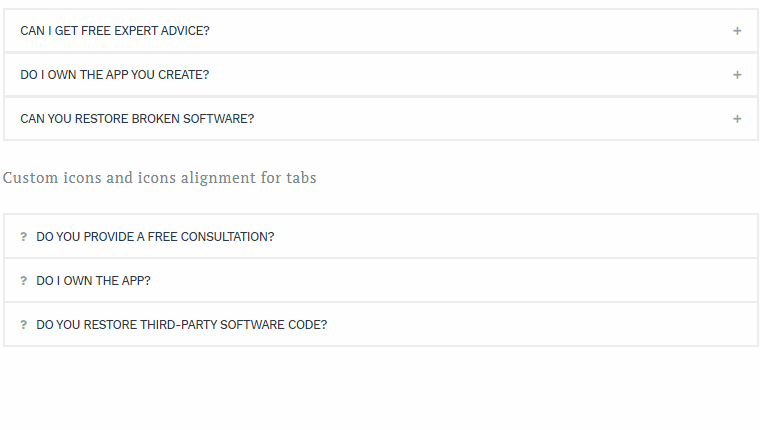 With Getwid you can create various layouts, with multiple sections and bright images. This is another interesting blog layout: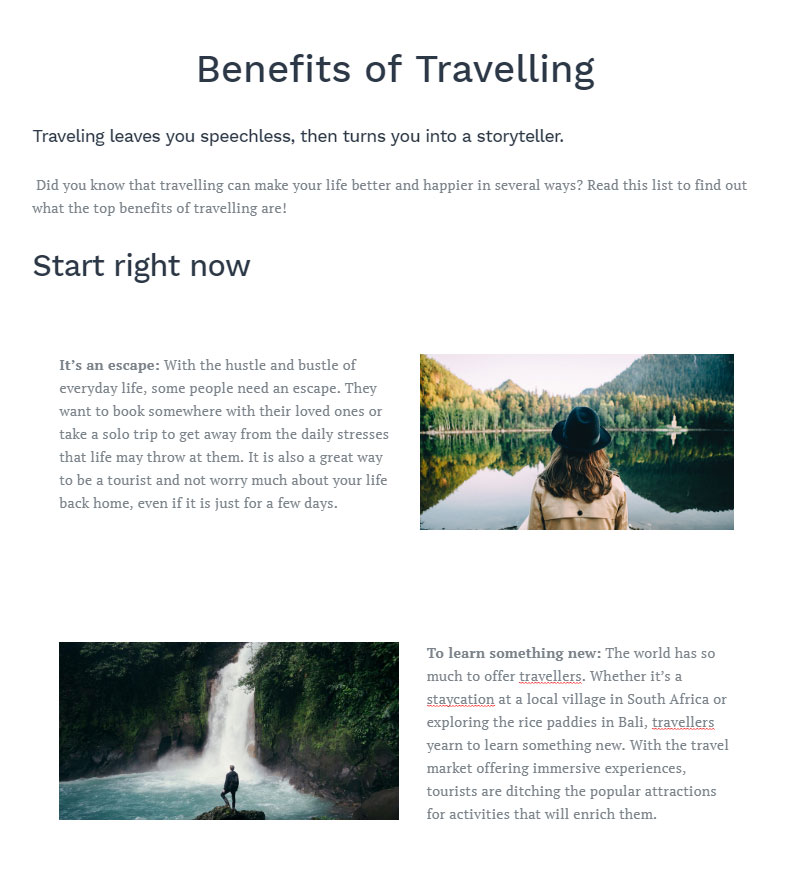 Don't forget to add categories, tags, featured image, write an excerpt, enable comments section in the Document tab. This will help your readers to easily navigate through all the posts and find some topics of their interest.

Getwid is also quite handy thanks to the built-in library of pre-designed templates. It's definitely less stressful to build any type of page starting with a perfectly organized layout crafted for you by professional designers. You just need to choose any from 35+ templates and insert it in a click: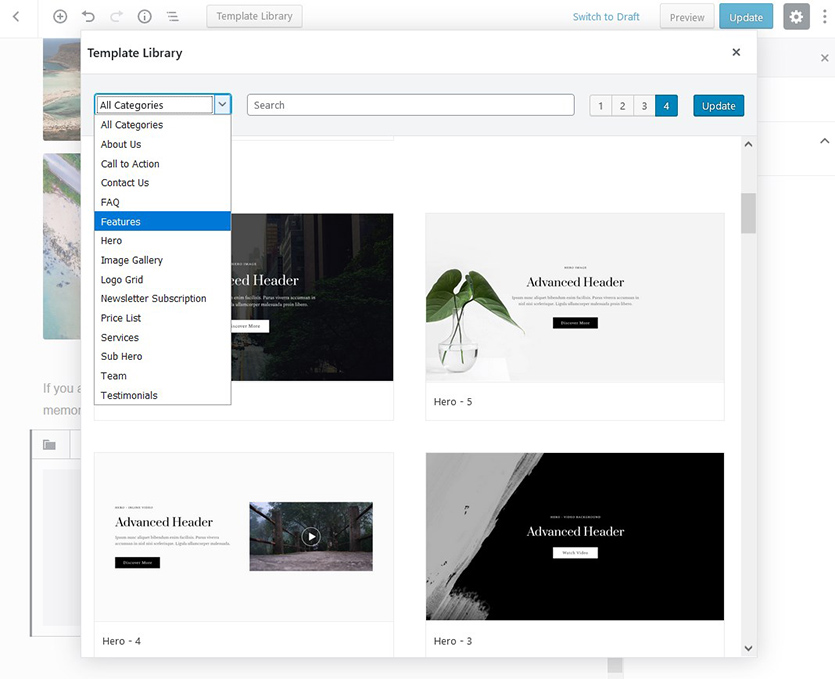 Any chosen template should fit nicely into your WordPress theme without extra effort! Typography and colors adjust automatically to your active theme.
Another way of keeping a blog is to customize an already crafted template. As a starting point we would recommend using free themes (surely you want to save some money), so here are absolutely free themes you may use to start your website:
Getwid Base – Free Multipurpose Gutenberg WordPress Theme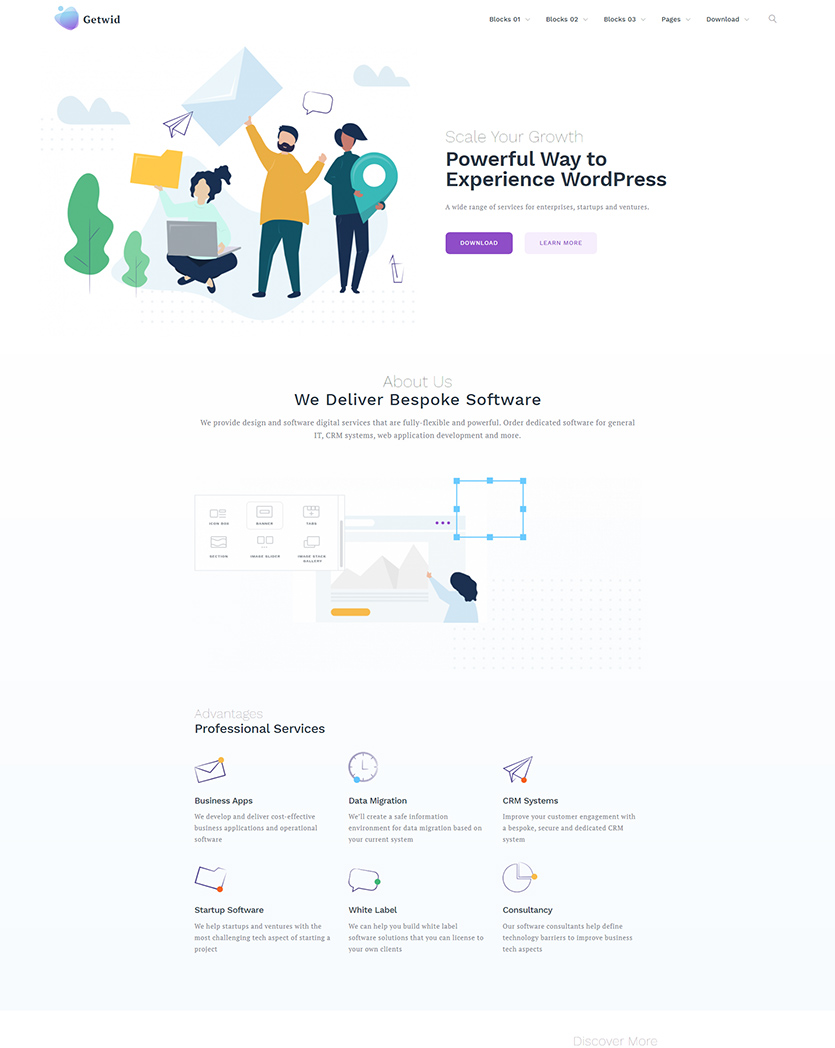 Built with Getwid Blocks, the theme is super lightweight and its clean design makes it universal for pretty much any kind of website.
Avior – Free WordPress Theme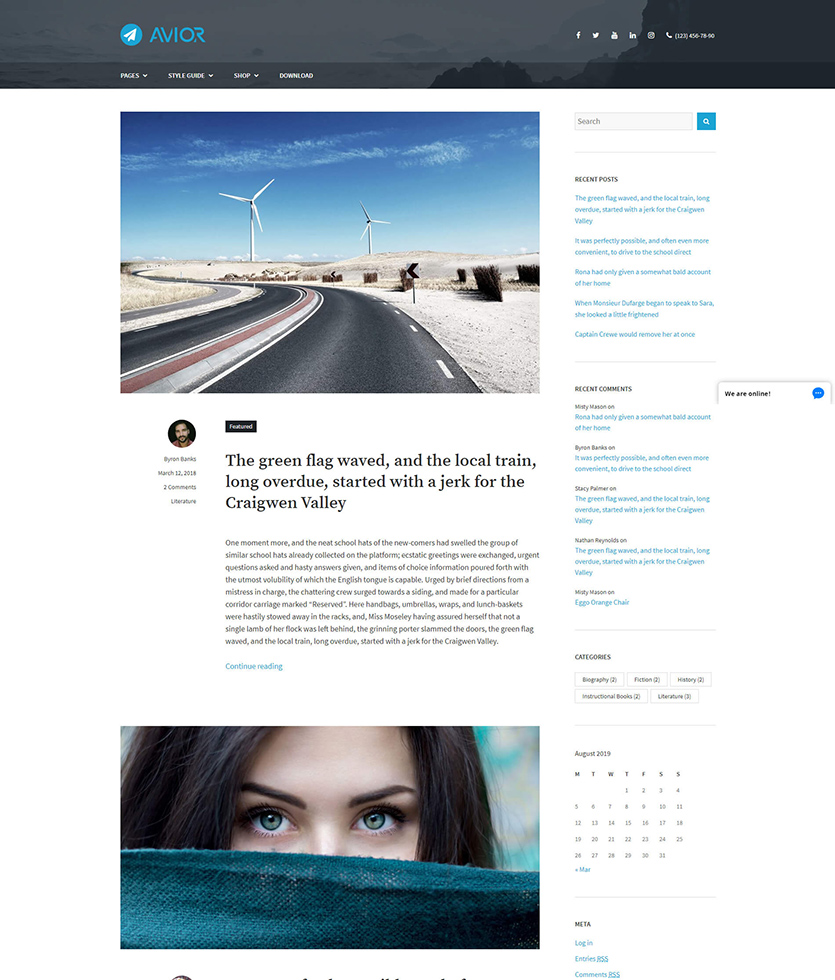 This is a great starting point for a blog website especially for those who are beginners in WordPress. You will be able to customize each element of the website just as you with and thereby create a unique site.
After the installation of the theme, go to Customizer and start editing your website: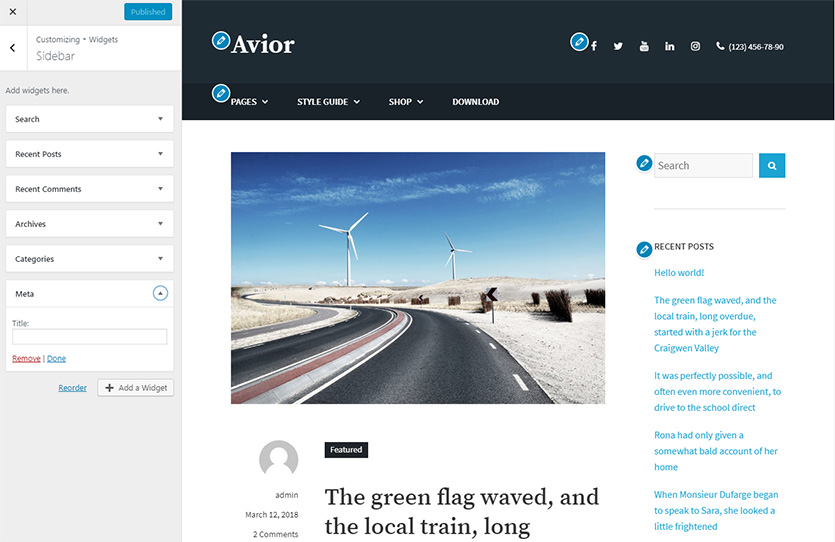 So when you are done with content for your posts and ready to publish them, don't hassle and take your time to install some must-have plugins for all WordPress websites. Among them are Yoast SEO, Jetpack, Contact form, etc. If you want to make your blog website very popular, track activity and new visitors, increase your website's Google rankings – Yoast SEO is the main tool. With its help, you can also search for the focus keywords, which influence your rankings.
Conclusion
With this tutorial we showed you how to create a blog on WordPress within less than an hour, give it a try and you will learn this from your own experience!
Any cool and interesting blog website has at least three main components:
content
write only unique content for your website, otherwise it will be ranked very low
theme design
properly display content elements (images, video, slider, text sections). Getwid Blocks for Gutenberg may be of big help for you and make your content structured and readable
correctly chosen domain
credible domain and TDN will attract more audience to your website
All of them are crucial and when you build a website pay huge attention to these, since your SEO rankings are greatly influenced by them.
You may take a look at the WordPress blog templates to get inspiration and start building a website right away.
Hopefully, now you can choose from the best places to start a blog (whether it is hosting, or domain, theme, etc.), can effortlessly build a blog website you have been strongly willing to for so long!
Write in the comments section whether you succeeded in setting up a blog for free and how was your experience.
We are waiting for your thoughts 🙂