New! Property Reviews Addon for the WordPress Hotel Booking Plugin
We are happy to announce that we've broadened the bundle of extra tools for the MotoPress Hotel Booking plugin for WordPress! Today we are introducing the release of a dedicated property reviews system: Hotel Booking Reviews extension.
It's not a secret that real guest reviews always help prospects pick the right property, directly influencing the decision to choose one place over another. Let alone the fact it's a real tool to measure guest satisfaction and develop your service improvement strategies.
We've managed to make such an important piece of software really simple in setup & operation for MotoPress users – our new add-on offers several-clicks integration with your existing properties.
Property Reviews Addon – Basics
Basically, this extension automatically generates a standard review form and a five-star rating system for all accommodation types you already created with the MotoPress plugin. It'll allow past guests to share travel experiences from your hotel rooms, villas, cabins, and other accommodations publicly on your website; plus, evaluate accommodation by different criteria using a popular five-star scale. An aggregate rating from all reviews will automatically produce an average property rating, up to five stars.
All accommodation types come with their individual ratings, making it possible to have a clear picture of how each accommodation type is performing.
If you are in the MotoPress Club, you have one more reason to rejoice, because, as usual, you can download this premium add-on for free anytime and install it on any number of domains.
Let's now get down to details. To show you some examples, I'm going to use a beautiful Ciestra Resort WordPress theme, which is a popular solution for spa and wellness retreats.
Watch a video tutorial
You can designate property rating criteria
Feel free to add the number of evaluating criteria that you think is reasonable for your hotel or holiday home (location, services, value for money, staff, etc.). There is no limit.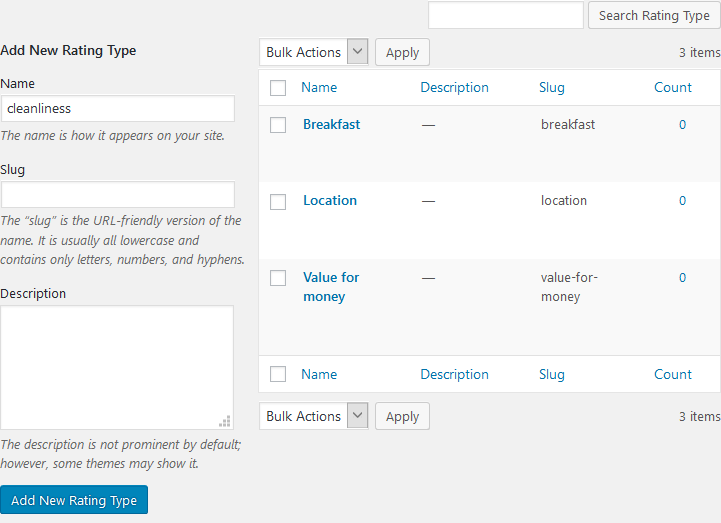 Guests will be required to rate your property by each criterion in order to write and publish a review.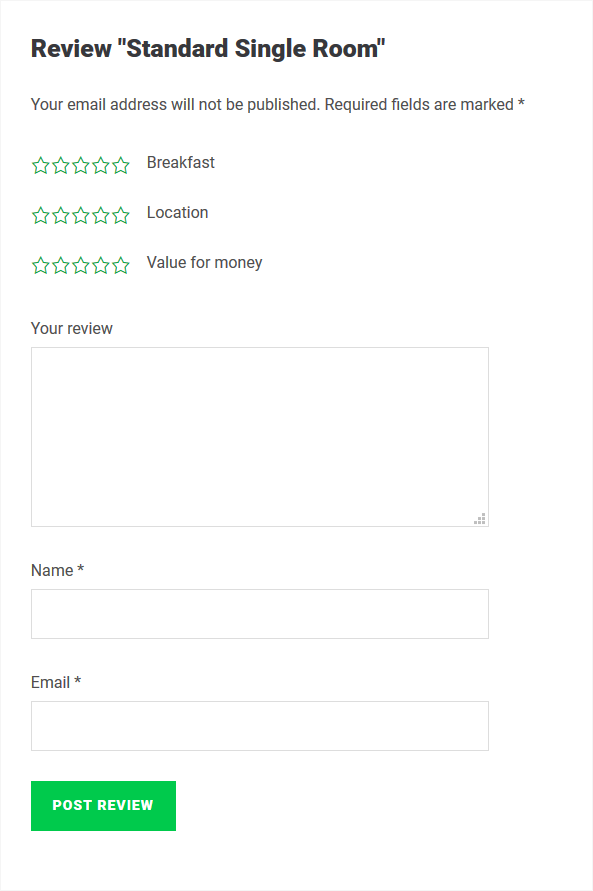 Prospects will see the average property rating that each reviewer has given as well as a general property rating based on all grades.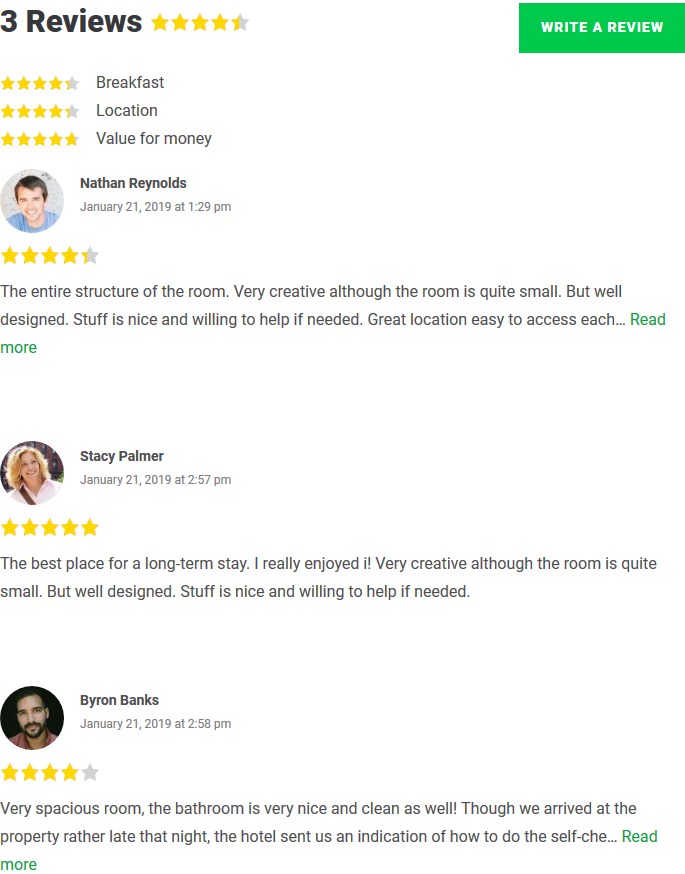 Evaluation criteria ("Rating types") are regular WordPress categories, so you can easily translate them. If you need help, check out our Hotel Booking translation guide.
The add-on works in conjunction with native WordPress comments
WordPress Hotel Booking Reviews extension is maintained through the native WordPress comment system. This forward-looking approach in development makes it possible to fully embrace the power of the native WordPress commenting system and gives you limitless options to connect any other preferable plugins to your review system.
Under the hood, when this extension is connected, regular WordPress comments received through your website are automatically transformed into reviews specifically on "Accommodation types" pages (of course, including all extra features related to reviews).
This means you'll be able to configure some fundamental settings for reviews via WordPress comments menus:
Set up general settings via WordPress Discussion (e.g. enable Gravatar images, set up manual reviews approval to reduce spam, etc.).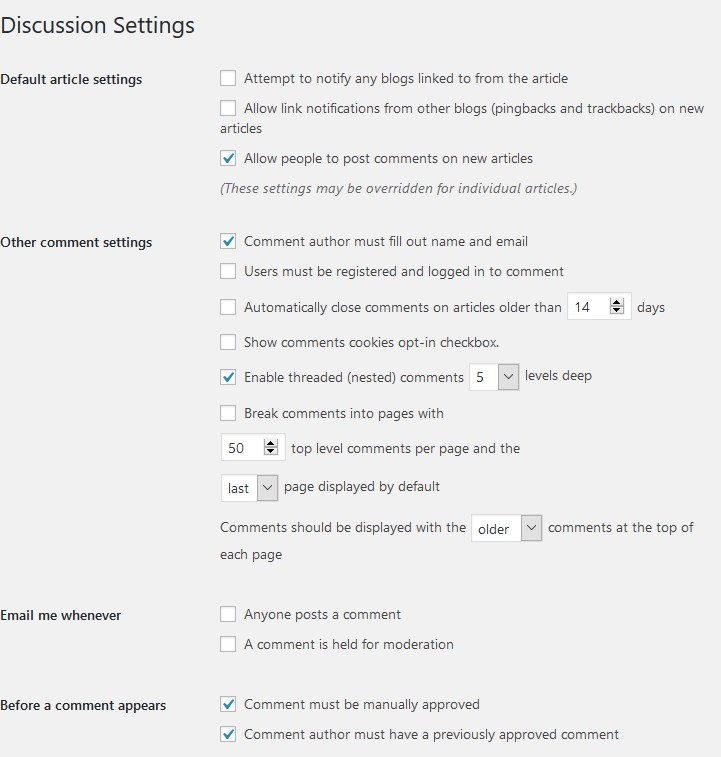 Moderate reviews via WordPress comments: approve, delete, mark as spam, reply or even edit a review. Please note that only a website administrator can approve reviews.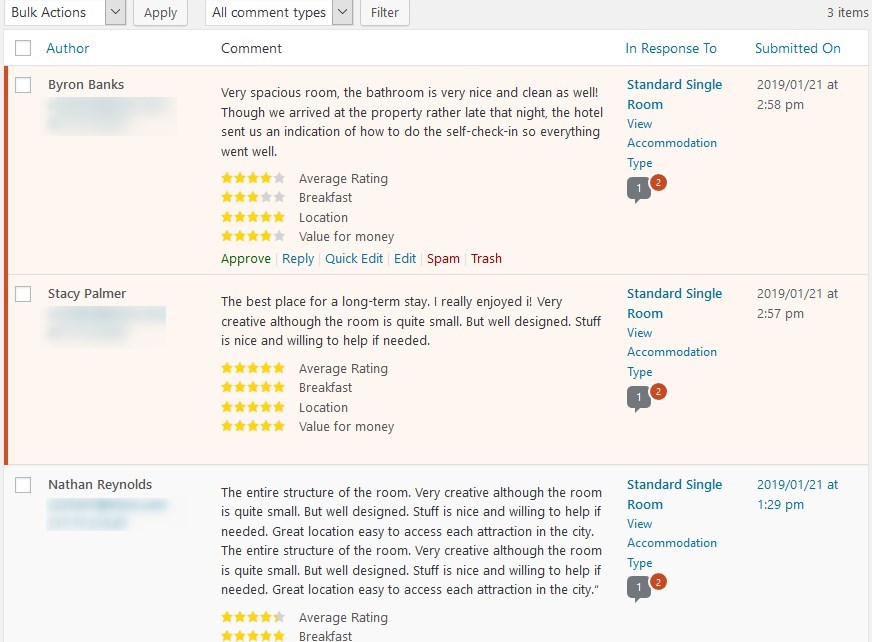 Moreover, this integration will let you keep your written reviews (without stars though) safe even in case the add-on is deactivated.
Extend add-on's functionality with other plugins
If you can make WordPress comments function better by means of extra plugins in one way or another, the same automatically applies to the MotoPress Hotel Booking Reviews add-on. You can optionally hook up preferable plugins to make your WordPress property reviews system function the way you want.
There are loads of third-party WordPress comment plugins ready to simplify your work as a website administrator (for example, connect an anti-spam mechanism) and at the same time giving guests more options to make reviews more informative (for example, let them attach images). We plan to write another post on this in the future to show you some examples.
You can showcase posted reviews on other posts and pages
You can select properties with the best reviews and feature the latter at the right place on your website.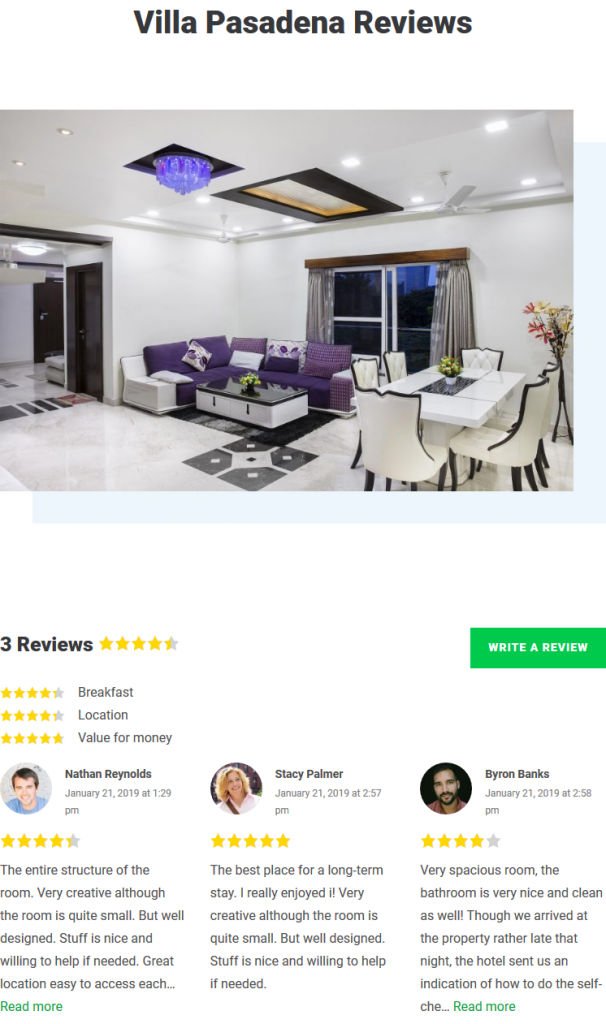 For example, you can create a dedicated Reviews page or select the best ones to feature on the front page (the best social proof, isn't it?).
To embed them, you have a shortcode and a set of useful parameters (more details in the documentation) that will allow you to decide:
Reviews of which property type to show (only one so far).
Set up how many reviews to show.
The number of columns (so it's easily adjustable to your WordPress theme regardless of its layout).
Display or hide rating criteria.
Display or hide the "Write a review" feedback form.
Add or remove the "Show more reviews" button (useful if there are a lot of reviews).
Customize the look with your custom CSS.
Moreover, to reach a more organized structure of your reviews, you can designate how long a visible part of a review before a visitor clicks "Read more" should be.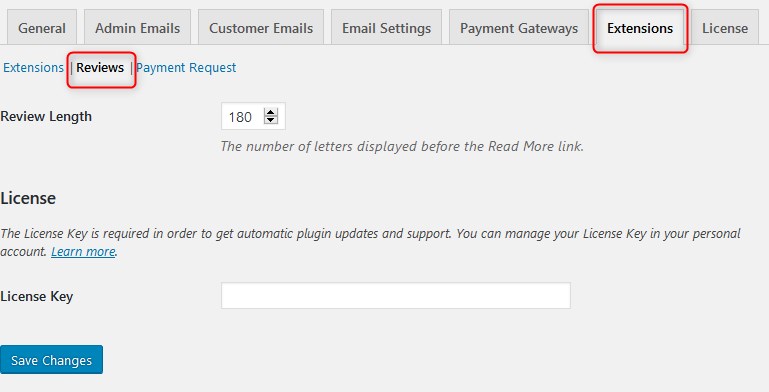 As you see, here you've got a bunch of nice settings to make your reviews look stunning no matter the layout of your current WordPress theme.
Feel free to place reviews in any widget zone
Give reviews more visibility by putting them into any widget zone of your WordPress theme (for example, blog sidebar).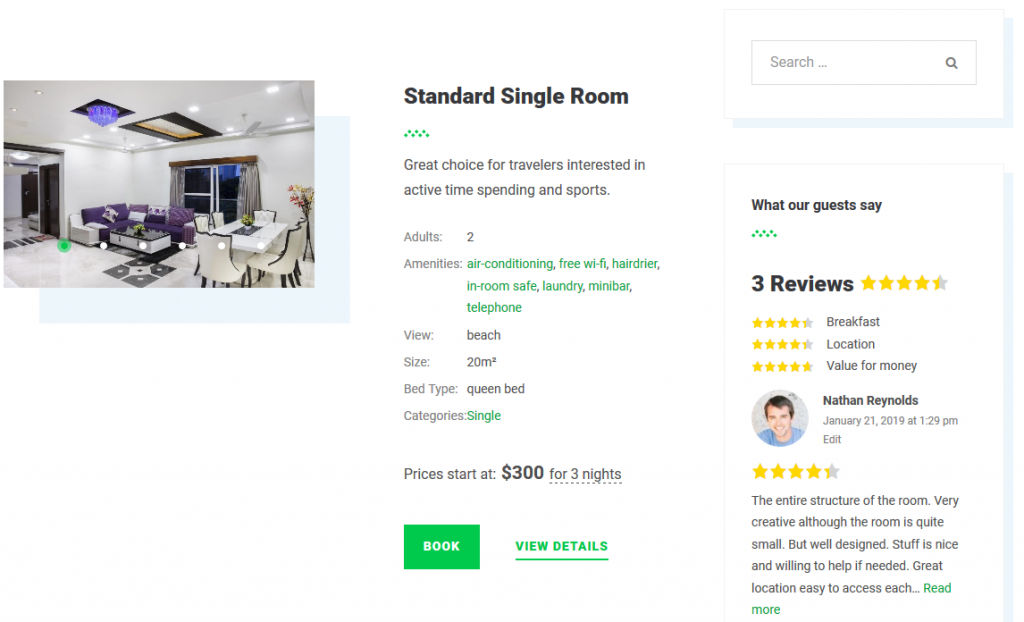 You can set it up to work in a preferable way:
Customize a title.
In the "Accommodation type" drop-down menu, you can set "Current Accommodation" to show recent reviews of the accommodation type a website visitor is viewing. It's also possible to display reviews of any other selected accommodation type.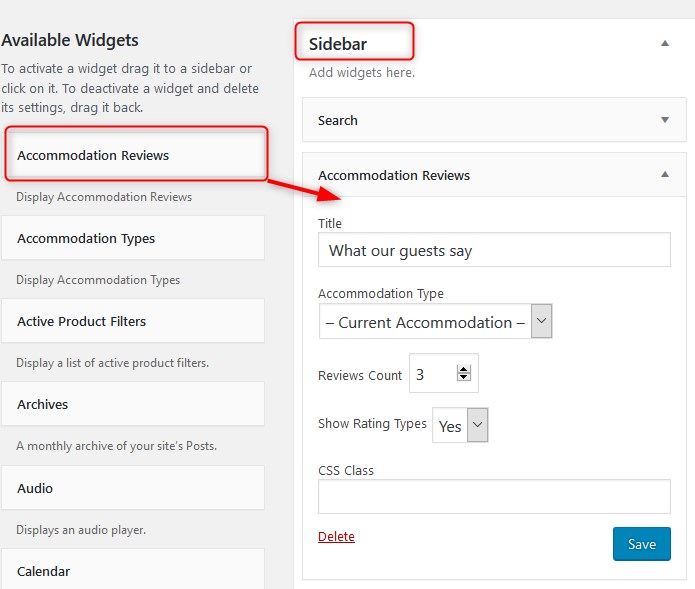 Select how many recent reviews to display.
Hide or display rating criteria.
Apply custom CSS classes if needed.
In style with your WordPress theme
When functionality can be really huge, design consistency doesn't always come easy. But not this time.
We've made sure that the Hotel Booking Reviews add-on will integrate with the default WordPress Comments output as much as possible. If your WordPress theme comes with styling applied for comments, then your reviews should inherit just the same styling, looking pretty much consistent with the overall website design.
It's worth mentioning that this add-on works great and looks perfect in all MotoPress Rental Property WordPress themes.
If you need a hand with setup, download step-by-step instructions.
Current limitations
There are also some limitations you should be aware of:
Anybody can leave a review; the system can't check whether a person leaving a review is a past guest.
To trigger a star rating system, you need to add at least one rating criterion. Otherwise, only written reviews will be shown on the website.
At the moment, if you run a hotel or any other rental unit with multiple items, the system cannot calculate the average ratings for all "Accommodation types" altogether. You can display the average rating of the individual "Accommodation types" only.
The plugin is a work in progress, so we are going to prioritize its improvements according to your feedback. By the way, if there is anything you'd like to see improved, which of these items is on top of your list?
Pricing
One-website license will cost you $49 (one year of updates and support), whereas $99 is the price of using this add-on on unlimited websites.
*Add-on is free for the MotoPress Club members.
Final word
It takes almost nothing to hook up a simple and powerful five-star property rating system to your lodging business website built with MotoPress. Our new Hotel Booking Reviews add-on sets you up with a flexible, smart, and WordPress-native solution to implement reviews & ratings the right way.